Do you want to know the recipes for Polish breakfasts? Indeed, the Poles have a lot of delicious food, and their breakfasts are so amazing that everyone should know. So I will unveil the secret of a quality breakfast to start an energetic and productive day in this post.
I have prepared 14 Polish cooking ideas to enjoy in the morning here. And they are both popular and traditional dishes as well.
I am not going to lie to you that the more you know about the recipe, the more fascinated you will feel about Polish cuisine. And you will unknowingly fall in love with the food culture already. Let's read on!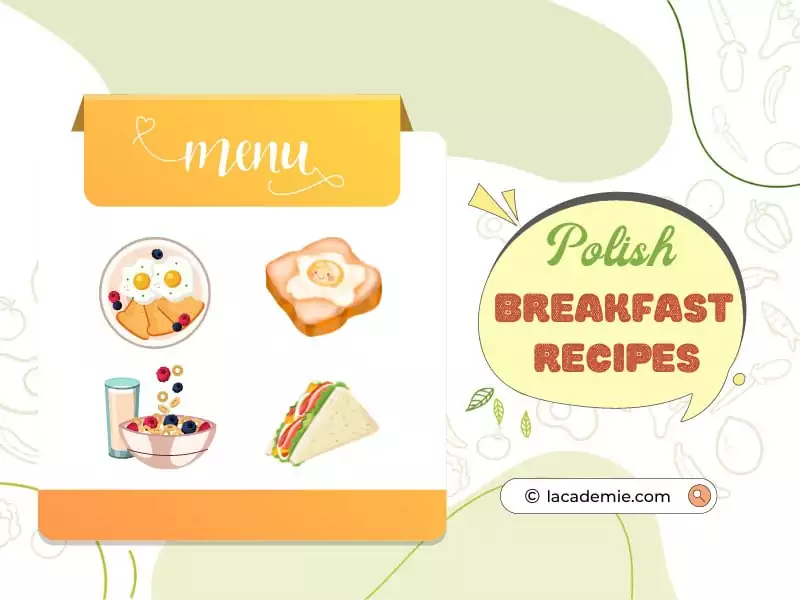 There are several breakfast dishes available; how about some Polish-style dishes to start your new day? They will undoubtedly provide you with a delicious meal. Are you hungry yet? Scroll down now!
1. Racuchy (Polish Apple Pancakes)
Total time: 1 hour 20 minutes
Racuchy is a dish that everyone at all ages would love. It is one of the most well-loved Polish delicacies that no one can resist. Indeed, how can you not love fluffy and delectable Racuchy, right?
Racuchy is ordinary pancakes. The components are also easily accessible and fairly priced. It has eggs, flour, sugar, apples, and yeast. You can make this in no time, and the outcome will be fantastic!
The sugar is a vital part of preventing this meal from being a flop. Remember to add the sugar to the dough to dissolve the yeast, and you must also warm the milk before using it; otherwise, the dough will not swell.
2. Milk Soup with Drop Noodles
Total time: 10 minutes
Milk Soup is known as "zoo-pah meh-tschnah" in Polish. The foods evoked childhood memories and were previously quite popular in Central and Eastern Europe. This meal has been forgotten over time, but it does not harm anything to learn how to make this delicious breakfast soup.
This dish's components are mostly milk, so you won't have to go out of your way to obtain them. Indeed, everything you need is readily accessible at any grocery shop. And if you can locate high-fat or pasteurized milk, it will be preferable to ultra-high-temperature milk.
Regarding the noodle, you need to combine salt, eggs, and flour to form a smooth batter. If you prefer large drop noodles, use a spoon to scoop the batter. For smaller versions of noodles, just simply pour the batter into hot milk slowly and stir.
3. Placki Ziemniaczane (Polish Potato Pancakes)
Total time: 35 minutes
Potato pancakes are well-known in several Central and Eastern European countries. This dish was called Placki Ziemniaczane and they are a favorite street food in Poland.
Potato and pancake may appear to be an unlikely pairing, yet they are. You will perform a series of cooking processes to crisp up the outside layer while keeping the inside soft. In that way, the potato becomes an ideal filling for the pancake.
You will need to heat the pan before cooking and when you fry the pancakes, flip both sides quickly so they all have a golden color. By the way, the ingredients to prepare are easy to buy and inexpensive, just some potatoes, eggs, onions, some salt, and pepper.
I can't resist the sweet and creamy taste of the Placki Ziemniaczane!
4. Jagodzianki (Polish Sweet Buns With Blueberries)
Total time: 1 hour 30 minutes
In the summer, soft and sweet Jagodzianki are available in Poland. I bet you do not know that Jagoda is the Polish word for blueberry, and this dish is crisp on the outside and soft on the inside, with the richness of beautiful blueberry that will keep you cool this summer?
Flour, yeasts, milk, and egg are essential components in this recipe. One more important ingredient is juicy blueberries, but if you cannot buy the fresh ones, frozen blueberries are acceptable.
Moreover, if you do not want to use fresh milk, double cream might increase the smoothness of the cake.
5. Drożdżówki Z Serem (Polish Cheese Sweet Rolls)
Total time: 2 hours 50 minutes
Although people traditionally serve Drodówki z Serem for breakfast, the locals like to enjoy it at any time of day. The dish uses yeast dough; therefore, it requires a certain time for the dough to rise.
After that, shape the dough into several balls and fill them with the cheese mixture. Finally, bake your sweet rolls in the oven at 375 degrees F for 15 to 20 minutes.
Once you have gotten the dough toasted to a crispy golden brown, you can garnish them with confectioners' sugar or icing.
6. Scrambled Eggs With Chanterelle Mushrooms
Total time: 42 minutes
Have you ever mixed eggs and mushrooms? The results will wow you; creamy scrambled eggs with aromatic chanterelles will taste like summer. This dish is my favorite breakfast as well.
In Poland, the peak season for chanterelle mushrooms is often from June to October, so as long as you have this key component, you are halfway through. Mushrooms are a bit pricey, although they are cheaper when purchased in season.
The remaining ingredients, like eggs, onions, butter, etc., are readily available at any grocery shop. Do not forget to sprinkle some chives and black pepper before serving.
7. Polish Farmer's Cheese Toast
Total time: 20 min
If you want a healthy and quick breakfast, I have it right here for you. This recipe is true of spirit Polish breakfast. It only takes you 20 minutes in total to make the whole dish. I usually serve this for my family, and they keep asking for more.
The Polish Farmer's Cheese toast is an open-faced sandwich that you can easily find on the Poles' breakfast table. The ingredients often come with cheese, sour cream, radishes, and other vegetables.
If you prefer a creamier texture, add extra greek yogurt or sour cream, and use low-fat creams if you want to reduce fat intake. For more information, the two main seasons in which people have this dish are spring and summertime.
8. Naleśniki (Polish Sweet or Savory Crepes)
Total time: 55 minutes
Polish Nalesniki is a typical breakfast or brunch. They are pancakes that resemble crepes. These sweets can be thin or thick due to their richness and creamy flavor. The crunchier the pancake, the thinner it is. But I like it thick in this recipe.
For the sweet version, you can add any jam, fruit, or berries you prefer to balance or enhance the flavor. Nutella also works well in this case. For a tastier breakfast, you can top them with fresh fruit or chocolate/caramel sauce.
Moreover, you can enjoy sweet Naleśniki as a tasty Polish dessert. On the other hand, you may prepare savory filling made with cream cheese, herbs, onions, etc. Whether they are sweet or savory, Naleśniki will not let you down.
9. Paczki (Polish Donut)
Total time: 5 hours 10 minutes
When you click on the recipe link, you may notice that the website puts it as Ponczki, however, many Polish people claim that the name is pronounced, and so the right name is Paczki which means "little packages" in Polish.
Overall, they are a rich treat with higher density than a typical donut. Plain sugar, a cinnamon-sugar mix, or powdered sugar are the main ingredients for coating the paczki.
In Poland, the locals usually enjoy them on Fat Thursday – the last Thursday before Ash Wednesday. You can also find some versions that come with fillings.
10. Smoked Trout Dip
Total time: 10 minutes
Fish has traditionally been a popular cooking component in Poland, and there is a distinct chapter in a cookbook dedicated to fish recipes. This smoked fish dip will make an excellent nutritional breakfast and is also incredibly quick to prepare.
To prepare this smoked trout dip, you need smoked trout as the main component; canned fish will not work here. You can, however, use alternative fish, such as smoked mackerel, which also has a good flavor.
The unique flavor of smoked meat combined with the rich flavor of mayonnaise and cheese will be an intriguing combo for your taste buds. Because this meal is incredibly full and healthy, you may have it for lunch or supper, or you can enjoy it as a quick snack.
11. Polish Coffee Cake
Total time: 20 minutes
This is a mouthwatering yeast-raised recipe that is worth a try. You will have a fluffy cake with a thick layer of crumb toppings that will be a perfect dish for your breakfast. Make yourself a cup of coffee and enjoy this delicious golden cake.
For the best crumbly topping, you should follow the exact amount of ingredients in the recipe. Otherwise, they might come out dry or too dense. After baking, let them sit out to cool down so you can enjoy a little bit of crispiness on the top.
12. Polish Chocolate Babka
Total time: 2 hours 25 minutes
This chocolate babka is a beautiful baked good that is also vegetarian-friendly, so you must carefully select the ingredients listed in the recipe while shopping to make a superb babka.
Babka means "grandmother" in Polish, and this traditional meal evokes feelings of family, celebration, and sharing. The key ingredients to make this chocolate version are yeast, butter, chocolate, milk, and more.
The ideal baking temperature is 375 degrees Fahrenheit. Wait for it to swell, and the result will be gorgeous and delicious. After placing the cake on the table, you need to use a long bread knife to cut it as the cake is substantial enough for a whole party.
If you are wondering what a chocolate Babka tastes like, how about checking this guide and making them this weekend?
13. Polish Breakfast Sandwich Kanapka
Total time: 10 minutes
This is a traditional Polish breakfast. The famous breakfast sandwich Kanapka has become a daily food throughout the country. However, the locals also enjoy it as a snack. It's delicious, which is why people adore it.
There is a historical record that describes the kanapka's inception. The Poles changed the French open-faced sandwich into a dish that is so basic and quick to make.
You might not purchase them in some places because it has a low price to be sold in restaurants or supermarkets.
Therefore, you can create Kanaka at home with any ingredients you have on hand, such as egg, ham, cheese, veggies, etc. Ensure to use high-quality bread, roll, or baguette. Moreover, you can use butter to add the grease if desired.
14. Placek z Sliwkami – Polish Plum Cake
Total time: 40 minutes.
I've given myself the goal of baking cakes from every country on the planet. So today I'm going to bake a cake from the great country of Poland. In this case, a Polish Plum Cake is ideal.
To make it more to my liking, I tweaked a few things and borrowed a few ideas from other websites. The result is delicious. But to make them taste even better, adding butter or ground clove mixture to the plums is also a good idea.
You can enjoy this cake as a hearty dessert, or it can be a perfect addition to your breakfast or snack menu.
---
After reading through these Polish breakfast dishes, you will have a treasure trove of delectable foods at your disposal to power yourself and your family for the day. Keep exploring the cuisine of Polish, because there will be many things that will surprise you.
Before you depart, if you find these recipes helpful as they have provided a fresh perspective on Polish food, please share this post with others so that everyone may prepare a delectable Polish breakfast for themselves. Thank you!
Nutrition Facts
10 servings per container
---
Amount Per ServingCalories168
% Daily Value *
Total Fat 1.8g

2

%
Cholesterol 35mg

12

%
Sodium 25mg

2

%
Potassium 131mg

4

%
Total Carbohydrate 32.5g

11

%

Dietary Fiber 2.2g

8

%
Sugars 6.7g

Protein 5.7g

10

%
---
Calcium

39

%
Iron

2

%
Vitamin D

3

%
* The % Daily Value tells you how much a nutrient in a serving of food contributes to a daily diet. 2,000 calories a day is used for general nutrition advice.