You must be surprised by these Swedish recipes below. They are reliable, perfect, particular, and ridiculous. Let me tell you my story.
I have worked in Swedish for several months. Honestly, it was so terrible to find restaurants, food stores, and malls in this pandemic situation. Luckily, I lived with a cute Swedish roommate. She helped me to cook meals and shared many great recipes with me.
I gradually excelled at cooking Swedish dishes, which helped me to survive until now. Currently, I'm into some dishes in Sweden. Again, Swedish dishes appear in my daily meals.
Are you curious about Swedish recipes? Do you want to taste these foods? Just stay at home and follow my succeeding article.
27 Swedish Recipes Will Satisfy Your Cravings
Many authentic recipes for Swedish foods are attached below. I hope the succeeding shortlist will be beneficial to you.
Amazing Appetizers
1. Caramel Corn Appetizer
2. Swedish Toast Skagen
3. Swedish Semlor Buns
Brilliant Main Course
4. Potato Pancakes
5.Vegan Yellow Split Pea Soup
6. Classic Swedish Meatballs
7.Tomato Mozzarella Salad
8. Swedish Rye Bread
9. Quick Cream of Mushroom Soup
10. Braised Swedish Red Cabbage
11. Cheese And Herb Potato Fans
12. Swedish Spinach Soup
13. Swedish Kalops
14. Crayfish With Dill
Stunning Desserts
15. Swedish Tea Rings
16. Swedish Rice Ring
17. Swedish Rice Pudding
18. Swedish Creme
19. Cardamom Blackberry Linzer Cookies
20. Old-Fashioned Gingersnaps
21. Swedish Apple Pie
22. Ginger Cookies
23. Swedish Doughnuts
24. Cranberry Glogg
25. Viennese Cookies
26. Poached Pears In Cookie Cups
27. Cinnamon Rolls
The Best Swedish Recipes
There's no doubt to see three types of food on the basic menu, appetizers, main courses, and desserts.
In this part, I will give you some names of foods which are beneficial to you. Keep reading and pick a suitable dish for every kind.
Amazing Appetizers: Wise Choices For A Good Beginning
Are you ready to start with some delicious appetizers? Take a quick look at the list below, you will find it interesting.
Caramel corn is one of the good starters in Sweden. It is quite common in cinemas, events, or opening parties. And there is no exception to add it to your appetizer's list.
So if you're wondering if there's a chance popcorn kernels might spoil, why don't you whip up these fun treats right now before the kernels have a chance to do so? You can make popcorn without a popcorn maker, so I'm certain Swedish caramel popcorn will be easy as pie for you.
Sweet, crunchy, and eye-catching colors are some good points. This will help you have a good opening as well.
Toasted Skagen is typically served in restaurants due to its special and fantastic appearance. Significantly, when it's cold, and you want to taste something warm or hot, Swedish toast Skagen should not be missed.
You also can make it at home with shrimp, mayonnaise, cream, dill, lemon, and whitefish roe. Try to make this dish and your family will love it too.
You can find a simple recipe in this video:
Those semlor buns are so sweet, lovely, and awesome. They will bring a deep impression to eaters at the first sight. More importantly, it is only made on Easter and this is the best time to enjoy it. Out of season, out of Swedish semlor buns.
Their tastes are soft, sweet, creamy, delicious, the aroma is scented, and the shapes are unique. You cannot stop with one bite.
11 Brilliant Main Courses: You Should Add To Your Menu
After finishing appetizers, it's important to place subtle and elegant main dishes. I have attached 11 excellent options below. Drag your mouse and pick one.
This recipe calls for potato lovers. It is ideal for brunch, lunch, or dinner. Crispy, buttery, and creamy are some particular tastes with a bite. Some toppings can be added are bacon, salted pork, or lingonberries.
These Swedish potato pancakes are awesome, simple, and easy to make at home with available ingredients in the kitchen. They also appeal to eaters based on aromatic and flavorful tastes.
Do you have a preference for vegan yellow split pea soup? It is a good combination of vegan and healthy yellow peas with nourishing meat. Other ingredients such as onions, thyme, carrots, ground ginger, and spices can make this soup aromatic and mouthwatering.
A good try for dinner and lunch as well.
One of the most common Swedish recipes here is classic meatballs. They are so delicious with spices, mashed potatoes, pork, beef, and covered with gravy sauce. This is a wise choice to serve them in any family reunion, visiting the house, and other occasions.
Meatballs are a special Swedish food you can taste at home right now. Don't forget to pair the meatballs with some suitable sides for the ultimate savory and hearty meal. This way, meal time will soon become a highly anticipated event in your household.
Another dish you can try is tomato mozzarella, which is known as Caprese salad. It has a unique appearance with fresh basil on top, and mozzarella cheese in the middle of a tomato dish. Avocados can be added to increase the flavor of this salad as well.
The balance of white, green, and red color may merit your attention. If you would like to have an important party, choose this dish for a deep impression.
A small Swedish restaurant is in your house with rye bread. Soft, buttery, slightly sweet, subtle, stunning aromas, and distinctive shapes. Orange rind, caraway seeds, and fennel seeds are this bread's companion and make rye bread unique.
Swedish rye bread can be used with soups or salads as a dipper.
A recipe is suitable to serve a weeknight dinner on these cold days. Delicious, buttery, creamy, tasty, and rich in nutrients. It is an amazing soup with mushroom, thyme, celery, and other spices.
Are you ready to enjoy an aromatic flavor and nourishing soup?
In terms of your daily meals, are there any red cabbage- based on dishes? Red cabbage will turn dark red or purple after cooking. It needs more seasonings and spices rather than green ones.
Braised red cabbage is a particular dish in Sweden due to its nourishing substances, longer life expectancy, and spectacular color in add-in dishes.
A unique appearance you can find in Swedish recipes is cheese and herb potato fans. They are made from crispy potatoes with rosemary and garlic.
The fresh herbs, good butter, delicious cheese, and high-quality potatoes are the most important ingredients to perfect this dish.
You will enjoy Swedish Hasselback potatoes at home by following this video.
Swedish spinach soup is my favorite dish. This is my lifesaver from starving days. I am interested in a combination of spinach and creamy soup.
I love the taste of hard-boiled eggs, grated nutmeg, spicy pepper, and the smooth texture. It probably caught my attention at the first sight because of its green color.
Let's find out how to bake Swedish tea rings in this video.
This main course is Kalops. It is well-known as a beef stew in Sweden and other countries. It is usually served at Swedish restaurants because of its luxurious tastes and delectable beef pieces.
This recipe requires time and effort to make beef cubes softer. Wine can be added to reduce cooking time. Add spices, carrots, flour, and herbs to enhance flavors.
You are addicted to seafood and want to add it to your daily meals, is it right? If yes, you will love this tasty crayfish with dill.
This dish is usually served in luxurious restaurants in Sweden where you have to travel if you want to eat crayfish. But now you can enjoy it at your home. Beer, sugar, water, and dill will work well with crayfish in 1-2 hours. Add lemon if you need sour flavor.
What are you waiting for? Let's fulfill your stomach with a plate of dill and crayfish right now.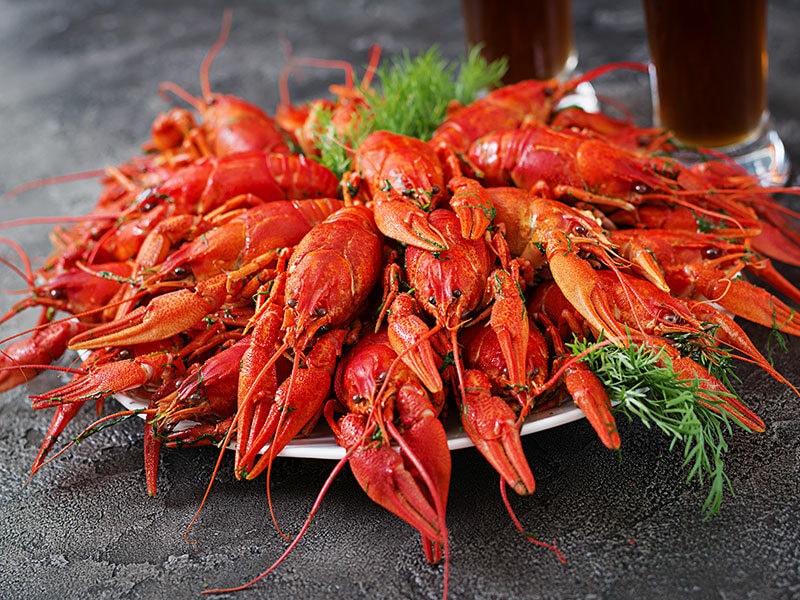 13 Best Stunning Desserts You Will Love
These are the 13 outstanding desserts from Swedish cuisine that I often use in my recipes. You may come up with a new idea with these distinctive dishes below.
Let's get started.
Being tired and starving? Swedish tea rings can satisfy your hunger right now. They are traditional dishes you can find at Swedish Christmas.
Swedish tea rings are made from a combination of cardamom powder, cinnamon, brown sugar, raisins, and covered with a delicious almond glaze.
An awesome main dish you can serve at the table is a Swedish rice ring. It is a special recipe when mixing rice with coconut milk, salt, sugar, whipped cream, and almond extract. Raspberry sauce can be added to this mixture as well.
You may be addicted to this dish due to its appealing shape. It can be served at any celebration, event, or family gathering.
Rice porridge is another name for Swedish rice pudding. A present or a warm dish for Christmas Eve. Tender rice is mixed with eggs, vanilla extract, sugar, milk, or almond extract instead. You will enjoy sweet, salty, and creamy flavors in this mixture.
Sometimes, I prefer adding some toppings such as whipped cream, sweetened berries, or cinnamon for tastier.
Bring Swedish cuisine to your house with Swedish Creme. It is a perfect dessert at the end of outside parties. A combination of whipped and sour cream, almond flavors, yogurt, and raspberry sauce will be found in this Swedish cream. You may have caught the attention due to the red berries on top.
If you are a fan of blackberry jam, the cardamom blackberry Linzer cookies will make you satisfied. They are sweet, spicy, citrusy, juicy, and buttery. They are filled with raspberries in a round coating. However, their coating can be changed in any shape you prefer.
Your favorite cookies can last up to 5 days in an airtight container. Are you ready to make these cookies at home?
Another dessert you can make at home is gingersnaps. They are a kind of old-fashioned Swedish cookies. The recipe calls for gingers which are mixed with sugar, eggs, or molasses instead.
Taste at home crispy, spicy, and sweet ginger snap cookies within a couple of minutes. It will bring Swedish flavors to your house.
An easy, quick, and simple recipe for any busy person. You also serve this pie in the last-minute party desserts. An eye-catching appearance can make these Swedish apple pies highlighted at the table. It is the most common ending food in Sweden as well.
This video will help you make Swedish apple pie easily.
A ginger cookie is a must-try dish when traveling in Sweden. It can be called pepparkakor in some countries. Ginger cookies are a combination of intense sweet molasses and ginger powder. Nutmeg, cloves, and spices are some flavor enhancers.
For novice chefs, you must be dying to know if it's okay to bake cookies on wax paper, and it's a completely reasonable concern. While wax paper certainly provides a quick and convenient alternative, wax papers and ovens aren't exactly the best match.
But, do not worry about moving, you can do it at home right now.
Swedish doughnuts are a warmly welcome dish for a quick family visit. They are also childhood doughnuts that every child will love.
Besides, melt the butter and mix it with sugar, or other toppings before spreading on the surface. Cinnamon and cardamom can be matched and added to Swedish doughnuts for more flavors.
Do not keep baked doughnuts too long at the temperature if you want to taste a hot dish.
Looking for a drink for Christmas Eve? Why don't you give it a try? A mixture of red wine, cranberry, and apple juice will bring you an impressive experience.
Cardamom pods, cloves, and other ingredients can make this Swedish beverage tastier. Cinnamon sticks are also used for decoration as well. If you want more highlights at the table, keep it warm enough for better flavors.
Let's discover how to make old-fashioned cranberry glogg.
Do you like Viennese cookies? You probably enjoy buttery cream fillings that will match with sweet raspberry jam and aromatic vanilla extraction. A perfect combination you will love at the end of the party.
They can be created with several shapes to gain eaters' attention. Try to use many patterns to make your meals fascinating. This recipe is also simple and easy for you to follow at home.
This video will give you a short and precise guideline to make Viennese cookies.
It is impressed by its unique form and stunning appearance. Pears are poached and placed in lace cups with some dense molasses on the surface. Sometimes, pears are also placed in cookie cups to increase the flavors.
This recipe is a good mix and matches with tea in your afternoon break. Keep them cool in the fridge to make them more delicious.
A quick and easy recipe for busy people is cinnamon rolls. Sweet, soft, tangy, buttery, and tasty, this irresistible dessert featuring cinnamon can be made right within the comforts of your home with a few simple ingredients.
This dessert is a good choice if you want to have a cozy environment and subtle perfume. Vanilla extraction and ground cinnamon can help you do that.
Appreciate Your Meal
Your menu might become various with a range of Swedish recipes. Instead of considering what you have to eat, pick one dish and experience.
These Swedish dishes are delicious, healthy, attractive, and suitable for every occasion. Every dish has a distinctive taste, eye-catching shape, and special aroma which makes your meal unique.
Let's enjoy your Swedish dishes in your house and don't forget to share with me your options via comments. If you have any new ideas, keep telling to me. I am always happy to hear from you.