The question: "Do popcorn kernels go bad?" often appear when you have a dozen unpopped popcorn kernels in your storage and still haven't had the chance to use them.
"Are they termite-infested or not, or how do you know if they go bad already?"; "How to keep popcorn kernels longer?" And many more questions are coming up in your mind.
Do not worry; I am here ready to give you satisfactory answers to your questions. Let's scroll down and find out.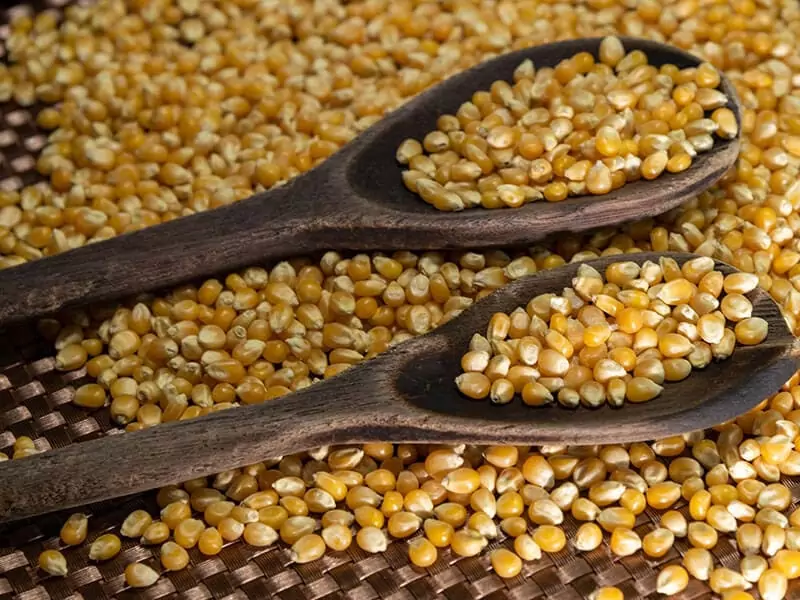 Do Popcorn Kernels Go Bad?
Come back to the big question! Yes, popcorn kernels do go bad. And the longevity is different between plain popcorn kernels and microwave kernels.
Plain popcorn kernels: You can keep them for quite a long time (up to a year or more) if you store them properly in airtight places or containers.
Microwave popcorn kernels: It depends on the expiration dates on the packages, but sometimes you can still use them a month after.
These short answers may not satisfy you. So let's find out more helpful information below related to popcorn kernels.
What Are Popcorn Kernels?
If you have not known what popcorn kernels are, kernels are the edible seeds of a plant. Popcorn kernels are the kernels of corn that can be popped under high heat and become your popcorn pack like at the cinema. (1)
Your popcorn kernels can be popped thanks to a physical reaction when the pressure inside and outside the corn husk is different due to the moisture in the kernel being heated. The moisture inside the dry corn kernels usually ranges from 15-20% in order to pop.
When finding popcorn kernels at the market, you might find that there are 2 common types: plain popcorn kernels and microwave popcorn kernels (seasoned).
The Differences Between Plain Popcorn Kernels And Microwave Popcorn Kernels
Plain popcorn kernels and microwave popcorn kernels are to make your popcorn bowls, aren't they? Below are some differences.
Plain Popcorn Kernels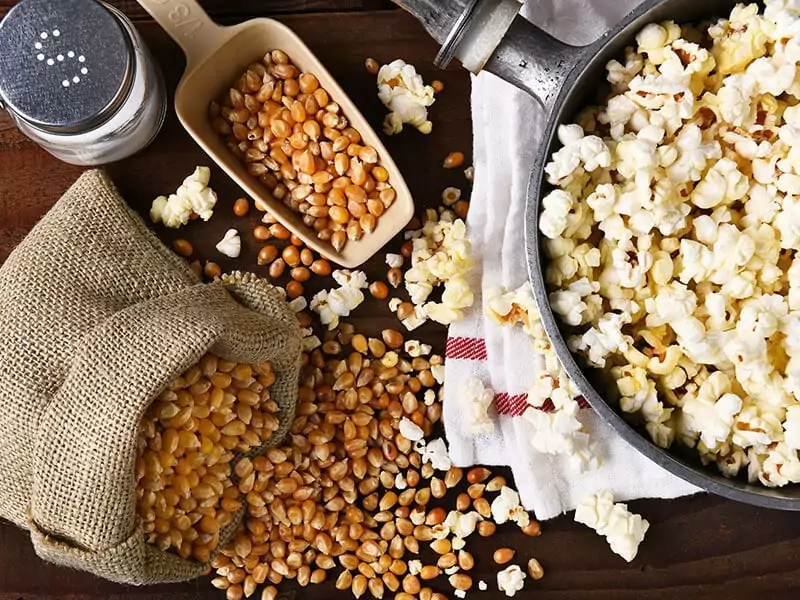 They are the traditional corn kernels that are dried until at the qualified dryness enough to pop and become fluffy popcorns. And they are not flavored yet, so whenever you cook them, you can add in your desired flavor and butter (if you like).
Ideally, to prepare these traditionally corn kernels, you should use a popcorn maker. Without this appliance, you'll need more than popcorn oils of the highest quality. Personally, I think it'll always come in handy to know the various ways to prepare popcorn without popcorn makers.
If popcorn kernels are not appropriately stored in airtight bags or containers and in sun-directed places, they can lose the moisture inside and not pop well like the first time you use them.
Microwave Popcorn Kernels (Seasoned)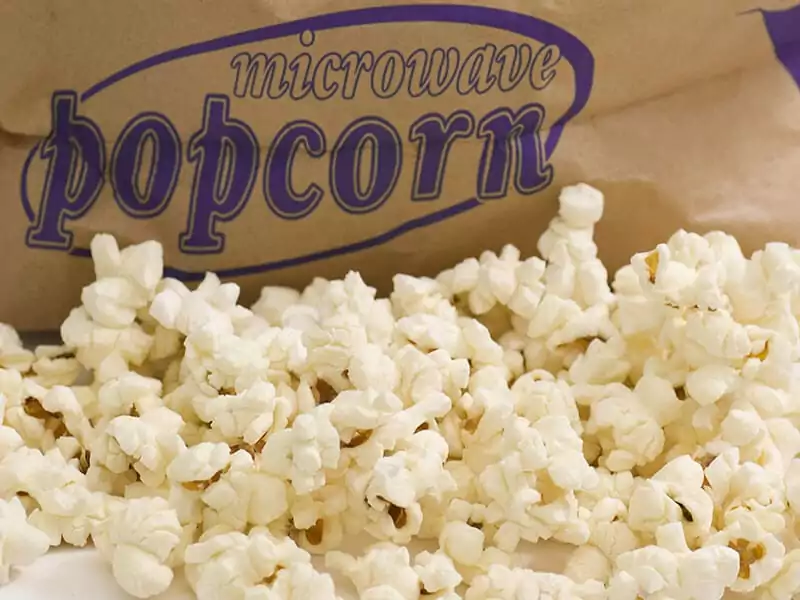 This is the instant option for popcorn kernels. When you do not like pre-populated popcorn and want to pop your popcorn at home, you aren't sure if the recipe will work.
Instant popcorn kernels have much shorter longevity than plain ones as the manufacturers have already added oil, butter, sugar, or many types of flavors inside the packages. And oil or butter doesn't taste good over time.
You should remember to use your microwave popcorn kernels before the expiration dates on the package. Some people say you can still use them after 3 months past that date, but it might cause serious risk to your health.
How Long Can Popcorn Kernels Last?
Popcorn kernels are dried grains that are easiest to store and can last indefinitely if you keep them properly. But in normal conditions, the shelf life of your popcorn kernels is different due to their types.
They can be available to use in a year or more in your pantry to plain popcorn kernels.
The seasoned types of microwave popcorn kernels are best to use before the expiry date printed on the packages. They can still be used after 6-8 months, but there is no health guarantee.
Another question you might be wondering is "What is the shelf-life of popcorn?", or to be more specific, "Can popped popcorn last long?". After all, I'm sure you'd want to enjoy your snack when it's at its tastiest.
Generally, the shelf-life of popcorn after popping varies depending on its specific type. However, it's safe to say that its average lifespan falls between 2 weeks to 3 months.
Overall, I'd suggest trying to keep your popcorn kernels fresh. By doing this, you'll always have tasty kernels to prepare a scrumptious snack. Scroll down to check out my ultimate tips for storing popcorn kernels for years to come.
How To Know Do Popcorn Kernels Go Bad Already Or Not?
I've answered that popcorn kernels go bad, but what are the signs, and how do you know that they have already turned bad?
1. Color
The color of the corn kernel is inherently darker after drying, but when it is damaged or moldy, you can see black or gray spots appear on the kernel's hull. Mold is harmful to your health as it can lead to serious poisoning, so you should be careful.
2. The Evenness Popping
When you have a bag of popcorn kernels that has been sitting for a while, and today, you decide to make a delicious popcorn bowl of it. But when you roast the kernels on the pan, half of them don't pop.
It proves that the quality of the kernels has decreased. Therefore, when storing popcorn kernels, you should not mix the old with the new ones.
3. Smell
This applies especially to microwave popcorn kernels because plain ones have almost no discernible smell.
In this way, when you open the bag of popcorn, you can smell the unpleasant smell of oil after cooking. That means the oil in the popcorn bag has spoiled and affects the quality of the whole bag. At this time, you should not eat them because of regret.
4. Taste
It is the fastest and straightforward way to know if your popcorn kernels go bad or not, especially with the microwave popcorn pack.
If you can taste the yummy buttery sweetness like usual, it's perfect. But if you cannot and just feel the weird oil taste, you should throw that pack away.
5. Bugs
When you store dry seeds in the pantry, termites are inevitable, same to popcorn kernels. So if you open your popcorn kernels pack and see weird crumbs or bugs, that pack shouldn't be used anymore.
Always pay attention to food safety conditions to protect the health of you and your family. At the same time, do not over-storing your popcorn kernels to use them up before the expiry date.
Newly bought kernels are always better than ones that have been in the pantry for a long time, right?
Incredible Ways To Store Your Popcorn Kernels For A Really Long-Term
Although popcorn kernels are easier to store than other types of dried grains, you might not know how to store them properly or how to store your kernels for even years. Now I will show you how to do that.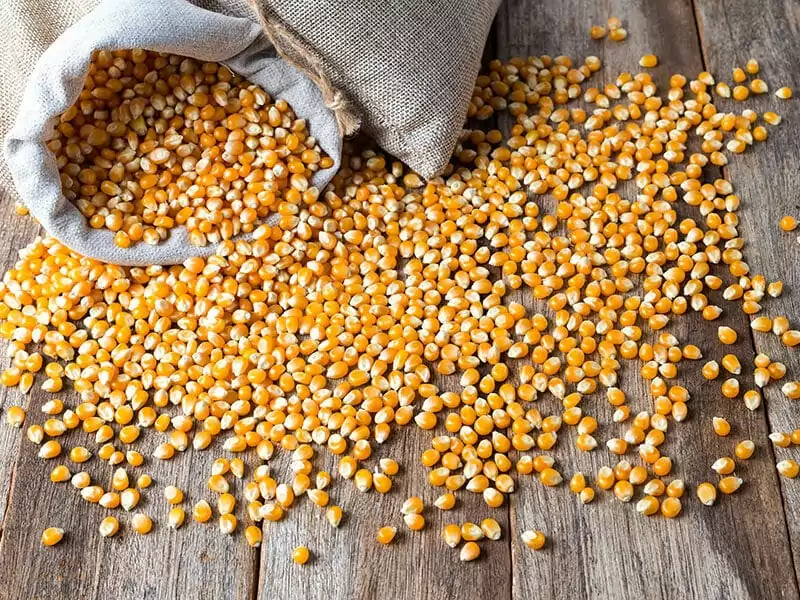 Plain Popcorn Kernels
If you buy packed popcorn kernels and your kernels are already inside airtight bags, it would be acceptable to leave them like that in some places in your pantry that don't have direct sunlight.
If you buy your plain popcorn kernels from the markets or somewhere that doesn't pack them in airtight bags, you should keep your grains in airtight containers. Also, you shouldn't put them under sunlight.
You can consider using Mylar bags instead of containers. Mylar bags are made from materials that are tougher than regular sealed food bags and can block light through.
The essential tips here are to not expose your popcorn to too much air and direct sunlight. Also, avoiding moldy places is to prevent termites. Noticing the above advice will make your popcorn kernels usable for years.
Hydrating your popcorn kernels can surprisingly help you to keep your kernels "poppable" after years in the pantry.
Add a teaspoon of water into a pound or 450g of popcorn kernels in some containers. Remember to shake them every day to moisturize your kernels evenly before using them a week later.
Accidentally spill a lot of water into your popcorn kernels? Spread your kernels evenly on a tray, preheat the oven to 130° F (about 55° C) and let your tray inside the oven for 10 to 15 minutes. Your problem is solved.
After the dehydrated popcorn kernels cool off, store them like the above tips.
Note: The popcorn pops thanks to the moisture inside them, so do not put your popcorn kernels in the refrigerator. The cold inside the fridge can dry the popcorn kernels' core, and it can not pop anymore.
You can store your popcorn kernels for years with these tips. You can see this video to know more:
Microwave Popcorn Kernels
It is quite difficult to extend the shelf life of instant popcorn kernels for the microwave because each manufacturer will have a different flavored formula and sugar to oil ratio.
Besides not leaving the packages in a humid environment or facing direct sunlight, you should also keep the kernels in their package before consuming
However, you can cheat the suggested shelf life because the expiration date means that it will "taste better" when eaten within the date. So in fact, you can still eat it 6 to 8 months after that.
But in my opinion, using out-dated food is very unhealthy. So try to make a delicious popcorn bowl while it's still within use-by date. Even if you get premium-grade popcorn kernels, they are still bound to expire. So it's best to use them up when the kernels are still in their prime.
Why Do Some Popcorn Kernels Not Pop?
The principle for the popcorn kernels to pop comes from the difference in pressure inside and outside the kernels when heated, primarily based on the amount of moisture inside them. The standard moist percentage is 15 to 20% (as I shared earlier).
So the first cause is that the percentage of moisture inside the "unpoppable" popcorn kernels is no longer adequate. This could be due to a drying error or because your popcorn kernels have been in storage for too long, leading to moisture loss.
The second reason is that the shells of some seeds are too hard, which makes popcorn kernels difficult to pop. The unevenness in grain quality can be reduced if you choose products from reputable manufacturers.
Can Expired Popcorn Kernels Make You Sick?
Yes, they can.
The shelf life of plain kernels is usually 6-8 months and that of microwave instant kernels is 8 months. After this date, even 3 months, you can still use it. But the popcorn kernels when pop will be "unpoppable" or dry and burn.
Over-heated food or burned food can form some harmful compounds and lead to cancer later. (2)
How To Use Old Popcorn Kernels? – 6 Tips That Can Blow Your Mind!
Having many old unused popcorn kernels and having no ideas to deal with them? Don't worry, I will share with you several amazing tips.
Topping Your Cheesy Grits
If you don't like cheesy grits, this topping of powdered popcorn kernels can change your opinion.
It's also very easy to make: use stale popcorn kernels or make them stale by taking your kernels out overnight. Then, powder them in your processor until your mixture looks like cornmeal.
After all, put it your grits and try. Leave a comment below and review your experience with me.
Making Bean Bags
Cornhole is a popular game for all ages, but why do you have to buy bean bags at a store while you can make your own at home?
Just remember to save your unpopped kernels after making popcorn until it's enough to make a "popcorn kernels" bag.
Making Iced "Corn" Pack
The problem with a regular ice pack is that it will ooze water after a while. Therefore, people often use frozen peas instead.
Also, you can use popcorn kernels for the same purpose. Put your old or unpopped popcorn kernels pack in the freezer and use it as a cold pack anytime.
Making Popcorn Ice Cream
Another incredible recipe out of your popcorn kernel is here.
Instead of using plain milk to make the base for your cream, you can add some more popcorn flavor by soaking your unpopped popcorn kernels in it before making cream.
Just give it a try, it can blow your mind!
Growing Your Popcorn Kernels
Do you know that you can grow trees from old popcorn kernels? It sounds strange, but it does work. All you should do is prepare a cup of water, some old popcorn kernels (of course the plain ones), some paper tissues, and an airtight container.
Let's grow your popcorn kernels at home and save your money!
FAQs About Popcorn Kernels
Since popcorn is the favorite light snack for almost all families, you might have many questions and concerns about it. I would love to answer some of the frequently asked questions, and let's find if there are yours.
Storing Popcorn Kernels Has Never Been This Easy
I hope you have found the answer to the question "Do popcorn kernels go bad?," plus some helpful tips to store them. My articles always try to help you expand your knowledge and share valuable kitchen experiences.
To all the tips about storing and reusing your popcorn kernels, if you have any other creative ideas, please share them below in the comment section. Sharing is caring!
If you have any further questions, don't hesitate to leave a comment to contact me and follow this page for the latest updates. I am always ready to help you out!
References
En.wikipedia.org. 2021. Popcorn – Wikipedia. [online] Available at: <https://en.wikipedia.org/wiki/Popcorn>
Dana-Farber Cancer Institute. 2021. Does Burnt Food Cause Cancer? | Dana-Farber Cancer Institute. [online] Available at: <https://blog.dana-farber.org/insight/2019/09/does-burnt-food-cause-cancer/>
Fraser, M., 2021. Where Does Popcorn Come From?. [online] Food for Thought. Available at: <https://www.gourmetgiftbaskets.com/Blog/post/where-does-popcorn-come-from.aspx>