How to clean a popcorn machine appropriately is essential to preserve the fresh and savory taste of the iconic snack. Whenever you pass by snack bars in recreational centers or movie theaters, you will feel its salty and buttery aroma.
It requires various factors to contribute to this irresistible flavor. One of them is a clean popcorn machine. A popper in peak condition can offer kernels not only in large quantities but also in top-notch quality.
Next time you notice a strange taste in your popcorn, instead of checking if popcorn kernels can truly spoil, have a look at your popcorn maker first. It's highly likely that it's the culprit behind the unpleasant flavor in your snack, especially when you haven't cleaned the machine in a while.
If you are curious about the proper method to clean a popcorn machine, you have come to the right place.
Whether you are making popcorn from a commercial machine at concession stands, or you are preparing the dish with a home popper for the family, you can find the detailed cleaning instructions right here!
Alright! Let's jump straight to our topic!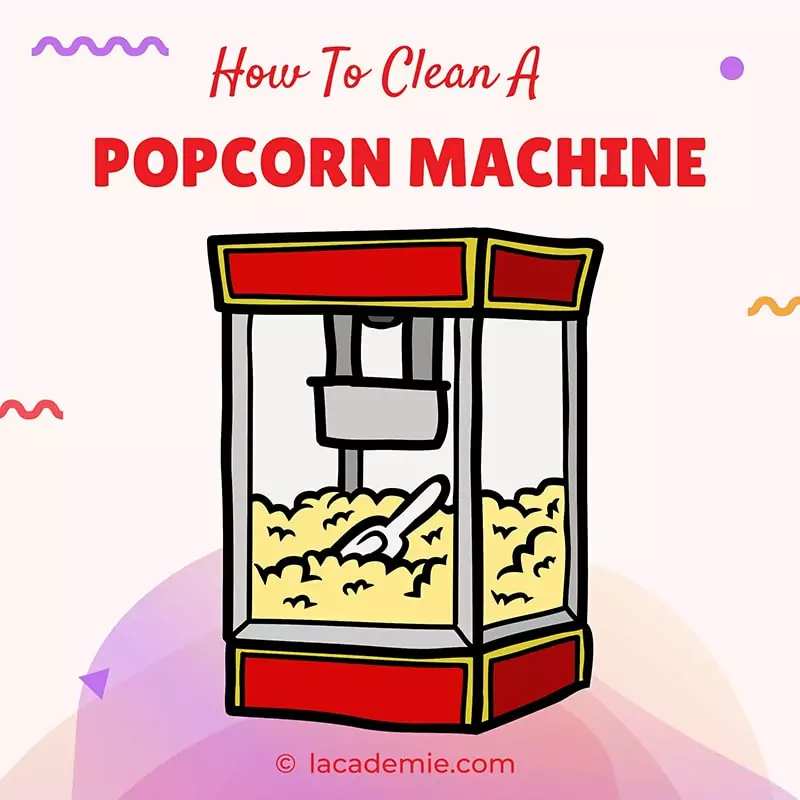 Quick Answer On How To Clean A Popcorn Machine
Like every electronic device, performing regular cleaning sessions enhances its durability. This rule applies to popcorn machines. Different popper variations require slightly different cleaning practices. However, you can learn the overall process as follows:
Switch off the popcorn maker and unplug its cord. This practice prevents electrical shocks during cleaning.
Prepare a soft cloth dampened in soapy water. You can use a mild detergent or any ammonia-free cleaner to wet the cloth.
Wipe the cloth over the entire machine. Do not submerge the appliances in water.
Let the popper dry on its own. Reinstall any component that you had separated for cleaning.
It is highly recommended to clean your popcorn machine manually. Unless the manual states it is safe for the dishwasher, you should rely on your bare hands to pull off the task.
How Do Popcorn Machines Function?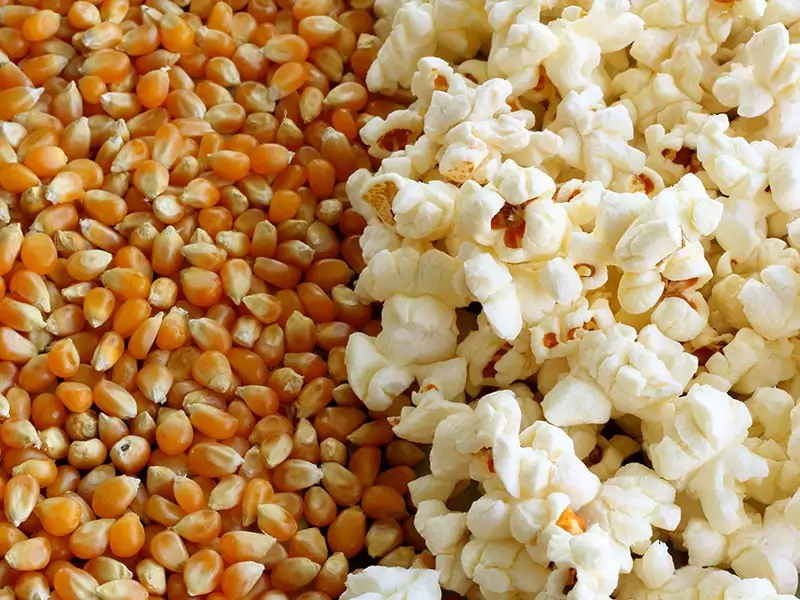 It would be redundant to explain what a popcorn machine looks like, as everybody knows it. Instead, what I want to cover in this section is how these poppers function to turn kernels into buttery popcorn.
Let's start with the basics first. There are two ways to make popcorn: oil-popped and air-popped.
Doesn't matter whether your popcorn kernel is yellow or white varieties, they can both be made with these two ways. Despite the differences between white and yellow popcorn, one similarity between them is that they're compatible with popcorn poppers utilizing one of these 2 methods.
Both ways revolve around one common principle, which is to heat the kernels. Each kernel needs to reach 100 degrees Celsius (212 degrees Fahrenheit) for the cornstarch to expand.
The pressure continues to add up significantly due to the boiling water inside the kernel. Such a strong force will press against the hull until it is so great, it makes the hull explode. This event releases steam and cornstarch inside, resulting in a single piece of popcorn.
The only difference between the two popcorn-making methods is the material used for heating, which is oil and hot air, respectively.
Four Common Types Of Popcorn Machines
Originally invented by Charles Cretors in the 1890s (1), popcorn makers have developed significantly from a simple vending machine to a huge industry with a wide array of types like today.
Generally speaking, popcorn machines have two main groups: oil poppers and air poppers. However, such an approach is purely theoretical.
Instead, I will have a slightly different classification based on the common types of poppers in the market. There are three options: commercial, hot-air, microwave, and stovetop.
Type 1: Microwave Popcorn Machine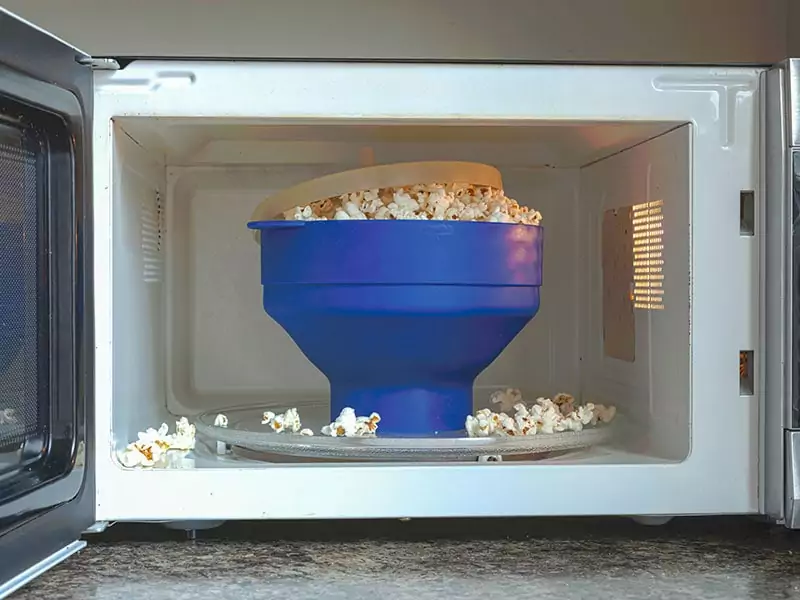 Microwave popcorn marker is a non-oil popcorn machine. Generally, it is a plastic or silicone bowl with a vented lid. My first impression of microwave poppers is that they are very flimsy and floppy. However, it does work!
All you have to do is place a 1/4 cup of kernels inside the bowl. There are a huge number of popcorn kernels out there that you can choose.
Then, gently place your lid into the bowl. After that, place the popcorn maker in the microwave. If you have popcorn preset, you should try it first. Cook until kernels are two to three seconds between pops.
Always use kitchen mitts to take the bowl out of the microwave because your popcorn maker would be too hot to handle with bare hands at that time.
Microwave popcorn makers are the most cost-effective and quickest way to prepare the snack. They also restrict oil usage, making the food healthier. They're also an efficient way to color popcorn kernels without you having to break a sweat.
They are also super easy to clean, just like you clean any bowl in your kitchen. That is why I will not mention the cleaning process of this popper type.
Nevertheless, look out for BPA-free popcorn makers for the safest cooking process.
You can observe the entire popcorn-making process in this microwave popcorn maker via the following video:
Type 2: Hot-Air Popcorn Machine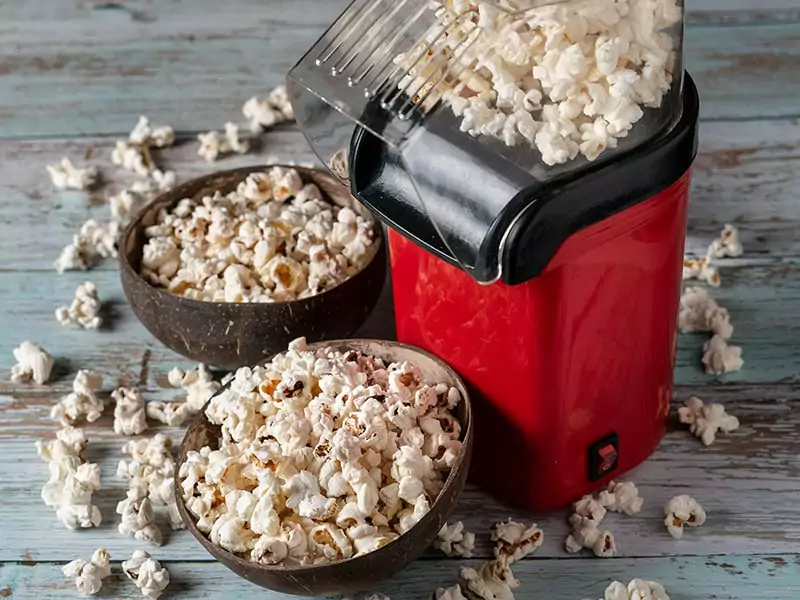 Hot-air popcorn machine is a compact electric appliance utilizing hot air circulations onto the kernels. This is a guaranteed way to avoid possible reasons leading to chewy popcorn. It contains a fan, a heating component, and an enclosed air pipe venting into a sealed container.
After switching the air popper on, the fan will carry air over the heating component, through the pipe, out of the vent, and on to the kernels lying right above. Once the air is hot enough, the above principle starts to work, popping those kernels into delicious popcorn.
You can enjoy a healthier and guilt-free snack than the fatty popcorn made from oil poppers (commercial), as there is no oil involved in the entire process.
You will find most hot-air popper models are for home applications. Their quick and easy application must be the reason behind the fact that "around 70% of all popcorn consumed in the country is made at home." (2)
Type 3: Stovetop Popcorn Machine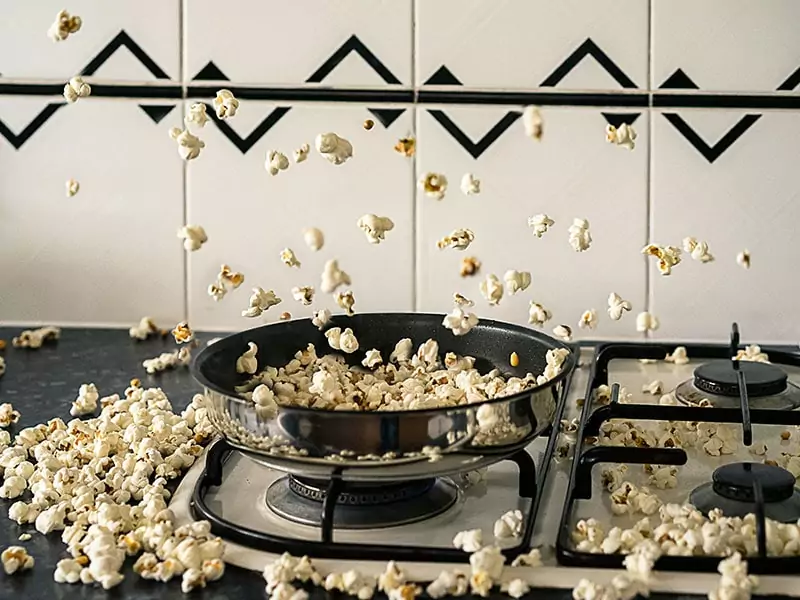 The nice thing about stovetop popcorn makers is that it is widely available around the house. All you need to prepare is suitable oil for making popcorn (such as canola oil), kernels, salt, butter, and a spacious stainless stockpot (6 to 8 quarts) to shake your popcorn during cooking.
Start off by adding 2 tablespoons of canola oil onto the stockpot and set the heat to medium level. Then, drop three kernels in. Once you hear them popping, it is a signal to put all remaining kernels into the pot.
You can melt your butter while waiting for the main cooking. Put 2 slices of butter into the microwave and melt them. Aside from adding flavors, butter can act as a binding agent, meaning it's a fantastic solution for when seasonings don't stick to popcorn.
Then, when you hear the popping sound getting slower, you can take the stockpot out. Drizzle some melted butter and salt gently onto the popcorn and give the pot a nice shake. There you have it!
You can have a more illustrative tutorial with the following clip:
Stovetop is indeed the simplest variation to make popcorn without a popcorn maker. It requires no fancy and specialized equipment like other types. Yet, stovetop poppers yield an equivalently good result.
Type 4: Commercial Popcorn Machine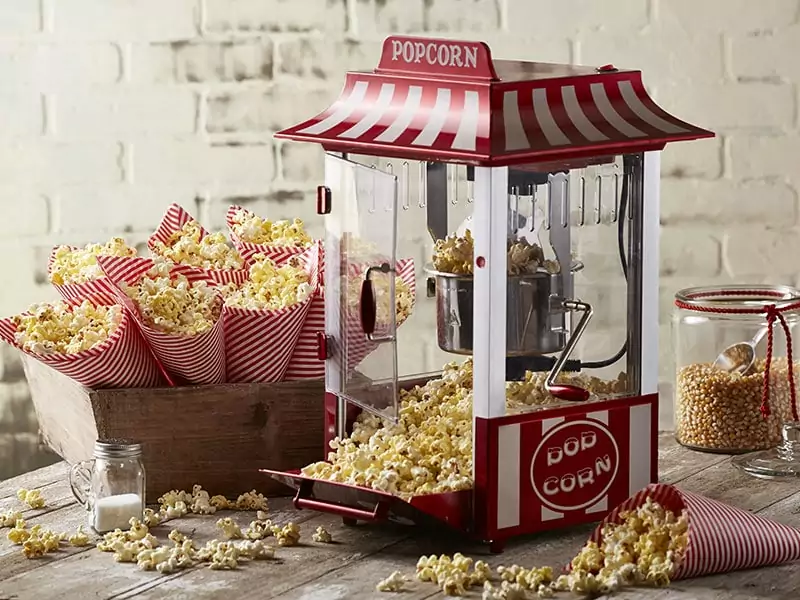 Commercial (or professional) popcorn machines are available at almost all theaters, stadiums, and heavy traffic locations. Capable of preparing any variety of popcorn, they are probably the most recognizable equipment to almost everyone.
Typically, the commercial type is shaped like a standing container, with an electric kettle inside providing the heat for kernels. Once popped up, the popcorn shoots and lands on the underneath base. You can collect the final result by removing the tray from the machine.
The main soul of commercial poppers is the kettle. You can choose either stainless steel or aluminum material for this component. Stainless kettles are more durable yet quite expensive.
Based on their popcorn capacity, there are three subtypes of professional popcorn makers: the low 8-ounce, the medium 12-ounce, and the high 16-ounce.
Low-capacity poppers are a great selection for offices. Medium-capacity ones are perfect for small movie theaters. And high-capacity popcorn makers are the ultimate choice of large movie theaters or stadiums.
Other Popcorn Machine Types
Besides the four above versions, there are a wide array of popcorn machine types out there, like gas-powered poppers. People are also researching solar-powered popcorn makers. Hopefully, that type will be available soon.
Complete Guideline On Cleaning A Hot-Air Popcorn Machine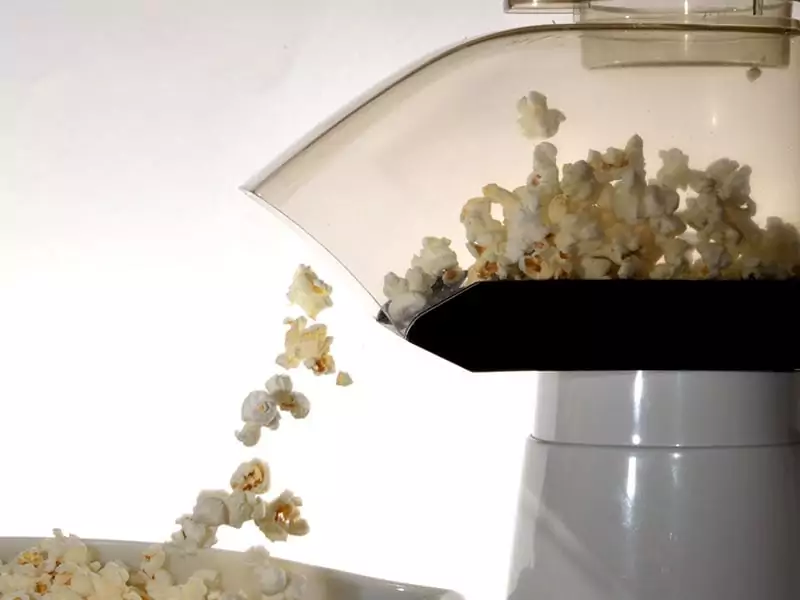 Let's start this cleaning tutorial with hot-air popcorn machines.
Step 1: Cool Down The Popper
Before cleaning a hot-air popcorn machine, it is a must to cool the whole unit by unplugging its cord. Let it cool down naturally on its own. Do not use water or other chemicals to interfere with this process.
This initial step may take you a few hours. Thus, a good practice is to let the popper cool down overnight.
Step 2: Clean The Popper's Melter And Cover
After the cooling process, it is high time to wash the butter melter cup, the cover, and other attachable parts with soapy water. Besides dish soap, you can utilize a mild detergent.
Make sure to read the manufacturer's instructions carefully. If the manual specifies that your hot-air popcorn machine is not suitable for dishwasher, do it manually.
Take a piece of soft cloth (or a sponge) to scrub and clean these components. Stay away from scouring tools, as they can damage your popper.
Then, let all these removable parts dry out completely by hanging them on a rack or placing them on the counter.
During the wash, watch out for electrical parts and do not let the water come into direct contact with them. Normally, these electrical parts are not removable.
Step 3: Wash The Chute
Located at the top of the machine, chute is a part that directs your popped kernels right into the bowl. Depending on the model, this popping chute can be removable or not.
The easy case is when you have an attachable chute. You can remove it and clean it separately by any means (submerge in soapy water, wipe with a damp cloth, etc.). Then, let it dry completely before reinstalling it.
Nevertheless, if your chute is not removable, it will require more effort from you. Use a damp cloth to carefully wipe it clean. You cannot rinse in this situation, as water is not allowed to be in the popping chamber.
Speaking of the chamber, you should only clean it with a dry microfiber cloth.
Step 4: Reinstall And Dry The Popper
The last step is to reinstall every component to its original spots. If you find it difficult, refer to the manufacturer's guidelines.
After that, store your hot-air popcorn machine in a dry place, such as a shelf or a cabinet. A good practice is to wrap the cord neatly to prevent any unnecessary plug damages.
Detailed Instruction On Cleaning A Stovetop Popcorn Machine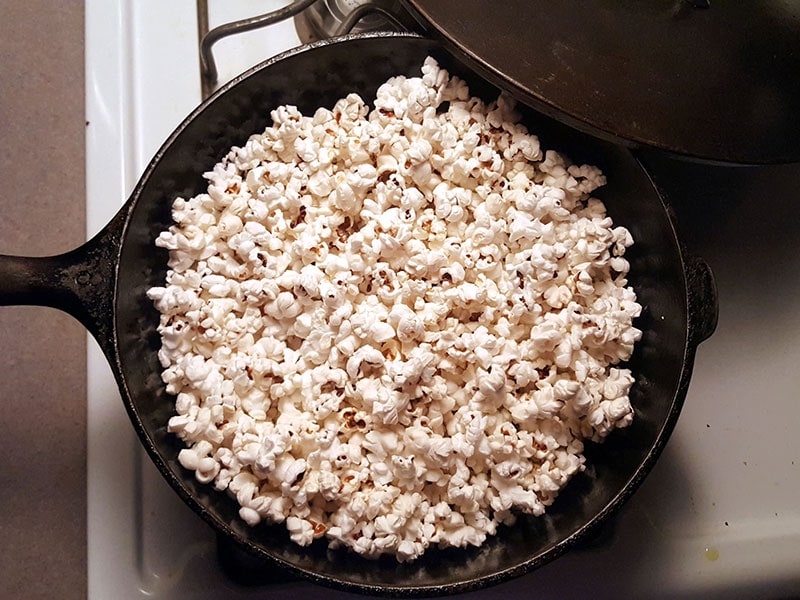 Here is the correct way to clean your stovetop popcorn machine.
Step 1: Let The Popper Cool Down
Like hot-air popcorn machines, stovetop poppers also need to fully cool down before any cleaning activity takes place. It is advised to discard all remaining popcorn and kernels from the machine in advance.
Step 2: Remove Dirty Marks
Take a close look at the internal surfaces of your popcorn maker. If you notice any dirty marks like butter or oil, clean them with a dry rag immediately. Do not utilize cleaning agents at this stage.
Step 3: Wash With Soapy Water
Here is the main part of the cleaning procedure. Wash your stovetop manually with warm soapy water. Feel free to submerge your entire popper into the solution, as typically, stovetop popcorn machines contain no electrical parts.
After that, rinse your popper thoroughly to remove all soap (or detergent) before moving to the final step.
Step 4: Dry Out The Popper
Lastly, hang the stovetop popper on a dish rack or place it on a counter. Let the unit dry on its own.
Once the device is clean and dry, store it in a cabinet for later uses.
Extensive Tutorials On Cleaning A Commercial Popcorn Machine
Get your commercial popcorn machine clean and shine by following the below steps:
Step 1: Unplug The Machine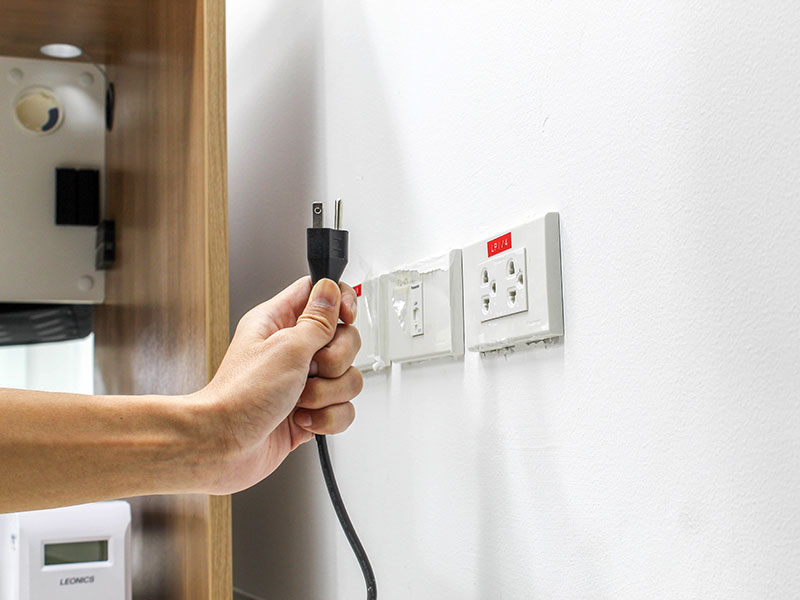 Like the two above popcorn machines, it is important to turn the appliance off and unplug its power cord.
Let the popper cool down for about 30 to 45 minutes before you carry out the cleaning process. Once you feel no heat radiating off the kettle when you hover your hand near it, you can start cleaning the machine.
The cooling-off session also helps prevent dangerous electrical shocks and burns from happening. Otherwise, the extremely high temperature used for popping the kernels will cause severe consequences during your cleaning.
Step 2: Discard The Remaining Popcorn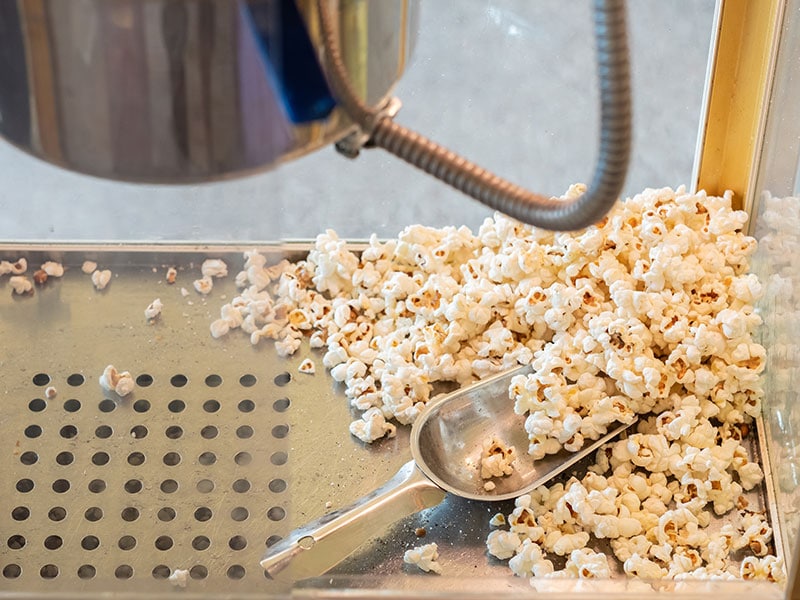 Now, as the kettle cools down, you need to discard any leftover popcorn from the popper. If there is a lot to remove, use a scoop for the task. After that, you can utilize a soft cloth to get rid of the remnants and kernels.
It is a must-do task before you clean the popcorn machine. Thus, put some effort into getting it done!
Step 3: Remove And Clean The Kettle
Once you discard all remaining popcorn from the machine, strictly follow the manufacturer's guidelines to unplug and remove the kettle.
Then, use a towel to wipe it clean. Sponge is also a good alternative to the towel, owing to its soft texture. No matter what you use, you should dampen it lightly in soapy water.
Scrub the entire kettle (both interior and exterior) carefully and rinse with warm water afterward.
In all cases, do not submerge the kettle in water. Otherwise, you will ruin this electrical device.
Step 4: Clean The Popper's Heating Deck
After cleaning the kettle, move on to the popper's heating deck. Wet a separate soft cloth with soapy water or a mixture of water and vinegar. Then, use it to rinse and dry the surface.
If you want to use a cleanser, make sure it is safe for food, as your next batches of popcorn will land on this exact surface.
Step 5: Clean The Popper's Stainless Steel Exterior
Keep up the good work with the popper's metal exterior. Once again, use a moist cloth dampened in soapy water or water-vinegar mixture to wipe the popcorn machines' stainless surfaces.
You can utilize a food-safe cleaner to remove any fingerprints or oil spots on these areas. Otherwise, it would take some elbow grease to handle them.
Step 6: Clean The Popper's Bottom Tray
Dispose of the leftover kernels on the bottom tray. After that, use a separate soft cloth to clean the tray carefully. Soapy water is a great cleaner for this task.
Step 7: Clean The Popper's Glass Surfaces
Wipe both internal and external glass surfaces with an ammonia-free food-safe cleaner.
Apply the cleaning agent to a soft cloth and start cleaning the glasses. Let the machine dry out completely before moving to the next step.
Step 8: Reinstall The Kettle
You are getting near the finish line. After cleaning all areas of your commercial popcorn machine, reinstall the kettle. Similarly, the popper's manual will clearly outline the steps for you to do. Thus, read the manual carefully.
Step 9: Run The Popcorn Machine Again
There you go! Your commercial popcorn machine is clean and clear! The last step is to switch it on to make sure everything is functional. If you encounter any problem at this stage, reach out to an authorized technician for professional assistance.
If you reach this stage and get a little bit confused, you can review the process via this video:
Kettle Boil-Out – Essential Practice To Prolong Your Commercial Popcorn Machine Life
If you notice from the above cleaning instruction, there is one specific being left untouched. It is the important kettle. In fact, cleaning the kettle requires a separate practice called "boil out", which is the main deliberation in this section.
Boiling out your kettle is not the next step to the above procedure. Indeed, it is a good practice that you should maintain weekly to battle the caked-up oil and grease from your kettle's surfaces. Trust me! Normal rinses will not be enough for annoying dirt. That is when a specialized kettle cleaner comes in handy.
The boil-out process is pretty straightforward. You fill your kettle with the concoction and two cups of water. Then, boil the mixture up. Turn off and unplug the kettle once it reaches boiling temperature.
Let the whole unit (with the mixture) sit there for a while (as per the cleaner's instructions). After that, dispose of the liquid carefully, rinse and reinstall the kettle back in the popper. You will have a nice and shiny kettle again.
Follow the following video for better illustrations of how to perform a kettle boil-out:
Safety Precautions On Cleaning A Commercial Popcorn Machine
Following these four bullet points to have a safe and effective cleaning session for your popcorn machine:
Wear protective gloves during the entire process. It prevents you from contacting the cleaner and touching the hot kettle with bare hands.
Utilize ammonia-free cleaner. Ammonia is not safe when contacting food-containing surfaces, including metal and plastic.
Store unused cleaner far away from the machine. This practice helps you avoid accidental knocks or bumps over the container.
Do not let inexperienced employees clean the kettle. Without proper training and supervision, they can be seriously hurt if they accidentally touch the boiling kettle.
Frequently Asked Questions On How To Clean A Popcorn Machine
As usual, this part will consist of some most common inquiries relating to the topic. I hope you will have your answer among the following questions on how to clean a popcorn machine.
Additional Advice On How To Clean A Popcorn Machine
The secret to how to clean a popcorn machine is to do it regularly. Performing the cleaning process daily will be better to prevent the dirt from accumulating. The practice is also beneficial to preserve the savory and fresh taste of your popcorn.
This is the end of my sharing on cleaning methods for different popper types. I advise you to look at your popcorn maker right now (if you have one) and clean it. Then, you can make a new batch of popcorn tomorrow for your family.
Share your thoughts in the comment section below. I would love to hear more of your opinions about the topic. Thanks for reading!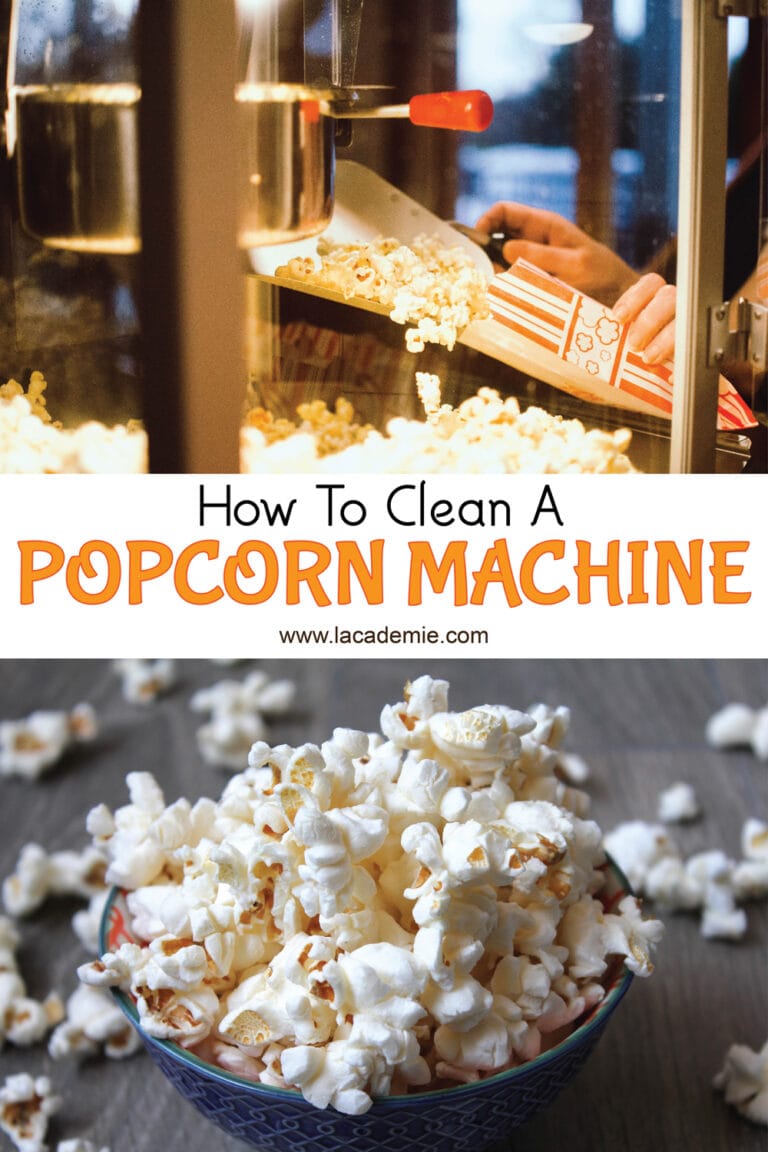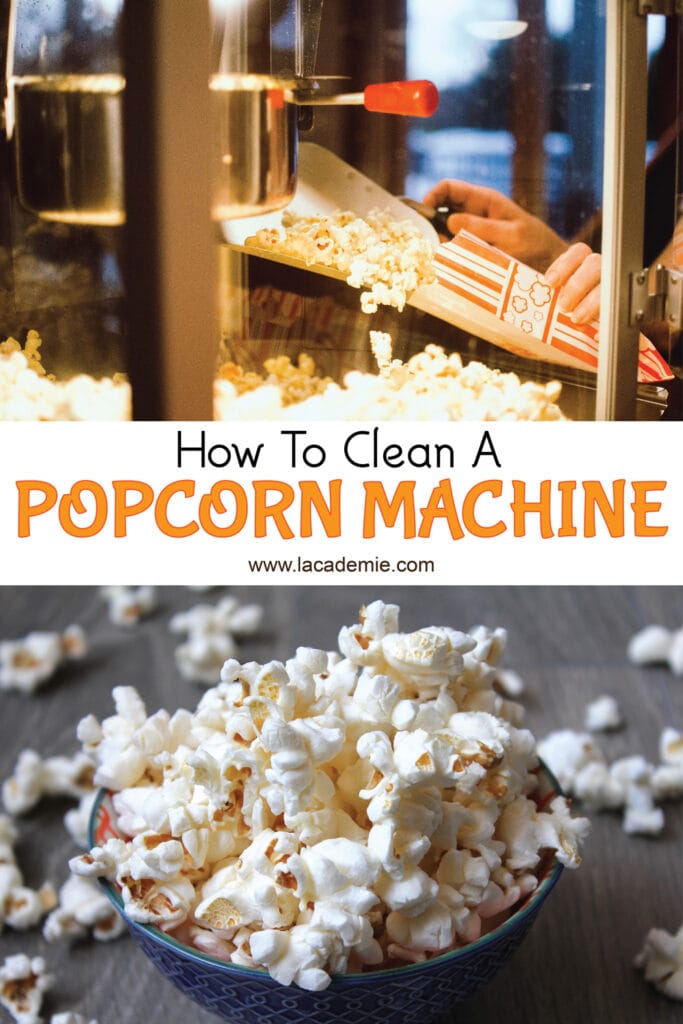 References
Kids.kiddle.co. 2021. Popcorn Facts for Kids.
International Business Times. 2021. National Popcorn Day 2021: 15 Fun Facts You May Not Know About The Snack.