Who is not interested in lively popcorn? You can learn how to color popcorn kernels to hold a colorful party and wonderful sensory play for kids. I'm sure they will be super excited.
Decorating popcorn is not as difficult as you thought. Believe it or not, it just takes me 30 minutes to get a batch of different dyed kernels, and my children can play with them for a long time.
The dull popcorn bag will be renewed with rainbow ones. How can your children resist the attraction of colorful sensory bins? Now, prepare some materials to start this coloring process.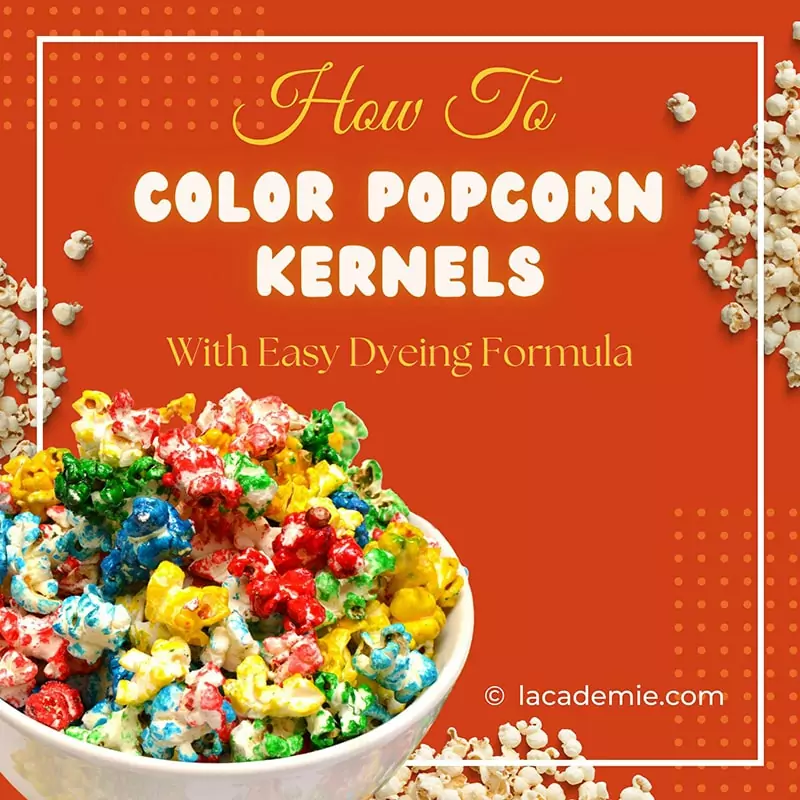 Fun Facts About Popcorn Kernels
In some Aboriginal tribes, there is a legend that every kernel of popcorn contains a soul. Those souls will live happily and peacefully until their house is warmed. They were furious then as their home got hotter.
They shake the nuclei incessantly, and when the heat is too hot, they will fly out of the house and into the air.
A popcorn kernel is the original granular form of the popcorn that you often eat. Popcorn is made by exploding kernels with heat. Each kernel contains moisture, and a hard shell surrounds it called a hull. (1)
When exposed to heat, that moisture turns into steam and creates pressure inside the kernels. The kernels will pop until the outer shell can no longer withstand the pressure and a fine white starchy mass appears.
Kernels have the 2 most popular colors, white and yellow. (2) As you can probably guess, there are many aspects that set white and yellow popcorn apart. You can find other popcorn varieties with different colors like black, red, blue, or purple, but their colors are not ideal for dyeing.
So is there a way to color popcorn? Continue reading the information below.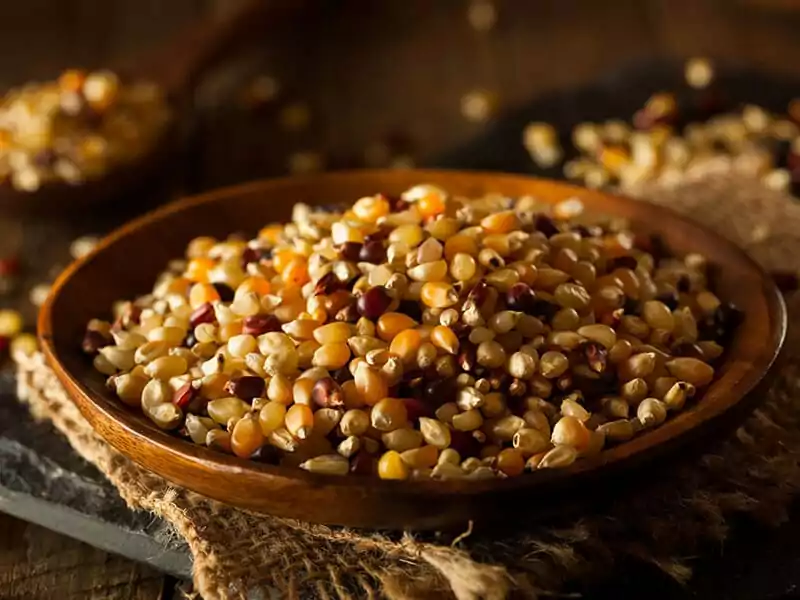 Rainbow Popcorn For Lively Parties
Colorful popcorn bags will make your party more lively. Just a little food coloring, candy melts, Kool-Aid, or Jello, you will have a beautiful rainbow popcorn bag.
How To Color Unpopped Popcorn
This method can be applied to popping popcorn processes with food coloring. When implementing this method, you must be very careful to avoid unexpected problems such as burnt popcorn or uneven color.
Option 1: Color Stovetop Popcorn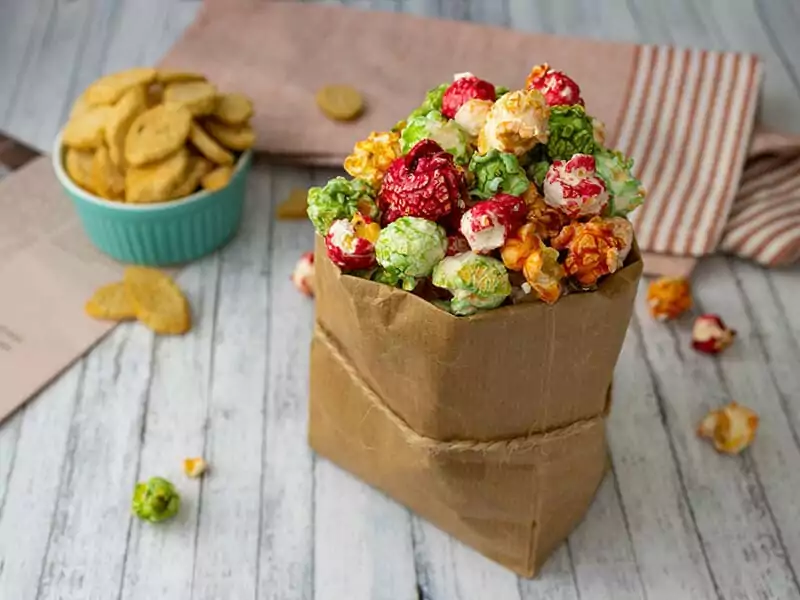 You can color your popcorn during the popcorn explosion. Similar to how you can make popcorn seasonings stick, the food coloring will stick to your kernels easily with the specific instructions below:
Ingredients:
Instructions:
Step 1: Prepare a large pan, pour popcorn kernels, sugar, and oil into it. Add your favorite food coloring to the mixture( a few drops is enough)
Step 2: Then, bring the pan over to the stove and start heating the mixture. Turn it up onto a high heat and mix the ingredients well. When the color blends with sugar, shake the pan until a few kernels have started to pop. Cover the pan with a lid.
Step 3: Do not forget to constantly shake the pan forward and backward during the popping process so as not to burn the sugar. Continuously shake and reduce to low temperature.
Step 4: As soon as the popping has begun to slow down, remove the pan from the heat. Continue to shake it for a while. Then, open the lid and pour the colored popcorn out of the bowl.
Here is the easiest way to make rainbow-colored popcorn with food coloring.
Option 2: Color Microwave Popcorn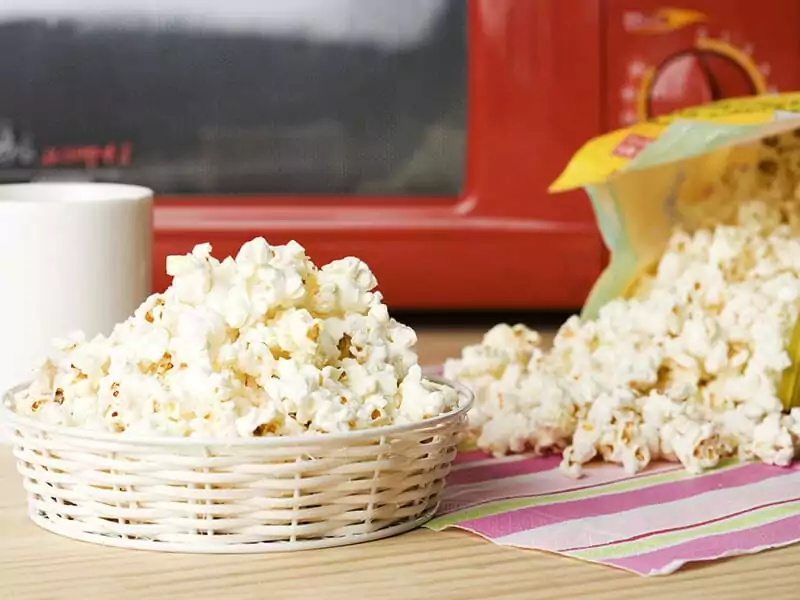 You can also color popcorn in the microwave, which is the most convenient way to prepare popcorn without popcorn makers. For the popcorn to stick to the color perfectly, you need to note a few steps below:
Ingredients:
⅓ cup popcorn kernels
1 tablespoon butter
1 tablespoon oil (Remember to choose appropriate oil for making popcorn)
¼ cup light corn syrup
¼ teaspoon salt
¼ teaspoon liquid food coloring; 1/16 teaspoon gel food coloring
Microwave safe bowl
Baking sheet
Parchment paper
Instructions:
Step 1: Mix oil, salt, butter, corn syrup, and food coloring in the bowl. Melt the ingredients in the microwave for about 40-50 seconds until you see the butter has melted. Then, take out the bowl and stir the ingredients.
Step 2: Pour the corn kernels into the bowl and mix well to cover all the seeds.
Step 3: Use a vented lid to cover the bowl and place it in the microwave. Set high heat for 4-5 minutes or until you hear 1-2 seconds between pop sounds (time depends on your microwave).
Step 4: Once the popcorn is finished popping, you should remove the popcorn from the bowl onto a baking tray with wax paper or parchment paper. Do not pour it upside down to avoid the unexploded kernels sticking to the popcorn).
Take it out as quickly as possible because as it cools, it will stick to the bottom of the bowl.
Option 3: Color Air Popper Popcorn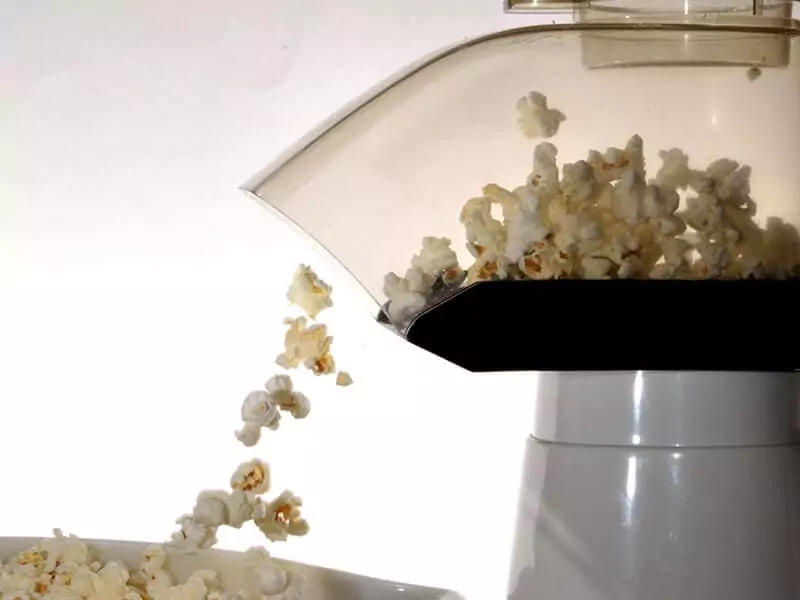 This option is suitable for those who want to color popcorn without sugar. With just a few simple steps, you will also have a bag of colorful popcorn right away. However, you might want to see what you can do to clean the popcorn machine first if you haven't done so in a while.
Ingredients:
¼ cup of popcorn kernels
⅛ cup of butter
Salt (optional)
2 – 3 drops of food coloring
Instructions:
Step 1: Prepare the required number of kernels after checking to see if popcorn kernels spoil, then pour it into the popcorn machine.
Step 2: Add salt and butter to the popcorn
Step 3: Add a few drops of your favorite food coloring on top of the popcorn. Place the lid on the machine and start it up.
Step 4: Pour the colored popcorn into the bowl after completing the popping process.
How To Color Popped Popcorn
You can also color the popcorn after it has exploded. Do not worry because it will be as effective as the option above. You can apply this option to both air popper, microwave, or stovetop popcorn.
Option 1: Using Food Coloring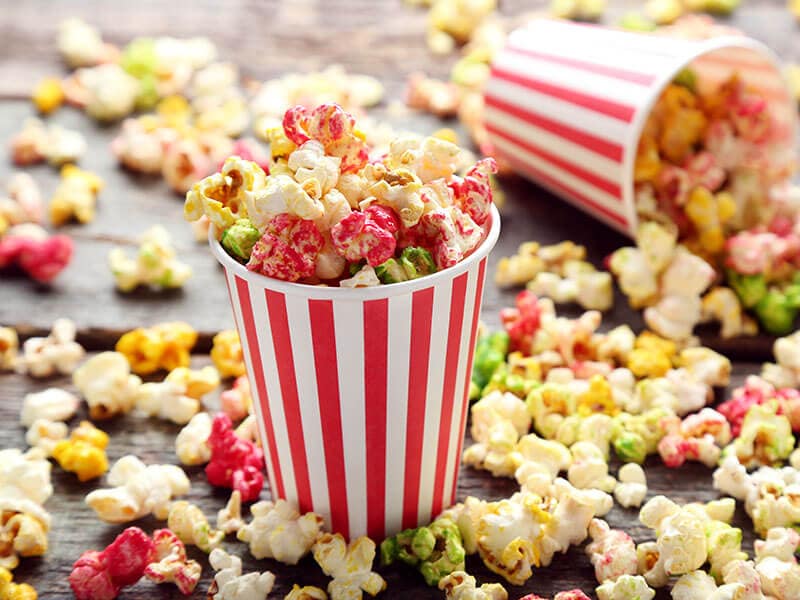 Food coloring is always the perfect choice for popped popcorn. The first thing you need to do is to pop the popcorn entirely before coloring.
Ingredients:
8 cups popped popcorn
1 cup of sugar
2 tablespoon butter
10 – 15 drops liquid food coloring/ 1/8 teaspoon gel food coloring
1 tablespoon oil
¾ cup water
½ teaspoon vanilla extract
Baking sheet
Aluminum foil
Instructions:
Step 1: Prepare the popcorn and make sure you have removed the unexploded kernels. Then, cover the baking tray with aluminum foil.
Step 2: Put the butter and sugar in a saucepan and melt over low heat. Add the water and vanilla extract to the butter-sugar mixture as soon as it melts. Stir the ingredients together.
Step 3: Set up medium heat to boil the mixture. Stir constantly and gradually reduce the temperature, simmer until the temperature reaches 238 F (measured with a candy thermometer). Add food coloring to the mixture.
Step 4: Pour the mixture into the popcorn. Stir it evenly, and try to coat your popcorn as much as possible.
Step 5: Spread the popcorn evenly on the baking sheet. Then you spend about 10 minutes baking it at 300 F. Remove the popcorn tray from the oven, separate it into pieces once cool. You can store them in an airtight container to extend your popcorn's standard shelf life.
Option 2: Using Candy Melts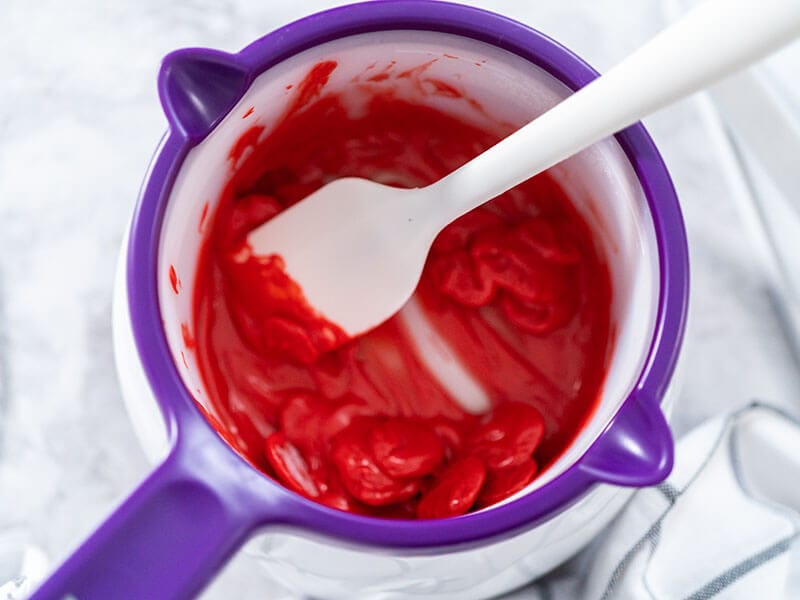 If you don't want to use food dye, candy melts are a great alternative. Candy still ensures a variety of colors to help you dye colorful popcorn.
Ingredients:
Popped popcorn (6 cups)
¼ cup of each color candy melts
Baking sheet
Wax paper
Instructions:
Step 1: Cover the baking tray with wax paper and prepare the popped popcorn cups (make sure you sort the unpopped kernels out).
Step 2: Melt the candy in a microwave-safe bowl. Place the candy in the microwave for about 90 seconds and 70 percent power.
Remember to stir so that the heat comes into contact with the candy. You can put it in the microwave for another 15 seconds to melt the candy.
Step 3: Pour melted candy into popped popcorn and mix well to coat popcorn thoroughly.
Step 4: Once the color is evenly coated on the popcorn, spread the popcorn evenly on the baking sheet.
Step 5: Leave the candy color set on the popcorn for about 30 minutes and break it into pieces.
Do you want a visual view? Let's check these instructions.
Option 3: Using Kool-Aid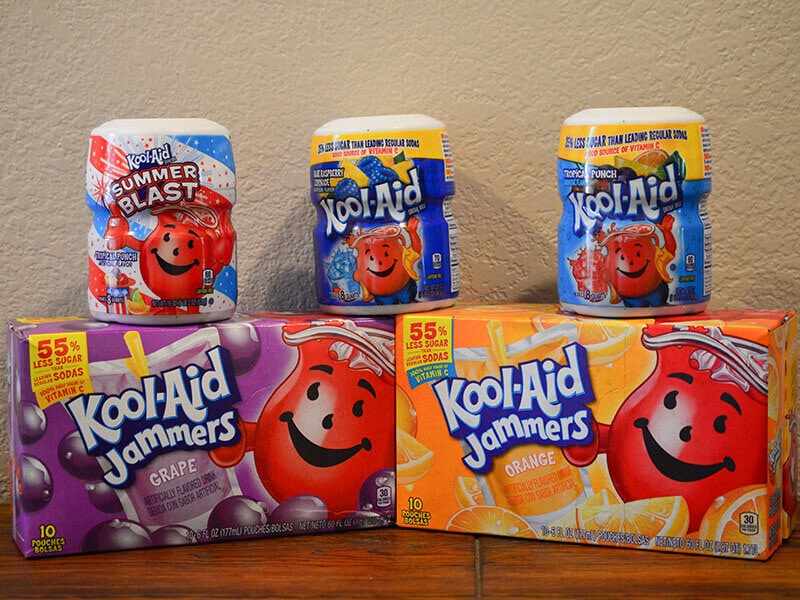 How can you forget the classic color drink every summer? Coloring popcorn with Kool-Aid is a great idea. The flavors of Kool-Aid are available in a wide range of colors to help you color popcorn.
Ingredients:
6 quarts popped popcorn
2 cups white sugar
⅔ cup butter
2(.13 ounce) envelops unsweetened soft drink mix Kool-Aid
1 teaspoon baking soda
1 cup light corn syrup
Baking sheet
Wax paper
Instructions:
Step 1: Prepare popped popcorn (removed unpopped popcorn) into a bowl. Then, proceed to preheat the oven to 110 degrees C (225 degrees F). Use a little oil to grease a large baking sheet.
Step 2: Put the butter into a pan, add corn syrup, sugar, then stir the mixture. Boil the mixture for about 3 minutes until the sugar is completely dissolved in the mixture.
Step 3: Mix the drink with baking soda in a bowl. Then, pour that color mixture into the drink mixture; whisk carefully. Add this liquid to the popcorn bowl, toss them well to make sure the popcorn is evenly coated.
Note: Avoid adding too much liquid at a time, as it can become a reason for chewy popcorn. This can also lead to uneven distribution of coloring and flavor, resulting in a less-than-perfect snack.
Step 4: Once you've finished coloring the popcorn, pour the popcorn onto the baking sheet. Bake the colored popcorn in the oven for about 30 minutes.
Stir every 10 minutes or so until the coating has hardened. Break the popcorn into small pieces after it has cooled.
If you don't believe my suggestions, this guide will prove them.
Option 4: Using Jell-O-Gelatin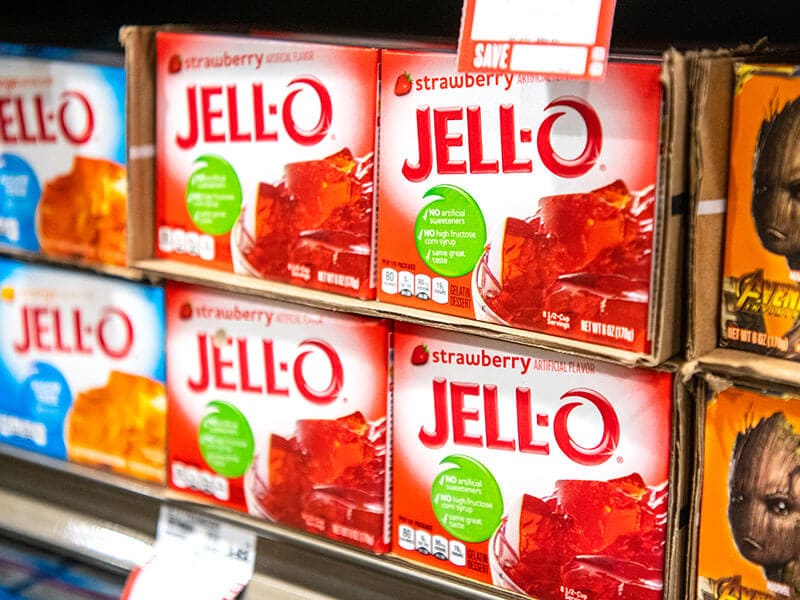 Jello mixture not only creates a bright and colorful layer for the festival, but Jello popcorn is also crispy like candy.
Ingredients:
9 cups popped popcorn
3 cups sugar
9 tablespoon butter
3 tablespoons white corn syrup
2-3 tablespoons of each regular Jell-O
Food dye (optional)
3 tablespoon water (optional)
Baking sheet
Wax paper
Instructions:
Step 1: Spread the wax paper on the baking sheet and spread the popcorn evenly over the tray. Proceed to preheat the oven to about 300F.
Step 2: Melt 3 tbsp of butter in a saucepan over medium heat, then add 1 cup of sugar, 1 color of Jell-O, and 1 tablespoon of white corn syrup.
Boil the mixture for about 3 – 4 minutes and add a little water if the mixture is too thick or food coloring (optional).
Continue with the remaining Jell-O colors.
Step 3: Pour that color mixture into the 3 cups of popped popcorn bowl, mix them well to make sure the popcorn is evenly coated.
Step 4: Once the mixture has thickened, pour it over the popcorn. Bake the popcorn for about 10 minutes.
Stir once in half-process. Let it cool after removing it from the oven.
You will regret missing these interesting instructions.
Benefits Of Sensory Material To Kids?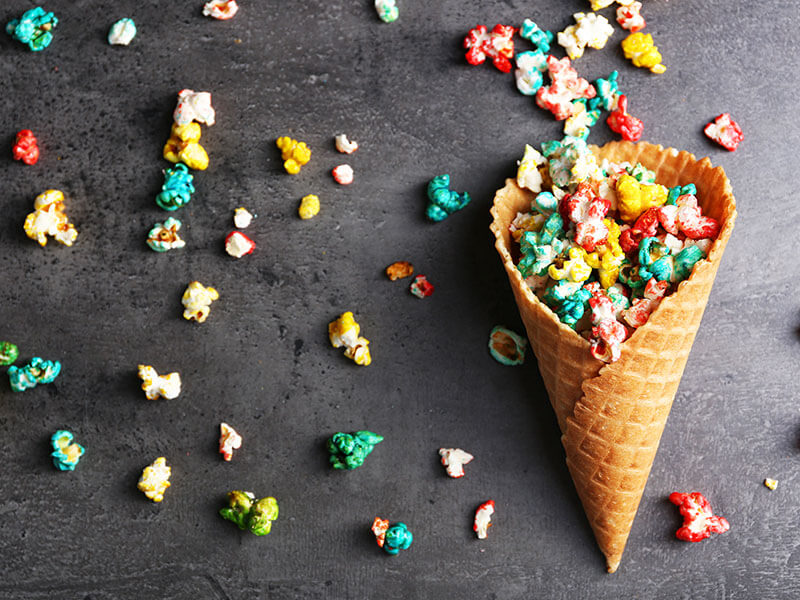 Colorful sensory material like bright kernels plays a significant role in the development of children. Activities with these materials can stimulate a child's senses, including touch, taste, smell, taste, and even hearing.
Activities involve music, movement, sounds, colors, or musical instruments, which have a specific effect on children. Typical benefits of sensory play:
Promoting cognitive development helps the brain develop neural connections. It is not only suitable for children but will continue into adulthood.
Developing knowledge
Enhancing memory, making the most of the senses.
Developing creativity, inquiry, and problem-solving skills
Supporting for language development
That is why you should make some colorful materials to develop the kids' skills through sensory play. Dyeing kernels is a great idea. Do not waste your valuable time; scroll down and discover the helpful method right away.
Color Popcorn Kernels For Funny Moment
With just a few tips and household items, you can create these interesting, colorful kernels l right away. Do not forget your main characters today; grab some food coloring or watercolor now.
Method 1: Using Food Coloring
Food coloring can help you make popcorn kernels more colorful. Just a few simple steps and you have the desired color kernels right away.
Option 1: Soak The Kernel With Food Coloring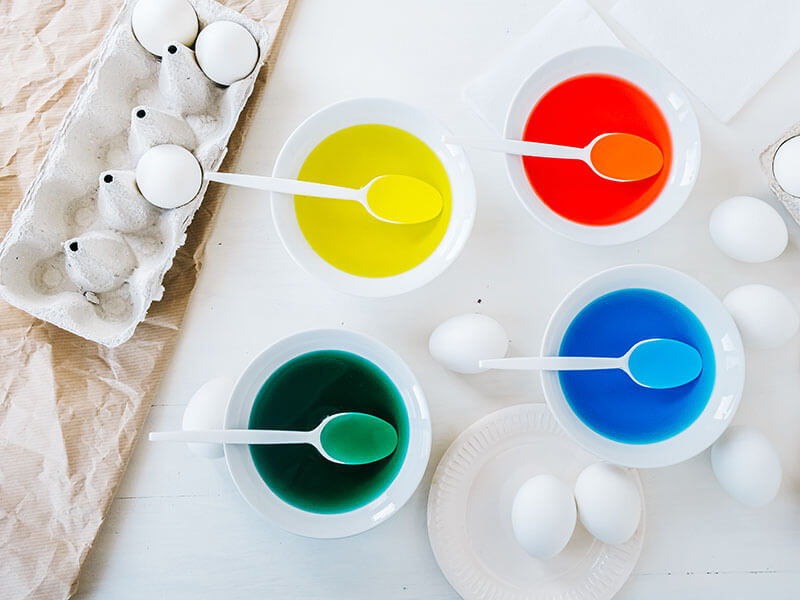 Soaking food dye with kernels will make it easier for the color to penetrate the kernel's surface. Besides, you need to prepare some ingredients to make this process more perfect.
Ingredients:
Popcorn kernels
A ziplock bag (enough for 2 cups of liquid)/ A Container
Food coloring
Vinegar
Water
Fine mesh
Paper towel
Tray
Instructions:
Step 1: You can choose any material to hold the kernels. It could be ziplock bags, a jar, or a container. Pour ⅔ cup of water into the container.
Step 2: Measure out ⅔ cup of vinegar and pour into the container.
Step 3: Choose your favorite dye color and then pour it into the kernels. For each cup of the kernel, I use a tablespoon of coloring.
Step 4: Ensure to cover your kernels with liquid. Close the lid and shake the container well so that your seed is evenly coated.
Step 5: Let the kernels soak in the solution for several hours. If you don't need them right now, it's best to leave them overnight for the best results.
Step 6: Then pour the soaked kernels through a fine mesh to remove the colored water
Step 7: Dry the colored kernels. Note, put the paper towel under the tray and spread a kernel layer evenly on the tray. To avoid mixing colors, you can expose different colors separately. Spread them out on a tray for faster drying.
Learn to dye corn effectively with food coloring. You can see this video to know more:
Option 2: Pour Food Coloring Directly into Kernels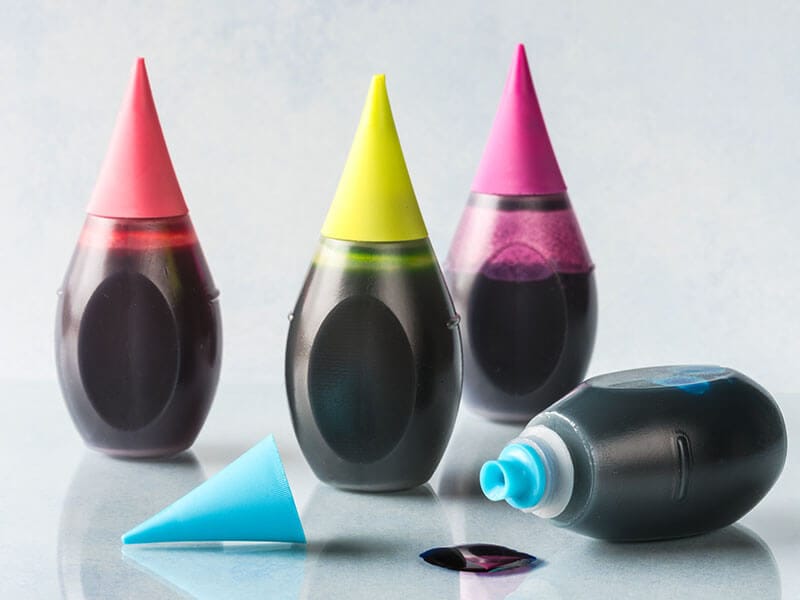 In addition to the soaking option, you can color the kernels by pouring the dye directly. Preparing a few tools for this process will be more straightforward than the soaking option.
Ingredients
Popcorn kernels
A ziplock bag
Food coloring
Paper towel
Tray
Hand sanitizer
Without Hand Sanitizer:
Step 1: Pour ½ cup of kernel popcorn into a bag and add 10 drops of food coloring directly on the top of the popcorn in the bag. Seal the bag up.
Step 2: Gently massage the seeds that allow them to be coated with colors evenly. Add more food colorings if you want, then continue moving the kernels.
Step 3: Let it sit for about 5 – 10 minutes, then shake the bag to let the color seep into the kernels.
Step 4: Leave the kernels to sit for about 1-2 hours.
Step 5: Dry the corn before using. You can spread paper towels on a tray, then pour the kernels on top. You should lay a single layer and expose the colors separately.
You can see this video to know more:
With Hand Sanitizer:
Step 1: Pour 1 tablespoon of kernels into the bag.
Step 2: Add 10-15 drops of food coloring with a squirt of hand sanitizer (about a pea-sized) and then seal the bag.
Step 3: Gently rub the seeds with a solution to coat the corn kernels with food coloring.
Step 4: Leave the bag open. Let it soak overnight for a better result.
Method 2: Using Watercolor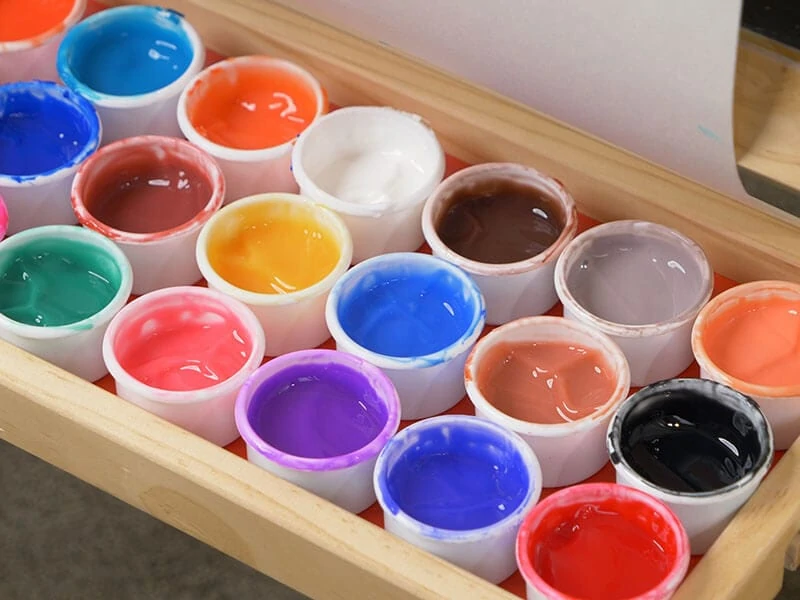 Similar to food coloring, you can use watercolor to make kernels colorful. The materials in this process are no different from using food coloring.
Ingredients
Popcorn kernels
A ziplock bag / Container
Washable liquid watercolor
Paper towel
Tray
Instructions:
Step 1: Pour about 1 cup of the kernel into the ziplock bag.
Step 2: Add your dye color into the kernels. I use ¼ to ½ teaspoon watercolor for 1 cup of kernel popcorn.
Step 3: After you put the colors in, zip the bag up.
Step 4: Rub the bag so that the color covers the kernels evenly. Let the bag sit and continue to shake to distribute the color of the kernels evenly.
Step 5: Place the paper towel on the tray and spread the kernels evenly to dry. Your kernel should be dried in less than 10 minutes. Do not layer too many kernels to avoid color splashing. Use when kernels are dry.
Dyeing popcorn kernels easily with this recipe. You can see this video to know more:
5 Interesting Activities With Colorful Kernels For Your Kids
You can create various funny activities to play with your kids. These games can develop a lot of valuable skills and knowledge for them.
In addition, you can also use these kernels for beautiful crafts. Let's roll up your sleeves and play with the kids:
1. Colorful Corn Mosaic
Building an art project with colorful kernels for children is excellent, isn't it? All you need is some glue, construction paper, and a tray of dyed kernels. Next, you just need to teach them how to glue kernels and let them freely create their corn mosaics.
The corn mosaic process can stimulate creativity for children and help them practice fine motor skills by the act of transferring kernels from one bowl to another with tweezers or tongs. More importantly, you can enjoy this fun moment yourself.
Here is the way to create a mosaic corn picture.
2. Counting Activities
Working with colored numbers is also one of the perfect ways to educate children. After drying the dyed kernels, you will pour them into a large container. Make a few more number cards to teach them counting and colors.
They will be familiar with the numbers in a vivid way, helping to increase their memory and brain.
3. Corn Color Sorting Mats
Color recognition is one of the crucial cognitive development stages for a child. It is a foundation in further development: such as science, math, and reading. Therefore, creating sensory activities to educate them about color should be considered.
Well, you can take full advantage of these newly dyed kernels right away. Prepare some corn sorting mats to guide the children to sort by color. An exciting activity, isn't it?
4. Make A Corn Sensory Bottle
The colorful corn kernels are perfect for kids to make their corn sensory bottles. Besides the seeds, you can prepare different items: alphabets, paper stars, handmade gems, numbers, etc., and a transparent plastic bottle.
Let the kids create their bottles with their favorite patterns.
5. Create A Christmas Tree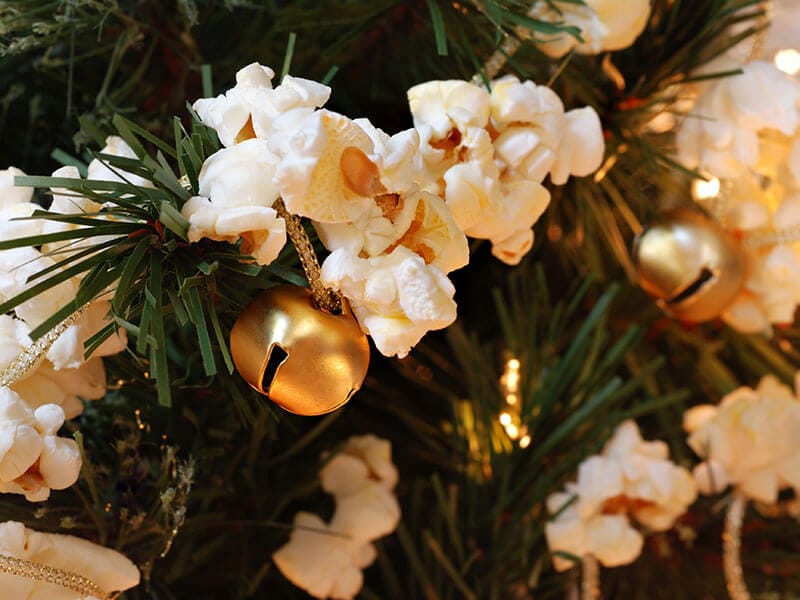 Here's a fun Christmas activity for your kids. Instead of decorating a typical tree, you can show your kids how to make a unique pine tree with colorful kernels.
You can equip some necessary items such as white styrofoam, clear contact paper, and a large sensory bin containing kernels. You need to glue the paper to the Christmas tree and then let the kids glue the kernels and decorative items to the tree.
6. Find Treasure
You can organize a treasure hunt game for kids with kernels. Pour the seeds into an enormous container, then encourage your children to find the "hidden treasures".
Noteworthy Tips In The Dyeing Process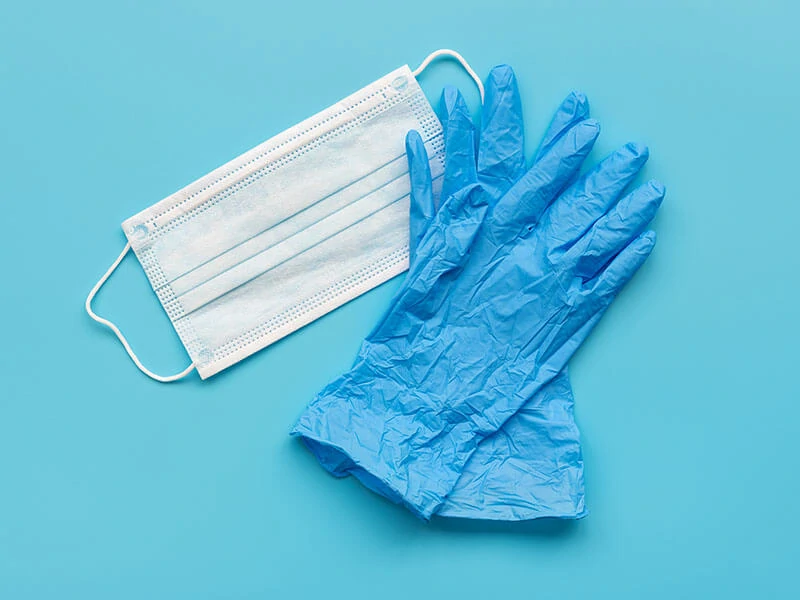 With the instructions above, I think popcorn dyeing is within your reach. However, you should also note the following tips to make this process go more smoothly:
Dry The Kernel Before Use
Make sure your dyed kernels are completely dry before use. Keeping your seeds dry will ensure they don't bleed and the color stays longer.
Mix Colors
You can entirely create your favorite color by mixing primary colors. Do this with your kids to educate them about colors.
Parental Supervisor
Using small kernels does not seem safe for very young children as they can swallow them. To ensure safety, you can play with them to prevent unexpected problems in time.
Work With Gloves
If you are afraid that the color will stain your hands and take a lot of time to wash, you can use protective methods. Wearing gloves during the dyeing process will help you avoid these problems.
The Glass Container Is Highly Recommended
Using glass containers will help you avoid color stains. Plastic containers are pretty hard to clean since the dye can leave traces.
Store Dye Popcorn/ Kernel
If you don't intend to use popcorn/ kernels anymore, you can store them in an airtight container. Take them out when needed.
FAQs
I bet there are still a few things you don't know about this colorfully stained kernel. Why don't you take a look at the frequently asked questions below? Maybe they will answer your questions.
Enjoy The Color Fun With Your Kids
Enjoy colorful bags of popcorn that will bring you new experiences. Instead of the usual white-yellow popcorn bags, make your parties lively with rainbow popcorn bags.
Moreover, exploring fun activities with colorful popcorn kernels will bring your kids great moments. These activities help them develop necessary skills and promote the bond between parents and kids. Let's color the seeds with children and color their childhood.
Have you succeeded in staining the popcorn kernels yet? Please share with me the colors you have dyed for the popcorn. Remember to create lots of sensory activities for your kids with these colorful seeds. Do not forget to share these tips with your friends and family.
Nutrition Facts
2 servings per container
---
Amount Per ServingCalories520
% Daily Value *
Total Fat 16.3g

25

%
Cholesterol 15mg

5

%
Sodium 332mg

14

%
Potassium 2mg

1

%
Total Carbohydrate 102g

34

%

Dietary Fiber 15g

60

%
Sugars 10.2g

Protein 10.1g

20

%
---
Calcium

2

%
Iron

5

%
Vitamin D

4

%
* The % Daily Value tells you how much a nutrient in a serving of food contributes to a daily diet. 2,000 calories a day is used for general nutrition advice.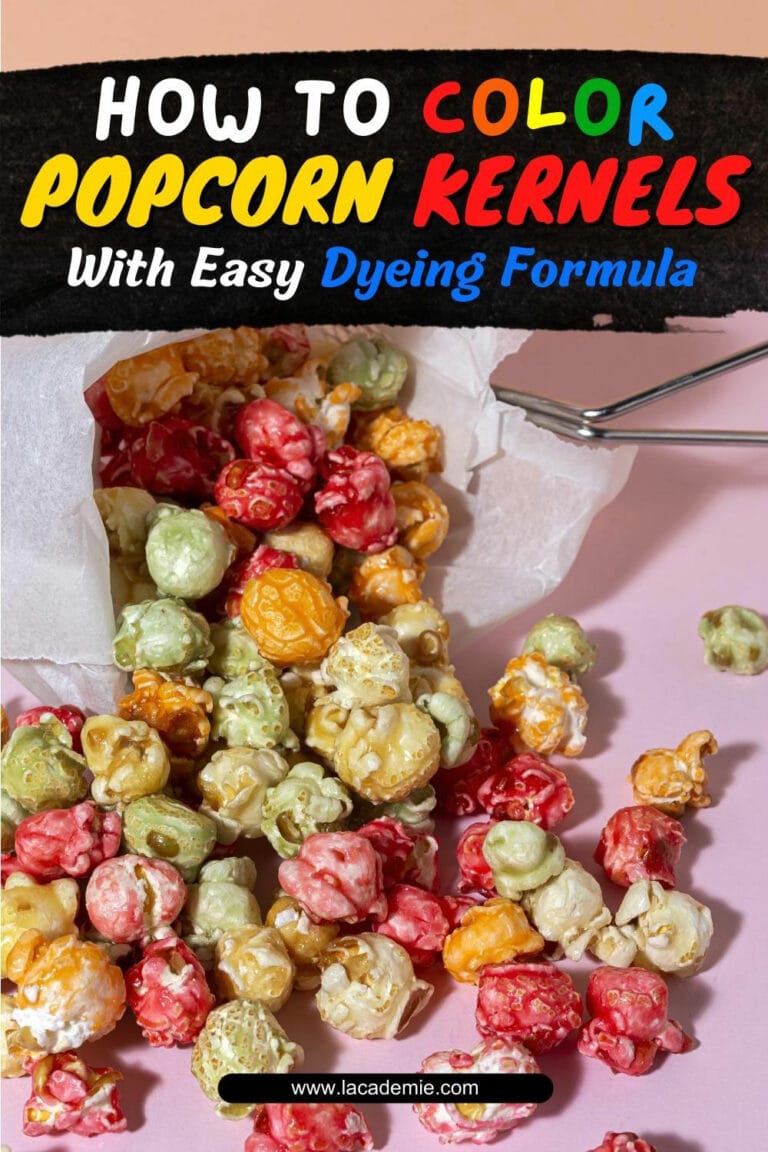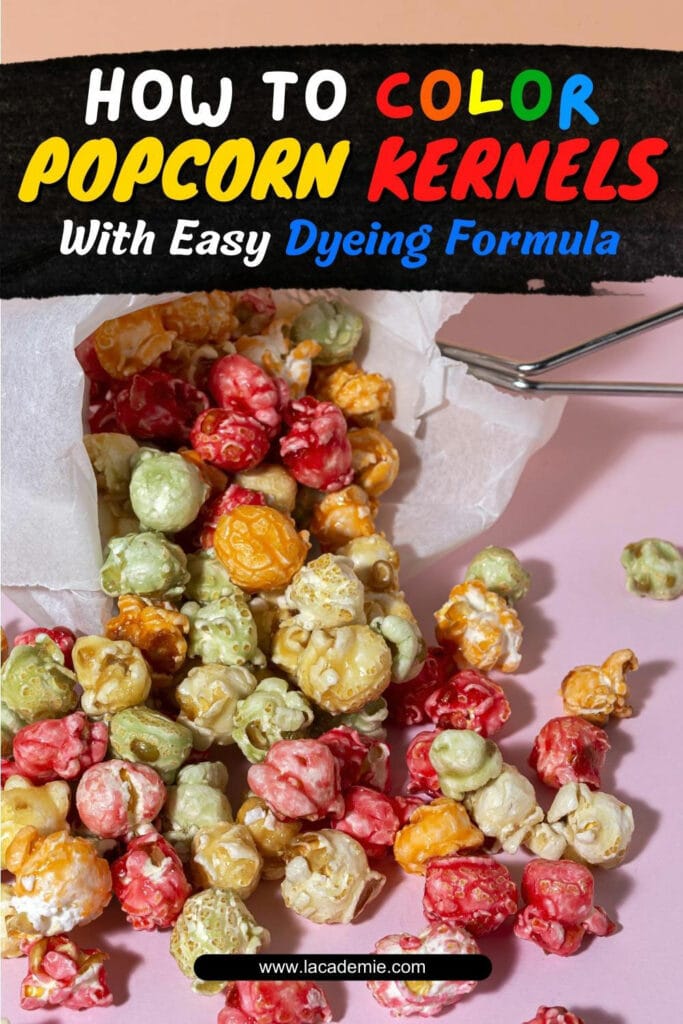 References
"How Does Popcorn Pop ". USDA.Gov, 2021
"Popcorn – Wikipedia". En.Wikipedia.Org, 2021