How many types of popcorn do you know? What kind of popcorn do you eat at the movie theater? Can I tell them apart by their color or size?
Do these questions confuse you when looking for answers? You do not notice the difference between types of popcorn when they are coated with a sweet caramel layer. But they have many differences.
Therefore, keep scrolling down to find out the characteristics that help distinguish the popcorn types and answer your questions.
The History Of Popcorn Industry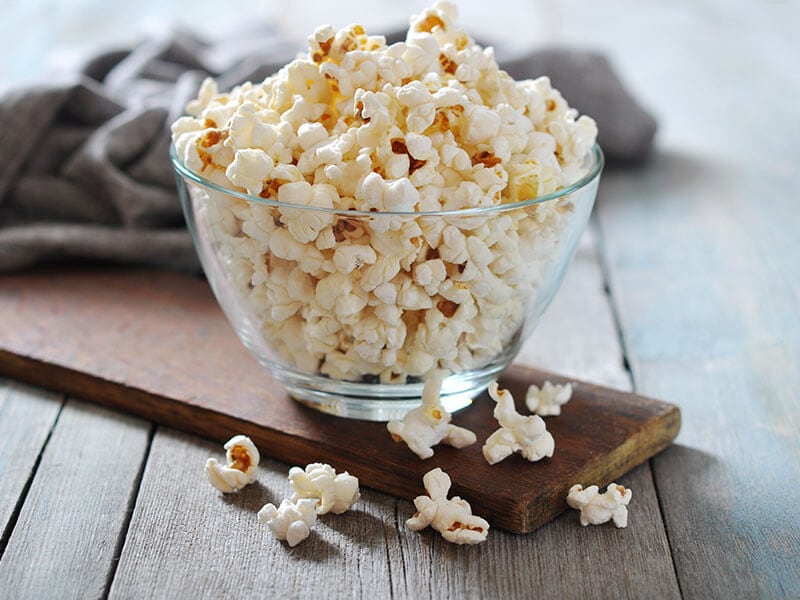 Popcorn (Zea mays L.) is generally considered a mutant form of flint corn, found to be native to the Americas.
The difference that helps you distinguish popcorn from other dry varieties is the formation of a large starch mass after exposure to heat. In addition, it is also known as flake – the characteristic that makes popcorn unique.
In the 1880s, popcorn became a street food hawker. Along with the development of machinery and equipment for making popcorn, the accessibility of popcorn increased rapidly in the following years. (1)
Because popcorn was relatively cheap during World War II, Americans tended to eat it three times more than before. Gradually, popcorn was introduced into cinemas and officially became the official symbol in cinemas in 1938.
During the 1940s, sales of popcorn declined as the number of televisions in the home increased. At that time, people only enjoyed popcorn at the cinema, so when the number of TVs increased, popcorn consumption decreased.
Recognizing that situation, the Popcorn Processors Trade Association devised a plan to partner with Coca-Cola to turn popcorn into a healthy snack that can still be eaten at home.
The partnership with Coca-Cola in developing a commercial campaign about the health benefits of popcorn led to an increase in its consumption.
In 1950, popcorn health promotion messages became popular, which caused popcorn consumption to skyrocket again.
The introduction of microwave popcorn in 1981 also contributed to the growth of the popcorn industry. In addition, its nutritional value is also one of the reasons why popcorn has always remained to this day.
Speaking of nutritional value, have you ever wondered if popcorn is gluten-free or not? While most people can freely enjoy "traditional" popcorn, some variants might use seasonings that make the treat unfriendly to gluten-sensitive people.
Moreover, some vegans might also ask whether popcorn is a good choice for a vegan diet. Although corn is vegan-friendly, the butter, cheese, or the fat used in making popcorn might make it unsuitable for veganism.
Understand the reason why you eat popcorn at the movies. You can see this video to know more:
Types Of Popcorn – 5 Traits To Help You Distinguish Their Difference
When buying first-rate popcorn kernels, you might notice it comes in different varieties. The characteristics of the kernels often distinguish different types of popcorn. I will classify the popcorn based on its color, shape and size kernels, and characteristics after the explosion.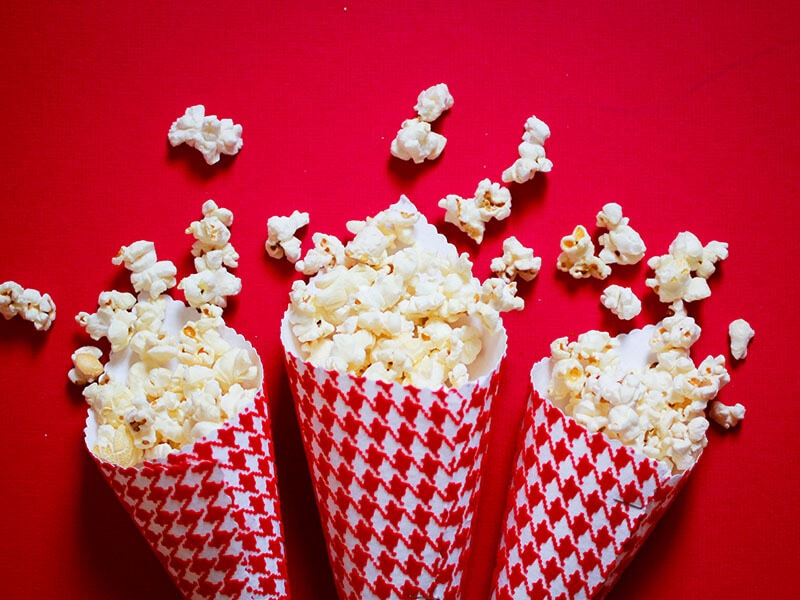 1. Kernel And Flake Color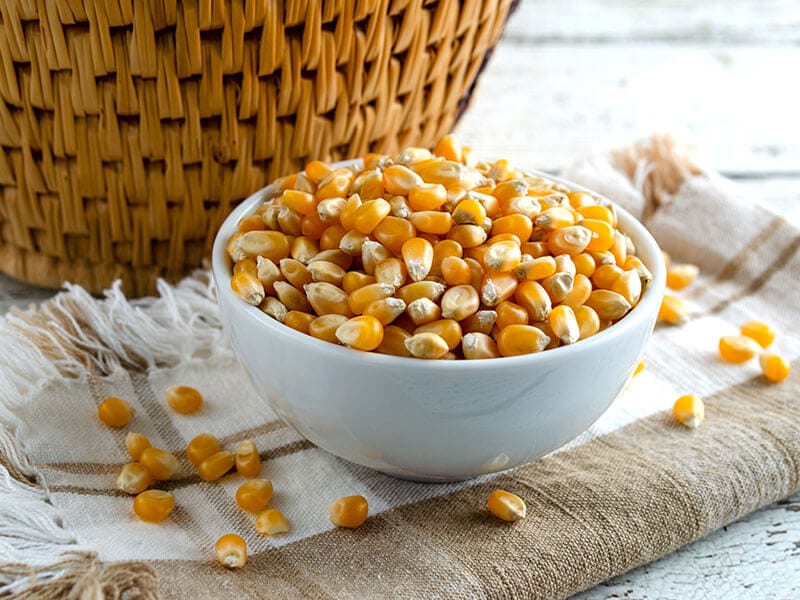 We usually know kernels with two popular colors, yellow and white. Among them, yellow kernels are more commercial and often appear in cinemas.
In addition, you can also find other different colors in kernels like black, red, blue, and purple.
Although the kernel comes in various colors, its flakes are all white (or off-white) and yellow, with the hull remaining the original color in the popped sample. (2)
White kernels: This is the type of kernel used in homemade popcorn because of its small size (compared to ordinary popcorn kernels). The color of these kernels can range from bright white to dusty white.
The white color of the kernel remains the same when it is exploded. In terms of taste, it has more sweetness than savory. Also, as white kernels don't require much oil, you can use any popcorn-making machine available.
Yellow kernels: This kernel is the type commonly sold in movie theaters. People often compare white and yellow popcorn, as these two are the most common popcorn types. The gradation of kernels is usually from yellow to bright orange. When popped, the kernel has a yellow tint.
Many people often love yellow popcorn because of its crispiness and nutty flavor.
Black kernels: Its color is black, but it turns white when exploding. The type of kernel is being developed commercially.
Red kernels: It has a brilliant deep red color, smaller in size than other kernels. Similar to the black kernel, this type of kernel is being applied commercially.
After exploding, its flake is white, with a slightly nutty flavor and neutral taste. If you like crispy texture popcorn, let's choose it.
Purple kernels: When in kernel form, it has a deep purple color. After detonation, the kernels have a light white color and some purple spots. Its flavor is considered to be the most outstanding of all kernels.
Blue kernels: The blue color of the kernels is quite dark. When it explodes, it will still produce white popcorn. Purple kernels are smaller in size, with tender, light flake and nutty flavor compared to other kernels.
2. Shape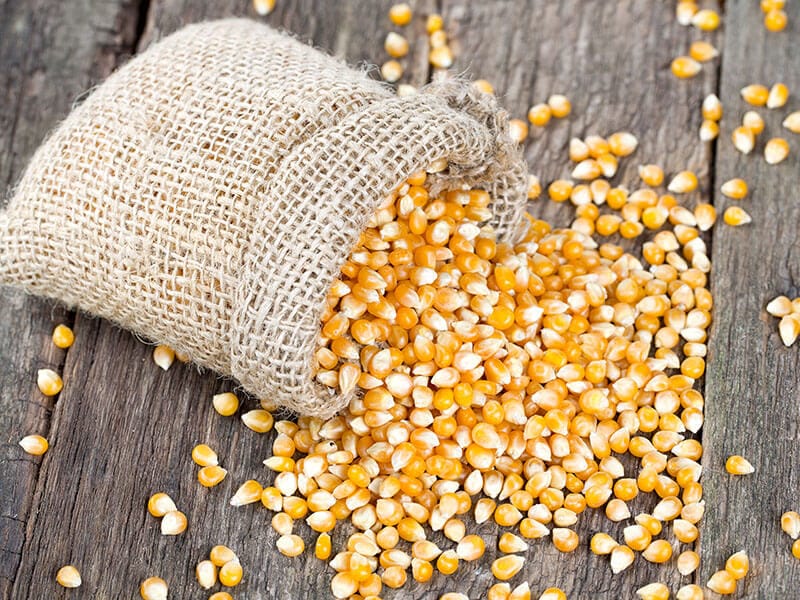 Kernels come in different colors, with distinct shapes described as rice and pearl types.
Rice type: The kernels are shaped like rice grains, have long stems, and a sharp point at the top. This kernel is usually white popcorn.
Pearl type: The kernels have a pearl-like shape, a round body, and no sharp point at the top. This kernel is usually yellow popcorn.
3. Size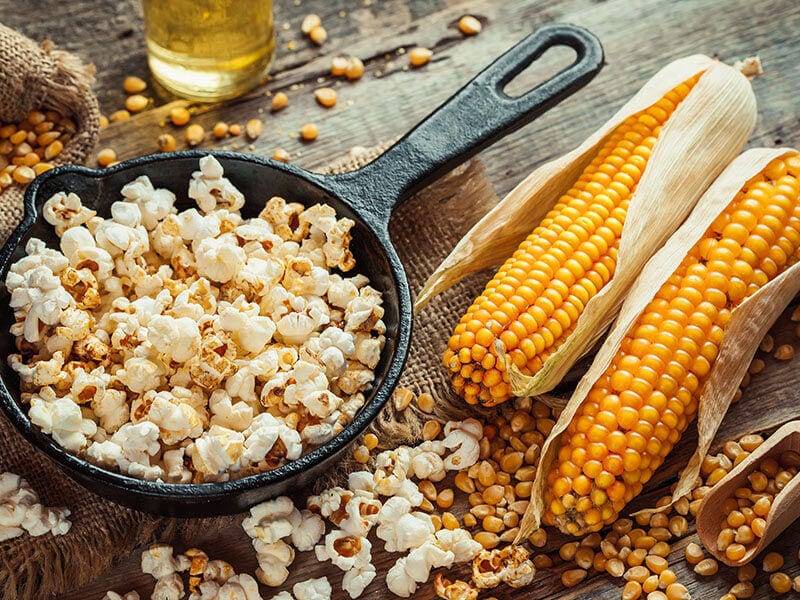 When it comes to kernels' size, they usually don't have an industry standard to evaluate. However, a commonly used measure is based on the number of kernels in 10 grams. The size of kernels is measured as follows:
Large size: If you count, the total number of seeds is 52 – 67 in 10g
Medium size: If you count the total number of seeds is 68 – 75 in 10g
Small size: If you count the total number of seeds is 76 – 105 in 10g
Very small: If you count the total number of seeds is > 105 in 10g
Yellow kernels typically produce giant popcorn than white, red, black, or blue kernels. As a result, yellow popcorn is always larger than white popcorn – one reason it's become more popular commercially.
4. Flake Type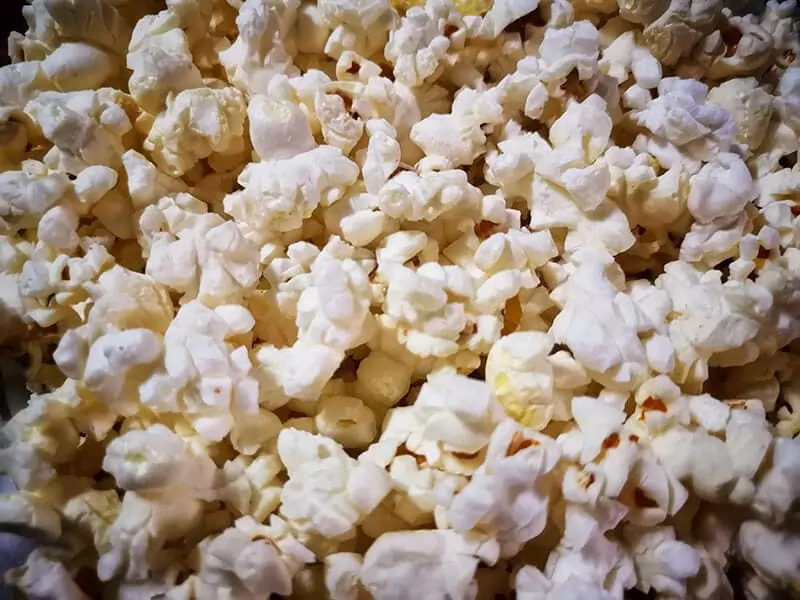 In the popcorn industry, popcorn has a term to refer to its appearance after it explodes, which is "flake". The two most popular shapes commercially available are the "butterfly" (also known as the snowflake) and the "mushroom".
The shape of the flake is not fixed in white or yellow popcorn. Both types of popcorn can be butterfly or mushroom-shaped.
Butterfly: These kernels, after exploding, are likened to a butterfly, with many wings growing in all directions. However, this flake butterfly is quite soft, so it is not advisable to apply too much topping. It is best to use it while it is fresh to preserve its crispiness.
Mushroom: After exploding, the shape of this flake is quite round, like mushrooms. It is the type of popcorn that suppliers in the popcorn industry love because it can be comfortably coated with sugar, butter, and flavorings.
If you are still confused about these two types of popcorn, you'll need this comparison.
5. Hull Dispersion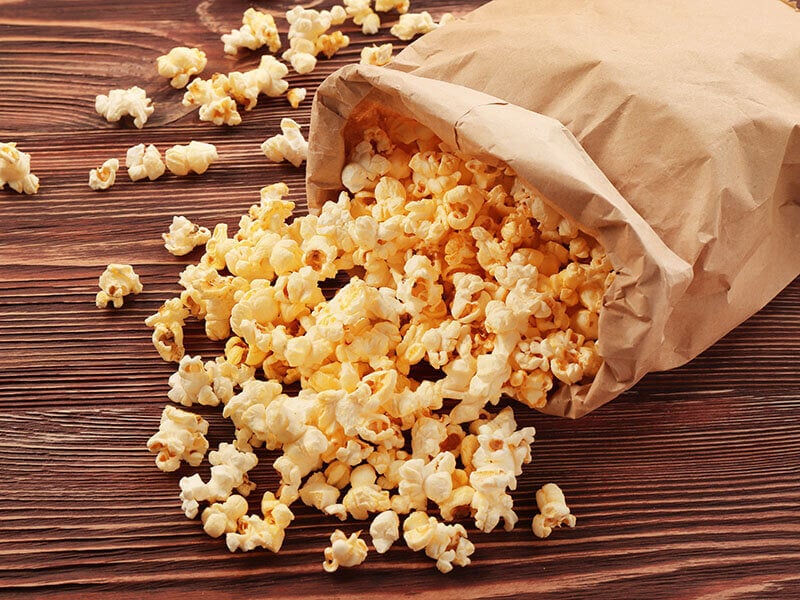 The hull dispersion is one of the characteristics that help you distinguish the types of popcorn. You must have been very annoyed when popcorn hulls get stuck in your teeth when chewing and your throat when swallowing.
The hull, the kind of shell that sticks to your teeth, is the pericarp of the kernel. Of all the varieties of corn, popcorn has the thickest skin. For the popping expansion, pericarp thickness had the most significant effect.
The popcorn texture is often related to the hull, so popcorn softness is closely associated with good hull dispersion. The thinner hull then pops out into lighter and softer popcorn. Therefore, we can divide popcorn type based on the hull like:
Thick hull: Kernels have a thick shell, often with a large popcorn bloom. It is a feature that popcorn traders love. That is why you often see large hulls in bags of popcorn at the cinema. Hard, crunchy popcorn usually has a significant hull.
Thin hull: The kernels have thinner shells, so the popcorn bloom will not equal the thick hull. After exploding, their hulls will break into small pieces of negligible size. Popcorn with a soft texture often has a thin, small hull or no hull (caused by microscopic breakage).
This type is suitable for those who like to eat popcorn without worrying about the hull sticking to their teeth.
However, many people often mistakenly think that popcorn is hulless. There is no such thing as popcorn without the shell. If you eat popcorn that does not stick to your teeth, maybe it has a thin shell, and during the explosion, the hulls break into small pieces.
White popcorn is often preferred over yellow popcorn because it has a thin hull that won't cause the hull to stick to the teeth. However, large hull yellow popcorn usually meets volume expansion criteria, so that's why you often see it in the cinema.
As a result, you will get the impression that white popcorn usually has less hull (or none) and is much softer than yellow popcorn.
3 Popular Ways To Make Popcorn
Besides relying on the characteristics of popcorn kernels to classify popcorn, popcorn is also classified based on the method of exploding them. Usually, the most common ways are heated air, heated oil, and microwaves with different equipment.
Method 1: Heated Air Popcorn With Air-Popped Maker
Using hot air to explode popcorn is one of the most common ways. In the main compartment of the machine, it has a fan system suitable for heating the popcorn with air.
At that time, popcorn without oil could still explode. It is the perfect choice for those who appreciate health purposes.
Each air-popped popcorn machine has a plastic guard attached to the top that acts as a measuring cup. You can use this device to measure the exact number of kernels.
Pros
Cons

Convenience and speed are among the notable advantages of this method. All you need to do is prepare your favorite kernels and measure them with an appropriate ratio. Then you simply pour the filling into the container and use a bowl to collect the popcorn that falls out.
Using this method, you do not need to shake or stir the particles constantly. After about 2-3 minutes, you have a standard bowl of popcorn right away without burnt popcorn or unpopped kernels.

In addition,

the procedure to clean popcorn machines

is also quite simple.

Since it is grease-free (except for popcorn with butter), cleanup should not be a big deal.

One of the disadvantages of this method is popcorn. Some people claim that this method makes their popcorn less crispy and has a dry texture. That is what makes it difficult for them in the process of making seasoning stick to the popcorn.
As a result, their hot air popcorn bowl has a bland flavor, and the seasoning seems to sink to the bottom of the bowl.
You will know to use hot air to explode popcorn quickly without oil.
Method 2: Heated Oil Popcorn With Stovetop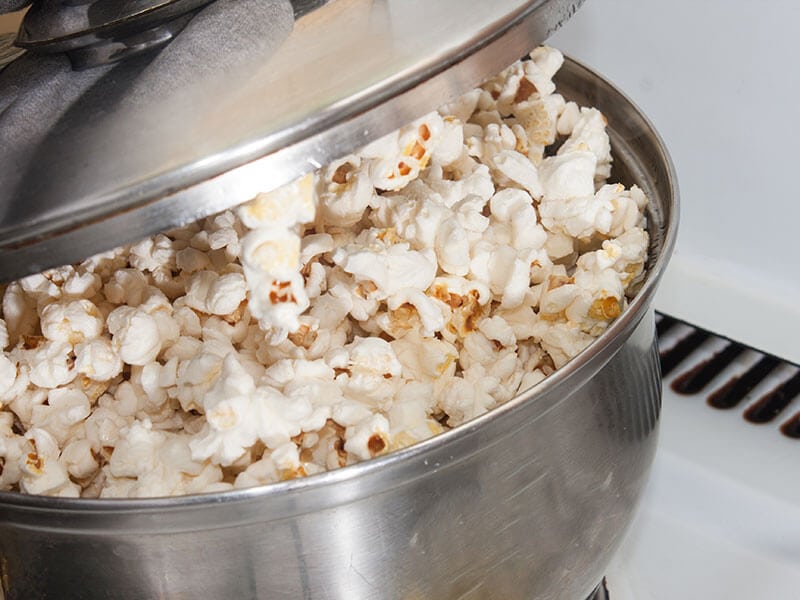 Heating popcorn in oil is considered one of the oldest and most popular ways of making popcorn. Although there are many different machines and methods of corn blasting today, this method is still the most appreciated.
First, prepare a pot or pan, along with a lid. At that time, you need to shake and pay more attention to the pan. Not enough, and it'll be why your popcorn can't become crispy. Too much, and your snack can get burnt.
Do not forget the main ingredients of this method, kernels and oil (or butter), the starch bag to make sure your popcorn is ready to explode.
Pros
Cons
One of the factors that make the stovetop method so popular is the quality of the popcorn. How can anyone resist the crispy and evenly seasoning bowls of popcorn? You can ensure seasoning adhesion for popcorn with this method without any special tips.
However, you should be careful during the cooking process to avoid unwanted disadvantages when using this method. Some of the common problems associated with this approach are:



Burned
Chewy (due to heat trapped for too long)
Uneven ripening (due to uneven heat distribution)
Requires a lot of effort for the explosion process (timing, shaking the pan, etc.)
I'll show you the easy way to make homemade popcorn on the stove.
Method 3: Microwave Popcorn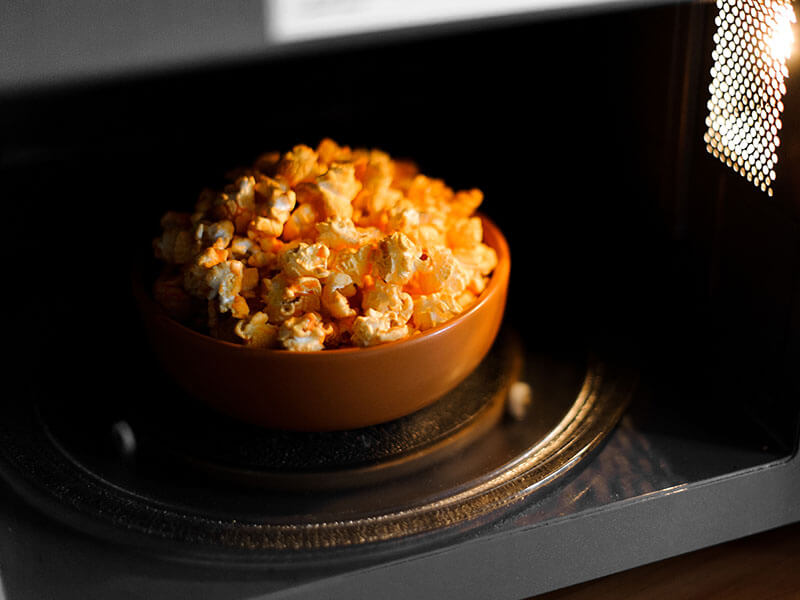 Since the advent of microwave popcorn, the popcorn explosion process without popcorn makers has become much more straightforward. You can choose from pre-made microwave popcorn bags or use a bowl. Either option is convenient for you.
If you like to create your popcorn flavor, you can opt for the bowl popcorn method because it's an easy way to ensure popcorn seasonings stick. All you need is to measure the right amount of kernels, add some oil, seasoning and put it in the microwave.
A fan of colorful foods? Good news for you, the microwave is also a fantastic way you can color your popcorn kernels. As long as you have some food coloring around, the steps to make colored popcorn will be a walk in the park.
Set the time for about 2-3 minutes, listen carefully to the explosion sound. Make sure you take it out before it burns.
With pre-made microwave popcorn bags, things are much more accessible. Just place the popcorn bag in the direction printed on the package. Set the appropriate time for your microwave (usually about 2 minutes 10 seconds) and wait for the popcorn to explode.
Pros
Cons
Microwave popcorn is quite convenient for you because they don't require too much effort. Therefore, just set the time, then take it out and enjoy.
The only disadvantage that I found with this method is capacity. A pre-made microwave popcorn bag can make 11-13 cups of popcorn, while if you choose the bowl option, it only makes about 9 cups of popcorn.

Then, if you compare it with the air-popped maker, there is a slight difference. The air popper machines can make 18 cups of popcorn.
You can make your microwave popcorn bag with a few simple ingredients.
5 Oil Options For Your Ideal Popcorn
Oil plays a vital role in creating the perfect bowl of popcorn. Therefore, you must be careful in choosing the right oil for popcorn. Here are five of the most popular oils to help pop your popcorn with health benefits, great taste, and minimal fat. Check it out!
1. Olive Oil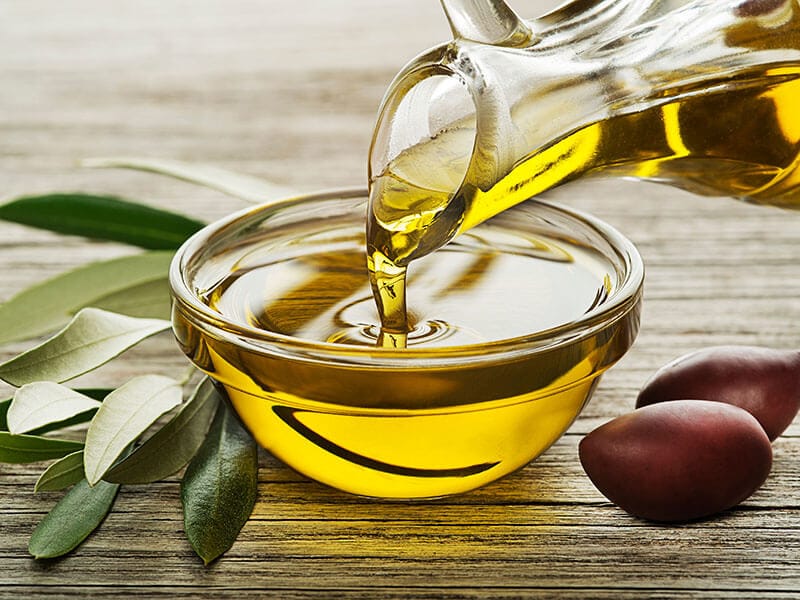 Olive oil is produced from olives – a traditional tree of the Mediterranean basin. This oil is often used for many different purposes, such as frying food, making salad dressings, and even popping popcorn.
Are you afraid that the smell of oil affects the quality of popcorn? Do not worry because olive oil has a neutral taste.
Daily use of olive oil can help you reduce your risk of cardiovascular disease, fight oxidation, and maintain stable blood cholesterol levels.
2. Canola Oil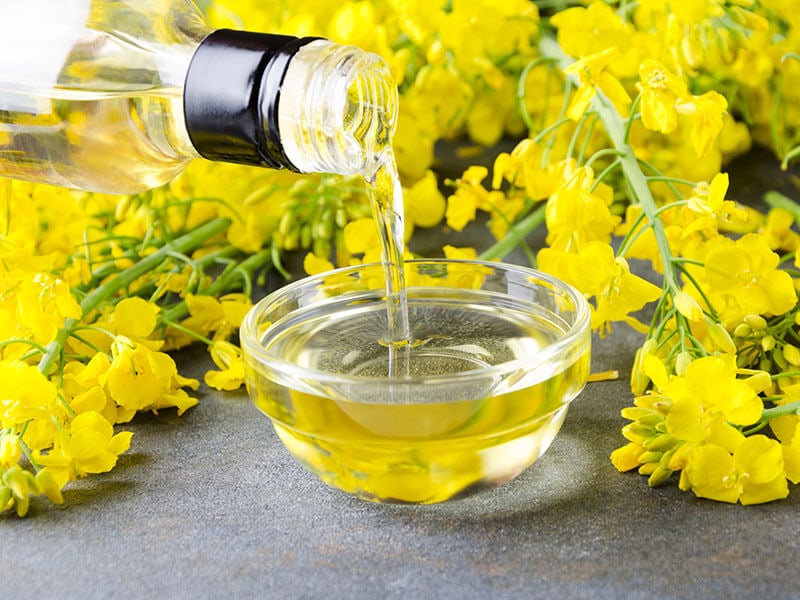 Canola oil is extracted from many rapeseed types, containing less than 2% erucic acid in fat. With a relatively low amount of saturated fat, it is considered a safe oil for your health.
Using canola oil to pop popcorn will not cause you any health concerns, as it has been shown to reduce the risk of coronary heart disease and not increase the number of calories. Besides, this oil also has a unique role in reducing the risk of type II diabetes.
3. Avocado Oil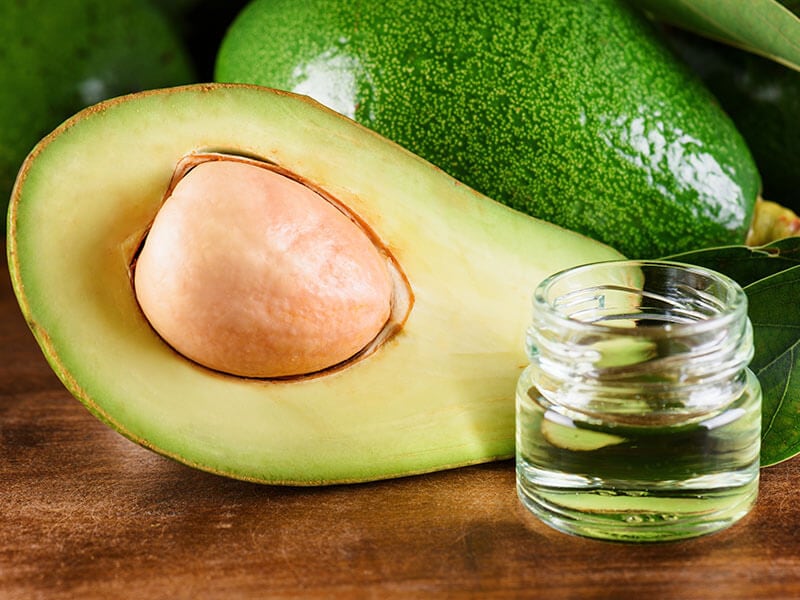 The oil extracted from the pulp of the avocado fruit of Persea Americana has a high smoke point, making it perfect for popcorn. Avocado oil is good for your heart, lowers cholesterol, and ensures heart health.
Plus, it's considered an antioxidant that benefits the eyes and enhances the absorption of essential nutrients. In addition, you can enjoy a strong, rich buttery flavor when eating without worrying about calories.
4. Coconut Oil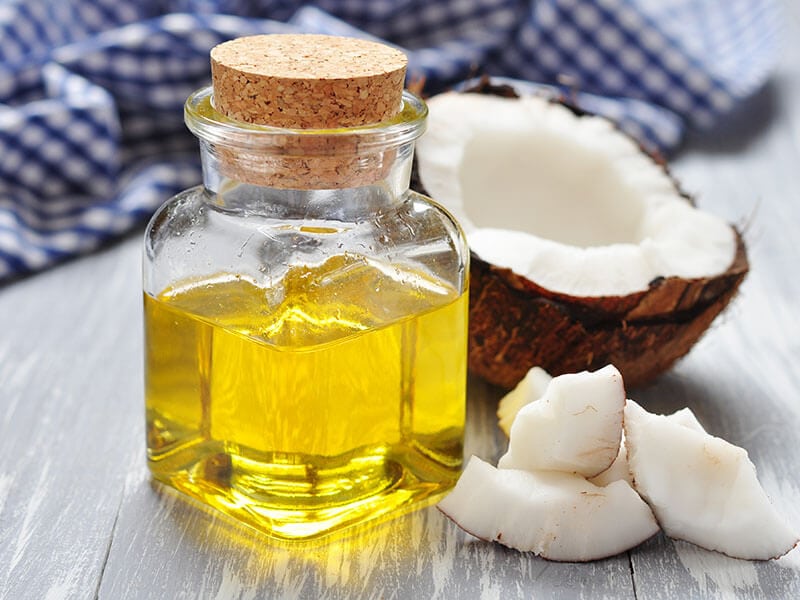 It is food-grade oil extracted from the wick, flesh, and milk of the coconut palm fruit. You should choose refined coconut oil with a higher smoke point than unrefined oil because it goes well with popcorn.
Using coconut oil to pop popcorn will help you increase the number of calories you burn if you consume it in moderation. This oil is commonly used in movie theater popcorn bags.
With coconut oil, your popcorn will be healthier than ever.
5. Sunflower Oil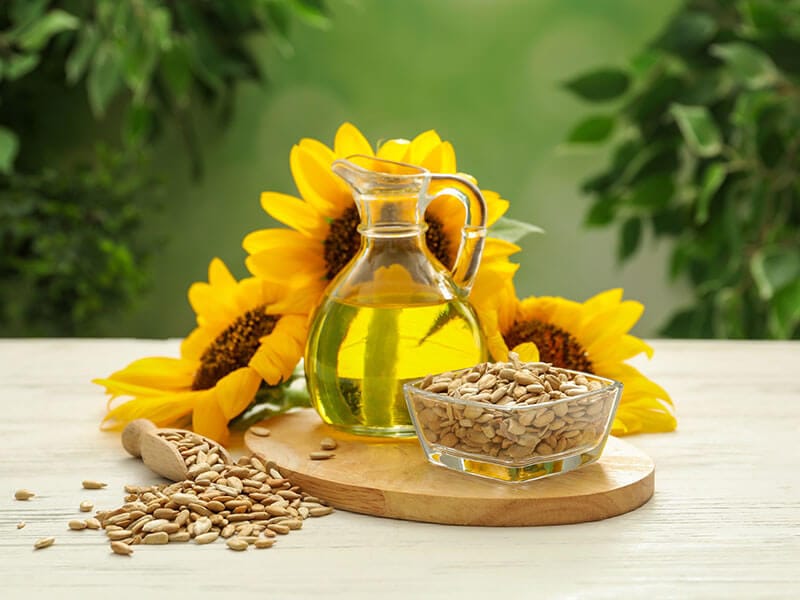 Sunflower oil is extracted from the pressing of the seeds of sunflower (Helianthus annuus). This oil is high in vitamin E, a fat-soluble nutrient that helps protect the body from damage caused by the aging process.
Plus, pairing this oil with popcorn will give you the right amount of oleic acid, which helps reduce your high cholesterol levels and risk of heart disease.
FAQs
The topic of popcorn is fascinating, and many questions surround them. If you have any doubts about this delicious snack, check out the questions below. Maybe they will help you answer your questions.
Different In Nature But All Healthy Snack
Although different in nature, all types of popcorn are generally healthy food. Popcorn is rich in fiber and polyphenols, which are suitable for digestion and blood circulation.
In addition, popcorn is considered ideal for diets with its low energy density and low-calorie count.
How you prepare your popcorn will determine whether it will turn out to be a healthy or unhealthy snack. Therefore, consider every decision. With the information that I have provided, you can distinguish the different types of popcorn or not.
Give me your opinion below it; let me know if you still have any questions. Do not hesitate to share if you find my information useful.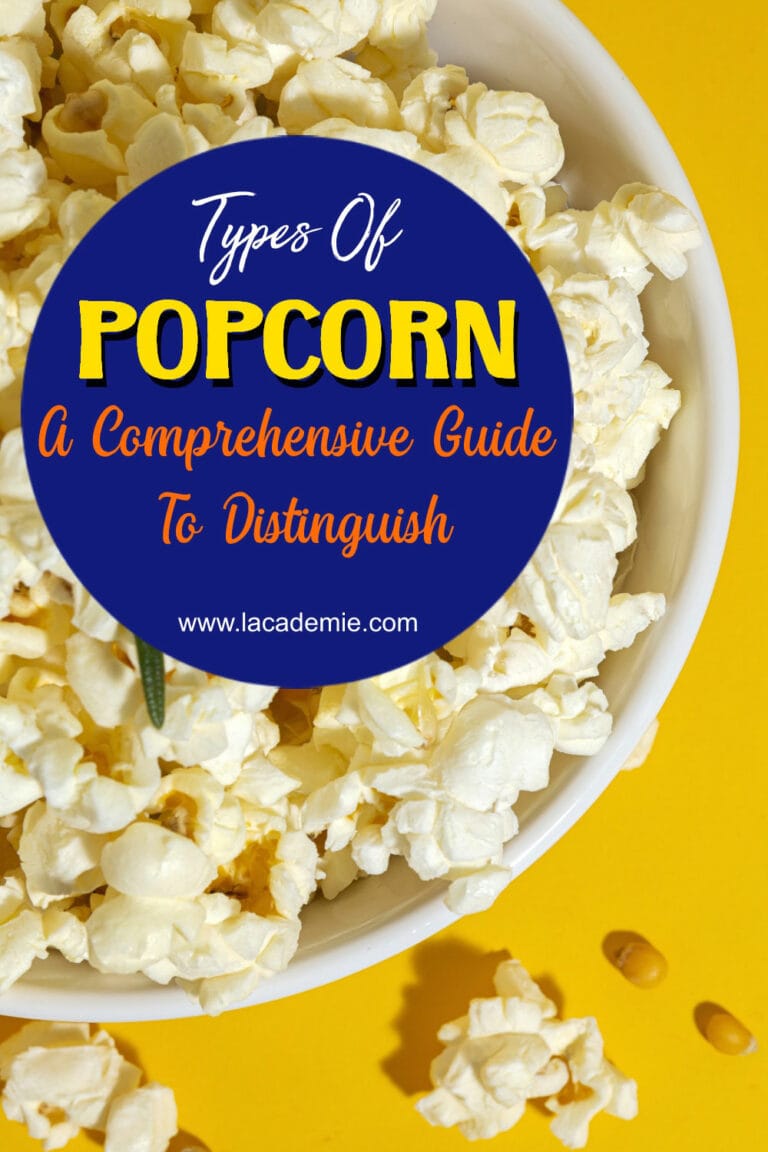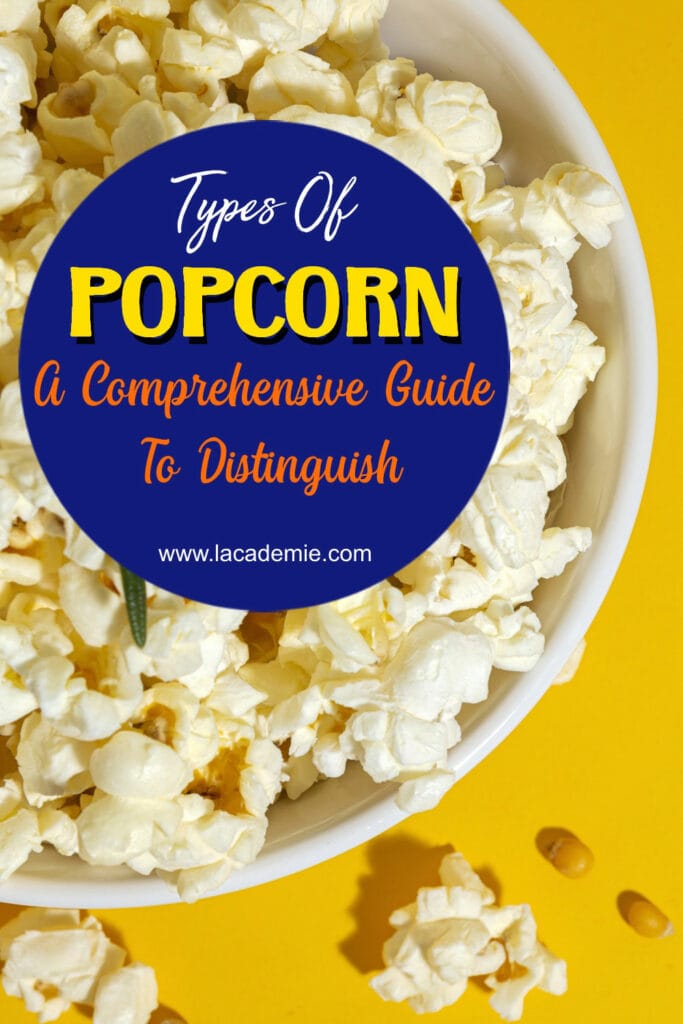 References
"Popcorn – Wikipedia". En.Wikipedia.Org, 2021
"Specialty Corn". Arnel R. Hallauer, Ph.D, 2021