Lovers of flavored popcorn often wonder how to get seasoning to stick to the popcorn. Adding various flavors to popcorn has become a popular trend to make your popcorn delicious and flavorful. You can enjoy many different flavors from spicy, sweet, sour, to salty.
Enjoying the perfect cheese popcorn, evenly soaked in seasoning, is something that everyone wants. But homemade cheese popcorn is not as flavorful as popcorn from the cinema or the pastry.
Your cheese seasoning does not seem to stick to the popcorn but sink to the bottom of the bowl? As a result, you enjoy a tasteless bag of popcorn. What is the reason for this problem, and is there any way to fix it? Keep scrolling down.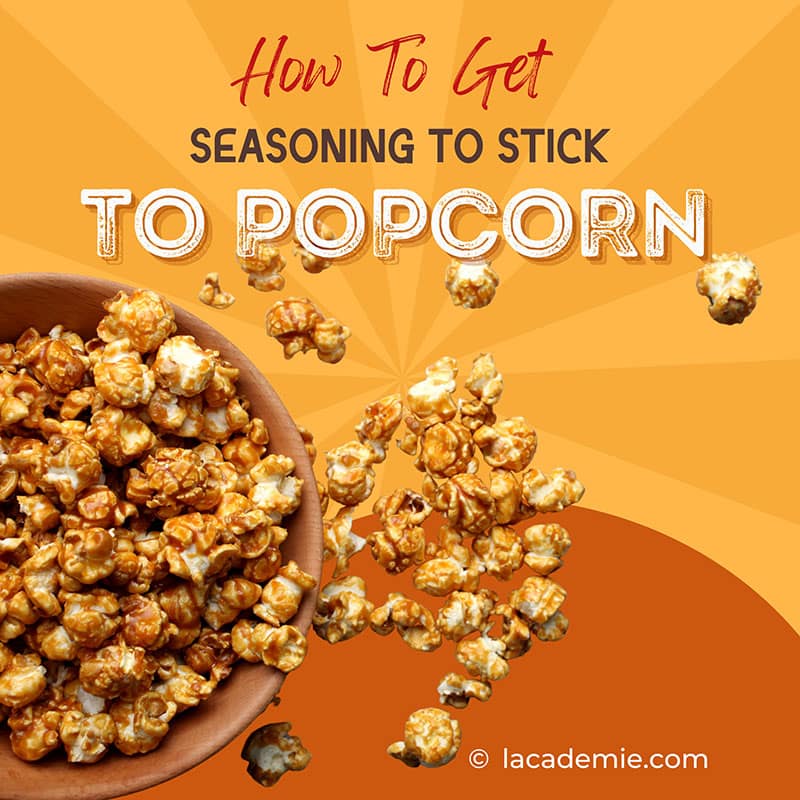 Overview Of Popcorn Seasoning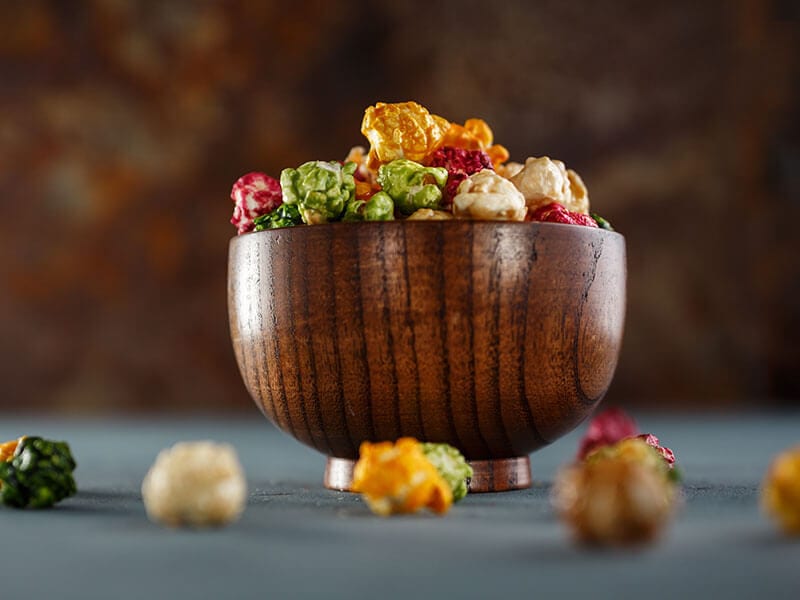 From the earliest days of the popcorn industry, people enjoyed popcorn simply by popping them with oil in a regular pan.
Gradually, different seasonings were added to popcorn to improve its flavor. One of the earliest ways to spice up popcorn is to use sugar syrup. Later on, many popcorn sellers added salt and butter to make popcorn.
Nowadays, the flavor choices for popcorn are no longer limited to essential ingredients, butter, sugar, and salt. Today, you can indulge in dozens of unique flavors for popcorn with all kinds of sour, spicy, salty, or sweet flavors and different colors. (1)
Forget about the sweet buttered popcorn with caramel, chocolate, matcha, cheese, etc. In this day and age, you will no longer find it strange with salty or sour popcorn such as curry, Pad Thai, mustard-pretzel, or veggie popcorn.
Although the above flavorings can make popcorn more delicious, they can affect the vegan nature of popcorn. If you are looking for a healthier popcorn flavor, nutritional yeast popcorn is an excellent choice.
While additional seasonings can enhance the snack's flavor, they might also affect the gluten-free characteristic of popcorn. If you're sensitive to gluten, be mindful when choosing your popcorn's flavor.
The 5 Reasons Why Seasonings Keep Falling Off Your Popcorns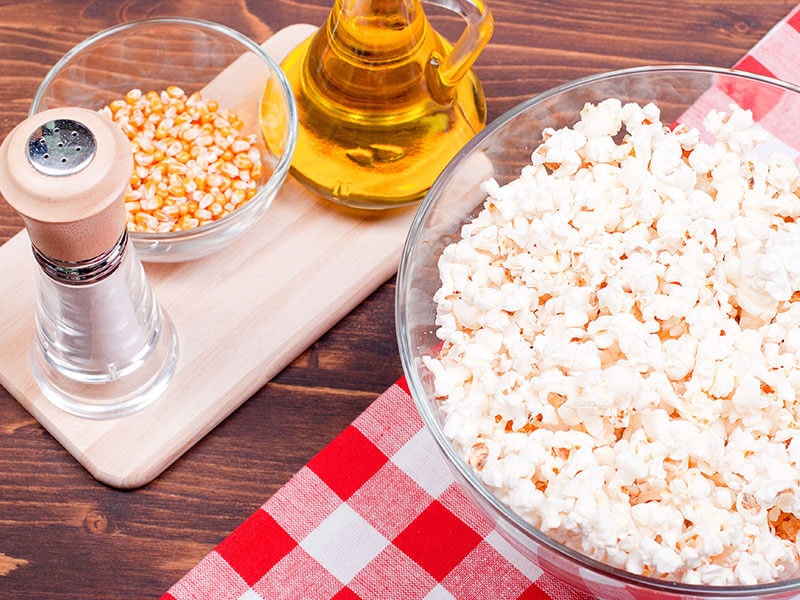 There are many reasons why your popcorn does not stick with seasoning. Is it because you didn't choose top-tier popcorn kernels? Or is it because the total shelf-life of your popcorn has expired? Check out the section below to find out the answers!
1. Dry Popcorn
Popcorn with a dry texture often occurs when you choose to make popcorn with an air popper. This device adopts a hot air circulation process so that the popcorn can pop without oil.
Therefore, the seasoning will be a bit challenging to stick with popcorn. As a result, you'll find the seasoning seems to sink to the bottom of the bowl and make the popcorn taste boring.
2. Wrong Seasoning
One of the critical factors for seasoning to stick to popcorn is powdered seasoning. Instead of using regular salt, you should use popcorn salt. Your ordinary salt will not be fine enough to get into every nook and cranny of your popcorn.
Regular table salt will often fall out when you mix them with popcorn. Similarly, other condiments such as matcha, chocolate, barbecue, cheese, etc., are recommended in powder form.
These mouthwatering powders not only give you a boost of flavor but also make it easier for your popcorn to stick to the seasoning.
3. Insufficient Amount Of Liquid
When using powdered seasonings, you should cover them with liquid to easily penetrate the popcorn. Powders cannot stick to certain surfaces on their own without the help of adhesives.
Therefore, you need to cover popcorn with some liquid like oil, butter, water, Tabasco, soy sauce, etc., so that the seasoning can stick to the popcorn. However, consider the right amount of liquid, otherwise it'll be why your popcorn can't get crispy.
4. Using Wrong Oil
Oil has a specific role in popcorn quality, so it will bring bad results if you don't select the right oil for popcorn. Generally, you should prefer oils with high smoke points, such as coconut oil or olive oil for popcorn (2).
5. Firm Caramel
Seasoning is challenging to stick to the popcorn if it's too hard. For example, if you choose caramel as seasoning for popcorn, and you melt it the wrong way, the sugar will crystallize. At that time, it will be too hard to stick to the popcorn.
What You Need To Get Seasoning To Stick The Popcorn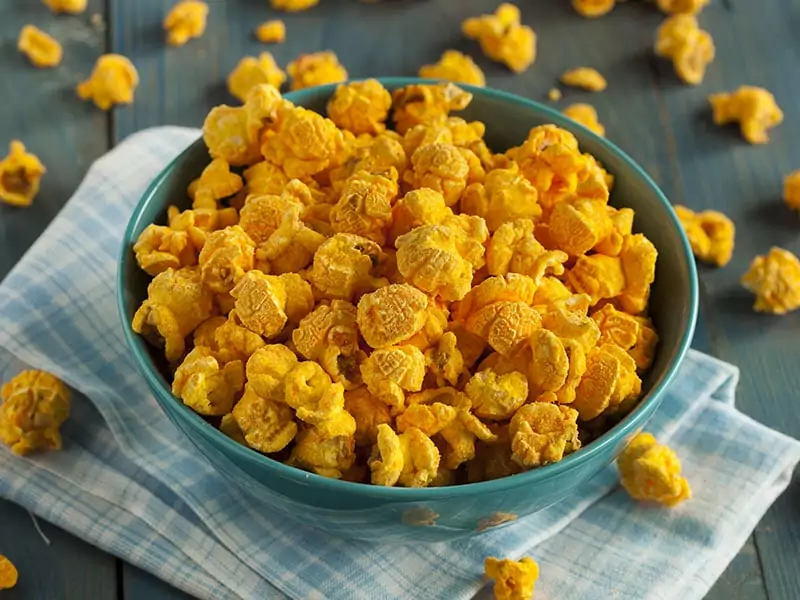 To give you an idea of ​​what you need to do to get the seasoning to stick to the popcorn, I'll summarize the ingredients and material for the process. First, get all of them ready before starting to bind the seasoning and popcorn.
1. Seasoning
This seems to be the main character that deserves your attention today. Depending on your preferences, you can choose for yourself different seasonings. There are many seasoning flavors in the supermarket, from sweet, sour, salty, to spicy with different colors.
Note that no matter what type of seasoning you choose, you should select them in powder form. You can buy them at stores or make them at home. Here they have all kinds of seasoning with colors and flavors to meet your taste and need.
Making your seasoning powder at home quickly with these simple steps.
2. Adhesive Liquid
One of the essential factors that help you stick the seasoning with the popcorn is the binder liquid. Do not worry because they can easily be found in your kitchen. These substances will create a moist enough base for the seasoning to stick.
Depending on the flavor of popcorn you want, you can consider choosing suitable products such as oil, butter, tabasco, lime juice, water, soy sauce, vinegar, etc.
3. Special Equipment
A spray bottle is a must-have to make it easier for seasonings to stay on your popcorn. Why? Because spray bottles can apply enough adhesive liquid on your popcorn without getting it soggy.
Get Seasoning To Stick To Popcorn With 3 Simple Ways
There are many ways to help you pop popcorn at home, so the way to make the seasoning stick to popcorn will be slightly different from other types of popcorn.
Therefore, I will divide it into three separate cases to make it easier to visualize and apply the method more rationally. But first, you should see if your popcorn kernels spoil. It's always better to start off your recipe with fresh kernels, don'
1. Stovetop Popcorn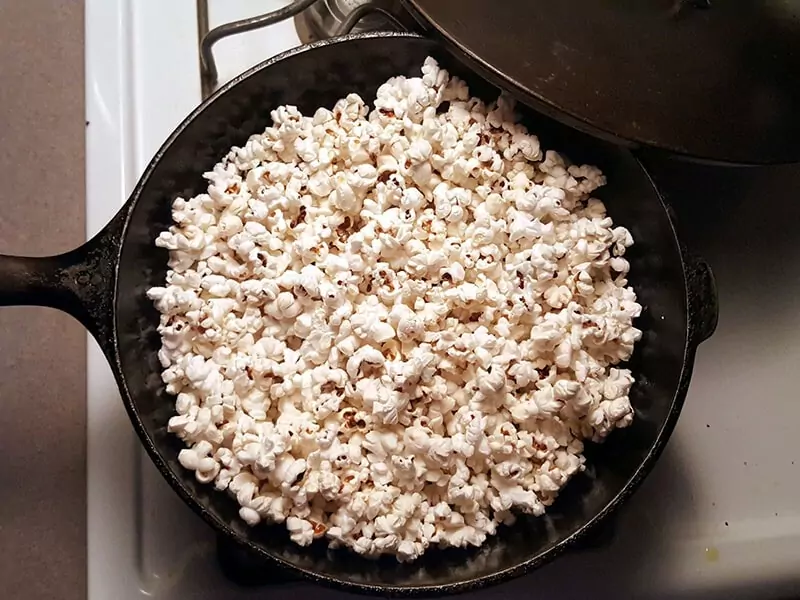 It is considered the most popular way to make popcorn when there's no popcorn makers. To season the popcorn with this method, you should remember to keep two essential points in mind.
Before Popping
Before popping the popcorn, you should coat the kernels with some oil to help them pop and create some binder for your seasoning. The ideal ratio is to use 1 tablespoon of oil for ¼ a cup of kernels to make a thin oil coating without getting your popcorn soggy.
Sprinkle a little salt quickly to coat the filling lightly before the popcorn cools down. While the popcorn is popping, shake the pan gently to pop evenly and absorb the oil better.
After Popping
If you forget to add the seasonings before the popcorn has finished popping, do not worry because you still have the chance to do so.
Simply sprinkle some of your favorite seasonings on top while the popcorn is still warm. Toss the popcorn well in the bowl and repeat a few more times until the flavors are right. Let's enjoy it.
2. Air Popped Popcorn
As mentioned before, air poppers can give your snack a dry texture. However, this doesn't mean you have to give up on this convenient method. Knowing how to cleanse popcorn makers can somewhat address the issue, or you can check out the method below:
Using Oil/ Butter
As I said above, you should use some adhesives for your popcorn to "stick" with the seasoning. Oil and butter are the most viable candidates for this purpose due to their availability and lip-smacking flavors.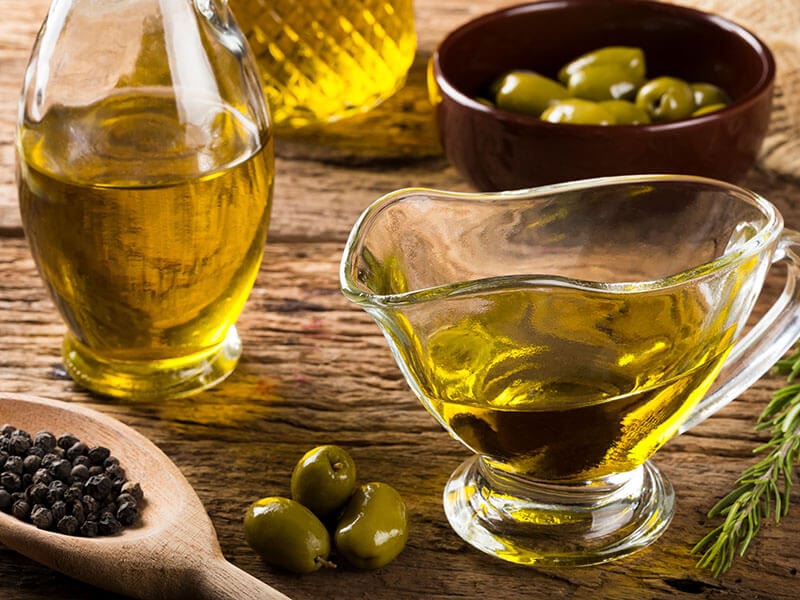 Instructions:
Step 1: Melt butter or use some oil.
Step 2: Use a spray mister to apply the oil/melted butter to your popcorn. If you don't have a spray mister, you can drizzle the fats onto your snack, but make sure you do it slowly and evenly to prevent the popcorn from becoming soggy.
Step 3: Use your favorite seasoning powder to sprinkle evenly on the popcorn
Step 4: Wrap your hands on both sides of the bowl and shake to mix the popcorn with the seasoning.
Step 5: Continue to coat some butter/oil over the popcorn and repeat the process of shaking and tossing the popcorn. You can repeat this process 2-3 times until you feel your popcorn has enough flavor.
Here is the way I shake and toss my air-popped popcorn
Without Using Oil/ Fats/ Butter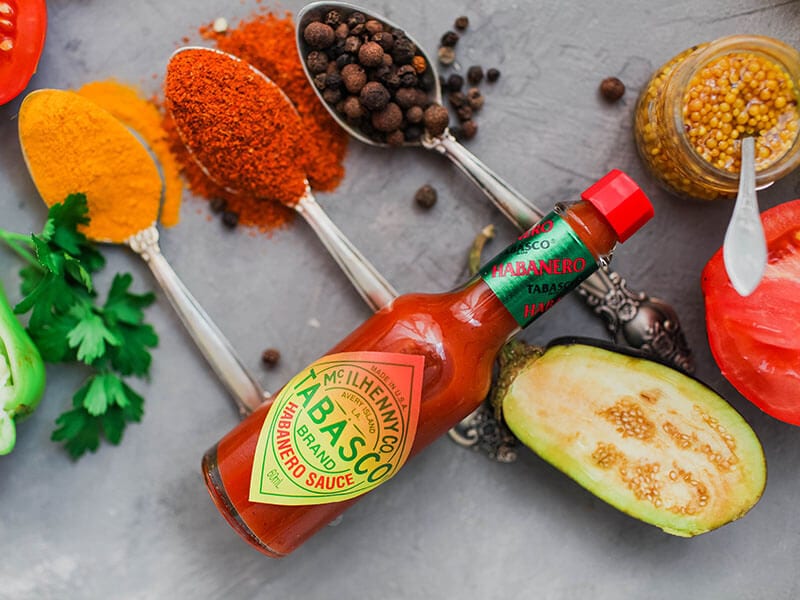 Suppose you want to enjoy a healthy bowl of popcorn without oil and fat; how to make the seasoning stick to popcorn without oil and butter. Extremely simple.
You just need to prepare one of the following ingredients, such as Tabasco, honey, water, vinegar, saltwater, lemon juice, etc., to create a binder for seasoning.
Instructions:
Step 1: Prepare some adhesive liquid of your preferences.
Step 2: Pour the popcorn into a bowl and drizzle some liquid over the popcorn. Use a mist to wet over the surface of the popcorn, do not pour a large amount of liquid to avoid your popcorn getting soggy.
Step 3: Sprinkle the seasoning (powder) evenly on the popcorn.
Step 4: Shake the bowl of popcorn well so that the seasoning is evenly absorbed.
Step 5: Repeat the process until the seasoning is evenly absorbed.
Get tips on how to get the seasoning to stick to popcorn without oil and butter. You can see this video to know more:
Steaming The Popcorn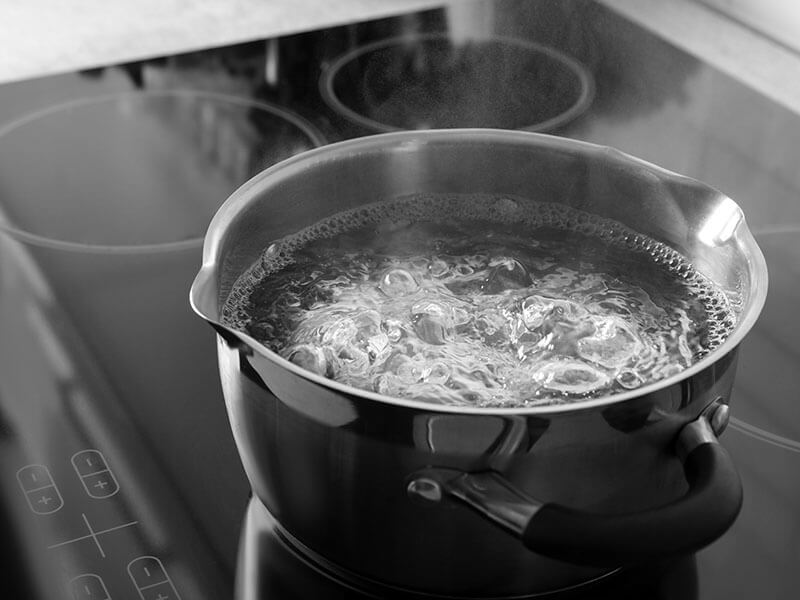 Strange as it may sound, steaming is a fantastic way to ensure that the seasoning stays on your popcorn. If you are down to experimenting with new ways to spice up your popcorn, the instructions below are definitely made for you.
Instructions:
Step 1: Bring water to a boil in a saucepan and pour your favorite kind of popcorn into a colander.
Step 2: Place the colander containing the popcorn over the pot of boiling water.
Step 3: Coat the popcorn in the steam by stirring the popcorn in the colander.
Step 4: This is the most critical time to make the seasoning stick to the popcorn. Sprinkle the seasoning evenly over the popcorn; the steam will make the perfect binder for the seasoning.
Step 5: Note that you should not steam your popcorn for more than 30 seconds. Extended exposure to moisture will give your snack a soggy texture.
3. Microwave Popcorn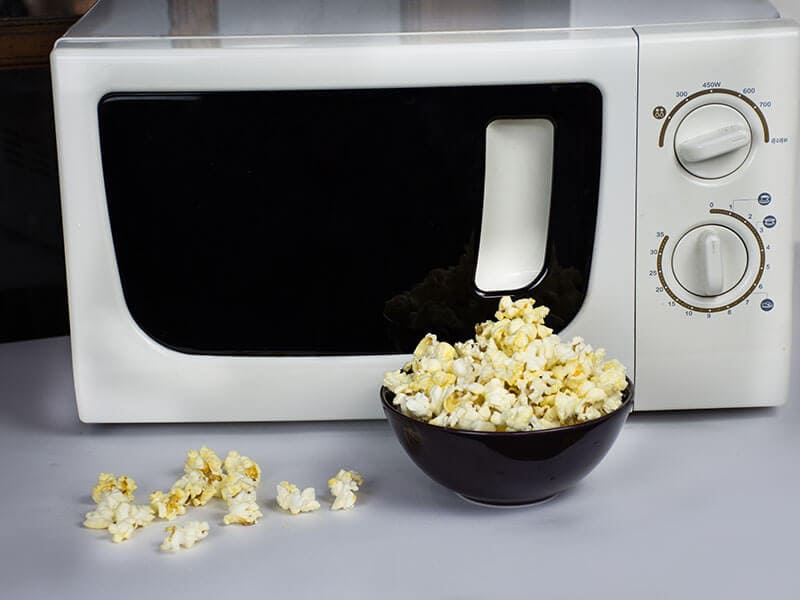 Besides the stovetop popcorn method, the microwave is also a quick and convenient way to enjoy great popcorn. To make your popcorn more evenly spiced, you can apply the method below.
Before Popping
Prepare a paper bag to whip up some popcorn. To make popcorn crispy and absorb the seasoning evenly, you definitely can not forget the oil or butter. Brush a little oil to coat one side of the bag evenly.
Fun fact: This is one of the requisite steps to make your popcorn colorful. Butter and oil are powerful binding agents, allowing seasonings/food coloring to stick to your popcorn; so always make sure you have some when preparing this crunchy snack.
Then, put a portion of your kernels in the bag with some of your favorite seasonings. Fold the mouth of the bag about 2-3 times to seal it.
The next thing you need to do is shake the bag to evenly distribute the seasoning on the popcorn and put it in the microwave.
Note that when placing in the microwave, you should put the oiled and buttered part facing up. After about 2-3 minutes, you have the full flavor of buttered popcorn right away.
Getting seasonings to stick to microwave popcorn easily with this method.
After Popping
If the taste is not to your liking, you can add more flavors using the air-popped popcorn method. Pour the popcorn into a bowl, mist with some binder (oil, butter, Tabasco, vinegar, etc.). Sprinkle with seasoning and shake well.
Repeat the process until you have the right popcorn flavor.
Spice Up Your Mouth With These Fabulous Popcorn Seasoning Recipes
If you already know how to make the spice blend evenly into different types of popcorn, it's time to stimulate your taste buds with these unique popcorn recipes. Besides the classic butter and salt flavors, you can experience some unique flavors below:
If you are a cheese fanatic, then this is the best choice for you. Prepare some butter to coat the popcorn evenly, then sprinkle with some cheese powder. To enhance the flavor, I suggest you add a little salt and pepper.
In the end, you have a bag of yummy popcorn with cheese and spicy pepper.
You can try a bit of saltiness and mildly spicy flavor for tonight's home movie screening by mixing salt, and chili powder. Add a little butter and experience an excellent bite of crunchy popcorn.
If you are considering a healthy snack full of nutritional value, use nutritional yeast. Add a little garlic powder and salt to make your popcorn more flavorful. A tasty snack packed with vitamins and minerals? Count me in!
The sweet taste of chocolate can make you flutter. How can you resist that attraction when it is combined with the delicious buttery flavor? Add a bit of vanilla-flavored chocolate syrup with peanuts; imagine how wonderful it is to melt in your mouth.
Want to relive your trip to Thailand last year? Try this recipe now to experience your favorite pad Thai again. Add sour, spicy, sweet, and aromatic flavors to popcorn with special fish sauce. Do not forget to put the coriander into your popcorn.
If you have a sweet tooth, don't hesitate to try this recipe right away. The cinnamon waffle flavor will return to the tip of your tongue. Add the brown sugar, corn syrup, and salt to the popcorn and whisk together the cinnamon, vanilla extract, butter, and baking powder.
Are you ready to indulge in this sweetness?
The fragrant garlic flavor will make you fall in love; proceed with this simple recipe right away. Sprinkle the popcorn with some parmesan cheese, garlic salt. Add some butter and shake well with the seasoning. You will fall in love with its indulgent taste.
For this specific recipe, I always opt for white popcorn, as it's also reminiscent of garlic. Of course, you can still opt for yellow variety if you want. Despite the factors that set white and yellow popcorn apart, they're both tasty and highly compatible with this gob-smacking recipe.
Try some sour popcorn with lime juice and sriracha sauce, which is indispensable in many American recipes. This spicy popcorn dish will awaken your taste buds from the first popcorn pieces.
A flavorful popcorn with a hint of Parmigiano cheese, Italian seasoning will transport you to Italy in no time. Remember to add some garlic powder and then mix it well. I bet its taste will make you swoon.
How can I forget this classic popcorn flavor? You can optionally use white or brown sugar (if you want a caramel flavor) and vegetable oil. Fill your popcorn with sugar and enjoy
You want popcorn topped with the flavor of your favorite bacon. Why not try combining them. Not a bad idea indeed. Prepare some bacon, caramelized sugar, and popcorn. You will glue them together, forming delicious popcorn balls. You will never forget this unique combination.
Add a snack to the list of healthy dishes for you. Enjoy a popcorn bag of chemical-free and dairy-free popcorn with some paprika, nutritional yeast, and garlic powder. Healthy snacks are served.
FAQs
Is there anything else that makes you wonder about popcorn and seasonings? Do not miss the next section; you will collect a lot of good things there.
Create Your Own Popcorn Seasoning Flavor
Creativity knows no bounds; culinary creativity is no exception. You can optionally choose, combine and create your popcorn seasoning. Plus, applying my guidelines will help your seasoning stick to the popcorn. From there, the taste of popcorn can be multiplied by your recipes.
Have you successfully applied my instructions in making seasoning sticks to popcorn? Don't hesitate to comment below about your popcorn flavor. If it works, quickly share these special tips with your friends and family right away.
Nutrition Facts
1 servings per container
Serving Size1 oz (28.4 g)
---
Amount Per ServingCalories106
% Daily Value *
Total Fat 1.2g

2

%
Sodium 2mg

1

%
Potassium 78mg

3

%
Total Carbohydrate 21g

8

%

Dietary Fiber 3.6g

12

%
Sugars 0.3g

Protein 3.1g

6

%
---
Iron

4

%
Vitamin B6

5

%
Magnesium

8

%
* The % Daily Value tells you how much a nutrient in a serving of food contributes to a daily diet. 2,000 calories a day is used for general nutrition advice.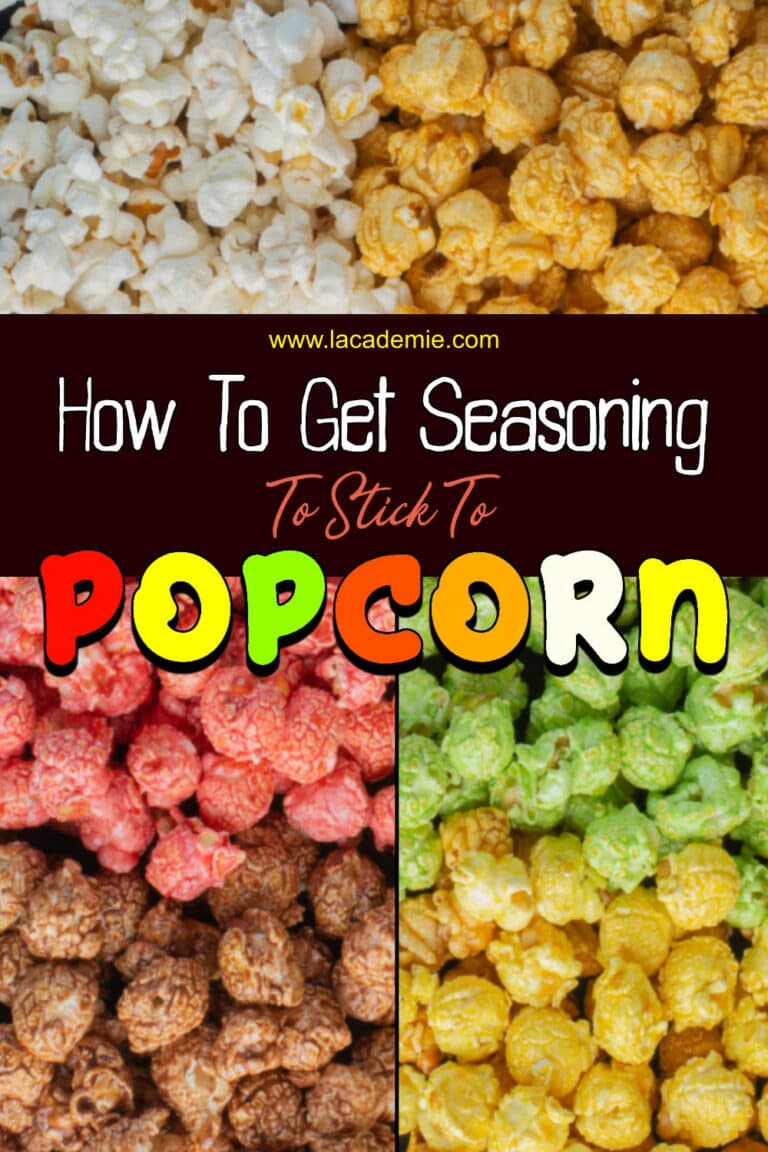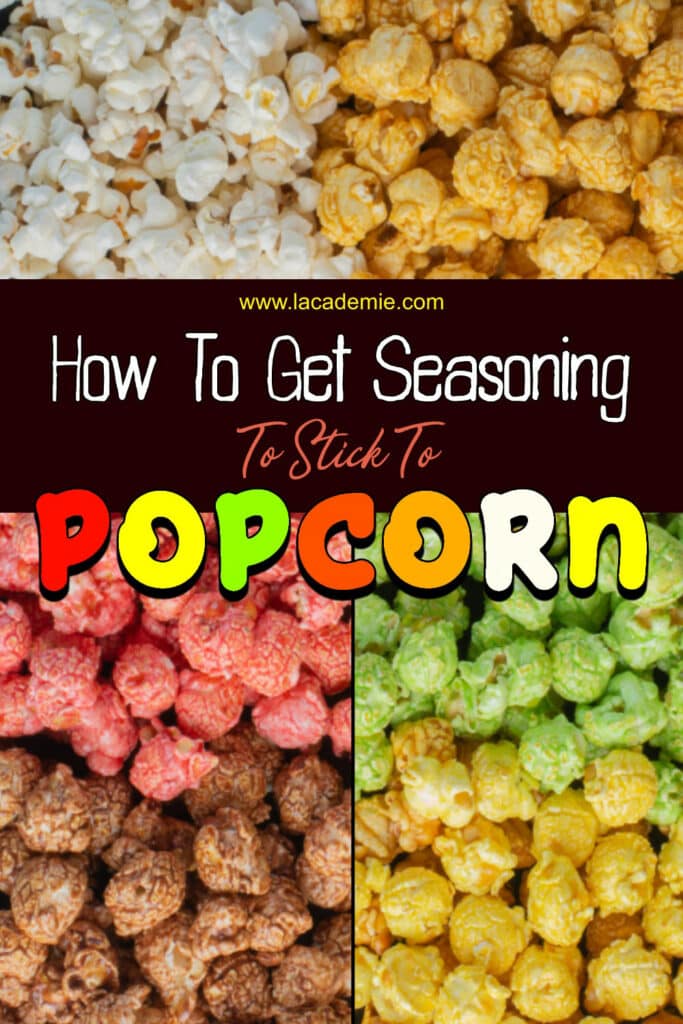 References
En.wikipedia.org. 2021. Popcorn seasoning – Wikipedia.
En.wikipedia.org. 2021. Smoke point – Wikipedia.