Types of popcorn and popcorn machines don't often get enough attention they deserve. Indeed, popcorn is indispensable at movie theaters and carnivals; however, when people think of it, only its taste comes to mind.
In other words, many may have limited knowledge about this treat and the tools required to make it. As a result, selecting the very first popcorn kernels and poppers can take several days. But if you want to save some of your valuable time, this article can help. Let's dive in!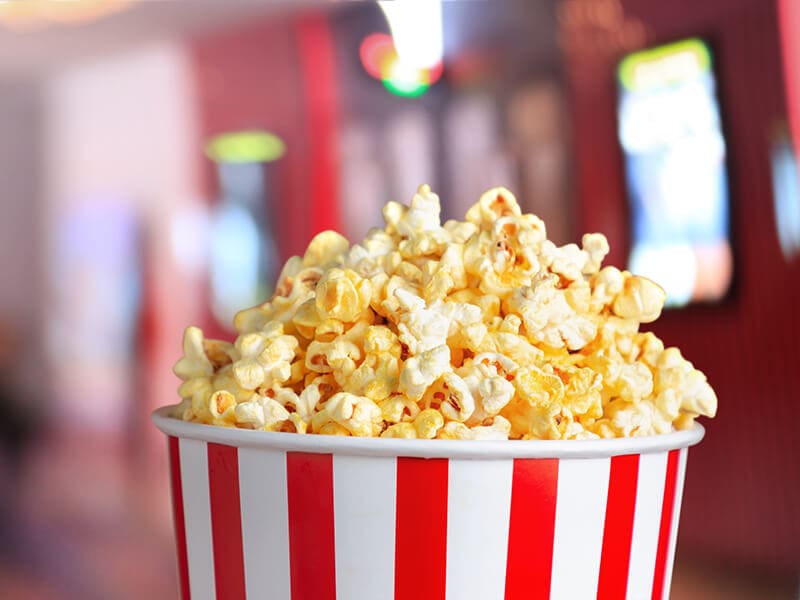 History Of Popcorn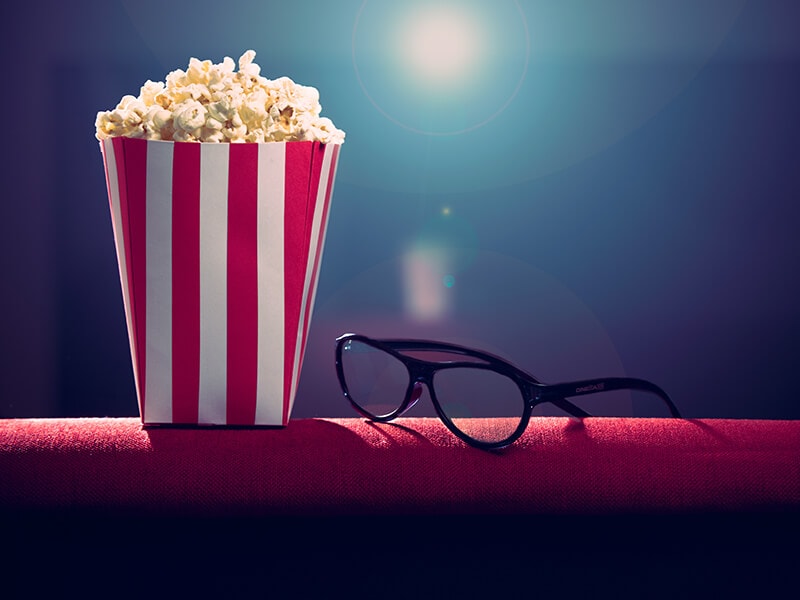 Corn is a plant that is native to the Americas. This grain was first domesticated in Mexico 10000 years ago (1). But it wasn't until the mid-1800s that corn became common in the US. In 1885, a steam-powered popcorn maker was invented, making popcorn more accessible.
While other businesses collapsed during the Great Depression, the popcorn industry grew successfully. Every bag of popcorn came in 5-10 cents. For this reason, families in financial difficulties could afford this treat in the past.
The cooperation with movie theaters also helped boost sales of popcorn. Because of their affordability, these treats appealed to moviegoers and theater owners. In the 1950s, when TV became popular, the popcorn business saw a drop in sales.
However, due to the efforts of popcorn companies, consumers began to eat this treat at home. As a result, popcorn consumption started to rise again.
Understand why popcorn became an indispensable part of movie theaters.
Types Of Popcorn Kernels Based On Shape
Popcorn kernels are divided into 2 types based on their shapes. Check the table below for a summary of the two kinds of popcorn kernels.
| Characteristics | Butterfly popcorn | Mushroom popcorn |
| --- | --- | --- |
| Shape | Little wings | Mushroom-shaped or ball-shaped |
| Texture | Light, soft, fluffier | Firm, chewy |
| Size | Small | Larger |
| Best for | Adding seasonings and toppings | Making kettle corn or caramel popcorn |
Butterfly Popcorn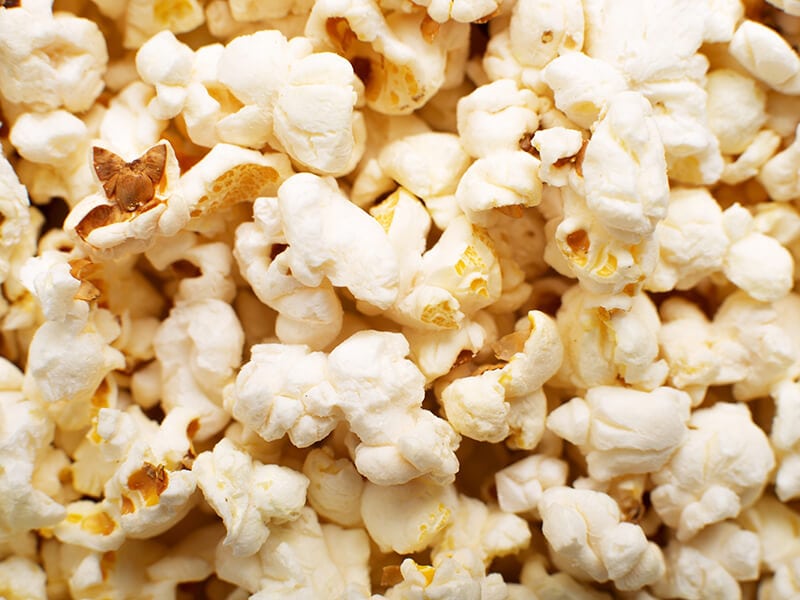 Butterfly popcorn is one of the two shapes of popcorn kernels. As the name implies, every popped grain has little wings. This characteristic allows seasonings and toppings to stick to pieces of popcorn easily. But because it's light and soft, putting too many additions isn't a great idea.
Compared to mushroom popcorn, this popcorn is fluffier. It's often served fresh to ensure you enjoy crunchy pieces of popcorn. Salt and melted butter also go well with this popcorn to enhance its taste.
Butterfly popcorn appears almost everywhere. However, you will see it most in movie theaters, stadiums, and carnivals. Its non-uniform shape is a bonus for businesses. Each serving size can vary in the number of popcorn pieces, making it an effective product for increasing profits.
Mushroom Popcorn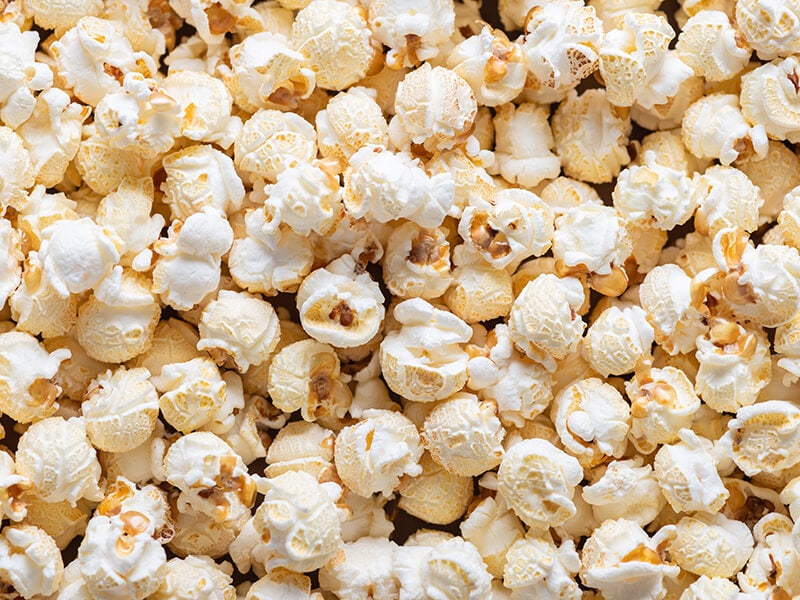 Mushroom popcorn is larger, denser, and more durable than its butterfly cousin. The former has a shape resembling a mushroom cap or a ball. Its round shape and large surface area enable it to hold up coatings well. This makes this popcorn perfect for making kettle corn.
Unlike the butterfly variety, mushroom popcorn is firmer and also chewier. It doesn't shrink or melt when paired with butter or wet toppings. Mushroom popcorn can retain its shape and texture during stirring or coating processes.
There are several ways to enjoy mushroom popcorn. For example, you can enhance its taste by adding some oil, butter, or melted cheese. Making caramel popcorn is another excellent option for a sweet and crunchy snack with caramel, cheese, and other coatings.
Mushroom popcorn takes a while to stale and lose its crunchiness. As a result, you can make large quantities of popcorn without worrying about them going soggy quickly.
Types Of Popcorn Kernels Based On Color
Depending on their colors, popcorn kernels are classified into yellow, white, red, and blue varieties. The table below gives information about the 4 types of popcorn kernels.
| Types of popcorn kernels | Size | Flavor | Texture | Popped kernel color |
| --- | --- | --- | --- | --- |
| Yellow popcorn kernel | Large | Slightly nutty | Fuffy | Yellow |
| White popcorn kernel | Small | Neutral, pure popcorn | Soft, crunchy | White |
| Blue popcorn kernel | Relatively small | Distinctively nutty | Soft, light | White |
| Red popcorn kernel | Relatively small | Neutral, pure popcorn | Soft, light | White |
Yellow Popcorn Kernels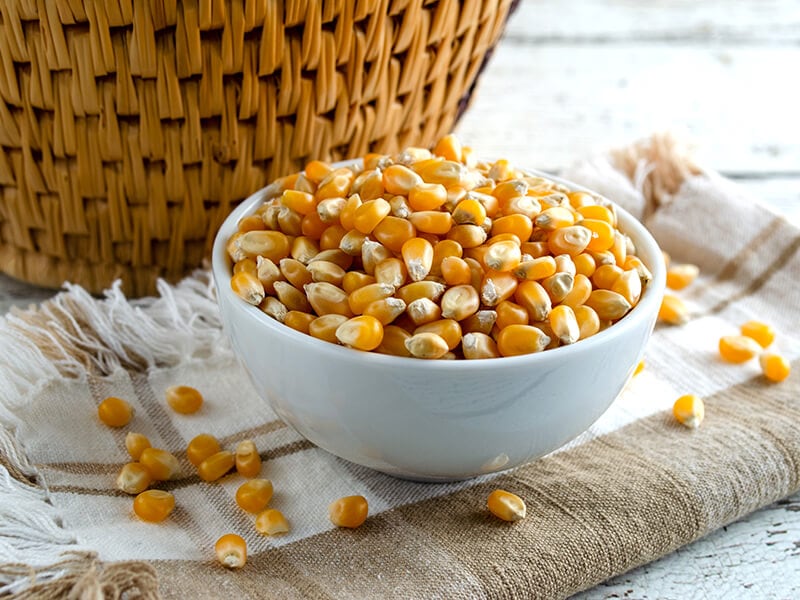 Yellow popcorn kernels are the most popular and affordable. They come with a slightly nutty flavor and a sturdy texture. When popped up, these kernels turn into fluffy yellow popcorn, about 45 times bigger than their original sizes.
Since yellow popcorn is large and durable, it's excellent for accompanying multiple seasonings, toppings, and glazes. This also explains why these kernels are common in grocery stores and movie theaters.
Master your skills in popping yellow kernels with this easy-to-follow guide.
White Popcorn Kernels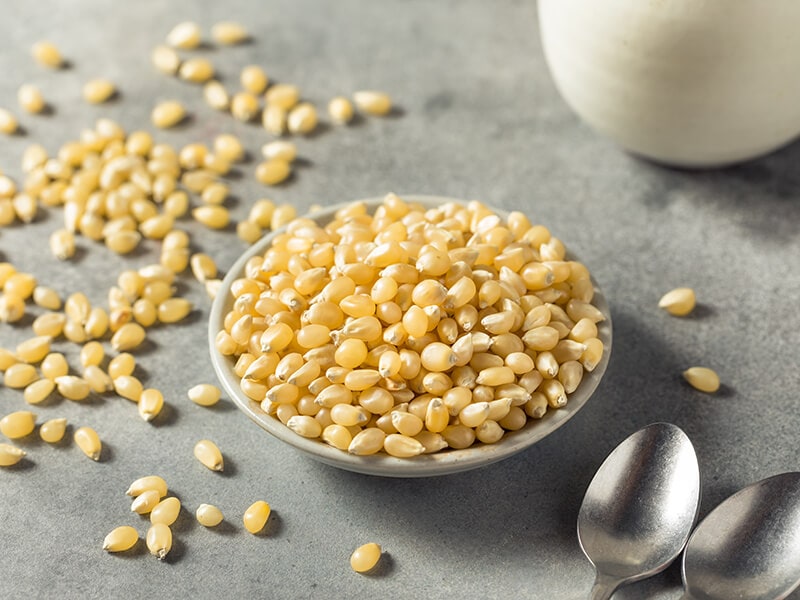 White popcorn kernels are similar to rice granules in appearance. These kernels are smaller compared to their yellow counterparts. The former has a neutral and pure popcorn flavor. Due to this profile, white popcorn kernels are ideal for adding seasonings and flavorings.
When these kernels pop up, they become soft and crunchy white popcorn. It is around 40 times larger than its kernels used to be. While these varieties are not popular in movie theaters, many households prefer them because of their pure flavor.
Blue Popcorn Kernels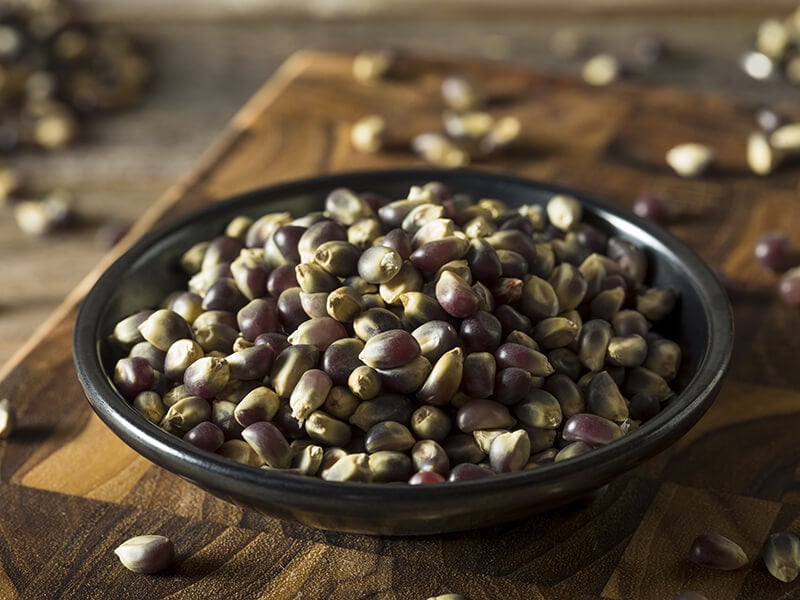 Blue popcorn kernels come in small sizes and dark blue. Their color ends up being white once they are popped. It also has a light, soft flake but a distinctively nutty flavor. These kernels are worthwhile if you are looking for a unique taste.
Another reason to select them is their nutrition. They contain higher protein and antioxidant amounts than their white or yellow cousins. Blue popcorn kernels also have a lower glycemic index. Therefore, they are healthy kernels for diabetes or high blood pressure patients.
Red Popcorn Kernels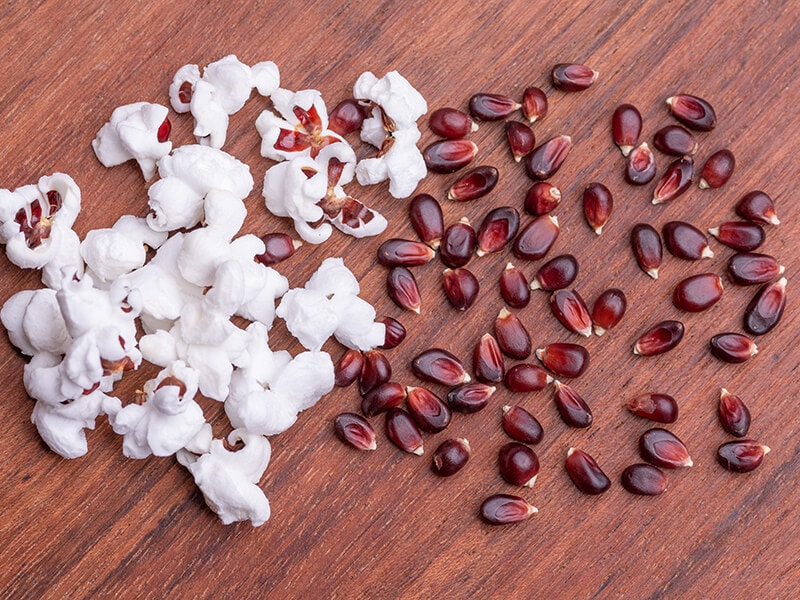 Red popcorn kernels are smaller than other types and often have no hull. This means they will not stick to your teeth when consumed. Despite their reddish color, these kernels turn white after popping. They offer a slightly nutty flavor and light, soft flake.
As a result, you don't need to do much to enjoy your crunchy popcorn. Just a little olive oil, butter, or salt makes it tasteful. Topping it with parmesan cheese, cinnamon, or paprika is also a great way to have an amazingly delicious snack.
Types Of Popcorn Machines
When it comes to popping kernels, you can consider various kinds of popcorn machines. This section compares them in price, cleaning, and functions.
| Types | Pros | Cons |
| --- | --- | --- |
| Stovetop | A cheap and durable option, heating up rapidly, using less oil, and containing larger popcorn quantities | Controlling the heat manually |
| Hot air | A durable option, making light and fluffy popcorn, using hot air, with no oil requirement | An expensive option |
| Electric | A simple-to-use option, using a lid as a serving bowl | Popcorn may fly out, cooked unevenly, or burned |
| Campfire | A lightweight and portable option | Making small popcorn quantities using an open flame |
| Microwave | Cheap and simple-to-use option, heating up rapidly, with no oil requirement | Requiring a pair of oven mitts or potholders |
| Commercial | Quality, durable, convenient, and simple-to-use option, making large popcorn quantities | An expensive option, taking up much storage space |
Stovetop Popcorn Maker
A stovetop popcorn maker is a way to go if you wish to recreate a similar taste of popcorn at movie theaters. This machine can pop a large number of kernels while ensuring their quality. While it resembles a pot with a lid, it's equipped with an additional crank at the handle.
A crank allows you to stir kernels constantly. Thus, they won't end up being burned or stuck to the base of a popper. This popcorn maker isn't only cheap but also durable. Since it's often made from stainless steel or aluminum, you can use it with stovetops easily.
In addition, a stovetop popcorn maker heats up rapidly. It also doesn't require much oil to function. This makes this machine easy to clean with a dry towel. However, during popping, you should control the heat manually to prevent your popcorn from being burned at high heat.
Learn how to make tasty popcorn with a stovetop popcorn maker.
Hot Air Popcorn Maker
A hot air popcorn maker is also known as an air popper. It consists of a heating element and a fan system. Due to these parts, this machine can regulate hot air to pop kernels. It's also built with a chute to send popcorn into your bowl conveniently.
On top of an air popper, there is often a measuring cup to calculate kernel amounts. However, many people love using it for melting butter to serve with popcorn. If you want your popcorn to be light and fluffy.
Additionally, it pops kernels up with hot air instead of oil or butter. For this reason, you don't need to worry about oily popcorn. No oil build-up helps cleaning become much easier. However, this durable popper is pricier than other types of popcorn makers.
Electric Popcorn Maker
An electric popcorn maker is simple to use. It connects with an electric outlet by a wrappable cord. You can easily wrap and store the cord when you don't use this machine. This saves your kitchen space and makes it uncluttered.
A lid is another part of an electric popcorn maker. You can flip it upside down to use it as a bowl for popcorn. Despite its convenience, popcorn may shoot around if the lid is not put tightly. Therefore, just make sure you check it carefully before starting the popper.
Washing a lid is an easy task. You can also put the lid in a dishwasher. Meanwhile, wiping the main machine with a wet cloth should make it clean again. The downside of an electric popcorn maker is popcorn may be cooked unevenly or burned.
Campfire Popcorn Maker
A campfire popcorn maker is a no-brainer selection for camping people. It's used with an open flame, such as a fire or a grill. This popper includes a box, a lid, and a long handle. The end of its handle is usually covered by wood or other materials to keep you from burning.
Due to its lightweight, you can easily carry this popcorn maker anywhere you go. Not only convenient, but it is also easy to clean with a towel. However, you should remember that it can only handle a small amount of popcorn.
Microwave Popcorn Maker
A microwave popcorn maker is made from borosilicate glass. Its heat-resistant material allows it to be used with a microwave. BPA-free plastic and silicone are also common materials for this popper. Because it's hot rapidly, your popcorn will be ready in just a few minutes.
This popcorn maker is affordable and simple to use. All you need is to measure your kernels with its silicon lid or use it for melting some butter. You may also add oil to your machine though it's unnecessary. Afterward, you can put this popper into a microwave and set the temperature.
A pair of oven mitts or potholders are a must to use with it. These kitchen accessories help you safely carry a microwave popcorn maker while it's still hot. Cleaning this popper is quite easy. You can wipe it with a soapy or wet sponge or put it in a dishwasher.
Commercial Popcorn Maker
A commercial or professional popcorn maker is the most expensive. This popper can be relatively pricey; some may cost you hundreds of dollars. As the name suggests, these machines are usually used at movie theaters and carnivals.
A commercial popcorn maker is a quality, durable, and convenient product. But it's also larger than other varieties. Thus, storing this popper in a small kitchen isn't an ideal choice. It takes up much more storage space compared to its counterparts.
However, this machine is perfect for hosting events or parties. It allows you to produce large popcorn quantities to serve lots of people at the same time. Besides, using a commercial popcorn maker is also simple.
There is a metal holding tray on top of this popcorn maker. It's where you will pour kernels, salt, and oil. After filling the tray, you need to close it and turn on the machine. Once your kernels are fully popped, you can take them out and enjoy them with your friends.
Clean your commercial popcorn maker easily and quickly by following this detailed instruction.
The Best Popcorn Maker Brands You Should Know
There is a wide range of popcorn maker brands on the market. However, here are some of the best manufacturers you should consider buying from.
Since it was founded in 1971, Cuisinart has won many prestigious awards and accolades, including Good Design Awards and Gold Summit International Award. It's a trusted brand for not only poppers but also other aspects of the kitchen.
Cuisinart provides an array of selections for cooking, such as food processors, coffeemakers, cookware, and other tools and gadgets. If you are seeking a quick and oil-free popcorn machine, Cuisinart EasyPop Hot Air Popcorn Maker is an excellent option.
Epoca Internal LLC. has been in the business of housewares for over 25 years. Ecolution, the company's cookware brand, is a go-to for various cooking items, bakeware, popcorn makers, gadgets, etc. It's proud of making simple-to-use and safe appliances for families.
One of the most well-known products of the brand is Ecolution Patented Micro-Pop Microwave Popcorn Popper. It's made from BPA-free and temperature-resistant glass for a turntable microwave. Due to its material, you can freely observe your fresh kernels during popping.
WestBend was established in West Bend, Wisconsin in 1911. The company focuses on developing electric kitchen appliances. Its mission is to offer innovative and quality products for customers worldwide.
WestBend has a diversity of choices for your cooking purposes, from making coffee to baking pizzas and more. For popcorn fans, you can expect outstanding quality from its Stir Crazy Popcorn Machine and Stir Crazy Movie Theater Popcorn Popper.
Presto has been a leading manufacturer of small electric appliances and housewares since 1905. Its main objective is to project consumers' needs and satisfy them with exceptional and innovative items.
An example of this is Presto Poplite Popper. This popcorn maker is widely favored because it's easy to set up and use. The capability of popping large numbers of kernel cups is also a reason for its popularity.
How To Store Popcorn And Popcorn Kernels
Sometimes, there may be leftover popcorn or unpopped kernels after parties or movie nights. Knowing how to store them properly helps you use them over and over again.
Popcorn Storage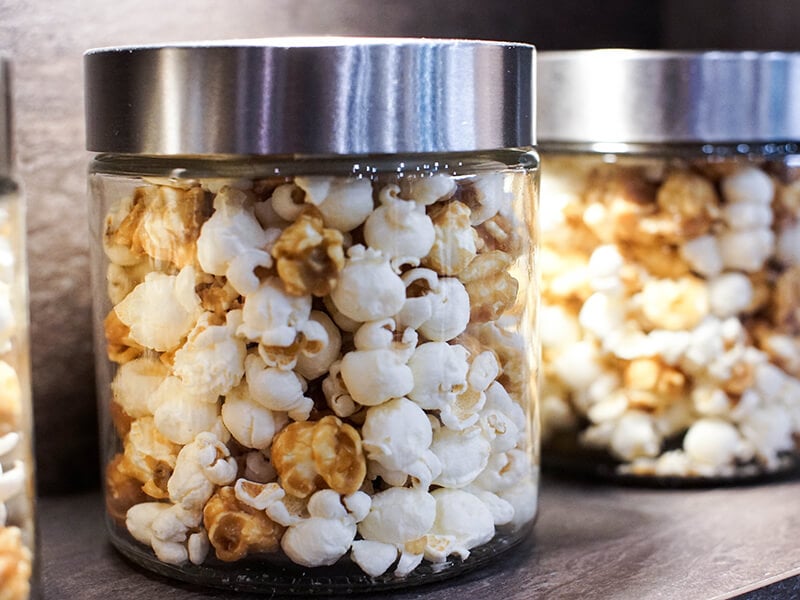 No one wants their delicious popcorn to end up in wastebaskets. Here are some ways to keep your treat fresh longer.
Let the popcorn cool: Putting hot or warm popcorn in a container may make it soggy because of moisture. Ensure you leave your treat enough time to cool completely before storing it.
Keep the popcorn in an airtight container: This method retains your treat's moisture, protecting it from drying and staling. Before securing a lid, you can also put an additional plastic wrap to seal it tighter.
Store popcorn out of direct sunlight: Even if you keep popcorn in an airtight container, direct sunlight can cause temperature fluctuation. Not only is your treat impacted by this, but toppings like chocolate may be melted quickly.
Put a popcorn container in a cupboard or pantry: Although you can store the container in a fridge, it may change your treat's texture. Instead, you should keep it in a cupboard or pantry at room temperature.
Freeze your popcorn: Putting your treat in a freezer enables them to stay fresh for up to 3 months. Write down the date you store your popcorn in its freezer-safe container. Once you defrost it, don't put it back in the freezer.
Popcorn Kernel Storage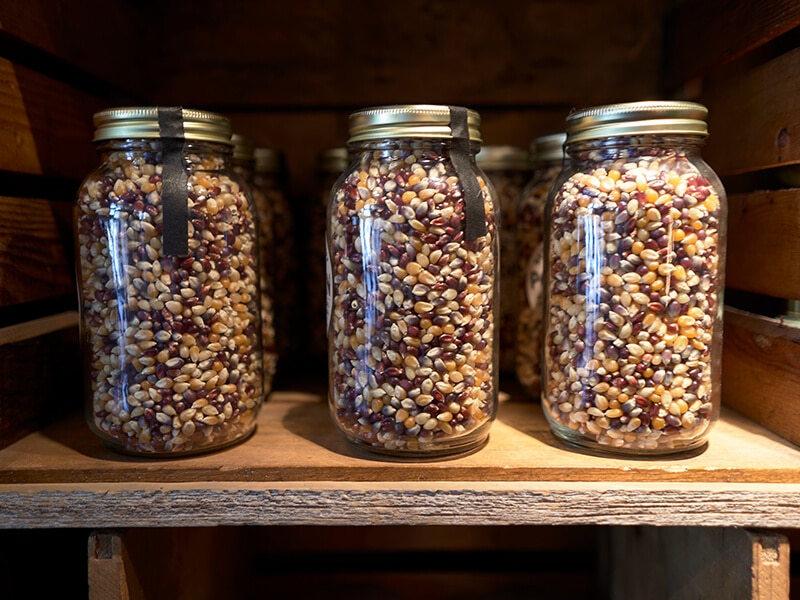 Below are some tips you can consider to store your (unpopped) popcorn kernel:
Keep popcorn kernels away from direct sunlight: Like popcorn, kernels are sensitive to sunlight or heat. This means dark and cool places are best for preserving your kernels.
Store popcorn kernels in an airtight container: Popcorn kernels require 13.5%-14% moisture to pop (2). Putting them in an airtight container prevents them from losing their moisture. As a result, your kernels can pop better.
Don't put popcorn kernels in a fridge or freezer: Doing this results in drying your kernels and reducing their water content. Therefore, you should store them in an airtight container in a cupboard or other cool places to keep your kernels fresh.
FAQs
Indeed, there are other things you may want to know about popcorn and popcorn machines. Make sure you check out all the questions below.
Understanding Popcorn and Poppers Makes Your Treat More Delicious
Insightful knowledge about popcorn kernels, and their machines can actually improve your eating experience. When choosing each popcorn kernel or maker type, you know what to expect. Tips and tricks mentioned also help you store your treat and its ingredients efficiently.
After all, considering one from quite a few options surely isn't easy. If you have any questions, feel free to drop them in the comments. You can also send the post to your friends. Give them a reading and discuss your choices.
Paragraph
Popcorn (2022) Wikipedia. Wikimedia Foundation.
All about popcorn Popcorn.