Sometimes even the most enthusiastic corn lovers get confused by the kettle corn vs. popcorn battle. The most obvious questions that come to mind are: Why are they different? How are they different? How can I tell them apart?
Fear not, as I have come to your rescue. I will tell you all you need to know about kettle corn and popcorn. Once you have learned all the basics, you will never confuse about these two types of snacks again.
So what are you waiting for? Let's dive in and see.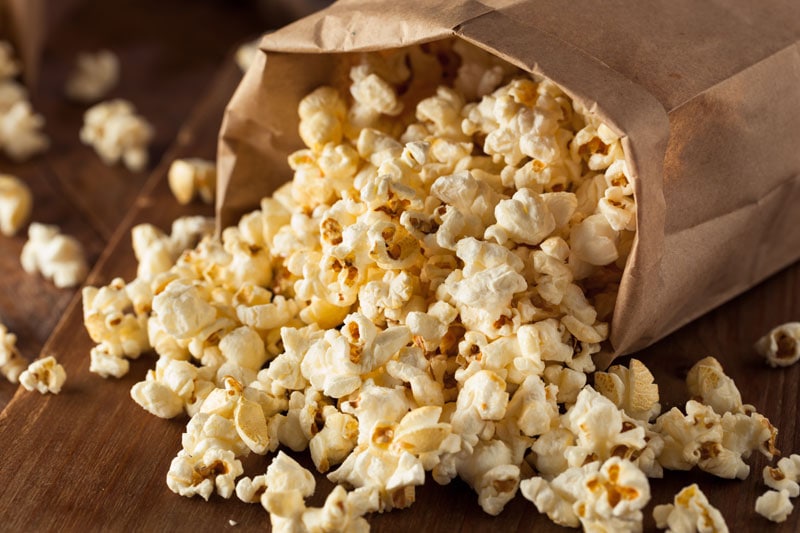 Kettle Corn & Popcorn – What Are They?
Before analyzing anything further, it's essential to make sure that you know all the basics, starting with their definition. In the next part, I am going to walk you through some general information about popcorn and kettle corn.
Popcorn – The Theater Snack That Everybody Loves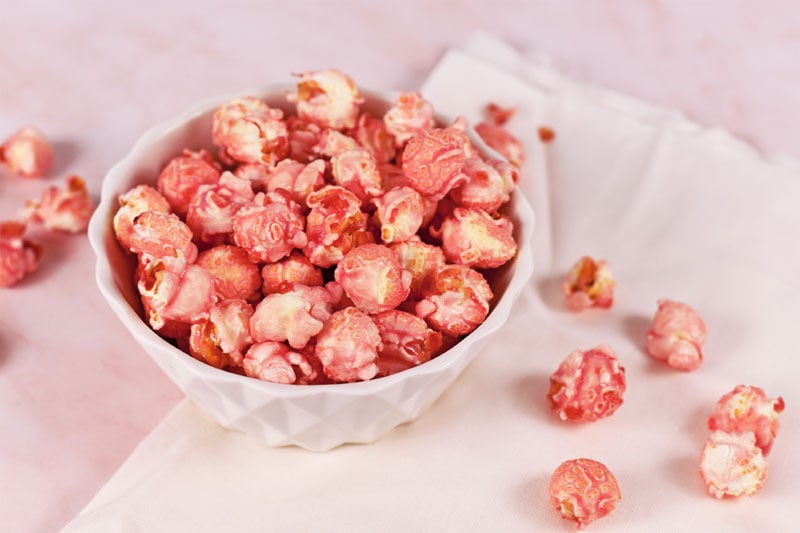 Popcorn is so popular that there is hardly anyone who doesn't know about it. But if you are one of those people, no biggie. Here are the facts you need to know.
You can make popcorn by popping corn kernels. This process includes heating the kernels to a certain temperature; then, they will explode from the inside out and form yellowish pieces of popcorn.
Here's a fun fact for you: Popcorn is an ancient food. It has been around since 4700 BC.
Another thing you need to know is that there are probably a million popcorn recipes out there. Although plain popcorn themselves are already delicious, some people might find them bland and want to add some creative twists to this tasty snack.
Some of the most popular flavors of popcorn are cheddar cheese, caramel, butter, peanut butter, and cinnamon sugar. There are things like strawberry, cream, and nacho popcorn, so you understand that it can go with pretty much everything.
And that's the end of your crash course on popcorn! Have you gotten everything? If yes, let's move on to the next part.
See how a corn kernel pop in slow motion.
A Brief Introduction To Kettle Corn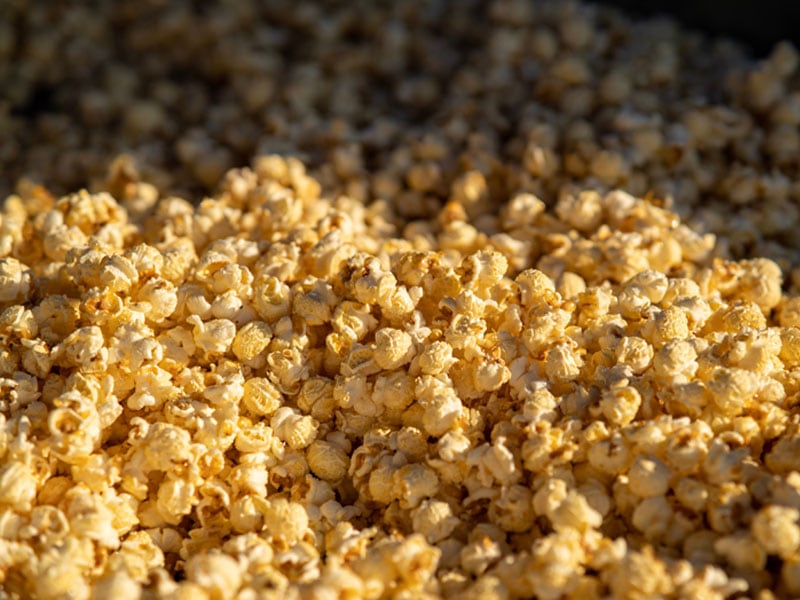 If you are new to corn and popcorn, the name kettle corn may sound strange. Even though kettle corn and popcorn have the word "corn" in them, they are two different snacks. Yes, you've heard it right.
Kettle corn is also made on the same principle as popcorn: when you heat corn kernels to a certain temperature, they pop into fluffy pieces of corn, possessing earthy fibers that taste like clouds, sweetness, and happiness.
However, the methods of making and seasoning the snacks are totally different from ordinary popcorn. For once, kettle corn requires a kettle instead of a pan or a microwave, hence the name. In addition, the flavor of kettle corn is different.
But that's just scratching the surface of the issue. Find out more detailed information in the next part of this article.
How Are Kettle Corn And Popcorn Different?
Kettle corn is totally a different species from popcorn; otherwise, people would just call it popcorn too. But besides the names, how are they different, exactly?
Let's not dawdle no further and cut right to the chase.
Origins & History
According to historical documents, kettle corn made its debut in the 18th century in Europe, where farmers would use an open fire to cook corn in large cast-iron kettles.
Historical records show that European immigrants brought kettle corn to America in the late 1700s when Dutch immigrants who moved to Pennsylvania first referenced kettle corn in their diaries. After its introduction, people sold kettle corn at fairs and festivals. (1)
Despite a dip in popularity in the 20th century, kettle corn bounced back in the early 21st century thanks to historical re-enactment events.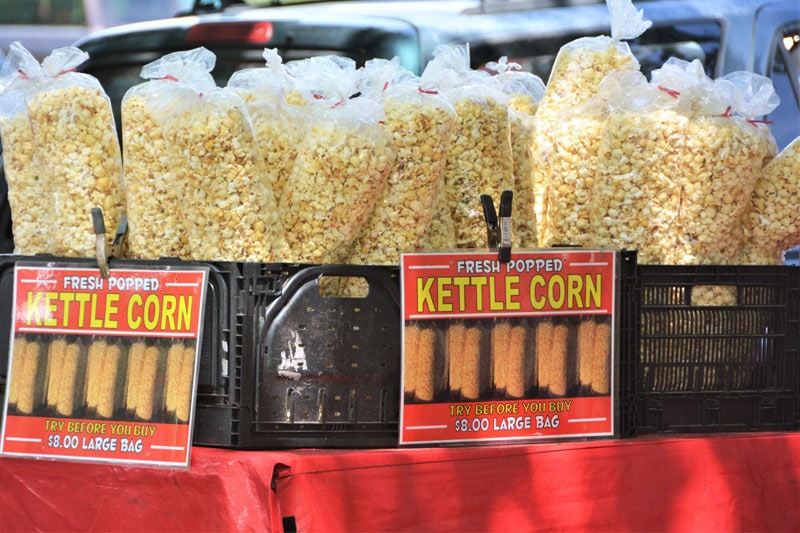 Popcorn, on the other hand, was in the New World for way longer than kettle corn. There's evidence suggesting that popcorn appeared in Peru in 4,700 BC.
In the late 19th century, popcorn became a much more accessible street food with the invention of the popcorn maker. Its popularity sky-rocketed during the Great Depression, as its ingredients and making technology were readily available and cheap. (2)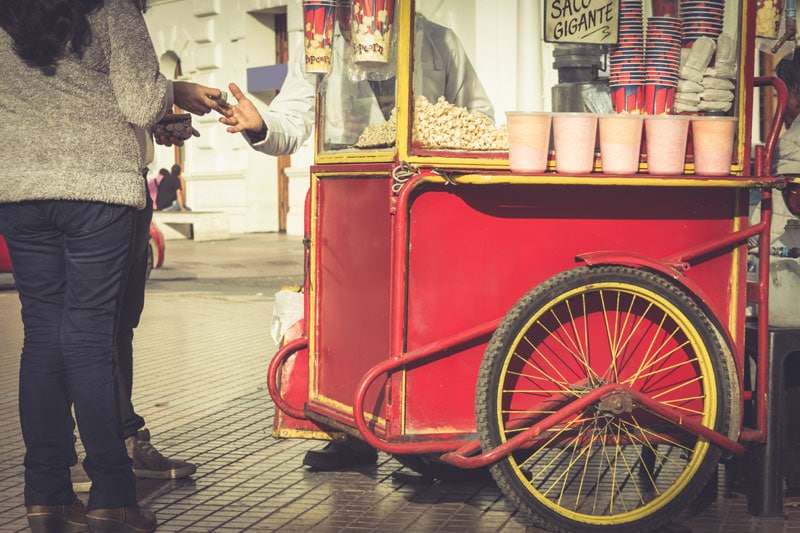 Type Of Kernels
Have you ever wondered why popped kernels look different from each other? Some look round, some have weird shapes, some are big, and some are small. If you have, I'm about to change your world.
The secret lies in the two basic shapes of popped kernels: The mushroom style and the butterfly style. These two varieties are worlds different from each other.
Mushroom kernels, surprisingly, don't look like a mushroom. Instead, it looks round and fluffy, like a ball of yellow corn-flavored cloud when popped.
Mushroom kernels tend to be firmer and studier, even after popping. They are not easy to break down and hold their shapes, so they usually appear in dishes with coatings, like kettle corn.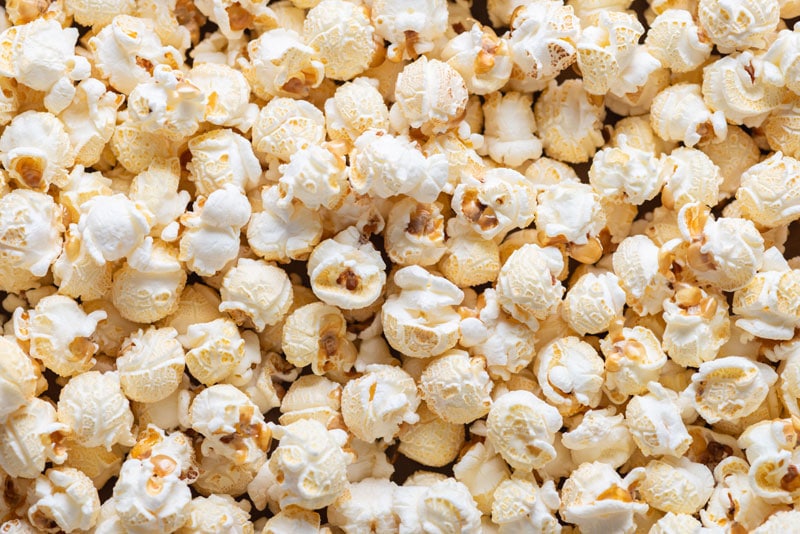 Butterfly-style kernels, or snowflake kernels, have inconsistent shapes when popped. They usually look dainty and thin, with little "wings" jutting out or small lumps with holes around them.
The holes and inconsistencies on the surface help these kernels hold the seasonings better. Therefore, butterfly-style kernels are much more suitable for popcorn that uses a lot of seasonings.
However, there's nothing wrong with using mushroom-style kernels for popcorn. It depends on your recipe and preference – if you use a recipe with coating and prefer your popcorn to be a bit firmer, then mushroom popcorn is the way to go.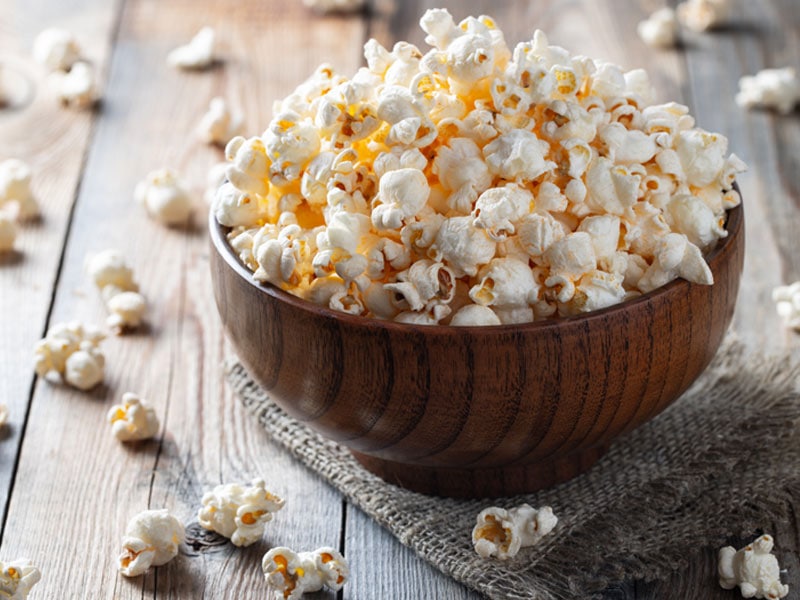 Shape And Texture
As I established in the previous part, popcorn tends to have irregular shapes, while kettle corn has spherical shapes. But what about the texture?
The differences between the two stem from the kernels as well.
Generally, when popping, kettle corn doesn't fly, as it is firmer and generally has a less chaotic popping process than popcorn. It has a denser and sturdier texture. Upon tasting, you might find it a tad bit chewy and tender, thanks to the oil-popping process.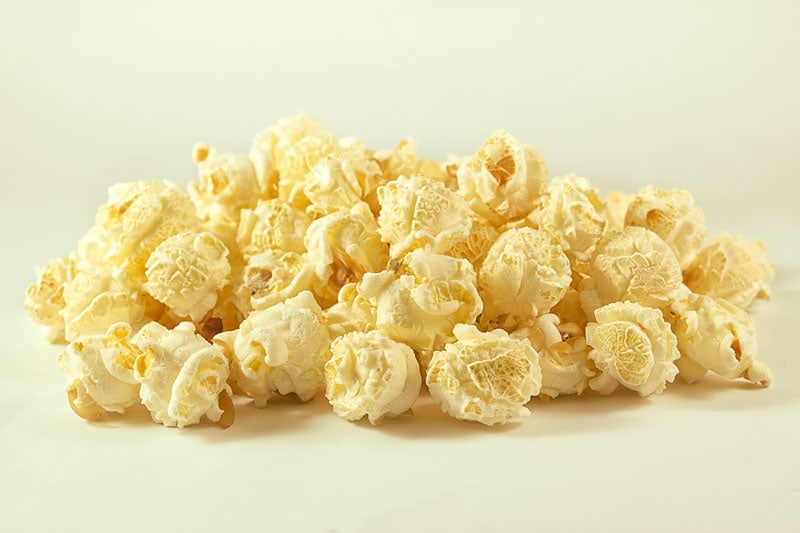 Popcorn kernels have an airy, fluffy, and light texture. In fact, they are so light you might notice them flying away the moment they pop.
Popcorn tastes the way they look! If you pop popcorn into your mouth, it will melt on the tip of your tongue. Oil-popped kettle corn tends to be a bit crispier thanks to the oil, but air-popped popcorn is simply made up of clouds of corn.
(That's why when making popcorn, you have to keep it in a bag or use a lid).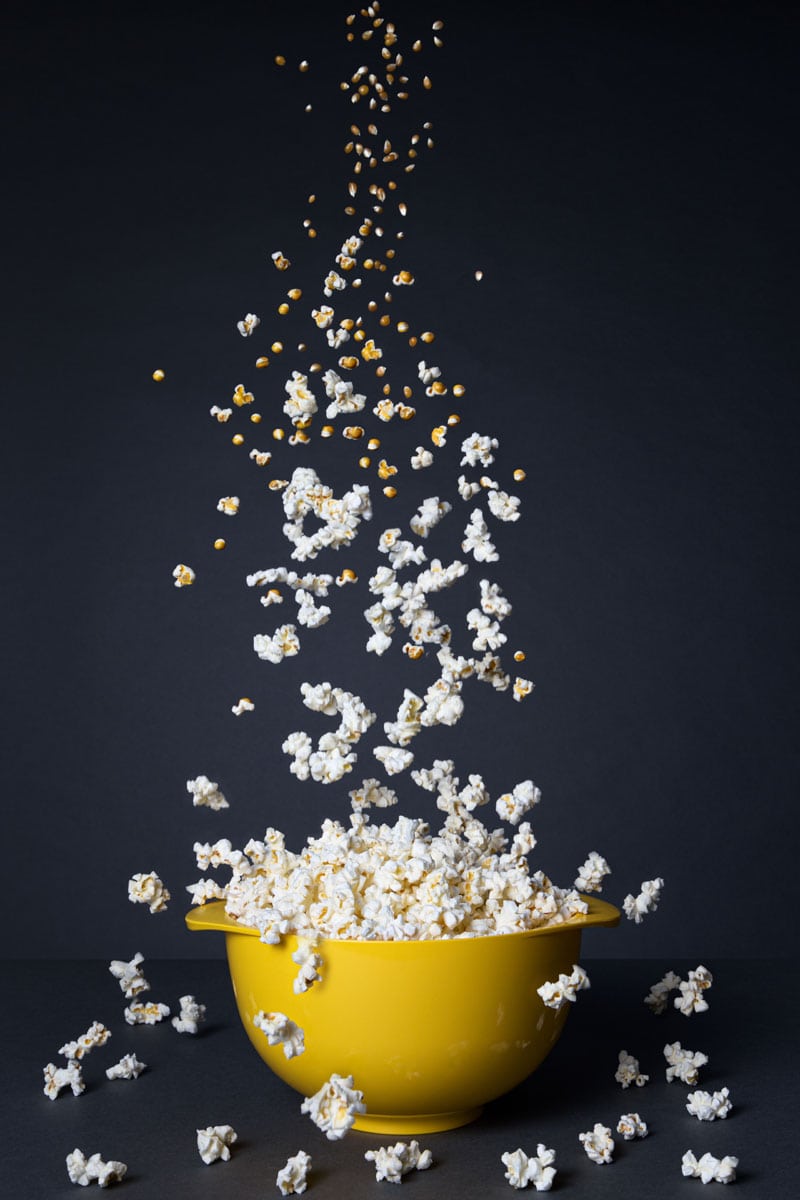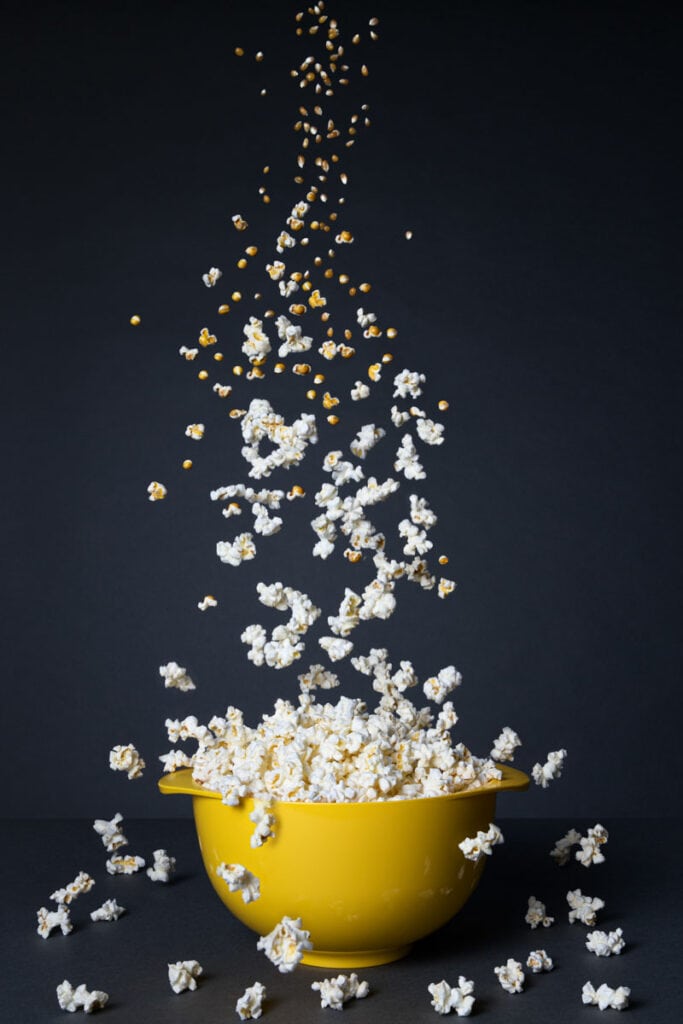 Cooking Method
Kettle corn is traditionally made with, you guessed it, a kettle. But not every kettle would do; the kettle has to be cast iron. If you don't have one, a Dutch oven or a pot will work just fine too.
Another thing: Kettle corn always has to be oil-popped. As kettle corn is traditionally made in a kettle, it would be impossible for the kernels to pop if not for the oil.
On the other hand, you can use various tools to make popcorn: a pan, microwave, oven, air fryer, and popcorn maker.
Although oil can be involved in popcorn making, popcorn recipes don't necessarily require oil. Popcorn can be either oil-popped or air-popped. Oil-popped popcorn is a tad crispier. Overall it doesn't make much difference.
So if you are on a diet or simply don't like oil, air-popped popcorn is the way to go.
Flavor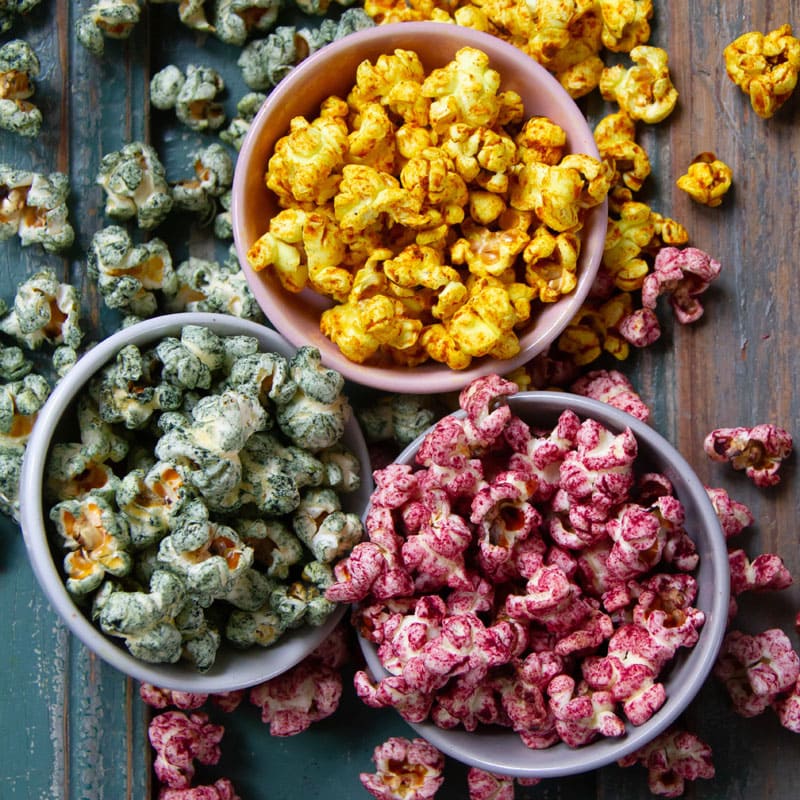 Kettle corn is always sweet. Unlike popcorn, kettle corn has only one way to season, although the sweetness can be different depending on the type. Due to the cooking method, kettle corn always requires sugar as part of the dish.
On the opposite, there are about a million types of seasonings for popcorn, like cheese, cinnamon, chocolate, etc. The popcorn profile varies from type to type. Corn's earthy and aromatic flavor is always there, but the seasonings can completely alter the layers of taste.
However, the most commonly used popcorn ingredients are butter, oil, and salt. This leads to the most prominent popcorn flavor being salty, rich, and savory with a tinge of sweetness.
Nutritional Value
Some may wonder about the health benefits of kettle corn and popcorn. Unfortunately, there is no definite answer to that. Although both kettle corn and popcorn use corn as their base ingredient, their nutritional values depend more on the recipe.
Corn kernels themselves are the definition of healthy food. They are whole grains that are low in calories, salt, and fat and contain a lot of fiber. High-fiber whole grains tend to have positive effects on your health, like a lower rate of heart failure and obesity rate.
However, it is the seasonings and toppings that go along with them that are tricky. Many popcorn seasonings and toppings are on the unhealthy side of the food scale: butter, oil, salt, sugar, chocolate, caramel, etc.
Furthermore, as the amount of each topping varies from recipe to recipe, you can imagine it would be impossible to give definite numbers on the calorie count of each dish.
However, it doesn't mean that I can't ballpark the number. Here are some data that might interest you:
| Nutritional value (per 100g) | Kettle corn (3) | Unseasonsed Popcorn (4) |
| --- | --- | --- |
| Calories | 439 | 500 |
| Protein | 5,3g | 0g |
| Total carbohydrates | 79g | 50g |
| Dietary fiber | 5,3g | 0g |
| Sugar | 51g | 0g |
| Total fat | 14g | 33g |
| Saturated fat | 1,8g | 17g |
Generally, kettle corn is usually oil-popped and seasoned with salt. Usually, the oil increases the calorie count. While in the case of popcorn, the spices affect the calorie – even if you don't use oil, the sugar and other elements can raise the calorie count.
Is Buying Raw Kernels My Only Option?
You can always buy raw kernels if you want to make kettle corn or popcorn from scratch. You can always get them at your local grocery store or online sites. Besides kernels, they even sell prepackaged seasoning bags if you don't trust yourself with the measurements.
Now moving on to the prepackaged food squad, lucky for you, prepackaged popcorn and kettle corn bags are also widely available.
With popcorn, the market also offers microwaveable packets. They are not pre-popped, so you can make them at home. Unfortunately, kettle corn doesn't have that option. You either have to buy pre-popped packets or kernels to make it yourself.
If you feel lazy, microwaveable popcorn is always an option.
A Summary
That is a wrap of all the differences between kettle corn and popcorn. In case you find the information too much to remember – that is fine; I have got you covered. Here is a table summarizing all the key points that differentiate kettle corn and popcorn.
Characteristics
Kettle Corn
Popcorn
Origin
Europe
Native
Type of kernels used
Mushroom-style
Butterfly-style or mushroom-style
Cooking method
Oil-popped

Tools to use: pan, microwave, air fryer, popcorn maker, oven
Oil-popped or air-popped

Tools to use: kettle, Dutch oven, pot, stockpot
Flavor
Salty & savory
Many flavors, but mostly sweet
Shape and texture
Ball-shaped

Inconsistent with "wings"

Nutritional value
The oil & salt increase fat and sodium level
The seasonings increase calorie level
Where to buy & Available Forms
Raw kernels

Pre-popped packets
Raw kernels

Pre-popped packets

Microwaveable packets
Here's How You Make Kettle Corn & Popcorn From Scratch
Now that you have learned about kettle corn and popcorn, does it make you feel a bit hungry? Feeling a bit fidgety and really want to taste some corn-flavored snacks?
If you do, it's your lucky day because I'm going to tell you how to make both snacks right below. So grab your corn and tools, and let's have some fun in the kitchen!
Easy Steps To Make Kettle Corn
Now, cooking popcorn in a kettle might frighten you, but don't be scared. After all, the Europeans were doing it back in the 17th century with just oil and primitive technology. So really, you can only do better, not worse.
Here is a step-by-step guideline for making kettle corn:
Step 1: Mix the salt and sugar. Make sure they are well-mixed before putting them in a small bowl for later use.
Step 2: Pour oil into the kettle/ stockpot. Add a few kernels, and then close the lid.
Step 3: Watch out for popping noises from the kettle. Once the kernels inside have started to pop, add the rest of the kernels along with the seasonings.
Step 4: Stir quickly for the kernels and seasonings to blend.
Step 5: Constantly shake and stir the pot to distribute the heat and seasonings evenly.
Step 6: When you smell a whiff of caramel, take the kettle off the heat immediately.
Step 7: Run the kettle corn through a strainer to pick off the unpopped kernels.
Step 8: Serve in a bowl and let it cool down for a while.
Step 9: Enjoy!
Easy peasy kettle corn made from scratch.
How To Make Popcorn
You can make popcorn using many things, from a simple pan to a microwave, to fancy professional popcorn makers. Here I will use a simple recipe that you can make with a pan or pot.
I have established in the previous parts that you can buy popcorn in pre-popped packages and microwave them. However, here, just for the purpose of demonstration, I'm going to show you how to make popcorn from scratch.
Follow these easy steps, and your popcorn should be the definition of delicious:
Step 1: Put oil inside a medium-sized saucepan or pot on medium to high heat. Add a few kernels in and close the lid. Remember, using a transparent lid with a vent hole is preferable.
Step 3: Wait for the popcorn kernels to pop. When they have started popping, add the rest of the kernels.
Step 4: Shut the lid and remove the popcorn from the heat for 30 seconds.
Step 5: Return the pan to heat. All the kernels should start popping right about now.
Step 6: Gently shake the pan during the popping process.
Step 7: Once the popping sounds have slowed down, turn off the heat and serve popcorn in a bowl.
Step 8: If you have any seasonings or toppings, just drizzle or sprinkle them over the popcorn. Stir the kernels to season them equally.
Step 9: Enjoy!
Here's how you make the best popcorn to ever exist.
FAQ
Even though I have covered pretty much all the general information in the article, there might still be some questions left. So here, I bring you some of the most commonly asked questions and their answers.
Conclusion
Kettle corn and popcorn are both amazing snacks that can chase any sadness or boredom away. They are cheap, versatile, and so easy to make. So why don't you pick your favorite recipe and get in the kitchen right now?
That's all I have to share for now about kettle corn, popcorn, and the differences between them. If you have anything to add, don't hesitate to leave your comments below for fellow corn lovers to see. And don't forget to share this with friends who might find this useful!
Paragraph
Kettle Corn (2022) Wikipedia. Wikimedia Foundation.
Anon, Why do movie theaters serve popcorn? Encyclopædia Britannica.
Original kettle corn by Kettle Heroes (no date) Original kettle corn by KETTLE HEROES nutrition facts and analysis.
Food editor (no date) popcorn, pop secret, microwave, popped, homestyle.