Popcorn is one of the most popular snacks today with its delicious crunch, but why is my popcorn chewy? What made my popcorn texture so different from the cinema one. Did I apply the wrong recipes?
If the taste and texture of popcorn frustrate you, do not be discouraged. No matter what the problem is, I will provide you with a solution. Now is the right time for you to find out the reason for the toughness of popcorn. Take a look at it.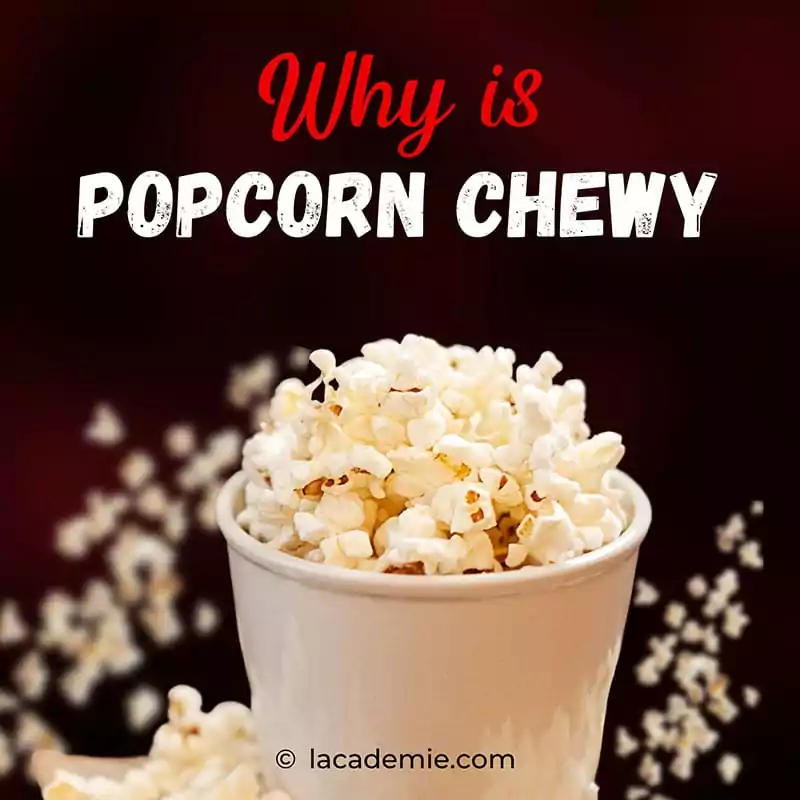 Brief Information Of This Interesting Snacks
Have you ever wondered what popcorn is? My kids used to think he could make a popcorn bag from sweet corn at home, but only good-quality popcorn kernels could do that.
Do you know when this snack became familiar to the cinema? Exactly since 1938, it was widely sold in cinemas and became popular until this day. (1)
Since popcorn is made from corn, you shouldn't have to worry about eating popcorn on a gluten-free diet. That said, some flavorings might contain this protein, so it's always better to be cautious if you're gluten-sensitive.
You will know the reason why popcorn has become a commercial success.
Do you remember those times when you ate popcorn at the movie theater or the pastry shop? Then disappointed when trying the batch of chewy popcorn.
One side is a bag of sweet, crunchy popcorn, has a light, spongy texture and sweet taste in the mouth. The other side has no light texture, is chewy, and not delicious to enjoy. And if the shop doesn't know the way to make popcorn seasonings stick, the snack might taste even blander.
This certainly makes a lot of people very upset and frustrated. Usually, there are many reasons why your popcorn is not crispy and has a chewy texture.
The cause may come from the popcorn exploding process, or you let steam sit in the lid when popping popcorn, using too much oil, improper popcorn temperature, etc.
In addition, the cause also lies in improper storage and kernel quality. So, learn and analyze the reasons carefully below to better understand the roots and how to fix them.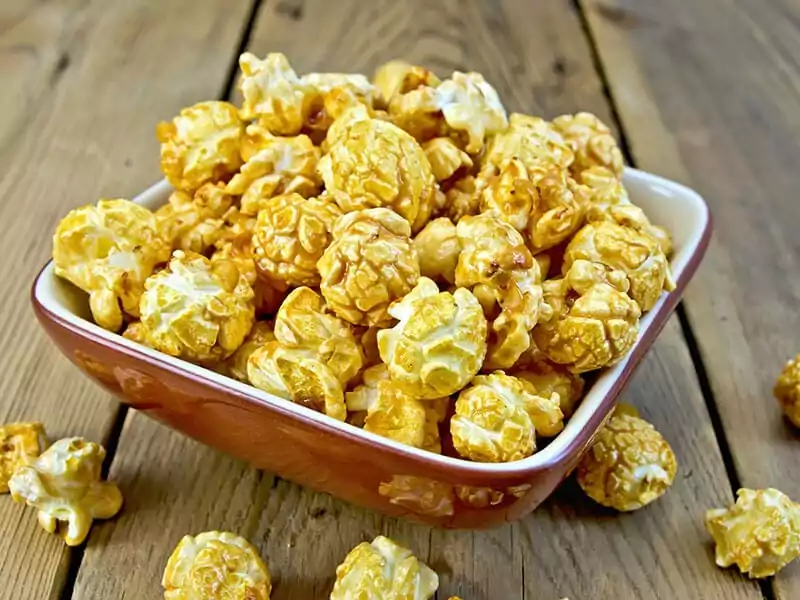 Tracking Down The Culprits For Your Chewy Popcorn
One of the criteria to evaluate perfect popcorn quality is its crispness. If your popcorn does not meet this criterion, you have probably failed. Here are some of the main reasons why your popcorn is chewy:
Steam Locked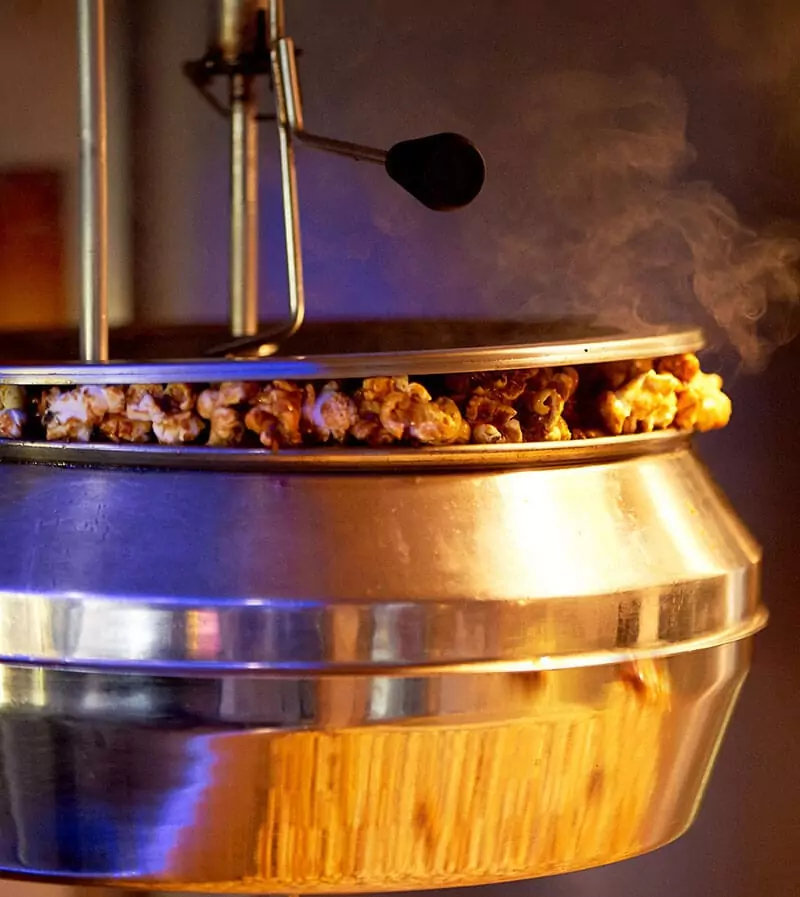 Steam is one of the most common reasons causing your popcorn to become chewy. There is moisture inside each kernel. Finally, the outer layer opens the defense layer, steam is released, and the popcorn expands.
At that time, steam gradually accumulates in the pot or above the lid, leading to excess moisture.
Too Much Oil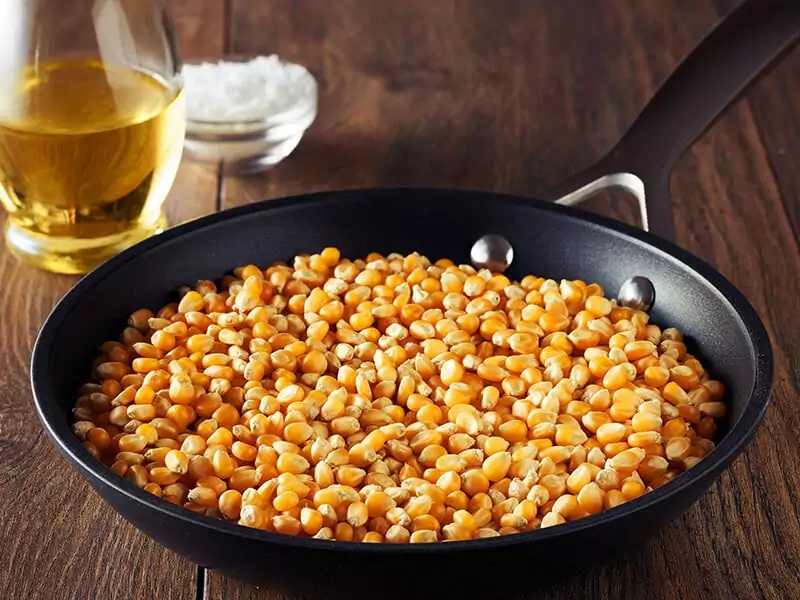 Just like how it's essential to choose proper oil for making popcorn, it's important to use the right amount of oil. It acts as a protective barrier that enables you to repel moisture from the kernels. However, using too much oil when popping corn is also why popcorn is chewy and unappealing.
Insufficient Salt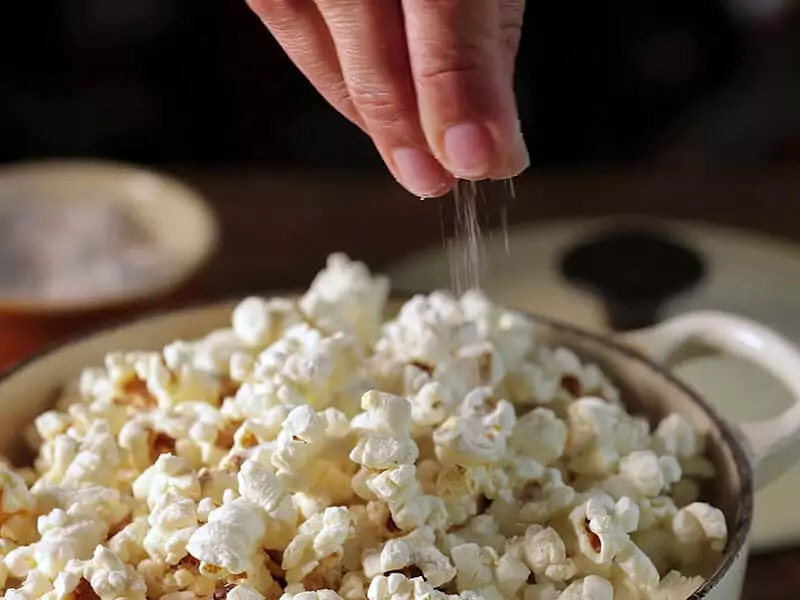 Salt is one of the key ingredients in making your popcorn crispy, and helping to pop the kernel during the popcorn process effectively.
Note that you should only use popcorn salt to absorb into the popcorn easier than regular grain salt. Once the popcorn is ready served, add a little salt.
Improperly Heating And No Shaking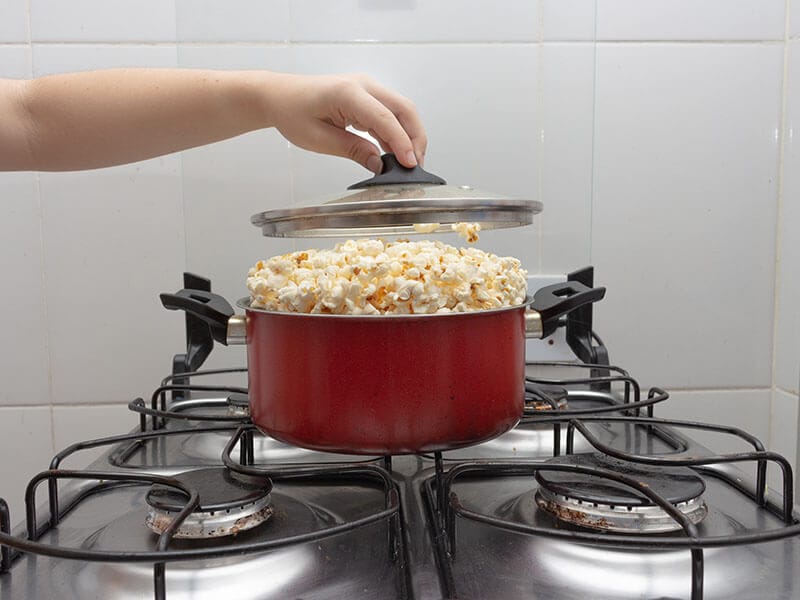 When opting for alternatives for making popcorn without popcorn makers, such as pots or pans, make sure you distribute the heat evenly. There will be two cases if you do not spread the heat evenly and do not shake during the popcorn process.
One is that it will overcook just one side of kernels, so it is hard to pop and cannot meet your demands. The second is that the heating of the kernel is too slow; the moisture escapes too much and makes the popcorn chewy. Too many kernels in the pot will distribute the heat and oil unevenly.
Leaving Outside Too Long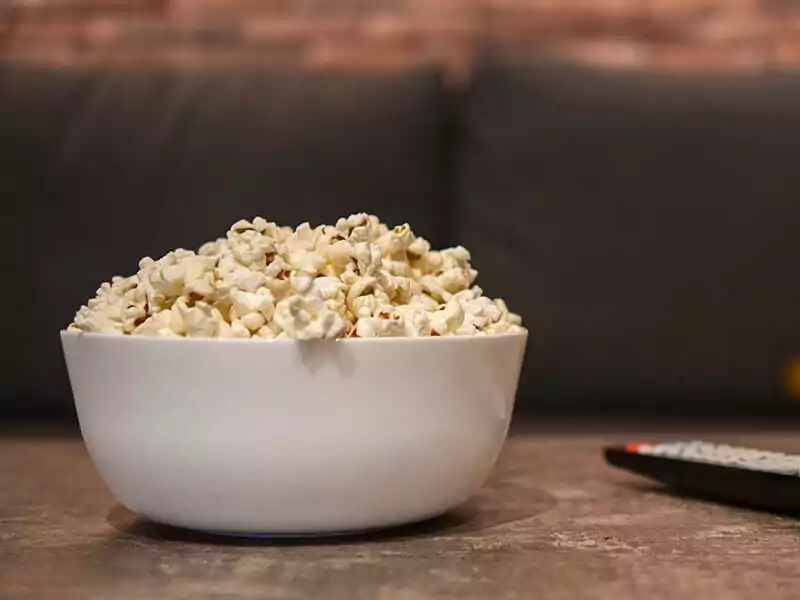 The cake party is at 3 p.m., but you have been popping popcorn since midday and left it open in the air for hours. How was the result? No need to guess; you can also know the outcome of that popcorn.
The longer popcorn is left outside, the more mushy and chewy it will become since the humidity is in the air. This is a personal cause, and you can completely avoid it.
Kernels Quality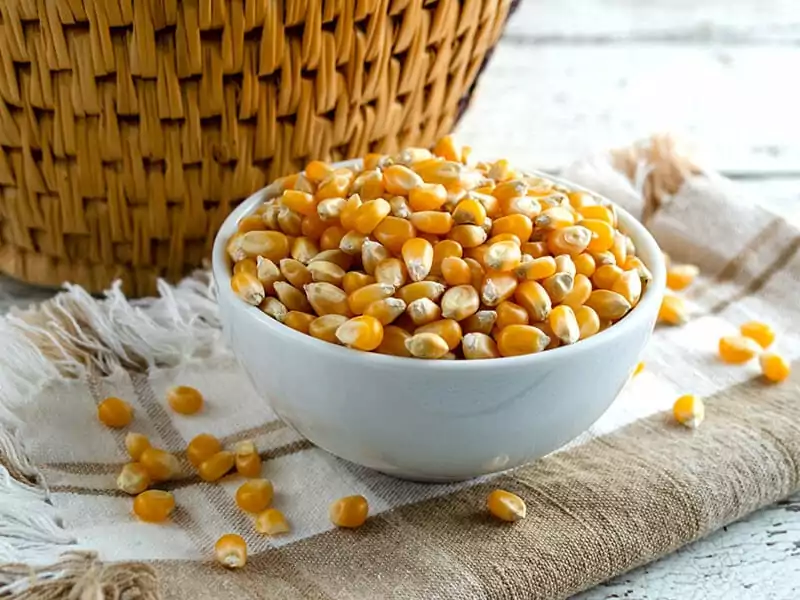 If you cannot make crispy and delicious popcorn even when you apply the right recipe or process, the reason may be due to the quality of the kernels.
Because old or low-quality kernels almost lose moisture, making it challenging to explode or taste much less appealing. Therefore, whatever popcorn type you have, remember to store unexploded popcorn properly and avoid using expired ones.
Troubleshooting Chewy Popcorn With The Oven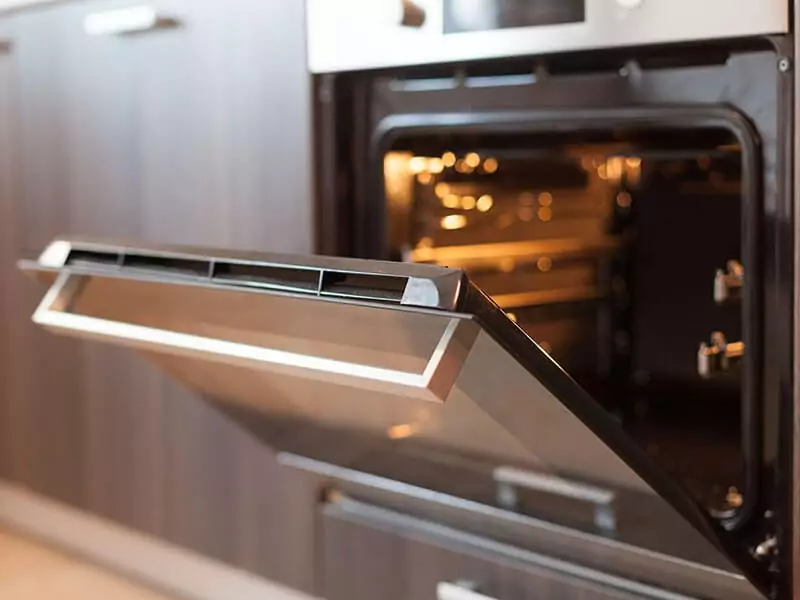 However, do not worry too much when the popcorn gets tough or throws away popcorn. I always have a solution for you in resurrecting the flawed popcorn. So, relax and get in the kitchen right now.
Step 1: Prepare A Baking Sheet.
Prepare a baking tray and evenly distribute the popcorn on the tray.
Step 2: Put The Popcorn In The Oven.
Set the time for about a couple of minutes with low heat and put the popcorn in the oven. Do not leave longer as it may burn the popcorn.
Step 3: Take The Popcorn Out Of The Oven
Once preheating is complete, remove it from the oven. Pour this popcorn into a bowl and enjoy.
Alternatively, you can fix chewy popcorn by adding 1 teaspoon of water to 1 pound of popcorn to increase its moisture content. Shake well two to three times a day for three days. Then re-explode them.
How To Prevent Chewy Popcorn
An ounce of prevention is worth a pound of cure. Then, you don't need to spend time looking for ways to fix imperfect popcorn. Then, applying the following precautions will help you enjoy crispy popcorn instead of chewy popcorn:
Pay Attention To Cooking Process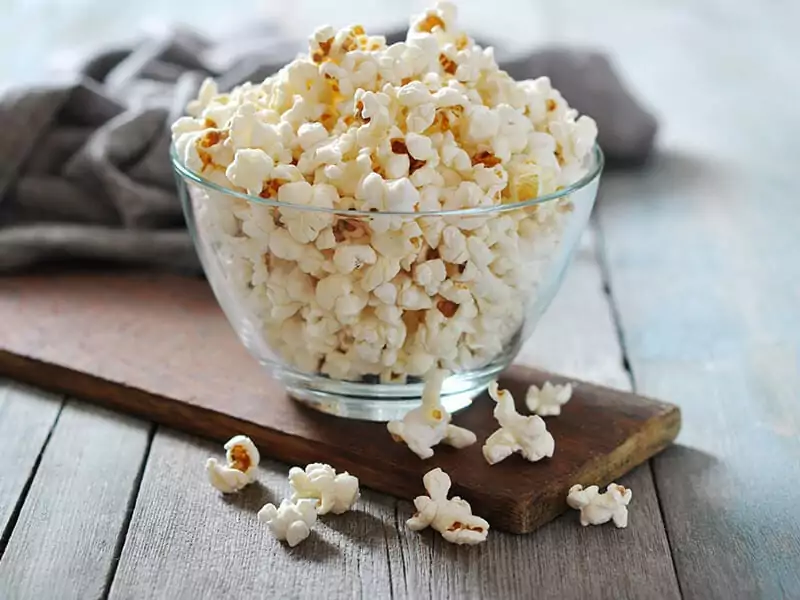 The cooking process is one of the critical factors in determining the quality results of popcorn. Therefore, you should pay attention to the factors below carefully to avoid chewy popcorn.
Using A Well-Vent Lid
When making popcorn, you can use a transparent and well-vent lid for viewing. In addition, you should be careful to let the steam escape by placing the lid slightly off the edge of the pot.
The misalignment of the lid allows you to create a gap so that steam can escape.
Finding Perfect Recipe
A perfect serving of popcorn never lacks a standard recipe. Adding too little oil prevents the kernels from bursting, but adding too much oil makes it chewy. Therefore, find the most standard recipe before proceeding to popcorn.
You might also want to consider whether your popcorn is a yellow or white variety. As there are some distinctions between white and yellow popcorn, it might be ideal to adjust the recipe slightly to yield the best results.
My popcorn recipe is successful with a ratio of 1 tablespoon oil and ¼ cup of kernels. In addition, calculating the number of kernels in the pan is also essential.
First, you need to accurately quantify the servings required and apply the formula to calculate the number of kernels you need. You can also think of what you can do to color your popcorn kernels if you want to make the treat more eye-catching.
If you want to make 4 quarts (or 16 cups or 1 gallon) popcorn, prepare ½ cup of kernels to explode in the pan.
Choosing The Right Oil
Choosing an oil with a neutral flavor and high smoke point is an important note that you should consider.
Depending on your needs and preferences, you can choose your favorite oil. I will suggest you 3 oils that I use most often:
Olive oil: This oil usually has a neutral flavor, so it will not affect the taste of the popcorn. Besides, it is also perfect for health, helping prevent the risk of cardiovascular diseases and oxidation. (2)
Coconut oil: If you want your popcorn to have a slightly fatty and aromatic flavor, use this oil. It is the oil commonly used in movie theater popcorn machines.
Canola oil: Produced from many rapeseed types and offers you a huge amount of benefits.
Enough Heating And Shaking
Make sure you heat the pan before exploding the kernels. When popping the corn in the pot, you have to adjust the heat to medium, between 400 and 460 degrees F, so that the oil is hot at 500 degrees F. Then, turn the heat down to heat popcorn evenly.
Also, during the popcorn process, remember to shake the pot. The heat is distributed throughout the pot to make the popcorn process more successful.
Find out how to use a lid and shake pot when popping popcorn. You can see this video to know more:
Adding Topping After Popping
It's still fine to add a little sugar as soon as some of the kernels show signs of popping, making your popcorn taste sweeter. However, if you want to add other toppings like chocolate, matcha, curry, etc., you just add them after pouring the popcorn into the bowl.
At this point, pour the remaining toppings into the popcorn bowl to melt them together and finally enjoy the crispy popcorn.
Proper Storage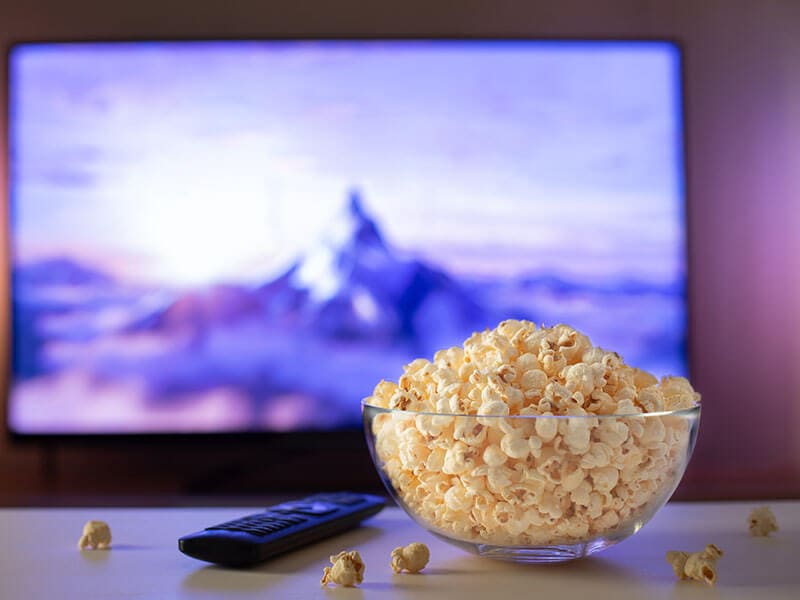 You can pay attention to the proper storage to avoid affecting the quality and shelf-life of your popcorn. Even unpopped kernels should be stored properly.
Below are the ways to store popcorn in different conditions that you should note:
| Type | At Room Temperature | In The Fridge | In The Freezer |
| --- | --- | --- | --- |
| Popped Popcorn (Unopened) | 2 - 3 months | Not recommended | 3 months or longer |
| Popped Popcorn (Opened) | 1 - 2 weeks | Not recommended | 3 months or longer |
| Unpopped Kernels | Indefinite years (Best quality 6 - 12 months) | Not recommended | Not recommended |
| Unpopped Microwave Popcorn | 3 months | Not recommended | Indefinite (Sealed bag) |
Popped Popcorn
Properly storing popcorn will prolong its freshness and shelf life. Usually, popped popcorn will be delicious for about 2 – 3 months in an unopened package, and reduced for about 1-2 weeks when you open the packet. There are 2 ways for you to preserve popped popcorn:
Opened popped popcorn
After popping popcorn, if there is no need to use it immediately, you should consider preserving it. Let it cool before storing.
Step 1: Store that popcorn in plastic or glass containers with tight-fitting lids. Make sure the containers are free of moisture. You can also use a paper bag to keep your popcorn instead.
Step 2: Put these popcorn boxes in a dark and cool place. Popcorn is quite sensitive to sun heat and humidity, so stay away from those elements to preserve your best corn.
Unopened popped popcorn
Even if you have not opened the packaging, you should still store them carefully. Preserving popcorn appropriately prevents it from becoming mushy or chewy.
Step 1: Make sure the popcorn stays in the sealed bag
Step 2: Avoid direct sunlight and only put these popcorn bags in a cool place. Stay away from high-temperature areas to preserve your corn best.
Note:

I do not recommend that you put popped popcorn in the refrigerator because popcorn cannot be adapted to the temperature and humidity in the fridge. Storing in the fridge will make your popcorn spoil quickly. You can extend its shelf life up to 3 months or longer in the freezer.
Unpopped Popcorn
Typically, the shelf life of kernels can be indefinite years. However, to enjoy the best quality, you should use it within 6 – 12 months past the date on the package.
Proper storage and handling of unpopped will help you preserve the quality of your kernels and guarantee the results of your popcorn.
Step 1: Choose to buy fresh kernels.
Step 2: Store kernels in sealed containers in a cool place (cupboard or basement is recommended). The moisture in kernels should be 13.5-14% to allow them to pop. Do not store in the freezer as kernels can lose their moisture and become dry.
Microwave Popcorn
It is a type of popcorn that has been used a lot lately; its shelf life can be up to about 3 months. However, you must store it properly to ensure its best quality.
Step 1: Store the popcorn in its original bag.
Step 2: Cover the unfinished microwave popcorn with cling wrap, helping you keep these popcorn bags away from moisture.
Step 3: Placing these popcorn boxes in a cool, dark place. Room temperature is always preferable to place in the refrigerator or freezer.
If you do not intend to use them in the following weeks, you can store them in the freezer. The freezer will help you to extend the nearly indefinite shelf life. Make sure you keep them in an original sealed bag.
How To Make My Popcorn Crunchy?
After having good tips to prevent popcorn from getting chewy, here are some ways to help you make delicious crispy popcorn with simple home appliances:
Method 1: Making Popcorn With Air Popper
The unique popcorn maker will help you make popcorn easily. Just add your favorite kernels and wait for a few minutes; you will have a lot of popcorn with excellent taste. Your popcorn is as sweet as popcorn carts without any effort and fear of splashing the popcorn.
However, when making popcorn in this specialized equipment, you need to make sure it's 100% clean. The necessary steps to clean popcorn makers are rather quick and easy, so you can do a quick cleaning to get popcorn with the best taste.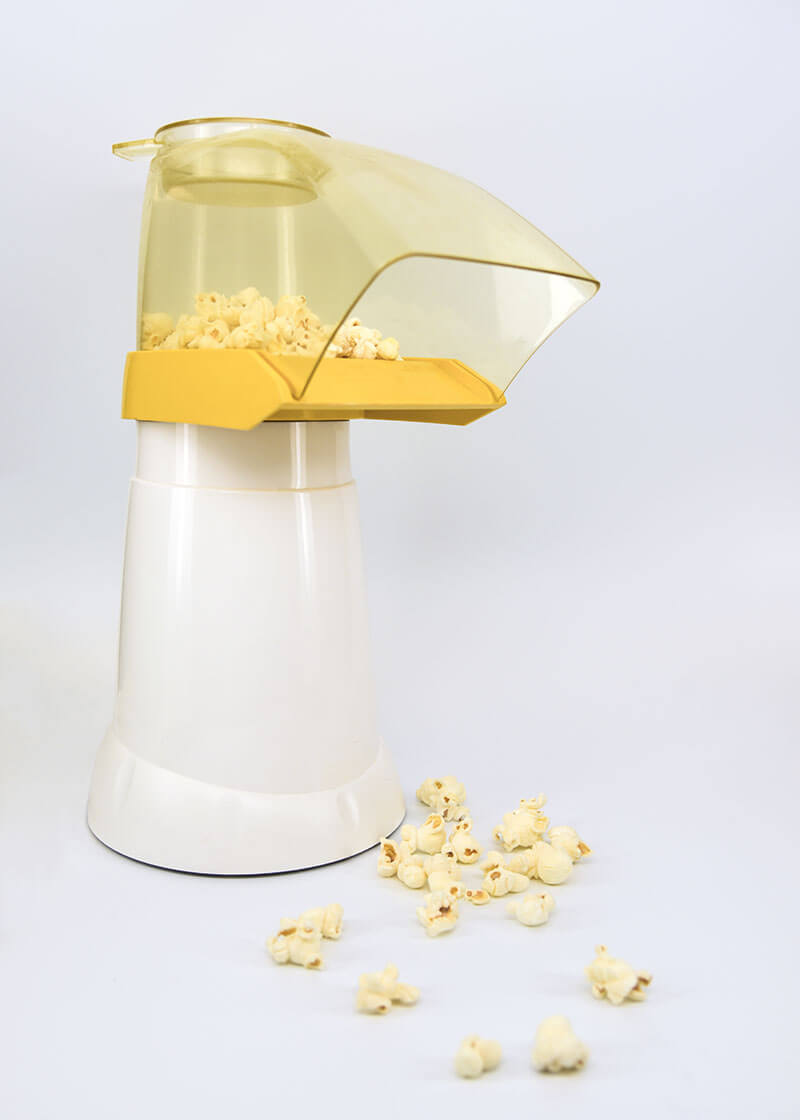 Ingredients
Popcorn kernel
Butter (optional)
Instructions
Step 1: Pour 1/2 cup of kernels and pour into the air popper's popping chamber.
Step 2: You can use a bowl to hold the popcorn. Place it under a popping chute.
Step 3: Plug the popper in and wait for the popcorn to explode for 2 to 3 minutes. Note that you should not touch the machine while it is operating.
Step 4: Drizzle with butter and use your favorite seasoning with popcorn
Method 2: Making Popcorn With Stove Top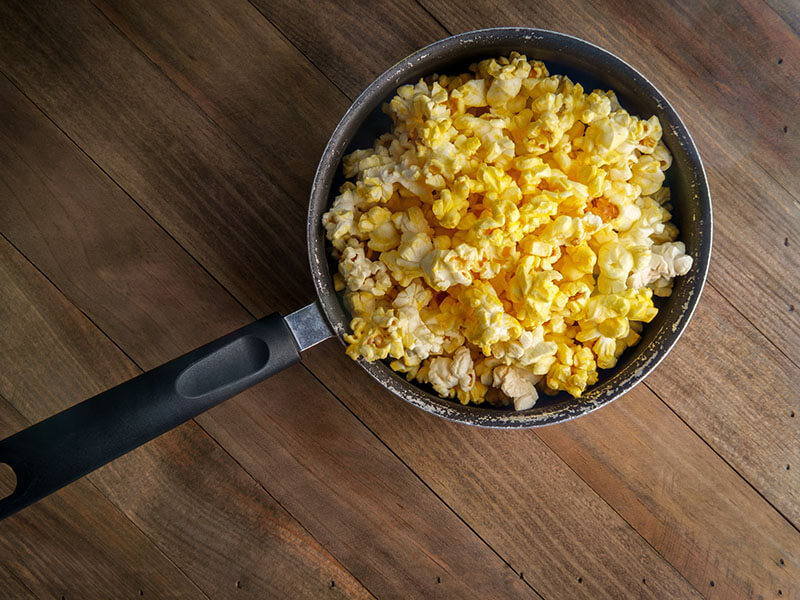 Making delicious home popcorn with a pot is not difficult; it will be straightforward as long as you pay attention to it.
Ingredients
Popcorn kernel
Oil
A pot with a well-vent lid
Instructions
Step 1: First, you prepare a pot, ½ cup of kernels, and 1 tablespoon oil. You can choose a pot with a deep bottom so that the popcorn does not splash out when exploding.
Step 2: Wait for a while until the oil in the pot heats up, then start adding the kernels. You can test the heat of the oil by putting 2 or 3 kernels into the pot. Once the oil is hot, add all the kernels to the pot and stir them a few times.
Step 3: Next, you close the pot's lid; it is good if you choose a type with a well-vent lid. If not, open the lid of the boiler a little to let the steam escape. That way can help the popcorn not be chewy. Lower the heat to medium, do not let it get too hot.
Step 4: Shake the pot gently so that the popcorn kernels can quickly explode. It also helps to avoid burning popcorn and losing its deliciousness.
Wait until the kernels stop popping, then turn off the stove, open the pot's lid to prevent the excessive steam from making the popcorn chewy.
Step 5: Next, you put all the popped kernels into a large bowl. Now you can enjoy it.
Method 3: Making Popcorn With Microwave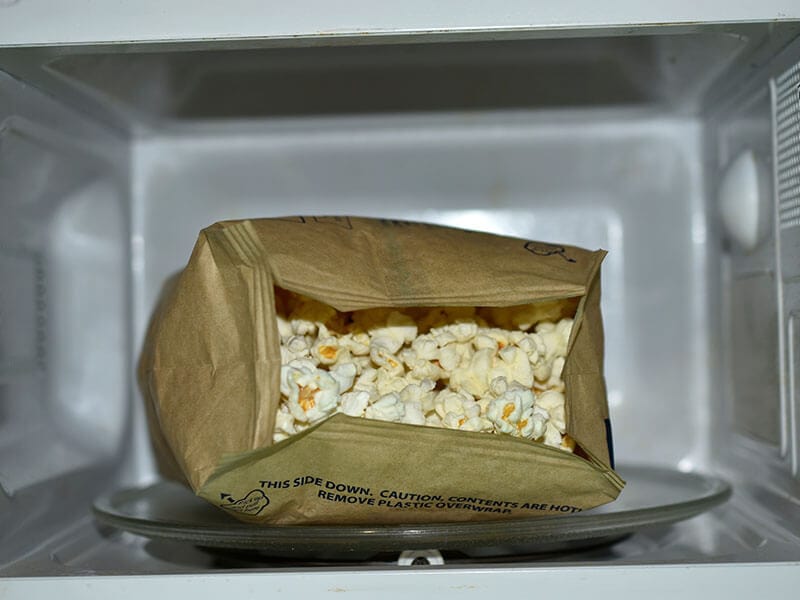 Temporarily put aside the ways of making popcorn in a pot or air popper and take advantage of the microwave in your kitchen to make this divine snack.
Ingredients:
Instructions
Step 1:Put ½ cup of kernels and 1 tablespoon of oil into a paper bag. Then fold the bag tightly so that the popcorn does not pop out of the bag, put it in the microwave.
If you make it with a bowl or cup, remember to keep the lid tightly closed to prevent the popcorn from expanding and splashing out during the popping process.
Step 2: Set the time for the microwave to run from 2 1/2 to 3 minutes until you can't hear the sound. Leaving for a long time will cause the popcorn to burn.
Step 3: Take the bag out and pour it into a bowl and enjoy
FAQs
If you still have some doubts, check out this compilation of frequently asked questions. Maybe you will get answers to your questions.
Do Not Be Hastily Disappointed With Imperfect Popcorn
You are not a chef or popcorn expert, so do not despair when you have some mistakes. I believe those failures will help you to build great experiences. Failure is always a good beginning of future successes. In addition, every problem has a solution.
What do you think of my solutions? Do they work for you? If so, comment below to let me know what you think. Share with your friends or relatives these great tips.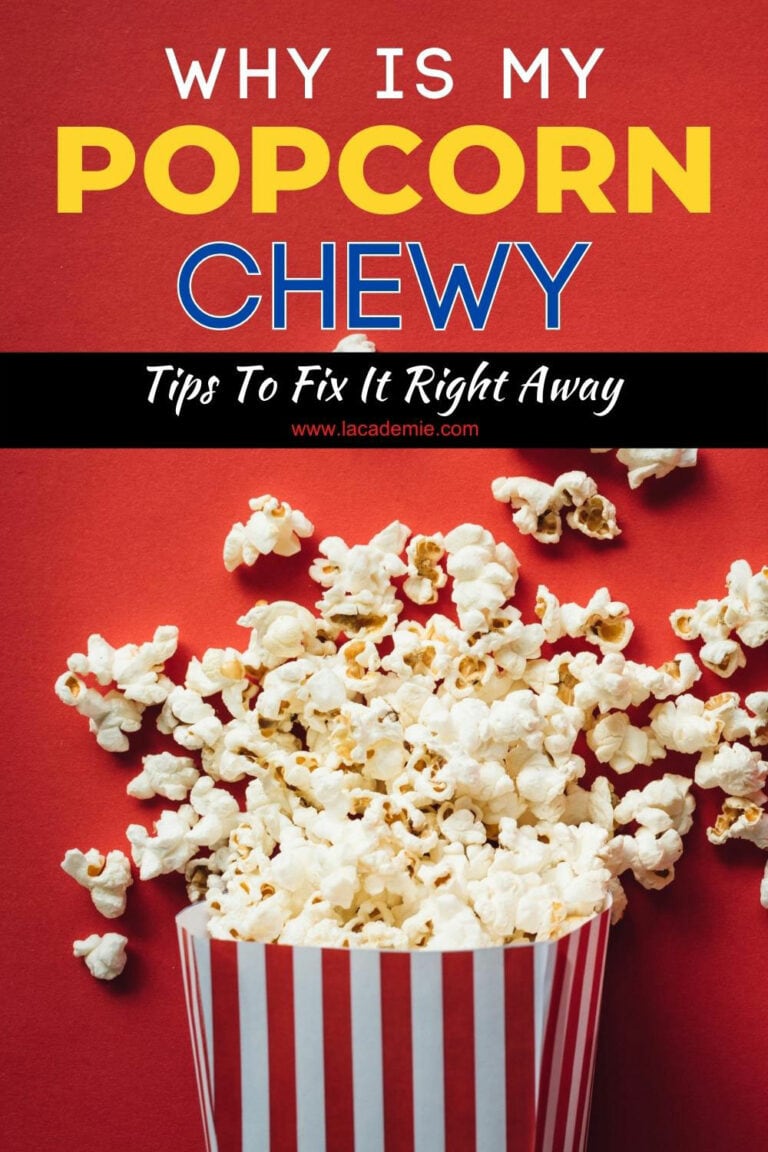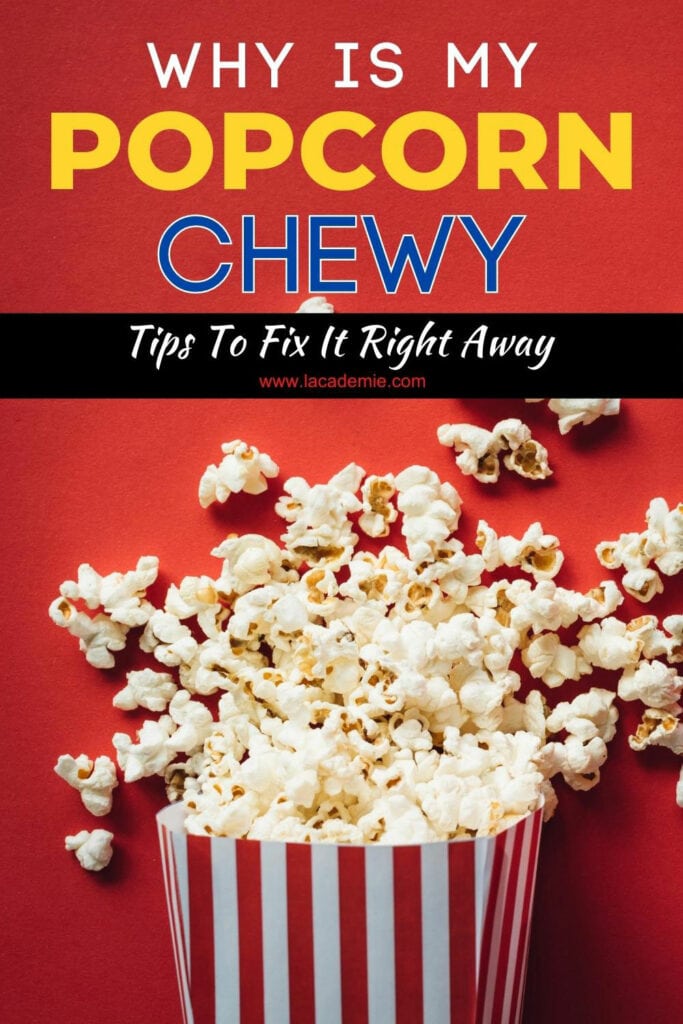 References
"Popcorn – Wikipedia". En.Wikipedia.Org.
"Olive oil – Wikipedia". En.Wikipedia.Org.