Is popcorn vegan? Along with the problem of whether popcorn is free of gluten, so many people ask me this question when they start following the vegan diet. I will answer all problems you may think of regarding vegan popcorn in this post.
This post also suggests the greatest ways to know what popcorn is vegan, introduces you to a vegan popcorn list, and gives a wide range of wonderful vegan popcorn recipes. Now, let's discover the treasure.
Overview About Vegan Diet
People move toward a vegan diet for different reasons. Some do it for animals, some choose it for the environment, and the rest are for health problems. Generally, vegans consume plant-based foods and avoid foods derived from animals, dairy products, and eggs.
What Vegans Eat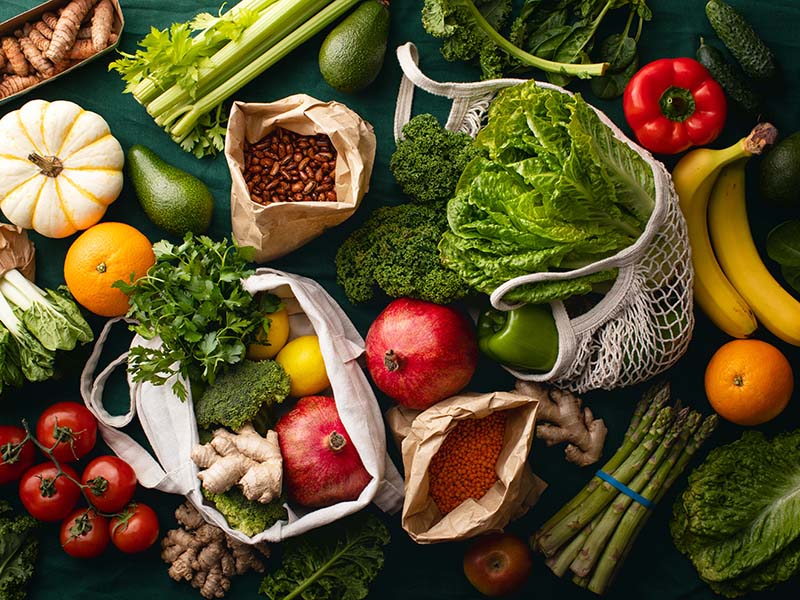 It seems many people misunderstand that vegans only eat salads or fruits. The truth is they eat heaps of food in their meal. There is so much variety in their diet, and here is some example:
Vegetables and fruits
Legumes such as peas, beans, etc.
Bread, rice, vermicelli, pasta
Dairy substitutes such as soymilk, coconut milk, etc.
Vegetable oils
Vegan sauces
Nuts and seeds (1)
One step to know what vegans usually eat in their diet.
What Vegans Don't Eat
Strict vegans remove all animal-based food from their diet. Now, let's take a look at foods that vegans avoid:
Red meat: beef, pork, etc.
Poultry: chicken, etc.
Fish and seafood: fish, shrimp, squid, etc.
Bee products: honey, royal jelly, etc.
Eggs
Dairy products: cheese, butter, milk, cream, etc.
Animal-based products: whey, lactose, gelatin, etc. (2)
Different Types Of Popcorn
Popcorn is a popular snack worldwide for its delicious taste and healthy nibbles. You can see numerous varieties of popcorn, but it can be divided into 2 main types based on their shapes: butterfly popcorn and mushroom popcorn.
Butterfly Popcorn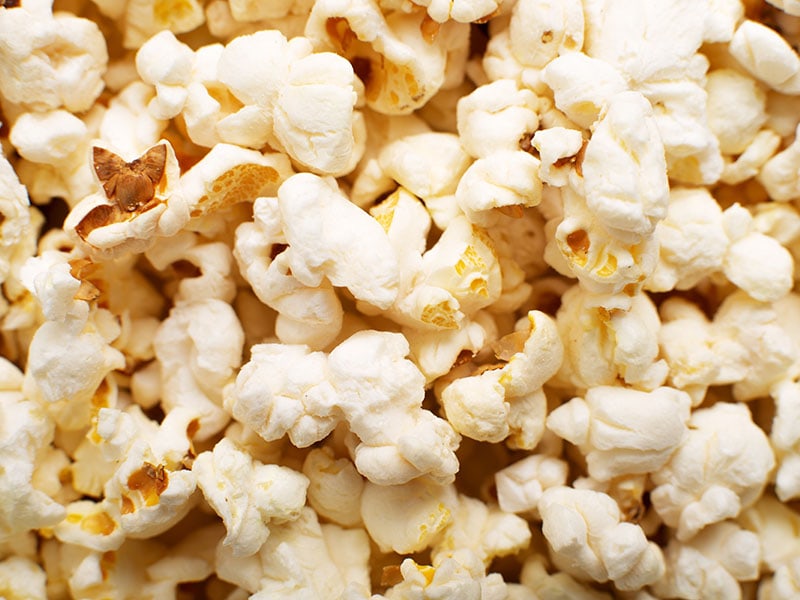 Butterfly popcorn has various shapes and complicated patterns. It is prized for being airy and fluffy with a light crispy texture, but you can easily break it. This type is usually available in movie theaters.
Mushroom Popcorn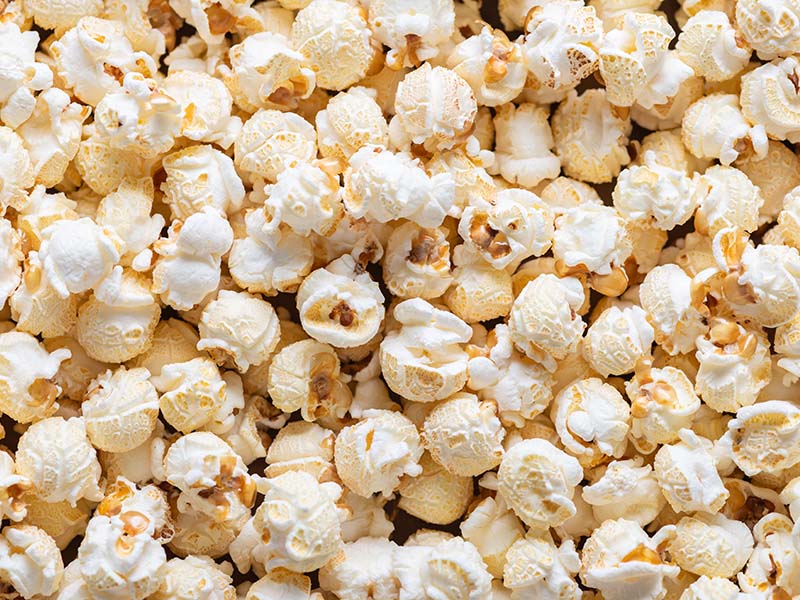 Mushroom popcorn has a round shape like tiny mushrooms. It is larger and crunchier than other varieties. Due to the large surface, this type goes well with coatings such as chocolate, butter, etc. You can find this type used in candied popcorn.
Is Popcorn Vegan
Popcorn is made with kernels, oil, and salt sugar. Kernels are plant-based. Therefore, popcorn produced with these ingredients is vegan. It turns non-vegan when you add butter, cheese, or other animal-based products.
If you want to eat popcorn while going on a vegan diet, check all the ingredients before purchasing. The next section will show you the best ways to identify vegan popcorn.
Let's see how to make vegan popcorn with a traditional method.
How To Know If Your Popcorn Is Vegan
In this part, I will share some techniques to differentiate vegan popcorn and non-vegan popcorn. They are very easy and simple methods, so you won't ever forget. Let's check them out!
Regular Tips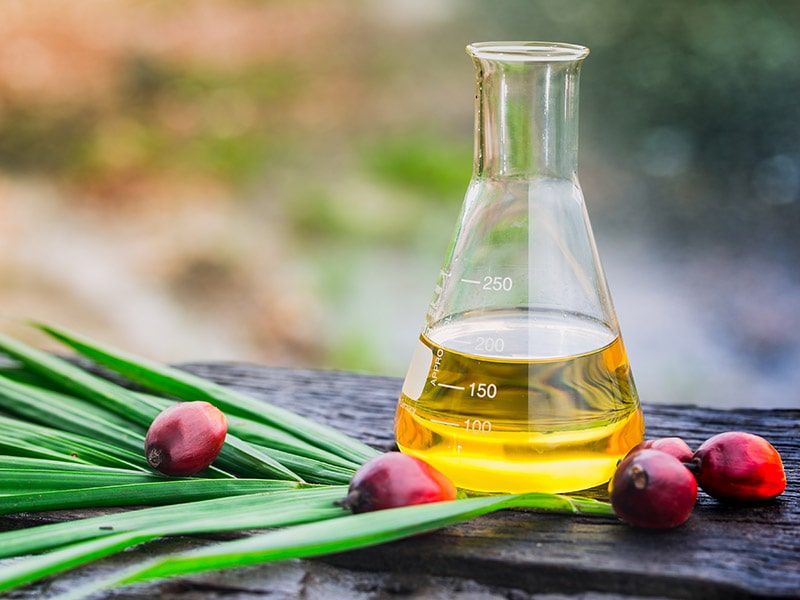 To detect whether your popcorn is vegan, you should first examine the product label to ensure all its ingredients are vegan.
Popcorn labeled as made with animal-derived oil, dairy products, and other animal products is non-vegan. Actually, oil and butter are not used to pop the kernels but to add flavor to popcorn. The same situation goes for animal products. It is also known as toppings.
You also notice the statement "may contain milk". It presents that the products may not contain milk, but it can be cross-contamination that happens during the manufacturing process. If you are vegan or have a food allergy, stay away from these products.
Plus, popcorn that labels "contain cane sugar" and "natural flavor" also should be deleted from your list. Cane sugar is not vegan-friendly, while there is a chance that natural flavor is not plant-deprived.
Besides, some non-animal-derived ingredients can be used to make popcorn, but strict vegans avoid them. They are palm oil, artificial colors, and sucralose. If you see them on the label, skip the products.
Are you wondering why this happens? Although palm oil is made with plants, its procedure causes soil deterioration and animals' habitat loss. Also, artificial colors are not an animal byproduct, but they use animals for testing. The same situation goes for sucralose.
Microwave Popcorn Case
Keep an eye on the allergen warning at the end of the ingredients list. Popcorn is vegan when having no milk or dairy products on it. You also notice whether it has palm oil. Many microwave popcorn uses this ingredient.
Nevertheless, many products have no warning on the package about their non-vegan ingredients, such as honey or meat flavorings. In such a case, double-check this list before deciding to purchase.
There will be ingredients you have no idea are vegan or not. Consequently, here is the list of common ingredients you can use for reference when shopping:
| | |
| --- | --- |
| Vegan-Friendly Ingredients | Non-Vegan Ingredients |
| Corn, sunflower oil, salt, tocopherols (vitamin E), ascorbic acid (vitamin C) | Mono and Diglycerides, cheese, milk, milk powder, meat flavors, natural flavors, whey, sodium caseinate, lactose |
Besides, some microwave popcorn uses a toxic chemical to create special bags resulting in water, soil, and air contamination. Additionally, this bag takes a long time to biodegrade and is hard to recycle.
If you are confused about eating microwave popcorn products, it's best to make it yourself.
Try making vegan microwave popcorn at home.
Pre Popped Popcorn Case
You can determine it the same way with microwave popcorn. Check the label to know whether it contains palm oil, milk, or dairy content. If it states on the label, then jump to other products.
Movie Popcorn Case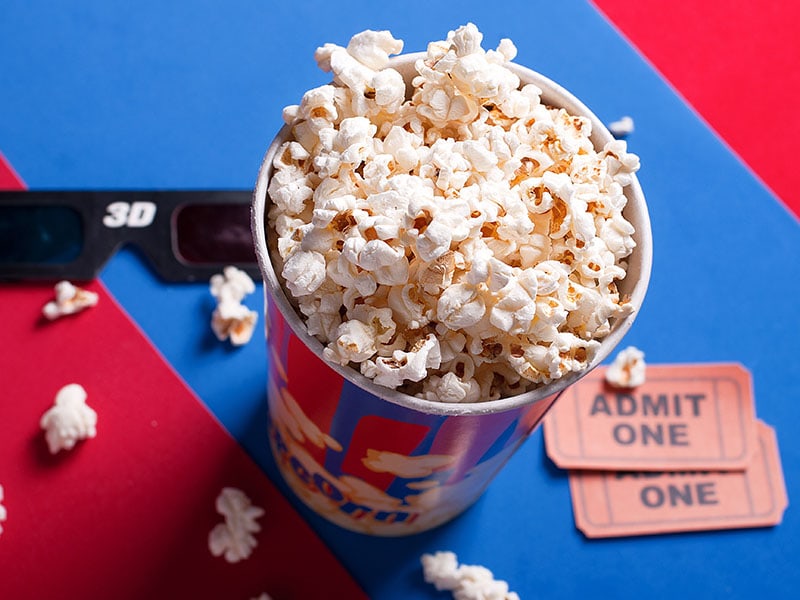 The exact answer depends on the flavorings and seasonings. Most cinemas use canola oil or coconut oil to make popcorn, so unflavored popcorn is vegan.
However, when adding flavors, it can become non-vegan. In this case, you should ask for the seasonings and flavorings to ensure they are vegan.
The final solution is direct contact with the movie theater to get a straight answer. Then you can make a decision.
How To Make Vegan Popcorn
If you feel insecure about the popcorn available on the market, you can make vegan popcorn at home. After reading this sample recipe below, I recommend recreating your own version to suit your taste.
Ingredients
For this popcorn, you just need to prepare some simple ingredients. The results can be out of this world.
2-4 tablespoons olive oil
150g popcorn kernels
4 tablespoon nutritional yeast
2 teaspoon garlic powder
1-2 teaspoon salt
Step-By-Step Instruction
If you think making popcorn consumes a lot of time, let me show you a quick and simple popcorn recipe without using a popcorn maker. This is how to make sweet and salty popcorn in a few minutes.
Step 1: Heat The Oil
Heat 2-4 oil in a large pot, and put the flame into medium-high heat. The more oil you add, the more flavorful the popcorn is. More oil also helps popcorn absorb seasonings better.
Step 2: Popping
Add the kernels to the pot and cover the pot with the lid. Don't go anywhere, or your kernels can get burned. It only takes a couple of minutes to pop. Then shake the pot so that they can pop evenly.
Step 3: Seasoning And Tasting
Add nutritional yeast, garlic powder, and salt. Shake the pot, and then enjoy it.
Tips For Delicious Vegan Popcorn
Making vegan popcorn is not difficult, but you may come across some troubles, such as the reason why your popcorn becomes chewy. Here are some tips to help your cook be easier and create perfect popcorn:
Garlic powder is an optional choice depending on your taste. But I can confirm that it enhances the flavor of popcorn.
You can use any kind of salt, but I highly recommend using ionized salts.
It's better to use a heavy bottom pan to prevent kernels from burning.
While popping, you should vent the lid a bit so that the popcorn still keeps crispy and avoid taking steam.
Remember that high heat can burn the kernels, so always set medium-high heat.
When the pot seems full, you should transfer some to the bowl and continue popping the rest.
When you hear the popping sound slow down, your popcorn is ready to serve.
Your vegan popcorn will be much better with some caramel.
Butter Substitutes For Popcorn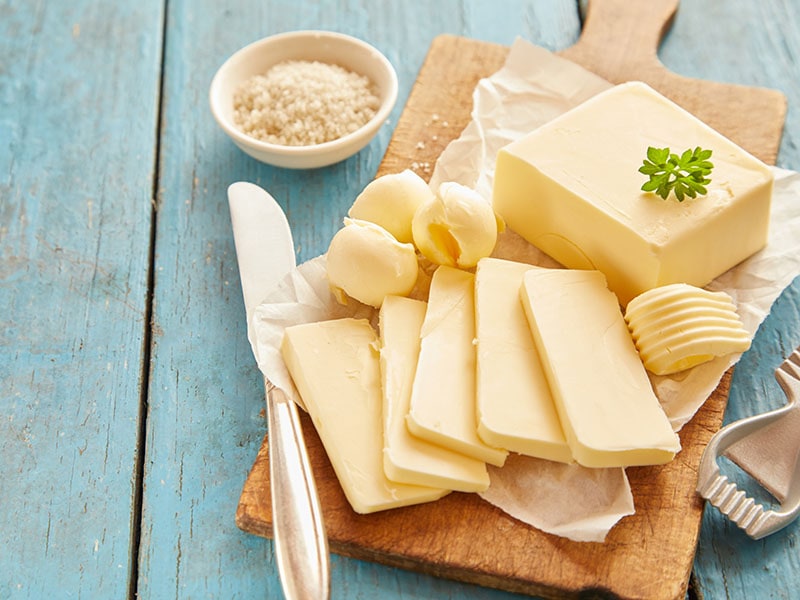 Don't worry if you cannot use butter to make popcorn.There are various perfect oils to go with popcorn. Oil can fasten the cooking process and enrich the flavor of your popcorn. And most importantly, many types of oil are vegan, so you can easily go for one.
The best vegan oils to make popcorn should have high smoke points. As the kernels usually pop at a temperature between 400°F-460°F, oil with a high smoke point will help your popcorn not get burnt.
Canola Oil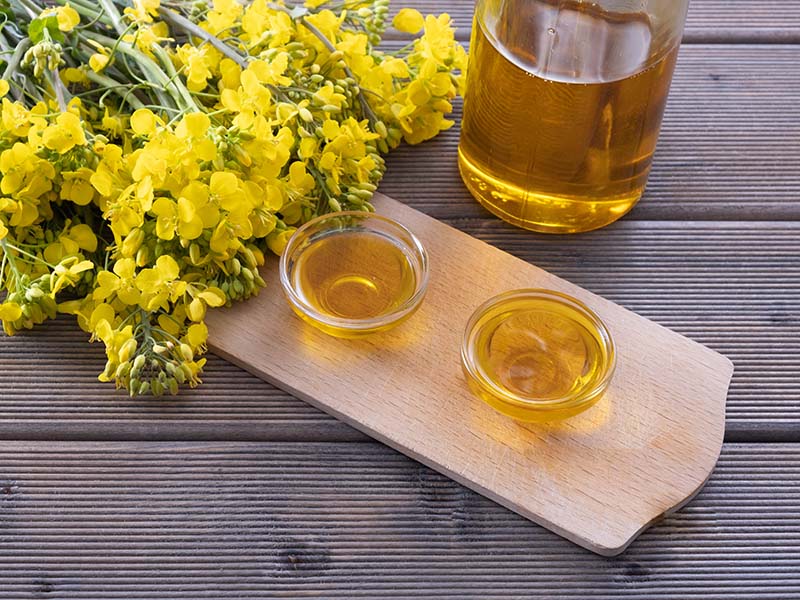 Did you know that movie theater popcorn is usually made with canola oil? This vegetable-based oil is low in saturated fat and rich in vitamin K and E. It also provides you with vital nutrients and omega 3 fatty acid, which helps heart health.
Canola oil has a smoke point between 375°F and 450°F, and its mild flavor will not change the popcorn taste. Such a perfect choice! I would suggest Amazon Brand Happy Belly Canola Oil in your popcorn recipe.
Explore the thorough explanation of canola oil here!
Coconut Oil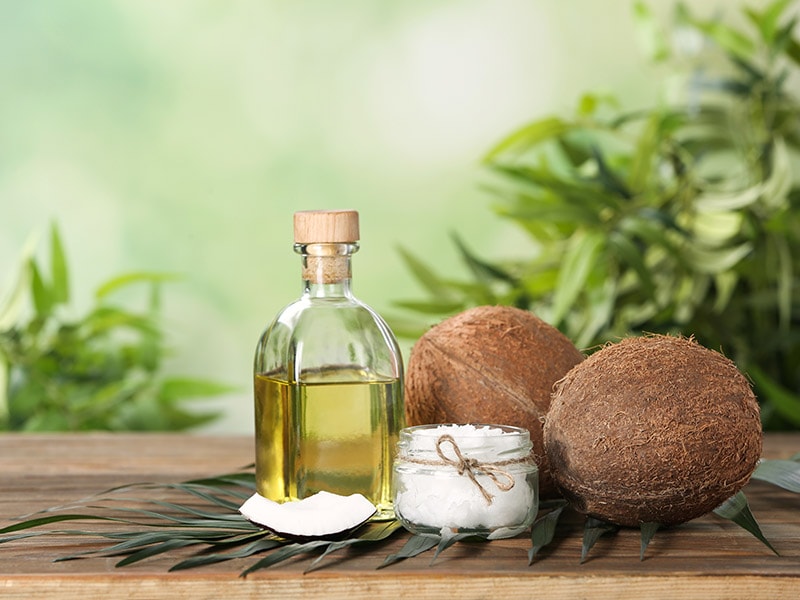 Coconut oil has a subtle and sweet scent and mild flavor. It is also used for making movie theater popcorn. Although its smoke point is about 350°F, coconut oil is still good enough to enhance the taste and smell of your popcorn.
While there are many excellent coconut oil specialized for cooking, let's use Viva Naturals Organic Virgin Coconut Oil to make popcorn. It stands out from other products due to its shiny color and organic quality.
Avocado Oil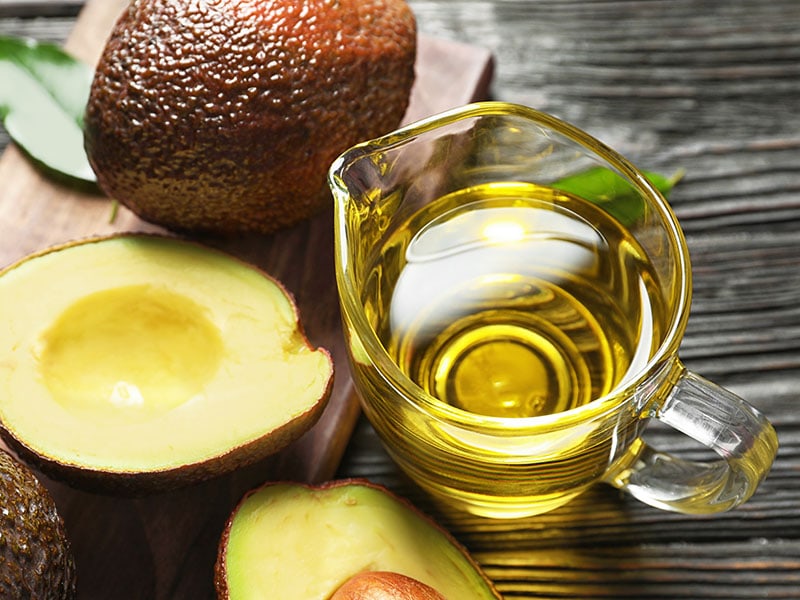 You shouldn't miss this wonderful avocado oil in your cooking because it has a smoke point reaching around 520°F. Your popcorn would be perfectly fluffy.
Additionally, avocado oil has a nutty and rich taste. A blend between popcorn popping with avocado oil and seasonings must be out of this world. Chosen Foods Avocado Oil will give you the healthiest and most flavorful oil.
Olive Oil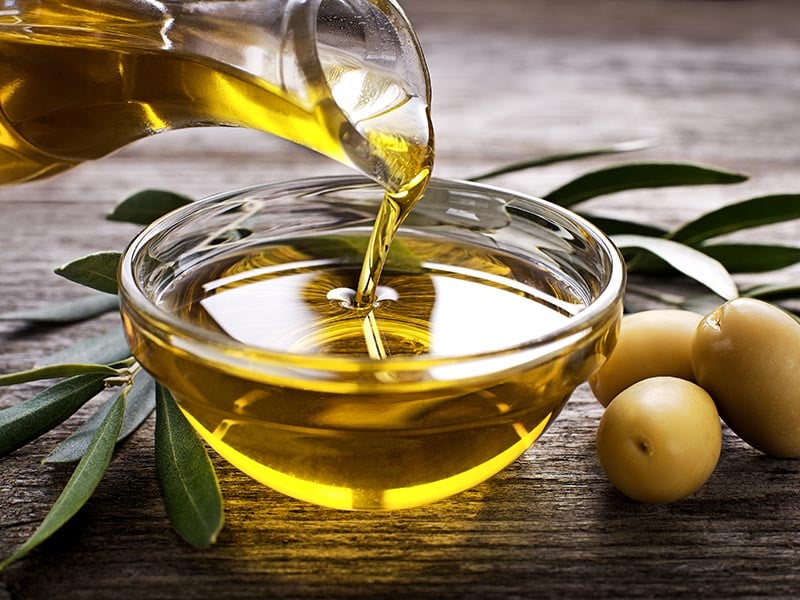 Olive oil is a good source of monounsaturated fatty acids and antioxidants. Using olive oil can make healthier and more delicious popcorn.
Its smoke point is about 374°F-450°F, which is great for popcorn. You should try Pompeian Smooth Extra Virgin Olive Oil. Its neutral flavor and moisture will help your popping kernels absorb seasonings better.
Let's experience the process of making olive oil in reality.
Recommended Store-Bought Vegan Popcorn
If you find yourself stuck in checking all the labels one after another, this section will help you out. I'll introduce you to the list of vegan popcorn products. Now you can choose the one that suits your taste best.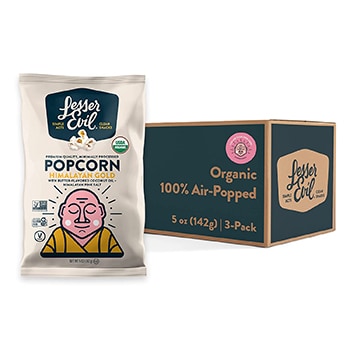 If you want to enjoy vegan popcorn with a cheesy flavor, this product is best for you. It is manufactured with organic coconut oil, plant-based butter flavor, and Himalayan pink salt. You will have a delicious salty, crunchy snack.
Check this review before you decide to buy LesserEvil "Himalayan Gold".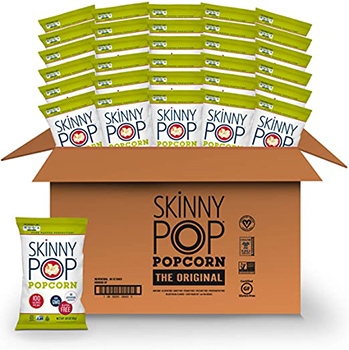 SkinnyPop Original Popcorn will meet all your requirements to be a perfect vegan snack: free of dairy, no GMO, no preservatives, no artificial flavor, no cholesterol, and low calories. It tastes slightly salty, crunchy, and sweet.
Come to the supermarket to get some SkinnyPop original popcorn now!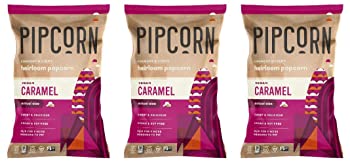 Are you a caramel popcorn lover? Try this vegan version. Not only is Every tiny popping covered in caramel, but it is also dense in nutrition, including fiber, antioxidants, and vitamins. Pipcorn Vegan Caramel Popcorn tastes super crunchy and sweet.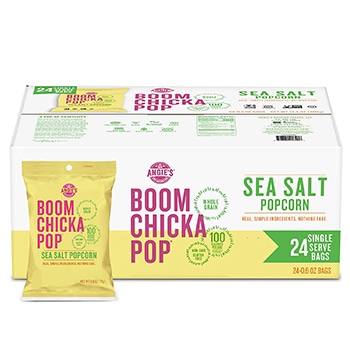 Produced with three simple flavors, including popcorn, sunflower oil, and salt, Angie's BOOMCHIKAPOP will give you the flavor of light salt on tender kernels. It is an ideal option for light-snack lovers.
You'll fall in love with this Angie's BOOMCHICKAPOP gluten free sea-salt popcorn.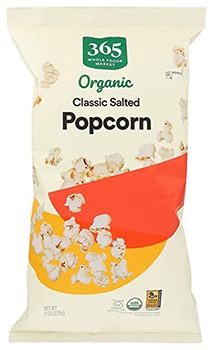 Want to have real movie theater popcorn? Then this product deserves your treat. Healthy, convenient, and delicious, 365 Everyday Value Organic Popcorn is a good choice for movie night.
Easy Homemade Popcorn For All Vegans
Think of making homemade popcorn for a movie night and weekend, here are some recommendations for you:
Vegan caramel popcorn is coming to your home! With this recipe, you can make crispy, buttery, and sweet popcorn. It will completely melt in your mouth. Besides, you can leave it for up to a week at room temperature.
Try this sweet and crunchy Vegan Caramel Popcorn with your friends.
I will call it 2 in 1 popcorn, as you can taste both cheesy and buttery flavor but in a vegan version. Follow the recipe exactly, and you will know how to create butter taste from oil and salt. I can confirm that the outcome will be beyond your expectations.
Make a vegan version of Dorito popcorn, why not? Dorito is made with vegan ingredients such as garlic powder, onion powder, and nutritional yeast. If you are a big fan of Dorito, then you don't want to miss this one.
Do you want to make popcorn that is better than movie theaters? Let's try this amazing homemade vegan popcorn. With coconut milk, brown sugar, and some ingredients, you can make a sweet popcorn with a hint of coconut taste.
Would you like light sweet, peanut buttery, and healthy popcorn? Imagine your peanut butter will cover your kernels. Such mouth-watering popcorn. You won't be able to stay away from this peanut butter popcorn recipe. It's worth a try, isn't it?
What's better than coating your popcorn with peanut butter?
FAQ
I know that many of you will come up with some questions about vegan popcorn. I have answered some commonly asked questions.
You've Uncovered The Treasure
Now you know how to find popcorn vegan, what substitutes can alter non-vegan ingredients, and what popcorn products you can eat. Hopefully, this post is helpful to you, and you you've learned something new!
I would love to hear you use my ways to identify whether popcorn is vegan. And remember to share these savory popcorn recipes I recommended to other friends. I bet you will have a wonderful movie night with a flavorful snack. Thank you for reading!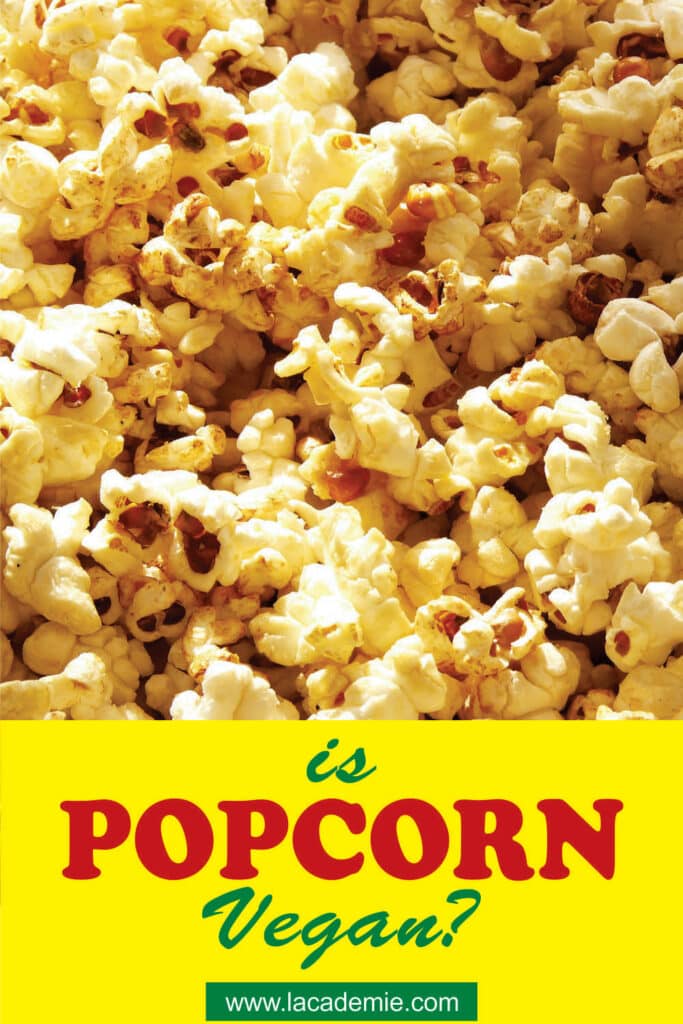 References
Medicalnewstoday.com. 2017. Papaya fruit: Health benefits, uses, and risks.
Healthline.com. 2021. 37 Things to avoid as a vegan.