There are many different types of salt that I'm sure you have never heard of before. You can find salt in a natural environment or as a manufactured product. Salt has many useful applications, from a crucial ingredient in cooking to a beauty product in bathing.
Salt is an indispensable everyday condiment that every home chef will have in their kitchen. This ingredient even has some minerals or vitamins in some special types. Do you want to discover more interesting information? Let's dive into this post.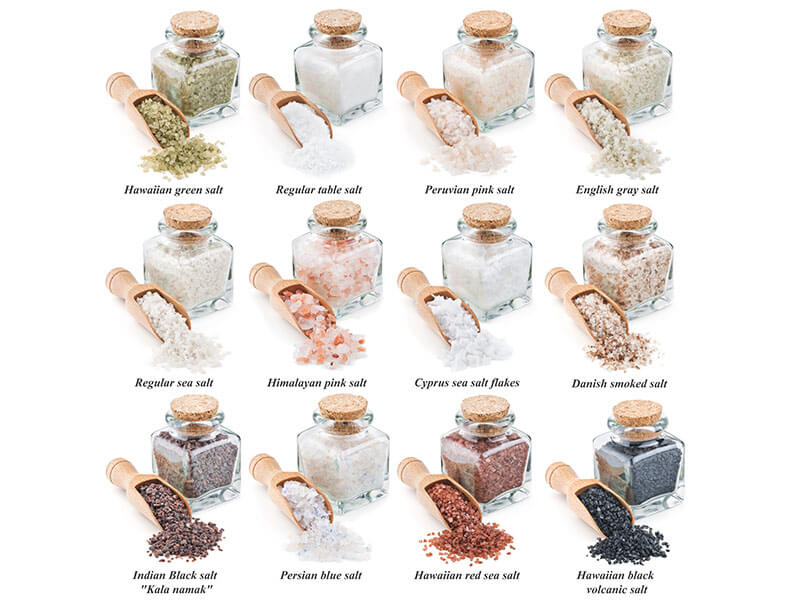 Let's Get To Know All The Best Salt For Cooking
The most common category of salt must be the one used for cooking. The salt varies with many colors, flavors, and applications.
1. Kosher Salt Or Kitchen Salt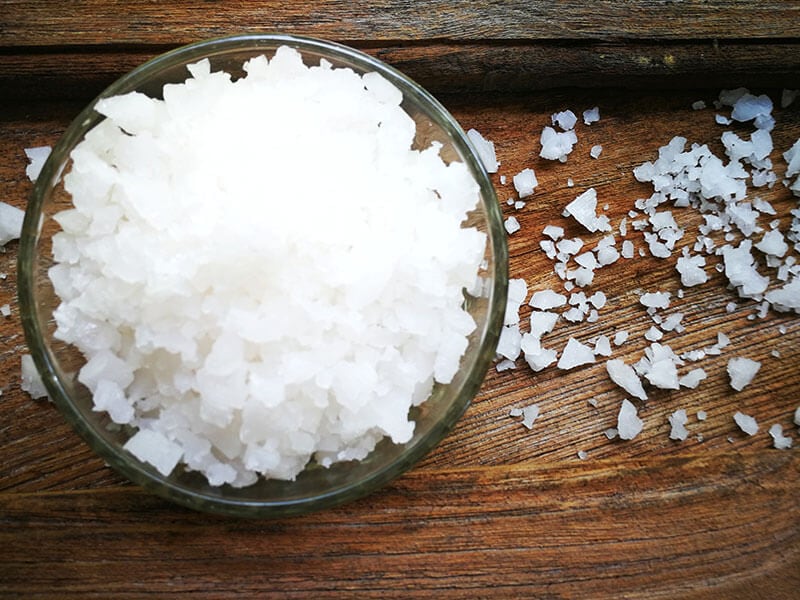 Kosher salt (also known as kitchen salt or cooking salt) has its name from a Jewish culinary method of draining out the moisture in meat called the 'koshering process'. The salt has various applications with a coarse texture and a unique saltiness.
Traditionally, it is collected from salt deposits and available as large, coarse grains. Kosher salt has a large flake size suitable for sprinkling over food. The salt is made entirely from sodium chloride without any additives.
The salt can be an excellent alternative for MSG (monosodium glutamate) for a deeper flavor. Remember to adjust the ingredient to your preference, as these two ingredients are pretty distinctive.
Kosher salt is much lighter than table salt, so you should not use a ratio of 1:1 to substitute these two ingredients.
As the salt doesn't have any trace minerals, its taste is pure without any aftertaste. People often use it for curing or smoking meat, seasoning, or pickling some dishes. Some even use this salt for cleaning cookware like skillets.
It's time to learn about Kosher salt to know why it is so popular!
2. Sea Salt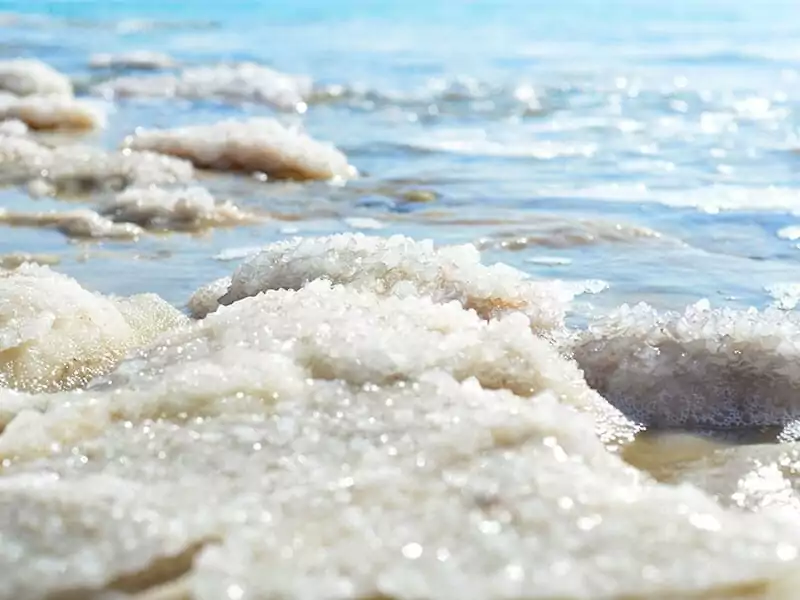 Sea salt is created by evaporating seawater with the sun's heat. Therefore, 'Solar salt' or 'Bay salt' are familiar names to indicate sea salt. Sea salt production has been around for thousands of years all over the world.
People often use sea salt for seasoning, cooking, and preserving dishes. Another application of sea salt is for making cosmetic products like body scrubs or bathing salt. Sea salt is considered a healthy choice containing minerals like potassium, iron, and calcium.
This type of salt has a better taste and texture than other ordinary salts. Depending on the local clays and algae, the taste and color of sea salt will vary. Like in India, the salt is black, while it has a pinkish-gray shade in Korea and France.
Sea salt is a good source of sodium chloride, a compound that regulates the fluids in your body. However, excessive sodium consumption could harm your health, such as high blood pressure and stroke. This salt is more expensive than table salt because of its labor-intensive production.
3. Table Salt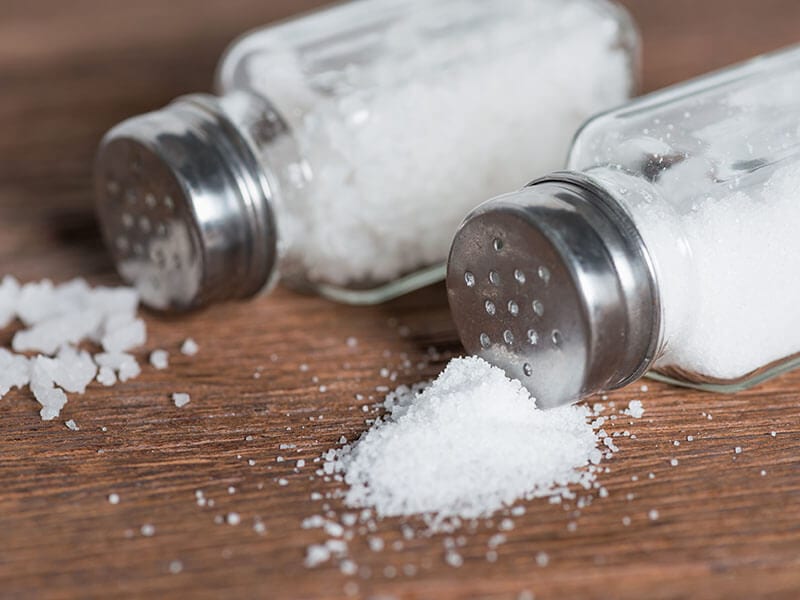 Open the cabinet in your kitchen, and you will properly find a table salt container. This is one of the most common salts used in households. Table salt has around 97% to 99% sodium chloride; other additives are also present in the salt depending on the source.
Table salt is not suitable for savory cooking as the anti-caking agent will result in a metallic taste when you overuse it. You should use this salt for recipes that call for a small amount of salt, like baking recipes.
The color of table salt ranges from white to tint blue and faint purple. The color represents the impurities of table salt (white is the cleanest type). Table salt is often a mined product from underground deposits.
People often process the salt to eliminate minerals and keep the salt taste as pure as possible.
4. Himalayan Pink Salt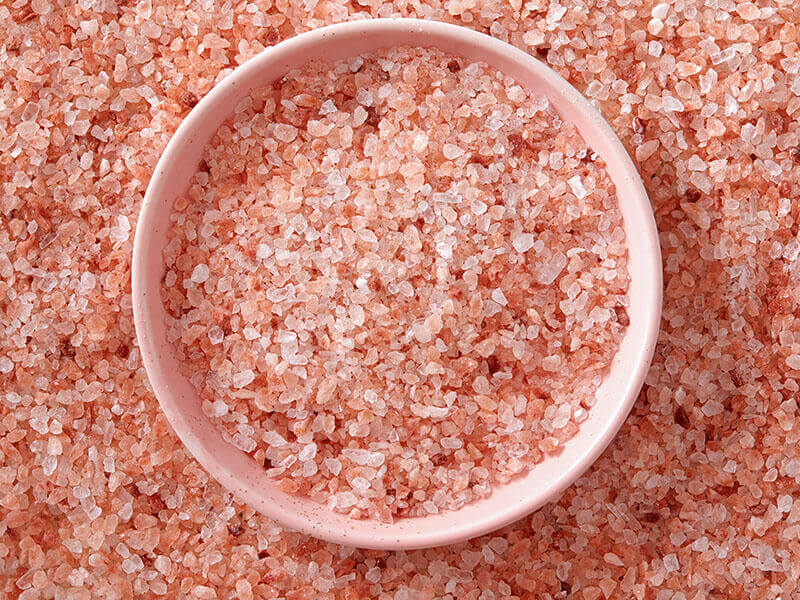 Himalayan pink salt belongs to the rock salt (Halite) category. The Salt Range mountains (the South of Pakistan) are the primary source of it.
Himalayan pink salt has a complex mineral content with a bold flavor perfect for baking dishes. Trace minerals form its pinkish hue. People often use this pink salt for spa treatments toimprove skin conditions (thanks to its moisturizing property) and relieve pain in muscles.
Some even use a whole block of Himalayan salt to make decorative lamps called 'salt lamps' with a pinkish or orangish hue.
The slabs of this pink salt are also used as baking stones, grills, or tequila shot glasses. The salt will slowly dissolve and give the dish a lovely salty flavor.
What makes Himalayan Pink Salt different from other salts? Let's discover now!
5. Kala Namak – Himalayan Black Salt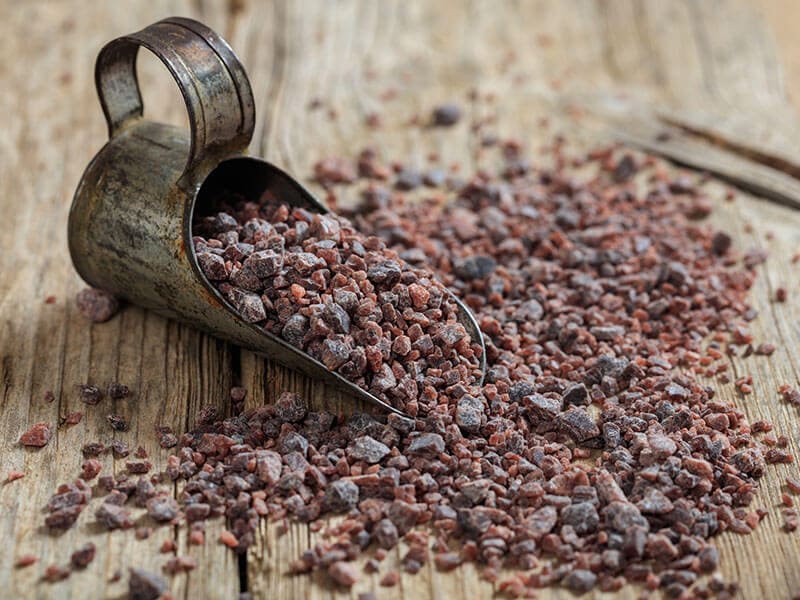 Have you ever tried any salt that has a pungent scent? Kala Namak is another salt from the Himalayan region with a unique reddish-black hue. This salt is famous in the Indian subcontinent. It is a kiln-fired rock salt often used for medical purposes in Ayurveda.
This salt has a subtle sulfurous aroma that gives an egg-like flavor. So, you can add this salt to egg-free dishes in some vegan recipes. Kala Namak salt is popular in making tasty Indian dishes.
When ground into a fine powder, Kala Namak will be purple to pink. Local people often use this salt as a condiment for chutneys, salads, chaats, hearty dishes, and other savory Indian snacks. The salt is also a laxative and digestive aid with many other medical applications.
6. Fleur De Sel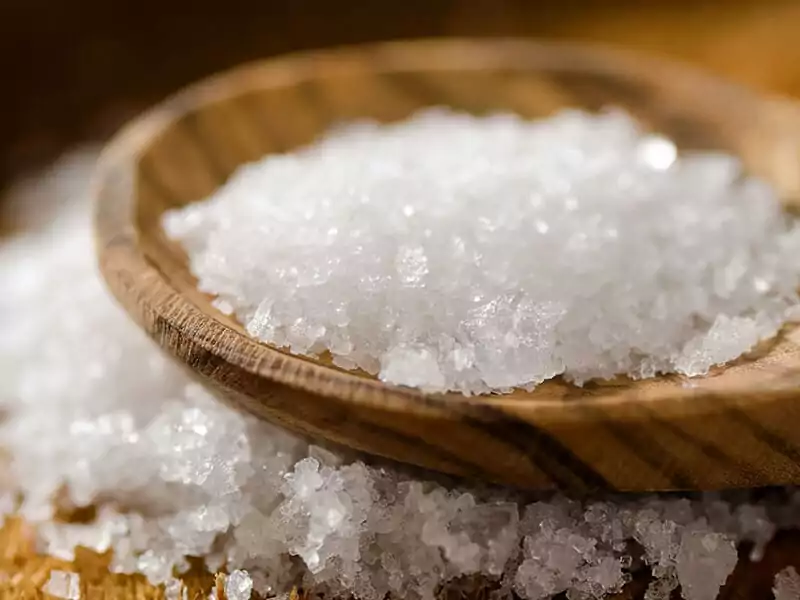 Let me introduce one of the topmost expensive and rarest salts globally, Fleur De Sel. It also has another name: Flor De Sal, which means 'flower of salt' in Spanish. The salt has its name because of the flower-like crystals in the crust.
Just like sea salt, Fleur De Sel is collected from seawater but under special conditions. It is only available in small quantities and, as a result, rather expensive. This salt has high moisture content yet few impurities, so it takes a longer time to melt when exposed to the air.
Fleur De Sel has been around since ancient Roman times. The salt has a fine and delicate texture with less sodium content than table salt. It is also packed with vital minerals and a salty flavor.
The salt is also an excellent choice for fancy sweet treats like candies, caramels, or creme brulee. This salt is often used for medical applications like purgative and salve.
People often garnish their food with Fleur De Sel or use it as a finishing ingredient for certain recipes.
You can only harvest this salt in an area that is dry and sunny with steady and slow wind. The salt is mostly produced in Europe (France, Portugal, and Spain) and the Americas (Canada, Mexico, and Brazil).
7. Smoked Salt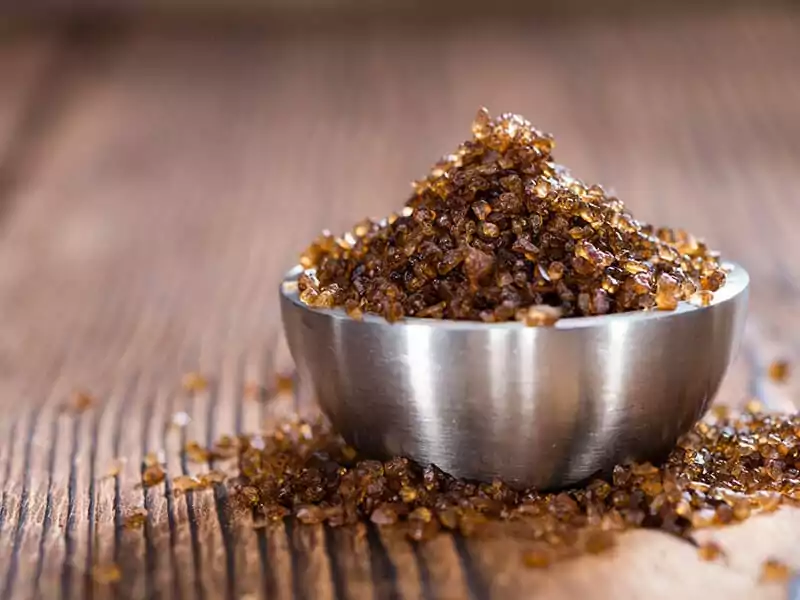 Smoked salt derives its significant flavor and aroma from the smoking process with bark tree woods lasting around 14 days. The most typical wood choicesare oak, alder, applewood, and hickory. The wood will give a gentle, lightly sweet, and bold taste to your salt.
You can use smoked salt to sprinkle meat (especially for BBQ) or side dishes. Rub your meat with smoked salt for a rich and wood-smoked flavor.
People usually use a smoke tube to control the temperature for cold smoking (80oF). Coarse sea salt and kosher salt are typical choices to make smoked salt.
Is smoked salt easy to make? Let's find out!
8. Cyprus Black Flake Salt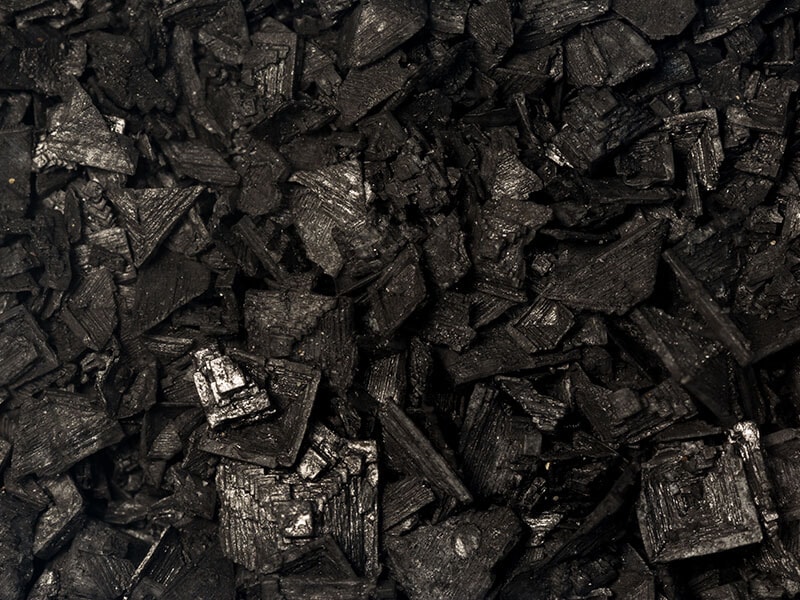 Cyprus black flake salt is a unique salt with activated charcoal added to create a gentle flavor and an impressive look. The salt has pyramid-shaped flakes with a crunchy texture and a soft, salty flavor.
People often use it as a finishing salt for many recipes. Cyprus black flake salt has antioxidant properties with low sodium levels. This salt is also a healthy choice in case you suffer from heartburn and bloating.
9. Black Hawaiian Salt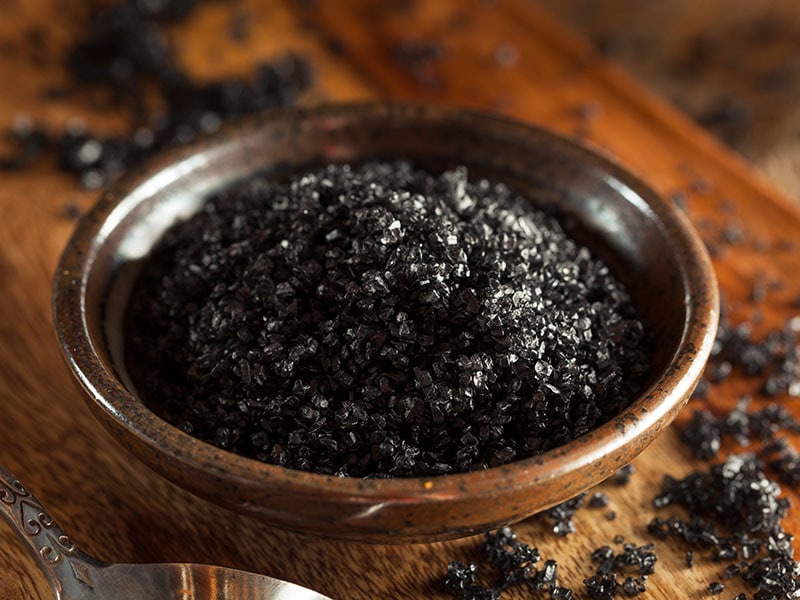 Here comes another black salt with a bold flavor with a deep black charcoal color. If you are looking for a glamorous condiment in your pantry, Black Hawaiian salt is an excellent choice. This salt is a mixture of activated charcoal (from coconut shells) and sea salt in Hawaii.
The salt has an earthy flavor with an impressive appearance resembling tiny lava rocks. The salt is collected in the lava pools' minerals, so don't be surprised by a gentle sulfur aroma.
People collect sea salt in this region by the traditional evaporation under sunlight. This results in a crunchy salt with a light salty taste.
The salt is often used for some delectable Hawaiian dishes. You can pair it with any meat or fish dishes or add it to flavor pork, eggplant, sashimi, fruits, or veggies.
Some bartenders even use this salt to form a rim in their cocktail recipes. This salt is more expensive than most ordinary salt because of its deeper color and coarse texture.
10. Rock Salt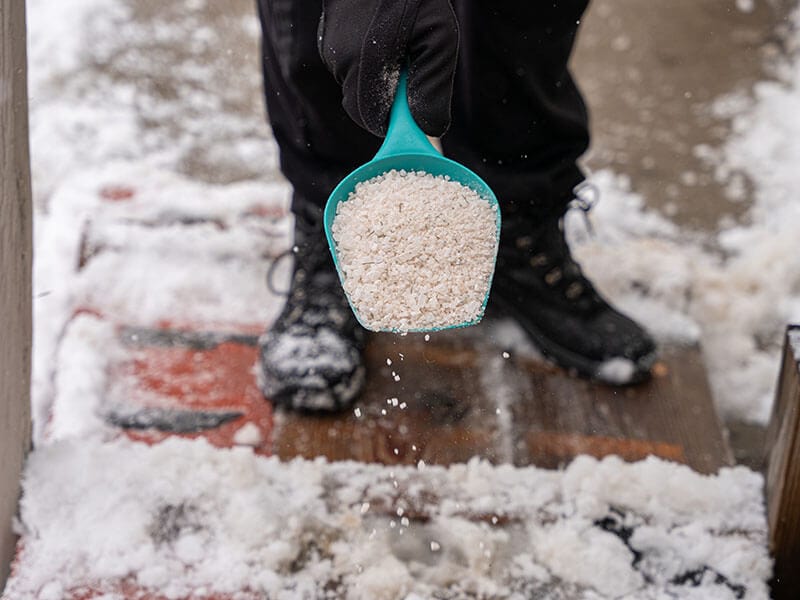 Grab the most excellent salt grinder if you want to use rock salt. Also known as halite, it is the purest form of salt dug out of the Earth. Therefore, its crystals have a cube-shaped form.
The salts still have certain minerals and impurities, so it is not a common choice for culinary purposes. However, you will see people use this salt to make ice cream and maintain the temperature of coolers.
People also use it to cure or enhance the flavor of bacon or fish too. Rock salt lowers the water's melting point, and it also allows the temperature to reach -6oF without using a freezer.
It is a great choice for de-icing snow on the street or using for household cleanings like grease, oil, and stain removal. You can use it to drain out moisture in spills.
Here comes some interesting information about rock salt.
11. Curing Salt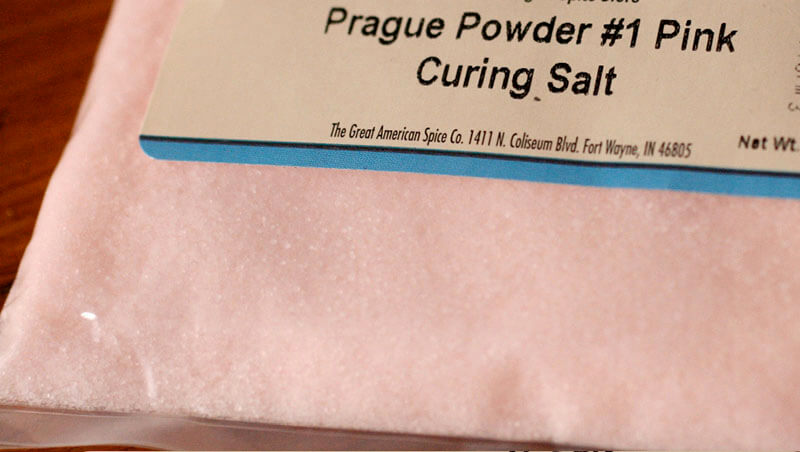 Curing salt is the salt used in processing meat to lengthen the shelf life and give the meat a dazzling pinkish shade. This salt inhibits the action of bacteria or fungus, so it is the best choice to preserve your meat.
Manufacturers often use dyes like red and pink to differentiate curing salt from other common types of salt. This salt is perfect for pickling meats or as an ingredient for sausage or cured meat.
Prague Powder #1, Prague Powder #2, and Saltpetre are the top three most common curing salts.
12. Flake Salt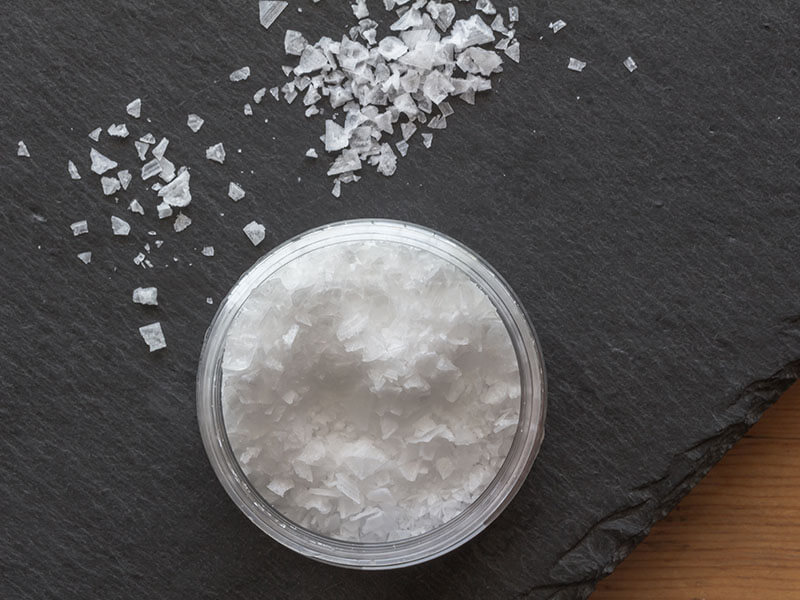 If you want a perfect substitution for Tamari, you can use flake salt. This type of salt differs from ordinary ones because of its flattened shape crystals. Manufacturers need to compress salt crystals mechanically to create flake salt.
The original cue shape of ordinary salt now turns to a flattened shape that serves different applications. This salt adheres better to food, dissolves faster, and is easier to blend. Many chefs love using this salt as a finishing salt because they can crush the salt easily.
Flake salt has a low trace mineral content, so its flavor is saltier than most other kinds of salt.
13. Sel Gris (Celtic Gray Sea Salt)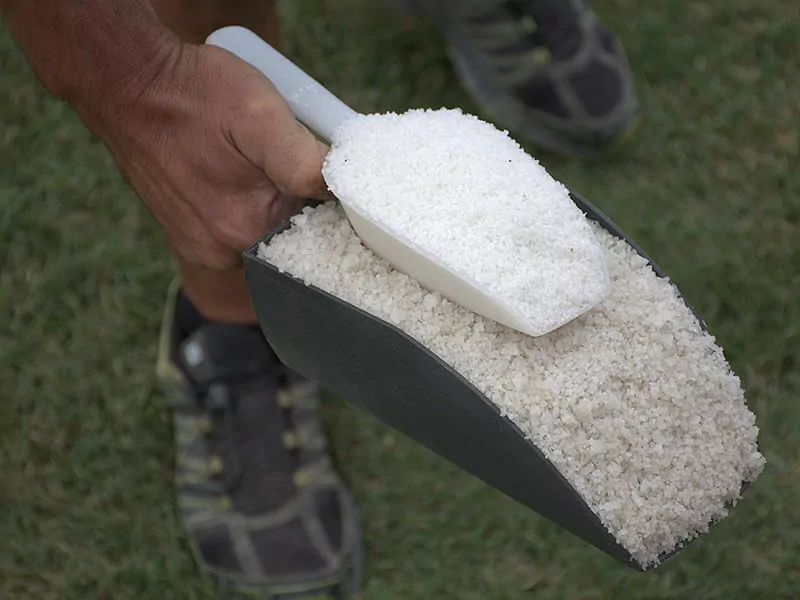 In France, there is a famous salt with a gray hue called 'Sel Gris'. It is a coarse granular sea salt harvested from solar evaporation. This salt is a moist salt with a water content of up to 13%.
Unlike Fleur De Sel, Sel Gris reaches the bottom of the salt pan and then rakes. As a result, it has a lovely gray color. People often use Sel Gris as a finishing and cooking salt.
Sel Gris has a denser texture than common salt, so you might need to reduce its volume when adding it to your recipes. People often pair Sels Gris in heartier recipes like root vegetables and steak.
14. Alaea – Hawaiian Red Salt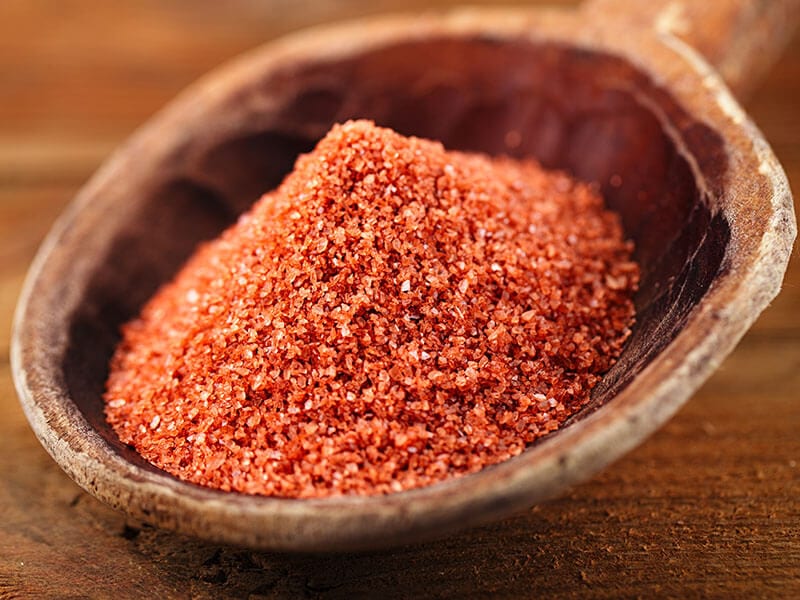 Alaea is an antique salt of the Hawaii islands with a lovely reddish color. It is an unrefined sea salt that contributes dramatically to the Hawaiian culinary culture. You might find it in traditional recipes like Hawaiian Jerky (Pipikaula), Kalua pig, and Poke.
Local people often use Alaea to purify homes, temples, canoes, and tools. It is used for cleansing and blessing tools too. It is a common condiment to flavor some yummy Hawaiian specialties. People also use it to cure salmon in the Pacific Northwest.
As the authentic Hawaiian Alaea salt is quite expensive, most commercial Alaea salt in the US comes from California. Anyway, this condiment has a lower sodium content suitable for those who want to control their salt intake. So, why don't you try this fantastic salt for a healthy meal?
Alaea is a flawless salt if you want to try out a new type of salt.
15. Garlic Salt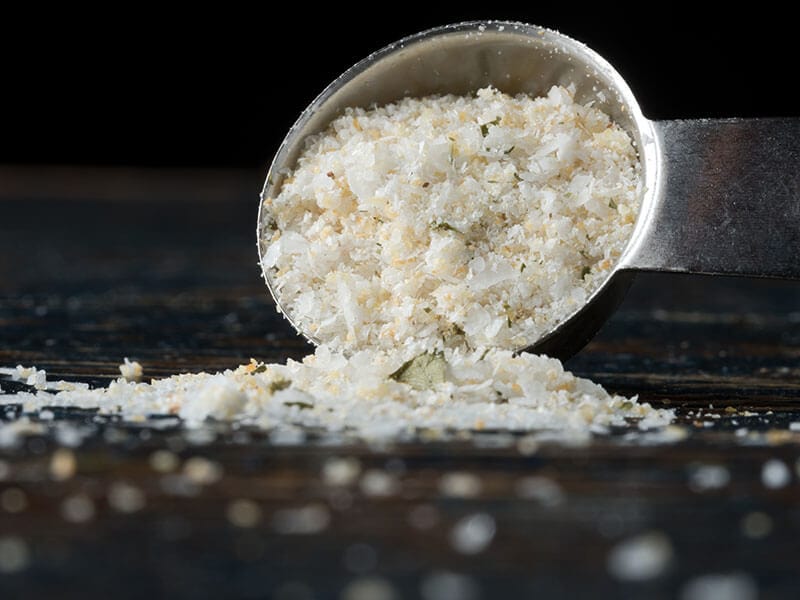 Have you ever thought of trying salt with a garlicky aroma? Well, garlic salt is a nice choice for you to try. But there are many differences between garlic salt and garlic powder, so don't make mistakes when you go shopping for them.
The salt is actually a seasoned salt made from mixing ground garlic and table salt. An anti-caking agent is also added to keep the salt from clumping and getting wet.
The traditional ratio for making garlic salt is 3:1, which means three parts salt with one part garlic powder (dry). Some recipes also use the ratio of 6:1 to make this salt too.
Try garlic salt in your daily meal; you will love its flavor.
16. Pickling Salt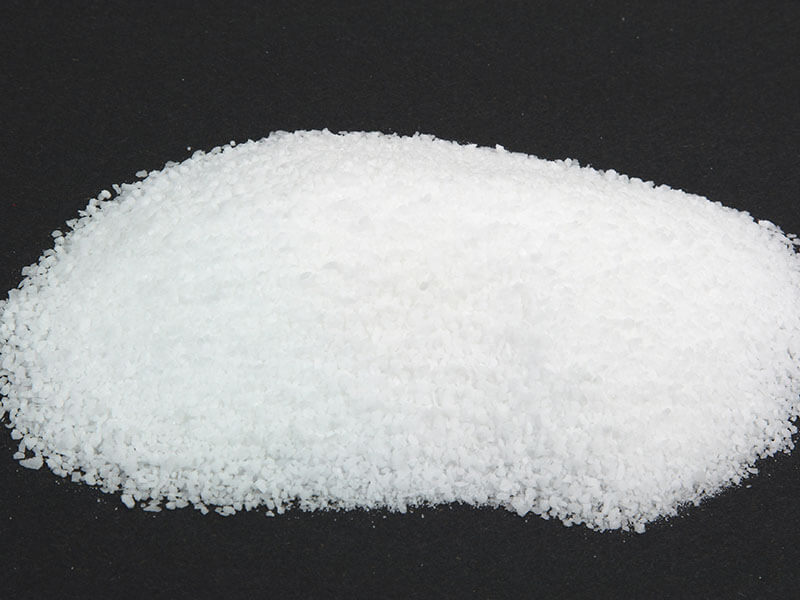 The name says it all; this salt is a primary ingredient for manufacturing and canning pickles. Unlike other ordinary salts, this salt doesn't contain anti-caking products and iodine, as anti-caking products can cloud the brine.
Pickling salt is often grained finely to dissolve easily in water. This helps boost the pickling process and results in a better brine solution. You can use this salt to replace table salt; however, you will need to bake it and break it apart to avoid caking.
Another solution is to add a small amount of rice to the salt. Using this salt to replace popcorn salt is an excellent choice as pickling salt adheres perfectly to food.
How About Discovering All Types Of Salt In Term Of Chemistry?
Let's look at salt under the eye of a scientist! The following kinds of salt are the most likely salt you will run into in daily life.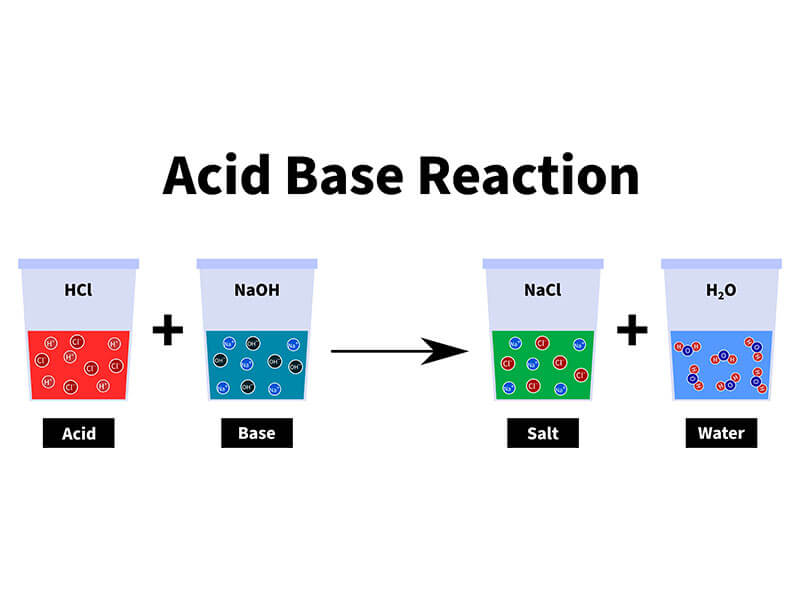 17. Neutral Salts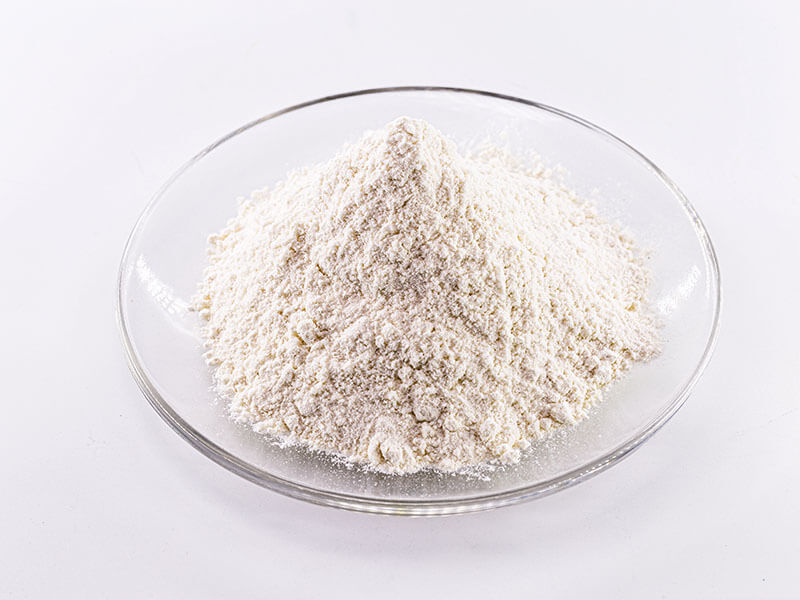 After the reaction of acid and base, you will properly gain this salt. The pH level of neutral salt is around 7, which does not represent any character of acidic or alkaline. This salt does not have any replaceable hydrogen atoms (protons) or hydroxyl ions.
Examples of neutral salt: Potassium sulfate (K2SO4), Potassium chlorate (KClO3), and Sodium chloride (NaCl).
18. Basic Salts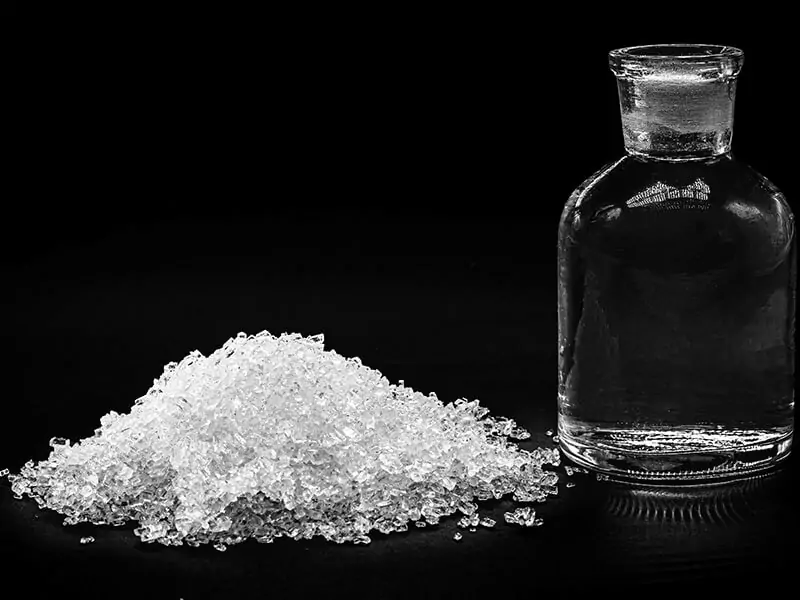 To have basic salt, you need to let a strong base and a weak acid react with each other. It has around one or more hydroxyl ions. The base hasn't gone through an entire neutralization, so the salt pH level is higher than 7, showing the character of bases.
Examples of basic salts: Magnesium oxychloride (Mg(OH)Cl), Zinc chloride hydroxide (Zn(OH)Cl), and Sodium acetate (NaOOCCH3).
19. Acidic Salts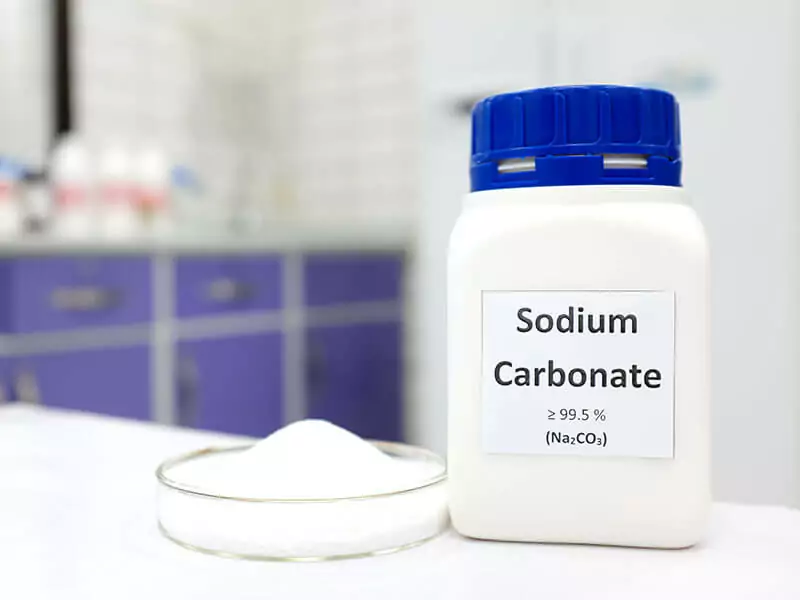 Like basic salt, acidic salts result from a strong acid and a weak base reaction. The acid hasn't been neutralized entirely, so the salt pH level is lower than 7. It has around one (or more) protons.
Examples of acid salts: Sodium carbonate (NaHCO3), Potassium bisulfite (KHSO4), Ammonium sulfate ((NH4)2SO4)
20. Simple Salts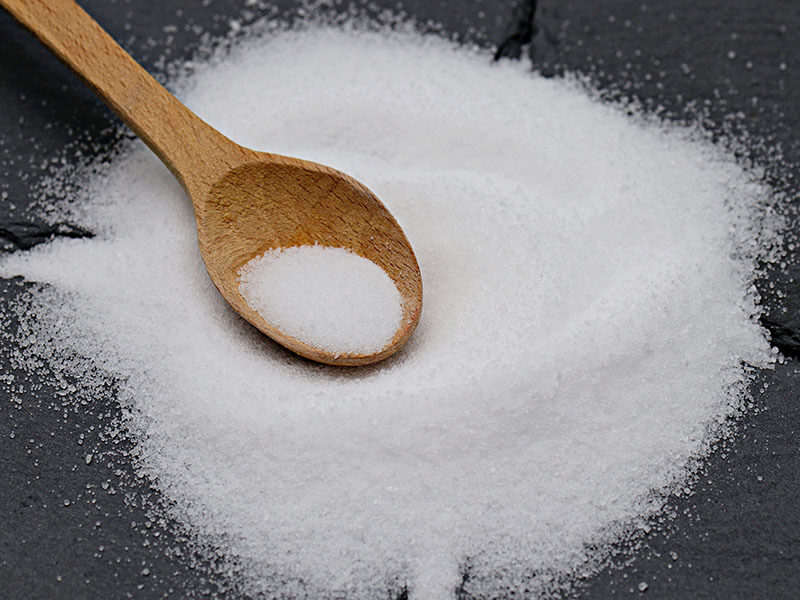 Simple salt is the type of salt formed after the reaction base and acid. So, it can be all three types of the mentioned salts: basic salts, neutral salts, and acidic salts.
Examples of simple salts: Sodium chloride (NaCl).
21. Complex Salts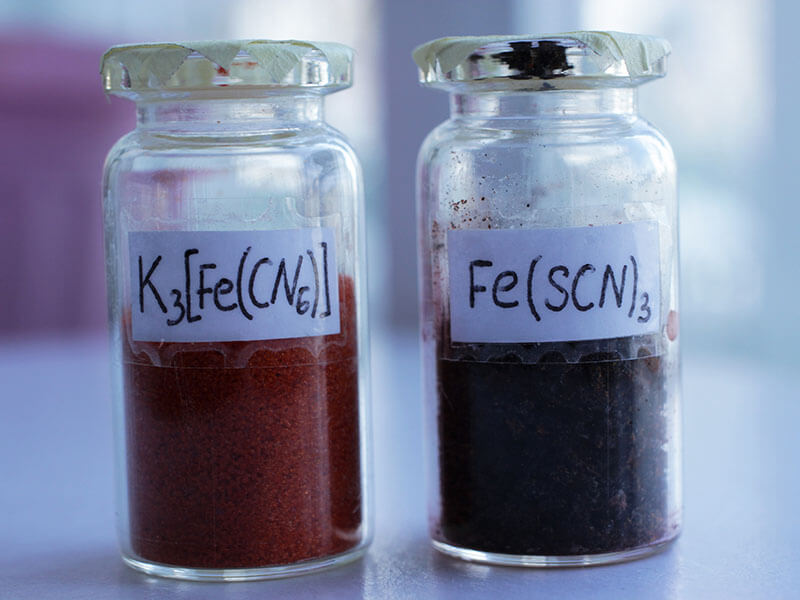 Complex salts have neutral molecules and charged ions covering a central metal atom. This salt is a mixture of molecular compounds and ions.
Examples of complex salts: Potassium ferrocyanide (K4[Fe(CN)6]), Hexamine chromium(III) chloride [Cr(NH3)6]Cl3].
22. Double Salts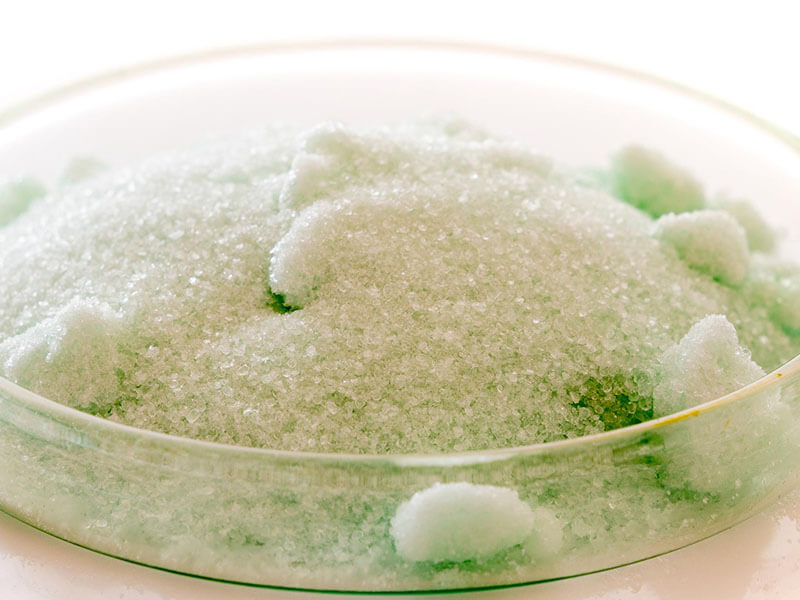 Mix two different simple salt, and you have a mixture of the double salt. This salt has more than one anion or cation in its composition.
Examples of double salts: Potassium cerium fluoride (KCeF4), Potash alum (K2SO4Al2(SO4)3.24H2O), Mohr's salt ((NH4)2Fe(SO4)2.6H2O).
23. Mixed Salts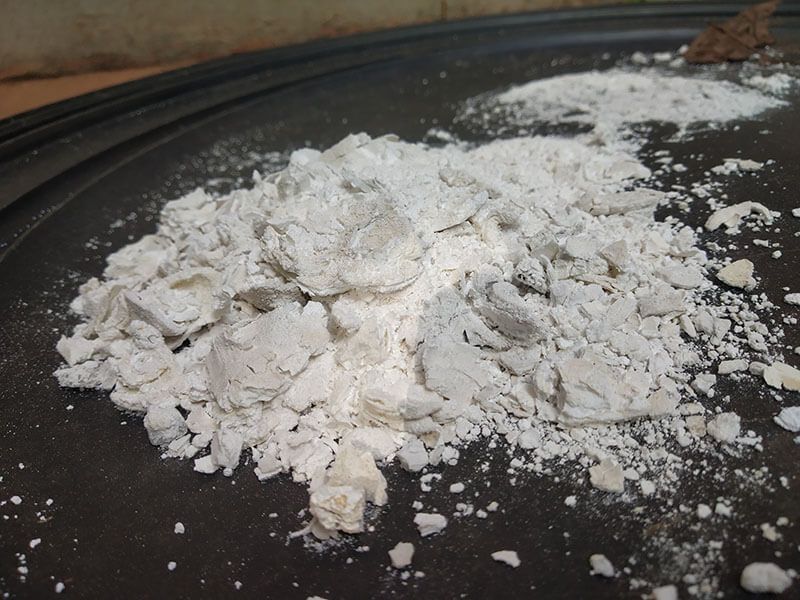 More than one acid or base reaction could result in this kind of salt when the number of anions and cations is imbalanced (two anions sharing a cation, or in reverse, two cations sharing an anion).
Examples of mixed salts: Bleaching powder(Ca(ClO)2), Sodium potassium sulfate (NaKSO4).
Let's learn about salt under the perspective of science!
Do You Know Any Other Kind Of Salt?
There are countless types of salt on Earth, so if you know some special variety of salt, don't hesitate to share it with other readers and me. You should try some suggested salt to change your meal flavor slightly.
Feel free to leave a comment and hit the subscribe button for more fascinating culinary posts. I'm sure the next writings will wow you with exciting information. Goodbye and see you next time!