Garlic salt vs. garlic powder; the 2 familiar spices that many Americans choose to season their foods. But are there any significant differences between them that you have not known? And can you use them the same way?
You cannot deny the versatility of both garlic salt and garlic powder; that's why sometimes they are used interchangeably. However, is it correct to do it? All information in this article will help you answer these questions.
Don't feel bad if you can't tell if garlic salt and garlic powder are one and the same. After all, there are also plenty of people who can't differentiate between onion powder and onion salt. So it's only natural that it can be complicated for some to distinguish garlic powder vs garlic salt.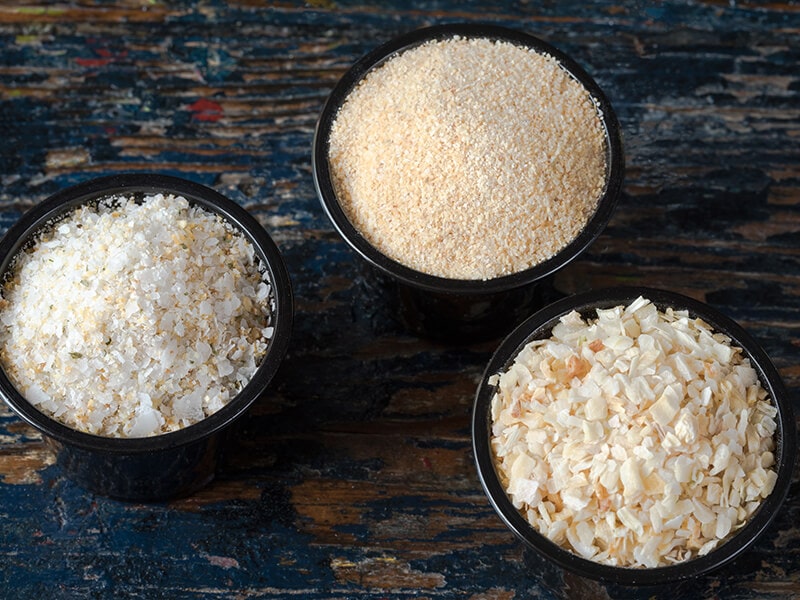 Garlic Salt Vs. Garlic Powder – Similarities and Differences
Garlic can come in different forms, including garlic salt and garlic powder. But do not be mistaken; they are not the same thing because garlic powder is dried and grounded garlic, while garlic salt consists of garlic powder and salt.
Therefore, it leads to some differences in components, making techniques, flavors, nutritional values, versatility, health benefits, and control levels. And that information will be discussed in this article.
Everything You Need To Know About Garlic Powder
Garlic powder is not a new idea in the world of culinary spices. That's why you can find it at any store or supermarket easily.
Garlic powder is versatile, cheap, and simple to use. Also, they can enhance the flavor of your cuisine. Let's find out their characteristics as well as how they are made.
The Overview Of Garlic Powder
Garlic powder simply is a spice made from dehydrated fresh garlic, then ground to turn it into powder form. For more detail, garlic cloves will be processed by a dehydrator or oven to dry them up before being ground in a machine or any kitchenware that has a grind function.
Many people also find it hard to differentiate granulated garlic and garlic powder. However, they have some textural differences which lead to relatively different flavors.
There are many commercial brands for garlic powders sold in the market. But if you want to save more money, you can make them at home. Also, you can replace garlic powder with other choices. They can be fresh garlic or other garlic-based seasonings, like garlic salt.
Like various types of garlic, garlic powder has various advantages for your health, though it still has excessive consumption side effects. But do not worry, the positives outweigh the drawbacks. Continue reading to learn about both sides of garlic powder.
Good and Bad Sides Of Garlic Powder For Health
It is proven that garlic has been used as an excellent ingredient for medical treatment and human health in general (1). Therefore, garlic powder must have some health benefits that you might ignore. However, there are also some cautions in consuming both of them.
Advantages
Packaged with various vitamins like B6, C, and nutrients like magnesium, iron, protein, etc.
Prevent and treat cardiovascular diseases
Control and balance cholesterol and triglycerides at the appropriate levels
Lower high blood pressure
Ideal for enhancing immune system function
Prevent the development of cancer cells
Prevent diabetes and blood glucose
Aid the digestion process
Disadvantages
Over-consuming garlic powder results in a bleeding disorder, muscle aches or spasms, dizziness, headache, or nausea.
Bad breath is a common issue as they have a strong smell.
Who would have thought that a simple ingredient like garlic powder could be so beneficial to your heart? Watch this video to know more:
Garlic Salt – Are They The Same As Garlic Powder?
I know many of you might assume garlic salt is a combination of garlic and salt. Technically, yes, it is. However, there are more features that garlic salt has, but garlic powder does not. Let's find out.
Fun Facts Of Garlic Salt
Garlic salt is made of garlic powder and table salt (a regular kind of salt). However, make sure your salt contains an anti-caking agent called calcium silicate.
For making garlic salt, combine 3 parts of salt and 1 part of garlic powder by volume, or if you based on their weight, 6 parts of salt and 1 part of garlic powder are the acceptable ratios.
The anti-caking content in salt is important to prevent the garlic powder from sticking. For easier understanding, you can consider garlic salt as a 'garlicky version' of table salt with an extra garlic flavor, and they do not bring the same flavor and aroma as fresh garlic.
Pros and Cons Of Garlic Salt In Health
You might be concerned that the salt content in garlic salt will affect the health benefits. Well, it is true. But as garlic salt is also made from powdered garlic, they still have some similar advantages as garlic powder.
Advantages
A good way to prevent and treat cancer
Balance and lower blood cholesterol contents
Control blood pressure
Lower the possibilities of common flu or cold
Antibacterial properties found in garlic salt prevent any infections
Disadvantages
High salt content absorbed in your body can result in certain diseases, like heart disease
Stomach bloating is more likely to appear if overeating garlic salt
Might cause some side effects with inflammation medicines (e.g., Rofecoxib)
How Is Garlic Powder Different From Garlic Salt?
So, the bottom line of this article is the difference between garlic salt and garlic powder. The following table is the shortcut to compare them.
| Elements | Garlic Powder | Garlic Salt |
| --- | --- | --- |
| Ingredient | Entirely from garlic | Fresh garlic and salt, or Garlic powder and salt; Salt can be kosher, table, or sea salt |
| Preparation | Need more steps to make (peel, cut, dehydrate, and grind fresh garlic); Can use a food dehydrator or an oven to dry garlic | Option 1: Fresh garlic and salt. Peel, cut, dehydrate, and grind fresh garlic, then blend it with salt; Option 2: Garlic powder and salt. Mix garlic powder and salt |
| Flavor | Pure taste of garlic | Salty and garlicky |
| Versatility | Is more useful and versatile than garlic salt as it can act as a better substitute for fresh garlic compared to garlic salt; Culinary usage: add garlicky flavor into soups, dressings, bread, topping, or rub for meats | Less versatile than garlic powder; Culinary usage: for seasoning meats, veggies, or dressings |
| Control Levels | Easier to control the final tastes than garlic salt as garlic powder does not have salt | Need to pay more attention when adding garlic salt; otherwise, your dishes would end up too salty |
| Nutrition | Higher calories, carbs, fiber, sugar, protein, and potassium | Higher in sodium |
| Which One Is Healthier? | Healthier than garlic salt as it can prevent heart diseases, common flu, cold, or even lower the risk of cancer | Less healthy than garlic powder as salt level in garlic salt can lead to blood pressure problems, cardiovascular disease, stomach cancer, and bone and kidney stones issues |
1. Different Ingredients
From the above information about garlic salt and garlic powder descriptions, you might understand the components of making them. And the star in both of them obviously is garlic.
But to ensure the highest-quality of garlic powder/salt, you need to store your fresh garlic in a good garlic keeper that not only keeps your food safe but also decorates your kitchen.
Garlic powder is made from dehydrated and grounded garlic, whereas garlic salt requires the appropriate amount of salt with a respective amount of garlic powder. The anti-caking ingredient in salt is what keeps the salt and garlic powder from adhering together.
However, some garlic powder brands in the market might contain other additives, so check the information label first if you want to buy plain garlic powder.
2. Different Preparation Techniques
To make garlic powder requires many steps to peel, slice, and get rid of water in garlic slices by a food dehydrator (or oven), then grind by a food processor (or a blender) for a smooth powdered texture.
And if you add salt in a respective level to garlic powder, you will have garlic salt. The following parts will show you how to make garlic powder and garlic salt at home with detailed steps.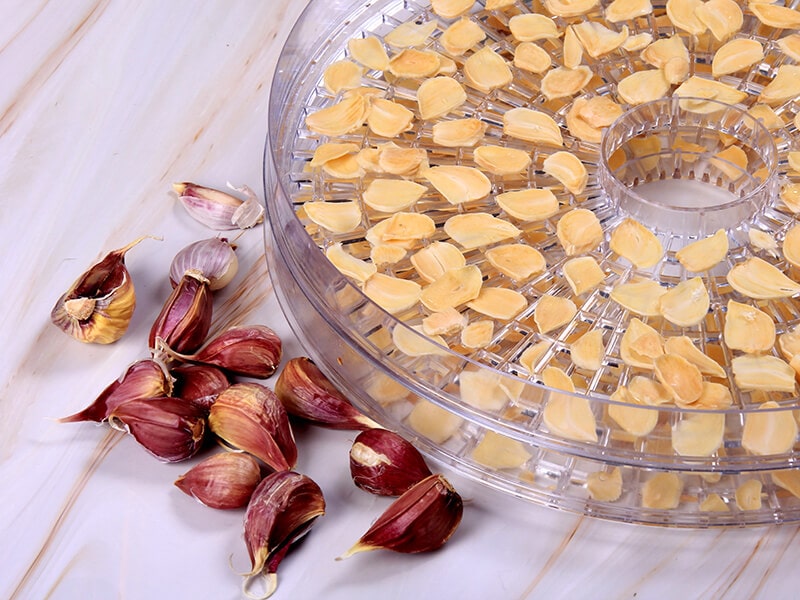 Homemade Garlic Powder
In fact, garlic powder has a longer shelf life than fresh garlic. Therefore, if you can make garlic powder by yourself, these step-by-step instructions will guide you to have the perfect garlic powder.
The common tool to make garlic powder is a food dehydrator. In case you do not have it, using an oven is acceptable. The techniques of making garlic powder in both the food dehydrator and oven are similar.
Moreover, you will need a tool to grind the garlic into the powder. And if you are not sure when deciding between food processor and blender, they all perform well in this case. Here are 5 easy steps to make garlic powder from fresh garlic.
Step 1: Remove the peel of garlic cloves and cut them into smaller and thin slices. Make sure these slices have the same thickness so they can be cooked evenly.
Step 2: Set the temperature for a food dehydrator at 115 F degrees (46 C degrees) and put these garlic slices inside this kitchenware to remove the water content in them. Remember to check it every 2 hours.
In case you do not have a food dehydrator, you can use your oven to dry garlic slices with the temperature at 170 F degrees (77 C degrees) and check your garlic every 30 minutes.
Step 3: The drying duration might be different based on your garlic amount. But be noted to carefully check the garlic during this process as they can quickly go from dry to burnt.
To check that your garlic pieces are dry enough, use your finger to crush one piece. If they are easy to crush, it means your garlic is ready to take out from a food dehydrator/oven.
Step 4: Wait for them to cool down before putting them in a blender or food processor to grind until garlic slices are completely powdered. If you do not have these machines, pestle and mortar can be used, but of course, it will take more time and effort.
Step 5: Prepare a clean and airtight jar to store your garlic powder. And it would be better to store in a cool dark area in your house. Homemade garlic powder can stay good for up to 1 year with proper storage.
Do not have a food dehydrator and oven? There is also a wonderful way to dry your garlic. Let's see this video: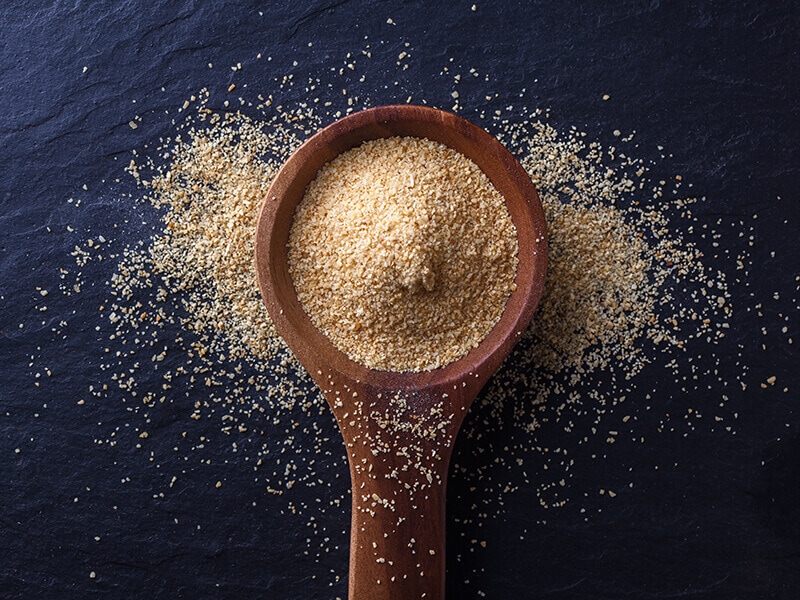 Homemade Garlic Salt
In some garlic salt recipes, they will add other ingredients like onions or herbs. But here is the most basic garlic salt homemade recipe with only 2 ingredients: garlic and salt. I will show you 2 options to make it as well.
Option 1: Making Garlic Salt From Scratch
Step 1: Reheat the oven and set the temperature at 200 to 250 F degrees (93 to 107 C degrees)
Step 2: Prepare garlic by breaking it down into many cloves, then remove the peels.
Step 3: Combine garlic and salt with the ratio of 1: 2 (as 1 part of garlic and 2 parts of salt) and grind them until smooth in a food processor.
Step 4: Place the smooth combination on the sheet tray, spread them thin, and then put the tray in the oven until fully dehydrated. Remember to stir the combination every 20 to 25 minutes.
Step 5: When you feel the combination of salt and garlic is dry and formed into small pieces, use a food processor to puree it again.
Step 6: Use a strainer to sift your garlic salt. If there are any large pieces, you should puree them again in a food processor until everything is completely smooth.
Let's have a look at how to create garlic salt from scratch, which couldn't be simpler. Watch this video:
Option 2: Making Garlic Salt From Garlic Powder and Salt
Here are 2 easy peasy steps of making garlic salt with garlic powder and salt if you already have garlic powder on hand.
Step 1: With 3 parts of salt (kosher, table, or sea salt work fine), you will need 1 part of garlic powder. For example, mix 3 teaspoon salt and 1 teaspoon garlic powder together to make garlic salt.
Step 2: Use an airtight jar to keep them. Remember to place them in a dry and cool place without any direct sunlight. You can add the label on them with the title and the date you make them. Well-stored garlic salt can last for up to 6 months.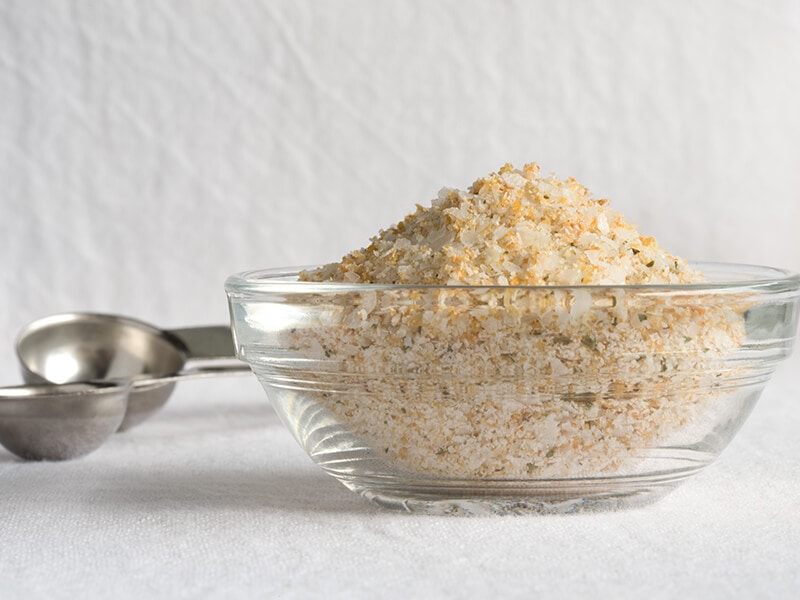 3. Different Tastes
Garlic powder and garlic salt both have a similar aroma and flavor of garlic. But garlic salt is saltier than garlic powder.
Garlic powder will only have the basic garlicky taste, so if you want your dish with a pure garlic flavor (but not from fresh garlic), garlic powder would be your ideal choice.
But in case you want to add more flavor, like savory flavor along with the garlicky smell, you should go with garlic salt.
However, if your meal lacks garlic taste, garlic powder is preferable to garlic salt since the more garlic salt you use, the saltier your dish will get, resulting in a very salty dish that you won't consume.
4. Different Versatility
Overall, garlic powder is more versatile than garlic salt because they only have the flavor of garlic without any saltiness.
Garlic Powder Usage
As a dried and grounded form of fresh garlic that can dissolve in your food, garlic powder is your lifesaver to ensure your dishes are still flavorful and garlicky, especially when you do not have fresh garlic on hand. The ideas below will demonstrate the flexibility of using garlic powder.
Meat: Garlic powder is used to season, rub, or marinate meats to increase their tastes with garlicky flavor.
Vegetables: Roasted veggies pair perfectly with garlic powder, for example, baked potatoes or sweet potatoes. Fresh veggies that come in salad dishes also taste good if you add some garlic powder.
Various types of bread: Garlic toast, croutons, crostini, bruschetta are all delicious thanks to the strong flavor of garlic powder. Also, there are many lasagna's sides dishes that need this ingredient to make their flavor more robust. So try them some day!
Sauce/dressing: Garlic powder also increases the flavor of your sauces or dressings, for instance, garlic butter sauce or pasta sauce.
Topping: Stew, curry, or pasta can be garnished with garlic powder as a topping.
However, make sure you use an appropriate amount of them to prevent the garlic flavor from overpowering other tastes.
Garlic Salt Usage
The usage of garlic salt is not varied compared to garlic powder due to their salt level. There are some main purposes of garlic salt that you can use for your dishes as below.
Meat: Similarly, you can season, rub, or marinate your meats with garlic salt. However, the salt level in them will enhance the savory flavor besides a hint of garlic.
Vegetables: Sauteed, roasted, or stir-fried veggies with garlic salt are all recommended.
Sauces/dressing: Garlic salt is also excellent for making dipping sauces or salad dressing.
5. Different Control Levels
And due to the different flavors between garlic powder and garlic salt, you can control or regulate your dish's final taste better with garlic powder.
Adding more garlic salt will not improve the garlic flavor without increasing the saltiness. On the other hand, garlic powder may be used to boost garlic flavor without detracting from the overall taste of your food, and you can always add other salts if the dish isn't salty enough.
6. Different Nutritions
The nutritious values of garlic powder and garlic salt are quite different. Here is the complete chart to show what nutritional elements both of them have and their level.
| Types of Garlic | Garlic Powder | | Garlic Salt | |
| --- | --- | --- | --- | --- |
| Elements | Amount For 1 Tsp Serving (g/mg) | Daily Value (%) | Amount For 1 Tsp Serving (g/mg) | Daily Value (%) |
| Calories | 9 | - | 4.8 | - |
| Carbs | 2 g | 1% | 1.1 g | 0% |
| Fiber | 0.3 g | 1% | 0.1 g | 0% |
| Sugar | 0.7 g | - | 0 g | - |
| Protein | 0.5 g | 1% | 0.2 g | 0% |
| Fat | 0 g | 0% | 0 g | 0% |
| Cholesterol | 0 mg | 0% | 0 mg | 0% |
| Sodium | 0.7 mg | 0% | 1,588 mg | 66% |
| Potassium | 30.8 mg | 1% | 18.4 mg | 1% |
| Calcium | - | 0% | - | 0.2% |
| Iron | - | 0% | - | 0.6% |
| Vitamin A | - | 0% | - | 0% |
| Vitamin C | - | 1% | - | 0% |
| Vitamin B6 | - | 4% | - | 0% |
You can see the level of potassium and calories in garlic powder is almost double in garlic salt. Conversely, sodium in garlic salt is way higher than garlic powder.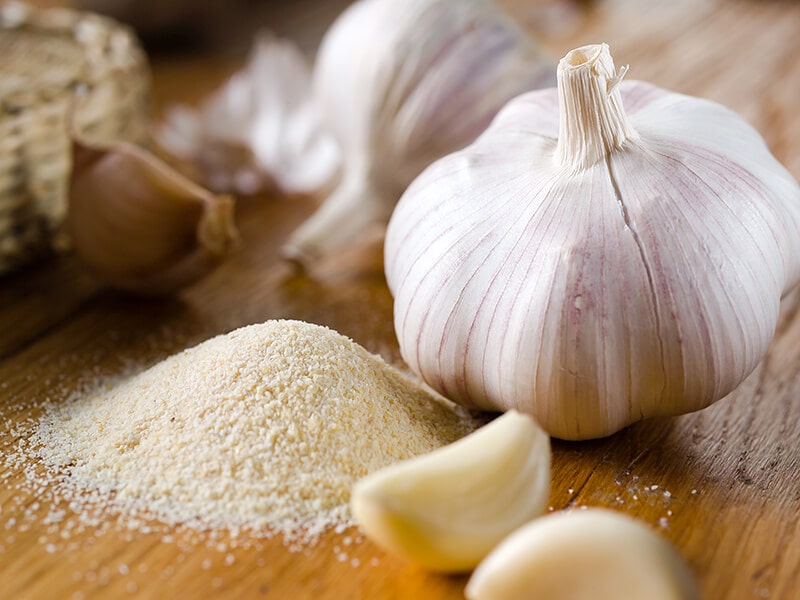 7. Garlic Powder Vs. Garlic Salt – Which Is Healthier?
Actually, you might not need the above chart to conclude that garlic powder is a healthier option compared to garlic salt. Why? Because the salt in garlic is the key knot in this comparison.
Some researchers have proven salt is one factor that links with various human diseases (2), such as:
Blood pressure problem: High salt consumption leads to high blood pressure, which can cause death.
Cardiovascular diseases: High salt intake can create more possibilities for stroke and cardiovascular diseases.
Stomach cancer: A high sodium level increases Helicobacter pylori bacteria in the stomach, resulting in a high risk of gastric cancer.
Bone metabolism and kidney stone issues: High blood pressure links to an increase in calcium loss and the risk of urinary stones.
Overall, consuming excessive levels of garlic salt will never be good for your health. So if you are on a low-sodium diet or you are highly concerned about your health, you should not add garlic salt to your dishes and use garlic powder instead.
How To Substitute Garlic Powder For Garlic Salt and Vice Versa
One portion of garlic salt includes 3 teaspoons salt and 1 teaspoon garlic powder; therefore, garlic salt can still be a substitute for garlic powder.
However, you have to be careful with the quantities of garlic salt that you add to your meal, as they will change the overall flavor. To make sure you will not ruin your dish, add the small amount first, taste, and regulate the flavor until you feel satisfied with the final flavor.
Plus, the high content of sodium in garlic salt would not be too ideal for a low-sodium diet. So you must consider this factor as well.
On the other hand, garlic powder is a great garlic salt alternative with a strong garlic flavor. You may also freely add various types of salt to your food because you can completely control the seasoning without making them too salty.
Easy Recipes With Garlic Salt Or Garlic Powder That Everyone Can Make
These basic and well-loved ideas are truly for beginners since they are simple to prepare and delicious, and garlicky. With their cost-effectiveness, these dishes might be your go-to recipes if you are trying to save money.
With only 5 minutes of making, these slices of garlic bread will blow away your hunger. Many of you do not want to deal with fresh garlic, so garlic powder is the perfect alternative for this bread.
There are only 5 ingredients. With French bread (you can use other bread as well), salt, butter, garlic powder, and some parmesan cheese if you want some cheesy in your mouth. You also need a toaster and microwave to make this garlic bread.
This chicken and garlic powder is your daydream for lazy weekdays for chicken lovers, especially when you just finish your work and go back home.
The minimal prep is the highlight of this recipe. Feel free to try it with any part of the chicken, but the best ones are thigh, breast, or wings. But for the most attractive golden-brown chicken, thighs are preferred.
Thanks to the plain taste of cauliflower, they can pair perfectly with any seasoning. And once again, I use garlic powder mixed with some spicy paprika, salt, and pepper to turn the cauliflower into a super hearty and flavorful dish.
It is also a plant-based recipe, so you can add it to your vegan menu for a simple yet tasty entree. Make sure you cut cauliflower into even pieces so that they can be baked equally.
Here is the recipe for garlic, salt, and vegetables. Potatoes are an ideal veggie to bake/roast in the oven, right? So I choose potatoes to go along with garlic salt to create a perfect side dish.
The preparation is just to clean and cut the potatoes to the size that you desire. Then place them on a baking sheet, sprinkle some seasonings like garlic salt, olive oil, and Italian seasoning, and bake for 30 to 40 minutes until you find them turn golden with little crispy edges.
FAQs
​​If you are still debating whether or not to use garlic salt or garlic powder, here are some quick questions and answers that I hope you might find useful.
Remember, Fresh Garlic Isn't Always Your Best Choice
It is true, especially when you know how to use garlic powder and garlic salt properly. Indeed, the advantage of both garlic salt and garlic powder is that they have longer shelf life than fresh garlic. Making them is also easy with some common kitchenware.
Now, as you understand both garlic powder and garlic salt comprehensively, there is no reason you should not try them with some cooking recipes.
And let me know which one you would typically choose and your favorite dish with either garlic powder or garlic salt. I love to hear your opinions and your positive feedback. Thank you and enjoy.
References
Rivlin, R.S. (2001), 'Historical Perspective On The Use Of Garlic', The Journal of Nutrition, vol.131 (3), pp.951S–954S. Available at <https://doi.org/10.1093/jn/131.3.951S>.
Francesco, P (2013), 'Cardiovascular and other effects of salt consumption', Kidney Int Suppl, vol.03(4), pp.312–315. Available at <https://www.ncbi.nlm.nih.gov/pmc/articles/PMC4089690/>.