Garlic powder substitutes are stuff you must know if you love the flavor of garlic. If you've ever cooked with garlic, you know it's one of the most powerful flavors you can add to a dish, and so is garlic powder.
Garlic powder is widely used in many dishes such as soups, stews, pizzas, salads, and meat sauces. But what if you don't have garlic powder on hand, or you simply don't like the taste of garlic?
Of course, you need garlic powder substitutes. So what can you use instead of this spice? In this article, I will give you all the solutions, whether you don't have garlic powder or don't like the smell. Please find the answer with the information from my article.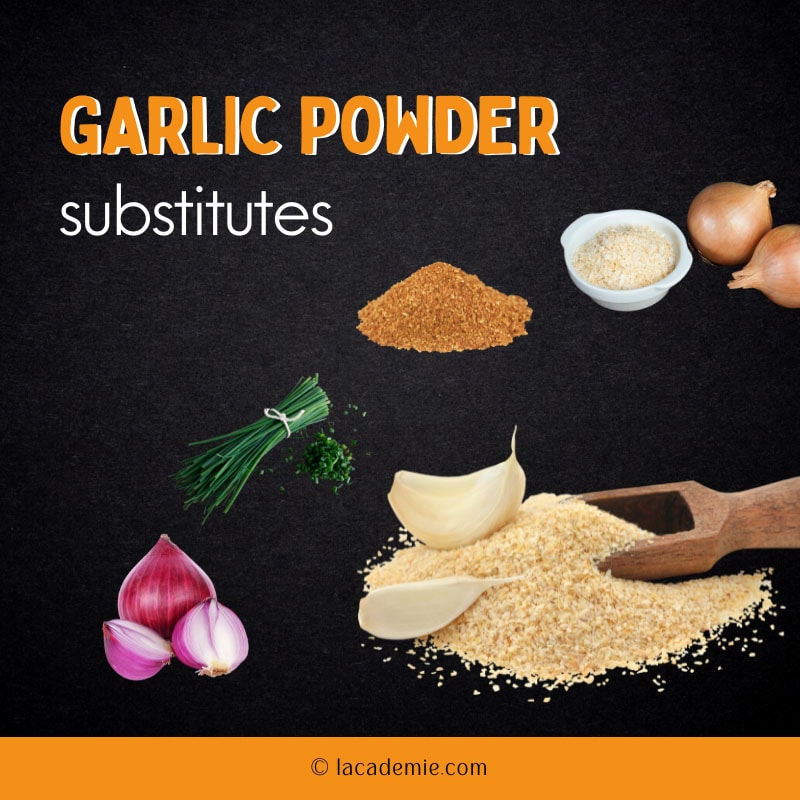 What Are The Best Garlic Powder Substitutes?
Today, I have 12 garlic powder substitutes which are divided into two groups to suit your purpose:
Garlic-Contained Substitutes:
Fresh Garlic
Minced Garlic
Granulated Garlic
Garlic Flakes
Garlic Puree
Garlic Juice
Garlic Salt
Non-Garlic Substitutes:
Minced Shallot
Onion Powder
Minced Chives
Asafoetida Powder
Cumin
What Is Garlic Powder?
Garlic is a wonderful spice, making dishes more attractive. And garlic powder is considered an excellent substitute for fresh garlic. Because garlic is one of the strong flavorings that make food more delicious, the same goes for garlic powder.
Garlic powder is a product made from fresh kinds of garlic. And for the best garlic powder, it must be made from best-quality fresh garlic. Therefore, it is very important to store them in a first-rate garlic keeper. These products can extend their shelf life and prevent moisture absorption.
Moreover, garlic powder has been and is being used by many people as a popular substitute for fresh garlic in life. It provides several important nutrients that provide various health benefits.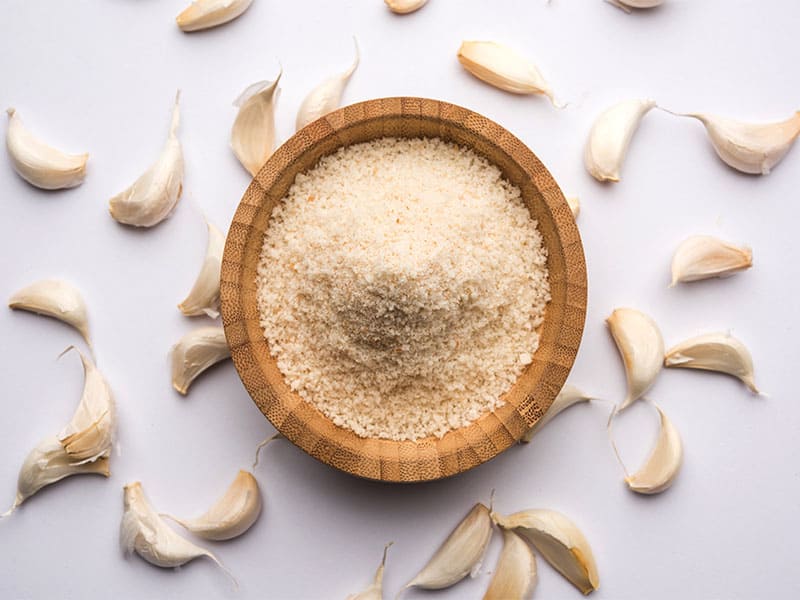 Garlic powder is made by removing the peel, slicing, and drying fresh garlic cloves. Then grind the garlic into a fine powder. It is smooth, light yellow, has the characteristic aroma of garlic, and does not contain preservatives or additives.
Therefore, instead of using fresh garlic, many people now use garlic powder. to increase the flavor of the dish without having to worry that it will adversely affect your family's health. This spice is often used to enhance the flavor of dishes.
Uses Of Garlic Powder
Garlic powder has many uses both in cooking and for health that you must know:
Benefits For Cooking
Enhance The Flavor Of Dishes
Usually, garlic powder is used to enhance the flavor of dishes, used as a condiment to marinate meats and seafood for frying, stir-frying, or baking. Garlic powder can also eliminate the odor of meat.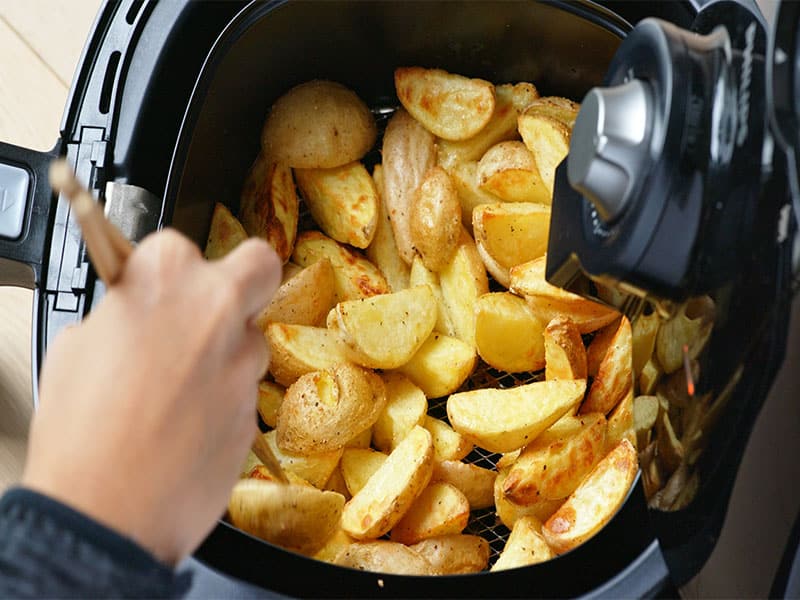 There are also numerous delicious ideas of meal preps by air fryers that require garlic powder. So instead of using fresh garlic that cannot mix well with the shrimps or meats, using powdered garlic will help to enhance the smell of the food.
Replace Fresh Garlic
In addition to enhancing the dish's flavor, garlic powder can also be used to replace fresh garlic in the preparation of crab cakes, garlic bread, sauces, ketchup, chili sauce or snacks, etc.
If you don't like fresh garlic due to its pungent smell, you can use garlic powder instead. In addition to the scent, garlic powder has a much more pleasant taste.
Garlic powder can also be stored longer than fresh garlic. The storage time can be months, even years, without losing the nutrients in it.
Easily Mixed With Food
If you do not know, dishes that often use fresh garlic when marinated will not absorb evenly, so many people have tried using garlic powder and found that garlic powder enhances the smell of food.
Best of all, garlic powder can be easily dissolved in food, making many people uncomfortable with fresh garlic can still eat foods with garlic powder. Because they are easily soluble in water, they are a good choice when making sauces, ketchup, chili sauce, etc.
Deodorize Meat and Fish
If using fresh garlic, food is difficult to absorb evenly and cannot deodorize food. Garlic powder not only enhances the taste of the dish but also can deodorize meat and fish very well.
Therefore, garlic powder is used as a substitute for fresh garlic when marinating meat, fish, and seafood to help enhance the smell of food much more.
Benefits For Health
Provides Nutrients
Similar to fresh garlic, garlic powder is also perfect for our health. Every 100g of garlic powder provides 331 Calories, 17g Protein, 9g fiber, 73g Carbohydrates.
Garlic powder also has abundant minerals Calcium, Sodium, Potassium, Lipid, Magnesium, Vitamin B6 and Vitamin C, no Fat, and Cholesterol.
Balance Cholesterol Levels
Good cholesterol and lipids in garlic powder support blood pressure regulation, prevent and treat blood clotting disorders, and reduce the risk of cardiovascular diseases. Regular use of garlic powder helps to reduce bad cholesterol levels. In addition, garlic powder also helps increase the level of good cholesterol.
Regulating Blood Pressure
Garlic powder also helps fight hypertension, reduces the resistance of blood vessels, reduces the accumulation of plaque in the arteries and blood vessels, helps prevent and treat diseases caused by blood clotting disorders.
Strengthen The Immune System
Garlic powder helps the body to increase immunity thanks to the minerals and antioxidants contained in it. In addition, garlic also helps protect the body from many bacterial, fungal, and viral infections.
Besides, garlic powder helps increase resistance, anti-inflammatory, bactericidal, treat colds, sore throats, or used as temporary antibiotics against viruses that cause flu, skin infections, etc.
Support Digestion
Garlic powder contains many organic compounds and fiber, which is good for your stomach to be healthier. Garlic helps people who are experiencing symptoms of indigestion, constipation, or stomach disorders to improve their health problems.
Anti-cancer
Garlic powder contains bioactive compounds and antioxidants that help prevent free cell growth, help reduce inflammation and prevent cell mutations, thereby preventing substances from damaging cells in the body, preventing cancer.
Garlic Powder Substitutes – 12 Best Choices For Your Dishes
Now is the time to find the answer. I'll give you all the alternatives, whether you don't have garlic powder in your kitchen or you just don't like garlic!
Garlic-Contained
If you're not looking for an alternative to garlic powder because you don't like garlic, but simply because your kitchen is out of garlic, the following garlic options will taste great:
Fresh Garlic
This is the easiest replacement you can imagine. No one does not have garlic in the kitchen! This is a completely natural and safe alternative. The important thing is that it has more flavor than most.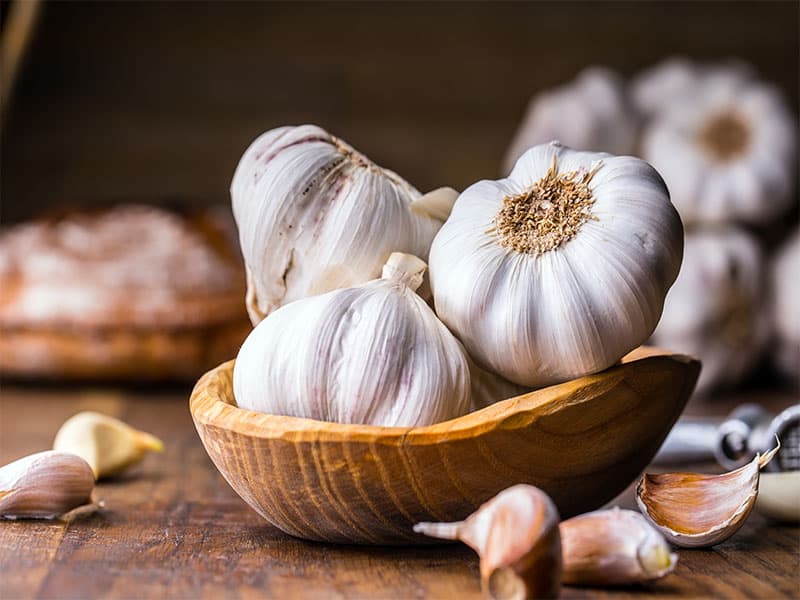 With garlic in its fresh form, you can eat it raw, use it as a seasoning for various dishes, dipping sauces, and sausages. For example, the legendary Longaniza cannot taste good without garlic. Overall, there are countless cooking recipes that call for fresh garlic, regardless of their cuisines.
Besides, fresh garlic is also very good for health. With fresh garlic, you may need more than just garlic powder. You need to use 4 fresh garlic cloves to replace about 1 teaspoon of garlic powder for the best flavor.
Minced Garlic
Minced garlic can be used as a flavored substitute for garlic powder. They are simply minced garlic cloves. Minced garlic's flavor is more intense than powdered garlic because it's fresher, so you need to use less minced garlic in your recipe.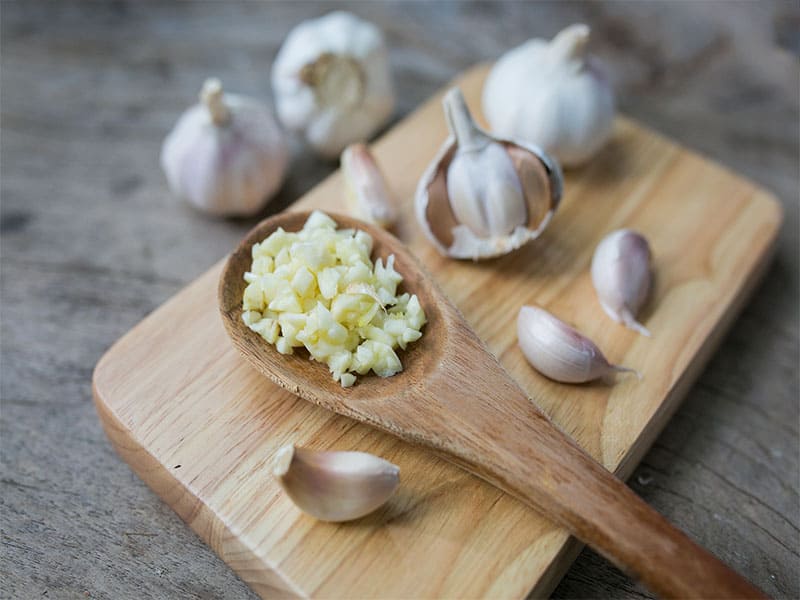 A good ratio to use minced garlic as a substitute for garlic powder is 1:2. That means you only need half the amount of minced garlic you need. For every 2 teaspoons of garlic powder, you only need to use 1 teaspoon of minced garlic.
Talking about the right recipes, minced garlic makes a great garlic powder substitute for many dishes. For example, most side dishes of quesadillas require minced garlic.
You can also use it in pan-fried dishes and recipes that require stir-frying. However, it should be noted that minced garlic will be difficult to blend with dry foods.
Granulated Garlic
Can you tell apart between garlic powder and granulated garlic? Though they have some differences, it is safe to say that granulated garlic can be an ideal substitute for garlic powder with the most similar taste.
Garlic powder is garlic that is ground into a fine powder, while granulated garlic is made by crushing garlic cloves into granules. So that's a huge structural difference. And there are many recipes that you can use granulated garlic instead of garlic powder.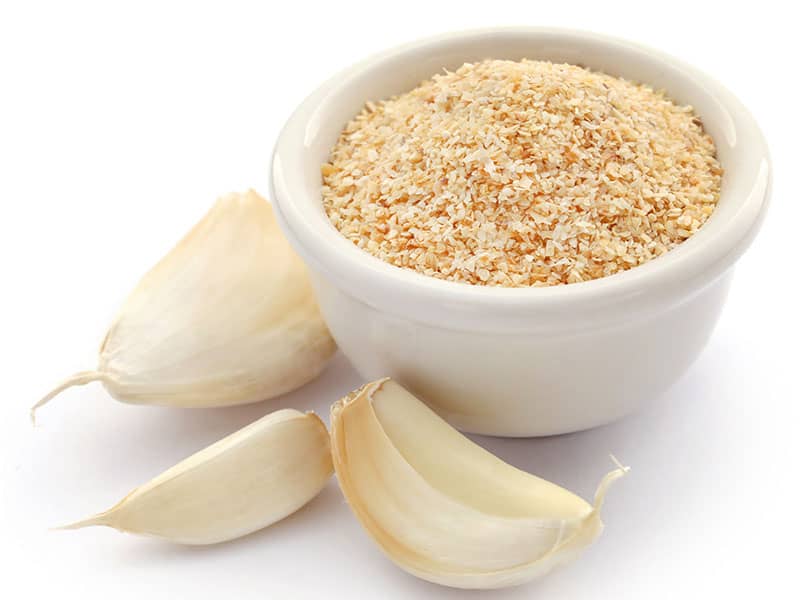 However, it would help if you understood that the finer the stuff, the richer and more absorbent it will be. And with each teaspoon, garlic powder will be more concentrated than granulated garlic with larger particles.
Therefore, if you decide to use granulated garlic instead of garlic powder, you should use twice as much granulated garlic as garlic powder for a richer flavor. You also need to mix the food well so that the garlic particles can penetrate.
Garlic Flakes
Garlic flakes are also an option to consider when you don't have garlic powder on hand. Garlic flakes are simply larger pieces of dried garlic. You can apply them to many dishes like grill or braise.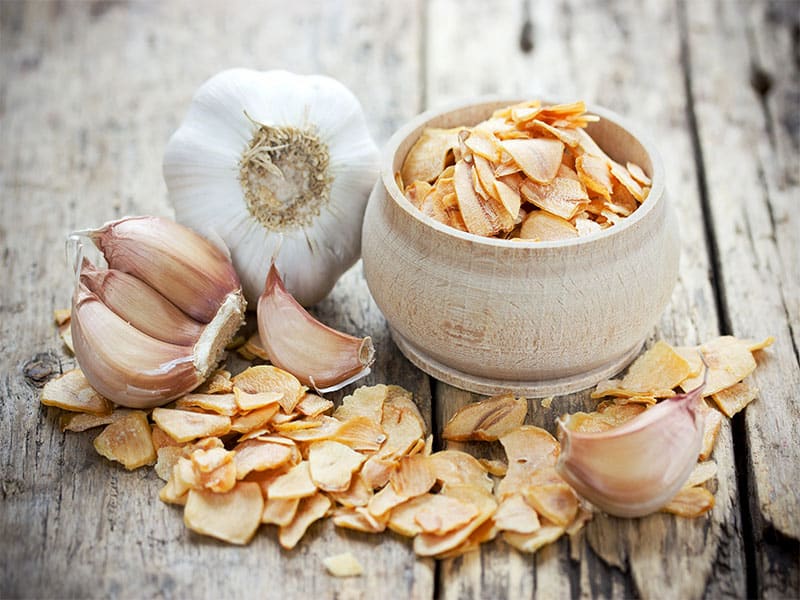 You have two ways to use them: use them right away, or soak them in water, so they soften and become like minced garlic with a smaller, more absorbent texture. The ideal ratio to produce a flavor similar to garlic powder is 4 garlic flakes : 1 garlic powder.
Garlic Puree
If you need something stronger for your dish, garlic puree can be a wise alternative to garlic powder. Garlic puree is often used to enhance the flavor of dishes and provide many of the same health benefits as garlic powder.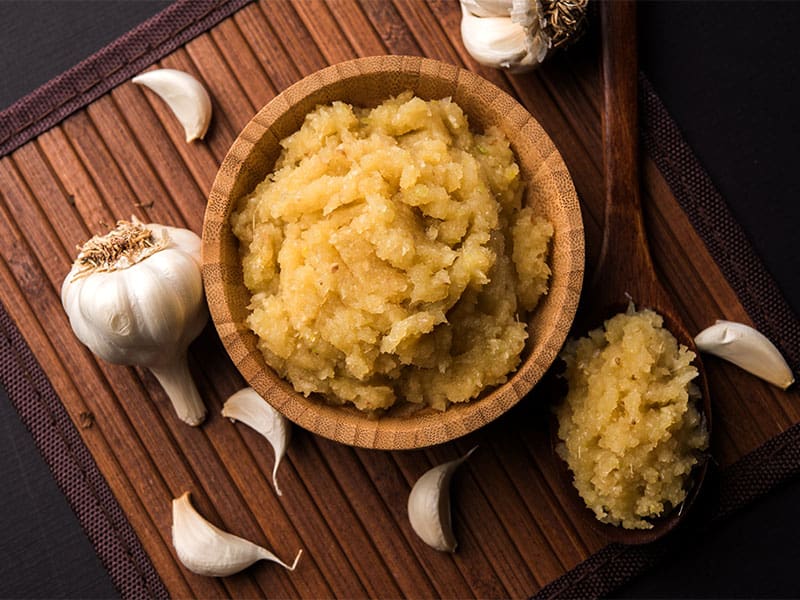 Garlic puree goes well with dishes like mayonnaise sandwiches or pasta with sauces and cream. For instance, Ziti and penne sauces will match very well and create an attractive aroma with garlic sauce puree.
Moreover, it pairs well with sauces and ice cream and delivers exactly the same flavor as garlic powder. Because garlic puree has a stronger flavor, you only need 1 part garlic puree to replace 4 parts garlic.
Garlic Juice
You probably already know garlic juice for its positive health effects. Now, you can also use it as a substitute for garlic powder in recipes.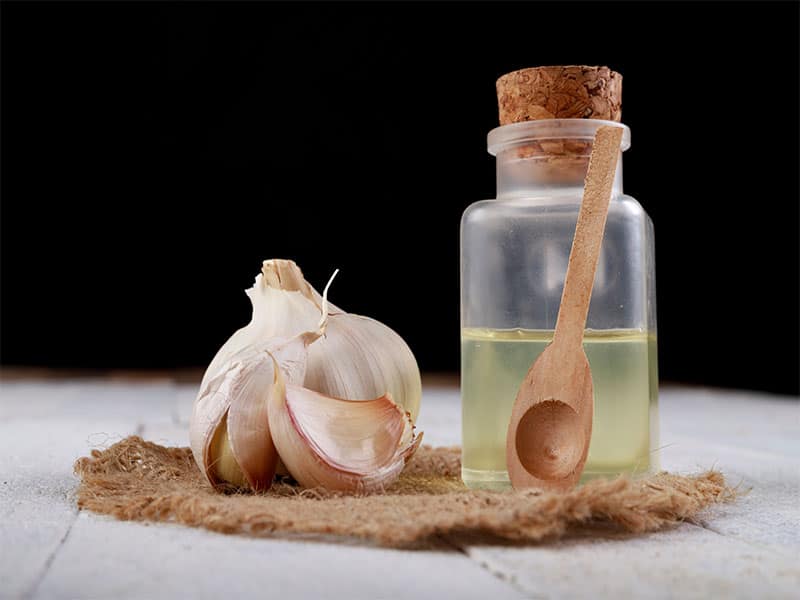 Garlic juice is a great substitute because it has a stronger and more intense taste thanks to the liquid extracted from fresh garlic cloves. So it can add flavor to your dishes with just a small amount.
Therefore, you only need to use half the amount of garlic juice compared to garlic powder. You can get juice from fresh garlic bulbs with the finest small-sized juicer, or you can easily buy garlic juice readily available at all supermarkets or grocery stores.
Garlic Salt
There are major distinctions between garlic salt and garlic powder. Garlic salt is a seasoning salt made by mixing dried garlic (preferably in powder form) and table salt.
Garlic salt is usually made with a ratio of 3 parts salt and 1 part garlic powder. Garlic salt contains most of the culinary properties and benefits of garlic's constituents.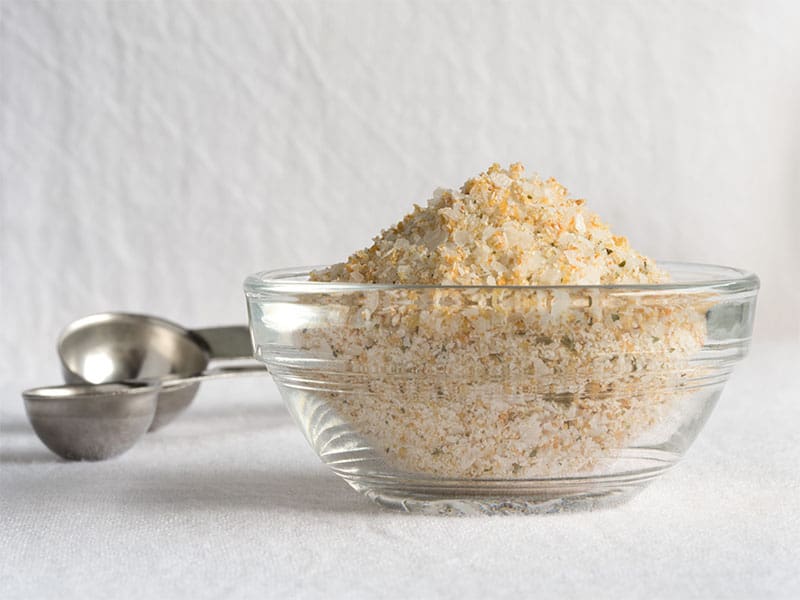 Garlic salt is a smooth combination of salt and garlic to create colors for dishes. Just adding a little of this spice to the dishes will make the dish more attractive. Garlic salt has the benefit that you can add two spices, salt, and garlic at the same time to your dish.
For example, if you make cajun baked sweet potatoes as a side dish to serve with chicken wings, you can use only garlic salt instead of garlic and salt. Of course, you will have to reduce the amount of salt you plan to add, as garlic salt will make your recipe taste salty.
Another thing to keep in mind is you can't use a large amount of garlic salt because you could accidentally make your dish too salty. Therefore, it is best to add garlic salt to food slowly and taste it before adding it.
Non-Garlic
If for some reasons you don't like the smell of garlic, maybe it's because you don't want to affect your breath, then you can consider the following non-garlic options:
Minced Shallot
Shallot is probably a spice that is no longer strange to anyone. Shallot has a deep purple color located in the outer shell. Not only as a condiment, but the shallot is also made into stir-fries, mixes and is often eaten raw in salads, sandwiches, or dips.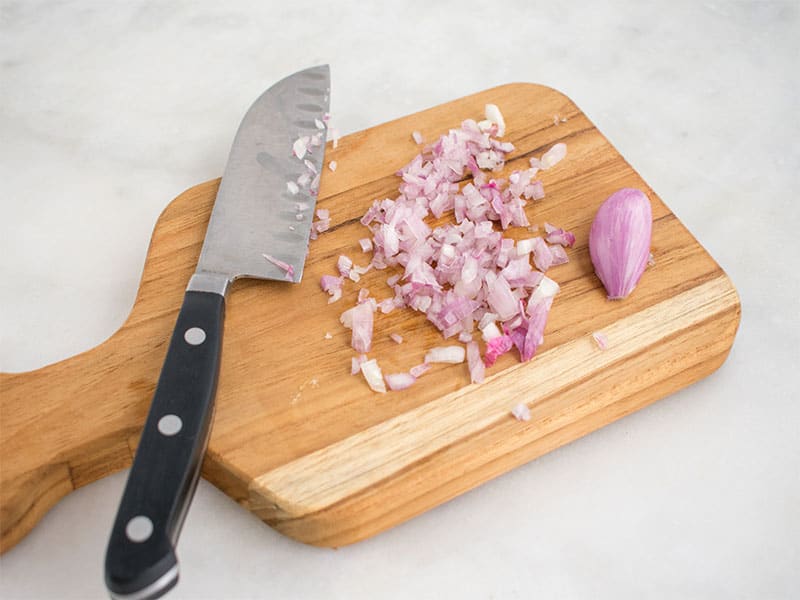 In addition to being a useful food for family meals, shallot also brings many effective health benefits. Shallot has a spicy, slightly pungent odor that evokes the aroma of garlic, making it a useful substitute for garlic powder.
Shallot will also not be suitable if you need dry powder because it will not be fine enough to penetrate the food. As chives, you need to mince the shallot and use about 4 to 5 parts of the shallot to substitute for the garlic powder.
Onion Powder
Onion powder is a common spice in many families' kitchens that you can use to replace or mix with garlic powder. Likewise, you can swap garlic powder in place of onion powder. And this ingredient is usually made with the most natural ingredients and is easily found in supermarkets.
Besides, onion powder is especially useful in case you don't like the smell of garlic. You can use a double amount of onion powder as a substitute for garlic powder.
But wait, are there differences between onion salt and onion powder? Well, yes! That's why if you intend to go for onion salt for garlic powder, you'll need to adjust accordingly. As you can probably guess from the name, onion salt is quite salty, so you should only add it in small amounts.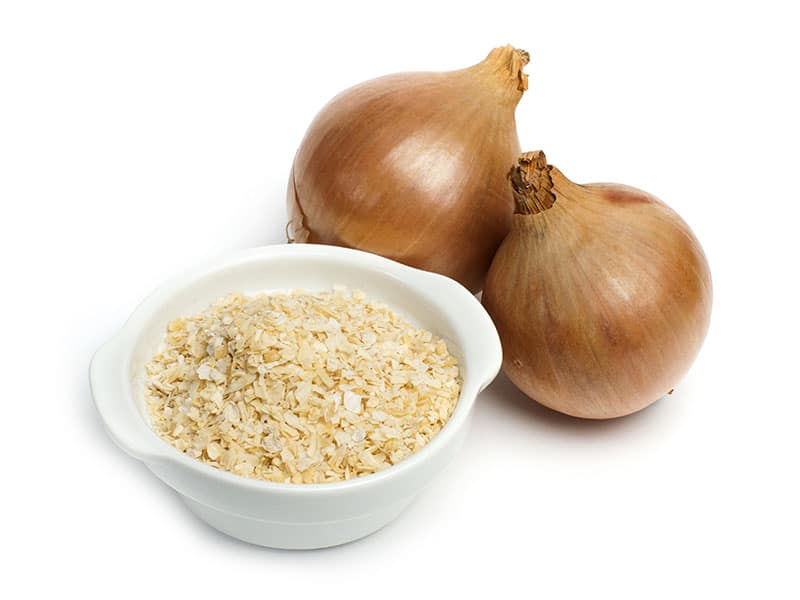 Onion powder is often used to spice up dishes to add an attractive scent and save cooking time. You can use onion powder to replace garlic powder to marinate meat or fish dishes, making meat dishes more delicious and effective in eliminating fishy odors.
This spice works especially well for those who don't like garlic and onions but still want to enjoy delicious food full of flavors. When the onion powder is marinated, it will dissolve and penetrate into the cooking ingredients, making them even more delicious and delicious than all of them.
Minced Chives
Chives are a common ingredient in dishes. Chives are not only delicious and easy to eat but also have many health benefits. This would be a good substitute for garlic powder.
That is because minced chives have a pungent taste. Its taste is intermediate between garlic and shallots or onions, so it is a perfect substitute for garlic powder in case you don't like garlic.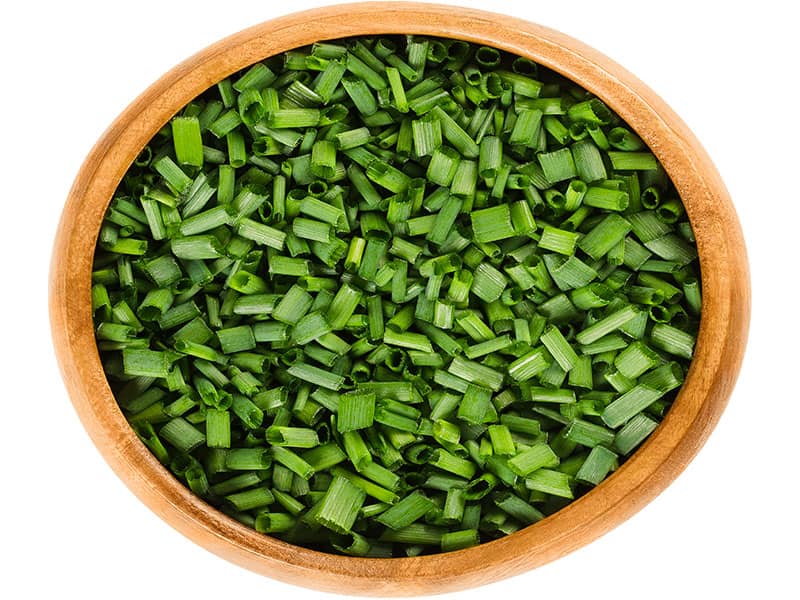 However, you need to be aware that chives will not be suitable for dishes that require dry powder as they will not permeate. To use, you need to finely chop the chives and use 5 times as many chives as a substitute for the garlic powder to create a similar flavor.
Asafoetida Powder
Since garlic powder is one of the replacements for Asafoetida powder, it's no wonder this spice is also a candidate for this list. Asafoetida is an ancient spice popular in many countries because it is very good for health.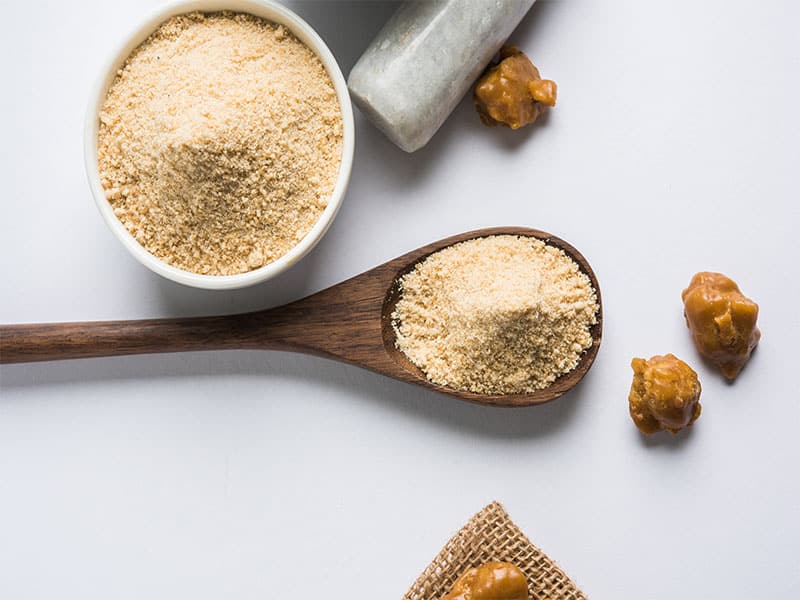 Asafoetida probably won't be in stock at your local grocery store, but it's inexpensive and available to buy online. You can also find it in person at some specialty stores, especially Indian or Middle Eastern stores.
In terms of taste, asafoetida is not light, and it is more like the concentrated form of garlic or onion. However, once it's cooked, it adds pleasant and aromatic garlic and onion flavor to dishes. Just a small amount of Asafoetida can help to gently improve your dish.
Cumin
For the dish to have more flavor and color, the presence of cumin is very important. While cumin may not be a flavorful substitute for garlic powder, cumin has a very distinct aroma that makes it a seasoning for various dishes and gives it a garlic-like vibe.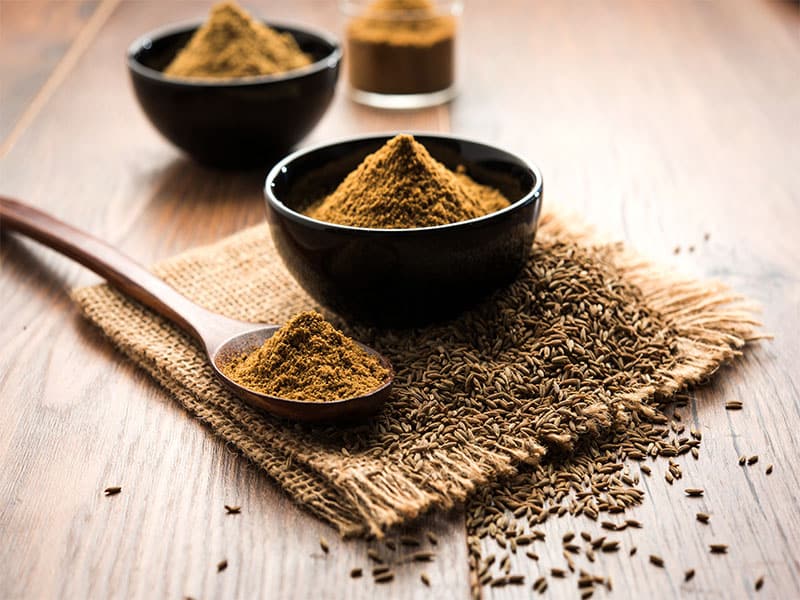 Cumin also helps to reduce the sweetness of the dish. If you accidentally put too much sugar in the dish, add some cumin. Cumin will instantly save your dish with its pungent taste.
You can use cumin for dips or sauces that require garlic powder to stimulate and enhance the characteristic flavor. About the proportions, ½ teaspoon of cumin is enough to replace 1 teaspoon of garlic powder because its flavor is relatively strong.
FAQs
You can refer to the following answers for some useful information:
So, What Is Your Favorite Garlic Powder Substitute?
Finding an alternative to garlic powder will be very beneficial in your cooking life and help you to enrich your menu. You see, they are great spices to create powerful flavors you can add to a dish. They also provide several important nutrients that provide various health benefits.
Hopefully, the information I share will help you better understand these substitutes and make the right choice for your family. Don't forget to like and share my sharing for your friends and those who need it!
Nutrition Facts
24 servings per container
---
Amount Per ServingCalories11
% Daily Value *
Sodium 1mg

1

%
Potassium 30mg

1

%
Total Carbohydrate 2.5g

1

%

Dietary Fiber 0.2g

0

%
Sugars 0.1g

Protein 0.5g

0

%
---
* The % Daily Value tells you how much a nutrient in a serving of food contributes to a daily diet. 2,000 calories a day is used for general nutrition advice.