Can you show me granulated garlic vs. garlic powder? Are there special features about them? They might be familiar to you, but are you sure that you know them well?
Garlic always exists on your menu and is the necessary spice in any household's kitchen counter. Therefore, the need for a sturdy garlic keeper jar for better storage is increasing.
However, in the scenario that you don't have any fresh garlic on hand, or just because peeling fresh garlic is very annoying; then, granulated garlic and garlic powder are the perfect alternatives.
They are the same or not the same? If you don't have the answer, let me tell you!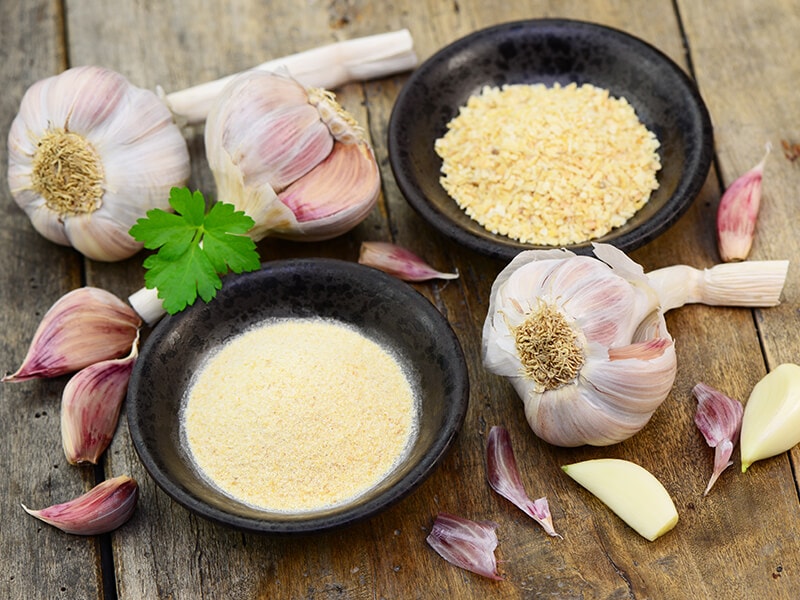 Are Granulated Garlic And Garlic Powder The Same Thing?
No, they are not. They might look the same because they have nearly similar textures and ingredients, but there are still some differences that I will tell you in the next section.
Garlic Powder Identity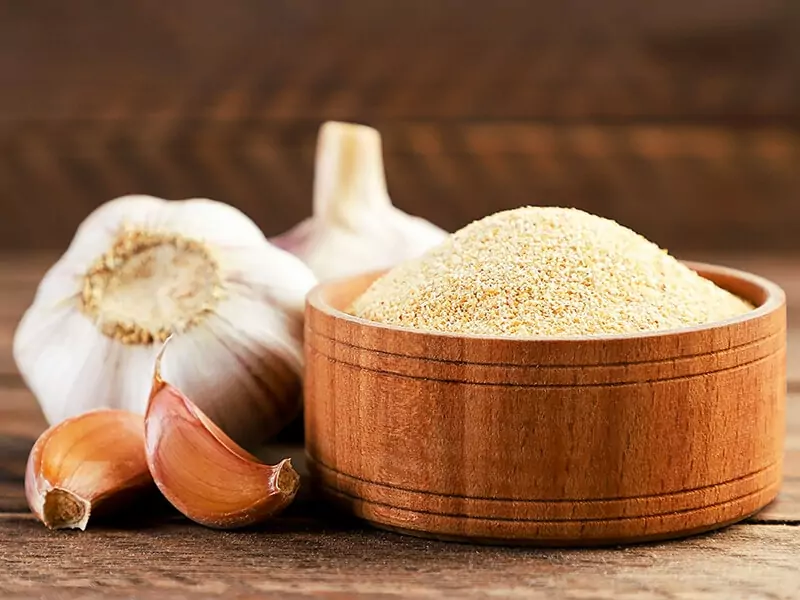 Garlic powder is one of the most widely used dried garlic items; You can find it in almost all recipes, from dishes cooked in cozy, humble kitchens to restaurant-quality plates certified Michelin stars.
The powder is made up of dried garlic that has been finely processed into a powder. While fresh garlic brings quite a lot of spiciness, the powder offers less of that, still retaining the garlicky taste but sweeter, less pungent.
This is also how onion powder is made. And despite what makes onion powder different from onion salt, it's also the first step to making onion salt as well. Like garlic powder, these two spices can add more depth to your dish's flavor profile.
If you are not too into garlic flavor, you can find other options in place of garlic powder that can be made without garlic. So even if your favorite recipes call for garlic powder, you can use these replacements instead.
Granulated Garlic – How Are They Not The Same?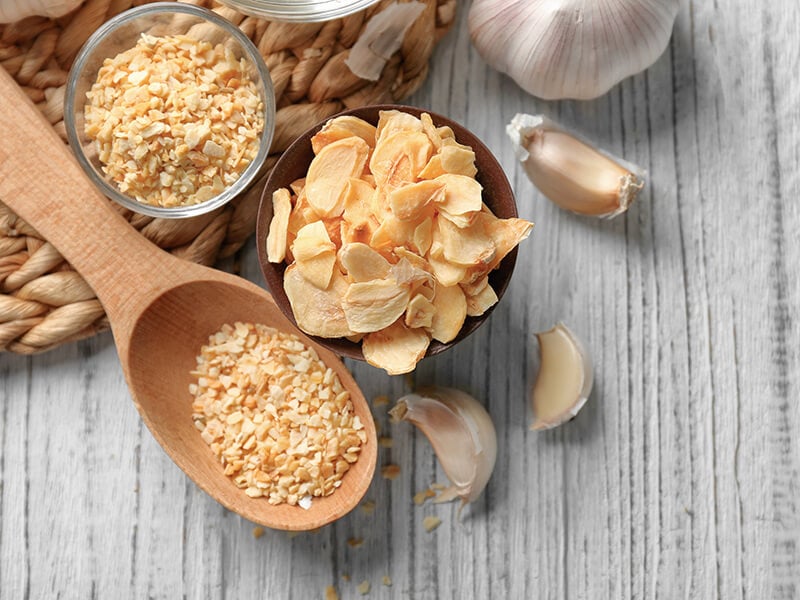 Granulated garlic is also derived from dried garlic, and its difference from powdered garlic is textures. While powdered garlic has a smooth, flour-like texture, granulated garlic is coarsely ground into a sand-like consistency.
As a result, the garlic flavor from granulated garlic is not as strong and potent as garlic powder, yet it still has that garlicky taste.
Must-Known Fact: Roasted And Regular?
In the market, you can also find the roasted variants of these garlic dried products, which means before dehydrating garlic, instead of using fresh garlic cloves, they use the slow-roasted garlic.
These variants include roasted garlic powder and roasted granulated garlic, which generally have a mellower, sweeter, earthier hint of caramel flavor than the regular ones. One more difference is they can infuse the flavor even quicker than the regular.
Regular granulated garlic might need about 20 minutes to fully infuse its flavors, while the roasted can do it like in a blink of an eye. You can also use them in various recipes to replace regular types and many fresh garlic types.
Conversely, if you love the pungent, garlicky taste more than the mild and mellow flavor, then the roasted ones might not be a good option.
Comparison Between Granulated Garlic And Garlic Powder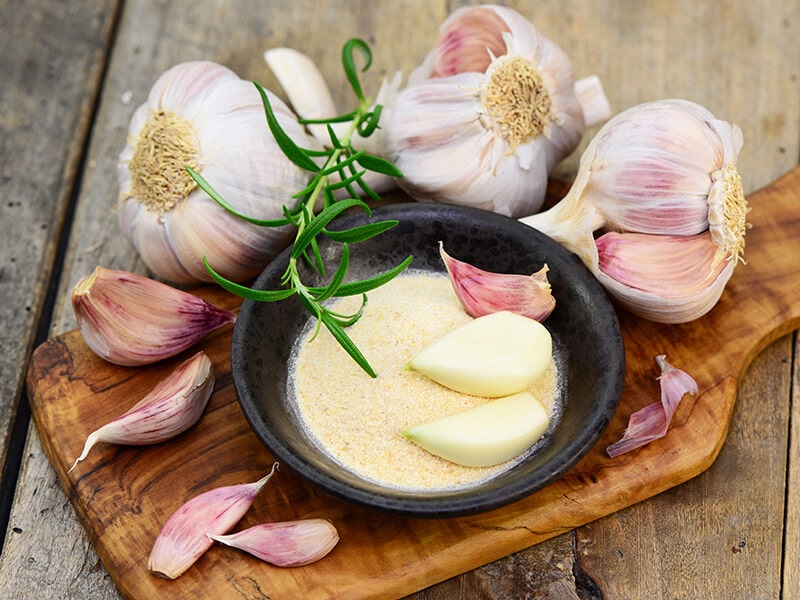 To have a more explicit comparison between granulated garlic and garlic powder, from their texture, culinary uses, health benefits to nutrition facts, all of them. Scroll down now and take a look!
| | Granulated Garlic | Garlic Powder |
| --- | --- | --- |
| Ingredient | Ground dried garlic | Ground dried garlic |
| Texture | Sand-like, coarser consistency, bigger volume, hard to be lumpy, take longer time to dissolve in liquids | Flour-like consistency, denser and smaller volume, dissolve quickly and easy to form clumps in liquids |
| Availability | Harder to find | Very popular and can be found in nearly every stores |
| Flavor | Potent, garlicky, more subtle than garlic powder, need longer time to dissolve flavors into the liquids | More pungent and garlicky than granulated garlic, infuse its flavors very quick |
| Culinary Uses | Can be used in stews, dry rubs, soups, and so on, best to use in soups and stews | Can also be used in stews and marinades, better be used in short-time cooked dishes and injection-brining |
| Control Level | Quite easy | Quite easy |
| Nutrition Fact | More nutritious | Nutritious |
| Health Benefits | Same | Same |
Note: In the table, I only used the information of the regular dried products of garlic.
1. Ingredient & Texture & Availability
Since they all include 100% dried garlic (processed differently), their only main difference is the granule sizes. One is powdered, and one is coarsely granulated. Because of that, granulated garlic has a bigger volume than the same weight of garlic powder.
The dissolving rates of granulated garlic and garlic powder are likewise varied on this basis. Garlic granules may contact the liquid more evenly, allowing it to avoid clumping better.
Meanwhile, when encountering liquids, garlic powder is easy to clump due to the limited contact surface. On the other hand, the granules size of granulated garlic makes it harder to dissolve in liquids than garlic powder.
Furthermore, granulated garlic is less popular than powdered garlic. You can find garlic powder in nearly every grocery while it is relatively harder to find granulated garlic.
2. Flavor
Garlic powder has a robust, potent garlicky taste, is less spicy than fresh, and sweeter. Identical to that, the flavor descriptions of granulated garlic are similar to the powdered.
The granulated has a less potent flavor since the powdered is so smooth that its volume is much smaller. Just a small volume of garlic powder can bring much more garlic pungency than that same amount of garlic granules.
Inferring from that, 1 teaspoon of granulated garlic has less intense flavor than the powder, which equals only ½ teaspoon.
3. Culinary Uses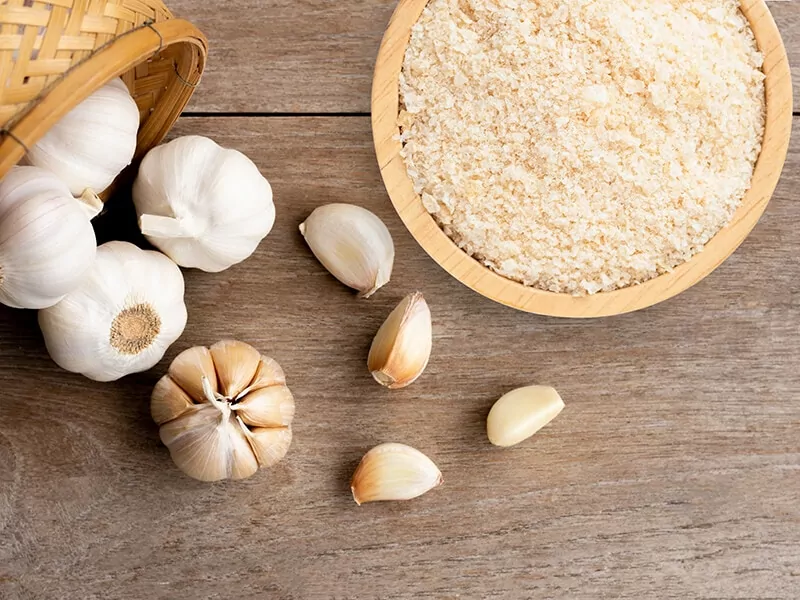 Since it has the smoothest texture among dried garlic products, it has the most concentrated and garlic-like flavors. One huge advantage of using garlic powder is it is not burnt easily when being baked or grilled, but you cannot use it in sautéeds or caramelized.
Therefore, garlic powder can replace fresh garlic in marinating BBQ meats, vegetables, dressings, popcorns, or different kinds of nuts. Garlic powder can infuse the strong garlic taste into the liquid quickly so that using it in stews, soups, or casseroles is also fine.
Also, garlic powder can be considered the best substitute for asafoetida in various cooking ideas. But you should use an appropriate swapping ratio to prevent altering the dish's final flavor.
Granulated garlic is also used in recipes that call for fresh garlic or garlic powder. They are ideally used in dry rubs for meats and vegetables, sauces, chowder, or used in baked dishes, especially bread. The idea of making garlic bread for breakfast also makes sense.
Powdered garlic can release a robust flavor faster than coarsely ground, and that's why it is used in short-time cooked dishes and for marinate, especially the injection-brining method for poultry, brisket, or pork shoulder.
On the other hand, garlic powder is sensitive when it comes to liquids; it can form clumps easier than granulated garlic. Therefore, it is better to use garlic granules in stews and soup dishes.
4. Control Level
Dried garlic products are easy to control in dishes and even easier if you make yourself some at home.
You can replace ¼ teaspoon of granulated garlic or ⅛ teaspoon of garlic powder for 1 fresh garlic clove to receive a relatively similar taste.
5. Nutrition Fact & Health Benefits
In fact, granulated garlic can be seen as garlic powder with bigger granules. But are they identical? Garlic powder and granulated garlic have less nutrition content than fresh garlic since they've gone through dehydration.
But, there are many other valuable compounds in these products that still contribute several health benefits.
Some of those can tell aiding the immune system, prevent cancers, support the digestive system, balance your cholesterols, and, thanks to that, regulate your blood pressure. (1)
All of those benefits are packed in a humble teaspoon of garlic powder or granulated garlic. Can you believe it? Although having quite the same nutrients and health benefits, they still have some minor differences.
If you don't want to consume more calories through spices, you can use garlic powder instead of granulated garlic. 100 grams of granulated garlic contain over 300 calories while it is nearly 0 to powdered.
Conversely, because of the difference in volume, you need to use more granulated garlic than garlic powder to bring the same taste effect. Therefore, granulated garlic can bring more nutrients compared to the exact required amount of garlic powder.
Step-By-Step Making Your Garlic Powder Or Granules At Home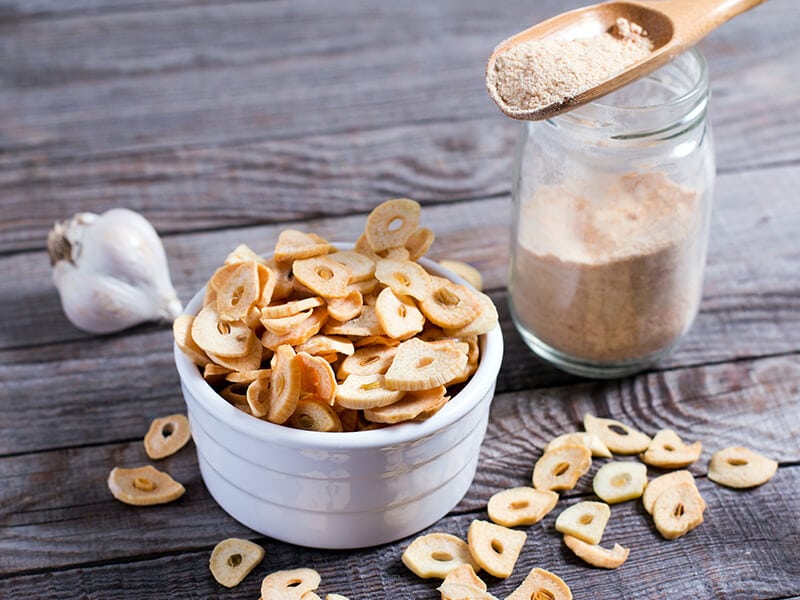 Stage 1: Prepare The Garlic
The first stage in any food processing stage is always preparation. Therefore, you need to prepare your garlic before moving to other stages. You need to prepare an amount of clean, peeled garlic cloves that you want to make into powder and granules.
Remember to choose the ones that are in good condition. They need to be very fresh; old garlic might bring less pungent odors, don't have mold or any type of pest.
If you use a dehydrator, it is best to mince your garlic. If you use the oven, slice them into thin slices. Lastly, if you want to dry them up by sunlight, you should put your garlic into the food processor and blend them up with some water until the mixture looks like garlic paste.
If you don't have this kitchen appliance, try other cookware to replace a food processor, for example, a blender. This tool can blend your garlic perfectly as its name suggests.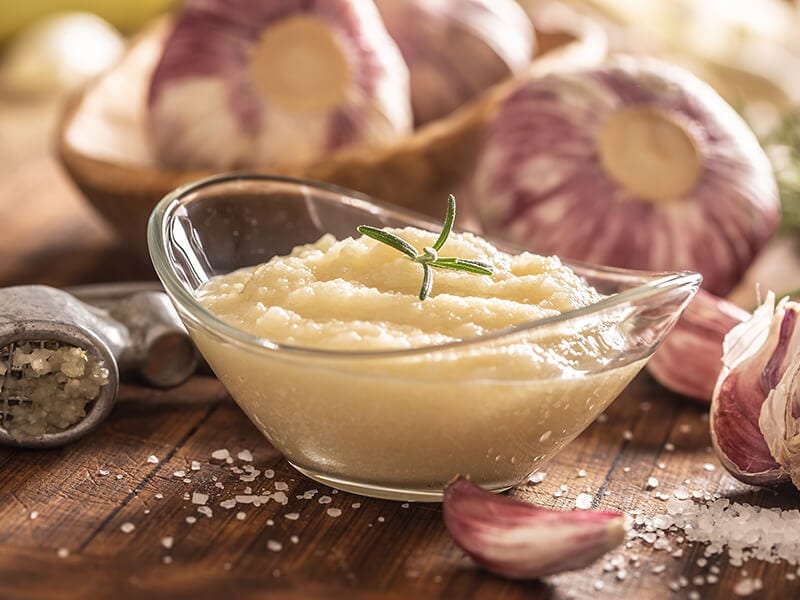 Stage 2: Dehydrating The Prepared Garlic
The most tricky step to make garlic powder or granulated garlic is dehydrating. It might take different amounts of time with different methods or utensils you use to dry it. Today I will introduce 3 ways to make your dried garlic products at home.
| | |
| --- | --- |
| Methods | Time Needed |
| Using Dehydrator | 8 – 12 hours |
| Using Oven | 1 hr 30 mins to 2 hrs |
| Using Direct Sunlight | 1 – 2 days |
Method 1: Using Dehydrator To Dry Your Garlic
Using a dehydrator might be the most convenient way to dry your garlic. Below are some things you need to prepare before getting into the instructions.
Now move on to the detailed steps to do it:
Step 1: Put the parchment paper or wax paper onto the silicon tray or your dehydrator's tray. Because garlic in the dehydrating process will release oil and might stick to the tray, which can cause some trouble to clean them up, using paper avoids that.
Step 2: Spread the minced garlic or garlic slices onto the parchment paper evenly.
Step 3: Put them into the dehydrator. You should place your machine out of the house since the garlicky smell can stay in your home for days. This drying step might take at least 8 hours or up to 12 hours, depending on your garlic sizes.
You should check the condition of your garlic after 2 hours whether they are still on the right track.
Step 4: Check the dryness of your garlic by bending the pieces with your fingers. If they can break in half easily, then they are ready to be ground.
You will never need to buy garlic powder at home if you know making yours at home can be this easy. Watch this video:
Method 2: Using The Oven – The Friend Of Any Household's Kitchen
If you don't have the dehydrator, using your oven is absolutely fine. The only drawback is that it might leave the strong, pungent smell of garlic in your oven for a few days. And you also need to prepare something below:
An oven
Parchment paper / wax paper
Baking sheet / Cookies sheet
Are you done with the preparation? Here is how to dry your garlic with your oven!
Step 1: Put the wax paper or parchment paper on your baking sheet and spread your garlic on it evenly to have equally dried products.
Step 2: Set your oven at 150 degrees F or 170 degrees F if your oven's lowest temperature is 170. After that, you put your garlic tray into the oven.
It might take at least 1 hour 30 minutes or up to 2 hours to dry your garlic evenly if you set the temperature at 170 degrees F, and it might take up to 3 hours if you set it as 150 degrees F.
Some ovens don't have either set at 150 or 170, you can still use 200 degrees F, but you should check your garlic after every 20 minutes to prevent burning.
Step 3: Take your dried garlic out of the oven, and the outcomes should be crunchy and not burnt. Remember to let them cool down a bit before grinding.
Making garlic powder at home is a wise move to save money on store-bought products. Watch this video to know:
Method 3: Using Direct Sunlight – Electrical Saving Method
The last method sounds environmentally friendly since it can help you save the electronics for ovens or dehydrators. And to start with this method, you need to find several simple things here:
Baking sheet or cookies sheet
A spoon
This method is incredibly easier than you think and can be done within a few steps.
Step 1: Put your garlic paste on the sheet, shape each scoop of garlic like scoops of ice cream, and do not flatten them. Continue until everything is on the sheet.
Step 2: Put your sheet under direct sunlight to dehydrate the garlic. This step might take 1 or 2 days. The outcomes should be "garlic cookies," which are crunchy and easy to crumble between your fingers.
Stage 3: Grinding And Saving
After preparing your well-dehydrated garlic, put it in a coffee grinder or food processor to grind it into a powder or coarse to get the garlic powder or granulated garlic.
Due to the difference in the size of dehydrated garlic, there is no specific grinding time required to produce granulated or powdered garlic. You need to put your grinder or food processor in manual adjustment mode and turn it on and off until the result suits your needs.
After all, put your dried homemade garlic products into airtight containers or jars and avoid direct sunlight to preserve them. It's helpful to put some rice grains into your dried garlic jars or containers when storing them.
Your homemade products might have more chance to have excess moisture inside; putting rice together with them can help absorb the excess moisture. Of course, you need to take the rice out before using your granulated garlic or garlic powder.
The 3 methods that I have suggested for dehydrating garlic are all easy to accomplish. You can consider trying those to have 100% authentic homemade dried garlic products at home.
Storing Tips For Granulated Garlic And Garlic Powder
Although garlic powder or granulated garlic is effortless to store and has an incredibly long shelf-life, you still need to know how to keep them properly to extend their storing time.
The tip is not difficult; you need to store your dried garlic products in airtight containers and in the dark or shadowed places to avoid direct sunlight. Direct sunlight affects a lot on storing dried spices, not only on garlic.
Your garlic can last for up to 3 – 4 years with a fully retained flavor if you store it correctly. The expiry dates you see on the packages of your store-bought dried products are usually meant best-by-date or best to use within that amount of time.
The usable period can be more extended, and you can check whether your garlic is good to use by some signs below (smell and taste).
Signs That Your Granulated Garlic And Garlic Powder Go Bad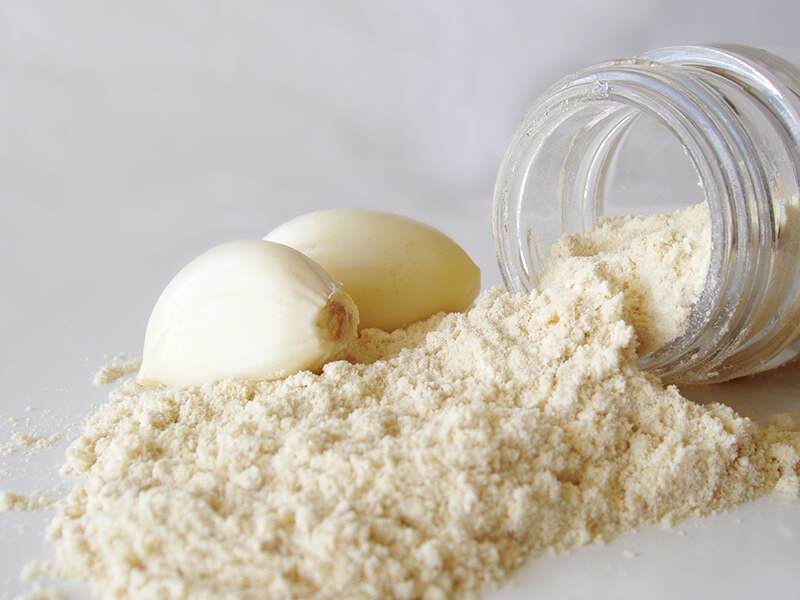 Surprisingly, dried garlic products do not spoil. They are dehydrated, which means they don't contain any moisture inside to create bacteria or mold. But they do go bad. You can tell they go bad when they are starting to lose some of these factors:
Loss In Smell
Garlic powders and granulated garlic usually have a robust garlicky smell, not the fresh scent but the nuttier and smell like the warmth of the sunlight. When they go bad, these aromas will significantly decrease and become fainted, weaker.
If sniffing them cannot help you detect the difference, you can take a pinch on your palm, rub the granules, and smell again. Your body temperature can help the garlic granules release part of their scent.
Lack Of Taste
Together with the loss of scent is the loss of taste. The potent, concentrated garlic-like flavor will reduce when your garlic powder or granulated garlic goes bad. To test, take a bit on the tip of your finger and try.
Some Mouth-Watering Garlic Powder And Granulated Garlic Recipes
Granulated garlic and garlic powder have similar layers of flavors, and only their sizes cause the different preferred culinary uses. I will suggest some mouth-watering recipes with these dried garlic products as essential ingredients in the section below.
If you don't have garlic powder or granules, you can replace it with the other one with the golden ratio of 1:2 (2 granulated: 1 powdered).
Thinking about garlic powder immediately reminds me of this delicious garlic bread recipe. It's so easy to make and very perfect for a light breakfast. You will not regret making this garlic butter breadsticks recipe once.
You might want to have a garlic breadstick for your breakfast tomorrow if you know how easy it is to cook one!
Garlic powder is perfect for marinades, especially in burger recipes. These Buffalo chickpea burgers are super delicious and flavorful; each bite can contain different layers of flavors and can make your mind blow.
If you are in the mood for some delicious, healthy snacks for tea time or Netflix nights, let's try these roasted almonds recipes. The mixed spice ratios suggested in these recipes are phenomenal; you can even try them to make another nut snack.
If you don't have granulated garlic on hand, you can use garlic powder instead. Just remember the ratio 2:1 for 2 granulated garlic over 1 garlic powder.
You might be familiar with breakfast sausages; it's nutritious and easy to prepare, so it's a perfect breakfast for busy workdays.
These divine homemade sausages patties recipes with garlic granules or garlic powder can help you to have this yummy breakfast option ready all the time.
Detailed guidance to make perfect breakfast sausages at home! Watch this video:
FAQs
Do you have any further questions about garlic powder and granulated garlic for me? Some of the frequently asked questions below might be useful for you; let's take a look!
Hope That My Information Helped
Granulated garlic or garlic powder is so handy in replacing the fresh or minced garlic in cooking. No matter what types of garlic you choose, they all bring garlicky, attractive, and earthy flavors to your dishes.
I hope that all the information I have provided to you today can help you confidently and wisely use granulated or powdered garlic in your kitchen.
If you have any other experiences using these excellent dried garlic products to share, feel free to leave a comment below. Your contributing comments will become a huge motivation for me. Loving is sharing!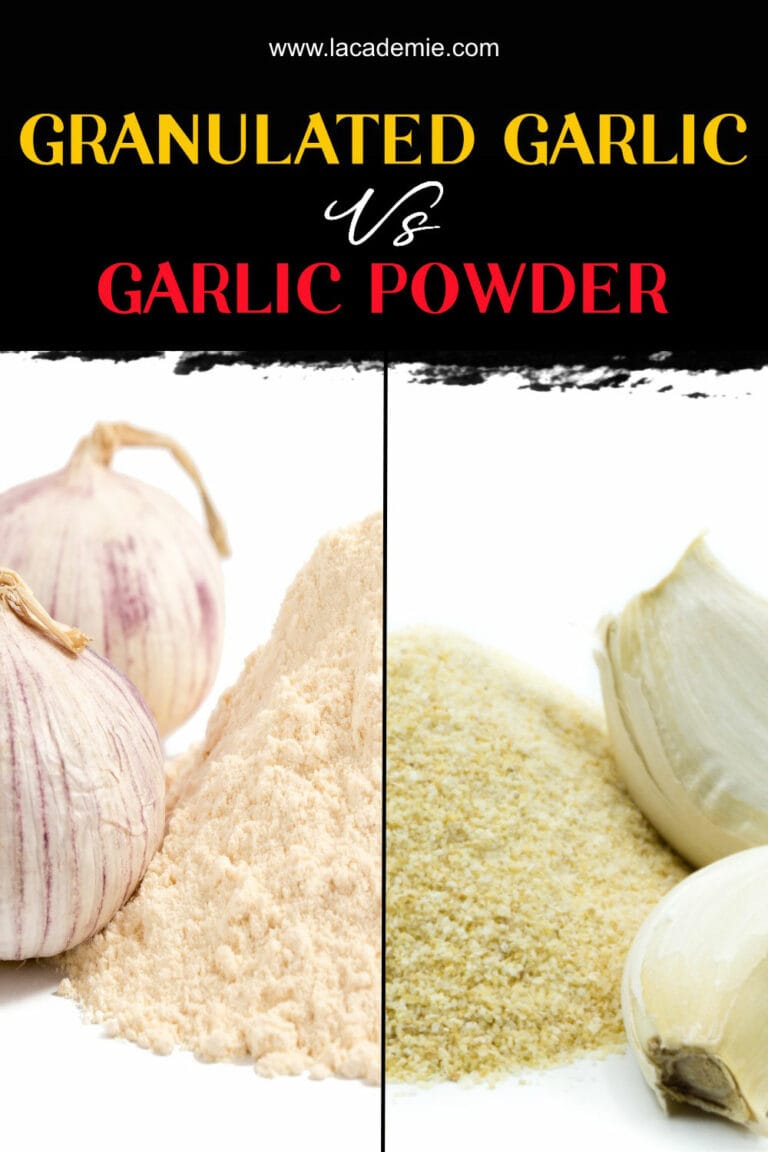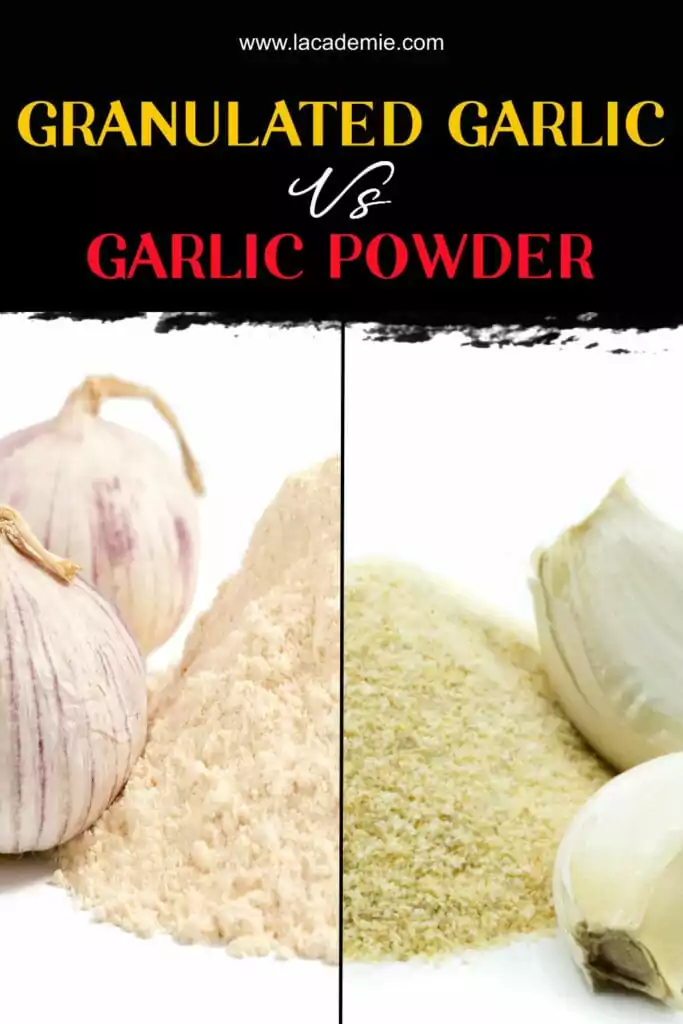 References
Spices, H., 2021. 4 Proven Benefits of Garlic Powder | Organic Facts. [online] Organic Facts. Available at: <https://www.organicfacts.net/garlic-powder.html>]