Do you know that food processor substitutes can support you in daily cooking tasks effectively like a food processor?
It is no doubt that a food processor is the ultimate option to save your time for processing food. However, if you do not own a food processor, or yours accidentally stops working, you can choose its substitutes to accomplish your cooking tasks.
In this article, I will suggest some kitchen gadgets and methods that can be used in place of a food processor. This will make you more resourceful in your kitchen.
List Of 12 Common Food Processor Substitutes
Each food processor alternative has its own specific use and strengths in processing food.
1. Mixer: Mixing cooking ingredients in liquid and solid together. While a hand mixer is great for daily cooking, the stand mixer is more versatile.
2. Blender: Grinding meat or chop and puree vegetables into small pieces and pastes.
3. Grinder: Grinding food. A coffee grinder is good at mashing small or soft food items, and a meat grinder is great for harder foods.
4. Food Chopper: Specializing in chopping food
5. Juicer: Pureeing fruit and vegetables
6. Food Mill: Grinding, mashing, and pureeing soft foods
7. Box Grater: Cutting food items into varied sizes in different shapes
8. Mortar and Pestle: Pulverizing spices or mashing soft food
9. Knife: Chopping and mincing food in the shapes or textures you want
10. Cooking and Mashing: Mashing and pureeing food
11. Rolling Pin: Crushing soft or crunchy food items
12. Your Hands: Kneading dough
What Is A Food Processor?
A food processor is considered the optimal home appliance that comes with different functions for preparing all kinds of food, from soft food like boiled potatoes to hard ones like ice or nuts.
Since a food processor is equipped with a large set of blades, it can operate for grating, mixing, shredding, chopping, or slicing food, and even more tasks.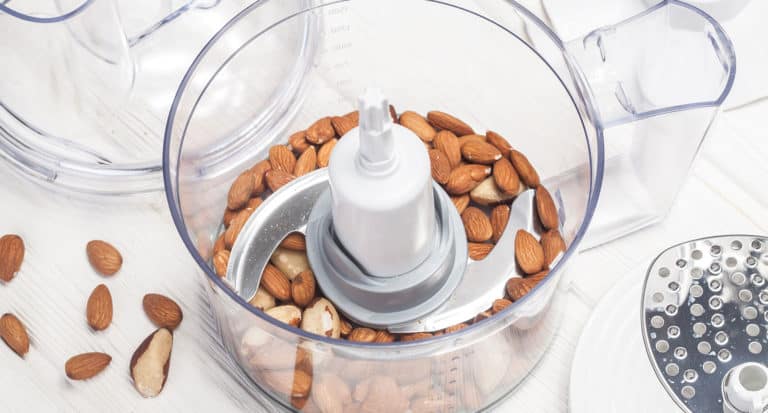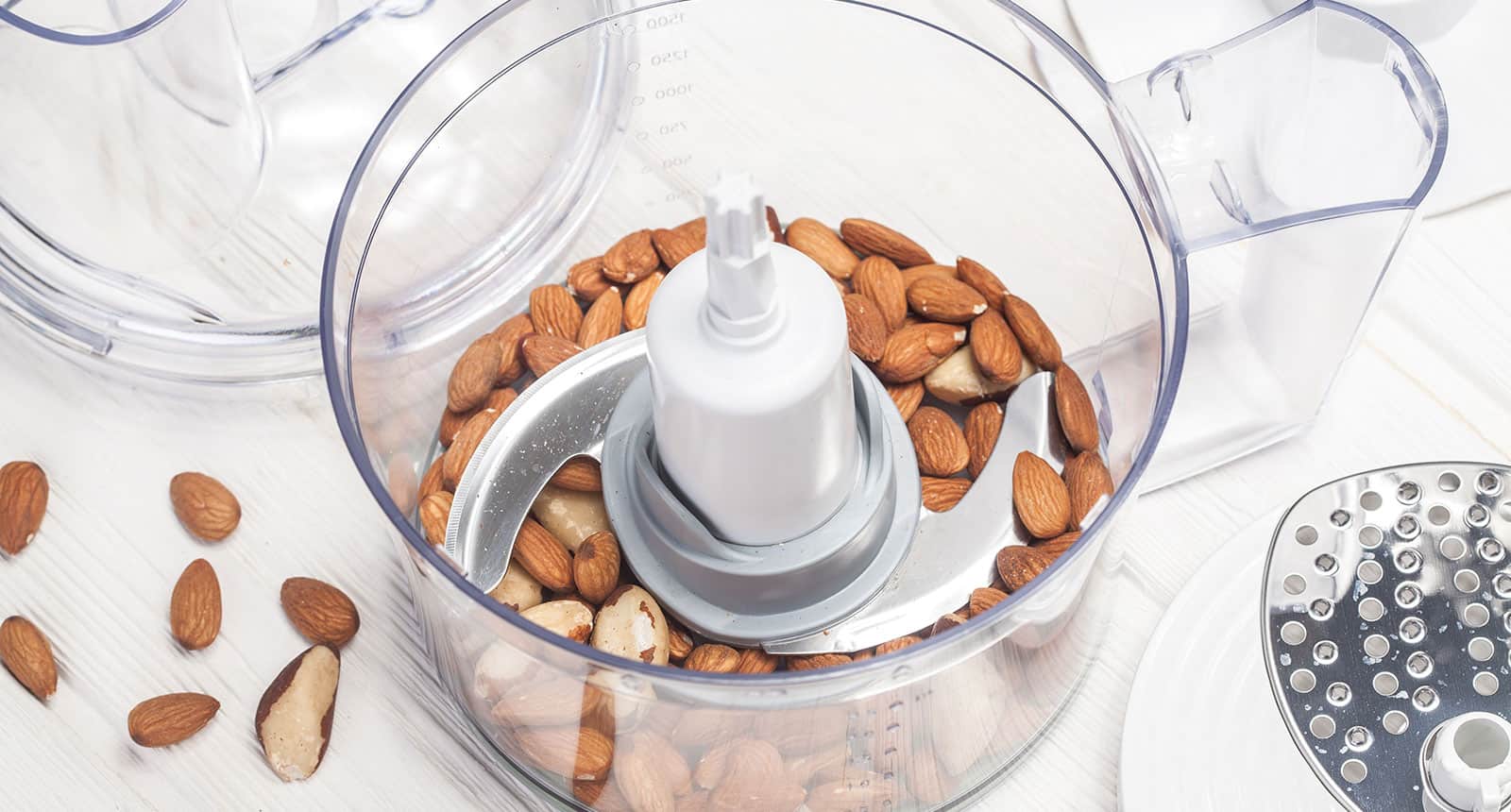 You can also set the food processor to perform many tasks simultaneously thanks to its bowl inserts. The body of a food processor is designed with wide space to contain large quantities of cooking ingredients.
Food processors can be found easily in most electronic stores nowadays. They work on an outlet, so they are mighty. They have a feeding tube for you to put in the food items that will drop down to a bowl where the food pieces are cut up by sharp blades.
A food processor can come with various costs that depend on how many functions it can serve. For instance, a high-quality food processor with built-in blender features tends to cost a lot more. In other words, the more functions a food processor provides, the more expensive it is.
How To Process Food With 12 Common Food Processor Alternatives
If you have not purchased a food processor for your home kitchen or yours is broken down, you can also utilize its alternatives.
1. Mixer
It is easy to maintain a mixer because its parts are assembled fixedly. Moreover, it is much easier to operate a mixer than a food processor because it just has one function in mixing.
Meanwhile, you have to set up a particular mode such as chopping, mincing, or slicing for a food processor to run.
A Stand Mixer
It can be a stand mixer operating with high power and being usually available in bakeries or restaurants for processing large quantities of food, especially baking ingredients.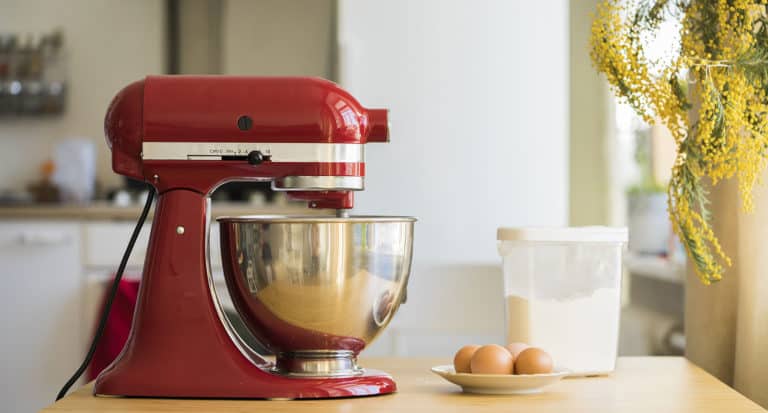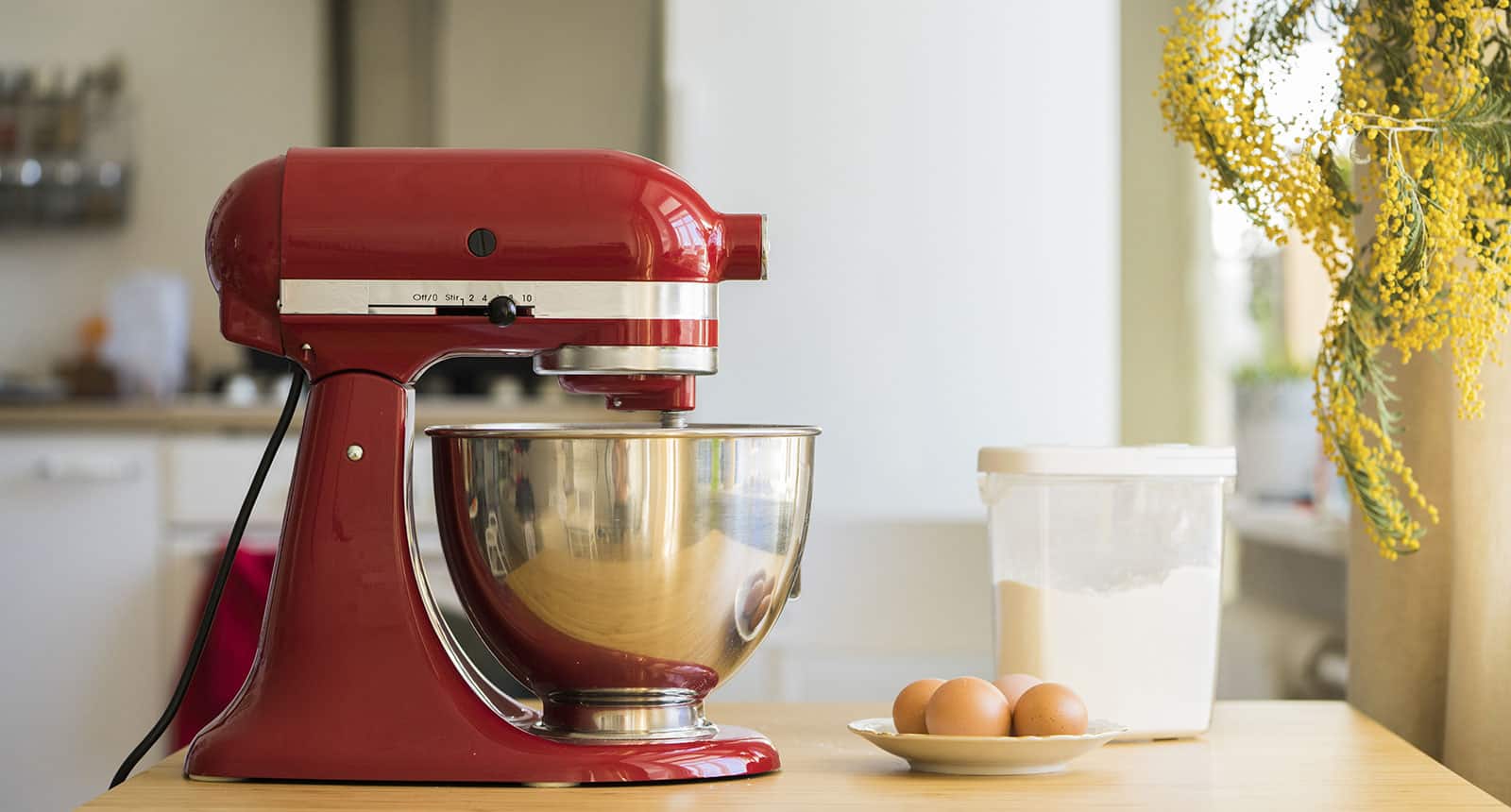 How to Use It:
This type of mixer can handle tough ingredients with its attached hook, but to let it work more effectively, you should cut the ingredients into smaller items or even cook well before putting them in the mixer's bowl.
If you want to know the powerful operation of a stand mixer, just watch the below video.
A Hand Mixer
A hand mixer is smaller than a food processor, so it helps to save space in your kitchen. In addition, it is cheaper and more portable than a stand mixer, which is the main reason why you should own one for your home kitchen.
However, a hand mixer can just mix small quantities of ingredients compared to a stand mixer.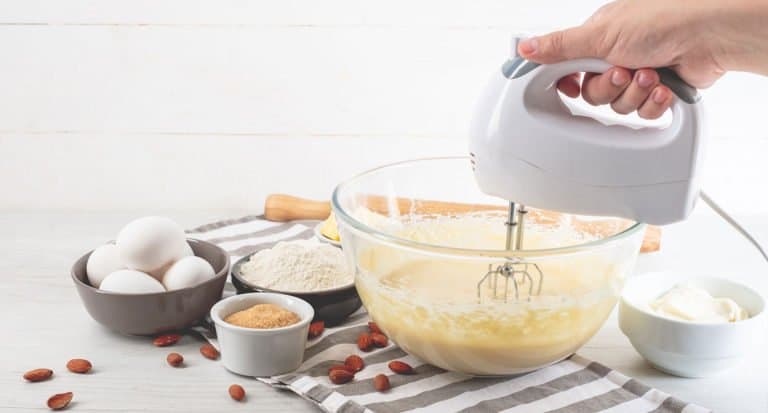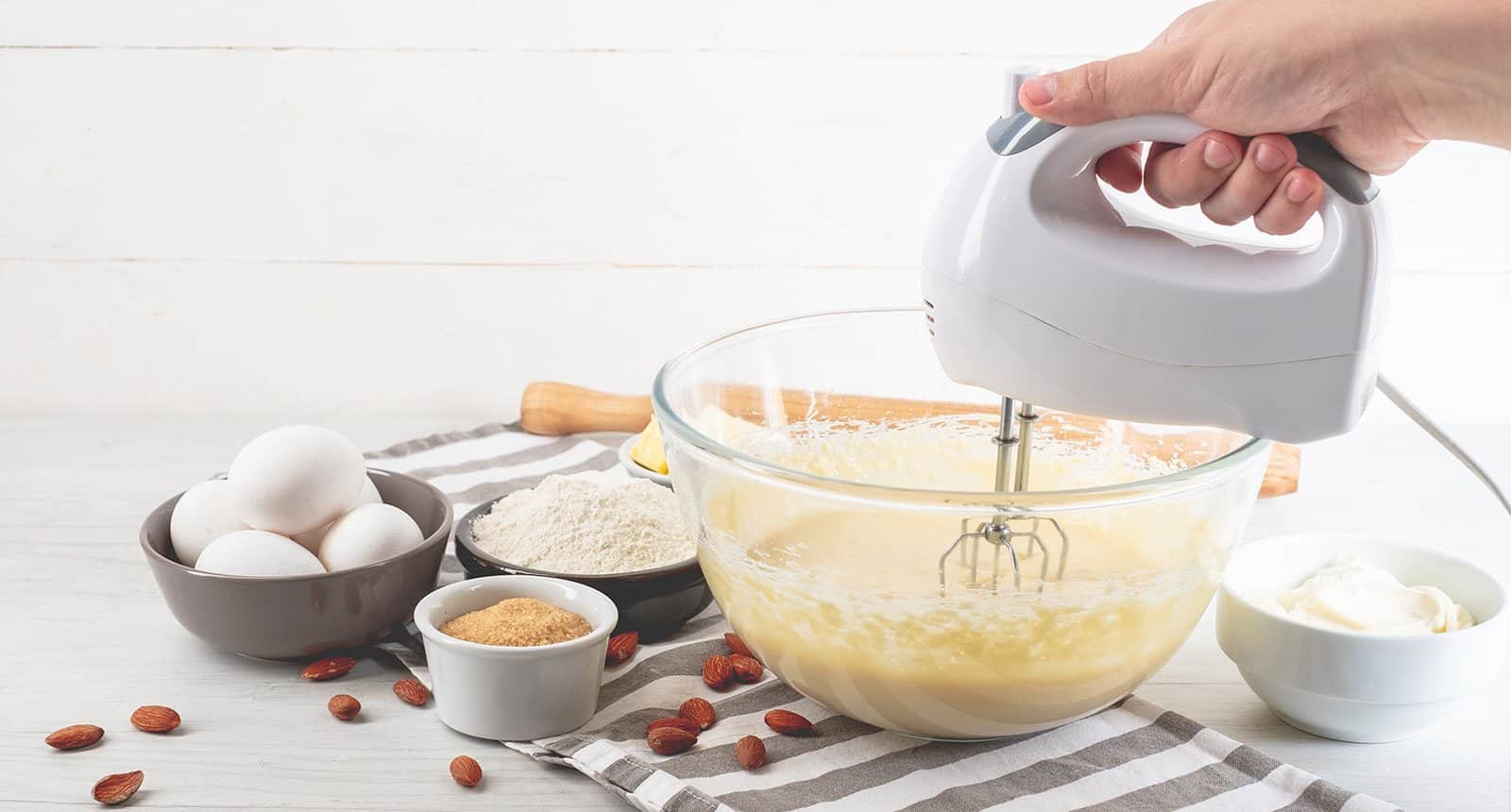 How to Use It :
Because of the low power operation of a hand mixer, it works more effectively in mixing liquids and soft ingredients like beating eggs or wet dough than harder ones like bread and pie dough.
Just discover the convenience of a hand mixer by watching this video.
2. Blender
If you have a limited fund, a blender is a good food processor alternative. This is because there are many variations of blender types, and most of them come at a cheaper price than a food price. In addition, it can serve most functions that a food processor has.
However, you still need to keep in mind that fundamentally, there are still several aspects that set food processors and blenders apart. So there are only a few instances where you should use a blender as an alternative. I'll explain this more thoroughly in the section below.
It is also much easier for you to clean up a blender because it includes fewer parts than a food processor.
However, a blender just covers small quantities of food due to its limited food processing space. Hence, be as patient as possible when you use a blender to prepare for big meals because at least you do not finish these tasks manually.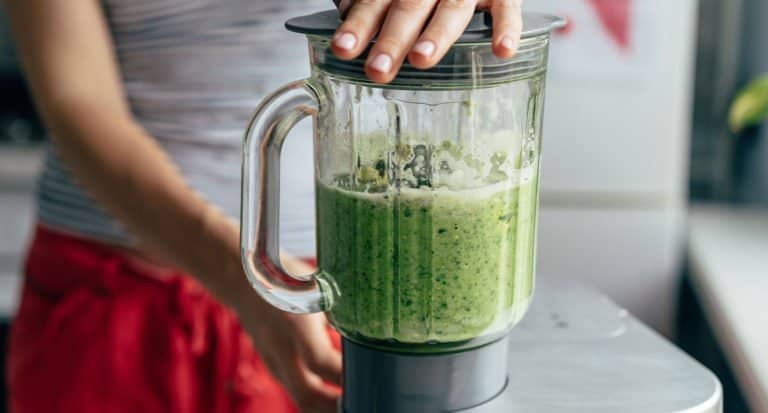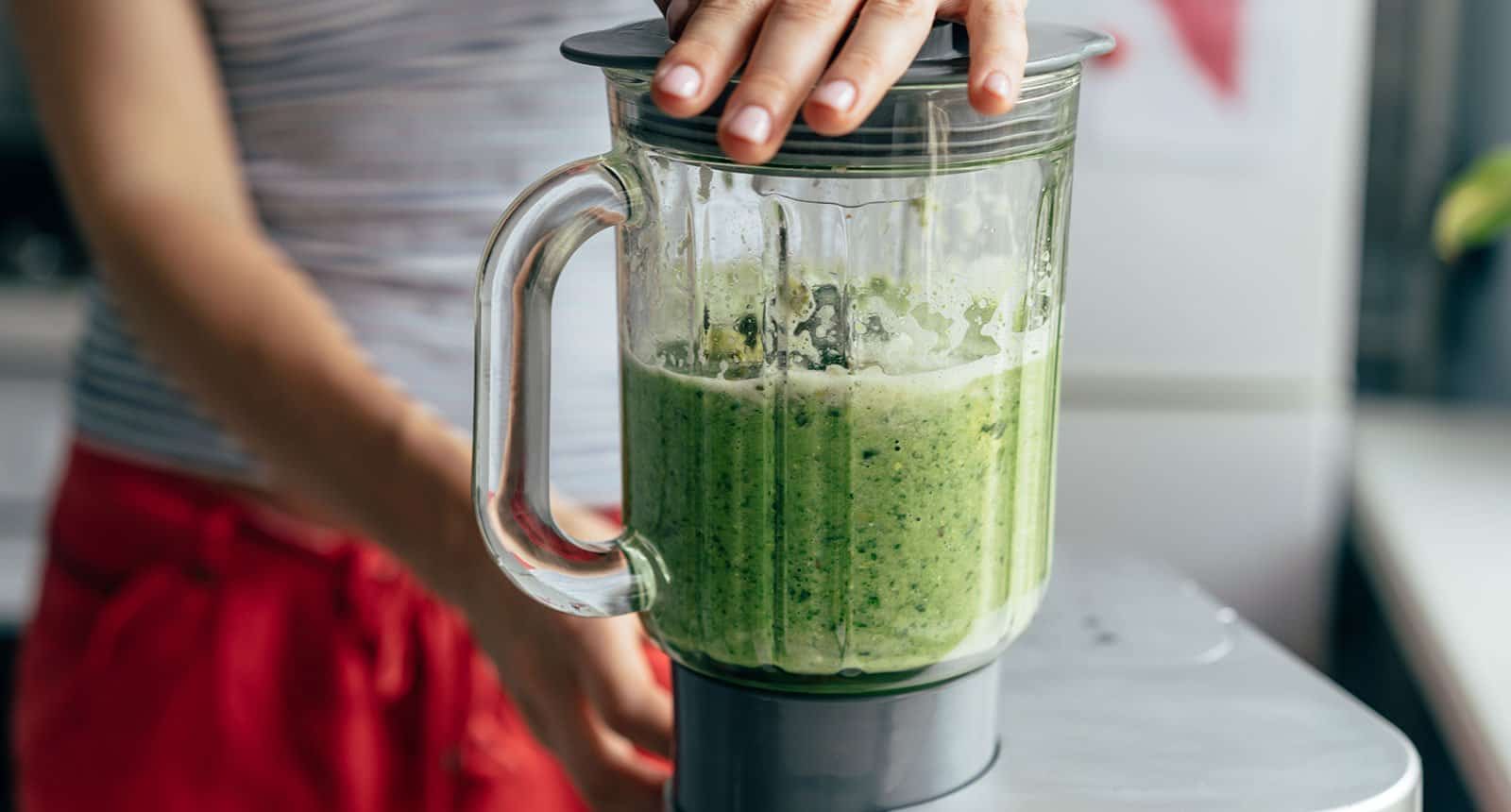 While a food processor is attached to a large set of blades, a blender just has one blade at the bottom of its jar. As a result, dry foods like nuts will not be blended finely if there is no liquid coming with them as a mixture.
How to Use It :
To chop, grind or puree food with a blender, you just put the ingredients into the blender's jar and let the blender run until the foods have the consistency suitable for your recipes.
Remember not to place too much food into the blender because it can make the blender's blade stuck during its operation. To maximize the effectiveness of a blender, you can combine liquid and solid together for the blender's blade to operate efficiently.
After working for a long time, a blender blade tends to be dull, which prevents it from processing food well. Hence, you need to sharpen it or replace it with a new one.
You can watch the below video to know how effectively a blender works.
3. Grinder
There are two basic types of grinders for different using purposes.
A Coffee Grinder
A coffee grinder can transform your food into powder or particular consistency.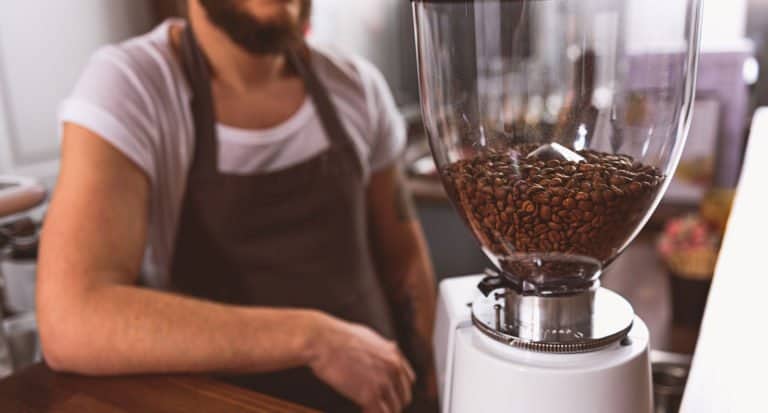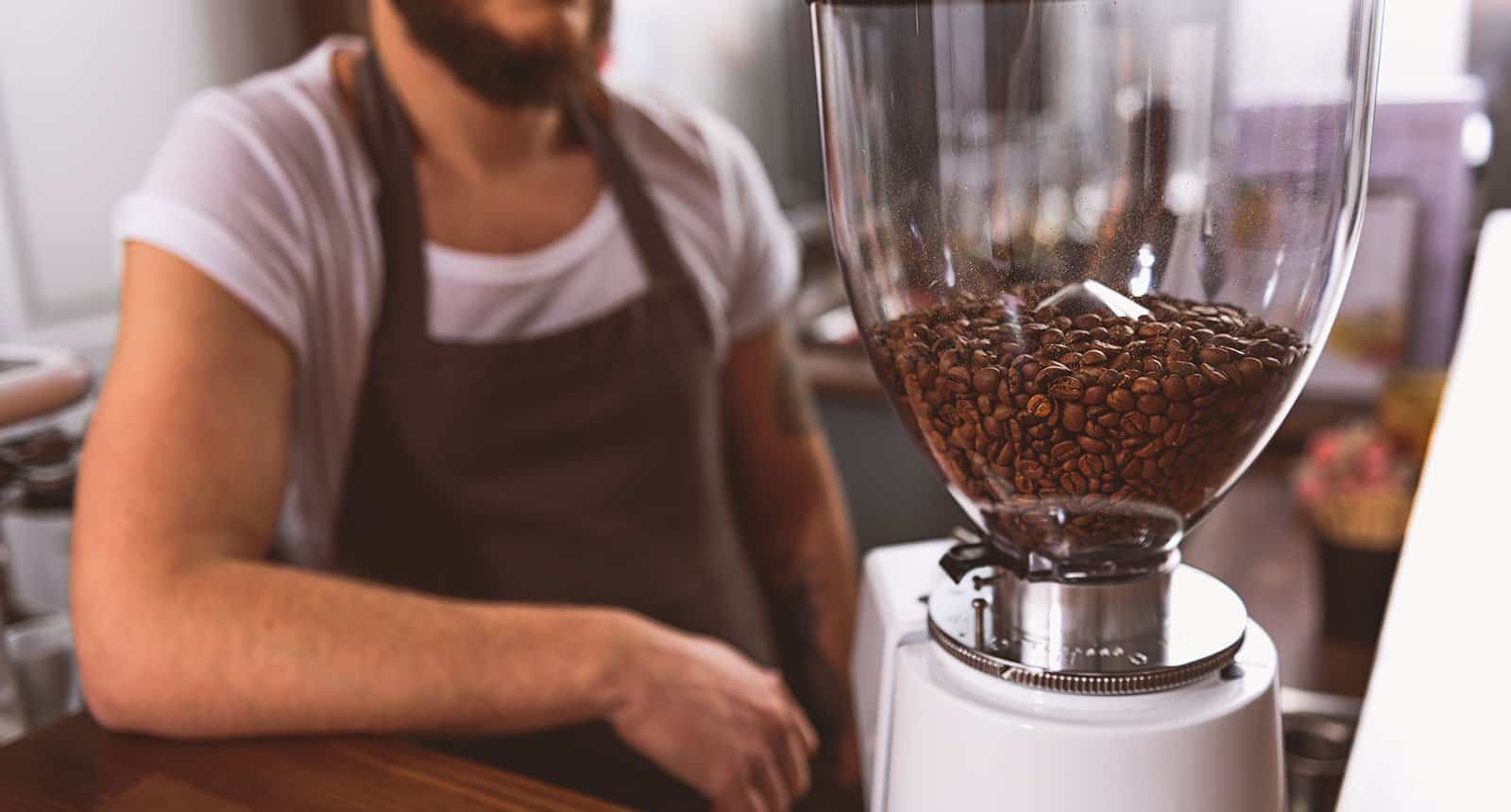 How to Use It:
To chop or grind nuts, spices, and soft food items, you first estimate the nuts, spices, or something else you would like to process, put them in the grinder and then pulse the grinder until the ingredients break down as you want.
Remember to rinse the coffee grinder before and after using, or your dishes will be flavored with coffee and vice versa.
If you want a visual guide to use a coffee grinder for processing food, you can access this video.
A Meat Grinder
You will find it quite difficult to move a meat grinder because it is quite heavy. Therefore, you should fix it at a place convenient for your daily cooking.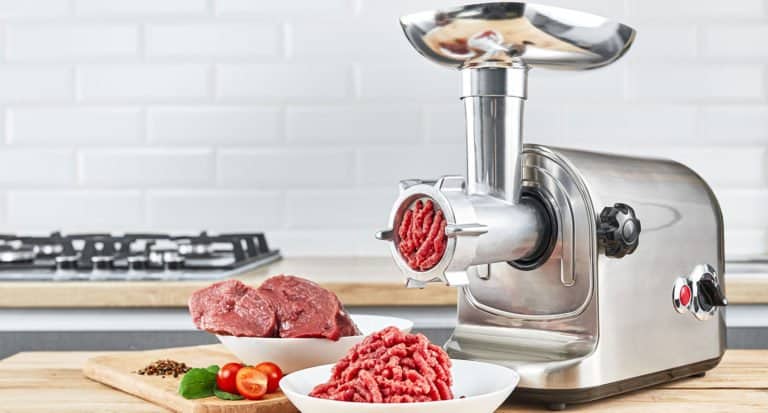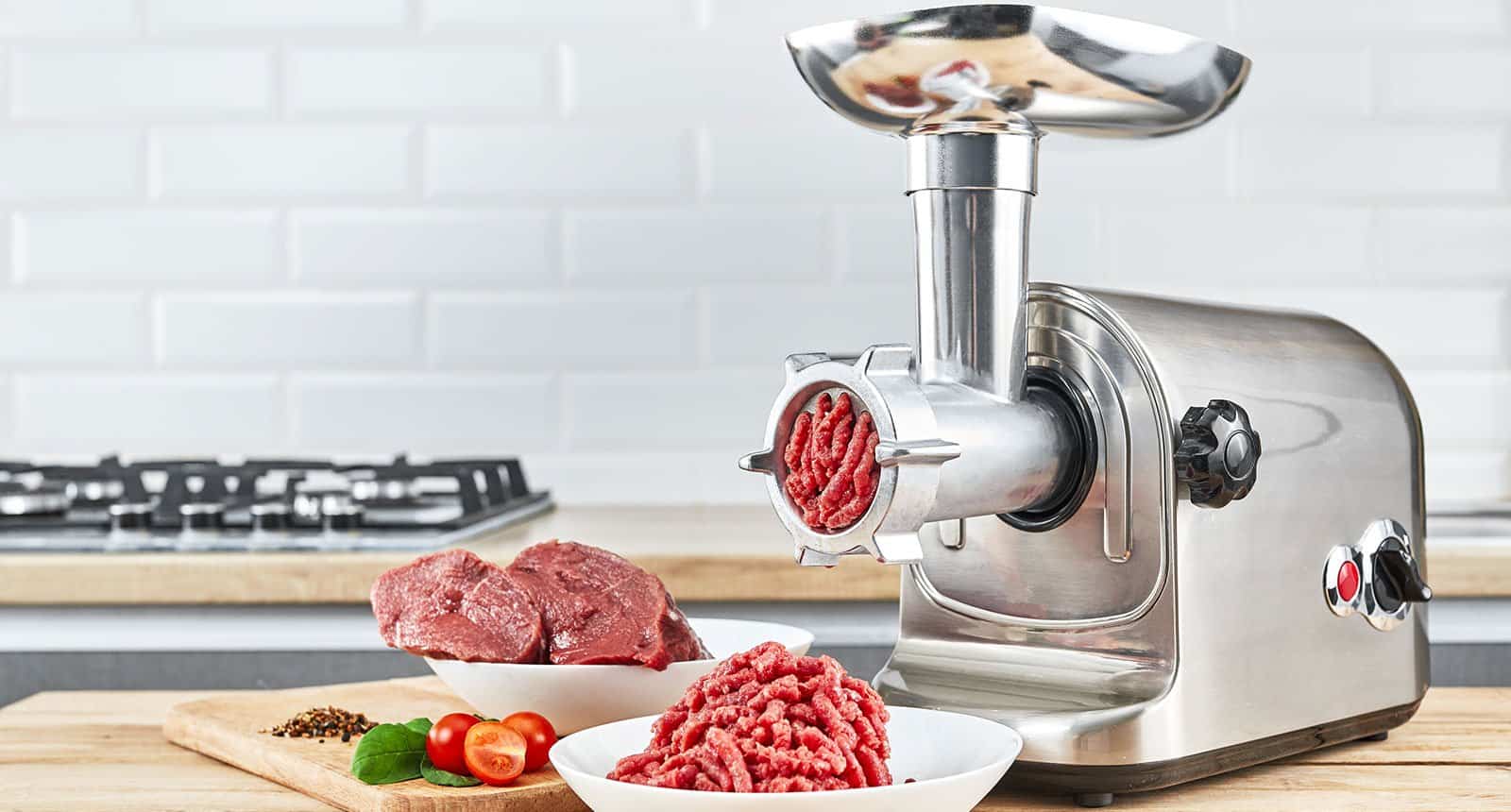 How to Use It:
Besides grinding meat, a meat grinder is powerful enough for you to cut, crush, and mash any kind of food and even bones, so it can substitute for a food processor effectively.
Just remember to clean the grinder well before and after you use it to ensure that the next batch of meat will not taste weird.
To know how powerful a meat grinder is, you can watch this video.
4. Food Chopper
A food chopper is small in size and also lighter than a food processor, so it does not cover your kitchen space too much and can be moved easily. In addition, a food chopper is also more affordable than a food processor.
One of the most notable differences between food choppers and food processors is that food choppers generally are much more user-friendly. Therefore, a food chopper is very useful in basic tasks like chopping green onions or lemongrass for those without a food processor.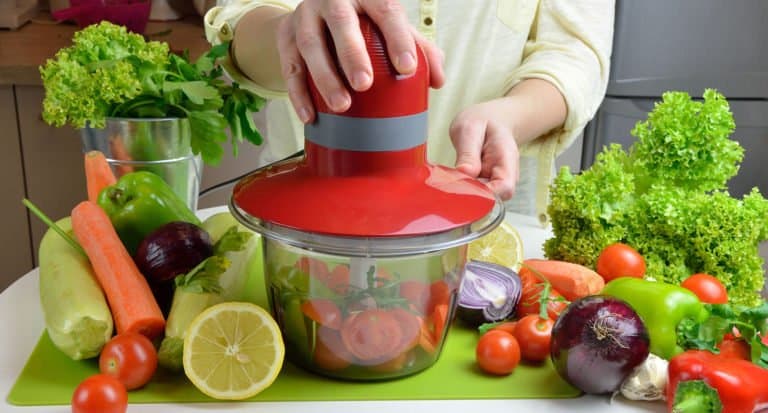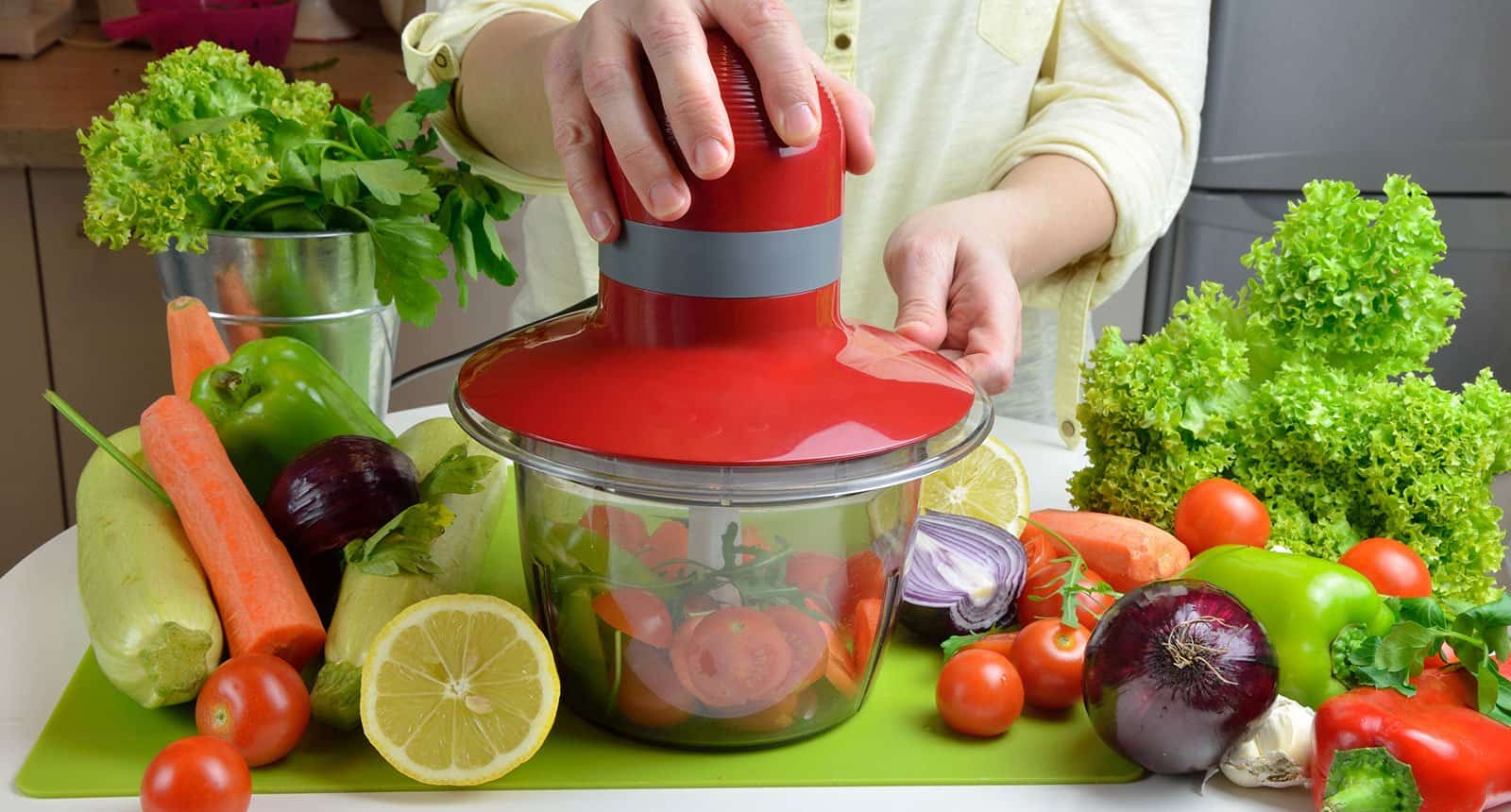 How to Use It:
All you need to do is to place food pieces into the chopper, switch it on and then collect the chopped food from its bowl.
You can watch the following video to see the convenience and portability of a food chopper.
5. Juicer
While a juicer seems to be an inconvenient substitute for a food processor, it is still productive. It works for pureeing fruits and vegetables.
Depending on your needs and preferences, some varieties of juicer model will be better. For instance, a well-built juicer with a small size is generally enough for infrequent use, especially in a small and crowded kitchen.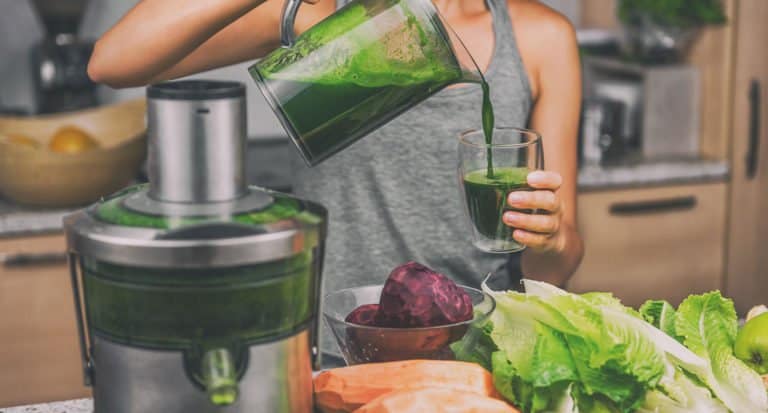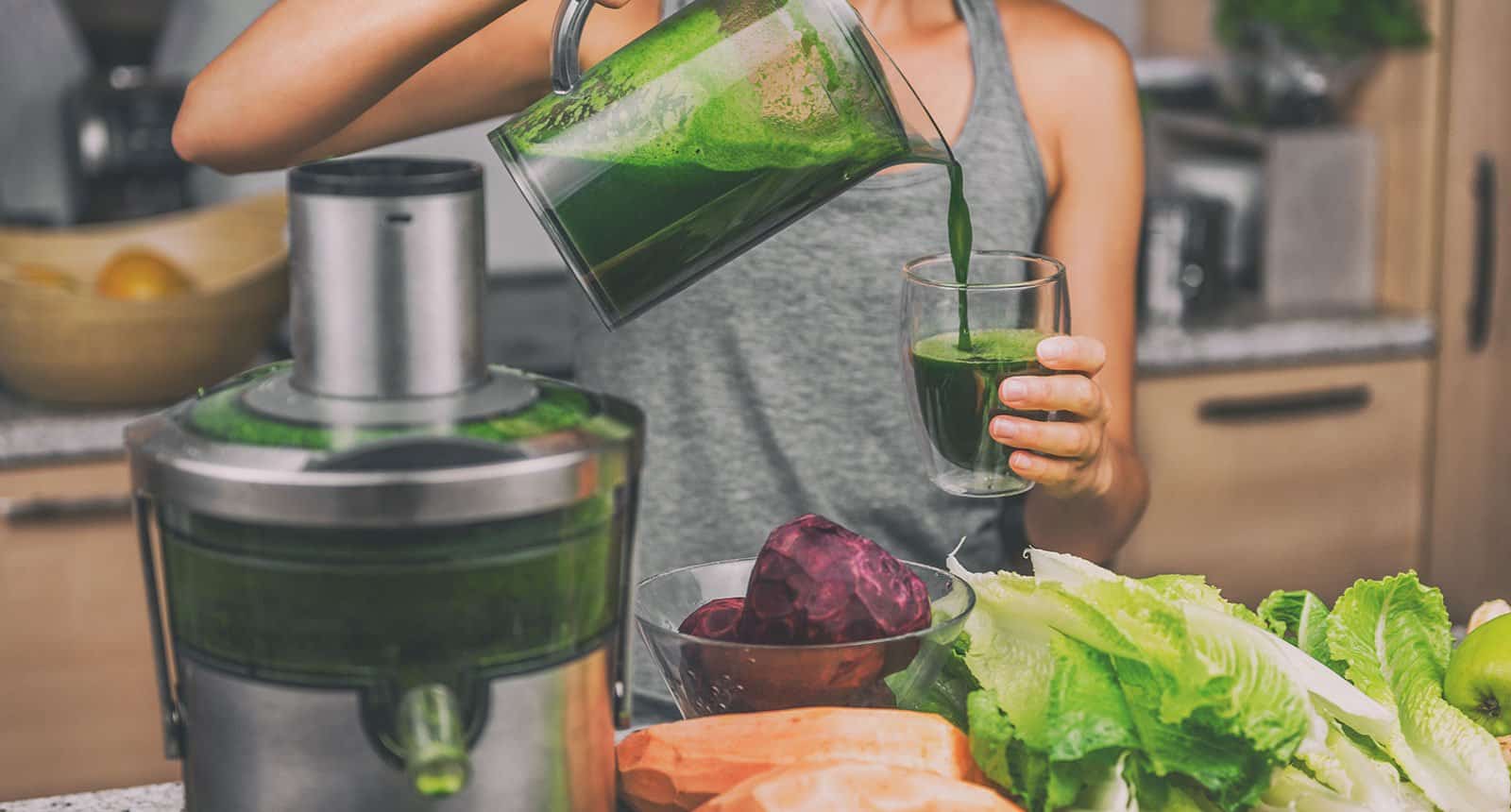 How to Use It:
You place the ingredients into the juicer and turn it on. After that, you collect the pulp and mix it with an amount of juice for a texture as consistent as you desire. The mixture is considered a form of puree.
If you want to know how to puree food with a juicer, just watch this video.
6. Food Mill
A food mill is a simple but powerful cooking gadget for mashing and pureeing soft food. It can work on a power supply or a manual.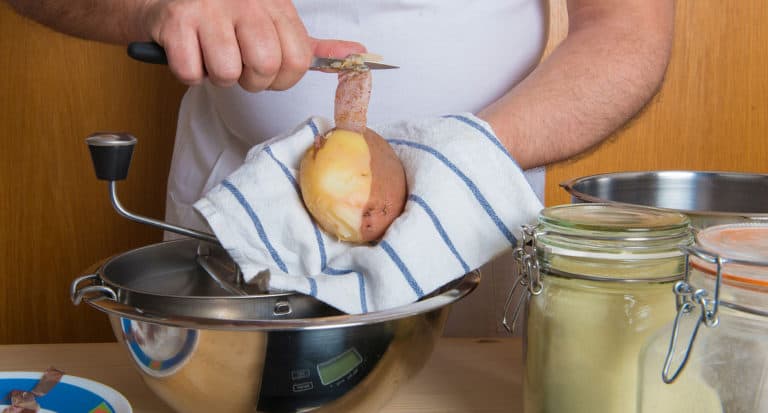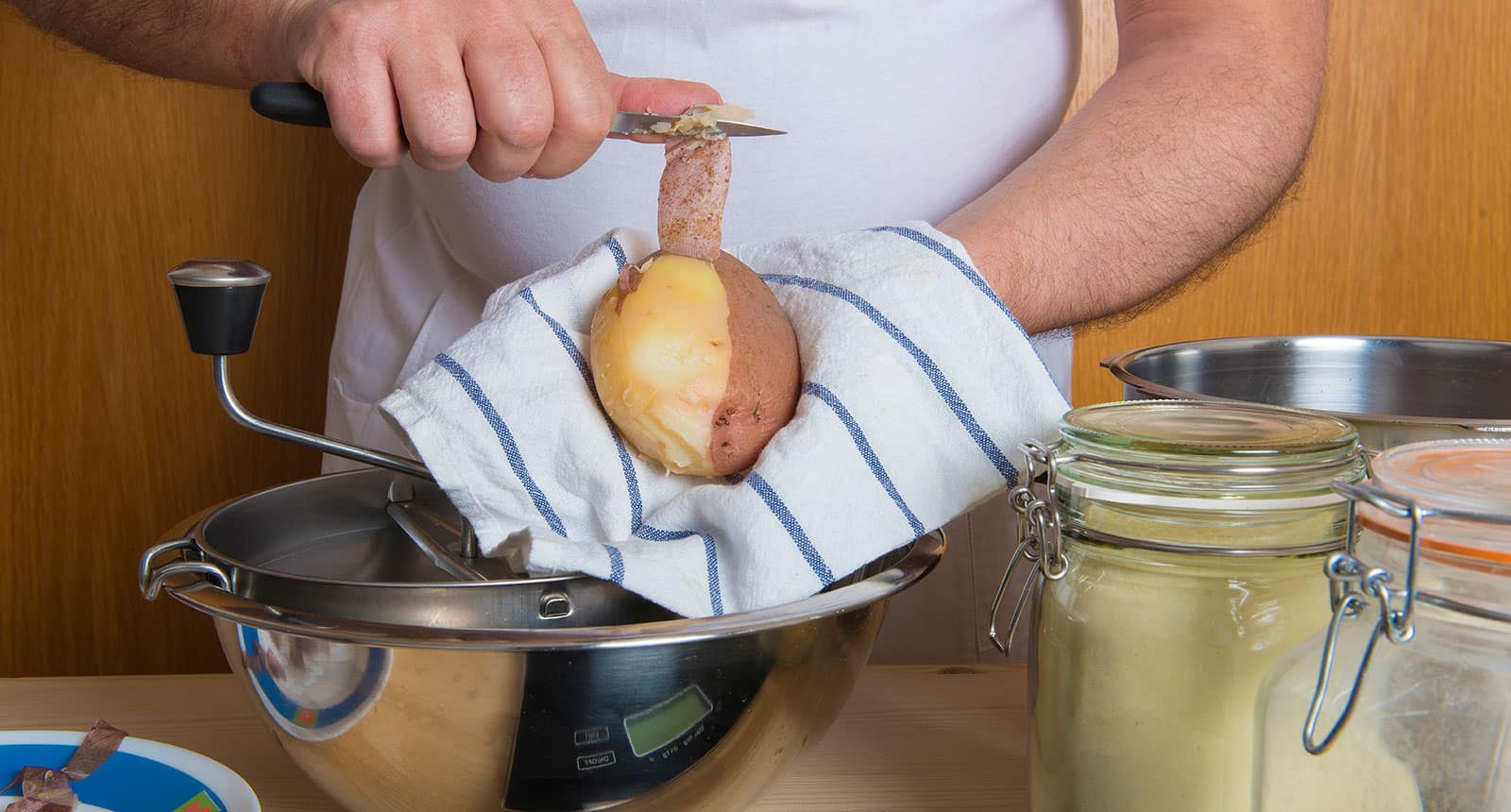 How to Use It:
You just place soft food pieces into the bowl of the food mill and then switch it on or crank the handle. After that, you will have a creamy food paste used for making sauces or soups.
If you want to know how effectively a food mill processes food, watch this video.
7. Box Grater
Due to being versatile as a food processor, a box grater allows you to cut vegetables, fruits, or cheese into varied sizes in different ways as you prefer.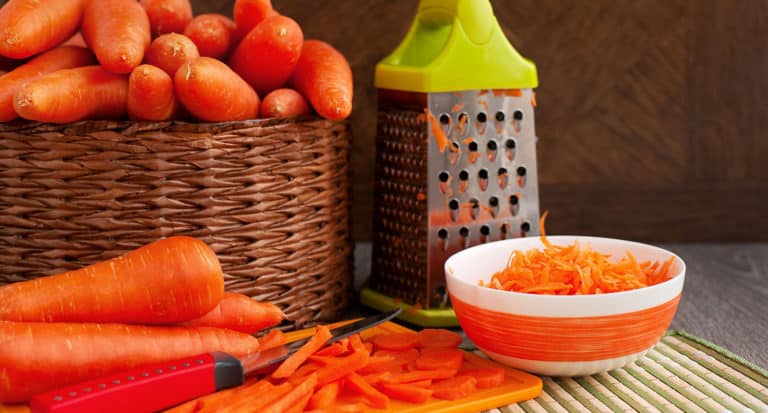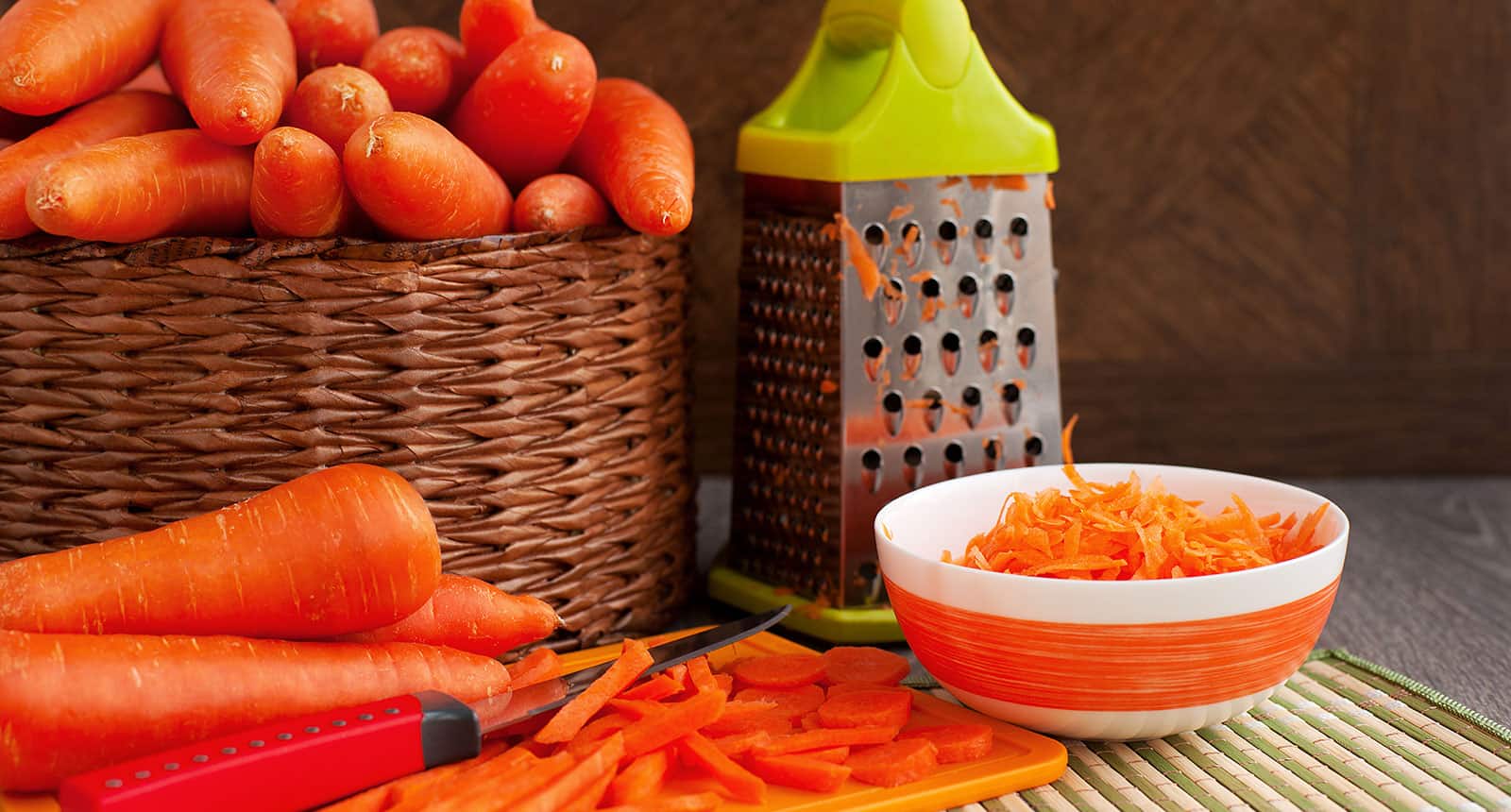 However, it takes you more time to process food with a box grater than a food processor. Besides, you should be careful when holding or using a grater because you can get injured if touching its sharp angles or edges.
How to Use It:
You can use a box grater to cut bell peppers or carrots into lines or square shapes to prepare for your salads. Moreover, a box grater also allows you to grind or slice pieces of cheese, fruit for many recipes.
You can access this video to know how versatile a box grater is.
8. Mortar and Pestle
A mortar and pestle (aka molcajetes) seem to be outdated in comparison to many innovative cooking tools available nowadays. However, due to its durability and simplicity, it is still available in most home kitchens nowadays. You can find it much easier to clean up mortar and pestle.
Nonetheless, some low-quality products might have a porous surface, making them slightly harder to clean. Generally, durable molcajetes with non-porous surfaces are your best bet as they will ensure you won't have to worry about lingering food odor or cross contamination.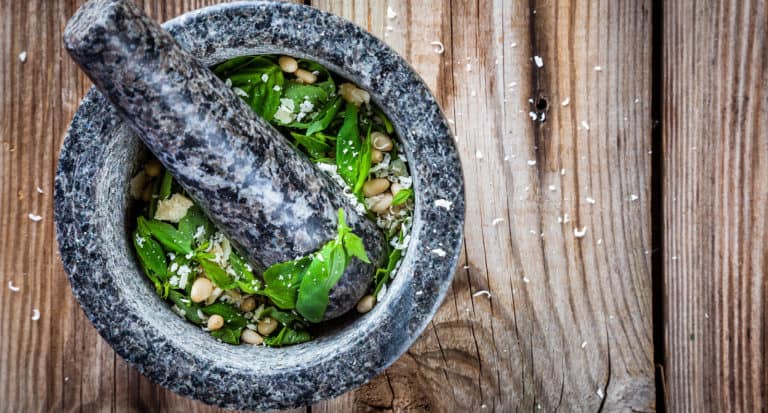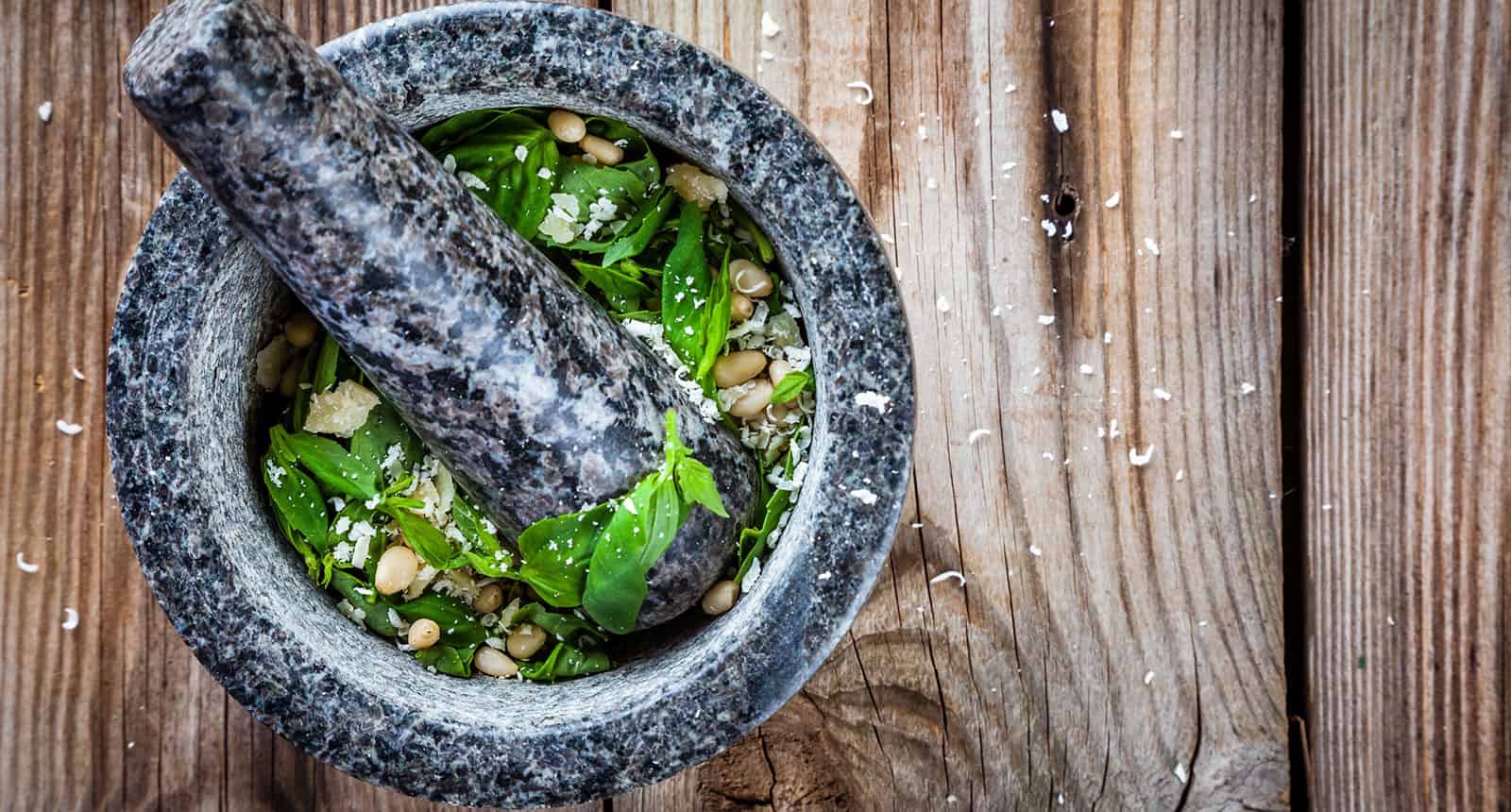 How to Use It:
To process food in a mortar and pestle, you just put them in the bowl and then use the pestle to crush the food until it reaches the consistency you want.
Although you may spend a lot of time crushing food items with a mortar and pestle, you will satisfy the results if you are patient enough.
If you want to know how easily a mortar and pestle can be used, just watch this video.
9. Knife
When you do not have a food processor, using a knife to chop or mince foods is a common option. It will take you more time and physical effort to process food with a knife than a food processor.
However, the more you use knives, the more knife-using skill you can master, which helps reduce time as well as difficulties in managing to hold a knife and process food.
Whether you are an amateur or an expert in using a knife, you should be as cautious as possible to avoid the knife cutting on your fingers.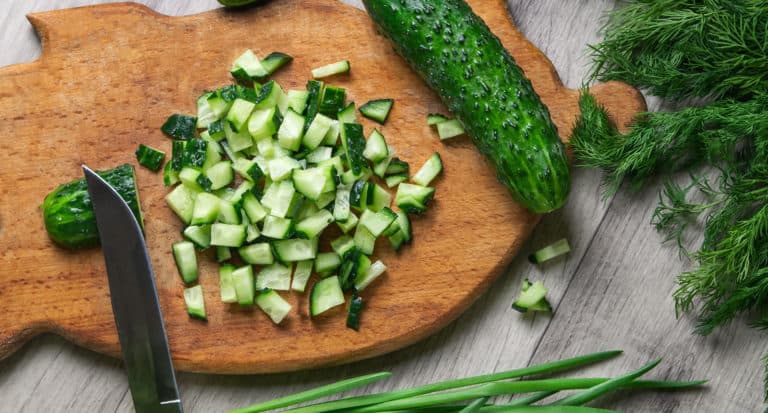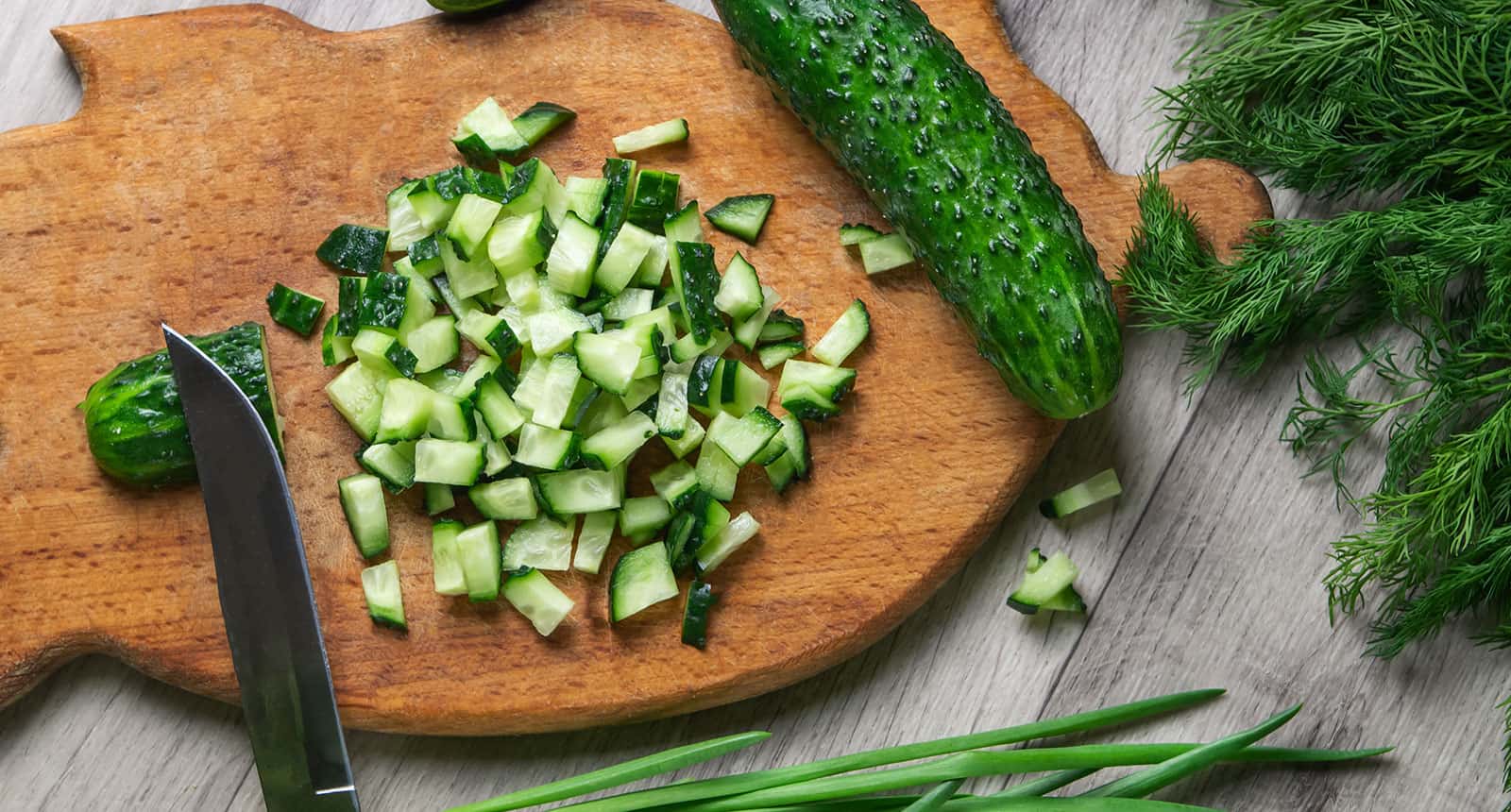 How to Use It:
You can process food items like onion, garlic, and celery with a knife by putting them on a cutting board and then repeat the chopping on them many times until the food items' size and shape meet the recipes' requirements.
However, it is impossible for you to puree food with a knife as a food processor can perform.
Do you usually use a knife to cut or mince food? You can access this video for useful tips.
10. Cooking and Mashing
When we boil or steam food like carrots or potatoes in hot water, the high heat will make the food softer, which later allows the food to be processed easier.
Cooking and then mashing food is also the perfect way to make tomato sauce or tasty fruit topping for cold drinks
This cooking process can take you much time to carry out, so be more patient until you get the desired result.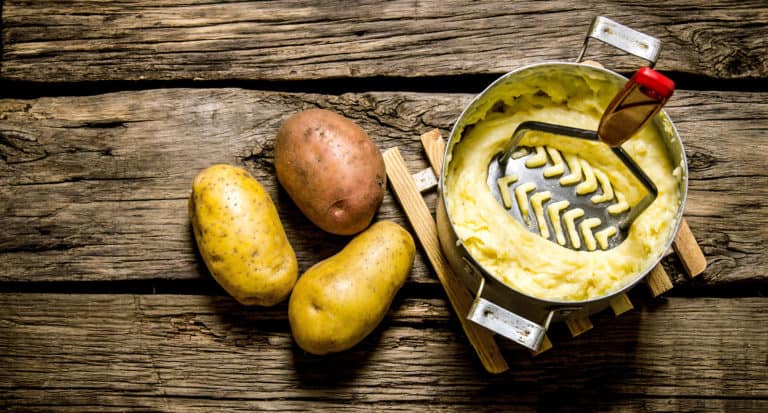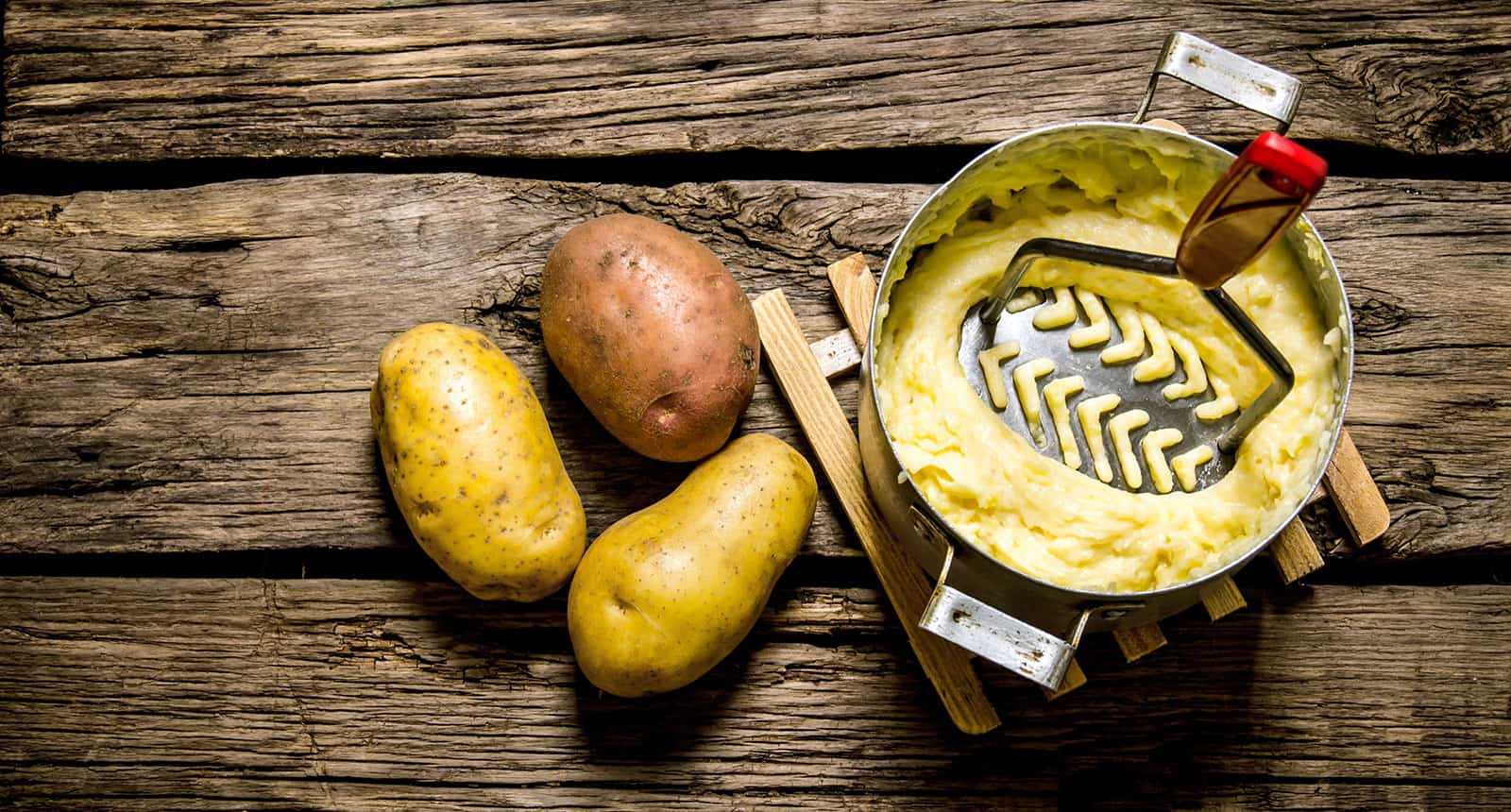 How to Do:
You just stew, boil or simmer the food until it is soft. Next, use a fork or a potato masher to mash it. You can even pour the puree through a sieve and use a spoon's back to push through it for a smoother texture.
To know how people cook and mash food, you can watch this video.
11. Rolling Pin
A rolling pin specializes in flattening or shaping thin slices of dough for making pasta or cookies. However, it can also be a processor alternative to crush food, especially soft and crunchy food such as cooked potatoes, cookies, or chips.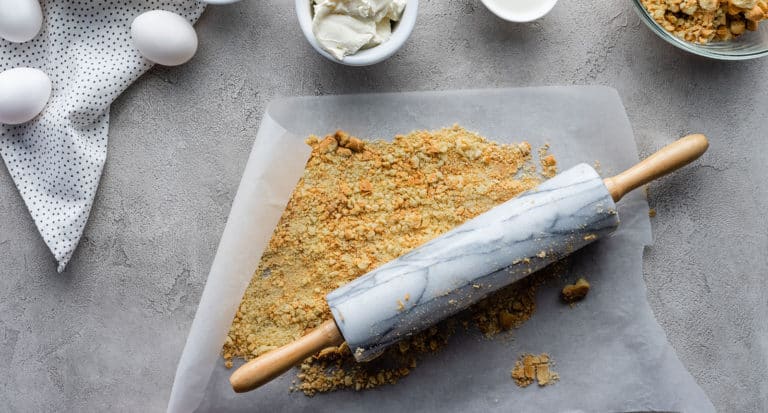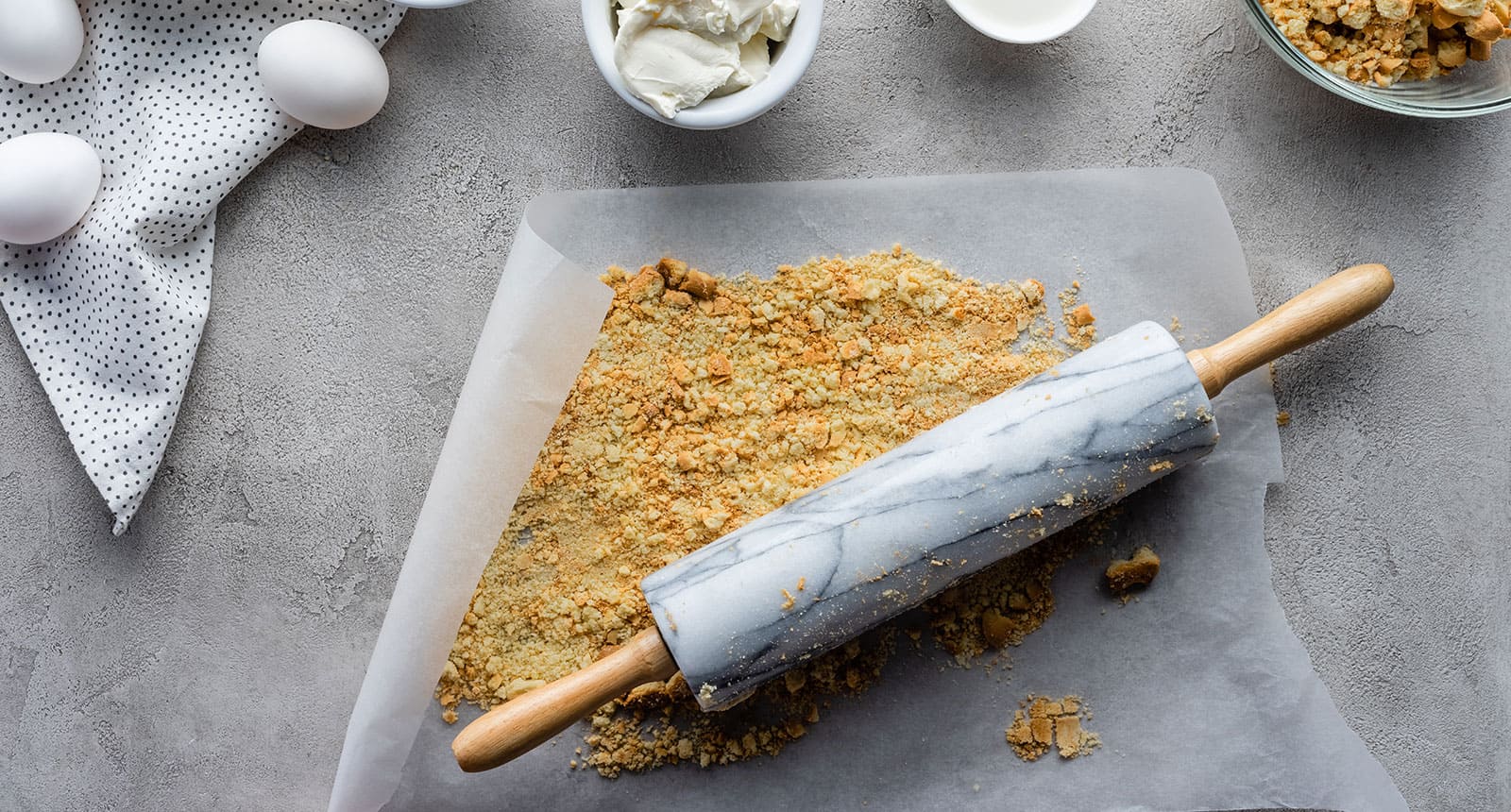 How to Use It:
If you want to break down and crush your food easily and fast, just put the food into a sealed plastic package and then use a rolling pin to roll back and forth on the bag. If there are un-crushed pieces of food, you can use the flat side of the tool to press them.
Have you ever crushed food with a rolling pin? If not, I refer you to the below video to get visual guidance.
12. Your Hands
Although it is more efficient for you to knead bread or pie dough with a food processor, you can handle it with your hands if you do not have this electric cooking tool. In addition, if you spend enough patience in this manual task, you can get the desired results not worse than the ones done with a food processor.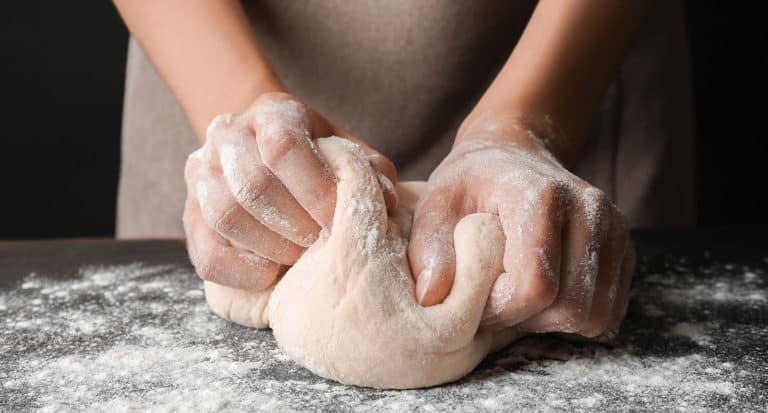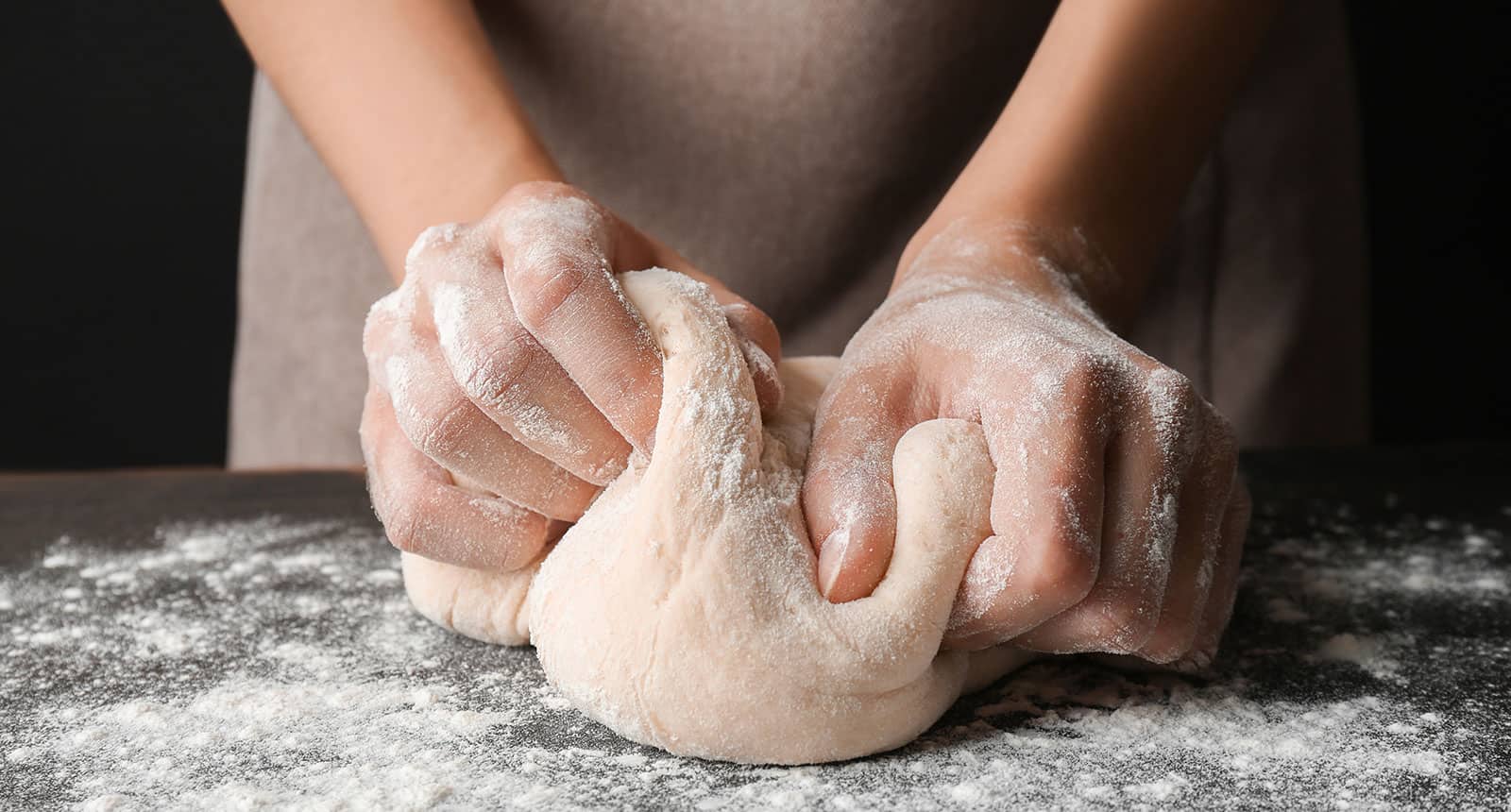 How to Do:
To knead the dough by your hands, you first clean your hands well because you will directly touch the dough without any cover.
Now, some of you may wonder if you can apply gloves when kneading dough. The answer is no because the dough will make your gloves sticky, and then you will find it more difficult to manage the kneading.
Next, you place the ingredients on a clean surface covered with oil or flour and then mix them together with your hands until it becomes a consistent mixture. When it comes to wetter doughs, stirring them with a spoon will work better than your hands.
Or you can watch this video for tips on kneading the dough by hand.
It's Ok if You Do Not Have a Food Processor!
You can prepare food with other food processor substitutes such as a blender, a mixer, or just simply a knife. If you have not bought these cooking appliances, you can still puree your food by cooking and then mash it easily with a fork.
Or, if you have any experience in using food processor alternatives, share it with me in the comment section below this post.