It might seem strange to want to know how to toast bread in an oven. But what if you don't want to spend money on a toaster or maybe just need to make toasts for many people? These are problems that can be solved easily if you have an oven readily available.
This article will give you a detailed guide to the two most common methods for making toast using the oven: slow-toasting and quick-toasting. Not only that, I will also give you some extra information on how to achieve the perfect toast.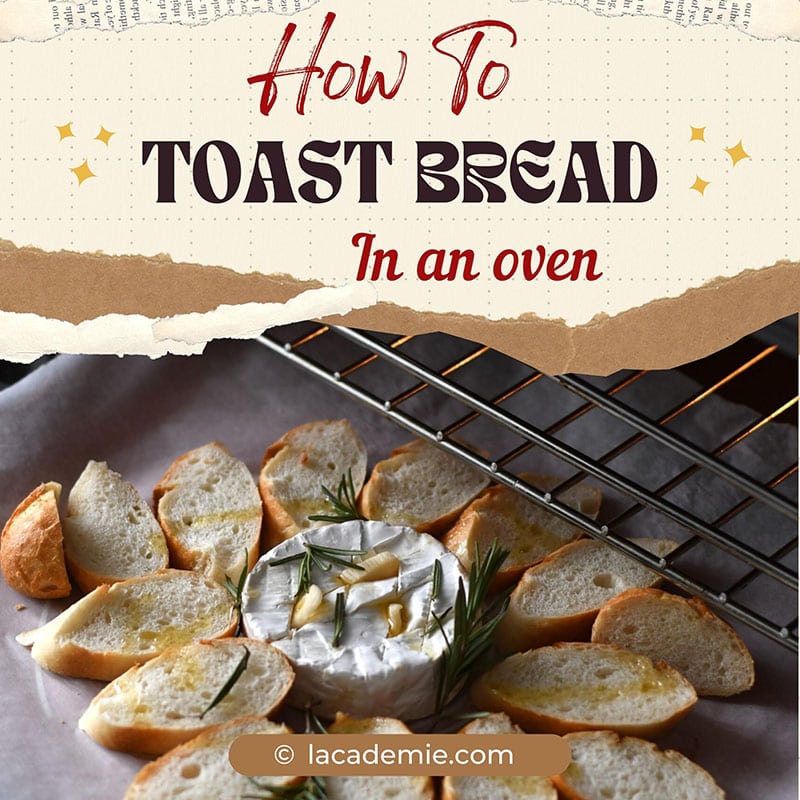 How To Toast Bread In An Oven?
There are two ways to toast bread in an oven:
Slow-toasting In The Oven: Heat the oven to 350°F, then toast your bread on the middle rack for about 10 minutes; remember to flip it when you are halfway through.
Quick-toasting Under The Broiler: At the same temperature, using the broiler part of the oven, toast your bread for nearly 2 minutes on each side.
Keep reading this article if you want to learn more about these methods as well as tips on making the perfect toast.
What Is Toast?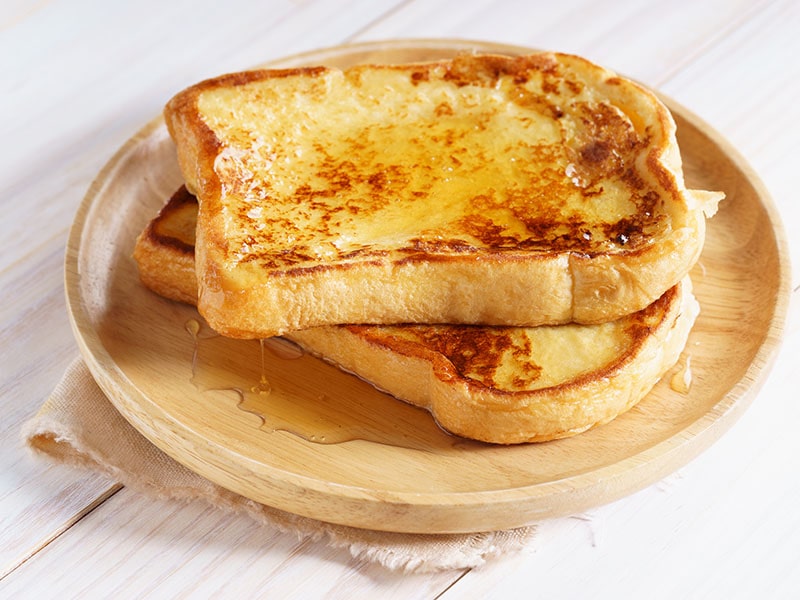 Toast is a common type of breakfast food made from sliced bread that has been browned and heated. This makes the bread crisp and firm with additional flavors and warmth that normal bread does not possess(1).
Traditionally, toast is eaten with butter, jam, or peanut butter. However, it can also be served with almost any kind of toppings, from avocado to bacon, anything one's heart desires.
What's more, it is also incredibly simple and easy to make. Less than five minutes in the kitchen, and you can have a nutritious meal ready to go. Delicious and convenient, it isn't hard to understand why it is one of today's most preferred meals for people of all ages.
Why You Should Toast Bread In An Oven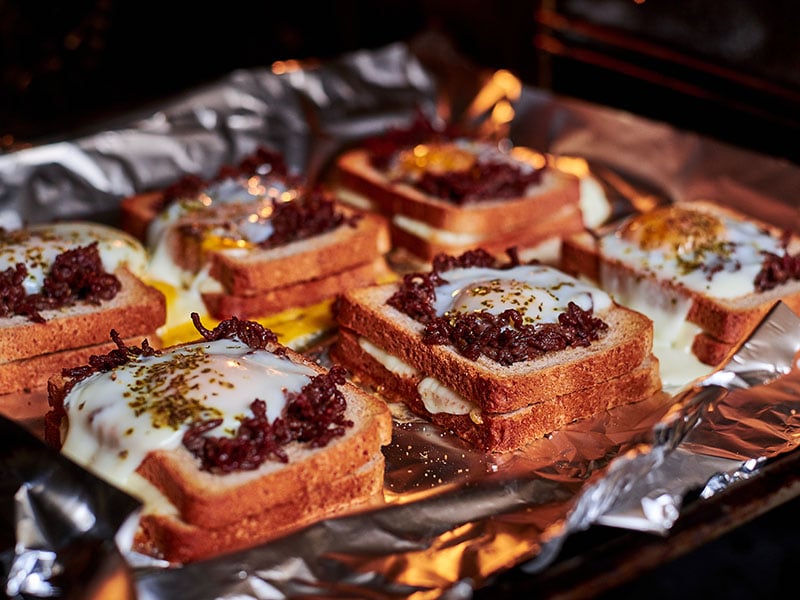 While toasters are traditionally known for delivering quick, hot slices of toast within minutes, they aren't the only cooking utensil capable of doing so. For instance, you can prepare this breakfast dish in air fryers as well. And if you ever find yourself without a toaster, try the oven.
Ovens are popular because of their versatility in the kitchen. With advanced heat settings, ovens can ensure your bread will be evenly toasted and have great consistency. The steps to cook brats in ovens are quite simple as well, giving your toasts the perfect companion food.
Ovens are also especially convenient for large gatherings. Having large storage space, they are the quick and easy solution to making meals for multiple people in one go.
How To Toast Bread With An Oven
Let's get started. The following parts will give you an overview on the necessary equipment as well as a step-by-step guide on the two ways that you can make toast using the oven.
1. What You Need
Equipment
Conventional oven
Baking sheets
Oven mitt
Tongs
Ingredients
Bread
Depending on how many people your meal is for, prepare the slices of bread accordingly. A typical serving for one person is two slices.
Cooking Spray
This will ensure crispness for your bread. You can choose from any kind that is available such as vegetable, olive, or butter oil.
Toppings
Any toppings of your choice to add on once the bread is ready.
Temperature
The preferred temperature for toasting bread is 350°F. Each side may take from 4 to 5 minutes, depending on how toasted you want your bread to be.
However, if you want to be quick, try 400°F. At this point, it only takes the bread a few minutes to become crunchy and well-toasted. You only need to spend around 4 minutes with each side of the slices.
2. Methods
There are two ways to use the oven to make your toast: slow toasting in the oven and quick-toasting with the broiler. The final result is pretty similar; choose whichever method you prefer.
Method 1: Slow Toasting In The Oven
This method is ideal for those who are particular about their toast. With the heating temperature of 350°F, you can have more control over how you want the texture of the bread to be.
Take your time with the pieces if you want something crispy and slightly burnt, or settle for a golden brown toast with an average of 10 minutes.
Step 1: Lay The Slices On A Baking Sheet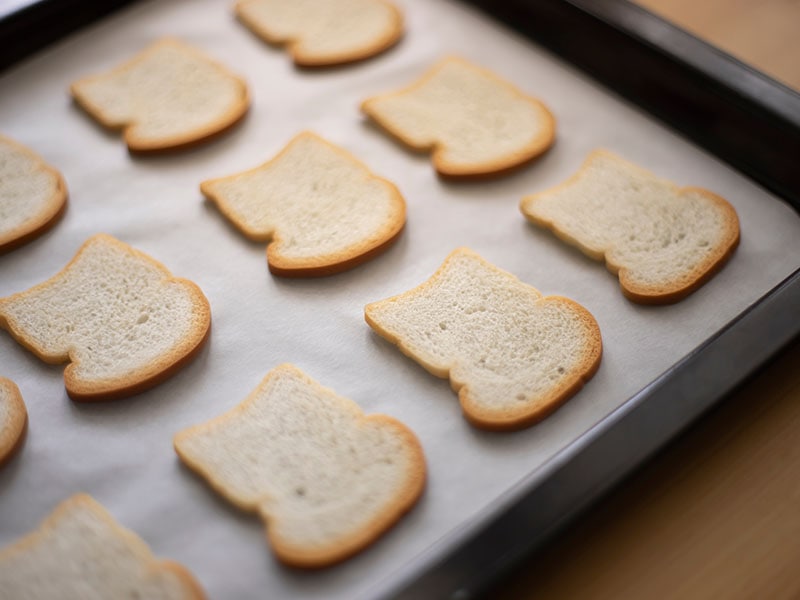 As the oven tray is relatively spacious, put as many as you like. Make sure not to overlap them, so they are all toasted properly.
Step 2: Preheat The Oven To 350°F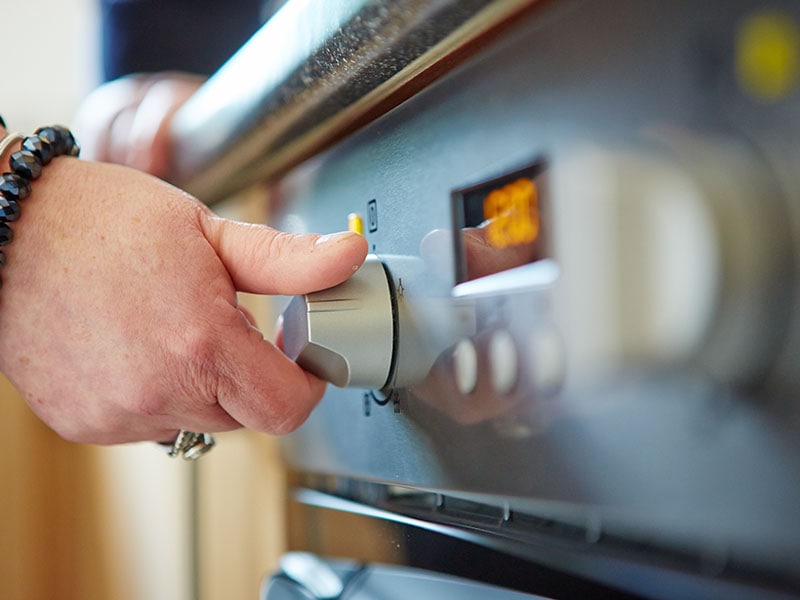 Set the temperature to 350°F. The tray needs to be in the middle for better air circulation that allows all the bread to be toasted evenly.
Step 3: Wait For The Bread To Be Properly Toasted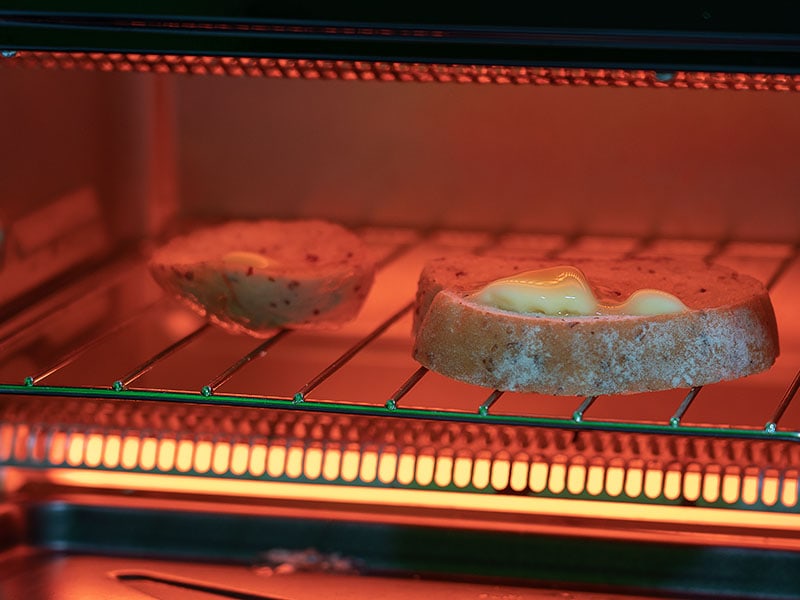 For about 5 minutes, keep the door closed and heat the bread until the top begins to dry out.
Step 4: Do The Same Thing For The Other Side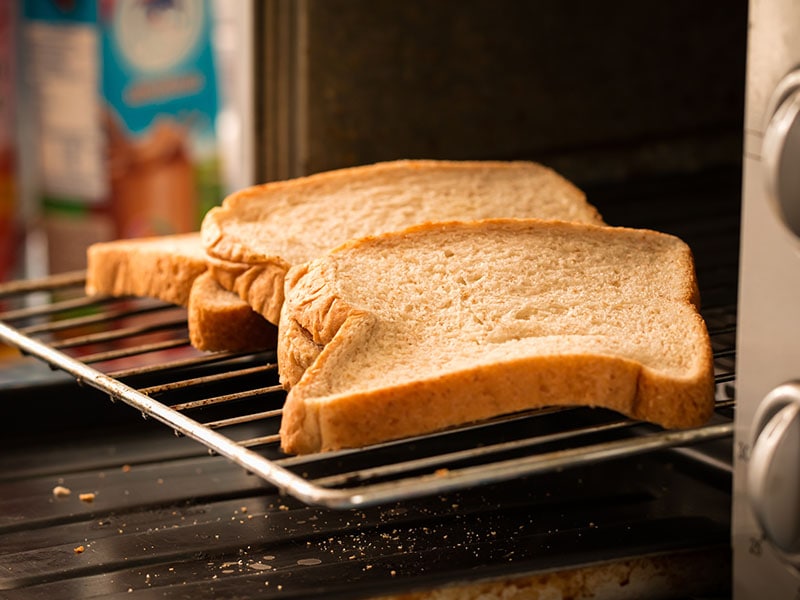 Put on your oven mitts to take the tray out then flip the slices over and repeat the process for the other side.
Step 5: Turn Off The Oven And Remove The Bread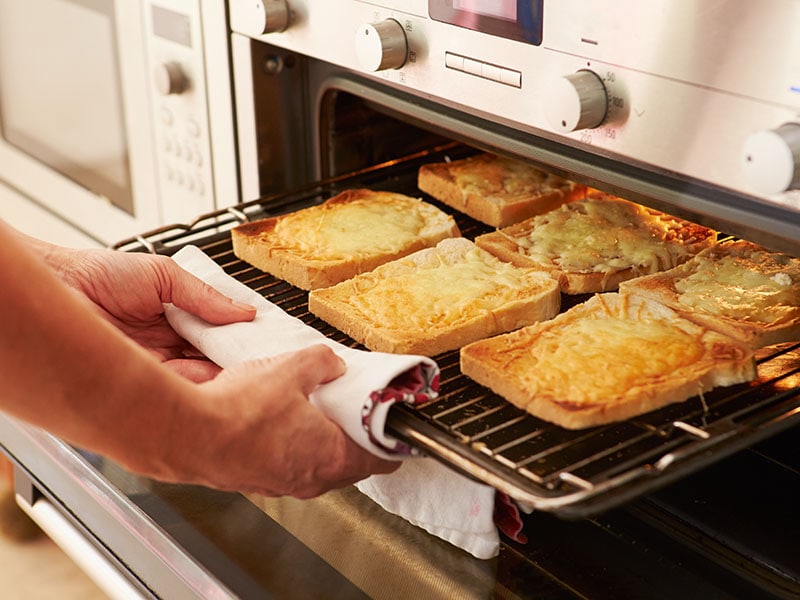 Once the slices turn into a shade of golden brown, take the toast out of the oven then proceed to add some toppings. Don't forget to turn off the oven first and take the sheets out.
Method 2: Quick Toasting With The Broiler
For those looking to save time while still making the crunchiest toast, the broiler is your friend. It is usually located near the top of your oven and provides direct heat, quite similar to a grill. This means it can heat your food up quickly and give it extra complexities in both texture and flavor.
Step 1: Adjust The Racks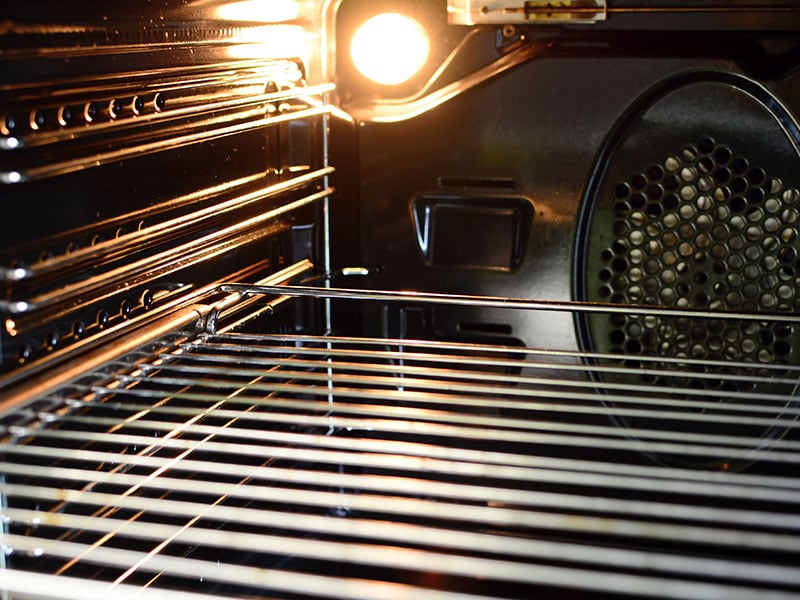 Prior to preheating your broiler, make sure the racks have a 3-5 inch gap between your broiler and the top of your food. The closer the toast is to the broiler, the faster it will cook.
Step 2: Preheat The Broiler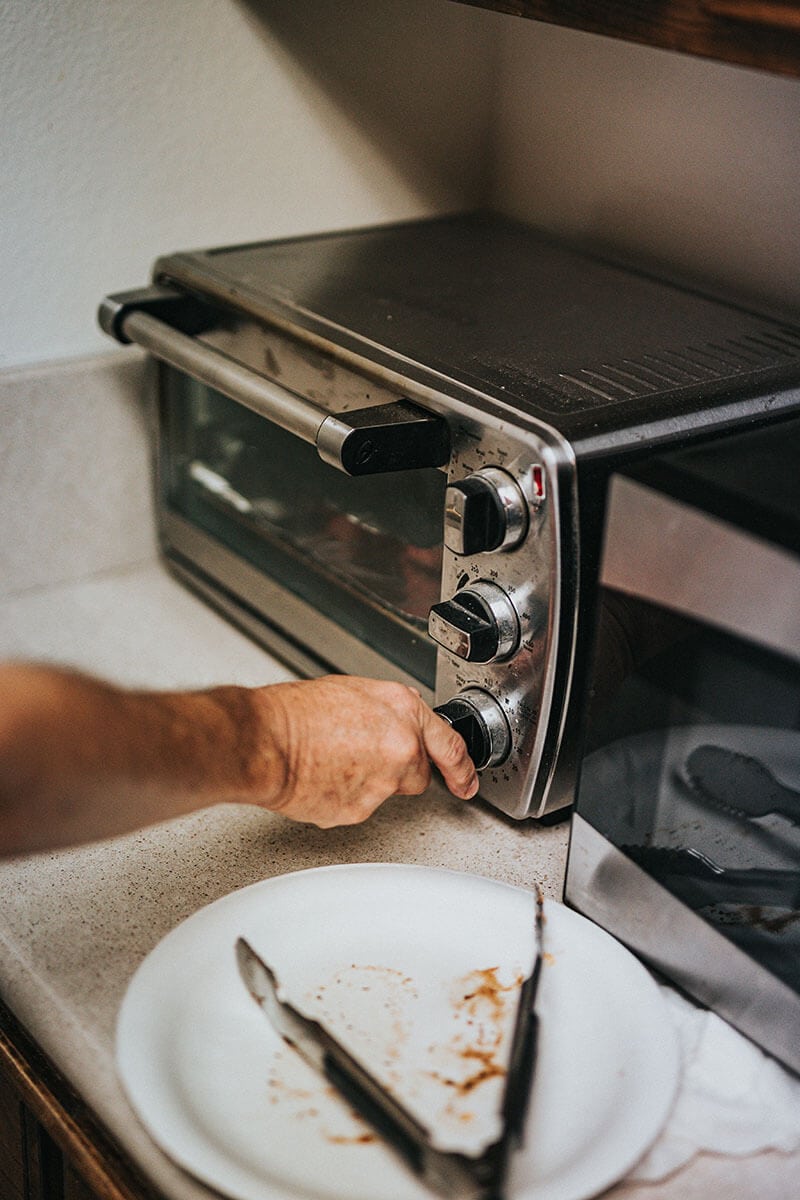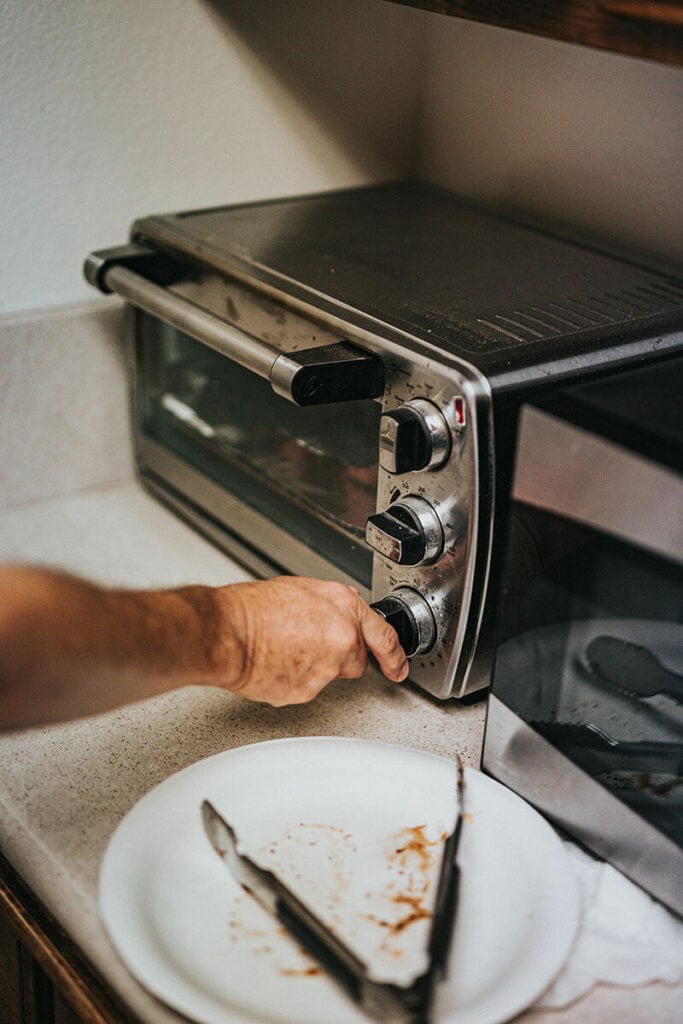 Once the racks are adjusted, preheat your broiler for a few minutes then lay the slices on the rack. Remember to keep them at least half an inch away from each other so they can be heated evenly.
Step 3: Adjust The Temperature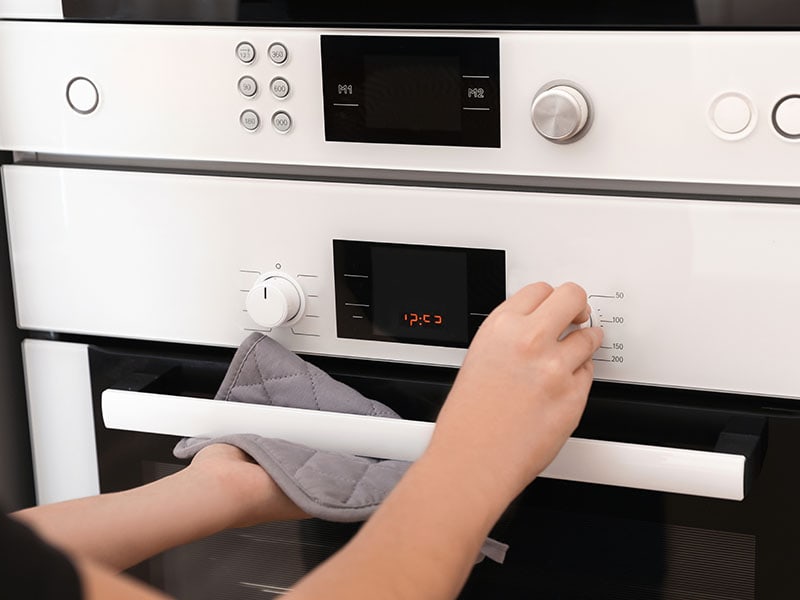 If your oven has a low/high function for temperature, choose the high setting. If not, you just need to turn the broiler on. Do this after you have put the food under the broiler.
Step 4: Keep An Eye On The Bread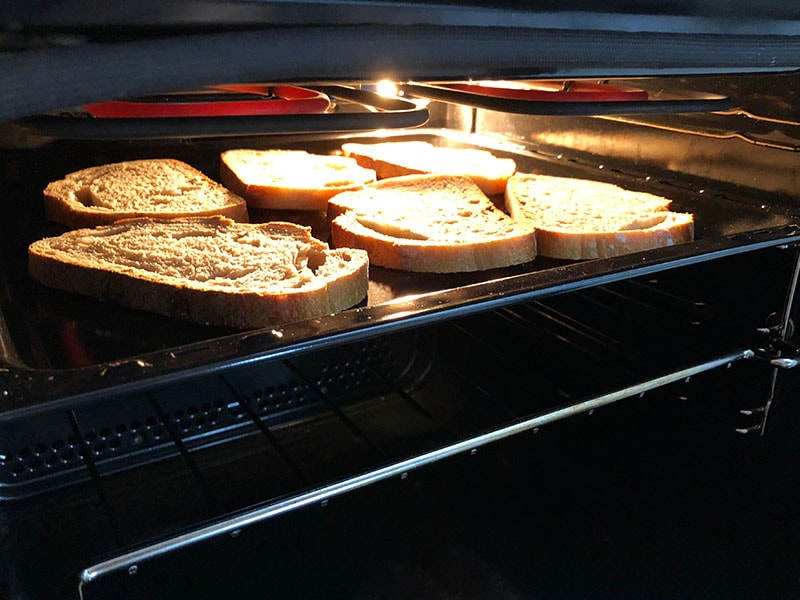 Since the food is placed so close to the heat arrangements, it only takes around 1 – 2 minutes for the bread to be well-heated. Make sure you stay nearby to monitor your food and prevent it from burning.
Step 5: Flip The Bread Over And Repeat The Process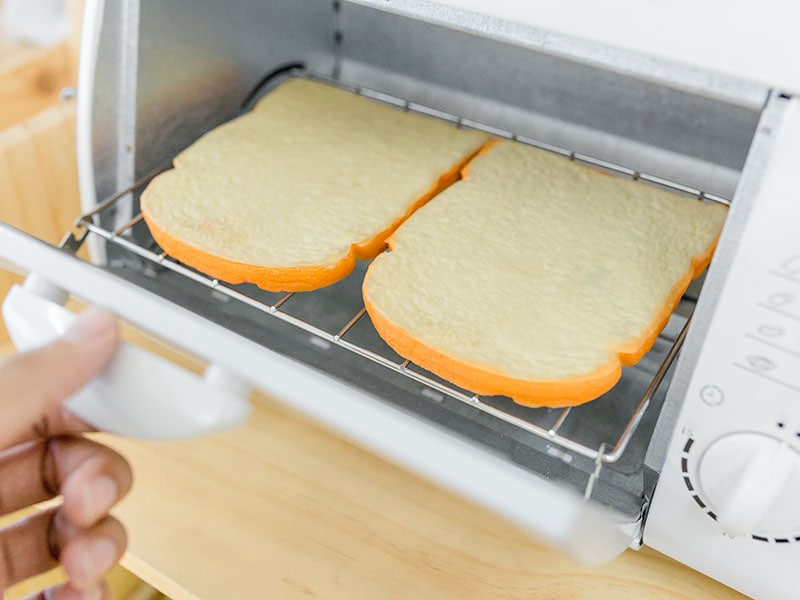 Once the bread has turned golden brown, put on your oven mitts to pull the rack out and flip the bread to the other side. Repeat the same process for the same amount of time until both sides are equally cooked.
Step 6: Take Out The Toast And Add Your Toppings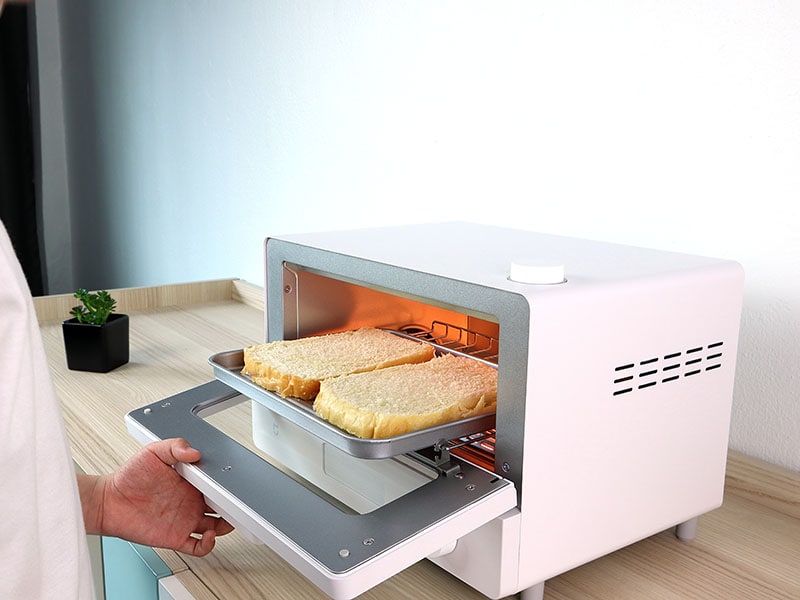 Use the heat-resistant kitchen tongs to remove the toast after you have turned off the burner then add your favorite toppings.
If you still want to learn more about how to toast bread in an oven, don't hesitate to take a look at this video.
What To Do After You Are Done
Cleaning, in general, can be very exhausting. However, it is better to do it regularly and frequently than to leave things to pile up in the long run. As making toast is relatively simple in comparison to other types of meals, the cleaning process can be just as quick and easy.
Step 1: Turn Off The Equipment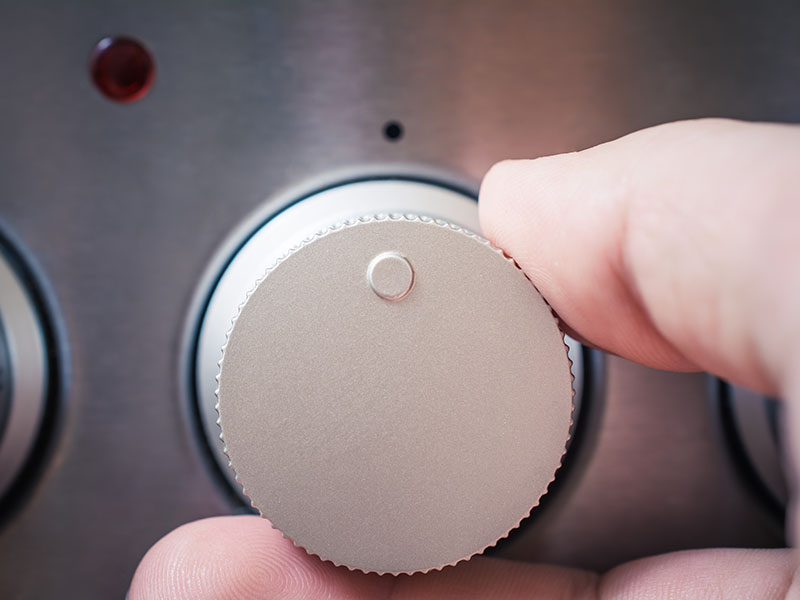 The first thing you need to do is make sure to turn off the oven. It is easy to obtain serious injuries such as burning or electrocution from this simple carelessness.
Step 2: Remove And Clean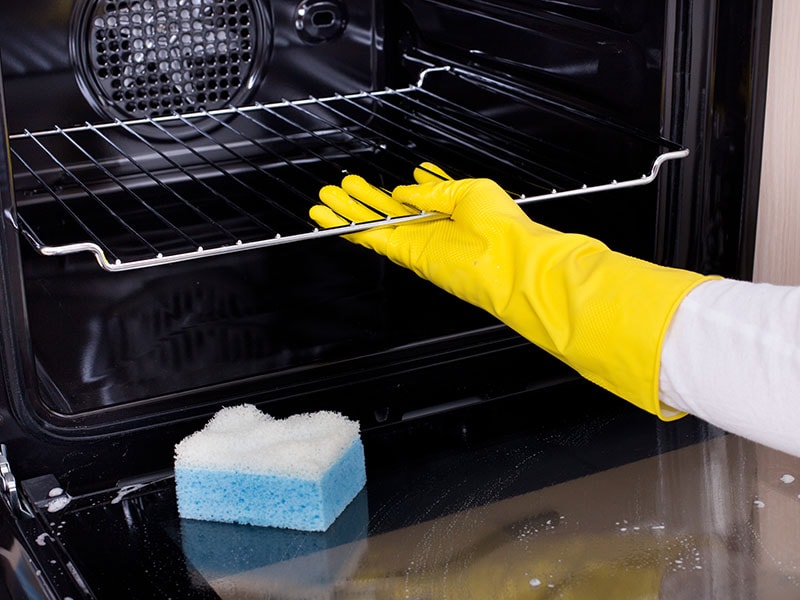 Put a piece of newspaper nearby to catch the crumbs after you have removed the trays. Then pull out the trays and the racks and place them under the sink. Regular dish soap and water should be efficient enough to clean these parts.
Step 3: Wipe Down The Interior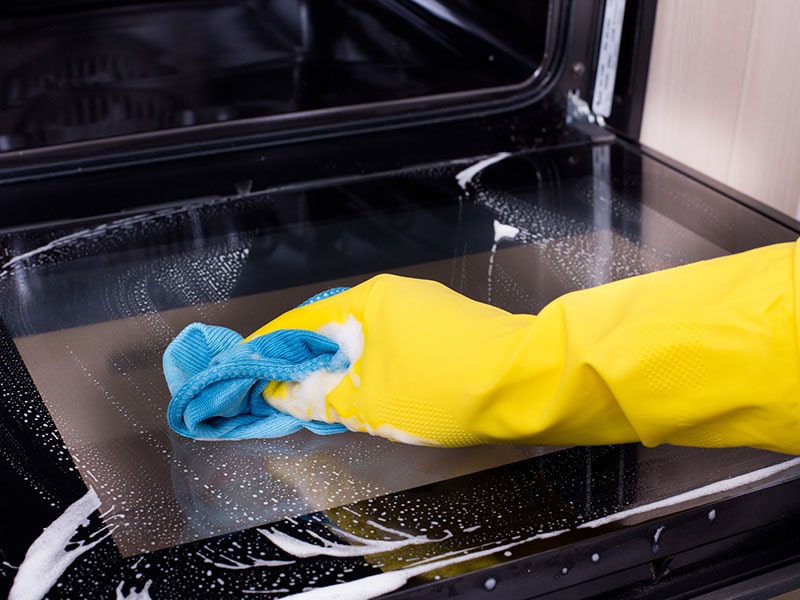 Use a wet cloth and some soap water to get rid of all the crumbs and other build-ups (melted butter, grease, etc.) then re-wipe with the pad to make sure they are completely removed.
What Makes The Perfect Toast? Useful Tips You Should Know
The ideal toast can often be judged based on its color, texture and temperature. The color should be golden brown with a crunchy crust and soft center. Like most meals, it should be hot for all the accompanied toppings to show their true flavor potentials.
In order to achieve this, perhaps the most important virtue is patience. Getting your toast to have the perfect caramel shade is a gradual process. Don't leave it on for too long if you don't enjoy burnt bread.
Bread has many different types and they all need different methods of toasting. Depending on the type of bread you are working with, the heat and methods can be adjusted accordingly. The more you experiment, the more you will learn what works and what doesn't.
Which Bread Is Best For Toast?
While it may seem like toast is all about the seasonings and toppings, the first step to ensuring a good toast is picking the right bread(2).
How To Choose The Perfect Bread For Toasting?
These are general standards to consider when choosing the perfect bread for your toast:
Sturdiness: The bread will inevitably need to be saturated in either egg mixture or butter or other milky products. Make your slices thick and dense so no matter what, your toast is still in one piece.
Staleness: Day-old bread is actually the best choice for toast. Slightly stale bread has a denser consistency, which helps it absorb custard mixtures better and more thoroughly than fresh ones.
Flavor: While toast relies a lot on seasonings and toppings, the original taste of the bread also plays a huge role in making sure the final dish tastes good. There is a wide variety of bread to choose from depending on what your personal preference is.
Texture: The most preferred texture for toast is a hard crunchy crust on the outside and soft buttery insides to compliment the other toppings.
Types Of Bread
Getting into the specifics of which type of bread to choose that would meet your likings best, here is a selection that meets the above standards:
Brioche: This type of bread is known for its richness from being made with extra butter and egg. This also results in a soft inside covered by hard crumbs that ensures consistency in cooking. It can give the dish a creamy yet light taste that works well with any kind of toppings.
With brioche, you can make Sicilian brioche – a timeless Italian breakfast dish. Sometimes, you can see Sicilian brioche filled with Italian-style ice cream to served alongside coffee. Talk about an irresistible indulgence.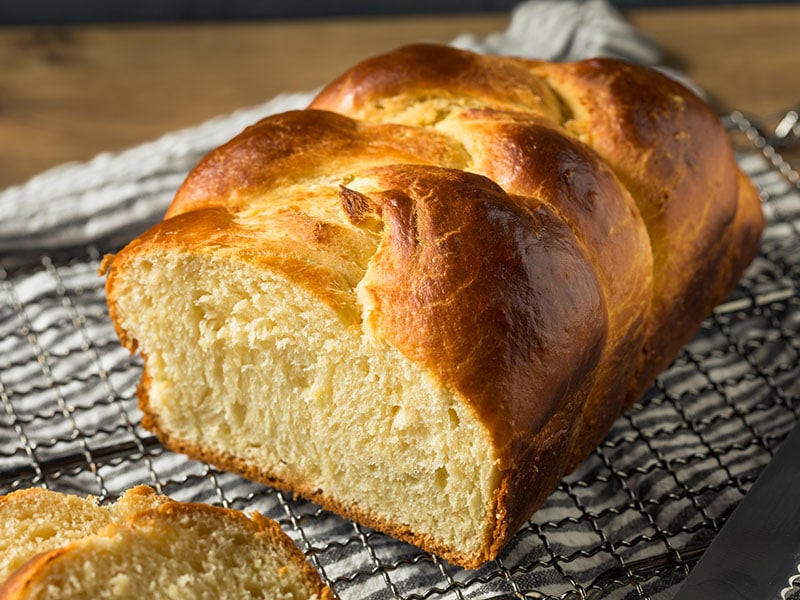 Challah: This traditional Jewish bread is very similar to Brioche in taste and texture but with the exception of dairy in the ingredients. This buttery bread not only tastes absolutely delicious but also provides an eye-catching dish thanks to its braided pattern.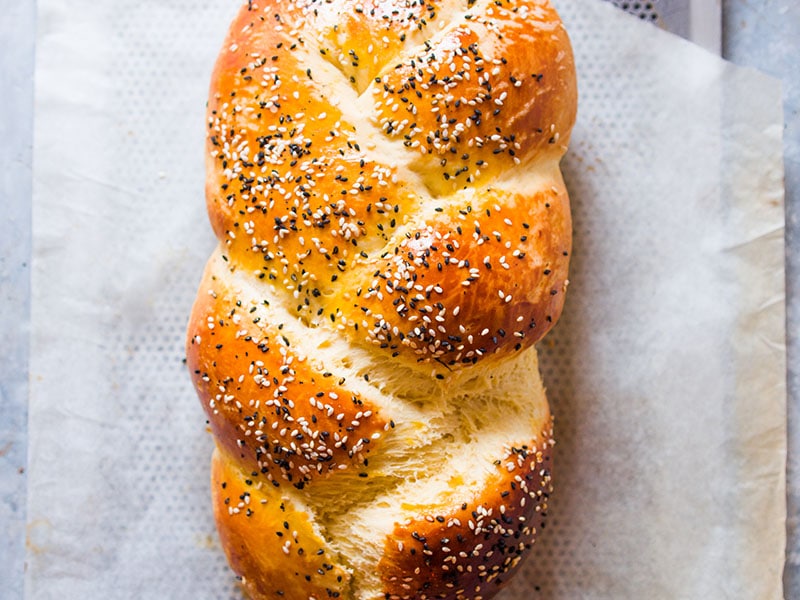 Baguette: Baguettes tend to already come with crispy crusts and thick crumbs so they are sure to not fall apart during soakings. However, their tender insides that contrast with the outer hardness really help bring out the flavor of any meal they are served with.
There are many ways to serve a baguette, such as turning it into bruschetta – a classic Italian first course, making grilled cheese, garlic bread, or crunchy croutons. My personal favorite, though, has to be using it as a simple and delicious side dish for porcupine meatballs.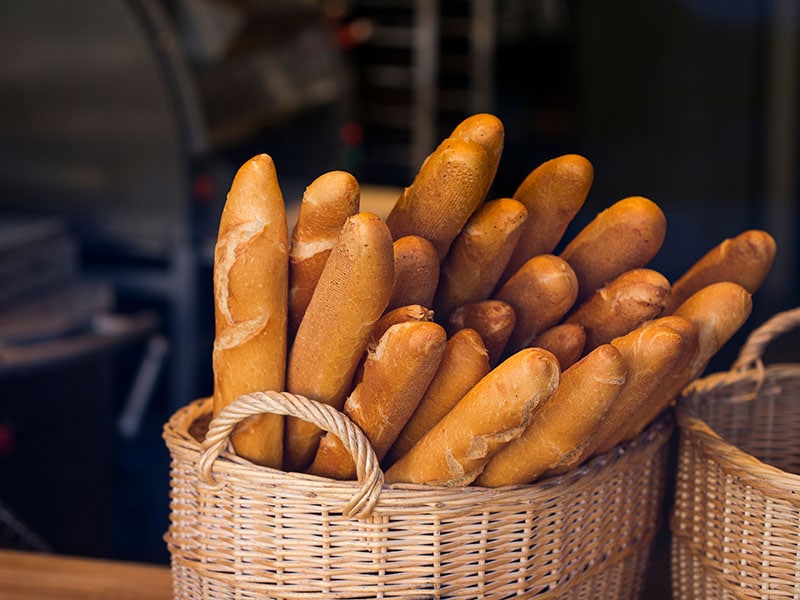 Sourdough: If you prefer tanginess over regular pastry sweetness, this is a perfect choice. It carries a natural sourness and elastic texture that reminisces those of slightly stale white bread while still having great complexity in taste.
It's also not a bad idea to make sourdough from scratch at home. To be honest, I find sourdough one of the easiest bread types to make. The only difficulty I had with this is the correct way to utilize a bread lame on sourdoughs was rather tricky to master at first.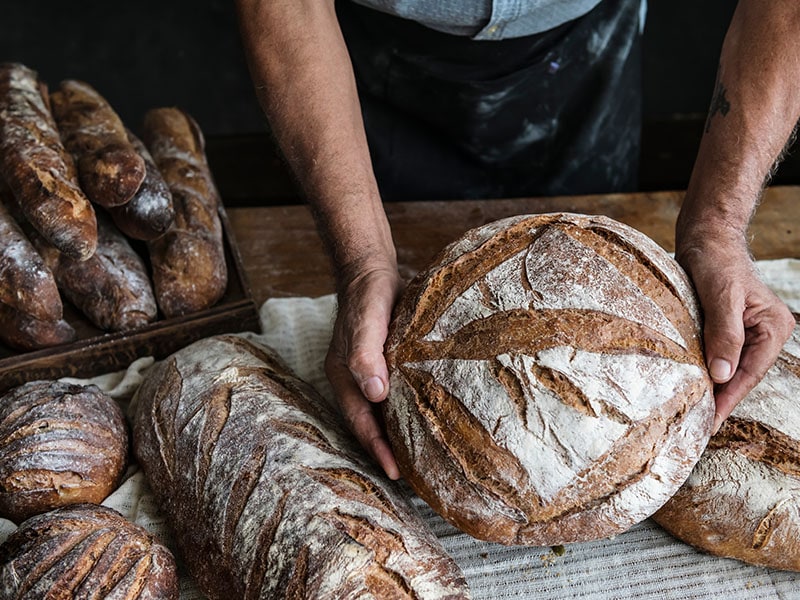 White bread: A staple in many households' kitchens, white bread, especially stale ones may not be able to give you a buttery foundation like challah or brioche, but they are sufficient nonetheless. Easy and convenient for a good quick meal.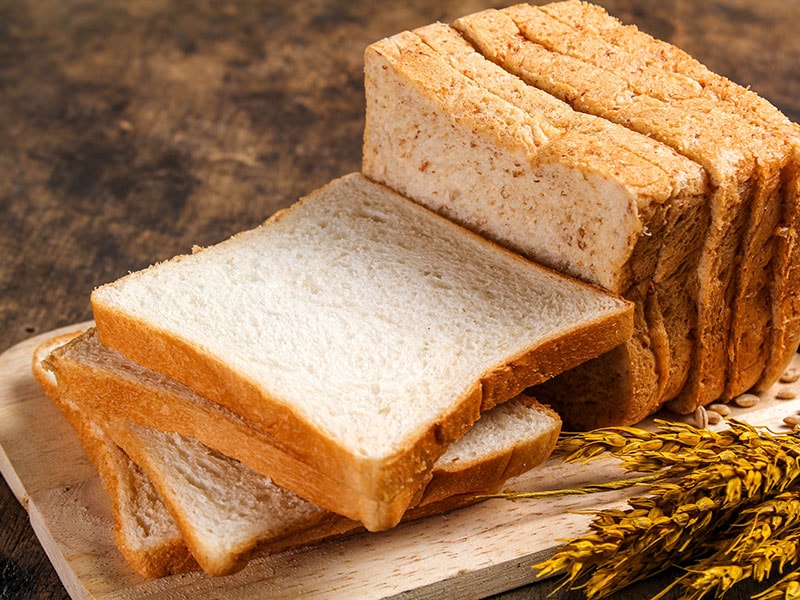 What To Put On Your Toast?
Over the years, toast toppings have become increasingly versatile as they evolve along with food trends and personal tastes. Paired with the right toppings, toasts can make incredible breakfasts or brunches that are just as nutritious as they are tasty (3).
Temporarily stepping away from traditional toppings such as peanut butter or fruit jams, here are some great combinations to start your day with:
Cheese: With a wide variety to choose from this is the perfect topping to add for an extra taste. Add some small pieces of bacon or veggies as complementary for the meal and you can find yourself with a restaurant-worthy meal.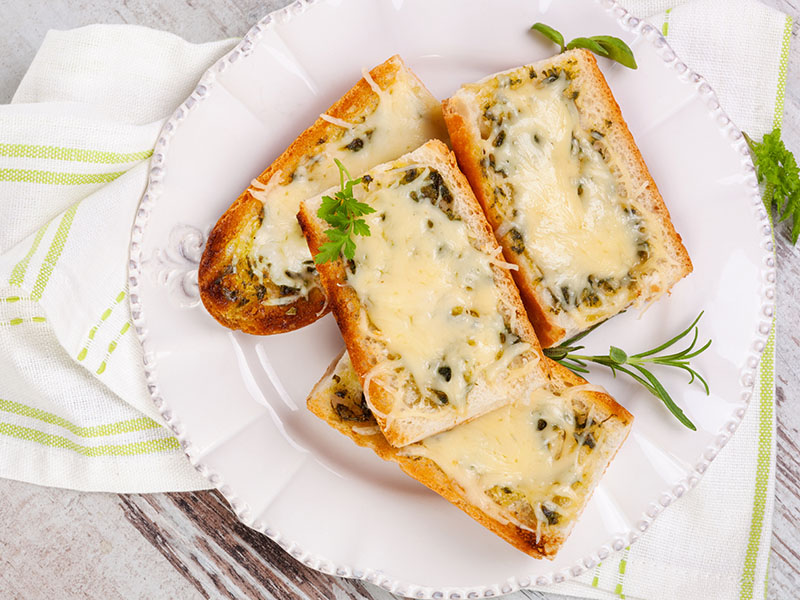 Avocado: A very popular choice for today's youth. Avocados also have the magical ability to pair with almost any kind of condiments or add-ons, from tomatoes to eggs to even tunas. They give a creamy and distinct touch to whichever meal they appear in.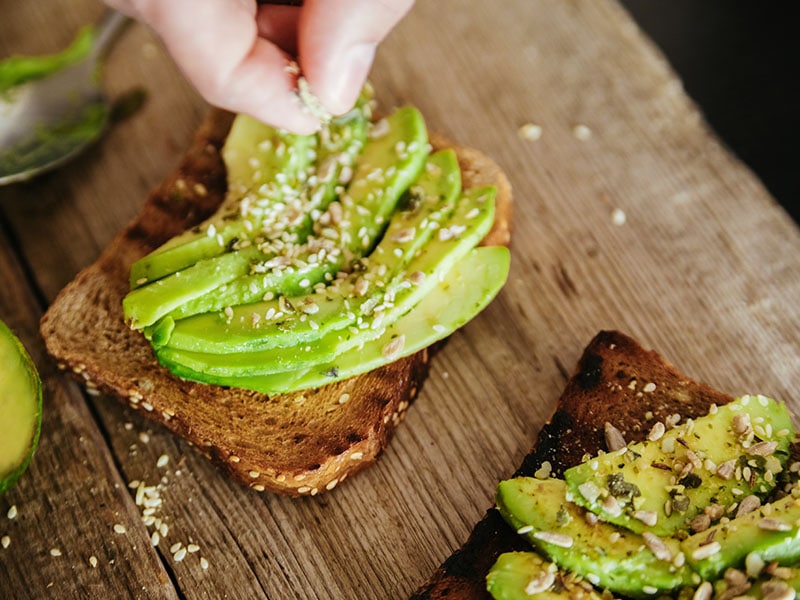 Tomato: A truly unique yet simple topping for those who like their food a bit different. They can be used to make great appetizers like bruschetta or combined with balsamic for a tangy twist.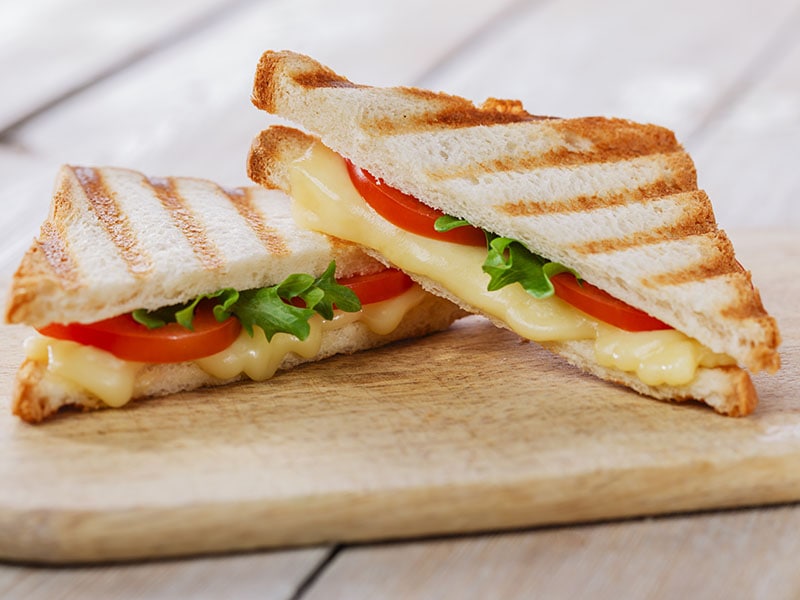 Fruit: A healthy twist with endless possibilities, from jams to straight slices. Any kind of fruit that you like can be used as toppings. Most common are strawberries and bananas that often get paired with yogurts, cinnamon or Nutella.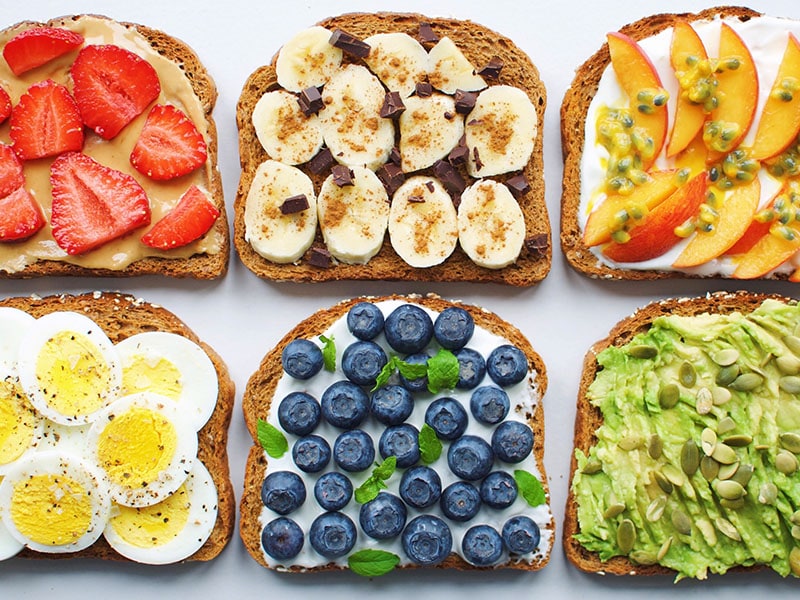 Eggs: Definitely something that requires a bit more effort in comparison to other toppings. However, if you have time, it is definitely worth it. Egg yolks, when paired with sautée mushrooms, paprika or even avocados, make excellent brunches.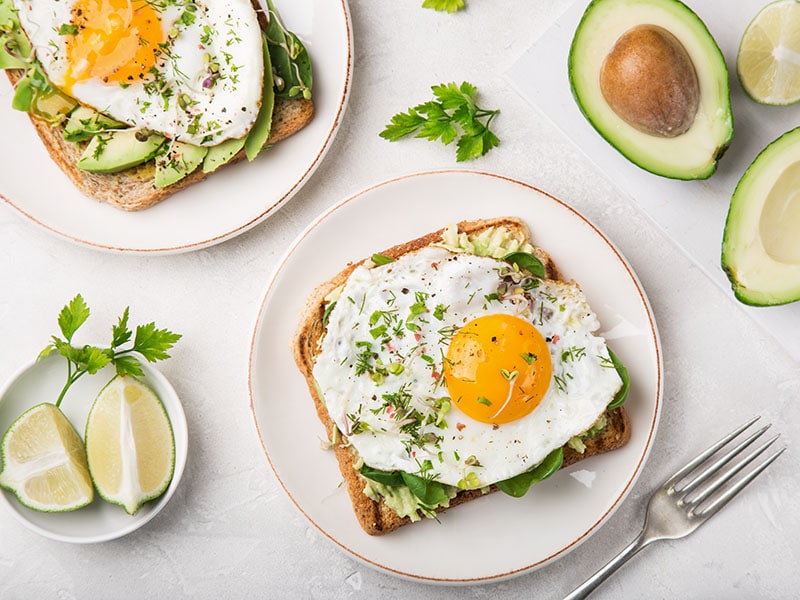 FAQs
While I have covered a lot on the topic, I know you still have some more questions. Read the following part for any extra information you might need.
Bonus Tips To Make The Perfect Toast In Oven
If you use butter or cheese as a topping, spread it as soon as you take the bread out of the oven. This can help the butter fully melt into the bread and make it more flavorful.
Do not butter or grease your bread first if you use the broiler to toast, as it heats up pretty quickly and might get your bread overcooked easily.
If you burn your toast, do not freak out just yet. Use a butter knife's flat side to scrape off the burned parts. However, if there are more burned parts than cooked ones, it's time to start over.
Avoid using plastic tongs as they can melt due to heat exposure. Try ones made from heat-resistant material instead.
Ovens are also great for making more complicated toast-related dishes, such as bruschetta or pizza toast. Different types of bread require different cooking methods. Tender, buttery bread should not be cooked with high heat, whereas more solid, well-fermented types can.
Hopefully, with the information provided in this article, you can make some nice homemade toast for yourself and your loved ones. What about you, do you have any questions or tips on making toasts with your oven? Let me know in the comment section down below and don't forget to share this post with your friends and family. See you soon!
Nutrition Facts
1 servings per container
---
Amount Per ServingCalories200
% Daily Value *
Total Fat 2.5g

4

%
Cholesterol 0mg

0

%
Sodium 511mg

22

%
Potassium 75mg

3

%
Total Carbohydrate 38g

13

%

Dietary Fiber 1.8g

4

%
Sugars 3.2g

Protein 5.7g

10

%
---
* The % Daily Value tells you how much a nutrient in a serving of food contributes to a daily diet. 2,000 calories a day is used for general nutrition advice.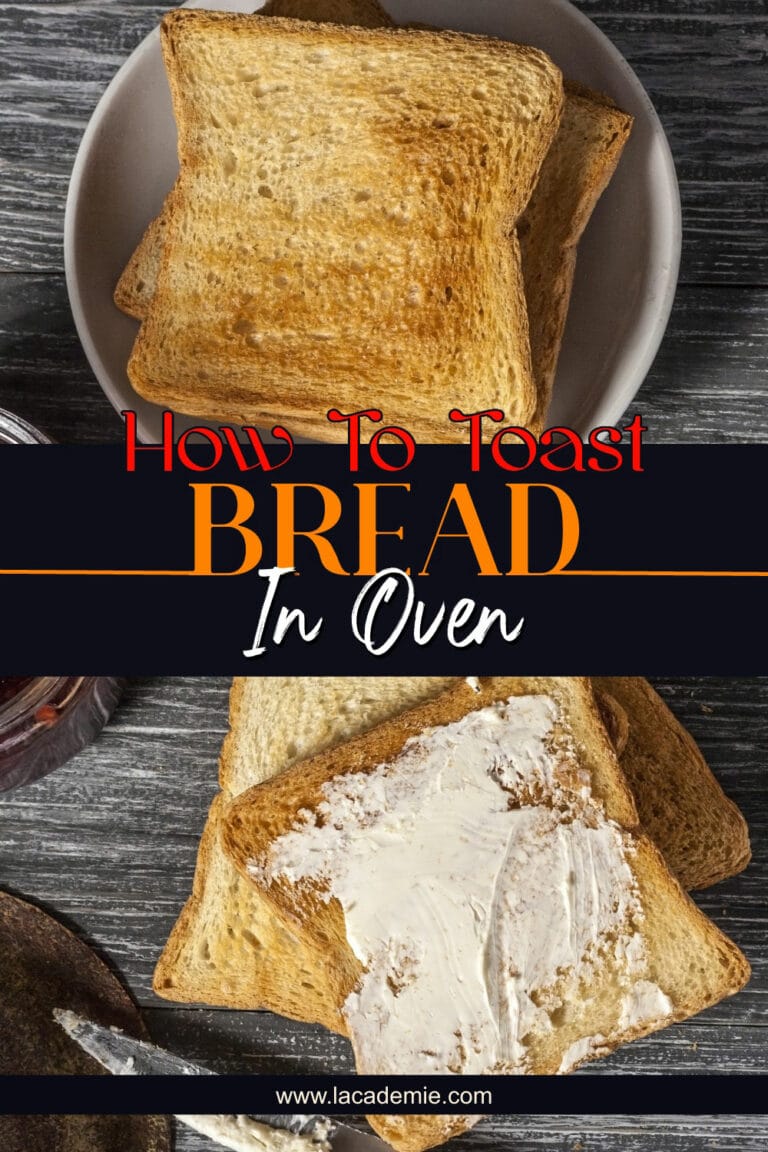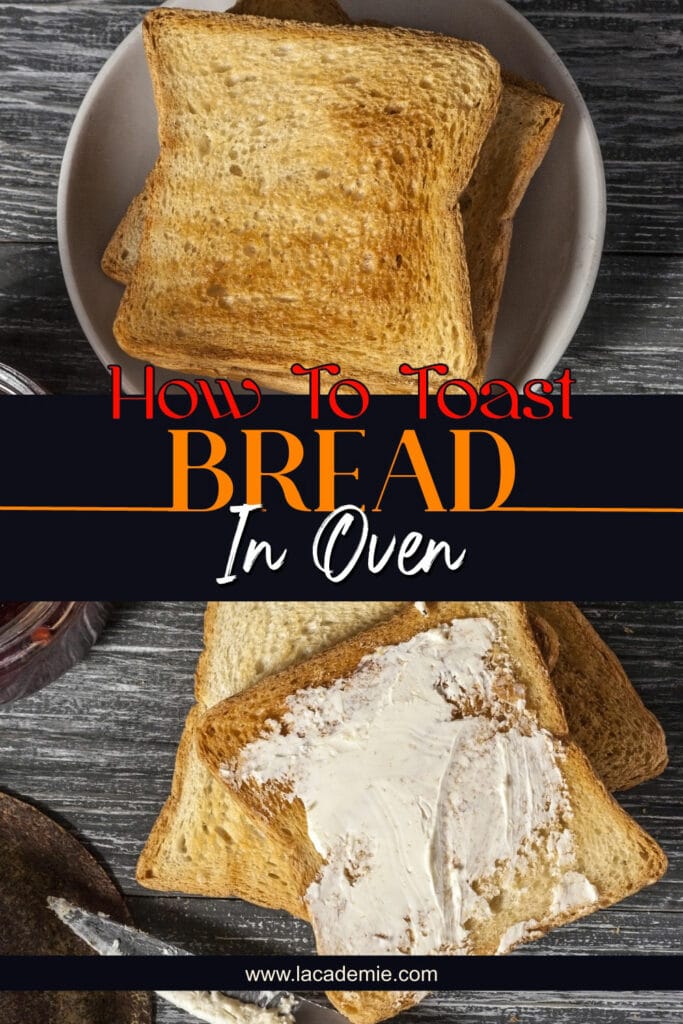 Reference
En.wikipedia.org. 2021. Toast (food) – Wikipedia.
Allrecipes., 2020. The 5 Best Breads For French Toast.
Insider., 2018. 13 of the most delicious things to put on top of your toast, according to chefs