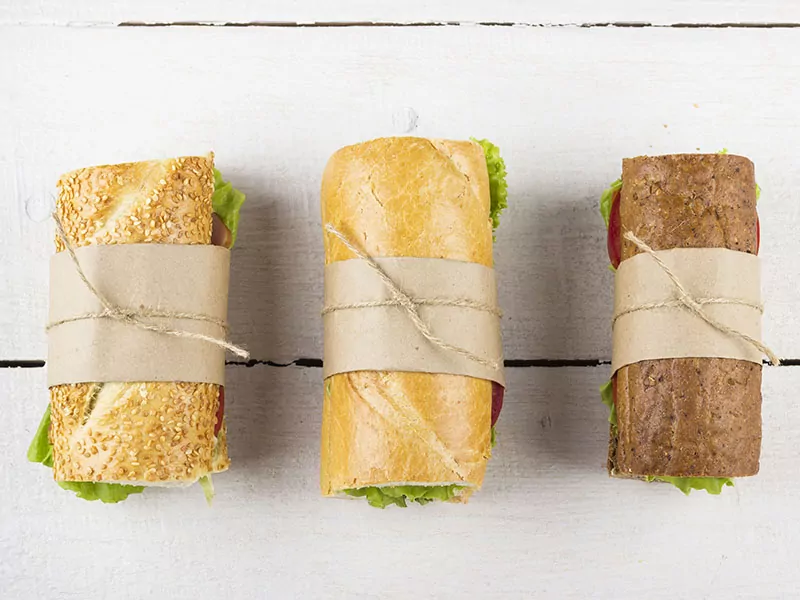 Types of sandwich bread are my favorite topic. If you are also interested in these bread varieties, I am sure this article will open your mind.
Finding a suitable kind of sandwich bread is not difficult at all if you know what flavor and texture you are looking for. In this post, I will walk you through several sandwich bread varieties so you can pick the best one that meets your demand.
So please sit tight and keep reading!
13 Types Sandwich Bread For A Tasty Quick Meal
To my knowledge, there are a total of 13 different varieties of sandwich bread. Some are very familiar, such as white bread and baguette; some are lesser-known yet very versatile and delicious.
| Type of sandwich bread | Taste | Texture | Uses |
| --- | --- | --- | --- |
| White Pullman Bread | Tender, slightly sweet | Fluffy and soft | Any type of fillings |
| Seeded Bread | Rich, nutty, earthy | Crunchy | Sweet or acidic filling such as mustard, cheese, and pickles. |
| Baguette | Salty | Crispy outside, chewy inside | Hard fillings |
| Farmhouse Loaf | Light, buttery | Crusty outside, fluffy and soft inside | Making sandwiches and toasties |
| Focaccia | Light, rich | Crispy outside, chewy inside | Any type of fillings, pair well with olive oil and vinaigrettes |
| Spelt Bread | Sweet, nutty | Soft | Any type of fillings, especially cheese slices, homemade coronation chicken, or cooked meats |
| Whole Wheat Bread | Wheat flavor | Soft, chewy | Sweet and savory toppings |
| Ciabatta | Rich, savory | Oily and crispy outside, fluffy and airy inside | Sweet and savory fillings |
| White Bread | Slightly sweet and buttery | Crunchy outside, light and soft inside | Any type of filling |
| Rye Bread | Earthy, vibrant, a little bit sour | Dense | Sweet, savory filling, and the combination of both |
| Sourdough Bread | Tangy | Crunchy outside, soft inside | Savory fillings |
| Vienna Roll | Sweet | Soft | Any type of fillings |
| Potato Bread | Potato flavor | Spongy, airy, thick, dense | Sweet and savory filling |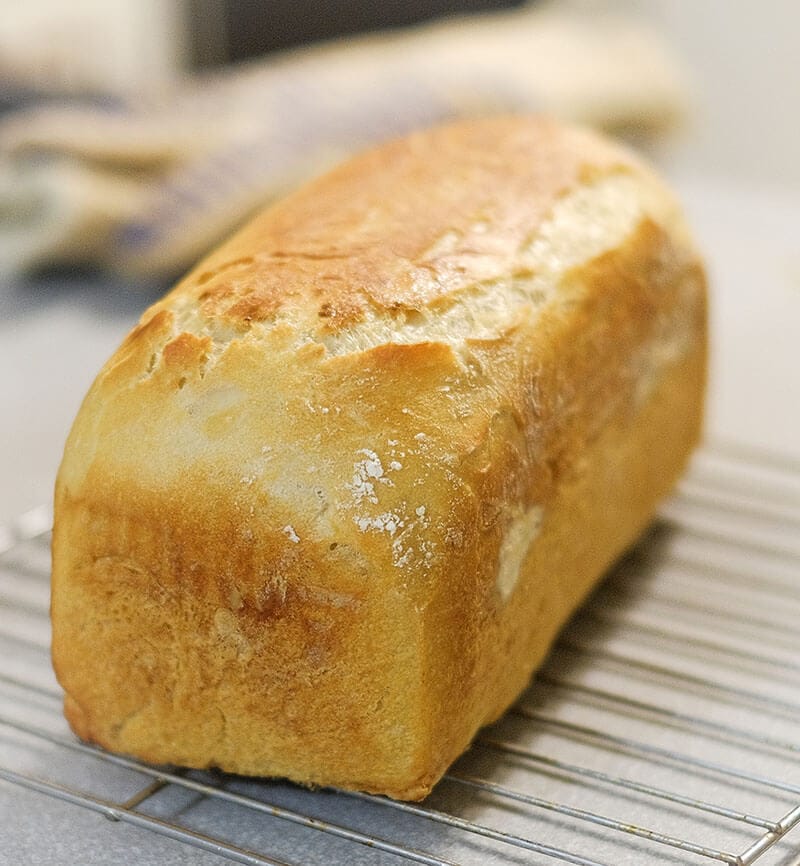 Perhaps this is one of the most common sandwich bread. White Pullman bread (aka Pain de Mie) has a square shape with a fluffy and soft texture. The crust is thin, tender, and slightly sweet, perfect for any type of filling.
The name "Pullman" came from the name of the Pullman company, which produces the pan that is used to make this delicious bread.
People make it by baking the batter in that pan with a lid on the top. The batter comprises white flour. To make the most delicious White Pullman bread, you should use high-quality bread loaf pans.
With this bread, you can make many types of sandwiches. The classic toppings are butter, peanut butter, or jam.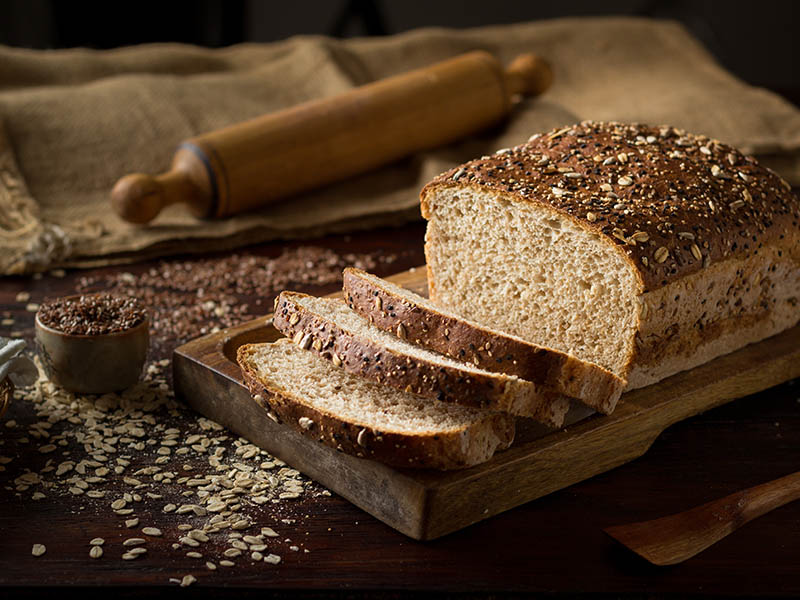 I always choose seeded bread because of its rich, nutty, and earthy taste. Moreover, the slightly crunchy texture is a perfect accompaniment to boost the deliciousness of seeded bread.
The bread consists of spelt, tye, soya, and malt. It also includes plenty of seeds, such as millet, sunflower, pumpkin, and linseeds.
Amazingly, seeded bread has a small amount of saturated fats. Yet it has plenty of fiber, making it a healthy choice for your sandwiches. You can enjoy the bread on its own, or slather it with jam, butter, mustard, or anything you like.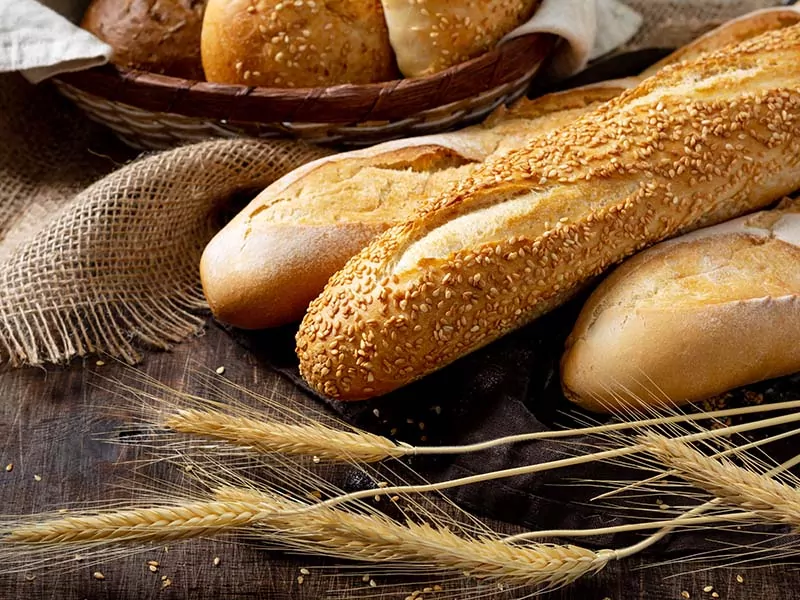 Baguette is very familiar already. It comes in the form of a long and golden-brown crust. The exterior is crispy, while the white part inside is chewy and airy. In addition, it does not become soggy after a short time like other types of bread.
There are plenty of ways to make sandwiches with baguettes. The most common way is to slice it and top it with the fillings of your choice. Alternatively, you can fill the bread in advance then cut it into portions.
You can use baguettes to make both open and closed sandwiches. Toasting it is also a good way to make it more delicious.
With a baguette, you can make almost any kind of sandwich, such as prosciutto, BLTs, and ham and cheese sandwiches.
It is important that you don't fill the baguette with soft ingredients. This is because its crust is hard. So the filling will end up coming out at the other side of the bread.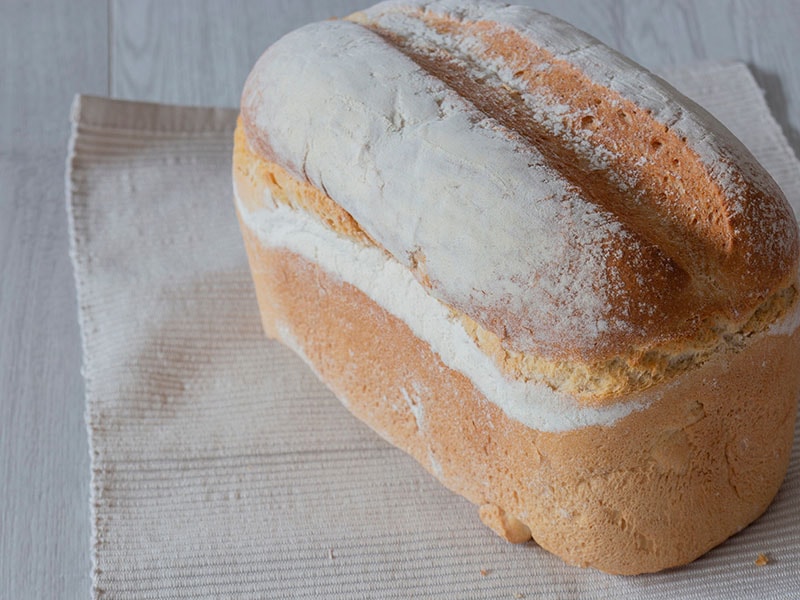 This bread has a crusty and thin interior. And the crumb is incredibly soft. On the inside, the bread is fluffy, soft, and buttery. No one is able to resist that delicate and light taste. In order to make it, people often bake it in a tin.
I love to enjoy slices of Farmhouse loaf every day. You can make plenty of sandwiches, such as grilled cheese or BLT. Sometimes, I just spread some butter or jelly on it, and the result is more than I expect. You can also serve it with soup.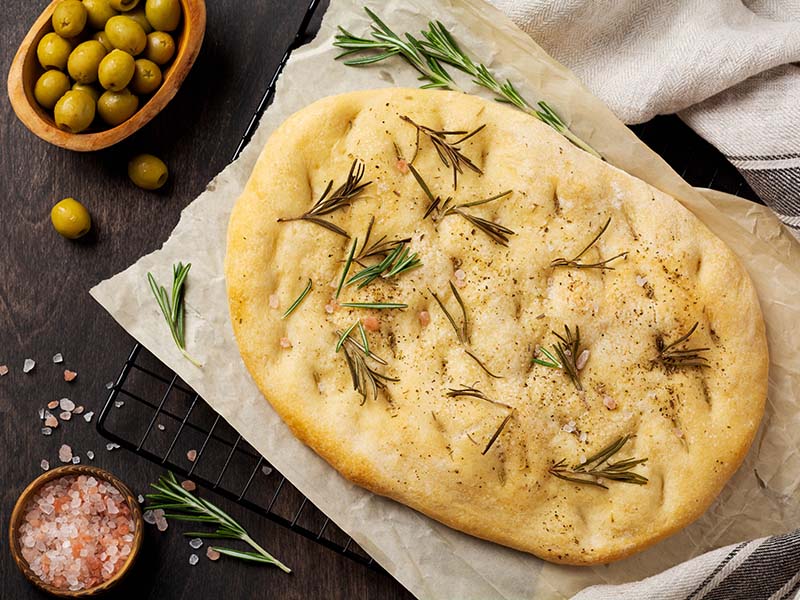 At first, I never thought that Focaccia could be used to make sandwiches. But when I made the first sandwich with it, I was amazed by how delicious it was. Turns out, it is very suitable to make open sandwiches.
Focaccia has a crispy and salty crust. The texture inside is light, rich, and chewy, but some can be dense. Plus, the amazing taste of Focaccia pairs well with a lot of toppings. For me, I love to top it with cheese, onion, pastrami, and tomatoes for extra richness.
You can also make delicious sandwiches with roasted tomatoes and olive oil or caramelized onions, roasted peppers, and olives.
What is amazing about Focaccia is that it goes well with olive oil and vinaigrettes. It absorbs the flavors and becomes more flavorful.
This Focaccia recipe is what you need for a delicious sandwich.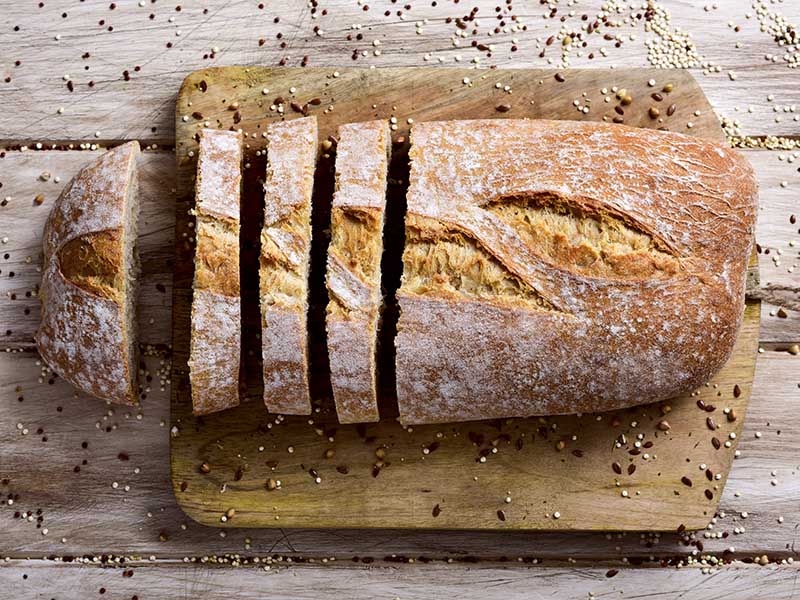 Spelt bread is very nutritious. It is packed with protein, minerals, vitamins, and fiber. Not only is it healthy, but its delicious flavor will also win your heart. It tastes very much like wheat. Thanks to spelt, it has a sweet and nutty taste.
Such a flavor makes it a healthy replacement for common white bread. In addition, this bread has light crumbs and a soft texture. You can fill it with any kind of toppings you prefer.
Some of the most common ones are cheese slices, homemade coronation chicken, or cooked meats!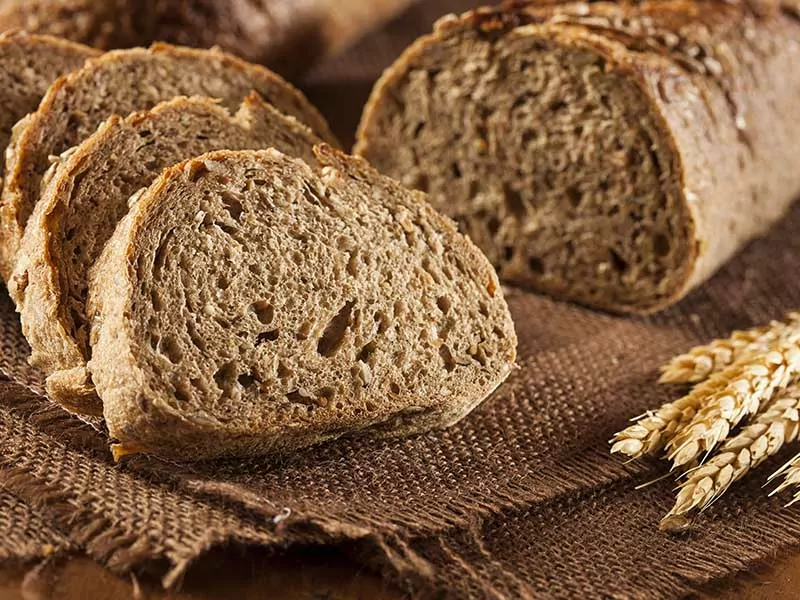 Whole wheat bread is also a very healthy type of sandwich bread. It is rich in protein, folate, fiber, and vitamins, such as vitamin C, vitamin B, and vitamin E. This brown bread is much healthier than common white bread.
As the name suggests, this bread is made entirely from whole wheat grains. It is soft and a little bit chewy. It has a typical wheat flavor. You can serve it as it is or toast it. In both ways, it tastes super delicious.
People often slice it, toast it, and top it with jelly and peanut butter. Some prefer toasting it with toppings to make everything delicious. Toasting bread is an art. The procedure is super important, so make sure that you master the technique to toast bread using an oven.
Another great thing about whole wheat bread is that it pairs well with both sweet and savory fillings. You can combine ham, cheese, and mustard or roast beef and pickles. In addition, chicken salad is also a great idea.
Consider top whole wheat bread with egg, lettuce, and avocado to make flavorful sandwiches. I also love to add sliced avocado, mayonnaise, rocker, and tomatoes.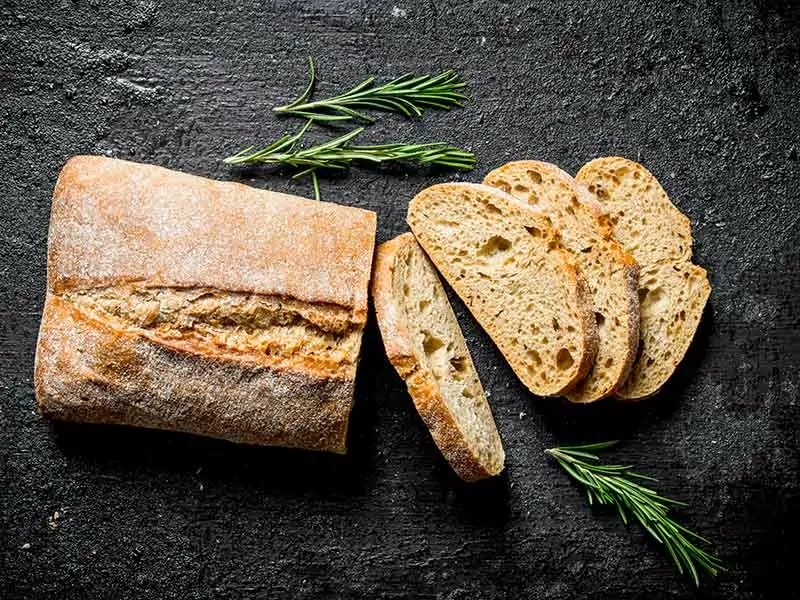 If you are making Mediterranean-style sandwiches, Ciabatta is the one to choose. The outside texture is quite oily and crispy, which gives a rich flavor. It also has a savory taste, making your sandwich more flavorful. The inside is soft and has plenty of large holes.
"Ciabatta" is a well-known Italian kind of bread with its name meaning "slippers". That name strongly reflects its narrow and elongated shape.
There are 2 versions of Ciabatta. The standard version is a type of white bread. It also comes in whole wheat bread, which is called "Ciabatta Integrale".
Ciabatta bread is relatively easy to make. But to create beautiful Ciabatta, you should master the technique of using a bread lame.
Inside the lovely crust is the fluffy and light interior. What I love about Ciabatta is that it goes well with both sweet and savory fillings. People often add feta cheese, pickles, capers, cranberry, and brie to it.
You can toast Ciabatta or serve it as it is. I love to use it to make toasted cheese. It is a great accompaniment to tomato soup. I would like to suggest some filling combo to serve with Ciabatta bread.
The first option is lettuce, Italian ham, basil, and cucumber. This will be an excellent Italian dish. The next delicious option is Turkey slices, cheese, and mayonnaise. For sweet sandwiches, I suggest you try some slices with cranberry jam.
The crispy texture of Ciabatta bread will make every bite more amazing.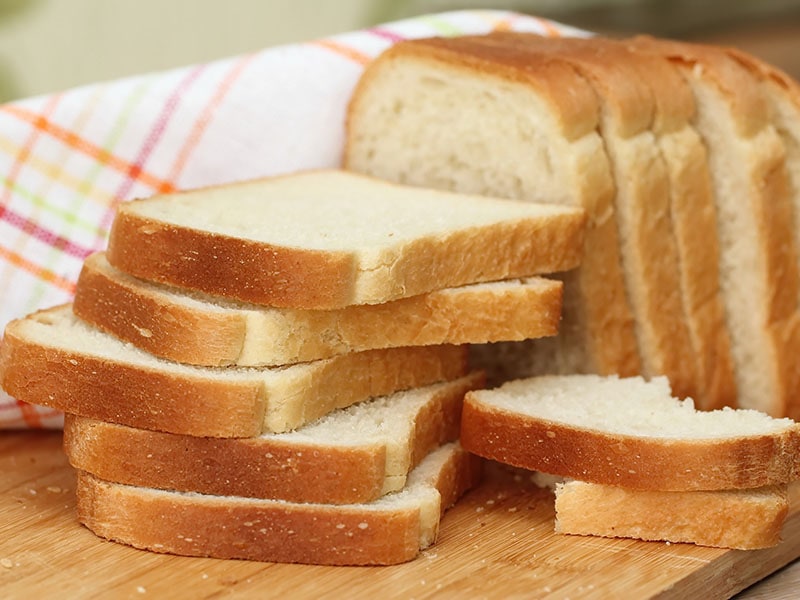 Speaking of sandwich bread, most people immediately think of white bread. It is versatile and super tasty with a slightly sweet and buttery flavor. I bet that it is present in many households.
White bread contains common bread ingredients, such as wheat flour, salt, yeast, and water. It has a crunchy crust and a fluffy, light, and soft center. Regarding shape, it has the standard square shape of sandwich bread and toasties.
You have endless choices when choosing the sandwich fillings for white bread. Both sweet and savory fillings will work. For sweet toppings, I recommend you try peanut butter and jelly. You can also add your favorite salad to it, such as egg salad and bacon salad.
In case you have some sandwiches in the fridge, use it to make a delicious dish from unfinished bread. White bread is probably the most versatile bread on this list. Yet it is not the healthiest one. In terms of nutrients, it stands behind whole wheat bread and whole grain bread.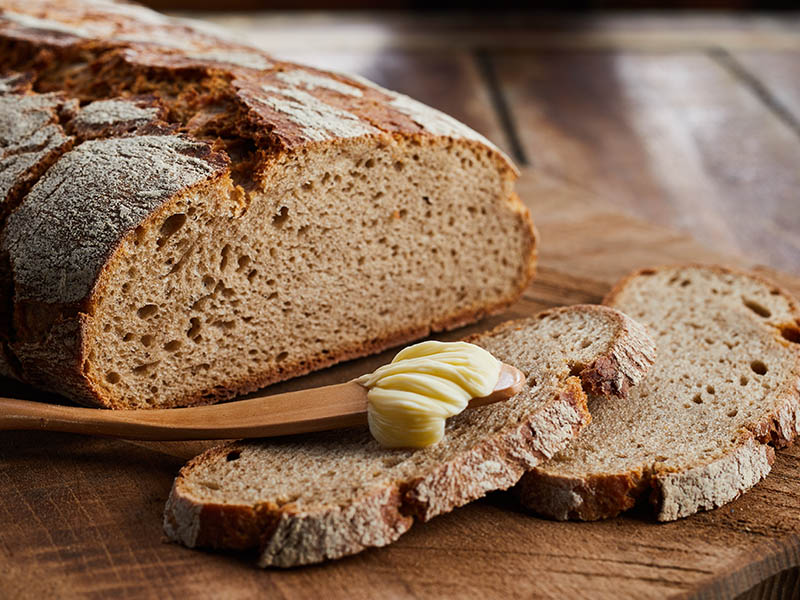 There is no healthier bread than rye bread. It is mainly made of rye grain. Rye grain has a dark color, and so does rye bread. Some rye bread has a light brown or dark color. The more rye grain used, the darker the color of rye bread is. The darker version is common in Icelandic cuisine.
Rye bread contains caraway seeds, which offer an earthy and vibrant taste. It is also a little bit sour, thanks to the sourdough content. Compared to white bread, rye bread tastes stronger and is denser in terms of texture. It also has more fiber content.
This healthy bread is also very versatile. It can go with any type of fillings, including both sweet and savory ones. You can also combine sweet and savory ingredients to create unique flavors that nothing can beat.
Here are some toppings that you can use to make delicate sandwiches with rye bread. You can consider using egg salad and spinach to refresh yourself. Cream cheese and smoked salmon or goat cheese and jam is a great option for those who want some richness.
Other delicious fillings are cinnamon butter, pear, and nuts. Honey and ricotta is also a popular choice.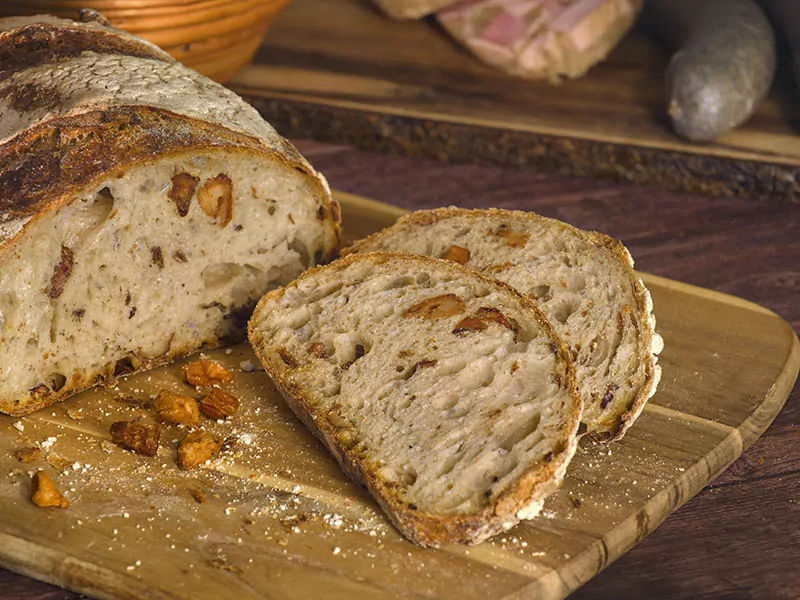 Sourdough is one of the oldest kinds of dough to make bread. With a crunchy exterior and tangy, soft interior, sourdough bread is a perfect savory sandwich bread type. It comprises a sourdough starter and other typical bread ingredients, such as water and yeast.
Some bread-makers add sugar to make it sweeter. However, the best variety to make sandwiches is the original savory bread.
Sourdough bread tastes amazing on its own. But you can add some butter to it to enhance the flavor.
I strongly believe that sourdough bread pairs well with any savory ingredients. I often add smoked ham and cheese or avocado and tomatoes to it. Another option is cream cheese and smoked salmon. It is also great to make sandwiches with bacon, mayonnaise, and tomato.
The best technique to make sourdough bread is right in front of your eyes.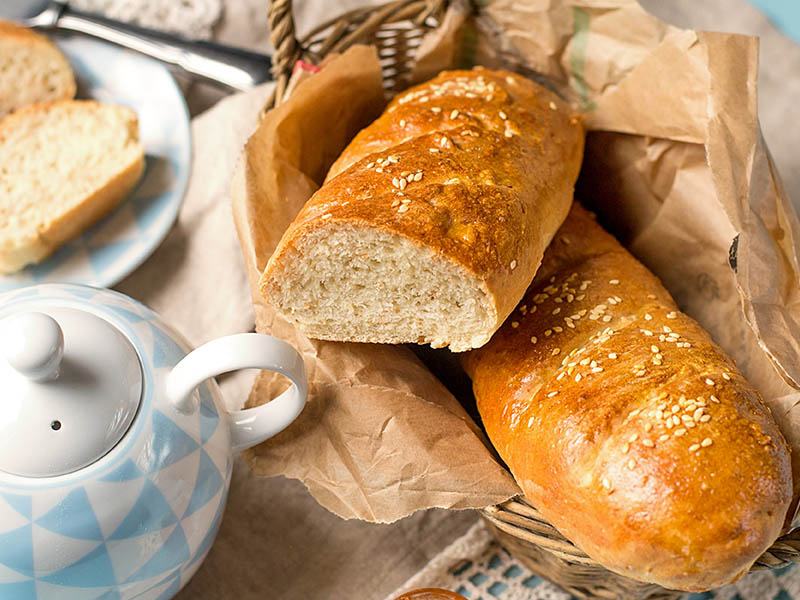 Vienna roll is a go-to type of sandwich bread for savory fillings. It looks like a baguette but is a little bit shorter. It is soft and sweet. The crumbs are tight. It also comes in roll form. People also call it "finger rolls" or "Vienna rolls".
People often fill it with bacon or sausage, egg, and cheese. It is a great companion for flavorful sausage. People not only use it for sandwiches but also serve it for breakfast. Feel free to top it with any kind of fillings you like.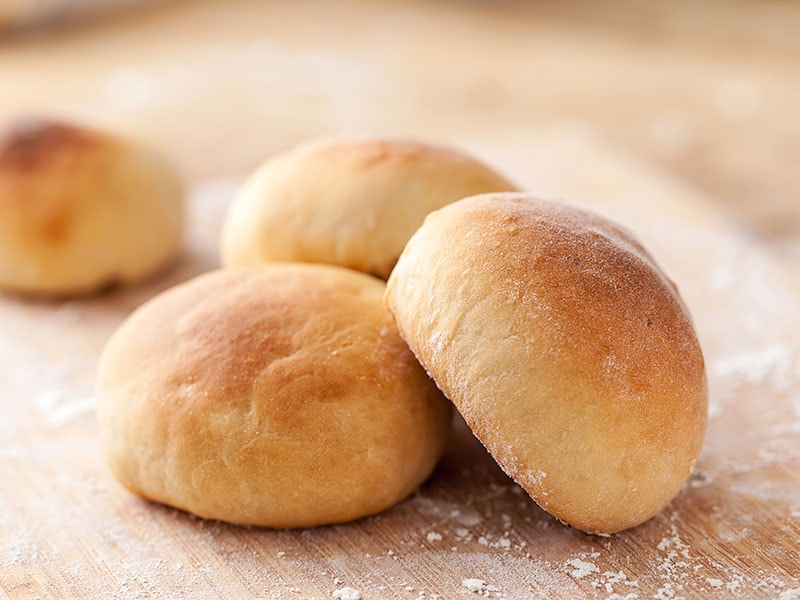 Potato bread is not a common option when it comes to sandwich bread. However, its spongy and airy texture and potato flavor make it an ideal candidate. It is considered similar to regular white bread, yet it is thicker, denser, and has a hint of potatoes.
Similar to other types of sandwich bread, potato bread can hold both sweet and savory fillings. People also toast it to make it taste more delicate.
You have plenty of options in terms of toppings for potato bread. Grill cheese and peppers are a perfect combo. Grilled ham and blue cheese will bring about a unique flavor. If you want to add sweet fillings, consider sliced banana and peanut butter.
4 Sandwich Recipes To Fuel Your Stomach
I bet that after reading about these types of sandwich bread, you want to rush to the kitchen and make some to enjoy right away. Before you do that, take a look at these delicious recipes.
BLT is a classic sandwich type. It is so flavorful. More amazingly, you can make it vegetarian by replacing bacon with halloumi cheese. I love to use whole wheat bread or sourdough bread to get its best flavor.
This is definitely the best BLT sandwich recipe. Give it a try!
No one can resist the richness of ham and cheese sandwiches. If you are looking for a fulfilling lunch recipe, then I am sure that this one is among the best choices. For this recipe, sourdough bread can complement the rich taste very well.
Monte Cristo sandwiches are very similar to ham and cheese sandwiches. Yet they often have mustard and mayonnaise, resulting in more flavors. With such a rich taste, white bread or wheat bread is the best variety of bread to choose from. Wheat bread is a healthy option.
This type of sandwich is more delicious than what you expect. It has the deep flavor of rye bread, the richness of the filling, and the unique creaminess and spiciness of Russian dressing. I am sure that if you serve it to your guests, they will ask for more.
The Reuben sandwich recipe will blow your taste bud.
What Is Your Favorite Kind Of Sandwich Bread?
These types of sandwich bread always make me stunned by how delicious they are. Every time I make sandwiches with them, I just want to eat more and more.
If there is any kind of sandwich bread that you haven't tried, I highly recommend that you try it right away. I am sure that you don't want to miss any delicious type of sandwich bread. Let's make the best sandwich ever!