Satisfy your bratwurst craving all year round by learning how to cook brats in an oven. When winter comes knocking, or if you simply don't have the patience for grilling, this could be an incredibly useful skill.
In this article, I will show you all three of the ways to make brats in oven: baking, broiling, and beer-braising. Not only that, but I will also include some extra information about the best servings and toppings to accompany this delicious sausage.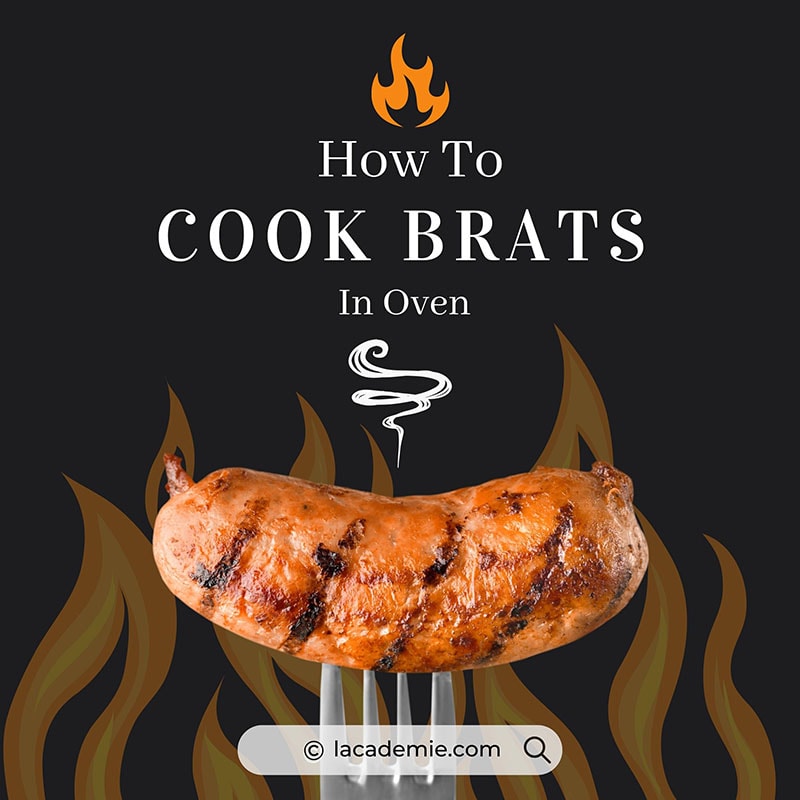 How To Cook Brats In Oven
There are three main ways to make brats using the oven:
Baking: Preheat the oven to 400 °F (204 °C), spread the brats evenly on the tray, bake them for about 10-15 minutes on each side.
Broiling: Using the broiler part of the oven, heat the brats on the broiler pan, turn them over every 5 minutes until they are slightly brown.
Beer-braising: Preheat the oven to 400 °F (204 °C), make a mixture of beer, onion, garlic, and brats, wrap them tightly in foil before heating in the center of the oven. Check-in at 30 minutes to turn the brats over.
If you want a more detailed guide for these methods, don't hesitate to keep reading.
What Is Brats?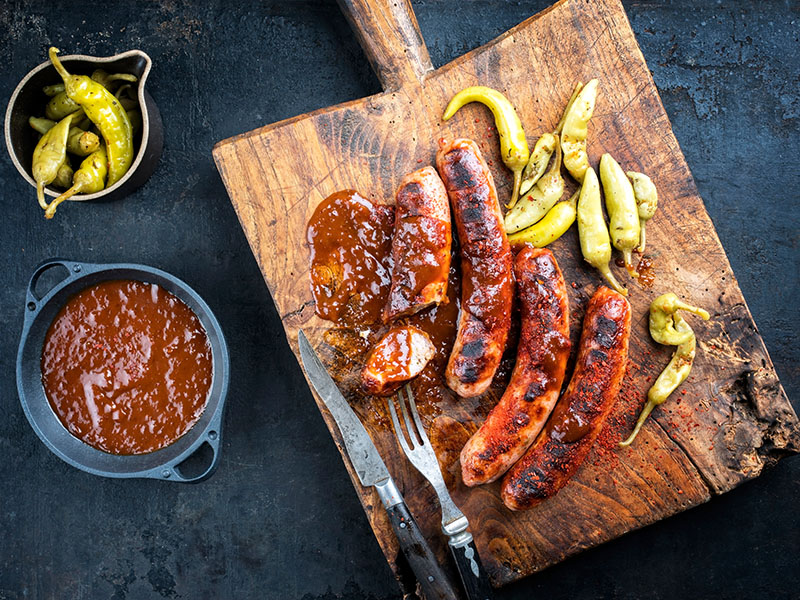 Brats or bratwurst is a type of German sausage. It is often made from pork and sometimes veal or beef. It is very popular in the midwest of the United States, Austria, and Switzerland amongst other countries (1).
Brats are distinguishable from other sausages by their smooth texture and pale, almost white color. It is typically seasoned with a different variety of flavors like salt, pepper, caraway, garlic, etc., giving it a very irresistible aroma and taste.
As brats are vastly differently from what defines longaniza as well as other typical sausages, you can expect that its cooking method might also differ from the way to cook Mexican longaniza. However, with my instructions below, you'll find the procedure quite a breeze.
Why You Should Cook Brats In The Oven
As bratwurst tends to be heavily seasoned, the most common method to cook it is to use the grill and make a fantastic barbecue out of this sausage.
However, the grill can take quite a lot of effort to use and clean afterward. It is also nearly impossible to use during winter or rainy days. Using the oven, you can easily have a fast dinner with this sausage for half the energy all year round.
Cooking brats in an oven also helps you save a lot of time. You can fit quite a few brats as well as other vegetables in the oven tray. You can even toast bread in the oven with a few simple steps. In other words, an oven can help you prepare a full-course meal in less than an hour.
How To Cook Brats In The Oven
There are 3 main ways you can make brats in the oven: baking, broiling, and braising with beer. Take a look at the instructions and decide the best way for you based on how much time you have as well as how you like your brats.
1. Baking The Brats
While this method may take a while to get done, it is also the safest and easiest way to make brats.
What You'll Need
Rimmed baking sheet
Meat thermometers
Oven mitt
Step-by-Step Guide
Step 1: Preheat The Oven To 400F (204C)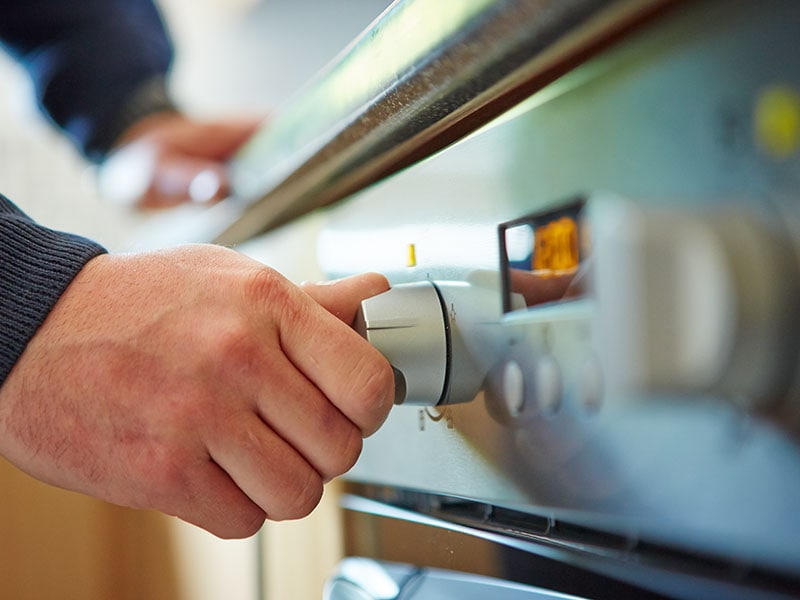 This should take about 10 – 15 minutes which gives you plenty of time to make other preparations.
Step 2: Put The Parchment Paper On Baking Tray Before Putting The Brats On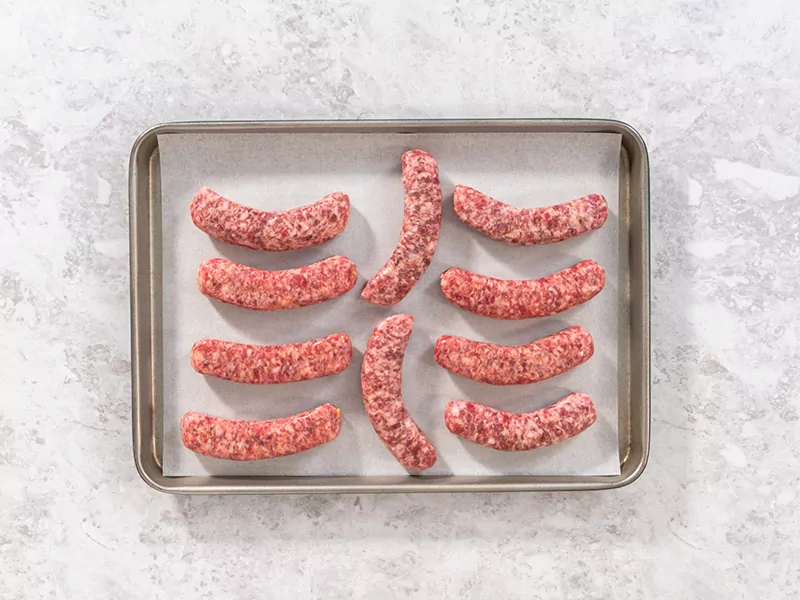 Cover your baking tray with aluminum foil. Not sure if aluminum foil is ideal for oven usage? You can opt for parchment paper instead. This will ensure the brats don't stick to the baking tray. Also, keep the brats at least ½ inch apart from each other so they can cook evenly.
Step 3: Start Cooking The Brats For About 30 Minutes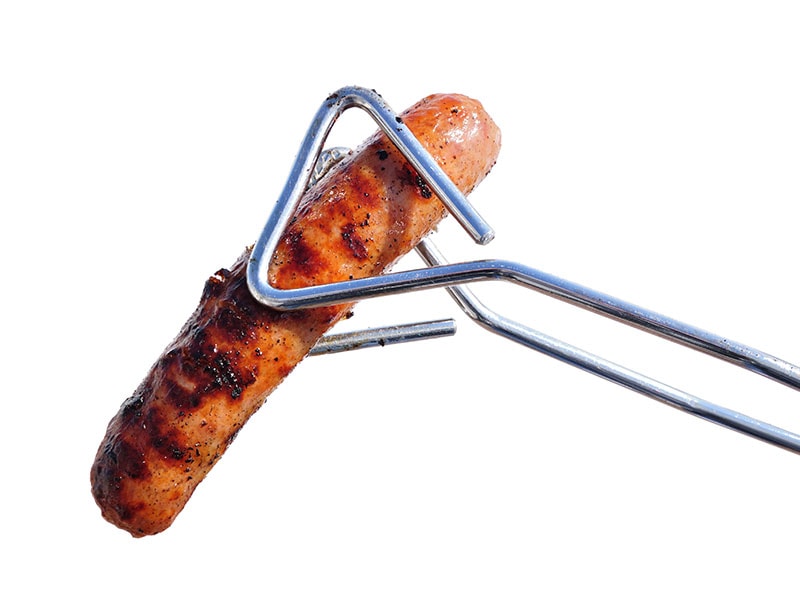 Each side of the brats should take about 10-15 minutes to properly cook. Remove the tray with oven mitts once they turn brown on one side, and use tongs to carefully turn them over to the other side.
Step 4: Check For The Internal Temperature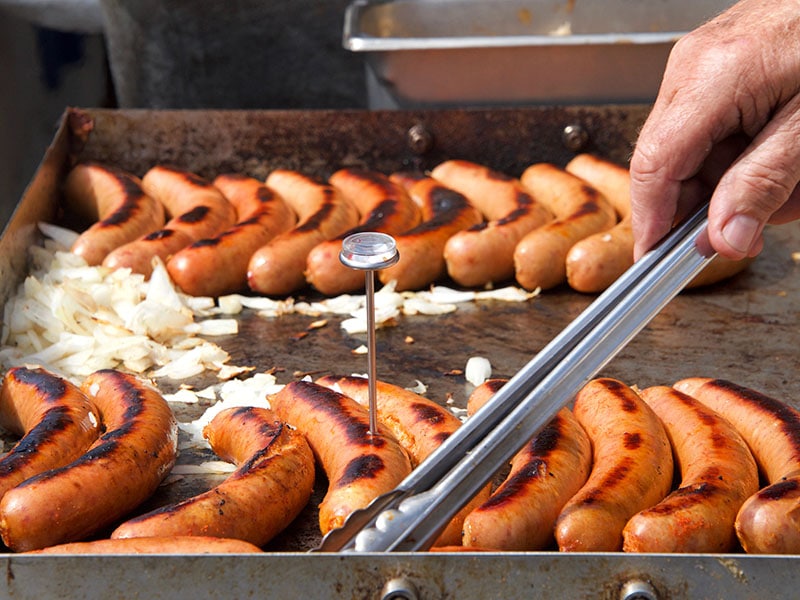 Brats need to reach at least 160F (71C) before they can be considered fully cooked. Use an instant-read meat thermometer to check by sliding it into the middle part of the brats.
Step 5: Leave The Brats On The Tray For About 5 Minutes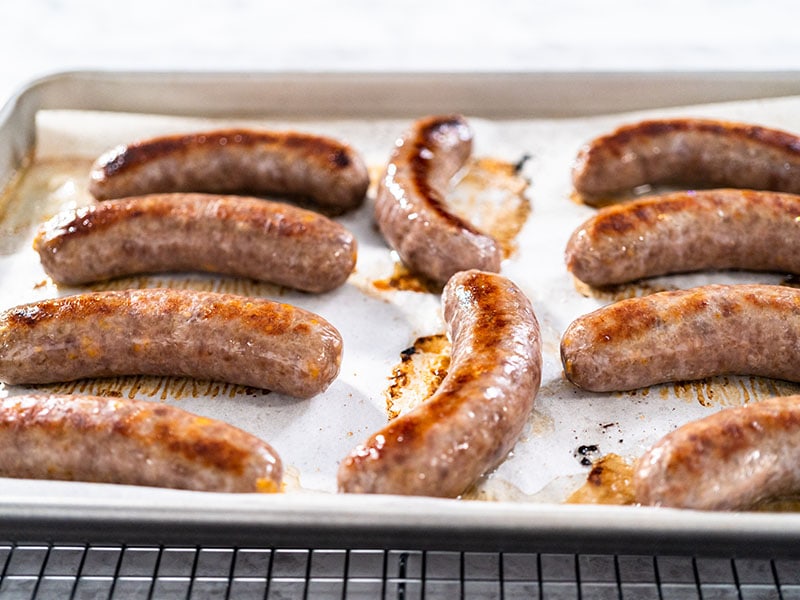 Remember not to remove the brats right away. Let them rest for about 5 minutes for the juice to redistribute through the meat, so they taste better.
If you want to learn more about baking the brats with your oven, here is a quick and easy guide.
2. Broiling The Brats
This method will help you save a significant amount of time as it uses the broiler, the part of the oven that is closest to the heat source. This also cooks your brats more evenly because the broiler pan can allow heat to circulate around the food.
What You'll Need
Heat-resistant tongs
Oven mitts
Instant-read meat thermometer
Step-by-Step Guide
Step 1: Adjust The Top Rack Of Your Oven
Make sure the rack is at the highest position so that your food is as close to the heat as possible.
Step 2: Preheat Your Broiler For About 10 Minutes
Depending on what your oven's settings are, turn your broiler on or set it to high.
Step 3: Put The Brats On The Broiler Pan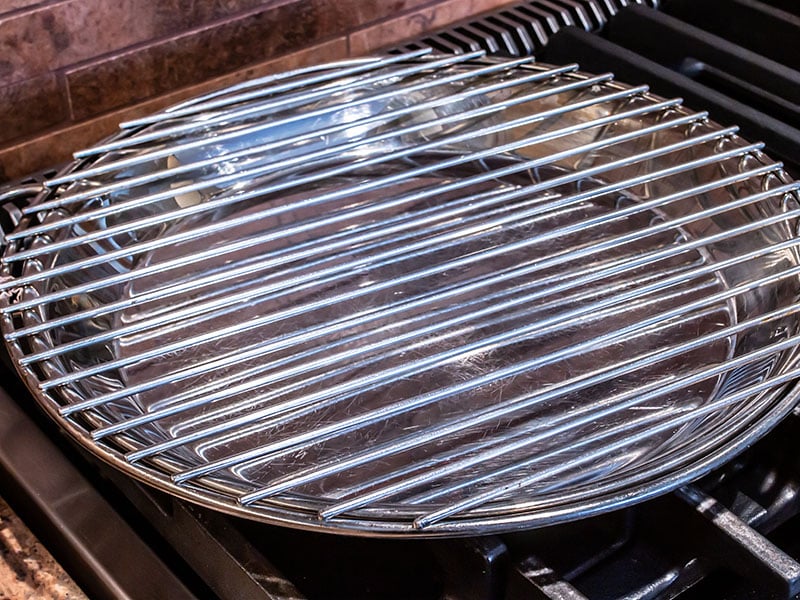 While you wait for the broiler, spread your brats on the pan so that they are not touching. Remember to have a tray under the pan so that the juice doesn't touch the bottom of your oven, which could lead to a fire hazard.
Step 4: Broil The Brats For 15 – 20 Minutes
As the broiler is directly close to the heat, the food can get hot very quickly. Make sure you watch the brats carefully and turn them over every 5 minutes to avoid burning. Wear an oven mitt for safety when you do this.
Step 5: Remove The Pan When The Brats Turn Slightly Brown With Grate Marks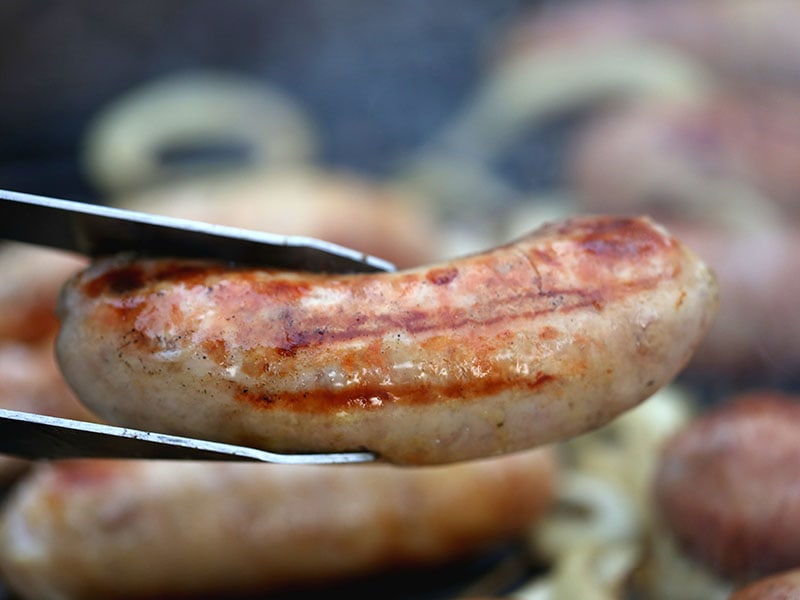 Your sausages are most likely done when they turn into a light brown with some marks from the oven. If you like some char on your brats, this is a great way to get it without the grill.
Step 6: Check For The Internal Temperature With A Thermometer
As bratwurst is made from ground pork, taking the temperature is more reliable than judging its appearance to ensure doneness.
Stick the thermometer into the thickest part; if it's 160 °F (71 °C), then your food is done, otherwise put it in the oven for another 5 minutes.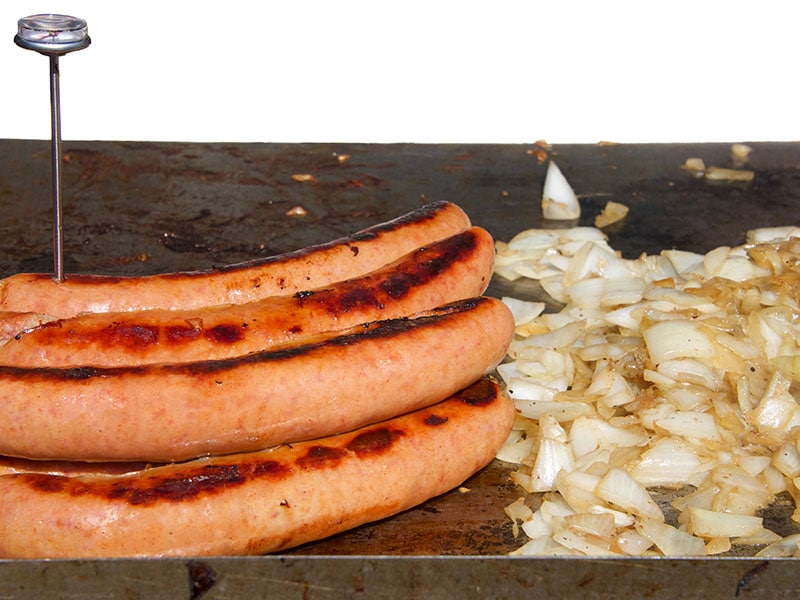 Step 7: Let The Bratwurst Cool Before Serving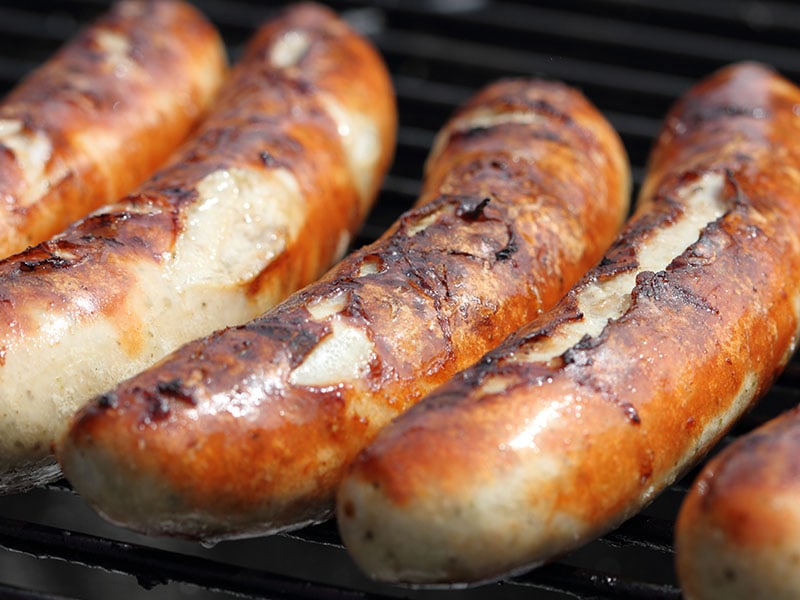 Wait for about 5 minutes before transferring your brats into the plate to give the juices time to redistribute through the meat. Serve the sausages with their best-matched side dishes to enhance your culinary experience.
3. Braising The Brats With Beer
With a mixture of beer and onion that results in an intense caramelized sweetness, this method gives you a meal that will surely leave you craving for more.
What You'll Need
1 large sliced onion
4 large cloves of minced garlic
1 – 2tbsp (15–30 mL) of olive oil
Salt, pepper
2–3 US tbsp (30–44 mL) of Worcestershire sauce
4 bottles of beer
Baking pan
Aluminum foil
Oven mitts
Instant-read meat thermometer
Step-by-Step Guide
Step 1: Preheat Your Oven To 400F (204C)
With this method, you will be simmering the brats with liquids and lots of onions, so it's important that everything is thoroughly cooked. It should take about 10 – 15 minutes to do this.
Step 2: Cover Your Baking Pan With An Aluminum Foil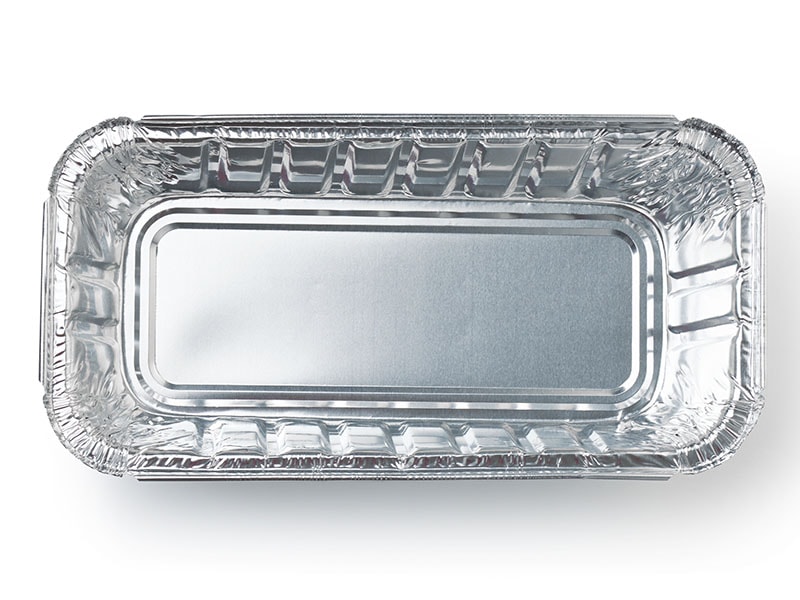 Cover your baking pan with aluminum foil and crimp around the edges to keep it in place. You can also opt for a disposable aluminum dish to make it easier.
Step 3: Prepare The Garlic And Onion Mixture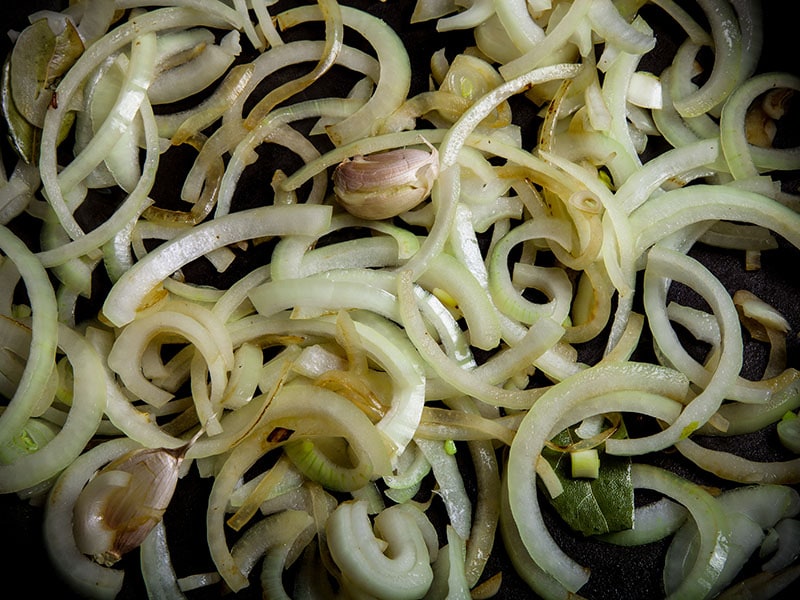 Spread the garlic and onion all over the pan. Proceed to drizzle olive oil, salt, pepper, and Worcestershire sauce all over them. Add any other condiments to fit your preference, then stir everything together.
Step 4: Add The Brats And Beer Onto The Mixture
Push the brats slightly down and cover them with a few slices of onion. Pour the beer over everything right afterward.
Step 5: Cover The Pan With Aluminum Foil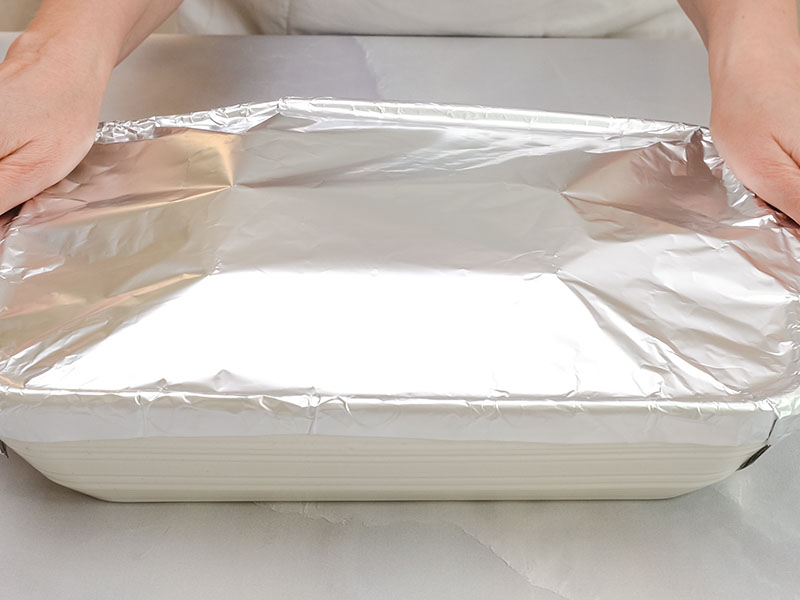 Place an aluminum foil sheet over the surface of the pan and crimp it tightly around the edges. This traps the heat and makes your bratwurst a lot juicier.
Step 6: Put The Pan In The Oven For An Hour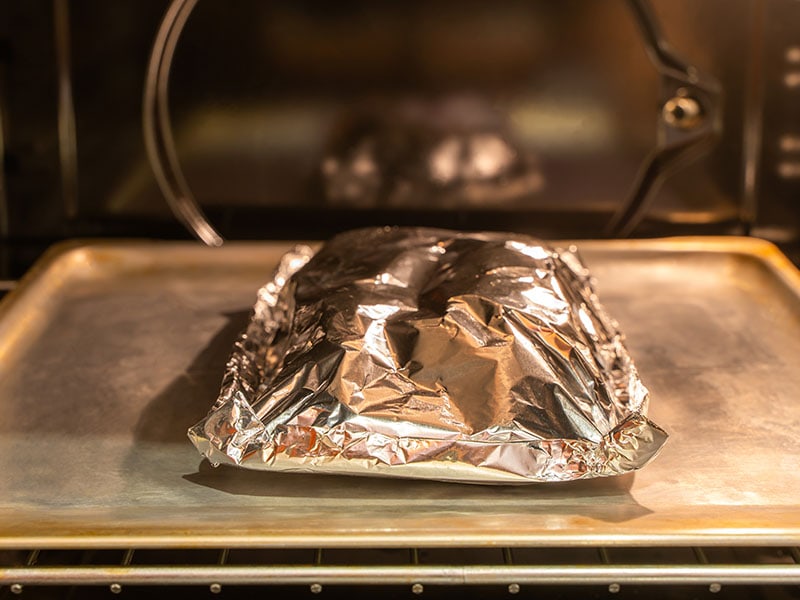 Once your oven is preheated, put the pan in the middle rack of the oven. After 30 minutes, put on your oven mitts and remove the pan to flip the sausages, then wait for it to heat up on the other side.
Step 7: Check For The Internal Temperature
Make sure your food is ready by using an instant-read meat thermometer. If it reads 160F (71C), then the brats are ready, if not put them back into the oven for another 5 – 10 minutes
Step 8: Serve The Brats With Anything You Like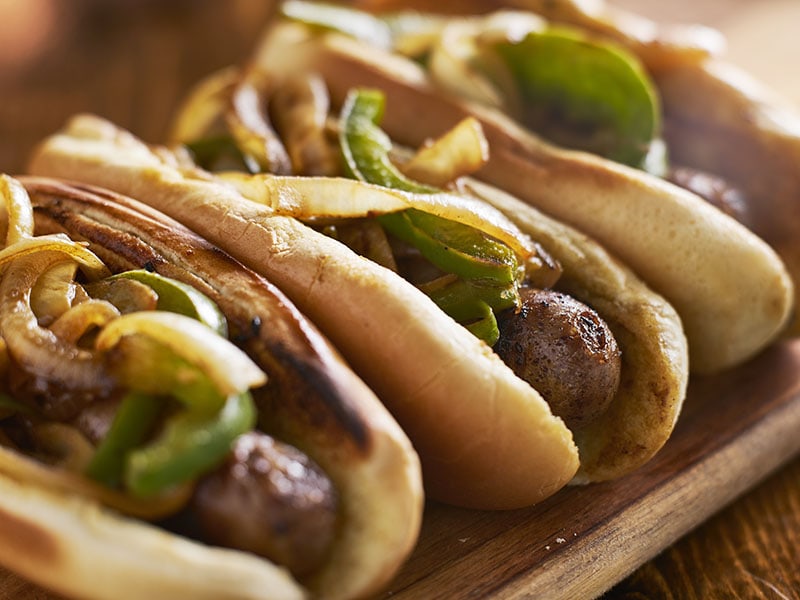 There are multiple things you can serve with this dish. The beer-soaked onions go great with simple buns, pickles, mustard, sauerkraut, or jalapenos.
Bratwurst Toppings You Must Try
Bratwursts are generally great on their own because they have their very own signature smoky and savory flavor. However, if you want something new, try the following toppings to completely transform your brats.
This is a salsa made from chopped herbs, fruits, and vegetables that have been pickled. It typically has a very strong mixture of flavors, ranging from sweet to sour, which will compliment your savory brats greatly.
Cheese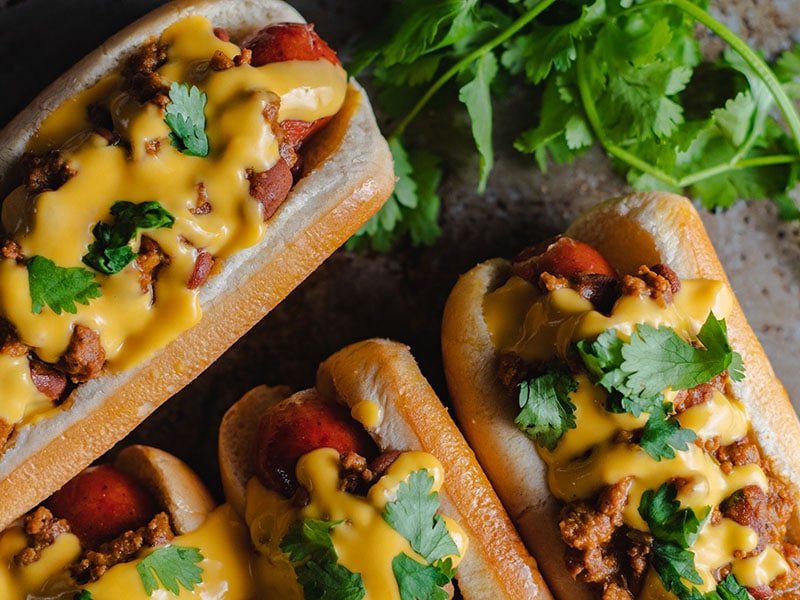 A universal favorite when it comes to topping in general, cheese is your go-to choice when you want to add some creamy notes to contrast the garlicky flavor of your brats. There's a plethora of cheese varieties for you to choose from, so take your time to decide which one to opt for.
This is a stew made from chili peppers, meat, tomatoes, and kidney beans with savory seasonings. If you want to spice up your brats, try this to add a rich, deep and spicy taste.
You might be surprised to find out that this combination of raw cabbage and salad dressing can make an excellent topping. The slight sweetness of this coleslaw will melt perfectly into your brats to give you an incredibly diverse dish.
This is a Japanese sauce made from soy sauce, sake, sugar, and ginger. A perfect mix of salty and sweet, this sauce is something you should try if you're looking to try a brand new brats combination. Go for delicious pre-made Teriyaki sauce if you're too lazy to make one from scratch.
If you want to try making this sauce at home, here's a step-by-step guide to help you out.
The Best Bratwurst Side Dishes
Bratwursts undoubtedly steal the show every time they appear in a meal. However, it's also important to give the side dishes some attention. The following suggestions will help to compliment your brats nicely.
Sauerkraut is raw cut cabbage that has been fermented. It is a classic first choice for beer-braised brats because of its crunchy texture and delightful sourness that somehow completes brats' intense flavor perfectly.
Red potato, bacon, and black pepper, this salad is summer in a bowl. If you want something nice and mild but still pairs well with the intense flavor of brats, this is for you.
For those who like some flavor diversity in their meal, try making this German-based dish. It carries a lovely mixture of sweet and savory flavor that will complete your brats wonderfully.
These are basically cheese and whipped potatoes wrapped in pasta shells. With their unending creaminess in texture and taste, those who normally love to eat their brats with cheese will thoroughly enjoy this.
If you are a fan of noodles, you will like these. It is basically chewy egg noodles; depending on what your preferences are, they can be sweet or savory. Throw some butter and herbs into the mix for a delightful side dish.
FAQs
The topic of making brats in the oven can be very wide and extensive. If you still have some concerns, check the following questions to see if they are covered.
Bonus Tips To Make Your Best Bratwurst In Oven
The best kinds of brats are the ones from the butcher. Authentic bratwursts are more diverse both in the types of meat they are made from and what they taste like. Try to avoid mass-market ones if you can.
Authentic bratwursts are held together by a layer of skin. Leave it on when you are cooking to trap the steam and allow them to be cooked faster.
You can use whichever beer you like to braise your brats. However, different beers will give you different end results. If you want something mild, try lager. For a richer taste, try stout, amber or red beer.
Always be careful when making brats with a broiler, as the grease can catch fire. Watch your food when you are cooking and clean everything thoroughly after you are done.
Hopefully, the information provided above is enough for you to make a tasty and impressive meal of bratwurst. Don't hesitate to share your results and let me know how everything turned out. In the meantime, leave a comment if you have any other questions or ideas.
Nutrition Facts
10 servings per container
---
Amount Per ServingCalories300
% Daily Value *
Total Fat 25g

39

%
Cholesterol 65mg

22

%
Sodium 800mg

34

%
Potassium 260mg

8

%
Total Carbohydrate 2g

1

%

Dietary Fiber 0g

0

%
Sugars 0g

Protein 14g

29

%
---
* The % Daily Value tells you how much a nutrient in a serving of food contributes to a daily diet. 2,000 calories a day is used for general nutrition advice.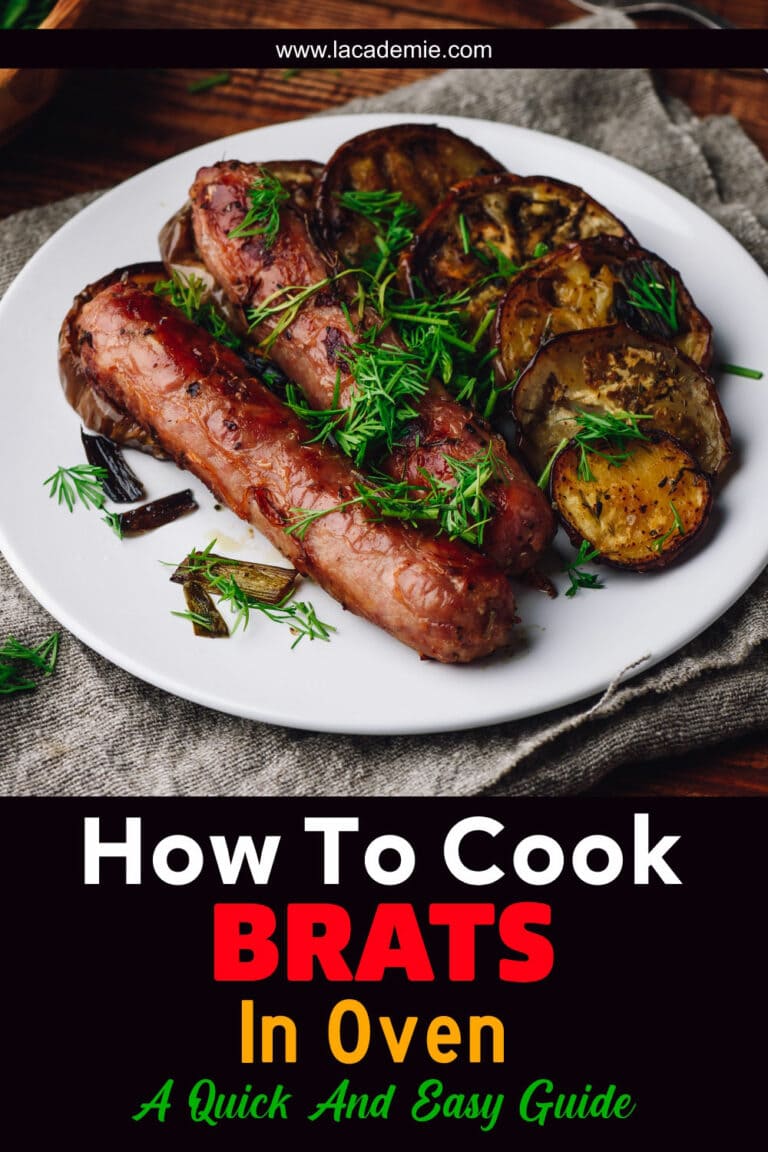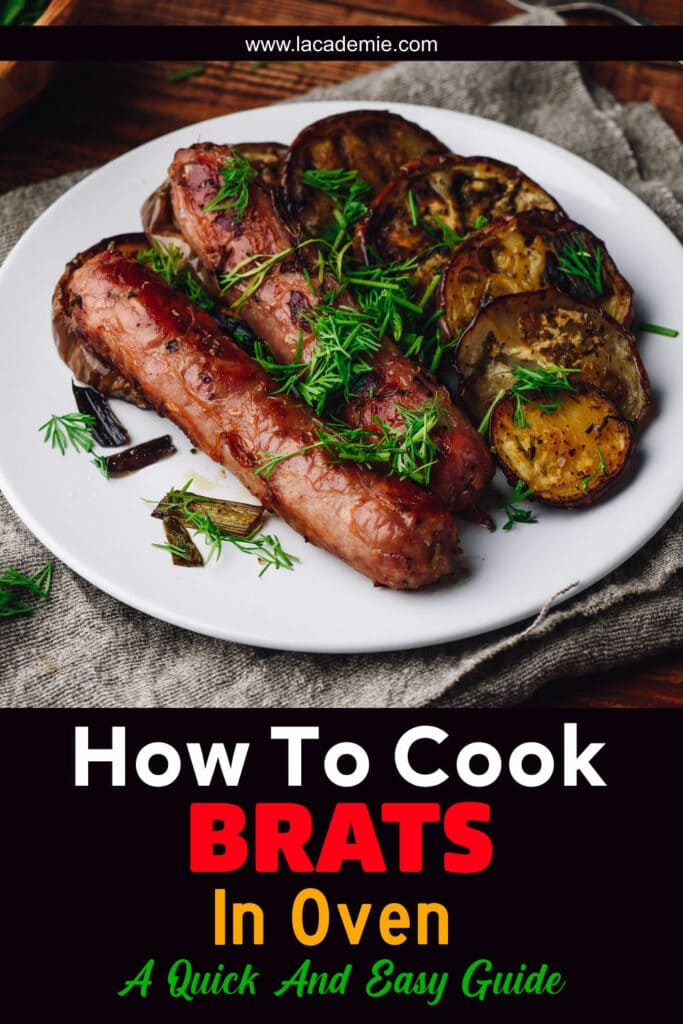 References
"Bratwurst – Wikipedia".