Can you put a cast iron skillet in the oven? Cast iron cookware is a must-have in every home cook kitchen. It is durable, functional, and extremely versatile. Since its potential is limitless, you can use this cookware to make whatever dishes you want.
Most people use cast iron skillets for cooking food on the gas stove. However, when it comes to cooking in the oven, there are many important factors to consider. Most of the skillets are safe, but some may contain risks.
Read on to find out if your cast iron skillet is oven-safe. Besides, you can also learn how to use it safely in the oven and how to take care of it to prolong its lifespan.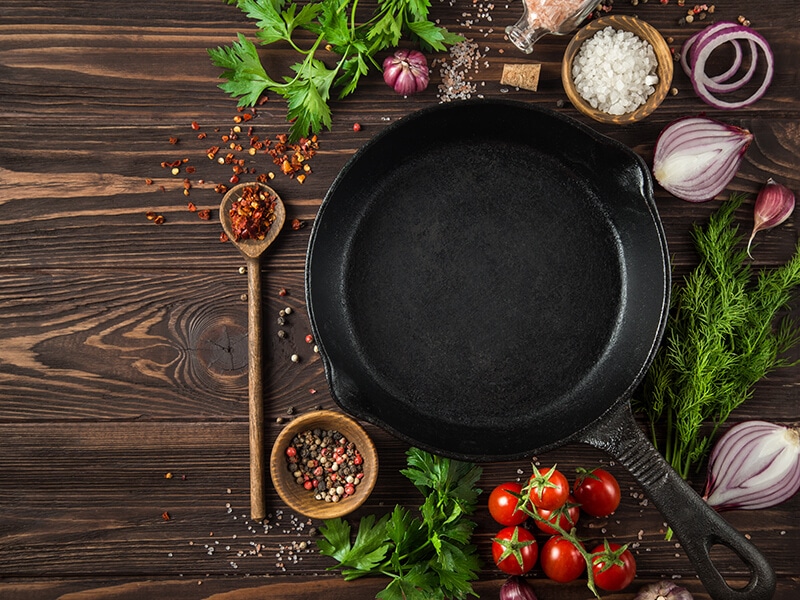 Cast Iron Skillets – What You Need To Know
You probably have at least one cast iron skillet in your kitchen, even when you don't know what it is. So, here's a general overview of cast iron skillets you might need.
Skillet And Frying Pan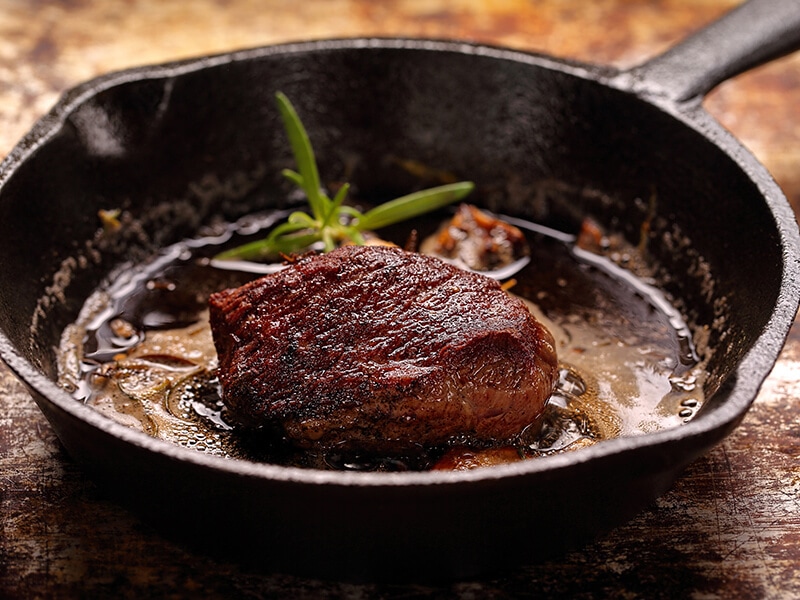 Not anyone is an expert in cooking. It's fine to think of skillets as frying pans, as they resemble a lot in appearance and culinary uses. Nevertheless, there are some small differences between them.
Both skillets and frying pans have a flat round bottom and angled sides. Frying pans are typically thin with flared sides to spread food easier and cook faster.
Meanwhile, skillets are thicker, deeper, and have more curved sides. These features make them excellent in heat distribution.
While skillets are usually made of cast iron, the materials for frying pans are commonly stainless steel and aluminum. In addition, some skillets are made with two handles on both sides.
Cast Iron Skillets And Their Benefits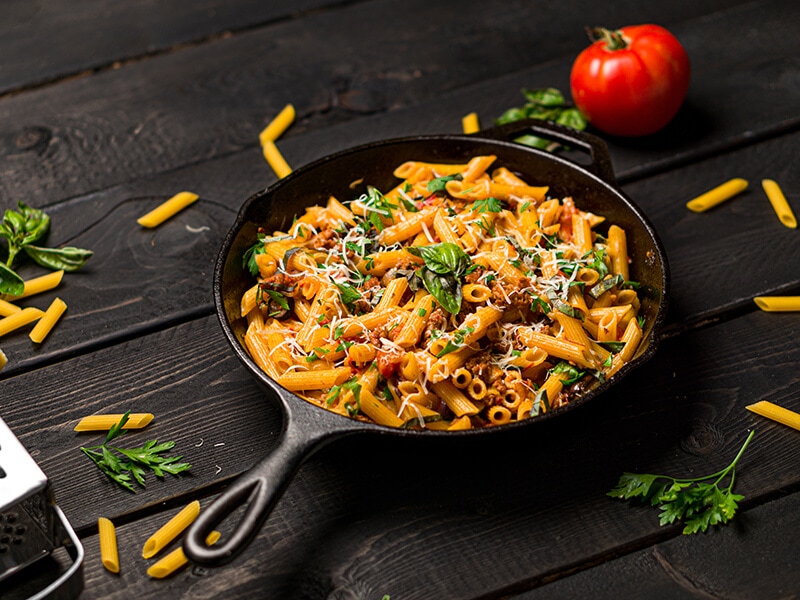 You may think cast iron is 100% iron due to its name. The truth is, cast iron is a combination of iron and carbon alloy with more than 2% carbon content (1).
Skillets made from cast iron are sturdy and incredibly durable. The shallow base allows them to sear, fry, and even bake. Most skillets can come with two opposite spouts, making it convenient for dip-free pouring.
Cast iron skillet is a kitchen tool that has maintained its popularity for ages. There are good reasons for this.
The secret to its reputation lies in the seasoning of cast iron skillets. Unlike most cookware, time only improves its quality. Cast iron skillets have a nonstick surface when properly seasoned. Therefore, cooking and cleaning can be easier than other cookware.
A cast iron skillet will give you the flakiest dishes ever. Whether you want to make a crumble dessert or chicken with crispy skin for dinner, it can help you all.
Because they are thick and heavy, cast iron skillets are perfect for high and low-heat cooking. It also boasts exceptional heat retention. Once the skillet warms up, it can maintain the heat for a long time, which is perfect for keeping hot food.
Another advantage of cast iron skillets is that they can replace the bulky griddle or broiler. You can also use it on a gas stove, electric stovetop, or induction hob.
Using a cast iron skillet is not as hard as you think!
Cast Iron Skillets Need Seasoning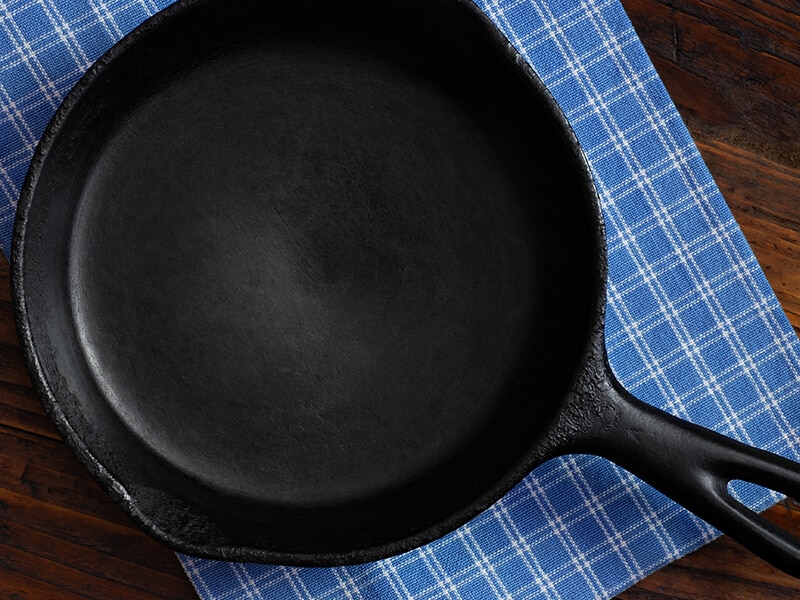 Seasoning is one of the most important steps when using a cast iron skillet. It means coating the skillet with a layer of oil or fat and baking for a certain time.
The natural coating makes your cast iron skillet shiny and smooth and creates a nonstick surface that helps you cook easier. If you season your cookware frequently and properly, it will get better over time.
These days, most cast iron skillets are pre-seasoned before selling. But it does not eliminate the need for seasoning during the cooking process. Therefore, you should start seasoning as soon as they arrive.
Cast Iron Skillet Is Oven-Safe, Mostly!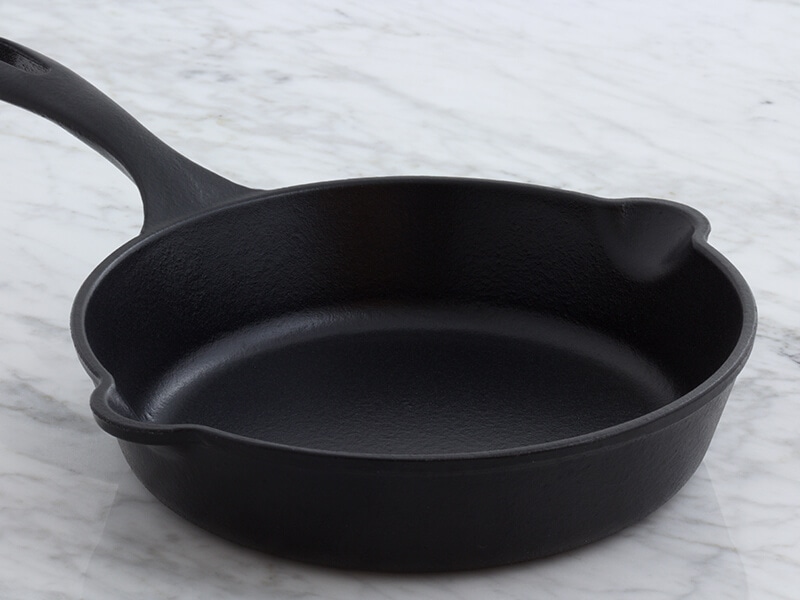 Some recipes may require cooking on a stove and baking or broiling in the oven. It will be inconvenient to transfer the food from one pan to another, especially when dealing with delicate dishes. Fortunately, cast iron skillets can solve your problem.
Cast iron skillets undergo special production to withstand extremely high temperatures. They start to show metal fatigue until they reach the temperature of 700 degrees F. Your cast iron skillets only melt at 2200 degrees F.
Rest assured that the burning temperature of cast iron skillets is very high. It is much higher than the temperature the oven can have.
The cooking time in the oven of most recipes will not exceed an hour. Sometimes you may need to cook slightly longer than that, but it's still fine. Cast iron skillets can stay in the oven much longer than the amount of time you need to cook the food.
Enameled Cast Iron Skillet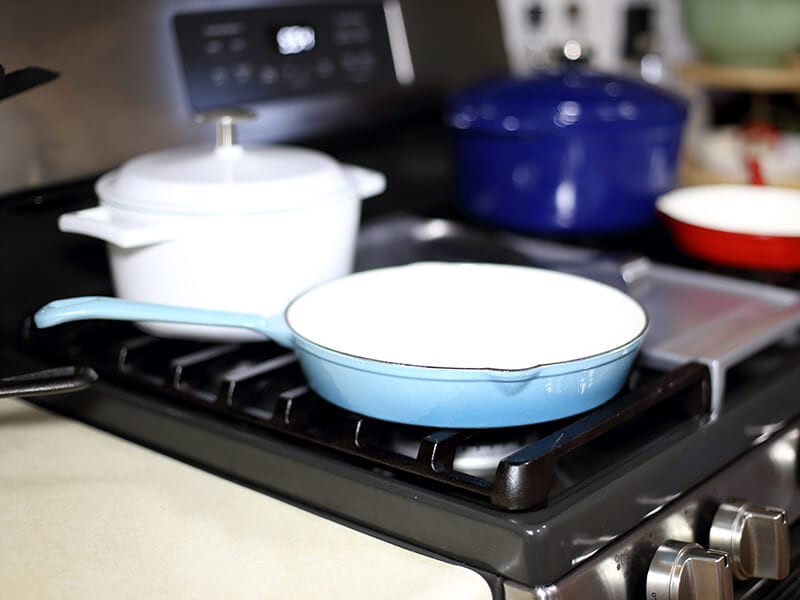 If your cast iron skillet has an enamel coating, it can retain heat better and is easier to clean. As long as the coating is undamaged, you don't need to season your skillet.
Just like regular cast iron skillets, the enameled one can work well with many heat sources: gas stove, microwave, grill, induction hob, and of course, oven.
However, this type of skillet can't withstand a temperature as high as its cousin. It can only heat to 400 degrees F. Anything exceeding this limit will make the coating crack and ruin your cookware.
Since the metal used to make them is thinner, the skillets are more prone to warp than regular cast iron ones. Using them may bring you more benefits, but you should be more careful when handling them. If you have enameled cast iron skillets, you may find these tips helpful:
Don't leave them empty in the oven. You must place some food or, at least, cover them with oil.
Always watch for the temperature in the oven. They are not as ovenproof as regular cast iron skillets.
They are sensitive to extreme temperature changes. Therefore, always let them cool first.
Enameled skillets with handles and knobsmade with wood or plastic are unsafe in the oven.
How does an enameled cast iron skillet differ from a regular one? The answer is here!
How To Know Your Cast Iron Skillet Is Oven-Safe
Not all cast iron skillets are the same. Before you put them in the oven, make sure they are ovenproof. Otherwise, you can damage your cookware permanently. Therefore, it's essential to know whether your skillet is oven-safe.
Check The Label
Before buying one, check for the oven-safe icon on the bottom of the skillet. The symbols may vary depending on the manufacturers, but they are not hard to recognize.
Another useful way is to examine the instructions. Some products have a mark to indicate if the skillets are oven-safe or not. Some even include recommended maximum temperature for the oven.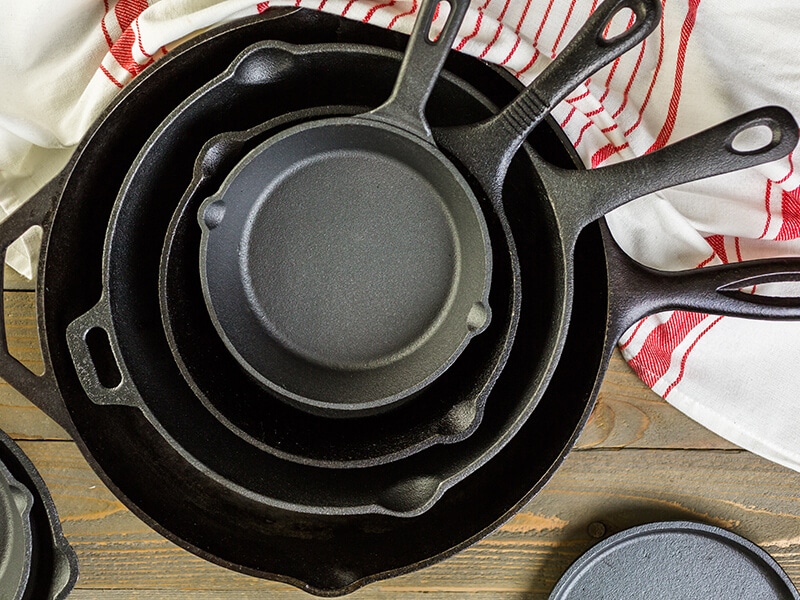 Material
If the skillet has been in your kitchen so long that the label is no longer visible, try looking at its construction. Oven-safe cookware is often made of cast iron, stainless steel, aluminum, copper, or ceramic.
An oven-safe skillet must have all ovenproof components. Although a coating on the handle will make it easier to hold the skillet, it contains risks.
If your skillets come with plastic or wooden handles, they are unsafe to use in the oven. Wood will break apart and cause a fire at a high temperature, while plastic will melt.
Although silicone can withstand a temperature of up to 450 degrees F, it is not advisable to put these handles in the oven. If left for too long, they will fade in color and change texture, which makes them brittle over time.
Some cast iron skillets may come with detachable silicone handles that you can remove before putting the skillet in the oven. Besides, you can buy removable silicone handles separately to help handle your skillet easier.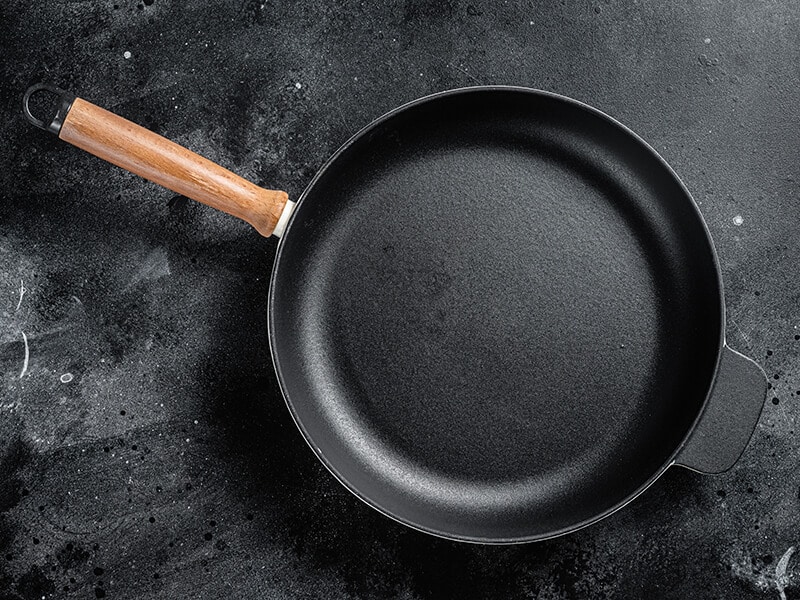 Lids
Glass lids are safe to use at a temperature lower than 400 degrees F. Therefore, you can safely use them along with your skillet in the oven.
But first of all, you should check for the knob on the lid. If it is plastic, don't use it in the oven! Plastic knobs can protect your hands from burning, but they will melt at high oven temperatures.
Instead, you can use phenolic knobs, which are safe up to 375 degrees F in the oven. Stainless steel knobs are also a great alternative. Yet, they can get hot during cooking, so you should be careful when removing the lids.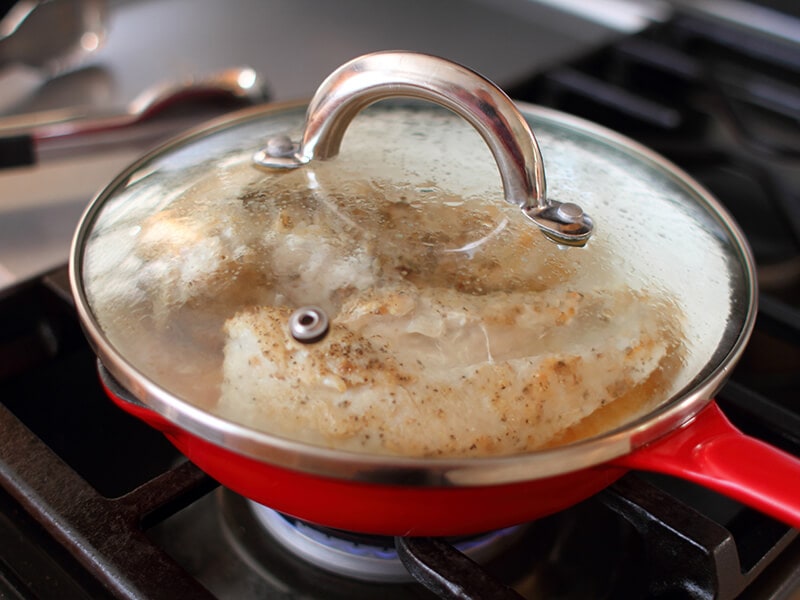 Season A Cast Iron Skillet In The Oven
Seasoning is important for cast iron skillets. It protects your skillet from rust and adds a nonstick coating to it.
You may think that the oil layer creates a nonstick coating on your cookware, but it is a plastic compound. When you heat layers of fat or oil on the skillet, they turn to plastic. This process is polymerization.
For someone who is not familiar with cast iron skillets, seasoning might sound scary. However, it is not as hard as they thought. Just follow the instructions below.
Step 1: Wash And Dry
Wash your skillet with warm water. You can use mild dish soap to scrub it. After that, let it dry completely. Moisture can make your cast iron skillet rust, so make sure you do it right.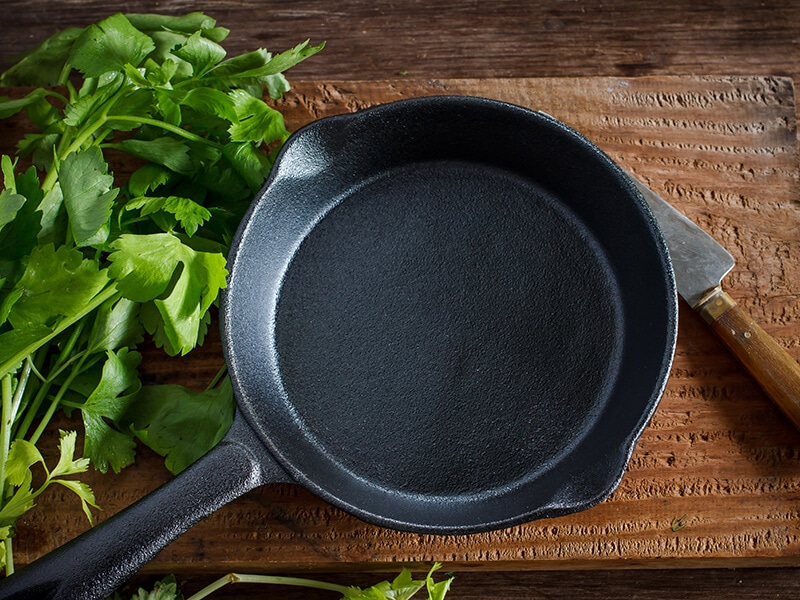 Step 2: Add Oil
Once it dries, you can pour two teaspoons of oil into the skillet and carefully spread a thin layer on the entire skillet. You should choose non-flavored oil with a high smoking point, like olive oil (390 – 468 degrees F) and canola oil (400 degrees F).
It's important to cover the whole skillet inside and out with oil, including the handle. Then use a towel or paper to clean the excess.
Step 3: Put The Skillet In The Oven
Heat the oven until it reaches 375 degrees F. Next, place the skillet upside down on the rack of the oven. You should put a tray underneath to catch the dripping oil. Bake for an hour. If you want to speed up the process, turn the oven up to 450 degrees F and bake for half an hour.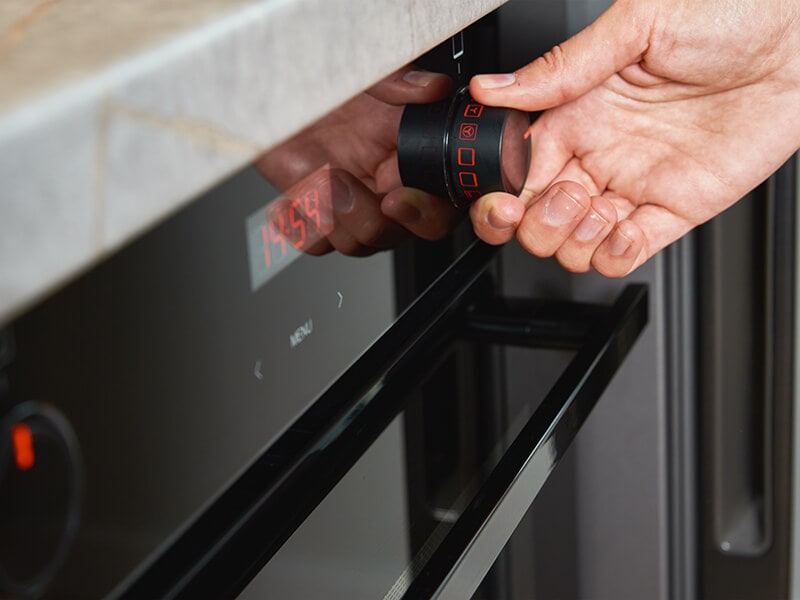 Step 4: Cool Down
Turn off the oven and let it cool down completely. You can repeat 3-4 times as the more layer your skillet has, the more nonstick and sturdy it becomes. However, don't attempt to add more oil to speed up the process, or your skillets will be gummy.
Another thing you should keep in mind is that cast iron skillets need re-seasoning once in a while. The constant cooking can wipe off your coating. Therefore, if it shows any sign of rust or fades in color, you need to re-season your cast iron skillet.
Did you know how to properly season a cast iron skillet? Check out this tutorial to confirm!
Tips To Handle Cast Iron Skillet In The Oven
Cast iron skillets can endure high temperatures, but at the same time, they also get very hot in the oven. So, there are some must-know tips to remember when dealing with them.
It's best to purchase an oven mitt or a silicone holder to help you take the skillet out safely. If they're unavailable, you can use a kitchen towel too.
When you are done cooking, cover the skillet handles with the handles holder and remove the skillets from the oven. You also need to do that when adjusting the position of the cookware.
Don't leave the silicone, plastic, or wooden handles in the oven, and avoid the knobs made from the same materials.
Never place a hot cast iron skillet in cold water or a cold skillet in the oven. Either way, the sudden temperature change can cause your skillets to crack. Leave them to cool down to room temperature first.
If you leave the skillet in the fridge and want to use the oven to reheat the food inside, take it out at least half an hour in advance. Remove the lid to prevent condensation.
It's best to warm the skillets before cooking. You can heat them on the stovetop for several minutes or place them in a cold oven and then turn on the heat.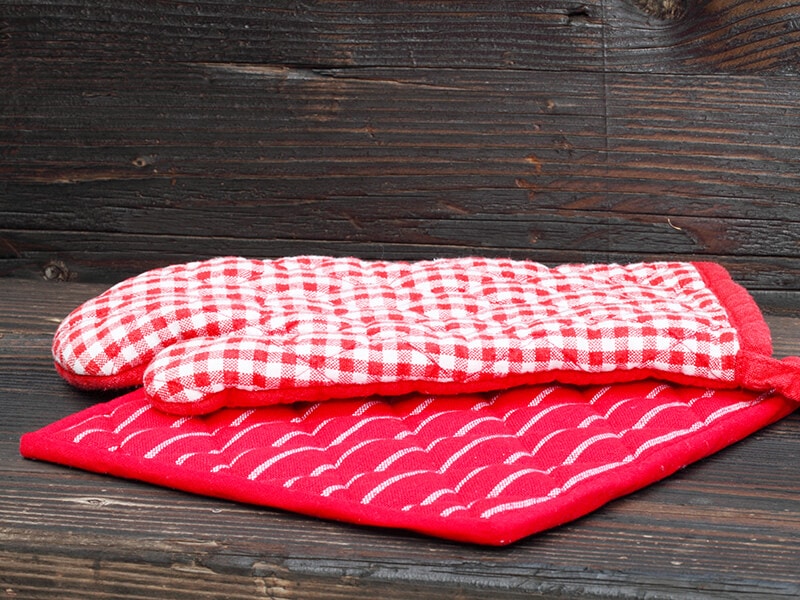 Common Mistakes When Using Cast Iron Skillets
No matter how well you season your cast iron skillets, they can result in rust or sticking food if you make these mistakes.
Not Enough Time To Heat Up
The most common mistake is not letting the cast iron skillets have enough time to warm up. They can get some hot spots and cause uneven cooking. So, you should heat the cookware on a burner over low heat or preheat it in the oven before you cook.
Not Add Enough Oil
Although the seasoning provides a nonstick layer, it cannot be as good as a real nonstick skillet, especially the new cast iron one.
First, you have to heat your skillets. Then add a sufficient amount of oil or fat. Don't worry if you pour too much of it. You can tilt the side and spill the excess.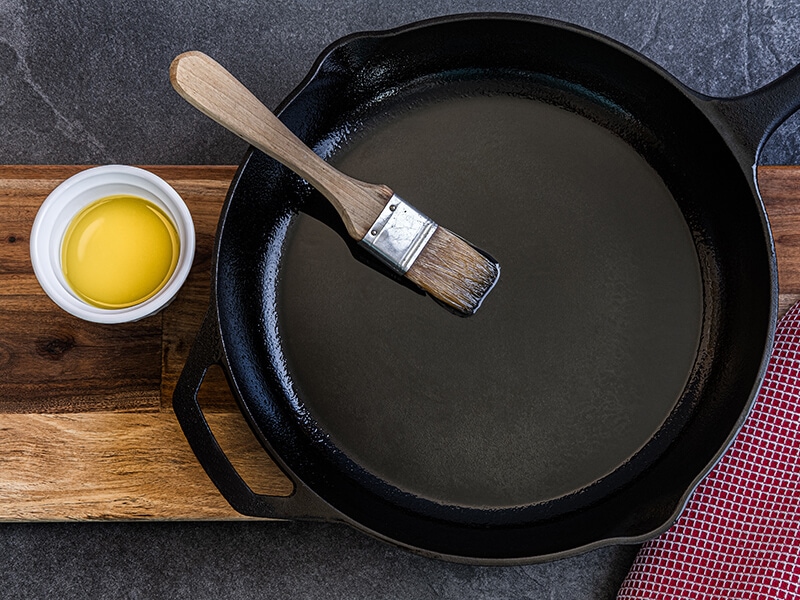 Not Re-Season Your Skillet
The natural coating of your cast iron skillets can be damaged during the using and cleaning process. To ensure their quality, you should re-season them 2-3 times a year or when you discover some rust on your cookware.
Use The Skillet To Cook The Wrong Food
Simmering acidic foods like vinegar, wine, tomatoes, or lemon can strip off your seasoning (2). In addition, since cast iron is a reactive metal, cooking those foods will make your skillet leach iron ions. Boiling water is not advisable too.
If possible, use two different skillets for cooking sweet and savory foods. Cast iron skillets can absorb flavors easily. While the cookware retains its function, you may not want the scent of fish to stick to your perfect cakes.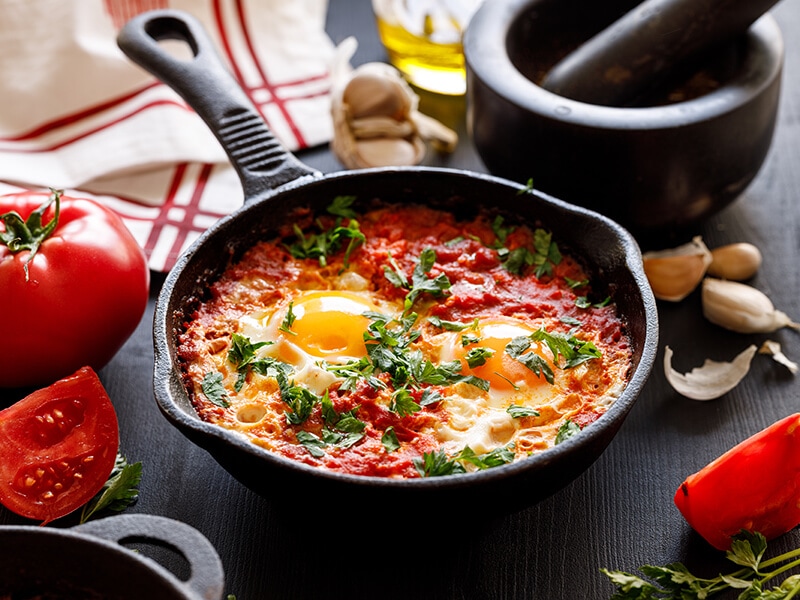 Clean And Store Improperly
Using metal brushes will scratch the seasoning of your skillets. You can use them to clean the outside, but the inside is a big no. Instead, go for a specialized cast iron cleaner to clean your cookware.
Storing wet skillets is one of the fastest ways to make your cast iron cookware rust. Although you can scrub and re-season them later, it will take time and effort.
Soak The Skillet
Soaking also makes cast iron cookware more prone to rust. You must wash and dry it quickly after cooking. Using mild soap is fine as long as you wipe all the suds off. The soap will not harm your coating much.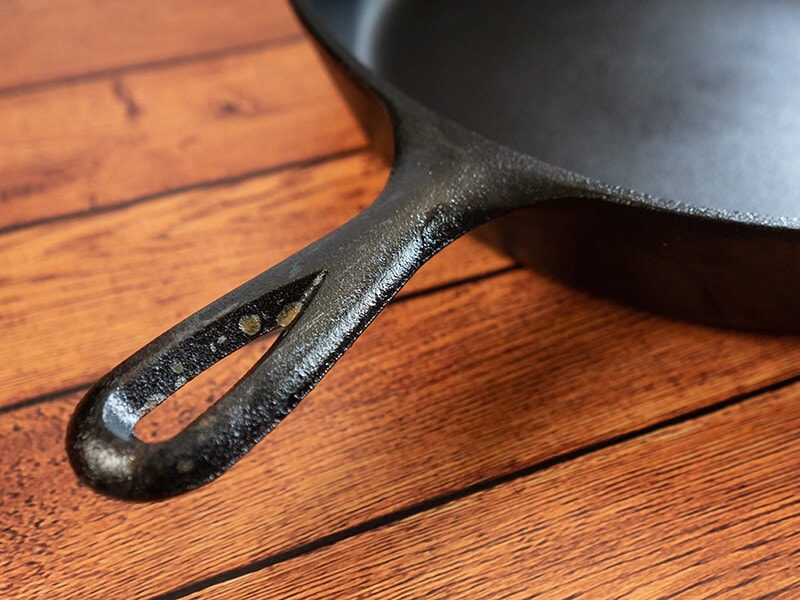 How To Take Care Of Your Cast Iron Skillets
Cast iron skillets can last for decades if you store them properly. It may require a little effort to maintain their quality, but cleaning them will never be challenging if you follow some simple rules.
Cleaning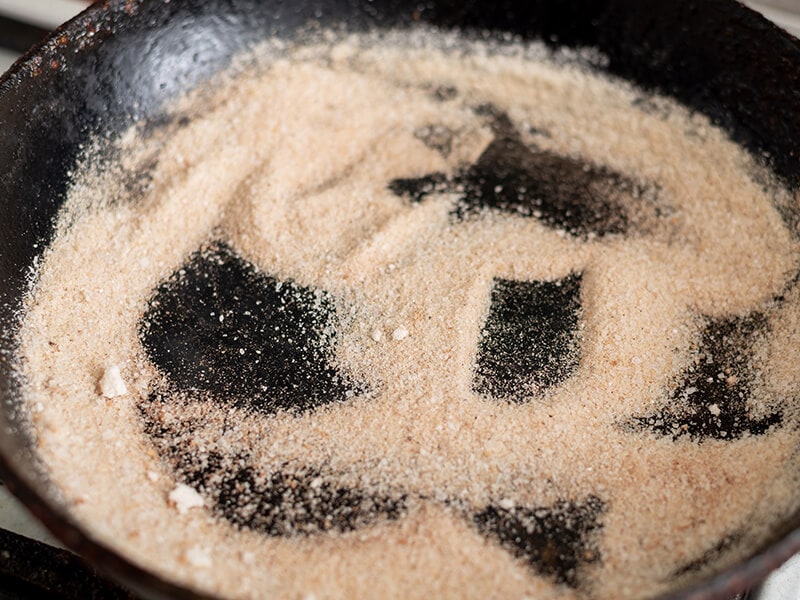 The crucial thing you have to remember when cleaning cast iron skillets is to clean them as soon as possible. When they are still warm, start washing them right then and there.
To clean them, first, add hot water to your skillets. Then, use the coarse side of the sponge, scouring pads, or cast iron brushes with a little mild dish soap.
No dishwasher is allowed. Even when some cast iron skillets are labeled dishwasher-safe, manually cleaning them is best.
You can use a spatula or a knife to remove the burnt food.
Then scrub and rinse the skillets. Don't use too much force! You may cause the seasoning of the skillets to come off. Although you can re-season them later, it's better to keep them intact.
An easier way to clean cast iron skillets is to use salt. Its abrasion is enough to remove the residue and still keep your seasoning in place.
Take a look at these full instructions on how to clean cast iron skillets properly!
Storing
To prevent rusting, you have to ensure no water or food residue is stuck on the skillets. After that, choose to store them in one of the places below:
On the stovetop: As long as the stove is far away from the sink, the skillets will be safe.
In dry cabinets or cupboards: They are optimal for storing cast iron skillets. But you need to examine them carefully to prevent moisture.
On the rack or wall: You can hook them on the wall or hang them on the kitchen rack. The air ventilation will protect your skillets against rust.
In the oven: If your skillets are free of wooden parts, just place them inside the oven and remove them when you need to use the appliance.
NOTE: You can place a paper plate or a kitchen towel in the middle of each one. It helps hamper them from scratching or scraping.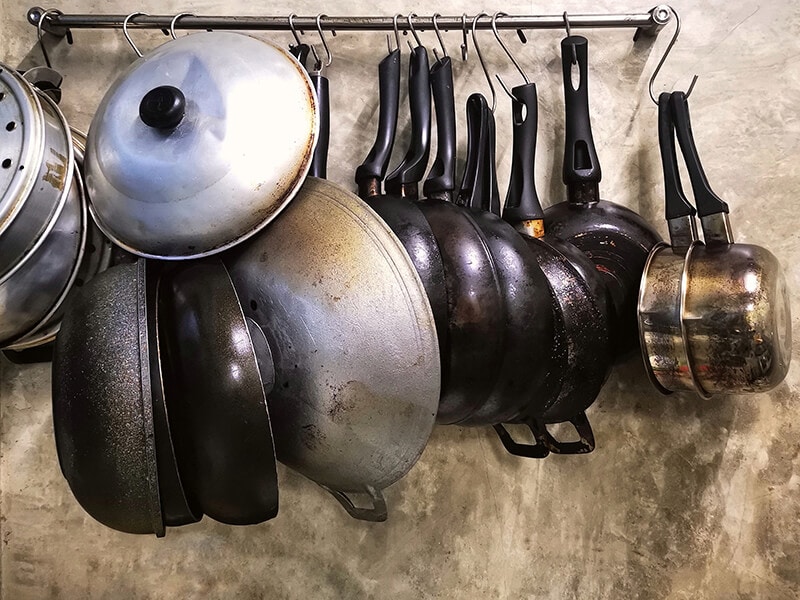 Top 5 Cast Iron Skillet Brands In The Market
Now you know how to deal with cast iron skillets. If you plan to welcome a new skillet to your kitchen, check out these most loved cast iron skillet brands.
Lodge is one of the leading brands when mentioning cast iron skillets. Its products are incredibly durable and quality, not to mention their affordable prices.
You can create the most even browning with these skillets. And the best thing is, they are super easy to clean. You can wipe the debris away with warm water, and your skillets are as good as new.
Cast iron skillets of Field Company are great for lightweight options. Unlike other heavy and bulky products, its skillets are lighter and hence, easier to handle. The brand also offers an array of sizes for you to choose from.
This brand should be on your list if you are looking for a friendly-budget cast iron skillet. The smooth finish on their products enables the heat to distribute evenly across the surface.
The seasoned coating of its product is equal to 10-15 rounds of home seasoning, making the skillets ready to use right out of the box. Like many other skillets, occasional re-seasoning between uses is a must.
Another notable brand for you is Smithey Ironware. Its products are famous for their unique and beautiful designs. Moreover, the special polishing process makes them ideal for searing fish, frying eggs, and creating the crispiest French toast.
The special thing that makes Nest Homeware's cast iron skillets stand out is their appearance. With the wand-like handles and the beautiful color, you may get some Harry Potter vibes. They are also excellent at heat distribution.
FAQs
Hold on! There are more things about cast iron skillets for you to find out. So don't miss these related questions!
Many Cast Iron Skillets Are Safe For The Oven!
Cast iron skillets have limitless potential. You can use them for baking, frying, sauteing, or searing food. It's hard to list something these pans are incapable of. Although maintaining them requires effort, it is nothing compared to the benefits they bring you.
Another reason these skillets are so popular is their ability to cope with most heat sources, including ovens. However, not all cast iron skillets can be put in the oven. You have to consider their material, coating, and burning temperature.
Is there anything in this post that is new to you? If yes, leave a comment below to let me know what it is. And, of course, share the post, so this useful information can reach more home cooks!
Paragraph
wikipedia.org (2022) Cast Iron
Healthline.com (2022), Cast Iron Cooking: Tips, Benefits, Maintenance, and More