Do you know how many different types of ovens are in the world? An oven is a prevalent tool in the kitchen, especially for homemakers. You can use ovens for cooking, grilling, or heating your food.
However, how can you choose an oven suitable for your needs? This post is here to help you overcome this challenge. You will know the names of ovens of various sorts, their uses, and their particular characteristics. Tell me which one is best for you after reading this post.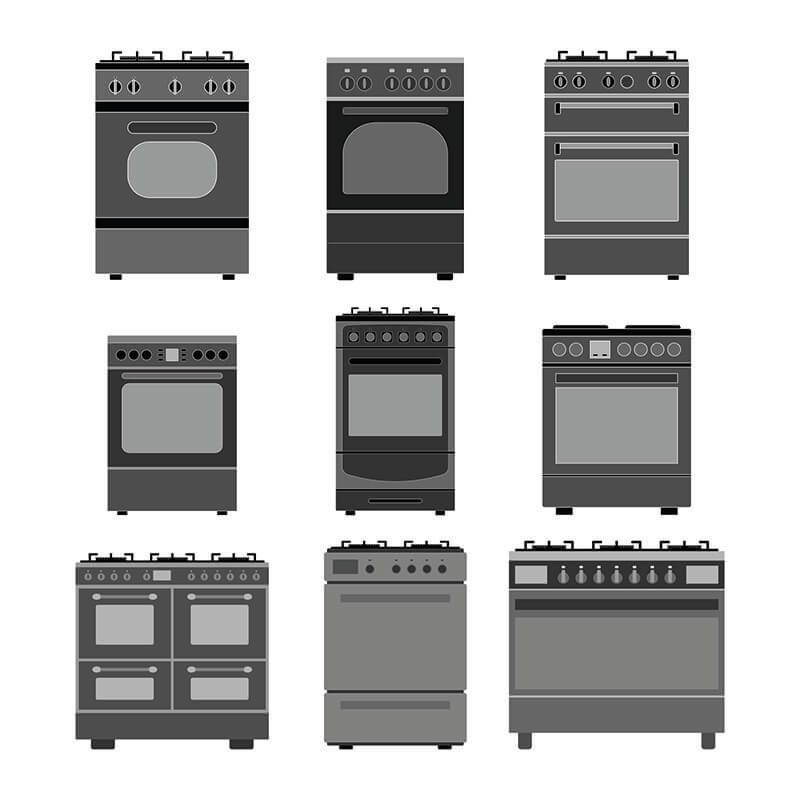 2 Main Types Of Ovens And Their Features
This section will show you some of the most popular ovens in the world. They are not only very convenient and helpful but also easy to use. Check this out.
Oven Types
Structure
Pros
Cons
Convection Ovens
Consist of a fan and exhaust system
Your foods will cook faster and more evenly
Your foods will be crispy and brown
Cook multiple dishes at once
The cooking time doesn't suit the recipes' instruction
Conventional Ovens
Have heating elements at the bottom
It's unnecessary to adjust the time and temperature in the recipes

Your foods may cook unevenly
Your foods may not crispy
This type oven can only cook one dish at a time
1. Convection Ovens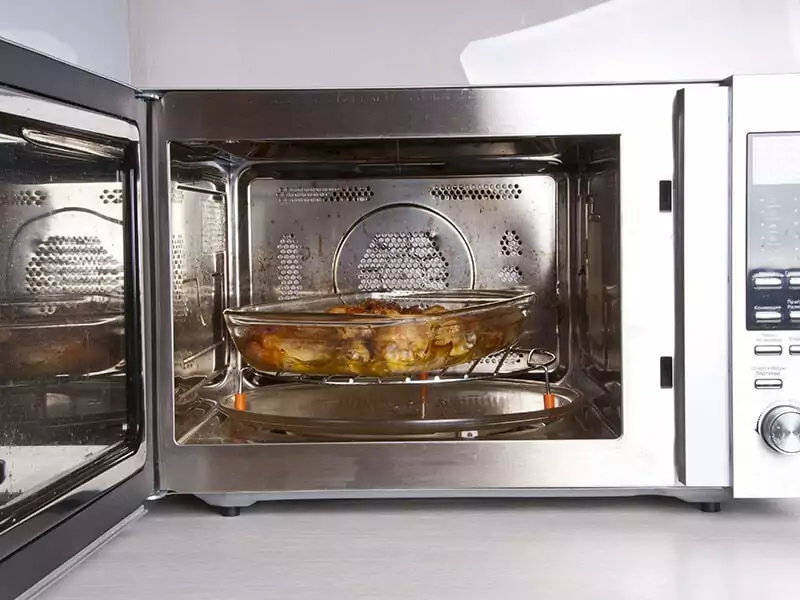 Consisting of a fan and exhaust system, convection ovens help you get a crispy and brown result. But don't confuse convection ovens with toaster ovens. Their fan and system help blow hot air directly onto foods instead of just surrounding them like conventional ovens.
Your dishes will cook faster and more evenly without any rearrangement while cooking. This feature also indirectly becomes a disadvantage of a convection oven. You have to adjust the cooking time and the temperature when following the recipes' instructions.
Although air fryers and convection ovens are different, both require the same time and temperature adjustments during cooking.
Although there are some differences between convection bake and convection roast (the two main functions), they all need a motor to operate. When this motor malfunctions, the fan in your ovens can't work properly. Moreover, choosing the right fan size is very important.
If the fan is too small, the heat produced will be uneven. On the other hand, an oversize fan can cause the foods to fail to get the best results. Anyway, you can freely cook multiple dishes at once with a convection oven without worrying that your dishes are cooked unevenly.
Learn more about convection ovens – one of the most popular ovens in the world.
2. Conventional Ovens
Have you ever heard about traditional, regular, or thermal ovens? Yes, all of them indicate conventional ovens. A conventional oven has heating elements at the bottom that distribute the heat in the oven.
One of the most significant shortcomings of conventional ovens is that they don't contain a convection fan like convection ovens. Therefore, you can't adjust the hot air inside the ovens, making your foods cooked unevenly and hard to get a crispy texture.
The only way to have an evenly cooked dish is to spend time rotating and rearranging your dish. Due to these limitations, conventional ovens are more suitable for simple baked goods such as cookies and bread.
If you follow the recipes' instructions to make meals for your family, you can consider choosing this oven. Most recipes' cooking time and temperature are applied to conventional ovens.
3 Other Common Types Of Ovens
Below are some of the common kinds of ovens you may see when coming to a supermarket to choose a suitable oven for your family. Although they are not as popular as the above two, they still offer some certain benefits.
Oven Types
Characteristics
Pros
Cons
Roaster Ovens
Consist of an electric heating element and a large pan
Cook more evenly and quickly
Take up a little space
Versatile
Small
Microwave Ovens
Use electromagnetic waves to heat foods
Take up a little space
Good for simple meals
Unsuitable for baking foods at high temperature
Cook unevenly
Unsuitable for browning and roasting
Toaster Ovens
Consist of a baking pan and a wire rack
Use less energy
Cook faster
Easy to use and clean
Can't cook multiple dishes at the same time
3. Roaster Ovens
A roaster oven comprises an electric heating element and a large pan. Roaster ovens will distribute heat throughout the roasting chamber to help your dishes cook more evenly and quickly.
If you need extra space to prepare multiple dishes for a party or big gathering, you should equip your kitchen with a roaster oven. It's tiny and takes up a little space.
However, its applications are more diverse than a microwave oven. It also offers you a full range of cooking temperatures. In addition to roasting, you can utilize this oven to bake, slow cook, or steam various foods such as turkey, meats, or stews.
4. Microwave Ovens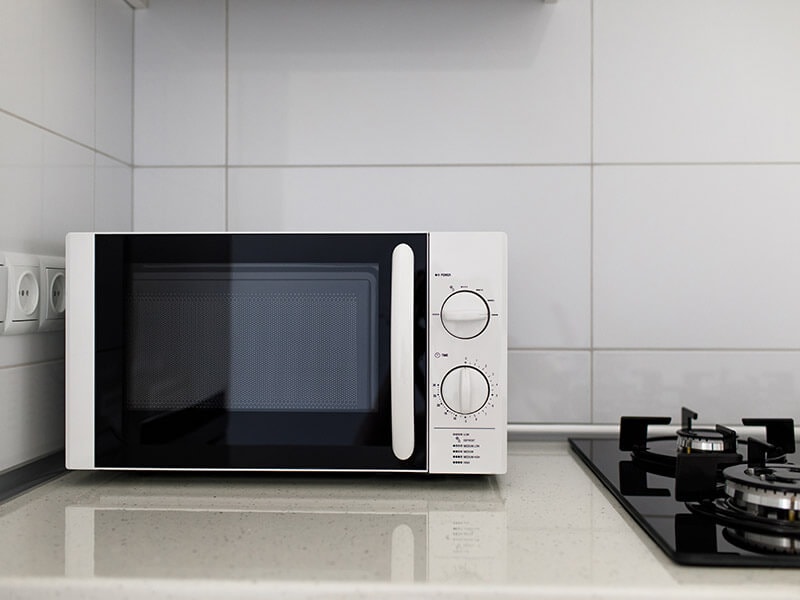 A microwave oven is a kind of oven using electromagnetic waves to heat the food. It is small and boxlike. Moreover, this oven doesn't take up much space in the kitchen, making it highly convenient.
If you are looking for a suitable oven for instant and quick meals, microwave ovens are a good choice. However, this kitchen appliance is only suitable for reheating and cooking simple meals. You can also use it to disinfect kitchen items or heat beauty products.
Have you ever heard about a convection microwave oven? The definition of a convection microwave oven is also very simple. You can simply understand that this type will help you apply the function of both a convection oven and a microwave.
However, this type of oven isn't capable of helping you bake foods at high temperatures. Moreover, getting your dishes to cook evenly with it is also more difficult. The foods on the edges will cook faster and turn rubbery and tough. It's also unsuitable for roasting and browning your foods.
Want to know how microwave ovens work? Check here for the answer.
5. Toaster Ovens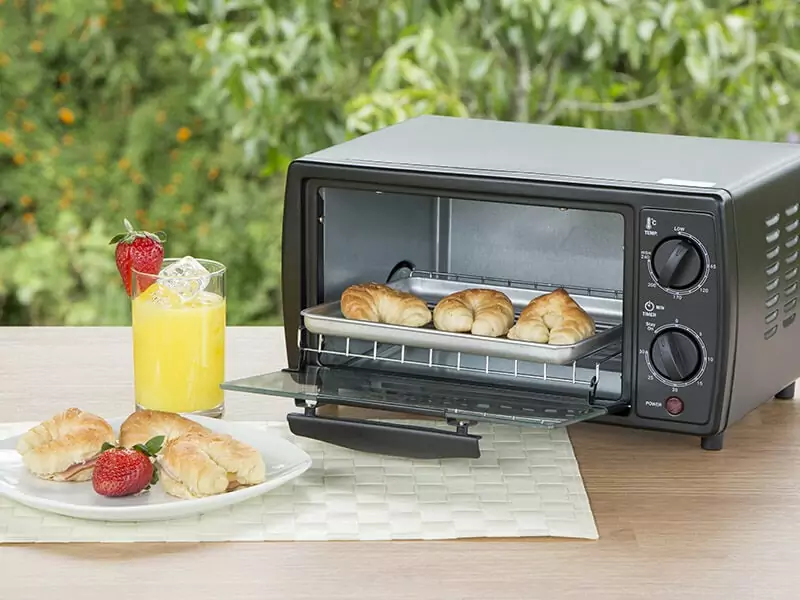 Wait, don't confuse a toaster with a toaster oven. Although they have almost similar names, a gap between toasters and toaster ovens will surprise you.
Consisting of a removable baking pan and a removable wire rack, a toaster oven is a small and cheap oven when you need an additional kitchen appliance. This oven also radiates heat in the oven to heat foods. A toaster oven cooks the food faster.
Moreover, it is highly energy-efficient. This feature also partly makes the difference between toasters ovens and microwaves. It's good for you to bake bread, grill meat, reheat the leftover foods, and defrost foods.
This oven is very straightforward to use. Not only does it require very little time, but a toaster oven's cleaning instructions are very simple. Moreover, using toaster ovens will help you prevent your kitchen area from overheating like when using other ovens.
A disadvantage of toaster ovens is that you can't use them for cooking many dishes simultaneously. Moreover, if you choose a toaster oven to bake foods, the result won't be as good as using a more powerful oven.
3 Kinds of Ovens In Different Sizes
Ovens come in various shapes to meet the consumers' needs. They differ not only in terms of functions but also in terms of sizes. For more information, see the material below.
Oven Types
Characteristics
Pros
Cons
Single Ovens
Have an oven and grill in the same cavity
Take a little space
Cook one dish at a time
Double Ovens
Have 2 independent cooking areas
Cook multiple dishes at once
Take more space
Triple Ovens
Have a wall oven with a FlexDou system
Cook 3 dishes at the same time
Versatile and convenient
Take more space
6. Single Ovens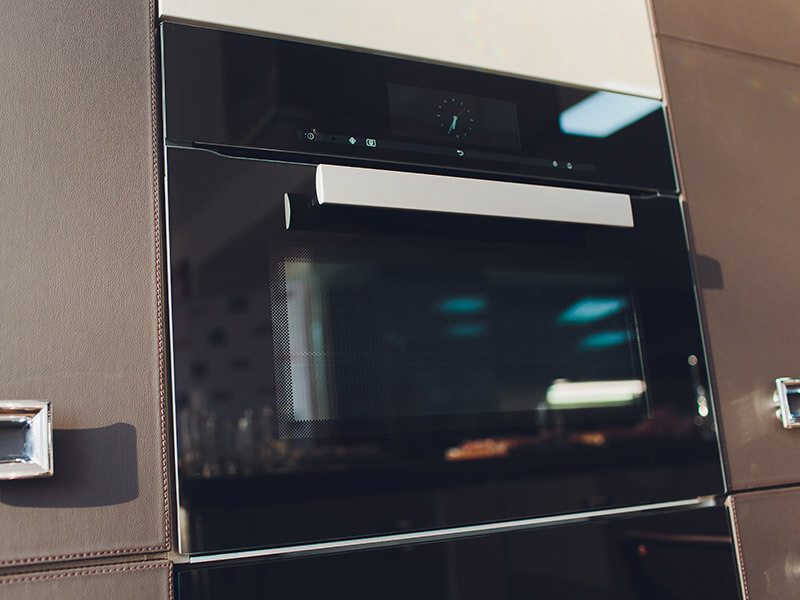 A single oven is considered the most popular and suitable oven for every family. It has an oven and grill in the same cavity. However, you can't cook and grill simultaneously. You are only allowed to prepare one dish at a time.
If you don't need to make a variety of dishes, or your counter space in the kitchen is tight, a single oven is good for you. A single oven is easy to use and convenient because it's small and about 60 centimeters tall.
You can place it anywhere in your kitchen. You need to place your dish and adjust the appropriate temperature and time. However, a single oven is not a wise choice if you want to cook food for a large group of people.
Discover more interesting knowledge about a single oven.
7. Double Ovens
A double oven has two independent cooking areas. This oven is ideal for you to cook multiple dishes at once. You can also set different temperatures, times, and other settings when using this oven.
This kind of oven will help you save time preparing many dishes for a party or a get-together. Moreover, double ovens consume less energy than a large single oven. You can consider this type if you have a comfortable cooking space.
You can buy a double oven with two equal ovens or buy one small – one big oven. There are many types of ovens in the market designed based on convection ovens and conventional ovens for you to consider.
8. Triple Ovens
Have you ever heard about triple ovens? The first triple oven in the world is an invention of Samsung in the 1960s. It is a wall oven with a FlexDou system. This insulating barrier system divides the traditional double oven with an extra cooking space.
The appearance of the FlexDou divider is not fixed. You can freely remove this from your ovens when you want to cook something large, and your item needs a more comfortable space.
Being one of the most effective wall ovens, triple ovens allow you to cook three separate dishes at the same time. You can also adjust different times and temperatures using a double oven. You can use it to bake a casserole, roast a turkey, or even bake a pie.
4 Types Of Ovens With Different Heat Energy Sources
Different forms of ovens will employ various heating methods for cooking the foods. Below are some primary heat energy sources used in your ovens. Take a look!
Oven Types
Characteristics
Pros
Cons
Pizza Ovens
Use house bricks, concrete, or breeze blocks to generate heat
Produce high heat
Give your foods a crispy exterior and a moist, chewy interior
Give your foods a unique flavor
Primarily used for baking pizza
Steam Ovens
Use water to generate a hot stream in the oven
Keep your foods moist
Eliminate extra oil and fat in foods
Help you get a healthy and tasty result
Cook numerous dishes
Expensive
Can't produce crispy foods
Electric Ovens
Use electricity to produce heat
Create dry heat
Help your dishes have a crispy texture
Cook more evenly
Easy to install
Your foods are easy to dry out
Expensive
Gas Ovens
Use natural gas or propane to generate heat
Create moist heat
Give your foods a moist and juicy texture
Cook faster
Your foods can't get a crispy texture
The open flame is dangerous
The initial cost is high
9. Wood Fired Ovens/Wood Ovens/Pizza Ovens
If you are a pizza fanatic, you must know about these wood-fired ovens, also called pizza ovens, because they are made primarily for baking pizza. This sort of oven often uses house bricks, concrete, or breeze blocks to generate heat.
The heat from these materials is completely greater than the heat generated from electricity or gas. Its temperature can get up to 900 degrees F. Thanks to this high heat, your pizza will acquire a crispy crust but remain a pleasantly moist and chewy texture on the inside.
The smoke from the oven also imparts the signature taste to your pizzas, which you can't get from using regular ovens. Although you can install a small pizza oven in the kitchen, I recommend you install a dedicated pizza oven in your backyard to bake a larger number of pizzas.
If you are interested in building a pizza oven, don't skip this guide.
10. Steam Ovens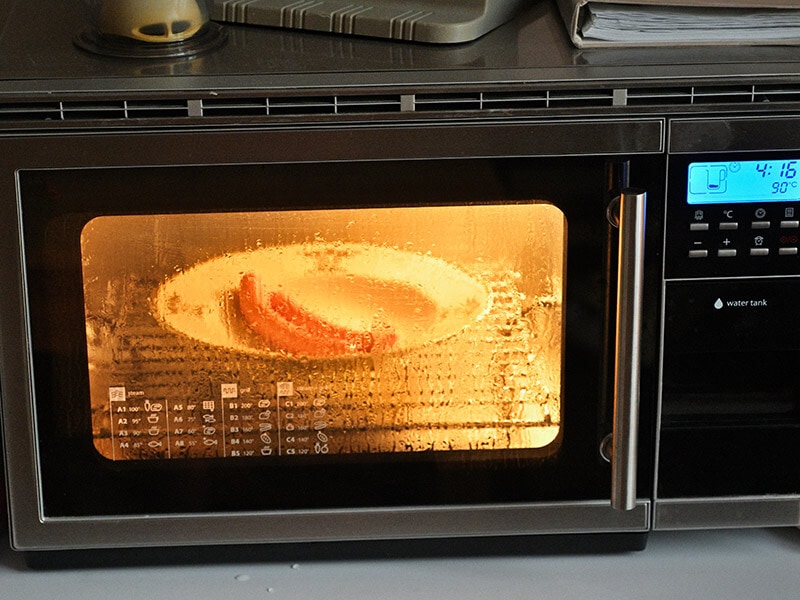 If you are looking for the best way to produce a healthy and tasty dish, steam ovens are the best choice. Steam ovens often use water to generate a hot stream in the oven.
Using this type of oven will help your dishes eliminate the extra fat and oil left in your foods while keeping the moisture for them. Besides preserving minerals and vitamins in your foods, steam ovens also improve their flavor, texture, and color.
You can use steam ovens for cooking many sorts of foods from vegetables and meats to various desserts such as puddings and other things.
Due to numerous advantages, steam ovens are more expensive than different regular ovens. Moreover, steam ovens are not a good choice if you are looking for crispy results.
11. Electric Ovens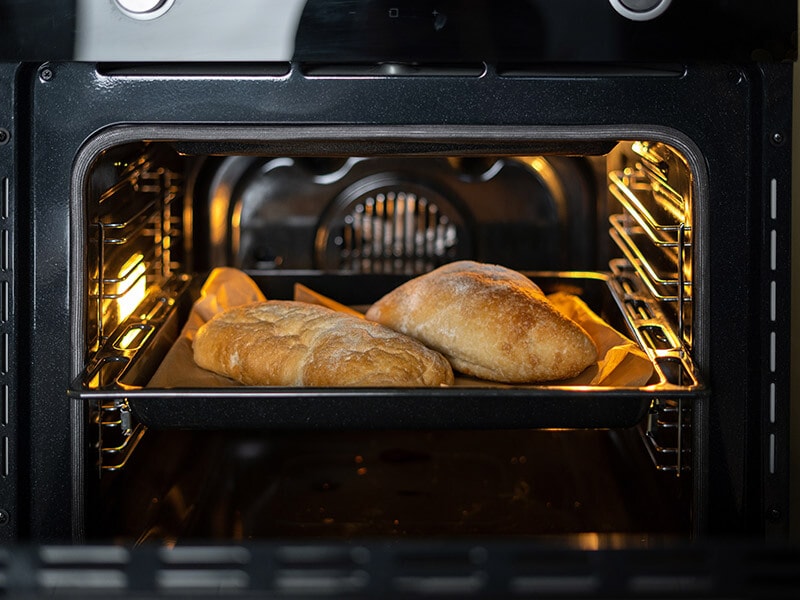 An electric oven is a type of oven that generates heat by applying electrical energy to specialized coils. Consisting of the heating element and a fan, electric ovens will distribute heat evenly throughout the oven to heat the foods. They are very easy to install compared to gas ovens.
Electric ovens create dry heat, so they are a good choice if you want to roast, broil foods or bake a casserole or various other desserts. They will help you get a crispy texture to your dishes.
On the other hand, if you want your foods to be moist, you can spritz them with water or add a pan of water to enhance their texture.
Furthermore, electric ovens release a consistent amount of heat, helping to cook your foods more evenly. You can also take advantage of its dry heat to dry fruits or dehydrate meats. However, this type of oven can result in quite a high electricity bill.
12. Gas Ovens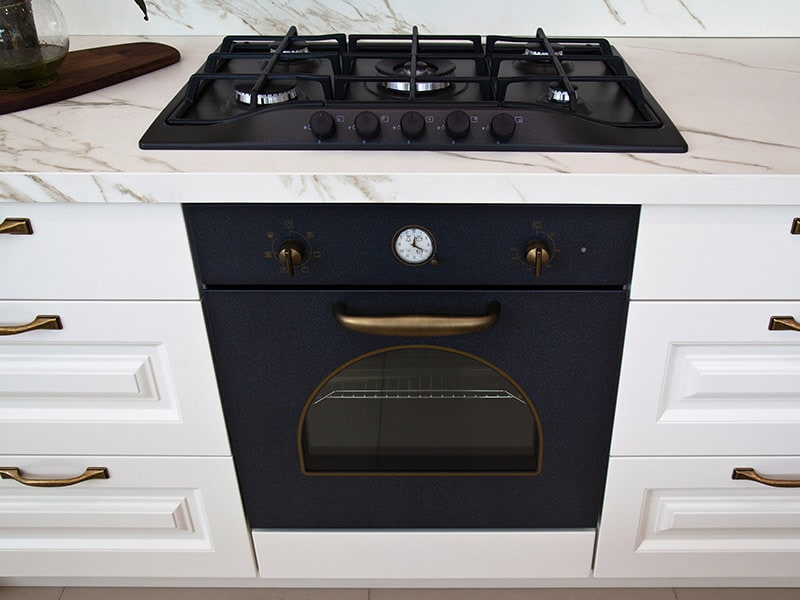 A gas oven is a kitchen appliance producing heat with a flame by using natural gas or propane. Instead of releasing dry heat like an electric oven, gas ovens produce moist heat, making your baked goods have a moist and juicy texture.
Besides, since gas ovens produce high temperatures for a short time, they help your foods cook faster. Moreover, you can freely adjust the temperature and control your cooking better.
Although using a gas oven for the long term will be less expensive than electric ovens, you have to pay the initial cost of installing a gas line in your kitchen. The open flame is also a concern of many families with children or kids.
Something you should know about the difference between gas ovens and electric ovens.
4 Types Of Ovens With Different Installation Methods
If you are struggling to find an appropriate oven based on installation, don't skip this section because it will tell you what you should do right now.
Oven Types
Characteristics
Pros
Cons
Slide-In Ovens
Prepare a specific spot and slide your ovens in
Easy to install
Keep your kitchen clean
Clean the ovens easier
More expensive
Doesn't have a fancy display
Freestanding Ovens
Stand on their own
Easy to remove when cleaning the kitchen
Cheap
Easy to install
Ovens are not installed at a suitable height
Take more time and effort to clean up
Drop-In Ovens
Contain a front control panel at the bottom
Have a seamless appearance
Make your kitchen more luxurious
Hard to install
Expensive
Wall-Mounted Ovens
Mount your ovens on the wall
Take a little space in the kitchen
At eye level
Convenient
Expensive
13. Slide-In Ovens
Slide-in ovens are very easy to install because you just need to prepare a designated spot in the kitchen and slide your oven in. The protruding cooktop will keep your foods from falling in the gaps between the cabinet and the cooker.
If you install slide-in ovens correctly, they will not stick out and suit perfectly with your kitchen. Even if you don't have much space for a large oven, slide-in ovens surprisingly meet your needs.
This simple installation will make your kitchen more appealing and appear to be more spacious. Another plus point is that this installation style makes cleaning the ovens easier and takes less time.
Although slide-in ovens are more expensive than freestanding ovens, they are not equipped with a fancy display. Consider this point carefully before choosing this oven.
14. Freestanding Ovens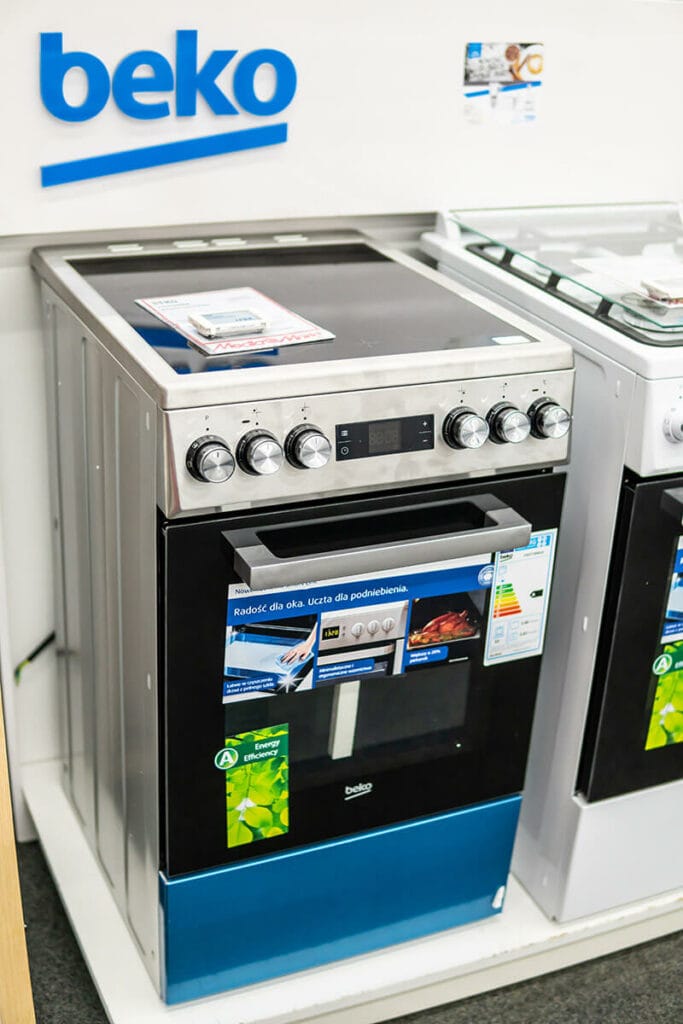 Installation is the only feature that makes freestanding ovens different from slide-in ovens. This feature also indirectly makes the difference between slide-in and freestanding ranges because a range includes ovens.
Freestanding ovens are very easy to install. You can place them directly on the kitchen floor. Because a freestanding oven is not fixed and stands on its own, you can freely move it if you want to clean up or redesign any kitchen parts.
Moreover, compared to other ovens, freestanding ovens have the lowest price. There are various models in the market for you to consider before buying.
Although they offer numerous benefits, freestanding ovens also come with some problems. You may have to frequently lean down to get your dishes because it isn't at a suitable height. Also, it doesn't have a seamless appearance like slide-in ovens, leading to more difficult clean-up.
Let's discover the way to install a freestanding oven.
15. Drop-In Ovens
A drop-in oven is not in demand today because it's one of the hardest ovens to install. You have to lift and lower it into a prepared base and hire a carpenter to customize the cabinet to the exact dimensions if you want to install this costly category of ovens.
Due to these limitations, there are not many models in the market to choose from. But drop-in ovens contain a front control panel at the bottom and have a seamless appearance, so you can consider them to make your kitchen more luxurious.
16. Wall-Mounted Ovens
Wall-mounted ovens are one of the most popular ways of installation nowadays. IIt is easy to set up and requires very little space in your kitchen because you just need to mount your ovens on the wall.
Instead of having to lower heads every time you get food, wall-mounted ovens are basically at eye level, so you don't need to blend over. It's very convenient. However, a wall-mounted oven is also very expensive.
Other Types Of Ovens You May Be Interested In
I think you have had a better understanding of different kinds of ovens based on their styles, installations, and their popularity. Below are some other categories with distinctive features. Let's consider choosing one that suits your needs best.
Oven Types
Characteristics
Pros
Cons
Smart Ovens
Connect your ovens with the Internet
Convenient
Expensive
High cost of repairing
Self-Cleaning Ovens
Work by blasting high heat or steam throughout the inside
Convenient
Help you save time and effort when cleaning
Generate excess heat when cleaning
Produce harmful by-products such as carbon monoxide
Multifunction Ovens
Contain 2 or 3 cooking styles
Cook different meals at the same time
Difficult to control
Expensive
Delayed Feature Ovens
Start and stop ovens automatically
Give the best result even if you are not at home
More expensive
Ovens With A Warming Drawer
Has a drawer under the oven
Used for cooked foods
Keep cooked foods warm for long
Unsuitable for cooking
Can't place food with plastic/aluminum foil/paper container inside the warming drawer
Ovens With A Proof Mode
Provide low heat to maintain a perfect oven environment
Help you get the best quality of homemade bread
Unsuitable for keeping your foods warm
Ovens With A Storage Drawer
Have a storage drawer under the oven
Keep your utensils from being heated
Can't put plastic or paper serving pieces in the storage drawer
17. Smart Ovens
When using smart ovens, you can control your ovens through smartphones or even with a voice assistant. All you need to do is to connect your device to the Internet. This function allows you to set the cooking time and adjust the temperature while cooking.
Moreover, smart ovens will notify you when your food is fully cooked or when your ovens need maintenance. Even with a hectic schedule, you no longer have to worry about burnt food or faulty appliances.
If you are doing something else or can't adjust the temperature and time during cooking, voice control makes things easier. All you have to do is ask, and everything will be taken care of.
Although smart ovens are very convenient and intelligent, they are very expensive compared to other categories of ovens. Moreover, the cost of repairing these ovens is very high because they require special equipment, skills, and technology.
18. Self-Cleaning Ovens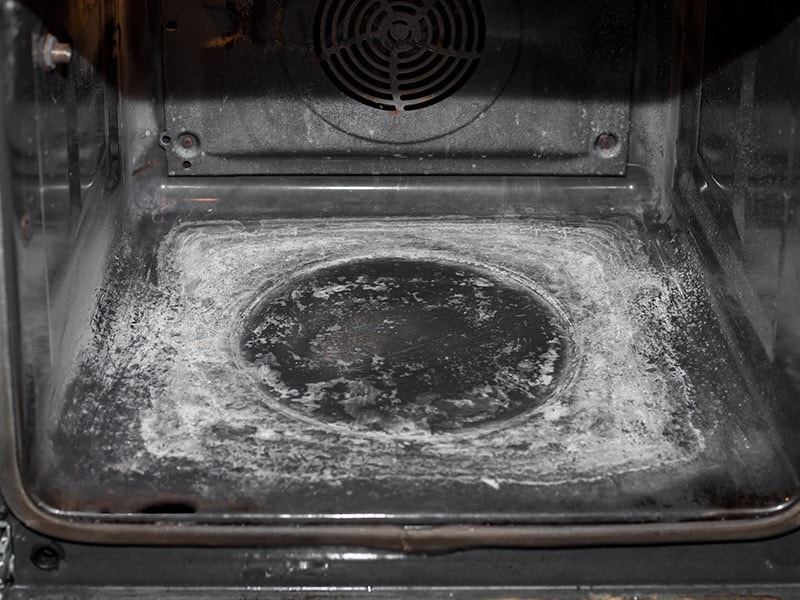 Although they are self-cleaning ovens, it doesn't mean that you don't need any hands-on cleaning routine when using these ovens. This oven works by blasting high heat or steam throughout the inside of the oven to release or burn away any food remains or dirt.
You will find self-cleaning ovens in the market in 2 types: catalytic and pyrolytic. Catalytic ovens are installed with special catalytic liners made from chemicals. These liners help eliminate fat splatters and grime in the oven, making cleaning easier.
When the cleaning process is complete, you just need to use a wet rag to remove any loose debris left in the oven. It will help you save time and effort compared to using any other kind of oven.
The drawback of this oven is that during the cleaning process, it can produce unpleasant burning scents or fumes and potentially dangerous by-products such as carbon monoxide.
Moreover, a self-cleaning oven can generate excess heat while cleaning. This can damage the heating element or short a thermal fuse. Not only must you pay for repairs, but the cost of electricity for this oven is also significantly more than for other types.
These instructions will help you use a self-cleaning oven in the best way.
19. Multifunction Ovens
Coming with two or more cooking styles, multifunction ovens are the ideal choice for you to cook different meals simultaneously. This oven consists of multiple heating elements, allowing the heat to be produced at the top, bottom, or even the sides.
This advantage allows you to adjust where the heat comes from. Therefore, whether you are baking, roasting, or defrosting anything, it will give you the best results. If a conventional oven can't satisfy your needs, give a multifunction oven a chance.
However, this oven is difficult for you to use if you are an inexperienced cook due to complicated controls. Moreover, this product's price is rather high.
20. Delayed Feature Ovens
If you are a busy person who still wants to eat delicious and healthy dishes when you get home from work, delayed feature ovens are the best solution for you. Even if you are not in the kitchen, your meals are done with perfection.
This appliance will allow you to start and stop your ovens automatically. You can turn on and turn off your oven at a specific time even if you are not at home.
You can place your food in the oven and set a time. Your ovens will automatically start working and shut off when the meal is complete to give you the best result.
21. Ovens With A Warming Drawer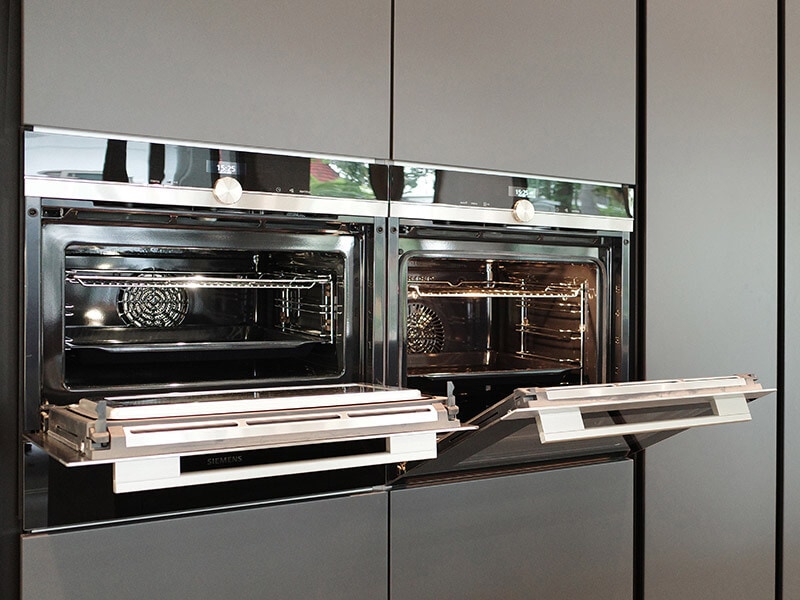 Installing your oven with a warming drawer will keep your dishes warm for longer. This way is beneficial, especially when you have many dishes to prepare or need to keep food warm for late-arriving family members. It's also a flawless way to help food stay warm during a party.
Using ovens with a warming drawer will help you maintain the perfect temperature for cooked foods. However, you should notice something when using this type of oven. Firstly, this function is good for cooked foods, so it's unsuitable for cooking something new.
Secondly, if you want to keep a baked dish with aluminum foil, you should remove it before placing it in the warming drawer.
Do you want to know whether or not to line the oven with aluminum foil? In this case, the answer is, of course, a "no". Finally, never put anything made of plastic or paper in it because its heat is still hot enough to melt or burn them.
A warming drawer is handy if you want to keep your foods warm and fresh.
22. Ovens With A Proof Mode
A proof mode in the oven takes responsibility for providing low heat to maintain a perfect oven environment. This will create a favorable condition for your yeast in homemade bread to rise.
To protect the dough from drying out, the convection fans are turned off during the process of proofing. Thanks to this drawer, you will know when you need to bake your bread for the best results.
However, you shouldn't utilize this proof mode to keep your foods warm like using a warming drawer. Its heat is not enough to keep your food at the perfect temperature.
23. Ovens With A Storage Drawer
If a warming drawer helps your foods remain at a perfect temperature, a storage drawer is ideal for storing your kitchenware, such as pans, pots, baking sheets, and even muffin tins.
A storage drawer is installed underneath the ovens and will keep your utensils from the high temperature produced during the cooking process. Like a warming drawer, you shouldn't put plastic or paper serving pieces in this drawer.
Which Kinds Of Oven Is Best For You?
I have discussed some of the various types of ovens, as well as their advantages and disadvantages. Aside from that, there are a variety of ovens that include all of the above features. Choose the sort of oven that is most convenient for you based on your demands.
I hope you have gathered all of the essential information to select the most appropriate oven type. Leave a comment to let me know which oven you prefer. If you could share this article, that would be fantastic. Thank you very much.