Many people wonder what is a convection microwave oven, and how it differs from toaster ovens or microwaves. The time has come to break things down about convection microwave ovens.
Keep reading to find out if they are worth the money and the hype, practical, useful, better than some other kitchen appliances.
My years-long experience in the kitchen showed me that a convection microwave oven is a better choice than a standard microwave.
You probably wonder why. The answer is simple – it gives you more opportunities to cook, crisp, and brown the food.
Let me cover all important aspects of convection microwave ovens – use, maintenance, comparison with similar kitchen appliances, safety measures, food to cook, etc.
What Is A Convection Microwave Oven?
In simple words, the convection microwave oven is a microwave oven reinforced with heating elements, so it can work as a standard microwave and convection oven.
The device has a magnetron to produce electromagnetic waves, heaters, and a fan. When working in a microwave mode, the magnetron produces waves that can penetrate water molecules and heat them. When you turn on a convection mode, the heaters warm the air in the microwave chamber, while the fan distributes the warm air.
Two working modes – standard microwave and convection mode, allow it to be a versatile cooking device you can use for a variety of foods, including liquid and baked food. You can also switch between modes and customize the cooking process. A convection microwave oven cooks faster than a standard microwave and standard oven.
In short, this appliance can do all the functions as a regular microwave, so if you want to make your best-loved microwave dessert, let's try it with this convection microwave oven.
Here are some things you can use convection microwave oven:
Roast poultry
Steam vegetables
Warm the food
Make risotto
Make omelet
Prepare mac & cheese
Cook casserole
Bake cookies
Brown pizza
Use convection cooking setting to prepare beef or pork roast
Use instead of the main oven in small places
Watch this video to know more:
Are Microwave And Convection Microwave The Same?
The short answer is No. But, microwave and convection microwave have the same basic functioning principles – electromagnetic waves.
To some point, both microwave and convection microwave can melt butter, cook and defrost frozen food, or you can use it to reheat leftovers, such as pizza, like the way you warm your pizza in the oven. So versatile, isn't it?
Moreover, a convection microwave oven gives you more freedom in cooking. You can use it as a second oven – to roast, cook, bake, and crisp food.
The primary difference is that the convection microwave oven includes an additional heating element and the fan, which enables the hot air to circulate in the microwave chamber.
Therefore, the convection microwave oven is more multi-purpose compared to a standard microwave without the heating element. Therefore, unlike standard microwave, convection microwave is safe for use with metal bakeware, but on convection-only cycles.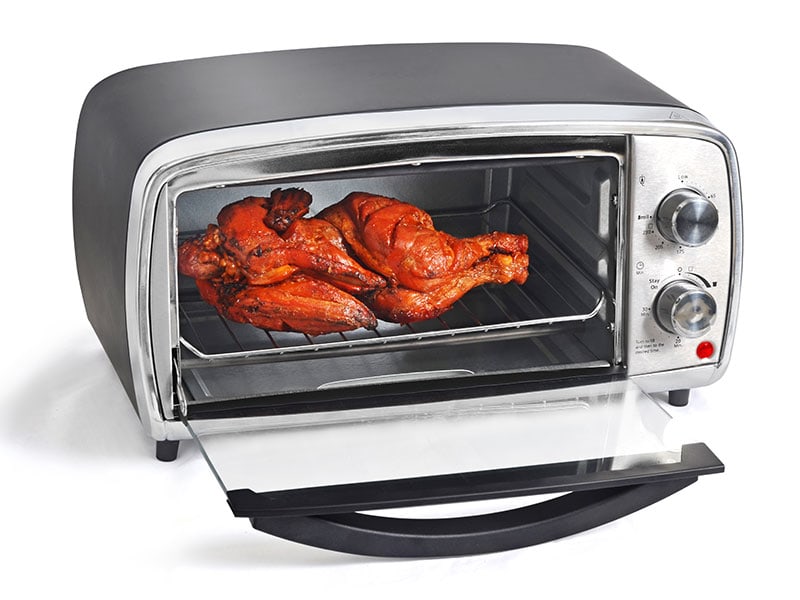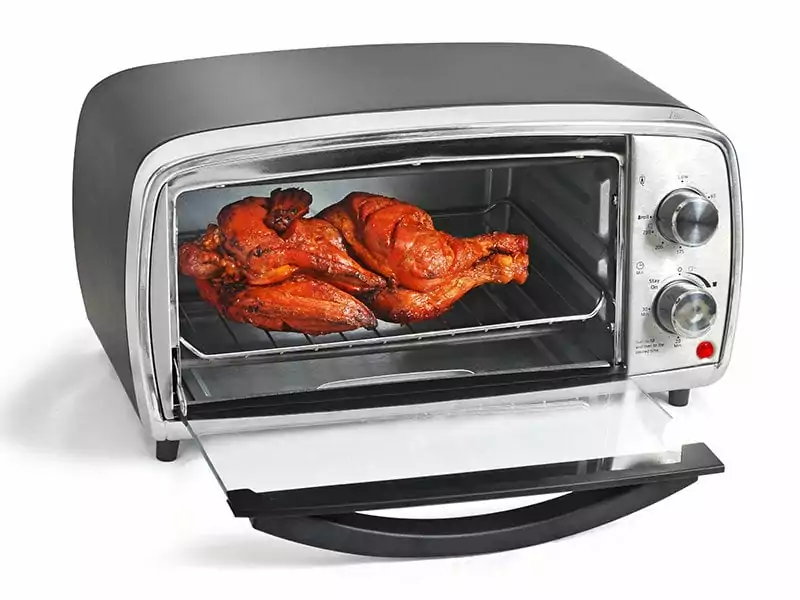 Watch this video to know more:
Convection Microwave Oven Modes Explained
Learn about your convection microwave in depth. Explore the settings, different modes, and uses.
In most convection microwave ovens, there are three cooking modes:
Microwave only – timed food preparation
Convection only – relying on the heating element to bake food
Combined – both settings at the same time
The microwave setting isn't different from the one in standard microwaves. Use it to defrost food, make perfect popcorn kernels in less than five minutes, reheat dinner leftovers, or steam vegetables.
Comply with all the rules related to cooking in a microwave, such as avoiding metal cookware. Or you can cover your food with a best-quality microwave cover to keep the moisture so your food will not end up dry and tough.
If you want to bake food, set the convection oven at the convection setting. Install the rack and put the food in the middle of the chamber. Don't forget to preheat the oven and turn the fan on for hot air circulation. Cooking food in a convection setting will result in a dish with a crispy exterior.
The third setting is combined and uses both microwaves and heating elements to cook the food. Because microwaves penetrate even the thickest food, they accelerate the cooking process. If you roast a whole chicken in a combined setting, you will end up in well-done chicken with crispy skin on the outside. The best part – you will roast the chicken in less time than if you used a standard oven.
Still, many people tend to overcook food in a convection oven.
Always test food before you start cooking it in a combined setting.
Watch this video to know more:
Recipes Adjustments For Convection Microwave Oven
You can experiment on your own until you learn more about timings and settings in the convection microwave ovens.
However, general guidelines aren't different from those applied to convection ovens.
Observe the cooking process and decrease the temperature if you notice that outer parts are baking quickly.
If your cookies aren't cooked in the middle, next time raise the temperature or cook for longer. If you plan to bake brownies, choose the finest product of brownie pans and skip metal ones if you plan to use a mixed setting.
Use baking sheets and metal cookware only on convection settings.
If you are following the recipe for a standard oven, and you plan to use a convection microwave oven, lower the temperature by 25 degrees Fahrenheit.
Check the food before cooking time is up after approximately 75 percent of cooking time has passed.
For baking bread and pastries on a combined setting, reduce the temperature from 30 to 40 degrees, and observe the cooking process to prevent the bread or other baked foods from burning.
When it comes to defrosting, a convection microwave might be faster than standard, but it depends on the food. Check if the food is defrosted five minutes before the set time.
Watch this video to know more:
Cooking Time Of Convection Microwave Oven
First of all, a convection microwave oven doesn't take much time to preheat. I learned that it needs less than five minutes to reach 480 degrees Fahrenheit. It is because it is smaller than a standard oven, and it has a fan that distributes the hot air.
Second, because of the fan, the hot air is blown directly onto food, and cooks it actively. In standard, fan-less ovens, hot air surrounds the food and needs more time to cook.
The convection process dries the hot air and caramelizes the food exterior quicker, making them so perfect for crowd-pleasing and hearty Sunday dinners with roasted chicken. And your whole family will love it.
Convection Microwave Oven Maintenance
Cleaning a convection microwave oven isn't different than cleaning a standard one with an additional step. The additional step is washing the rack you used for baking.
The easiest way to clean a convection microwave oven is using a trick with a glass of water. Put the microwave-safe glass with water inside the microwave chamber and cook it for three minutes. Don't open the door for five more minutes and let the steam do the magic and clean every corner of the chamber.
After five minutes, use a paper towel to wipe-clean microwave and remove any melted grease or food leftovers from baking. Wipe inside of the microwave with a cloth dampened into the soapy water and rinse with a sponge dipped into freshwater.
When cleaning the exterior, wipe it clean with a soft cloth and avoid using soaps and cleaners around the control panel.
Wash the rack in the sink using soap and water and install it back in the oven once dried.
Which One To Get – Toaster Oven, Microwave Oven, Or Convection Microwave Oven?
If you are looking for a new kitchen appliance, you have quite a few choices in front of you. However, most people narrow the choice to a toaster oven, microwave, and convection microwave, when presented with a tight budget.
To decide, analyze your needs and preferences, as well as the time you spend in the kitchen or what food you prefer.
Over the various oven kinds, a convection microwave is the most versatile. It is also the most expensive one. For example, if you don't reheat food or avoid frozen food, you don't need to spend money to get the convection microwave oven.
Because of your preferences, you will use it only for baking, so you can find an affordable oven.
I always recommend convection microwave ovens for people with small kitchens, especially if they don't spend too much time cooking. A convection microwave oven will serve for a variety of things, including baking.
Lastly, if you are a student or you don't cook, you can choose between microwaves or toaster ovens. Pick a microwave if you reheat food often. You don't need a convection setting to cook frozen lasagna in a microwave, or any other frozen half-prepared dish.
Choose a toaster oven if you a big fan of toast, and quick-to-bake pastries.
Here is a table for a simple visual presentation of what are convection microwave oven, microwave oven, and toaster oven capable of:
| Functions | Microwave | Convection Microwave | Toaster Oven |
| --- | --- | --- | --- |
| Reheating | Yes | Yes | Yes |
| Defrosting | Yes | Yes | Only available on some models |
| Boiling | Yes | Yes | No |
| Adjusting cooking time | Yes | Yes | Only available on some models |
| Roasting | No | Yes | Yes |
| Baking | No | Yes | Yes |
| Crisping | No | Yes | Yes |
| Preheating | No | Yes | Yes |
| Additional (Smartphone control) | No | Yes | No |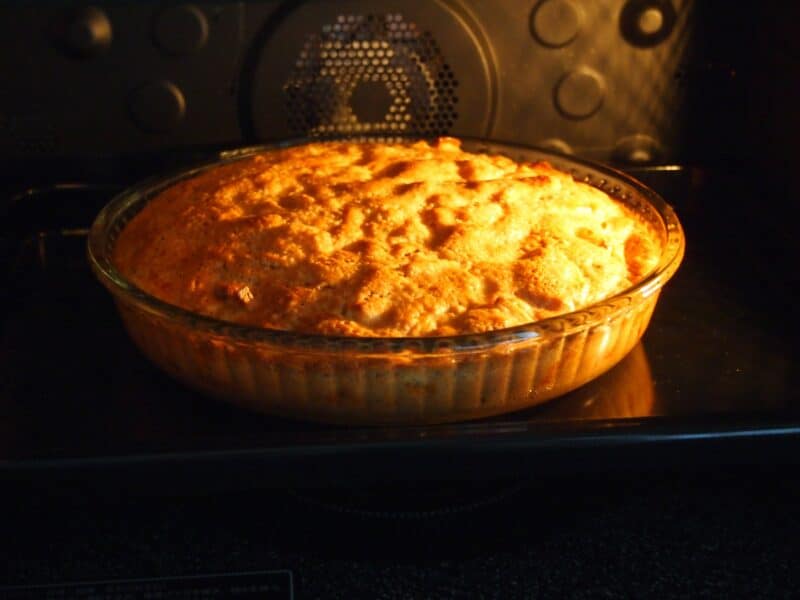 Convection Microwave Oven Pros
Let's sum up everything I shared with you so far into convection microwave oven pros. If you are still wondering whether a convection microwave is a worthy investment, here are some reasons to get one.
Cooks food fast – Combined settings allow it to cook food faster than a standard oven
Versatile – Combines the use of microwave and oven in one appliance
Compact – Fit small kitchens, RVs
Energy-efficient – Shorter cooking time, smaller operation expenses
Makes delicious crispy skin on meat – Easy to achieve the crispiest texture on outer parts of the food
Easy to clean – Using water trick and a soft cloth
Cooks food evenly – The hot air circulates continuously in the chamber and maintains the heat on all parts of the food
You can cook two types of food at the same time because of the racks
Convection Microwave Oven Cons
Let's briefly check the potential downsides of convection microwave ovens.
Cooking includes a learning curve – It takes time to get used to the fast cooking process and adjusting recipes
Limited capacity – You cannot prepare a large amount of food inside or roast whole turkey
Pricey – More expensive than microwaves and basic ovens
Monitoring – It takes a lot of experience in cooking to be able to let the food in convection microwave oven unattended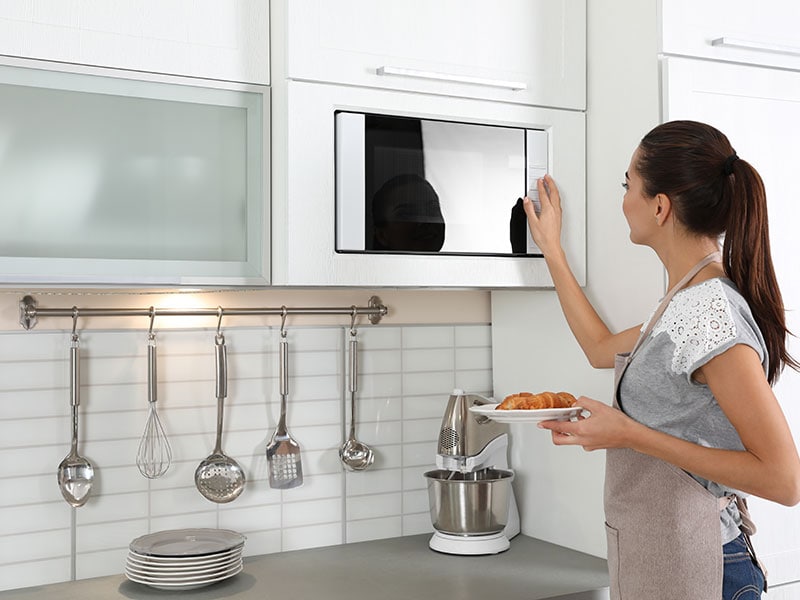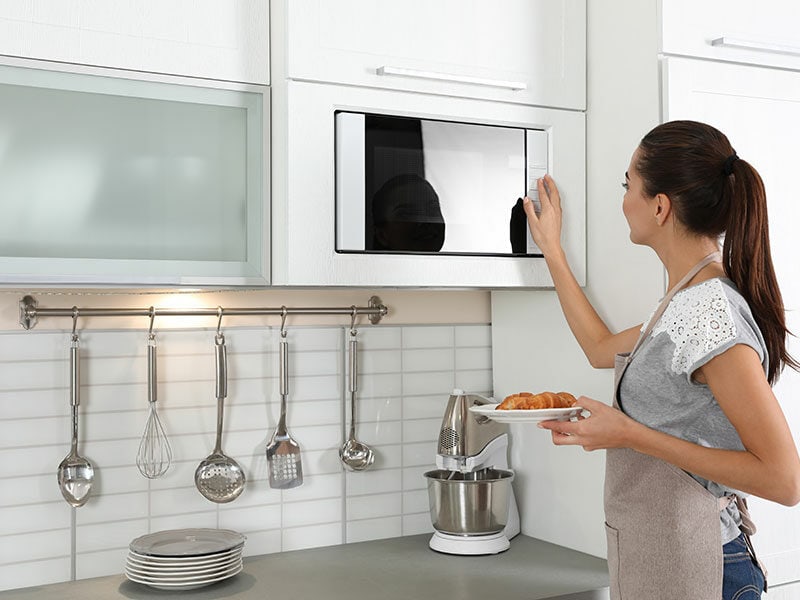 Convection Microwave Ovens Safety Precautions
When using the microwave or combined setting, use only microwave-safe containers. Double-check the doors and stop using your convection oven microwave if you notice the damage. Damaged doors can lead to radiation exposure.
Observe the food you are cooking in a combined or convection setting, as it cooks fast. Leaving the food in a convection microwave oven for too long is fire hazardous, as the food can burn.
Is Convection Microwave Oven Worth It?
Convection microwave ovens are more expensive than standard microwaves because they offer more cooking processes.
But, convection microwaves are more energy-efficient than standard ovens. In the long run, a convection microwave can save you energy and money, because it cooks food faster.
On the other hand, an initial investment might be higher than for standard ovens.
It is worth it, if you'll use it both ways – as an oven and as a microwave. If you already own one of the two kitchen appliances, a convection oven might be an unnecessary cost.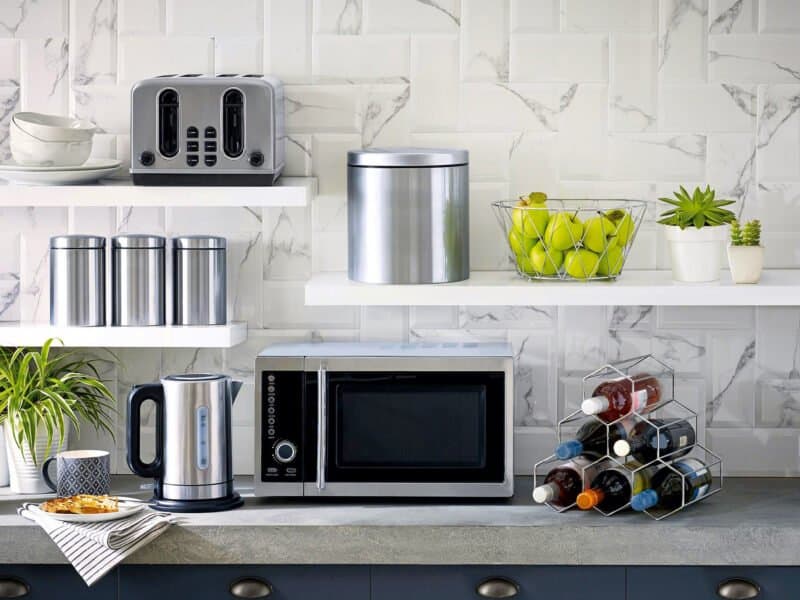 Aromatic Chicken In Convection Microwave Oven – Easy Family Recipe
There are so many things you can cook in your convection microwave oven. I will share my favorite aromatic chicken recipe, which I have perfected for use in a convection microwave. Therefore, the recipe is fully adjusted to the convection microwave. Also, you can swap parmesan for mozzarella cheese if you prefer creaminess over the gritty texture of parmesan.
Basic Information:
Servings: 6
Preparation time: 10 minutes
Cooking Time: 1 hour
Total Time: 1:10 hour
Cuisine: Global
Course: Main dish
Ingredients:
5 tablespoons butter (softened or melted)
1 garlic clove (minced or crushed)
4 tablespoons parmesan (grated)
1/2 teaspoon ground sage
1/2 teaspoon thyme leaves (chopped)
1 teaspoon basil leaves (fresh, chopped)
6-pound chicken
Salt and pepper to taste
Instructions:
Mix garlic, cheese, and herbs (basil, sage, thyme) with melted butter.
Put salt and pepper to taste.
Coat the chicken with mixture, paying attention to chicken breasts and openings on both sides.
Work your way inside the chicken, making sure that the mixture is evenly distributed.
Use a broiling trivet and place it with the breast side facing down.
Preheat the oven to 400 degrees and roast your chicken for 15 minutes.
Reduce the temperature to 320 degrees and roast it for 45 minutes in a mixed setting.
After half an hour, check the meat, and adjust the temperature if the skin seems crispy.
Convection Microwave Oven – Is It For Everyone?
A convection microwave oven might seem like an excellent idea to expand your cooking possibilities. It makes sense for people who don't own an oven or don't have enough space to install it. The convection microwave oven is versatile, practical, energy-efficient and excellent for a variety of dishes.
It combines the baking process with a fan and microwaves used in standard microwave ovens to cook food evenly and quickly.
While it might seem like an all-in-device, remember that a convection microwave oven is limited by its compact design. Also, some things always taste better when roasted slowly in a conventional oven.
What do you think about convection microwave ovens? Are these devices worth the hype?
If you find my article useful, please consider liking and sharing it with your friends and family!