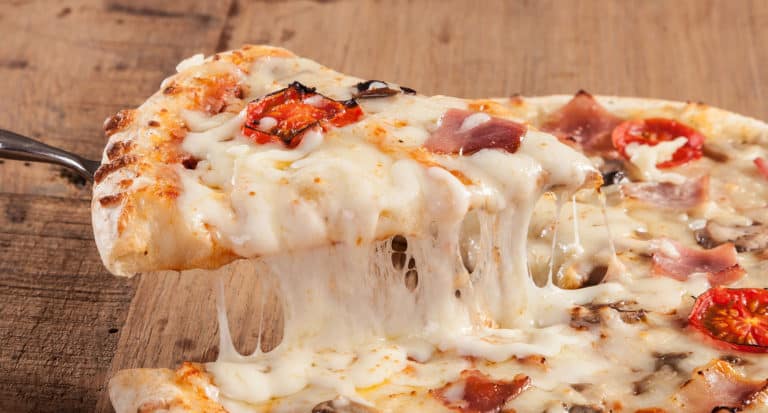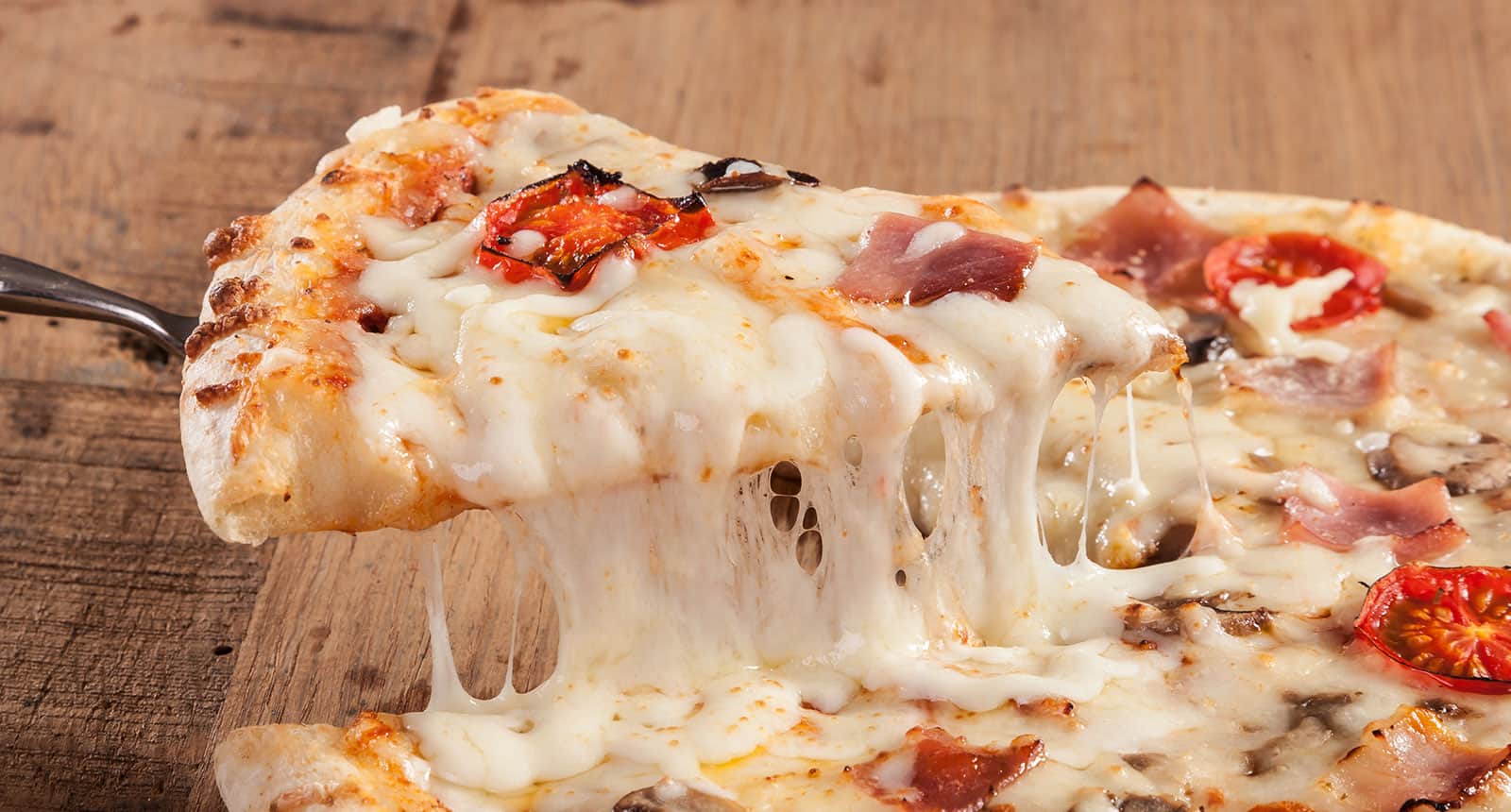 When you know how to reheat pizza in an oven to keep it fresh and crisp, leftover pizza is always a great treat for you.
You sometimes buy too many pizzas, but the problem here is that you can not eat all of them. Therefore, you have to store the leftovers in a fridge. However, the next morning or after some days, you check the pizzas and realize that they are too hard and dry to eat.
Do not be disappointed with what you see; just read the article carefully, and you will know how to make the day-old pizza warm and crispy again with an oven.
Steps Of Reheating Pizza In An Oven
Although pizzas are available in many types, they can get reheated in pretty much the same way. Here are some easy steps you should follow to get juicy and crispy reheated pizza as you want:
1. Preheating The Oven: Turn on the oven and set it up to reach the desired reheating temperatures.
2. Preparing A Baking Tray Or Rack: Take out a baking tray or rack. If baking rack, cover it with aluminum foil and apply some cooking oil to it.
3. Place Pizza On The Tray Or Rack: Spread the pizza on the baking tray or rack and do not stack many layers of pizza.
4. Reheat It: Place the baking tray or rack into the oven and wait for a while. Compared with leftover pizza, frozen pizza needs more time to be reheated.
I just offer you the general and basic stages of reheating pizza in an oven. Keep reading the article to get specific reheating tricks for different types of ovens and pizza.
Why Does Pizza Need To Be Reheated?
While not many have deep knowledge about artisan pizza or other types, pizza is basically made from starch. When you store it in a fridge, its starch molecules connect or link closely together, allowing them to trap water inside. This makes the pizza stiff and dry.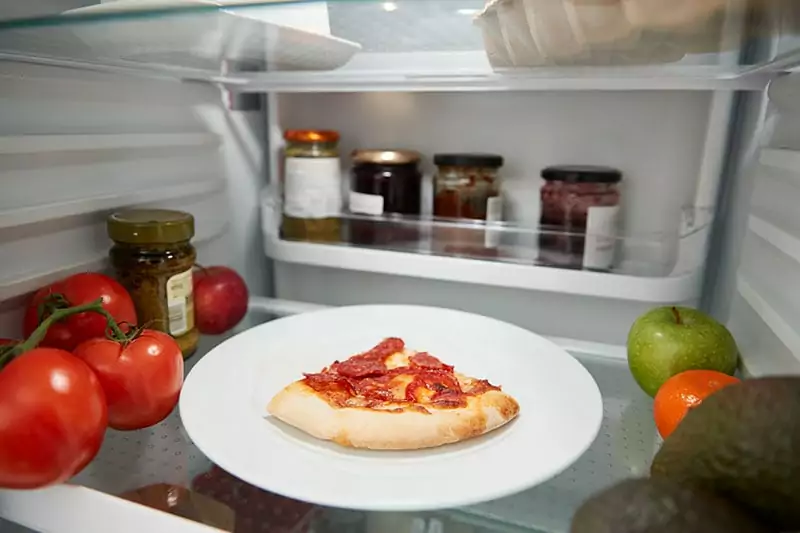 However, under the effect of high heat, the linking among starch molecules is cracked. As a result, the moisture will be released by them, which makes the pizza softer and greasier.
Why Does An Oven Work Well For Reheating Pizza?
When an oven operates, it radiates dry heat from both upside and downside. This creates a particular heating direction circulating inside the oven.
The heat circulation makes water molecules inside the pizza hotter in order that they can warm the pizza up from inside and also evaporate a little bit.
As a result, cheese and other toppings on the pizza gradually melt or become warmer, and the crust turns crispy without losing too much juice.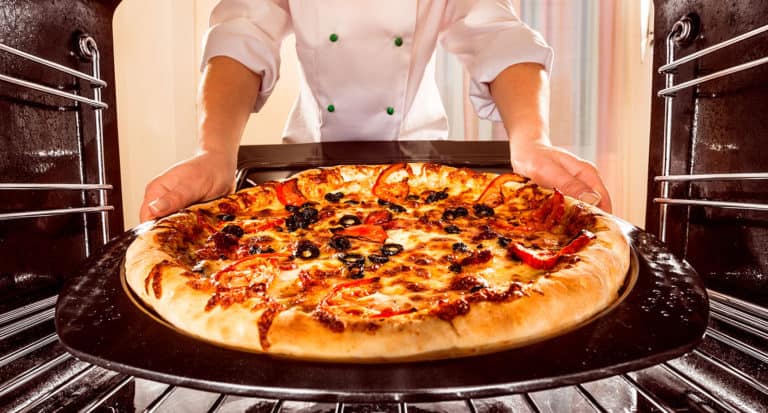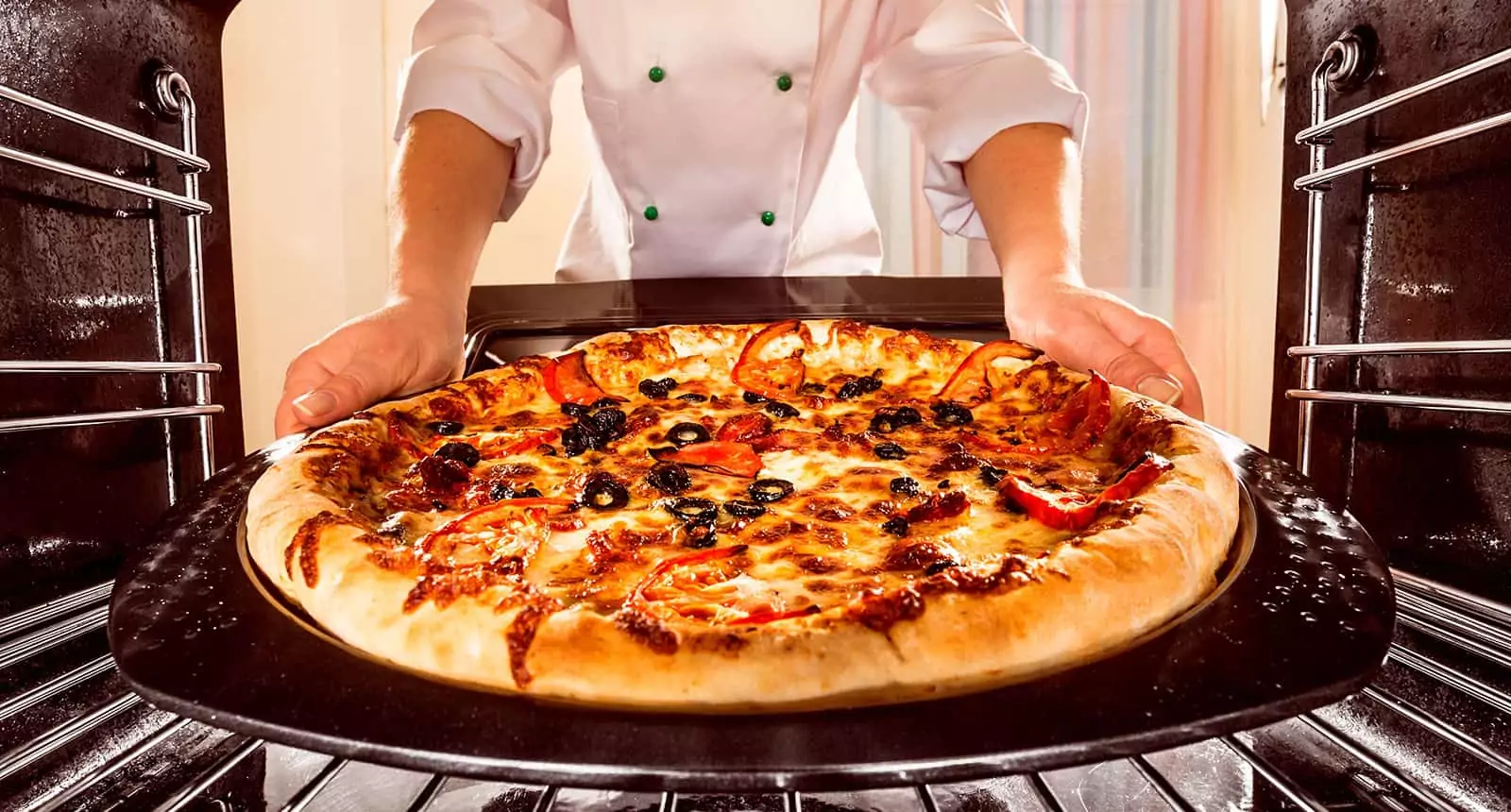 However, in terms of heating up pizza with a microwave, the water molecules mainly in the pizza sauce absorb heating energy released from the microwave during reheating time.
The energy makes water molecules hotter, and then they start evaporating quickly. Through the evaporation process, the water molecules become hot steam that helps heat up the pizza.
In fact, the steam just makes pizza with sauce on its top become soggy, while the pizza crust turns harder due to the fast moisture evaporation. As a result, the dish will become quite unappetizing, no matter how delicious the side dishes to go with pizza are.
Popular Types Of Ovens
There are different types of ovens categorized by their size, feature, or heat source. However, to save time, in this part, I just draw your attention to the two most popular ovens at home kitchens.
They have the same function of reheating food, especially pizza, but they also have some different features.
Conventional Ovens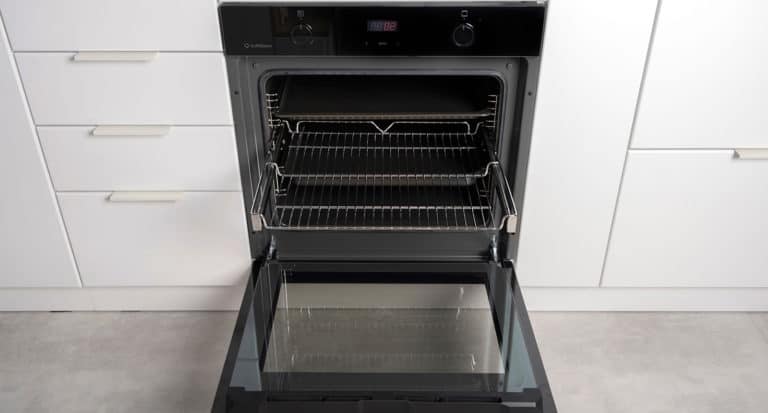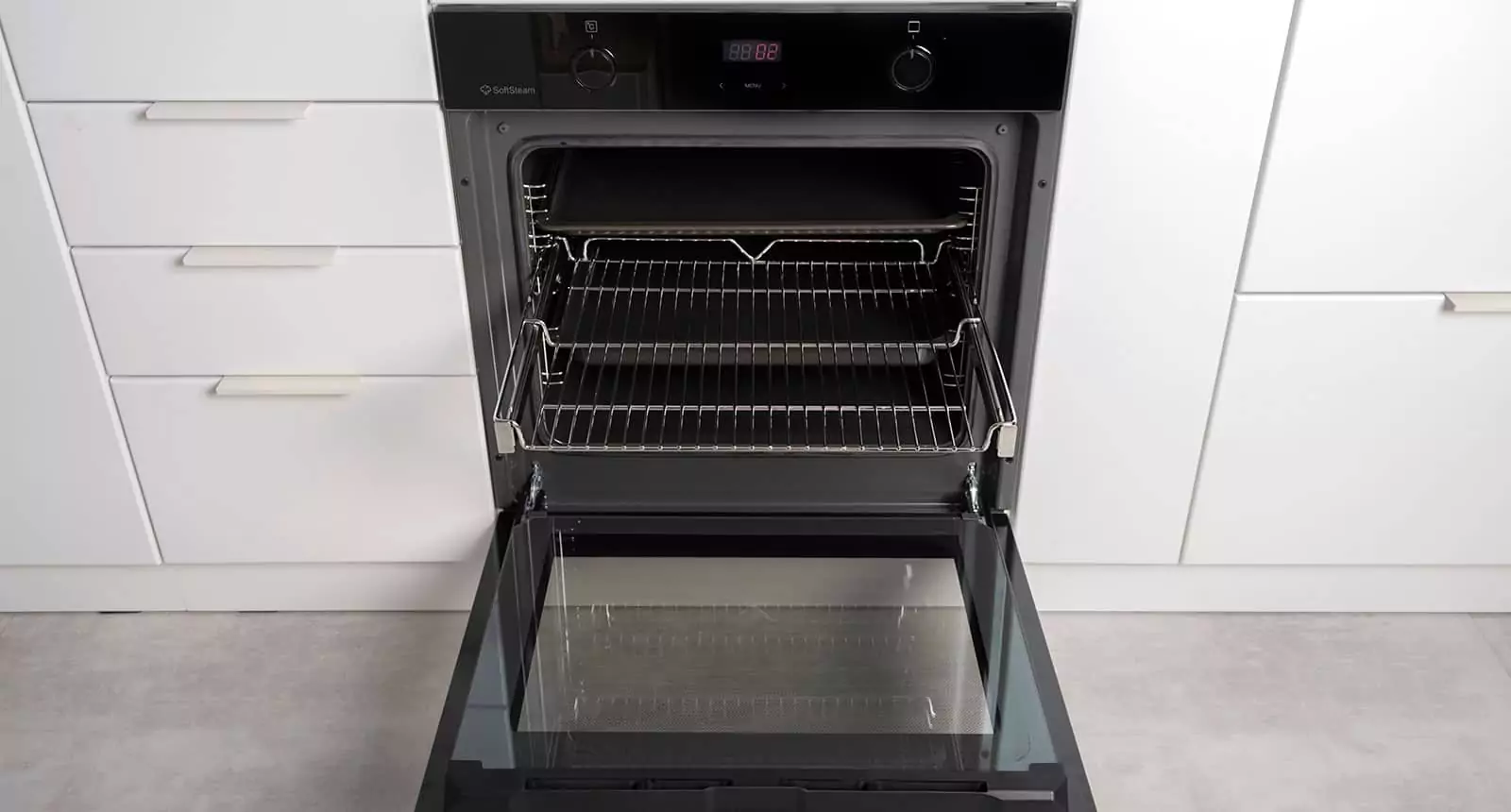 The inside space of a conventional oven is large with rack flexibility, so it can contain large quantities of foods such as the whole of 2 or 3 big pizzas.
Because a conventional oven is made from well-insulated materials, it can maintain the inside heat better. This makes ovens among the best ways for retaining pizza's warmth.
However, the large size is also its disadvantage when it comes to the much space it will take in your kitchen.
In addition, it works with a high power supply. Therefore, it seems to waste energy if you switch a conventional oven on just for reheating some slices of pizza.
Lastly, a conventional oven is more suitable for large kitchens, or the heat radiating from it will make you feel hot and uncomfortable, especially during hot days.
Toaster Ovens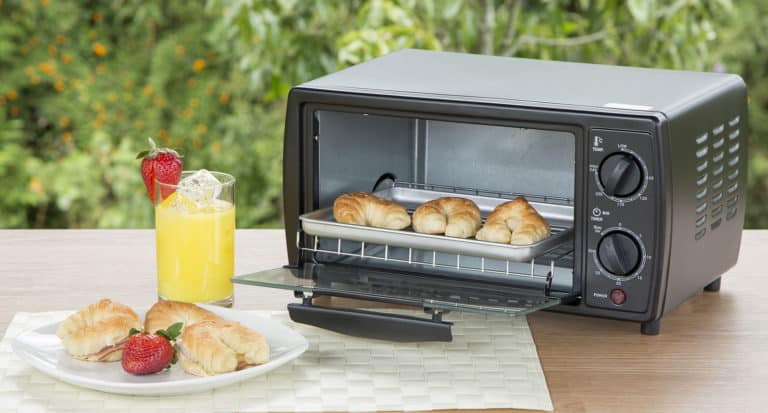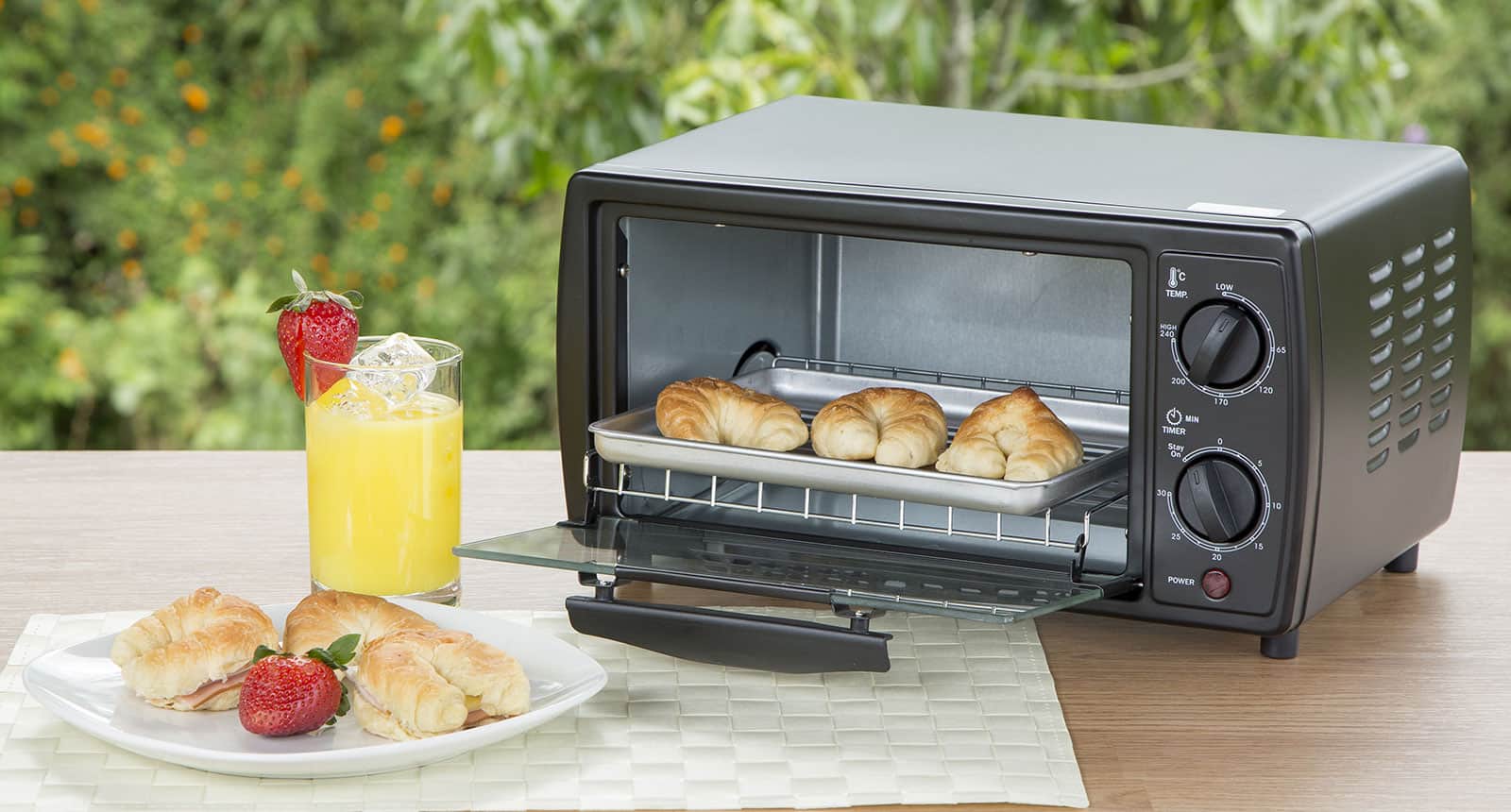 A toaster oven is small in size, so the presence of a toaster oven will not cover much space in your kitchen, and you can even maintain it in your kitchen closets.
The limited inside space lets the toaster oven preheat more quickly than a conventional oven.
Because it does not require much energy to function, you can save some energy costs when using it instead of the bigger one.
However, the disadvantage of a toaster oven is that it has a limited capacity of about three slices of pizza.
How To Reheat Leftover Pizza With A Conventional Oven?
Although it takes you more time to reheat a pizza in a conventional oven than in a toaster one, the result of a mouth-watering pizza will surely satisfy you. Knowing how to retain food's warmth with the oven will also help you a lot in preparing a steaming hot and appetizing pizza for dinner.
Below is the detailed instruction for reheating pizza in a conventional oven.
Step 1: Preheat the oven to 325 °F
Step 2: Prepare a baking tray. If the pizza is large in size, you can use a baking rack covered with aluminum paper foil. Don't worry about aluminum foil's compatibility with the oven; in this case, it's completely safe to use aluminum foil to reheat pizza in an oven.
Step 3: Place the leftover pizza on the baking tray or rack
Step 4: Put it into the oven and wait from 10 to 15 minutes for reheating. The thinner pizza is, the sooner you take it out.
You can see this video to know more:
How To Reheat Leftover Pizza With A Toaster Oven?
When you want to reheat 2 or 3 pieces of pizza for your small meals, take out your toaster oven. Don't pop the pizza slices in the microwave; despite their similar looks, there are many differences between toaster ovens and microwaves.
Step 1: Preheat the toaster oven to 325 °F
Step 2: Just prepare top-tier pizza pans or high-quality baking trays.
Step 3: Spread out pizza pieces on the pan or tray. Make sure that no slice of pizza is piled on the others.
Step 4: Place the pan or baking tray into the toaster oven and wait from 5 to 8 minutes.
Remember to check the pizza after 3 or 4 minutes to know whether the temperature should be lower to avoid overheating or not.
If you reheat leftover pizza in a longer time than it should be, it will result in a "cracker" pizza or even a burnt one.
You can see this video to know more:
How To Reheat Frozen Pizza With A Conventional Oven?
When going to supermarkets or food shops, you usually buy frozen pizza that is such convenient food for your breakfasts at home.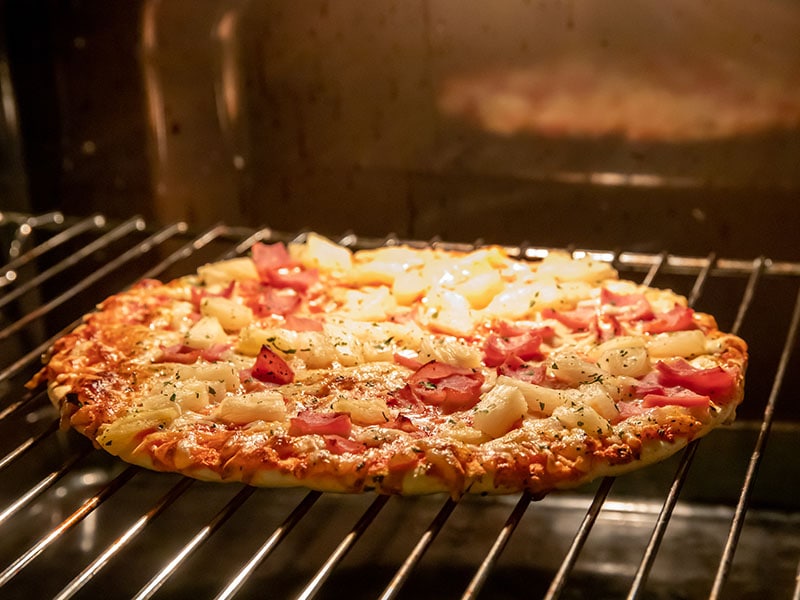 Here are steps for you to make a frozen pizza ready for eating.
Step 1: Preheat the oven to 425 °F
Step 2: Prepare a baking tray and apply some cooking oil to it, which allows you to remove the pizza easier after baking.
If you use the pan that accompanies the frozen pizza as its package, you should lift up the pizza and clean condensation on the pan. Next, you drop some cooking oil into it.
Step 3: Place the pizza into the baking tray or pan
Step 4: Put the tray or pan on the oven's center rack.
Wait from 40 to 45 minutes and remember to check it in every 10 minutes until you see the pizza turn golden brown. If your pizza is thawed, you just bake it for 35 to 40 minutes.
You can see this video to know more:
Advice On Reheating Pizza
When reheating pizza in an oven, you should pay attention to the following advice to get perfect reheated pizza and also avoid undesired situations.
Don't put the whole pizza cardboard box in the oven: It is because the high temperature inside the oven will make the box release weird smells of paper and dangerous chemicals that can be absorbed by the pizza.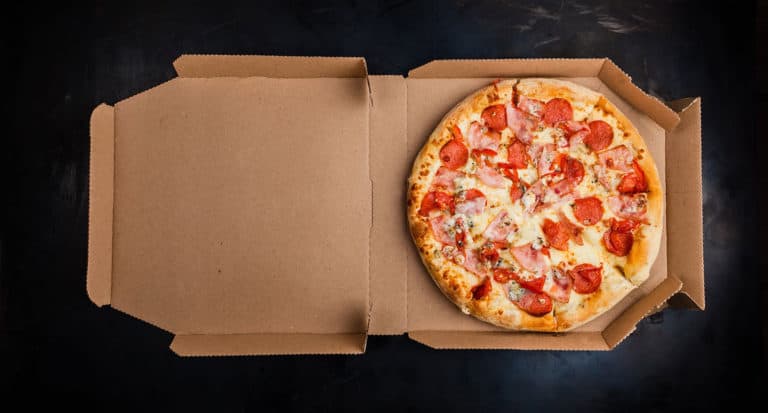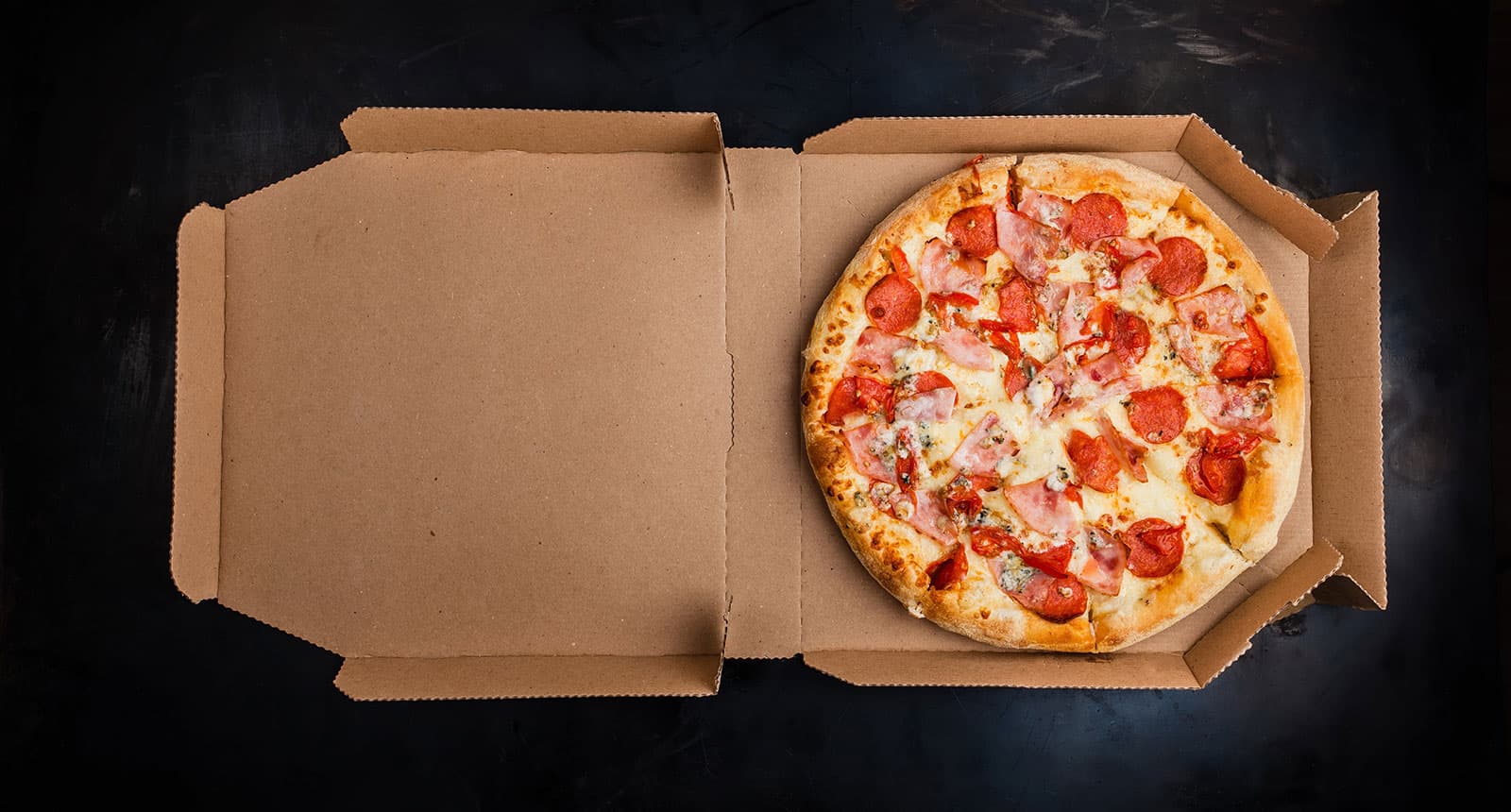 This will spoil the flavor of pizza and especially have negative effects on human health. In addition, the pizza box is made from paper, so it may catch fire under high temperatures.
Do not place plastic plates or trays in the oven: You should not use plastic plates or trays to contain pizza and put them into an oven for reheating food because the high heat will let toxic chemicals escape from some kinds of plastic.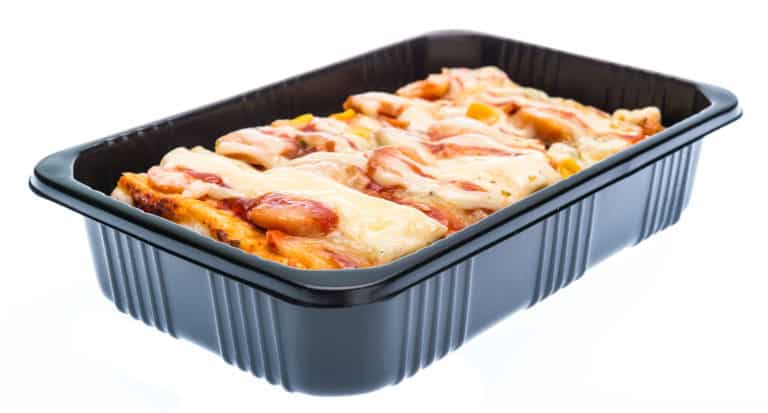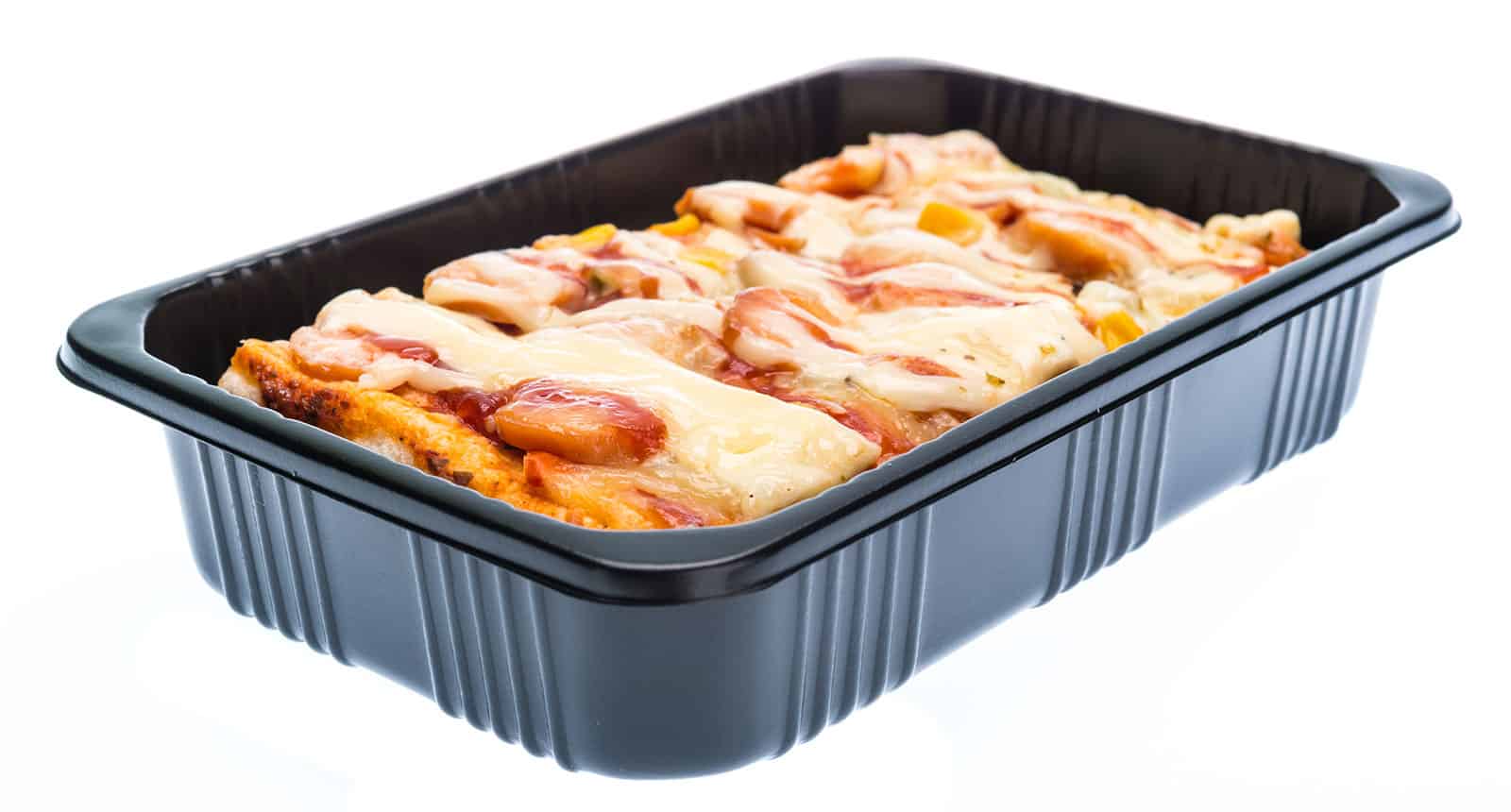 The toxins will be trapped by the pizza. As a result, your health will get harmful when eating pizza with toxins.
Check your pizza occasionally: When reheating a pizza in the oven, you should take notice of the pizza regularly to avoid its burns. This is because the baking time is just an estimated number that may not be exactly the same as the real baking time.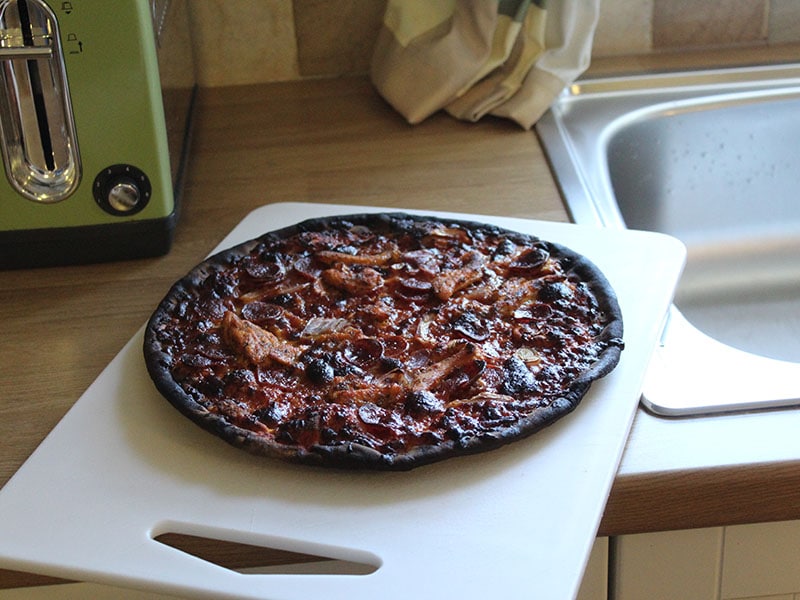 Remember to preheat your oven: You should follow the rule of preheating the oven to the desired temperature when you want to heat up a pizza. This allows a cold pizza to be in heat shock condition and become crispy easily.
In contrast, if you do not preheat the oven, the heating will increase gradually after you put the pizza in the oven. This will prolong the baking time, and therefore the pizza will lose much more moisture through evaporation. Consequently, the reheated pizza will not be as soft and greasy as you want.
Tips On Preserving Leftover Pizza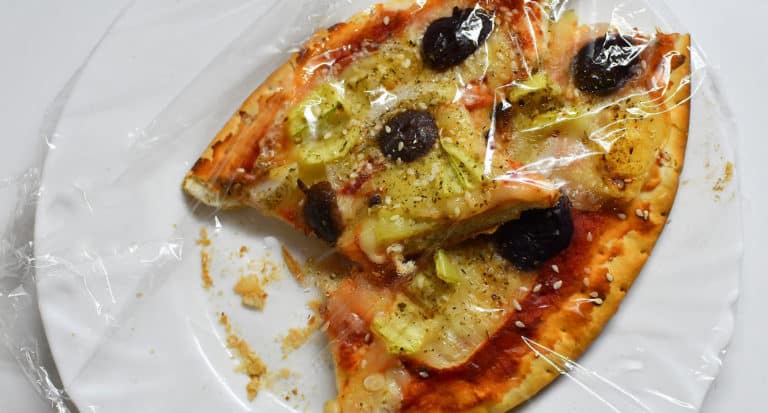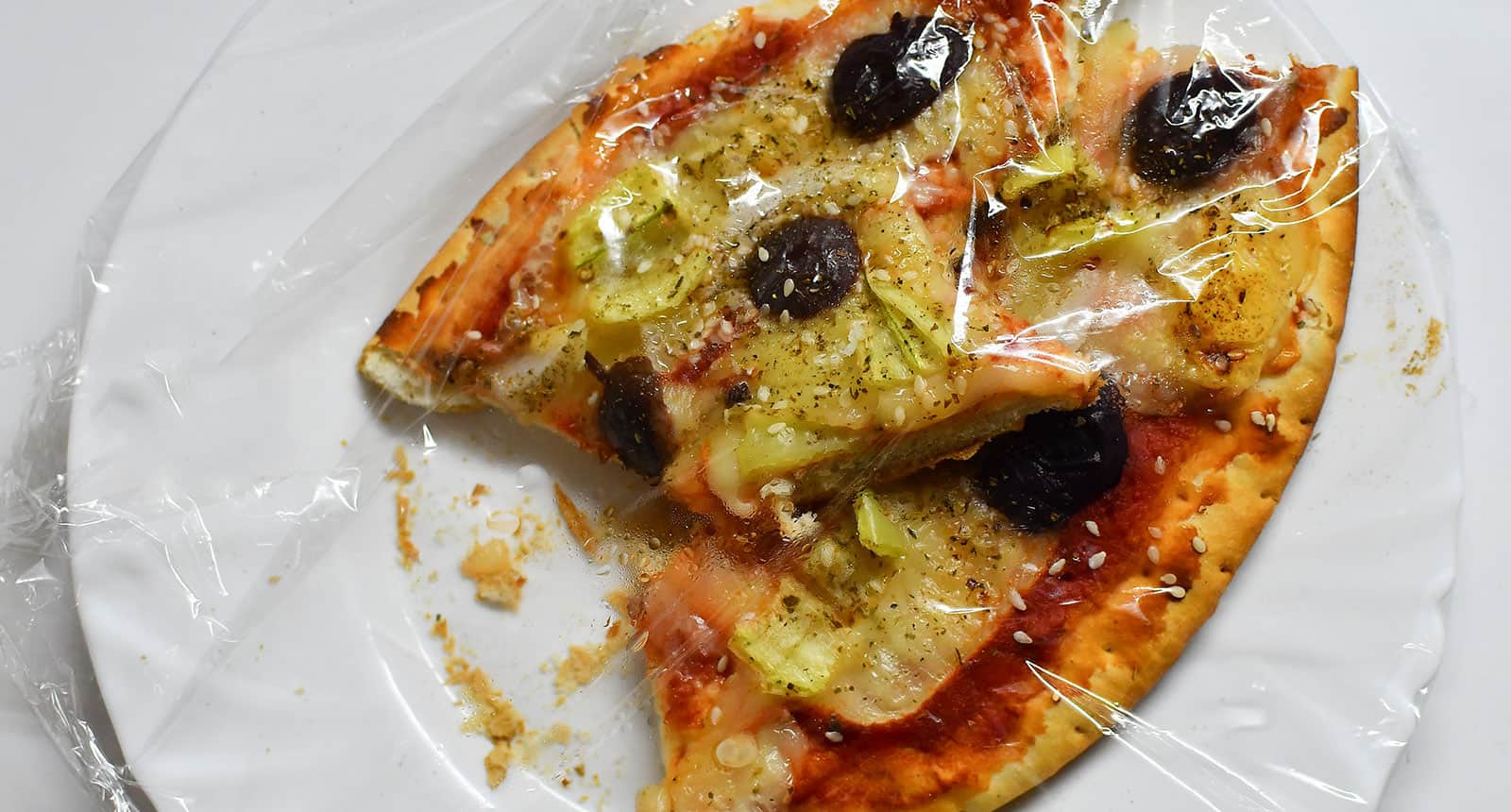 Heating up a leftover pizza with an oven is the best option to keep the pizza's freshness intact. However, if you preserve it in a fridge improperly, the pizza quality will be damaged. Then reheating it in an oven properly will not help much to revive its freshness.
So, just follow these steps to save the best quality of the leftover pizza.
Step 1: Prepare a clean plate that is large enough to cover a slice of pizza
Step 2: Spread a paper towel on it
Step 3: Lay a piece of pizza onto the paper towel.
Just repeat this process, one paper towel and then one slice of pizza, until all slices of pizza are stacked on the plate.
Step 4: Cover the whole plate finely with clean plastic wrap to minimize the escape of the pizza's juices and then place it in a fridge. Applying this method allows you to keep the leftover pizza fresh for up to 3 or 4 days.
Last but not least, you should not put away a pizza without any cover or even with a pizza box on the fridge because this will make the pizza lose most of its moisture, become much harder and dryer, or sometimes absorb other foods' smell.
Reheating Pizza In An Oven Is Easier Than You Thought!
Whether you are owning a conventional or a toaster oven, you have suitable methods to reheat pizza with it. I also appreciate the important role of scientific pizza preservation in the quality of the reheated pizza.
Have you succeeded in reheating pizza in an oven? Or Do you have any other experiences in heating up your leftover pizza? Please feel free to share with me by leaving your words in the comment section below!
Nutrition Facts
1 servings per container
---
Amount Per ServingCalories168
% Daily Value *
Total Fat 6.1g

10

%
Cholesterol 14mg

5

%
Sodium 340mg

15

%
Potassium 68mg

2

%
Total Carbohydrate 20.4g

7

%

Dietary Fiber 1.1g

4

%
Sugars 2.5g

Protein 7.6g

15

%
---
* The % Daily Value tells you how much a nutrient in a serving of food contributes to a daily diet. 2,000 calories a day is used for general nutrition advice.