Comparing Domino's vs. Pizza Hut has become familiar to many people because they are both top brands and rivals. The comparison will help them choose where they will put their trust to enjoy delicious and better pizzas.
Nevertheless, it is not simple to say that "Domino's is the best" or "Pizza Hut is the king of pizza" because people's tastes and preferences will vary. So, even though you like Domino's rich taste, others prefer Pizza Hut due to its larger sauce list.
But it is still useful to have a thorough comparison between these two pizza superpowers. Let's keep scrolling and reading this post.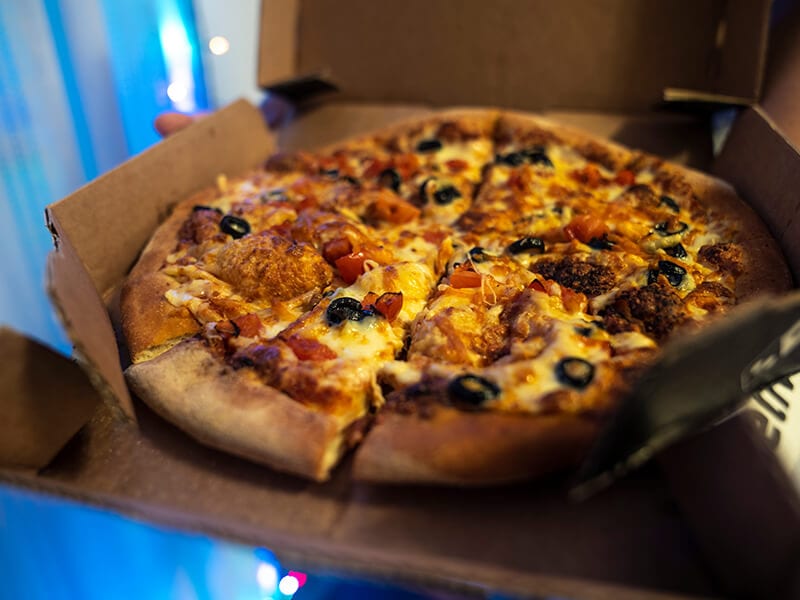 Some Amazing Facts About Domino's Pizza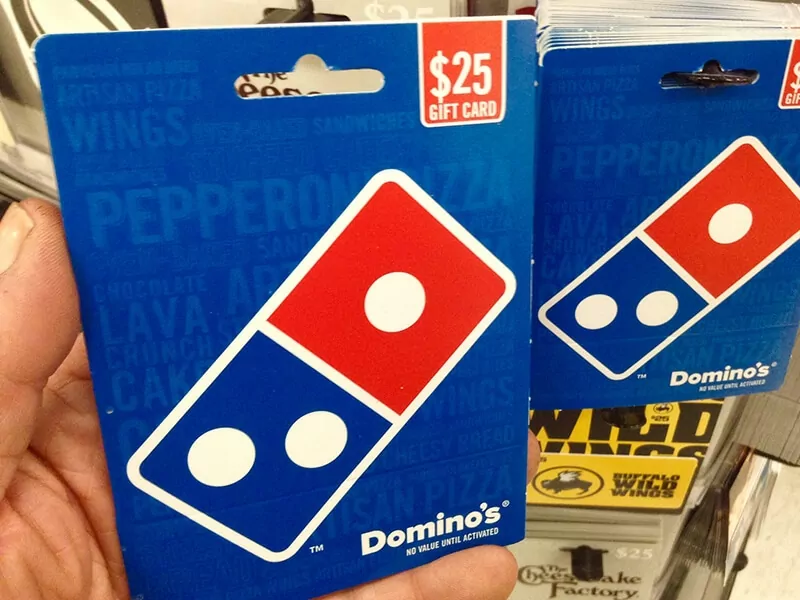 Domino's Pizza (or simply Domino')s is a multinational restaurant serving delicious pizza in the United States and many countries. Domino's started its business in 1960, and its headquarter is in Ann Arbor Township, Michigan (1).
You can find its branches in more than 80 nations and 5700 cities worldwide. In 2018, Domino's was the most popular pizza franchise in the US, with nearly 5700 stores, which is nearly one-third of its locations worldwide.
Domino's serves delicious and high-quality pan pizzas with various crust styles and toppings. Also, it is famous for some Italian-American entrees and sides, like artisan-style pizzas, chicken wings, oven-baked sandwiches, and stuffed cheesy bread.
Fun facts, before launching the menu expansion, Domino's only served 2 sizes of pizza (12-inch and 16-inch) with Cola and 11 toppings for more than 30 years. Nowadays, you can also find pan pizzas as well as vegan pizzas at Domino's.
Listen to interesting stories about famous Domino's pizza.
Fantastic Information About Pizza Hut
Compared to Domino's, Pizza Hut was established earlier (in 1958) by Frank Carney and Dan (2). This American international franchise focuses on delivering excellent pan pizza, breadsticks, pasta, chicken wings, and sweet desserts to diners worldwide.
Pizza Hut's first location was opened in Wichita, Kansas. Thanks to positive customer feedback, many more branches soon followed suit.
You can find Pizza Hut's headquarters in Plano, Texas, in the United States. Regarding the business scale, Pizza Hut is the largest pizza brand in the world, with about 18,703 stores in 10 different countries (2020).
Pizza Hut offers various restaurant concepts to customers, such as family-style dine-in format, carry-out and delivery restaurants, and multifunctional locations with delivery, pick-up, and dine-in services.
In fact, Pizza Hut was the first pizza chain to offer online ordering (right in 1994). Its first order was a large pepperoni pizza. It started serving pan pizza, stuffed crust pizza, and hand-tossed traditional pizza in 1980, 1995, and 1988 respectively.
Explore all the amazing facts about Pizza Hut and the secrets of its delicious pan pizza.
Domino's And Pizza Hut: An Understandable Comparison
It is difficult to find which is better between Domino's and Pizza Hut because they are famous brands of pizza and have their own strengths. However, there are some differences between them, and this comparison will show you all.
Features
Domino's
Pizza Hut
Pizza Crusts

Great crispiness and softness
Chewy in the center and crispy edges
Many options, like hand-tossed, Brooklyn-style, or handmade pan crusts

Buttery and billowy
More crust styles, including traditional pan, hand-tossed, gluten-free, stuffed, or cheesy bites crusts

Popularity

18848 locations (2022)

More popular among young Americans

18703 locations (2020)

More popular among Americans above 35

Special Offers
Many great offers
Many special offers, but they are not as extensive as Domino's
Extra Dips And Sauces 
More diverse
Less diverse
Prices
Less expensive
More expensive
Topping Options
Many toppings
Many toppings
Pizza Sizes
Slightly smaller
Slightly larger
Flavors
Diversify in taste, depending on different toppings and sauces
Can mix different toppings together to get special tastes
Signature Sauces
Marinara sauce, garlic dipping sauce, and ranch dip
Having more sauces: buffalo sauce, classic marinara sauce, creamy garlic parmesan, etc.
Pizza Crust
The first feature you need to compare in order to find the winner is the pizza crust. Let's check the special characteristics of the crusts the two pizza brands offer and find out which is better.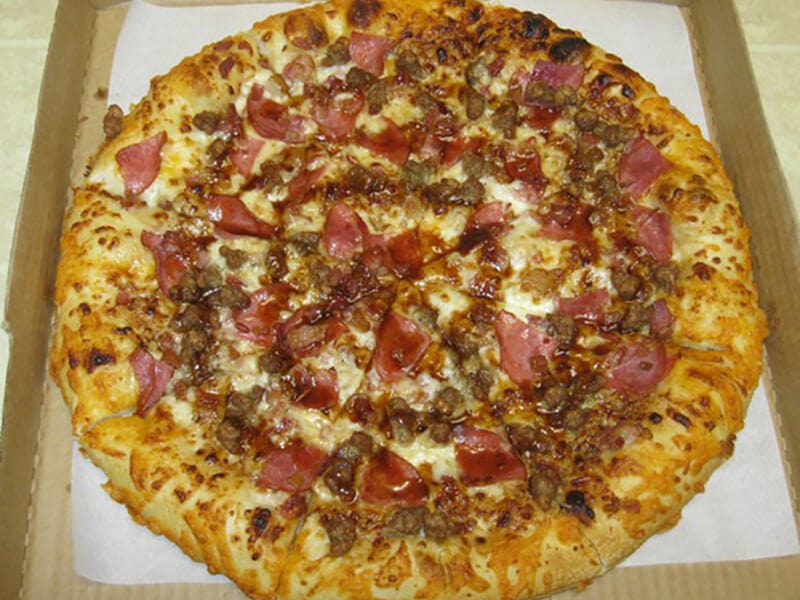 Domino's
When you put Domino's and Pizza Hut's pizza crust on the scale, the winner will probably be Domino's. The Domino's restaurants will make fresh pizza dough daily to ensure the perfect crispy outside and soft inside.
In addition, the glorious and glutenous chewiness in the center and the crunch edges will make you fall in love with Domino's pizzas on the first bite. Also, the crust has a distinctive garlic taste that will tickle your taste buds magnificently. Domino's offers 5 different crusts to their customers.
Hand-Tossed Pizza Crust: This option is thicker than the crunchy thin crust but thinner than the handmade pan version. It is mixed with some garlic-based oil seasoning.
Brooklyn Style Pizza Crust: This is the biggest option because you can cut it into 6 big triangles of pizzas.
Handmade Pan Pizza Crust: This choice is for those who love thick and nice pizza crusts. It is made by pressing fresh pizza dough in a pizza pan.
Gluten-Free Pizza Crust: It is made from gluten-free ingredients, like gluten-free flour and instant yeast, so you won't find wheat flour in this pizza crust.
Crunchy Thin Pizza Crust: This is the thinnest option, but the incredible crunchiness will not let you down. It also allows the flavors of the toppings to shine more obviously.
The pizza crust of Domino's has 3 common sizes: small (7 inches), medium (10 inches), and large (14 inches).
Let's try yummy hand-tossed and handmade crusts of Domino's pizzas.
Pizza Hut
The Pizza Hut crust is billowy and buttery. Like different types of pizza, Pizza Hut offers a crispy crust on the outside and tenderness on the inside.
The number of types of pizza crust at Pizza Hut is larger than what Domino's can offer. When stepping into Pizza Hut restaurants, you can order traditional pan crust with an eye-catching golden-brown hue and wonderful crispiness.
Like Domino's, this brand also serves hand-tossed crust, thin and crispy crust, and gluten-free crust to diners. Furthermore, cheesy bites crust, stuffed crust, and hot dog bites crust are great inventions of Pizza Hut.
Popularity
Both Domino's and Pizza Hut are currently top pizza brands, but Domino's is more popular. In 2021, this chain accounted for 42% of the pizza market share in the US, compared to 23% held by Pizza Hut. Plus, Domino's sales in the US numbered about $8.46 billion in the same year (3).
In general, Domino's pizza is a popular choice among young American people, while Pizza Hut welcomes more guests aged 35 and older.
Regarding the number of stores, Domino's has a slight upper hand. Pizza Hut has about 18703 locations (2020) in many countries around the world, while Domino's opens about 18848 stores (2022) worldwide.
Special Offers
When it comes to the most customer-oriented pizza brand, Domino's is an indispensable name. This brand offers many special offers every Tuesday to bring the best experience to customers with pizza.
In addition, you can find Domino's special offers when you buy pizza through the app or website. It also organizes many other special activities, such as free pizzas, coupons, or food drives.
Pizza Hut also gives many great offers to their customers, but the number of these offers is not as many and attractive as Domino's.
Regarding upgrade options, although Domino's has been trying to offer more upgrade options to its customers lately, like extra sauces or larger pizza crust, it hasn't been able to catch up with Pizza Hut in this regard.
At Pizza Hut, diners can try Thin and Cheesy Bite options and various crust choices. Furthermore, if you are a big fan of stuffed crust pizza, nowhere else serves this recipe better than at Pizza Hut.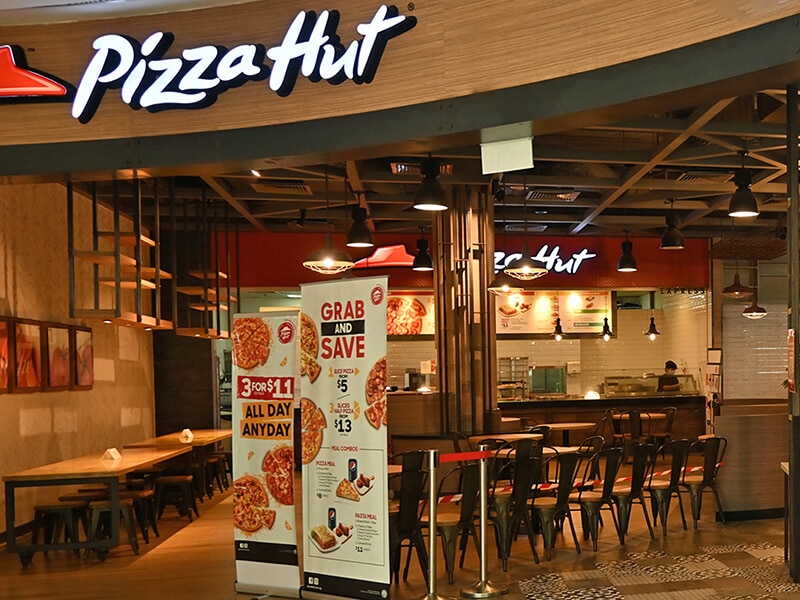 Extra Dips And Sauces
People often have a habit of ordering more extra sauces and dips when purchasing pizzas. These options help diversify the pizza taste and make it even tastier.
Regarding this term, Domino's is better than Pizza Hut. This brand has a wide range of extra hearty sauces and toppings for customers whenever they want. By contrast, Pizza Hut's list of extra options is rather limited.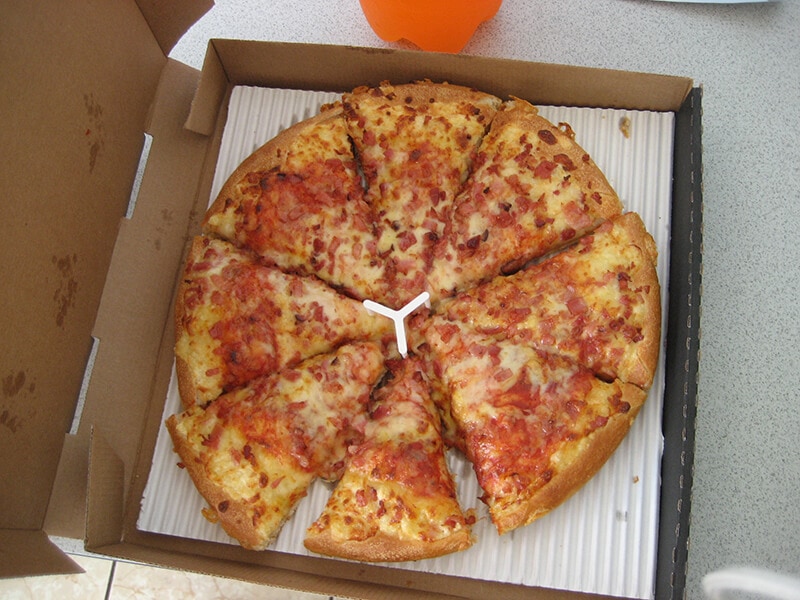 Price
Another factor you should compare to identify the better pizza brand is the price. Domino's is the winner in this term because its items are cheaper than the delicious food on the menu of Pizza Hut or other pizza brands.
Domino's also applies many price promotions for other items, not only pizza. Besides, Domino's is one of the pizza chains that import ingredients in bulk to save costs, and this leads to selling pizzas at reasonable prices.
However, you should expect a steeper price for extra drinks and sides, such as salad, pasta, or sweet desserts, at Domino's.
Meanwhile, customers not only pay higher prices when purchasing pizzas from Pizza Hut but also take a fee when ordering additional toppings or sauces. Its products can get cheaper if you buy the 2nd or 3rd pizza.
Topping Options
Ground beef, bacon, ham, pepperoni, salami, and grilled chicken are high-protein components you can see on top of Pizza Hut's pizzas. Also, the brand offers some vegan toppings, such as mushrooms, banana peppers, onions, or olives, for vegetarians.
The toppings list of Domino's is slightly larger than Pizza Hut, and it also gives both meaty and vegan options to customers, such as Italian sausage, anchovies, Philly steak, jalapeno peppers, pineapples, and others.
Although the number of topping options is more limited compared to Domino's, Pizza Hut is highly appreciated for the versatility of the toppings. You can combine Pizza Hut toppings together to create new recipes with refreshing and unique flavors.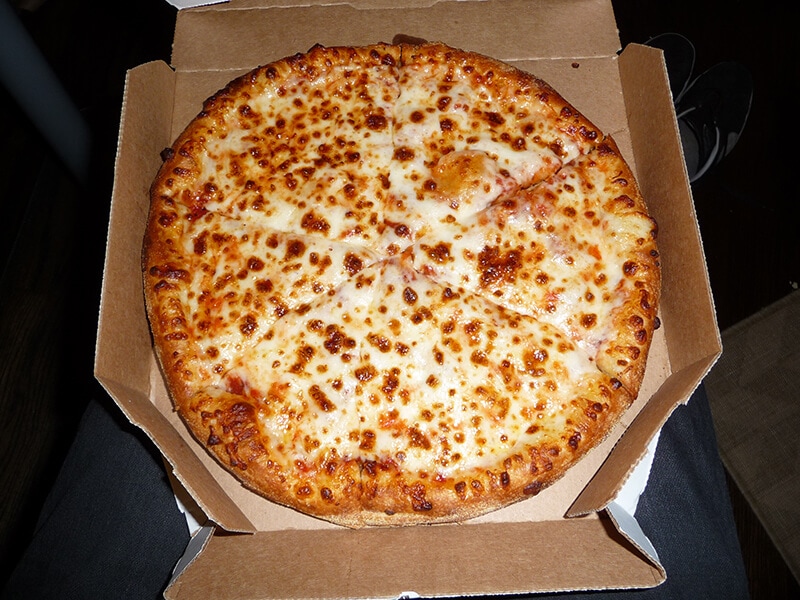 Pizza Sizes
Domino's and Pizza Hut sell pizzas in small, medium, and large sizes. However, when you stack a Domino's pizza on a Pizza Hut, you'll notice that the size of the Domino's pizza is slightly smaller than the Pizza Hut pizza.
Normally, the size of Domino's pizza includes 10 inches (regular), 12 inches (medium), 14 inches (large), and 16 inches (extra large). Meanwhile, the diameter of an extra-large Pizza Hut pizza can reach up to 18 inches.
Flavors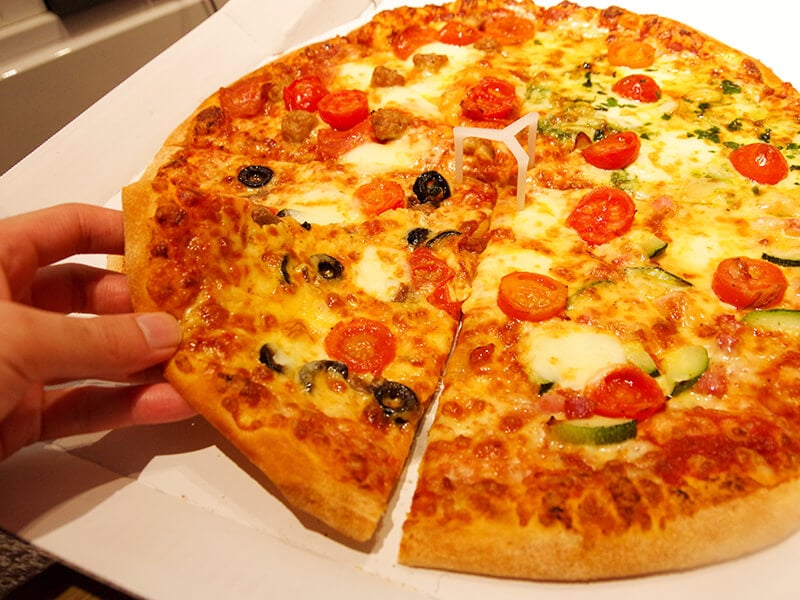 There is nothing to complain about the flavor and ingredient quality of Domino's pizzas because they are crafted daily from fresh and high-quality ingredients. The mix of crispy crust, tasty toppings, and rich sauces will give you a pleasant mouthfeel.
The same can be said about Pizza Hut. However, Pizza Hut gives you more unique flavors by combining different sauces and toppings together.
Test the flavor of Domino's pizza and Pizza Hut to find the winner.
Signature Sauces
Besides crunchy and soft crust, pizza flavor is more appealing, thanks to rich and signature sauces. There are 3 option sauces for diners when buying pizza at Domino's: marinara sauce, garlic dipping sauce, and ranch sauce.
Although these things taste amazing, I still love Pizza Hut's sauces more. This brand offers many options with unique and rich flavors, such as honey barbecue chicken sauce, buffalo sauce, classic marinara sauce, and creamy garlic parmesan.
FAQs
These answers to the most commonly asked questions related to pizzas will give you some other sides of Domino's and Pizza Hut, so keep reading!
Domino's Vs. Pizza Hut: Who Is The King?
Which brand do you prefer: Domino's or Pizza Hut? I have the answer, so what about you? If you are still wondering, let's go to Domino's and Pizza Hut restaurants to try their fare. I believe you'll get the answer after your meals.
For those who found their favorite brand, don't forget to share your choices by writing them in the comment section. Furthermore, please introduce the comparison to your friends by sharing it. Thanks for sharing and reading!
References
Domino's pizza (2022) Wikipedia. Wikimedia Foundation.
History of the hut (no date) History of the Pizza Hut.
"Pizza restaurants: top chains by sales US 2021." Statista, 29 August 2022