What is a pizza peel, and how to use it? Have you seen a pizza peel before? A lot of people agree that a pizza peel is necessary to bake pizzas. Some claim that it is not worth it to buy a pizza peel. Who is right, and who is wrong?
With this article, you can easily find various articles about pizza peels from many websites. There are many things you have to learn when you try to research pizza yourself. However, the information usually varies, making it difficult to comprehend thoroughly.
Therefore, I will give you a hand with this topic. Let me explain everything you should know about the pizza peel, such as how to work with it or tell a good pizza peel.
What Is A Pizza Peel?
A pizza peel (pizza shovel) is a utensil shaped like a shovel or a spatula (1). It assists in moving the pizza in and out of the oven. You can use a pizza peel to turn the pizza in the oven as needed.
The handle and the carrying surface are the two major components of the pizza peel. The handle consists of a long stick attached to the carrying surface. It provides a great way to transfer your pizza without being harmed by the oven's high heat.
Your reach is extended due to the handle. A good handle will allow you to access the innermost part of the oven without the risk of being burnt. To minimize damage during use, you should choose an oven-safe handle when buying a pizza peel.
The carrying surface (blade) is a flat, solid surface to lay the pizza. The carrying surface is often made of wood or metal.
Manufacturers categorize pizza peels based on this surface. Therefore the carrying surface will vary depending on the type of pizza peel you purchase.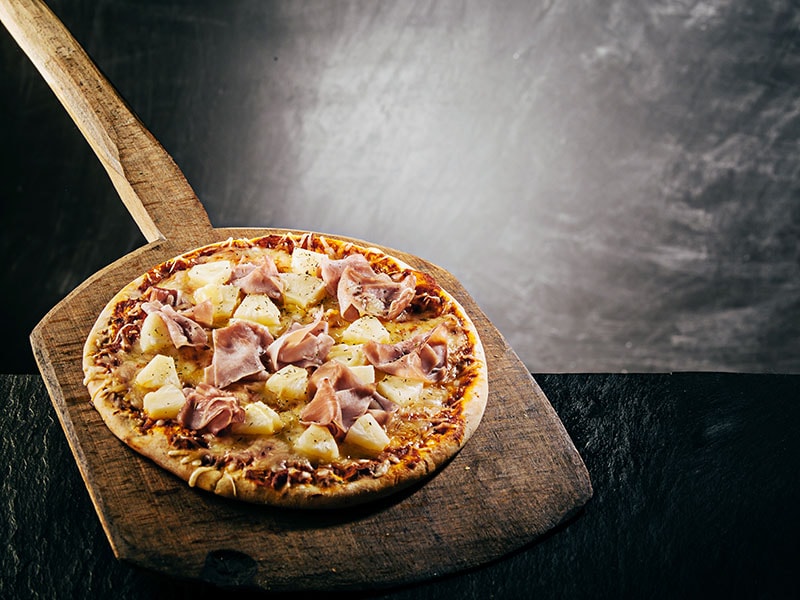 Which Types Of Pizza Peel Are Your Match?
You can easily find many types of pizza peel from different brands with various designs. In the past, people often picked wooden pizza peels to handle the dish. But in recent days, a lot of people have preferred metal ones.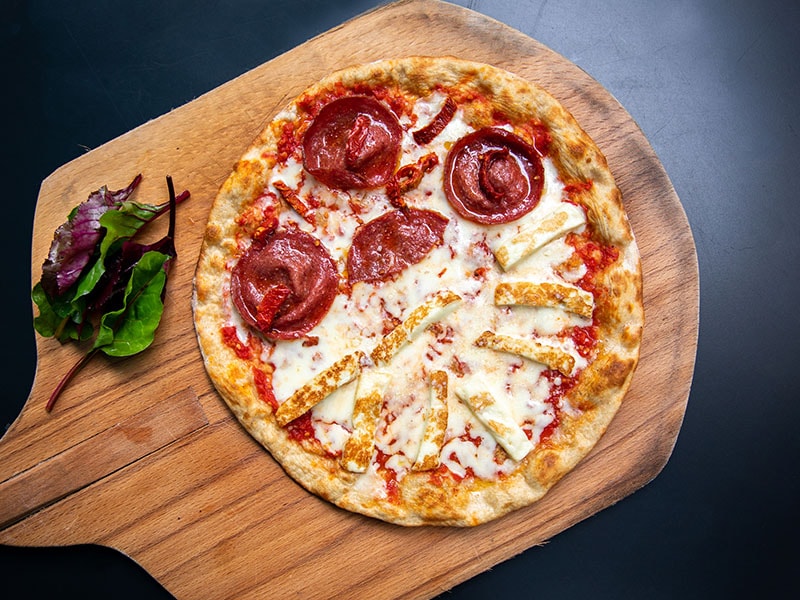 Composite Pizza Peel
As the name suggests, the manufacturer creates this peel from many materials (usually two materials with different properties). The peel's qualities may vary depending on the composition. The most popular form is the fiber composite pizza peel.
A composite pizza peel is an alternative choice since it is durable and long-lasting. However, you may take caution while using it. Most handles of the composite peels are not long enough, so you may get burnt when you are careless.
A low-quality composite peel can change color and have an unpleasant odor during a long use time. Therefore, a composite pizza peel is not an excellent option.
Metal Pizza Peel
Aluminum is the primary material of metal pizza peels. There are two kinds of metal pizza peels: perforated and solid. For the perforated variety, producers will pierce holes in the carrying surface.
Because there are holes in the perforated metal peel, the pizza dough and the peel will not stick together. However, the pizza dough will likely stick to a solid metal peel.
Therefore, it will help when you coat the pizza's surface and bottom with flour before transferring it to the oven. Besides, since this peel is generally thinner, it may easily slide beneath the pizza. Metal peel is also simple to clean and requires little maintenance.
Wood Pizza Peel
The material for making wooden pizza peel is rough wood, such as maple, teak, or bamboo. The wooden peel has an outstanding aesthetic when compared to the metal one. It is generally light yellow or dark brown, depending on the type of wood.
A wooden pizza peel prevents the dough from sticking to the surface. The porous property of the wood peel is the reason. That structure avoids the formation of a vacuum between the carrying surface and the pizza dough, preventing them from sticking together.
Furthermore, wooden pizza peels are significantly lighter and less expensive than other options. Also, the wood peel does not conduct heat, so heat will not be transferred from the oven to the handle.
However, cleaning the wooden peel is a challenge for you. Stains and smells will remain on the peel if you don't completely clean it. The wooden peel may even emit an unpleasant odor and degrade the pizza's quality.
You should be careful while using it to rotate the pizza in the oven. Although wood is bad at conducting heat, it's not fireproof. As a result, when it comes close to the oven's heat source, it might burn.
Additionally, a wooden pizza peel may warp, fracture, or even shatter in the long run. Avoid putting the wooden peel in the dishwasher since the detergent will damage it.
The Best Way To Use Pizza Peel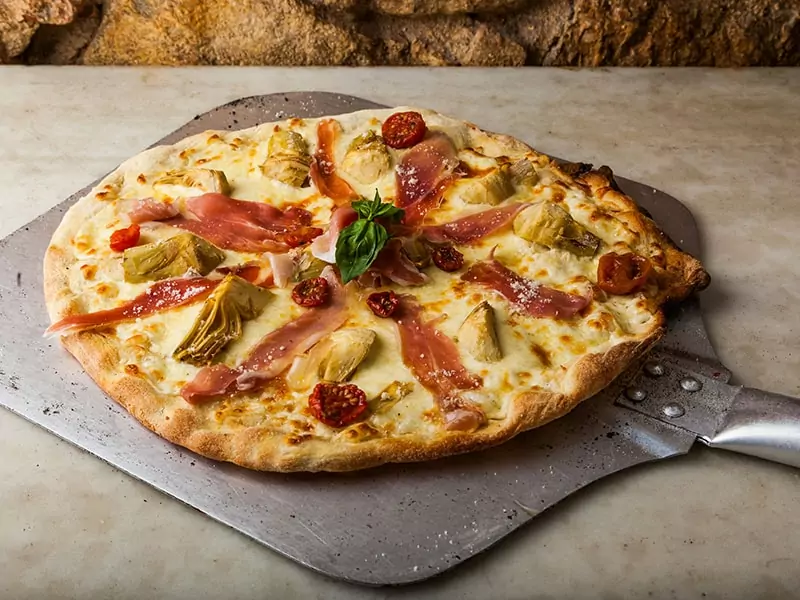 Pizza peels are excellent for manipulating pizzas. You may use both wooden and metal pizza peels to improve the baking pizza process. There are two parts to transporting pizza: getting it into and out of the oven.
Because the wooden peels are hygroscopic, the pizza dough will not adhere to the surface when placed on top of the peel. As a result, a wooden pizza peel is the best option for this process.
To make it easier to put the pizza in the oven, sprinkle a little semolina flour on top of the wooden pizza peel.
To use a metal pizza peel, form the pizza on a clean countertop before laying it on the peel.
If the dough is sticky to the peel, carefully separate it from the carrying surface with a knife or a spatula. Then add a little flour beneath the sticky part.
Choose a pizza peel with a thin surface for turning or rotating the pizza. Because the greater the surface, the more difficult it is to slide the peel under the pizza. You can use a metal peel because of its thinner surface than other peels.
Using pizza peel properly will require some skills. Save these tips to become a pro!
Crazy Tips For Using Pizza Peel
A pizza peel is what you need to bake pizza successfully. Mastering using pizza peels will take you months or even years of practice. But you can shorten the process with these tips below!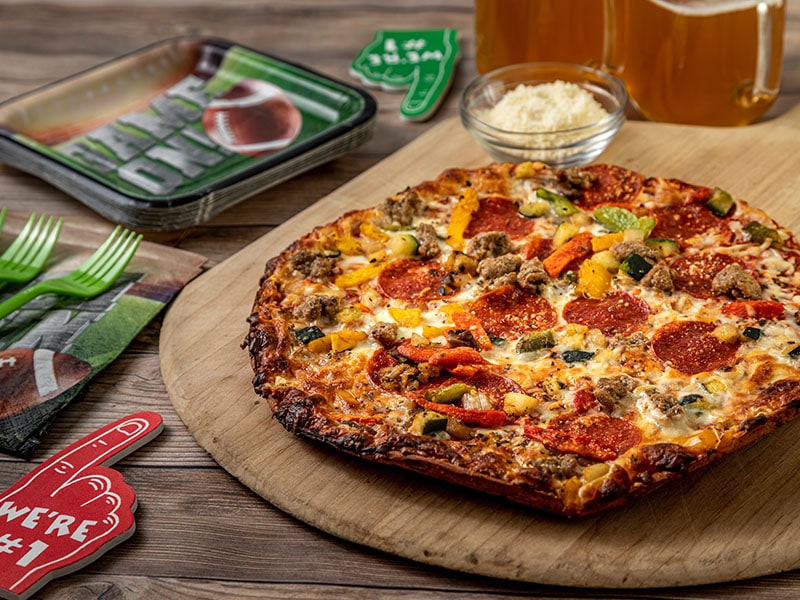 Try to keep your hands stable while putting the pizza in the oven. Shaking your hands may cause the pizza to slide off the peel, causing the shape of the pizza to deteriorate or the toppings to tumble off the pizza.
If you don't have semolina flour, you may cover the peel and bottom of the pizza with flour or cornmeal. You may alternatively use a flour-semolina blend.
When your pizza dough is still cold, let it come to room temperature before putting it in the oven to decrease moisture. Cold pizza may potentially cause thermal shock to your pizza stone.
Don't put too many toppings on top of the pizza. It will overload your pizza and put more weight on your pizza. It makes it more difficult to put the pizza into the oven.
Does the sticking pizza dough on your pizza peel bother you? Follow these useful tips right now!
Is Pizza Peel Necessary?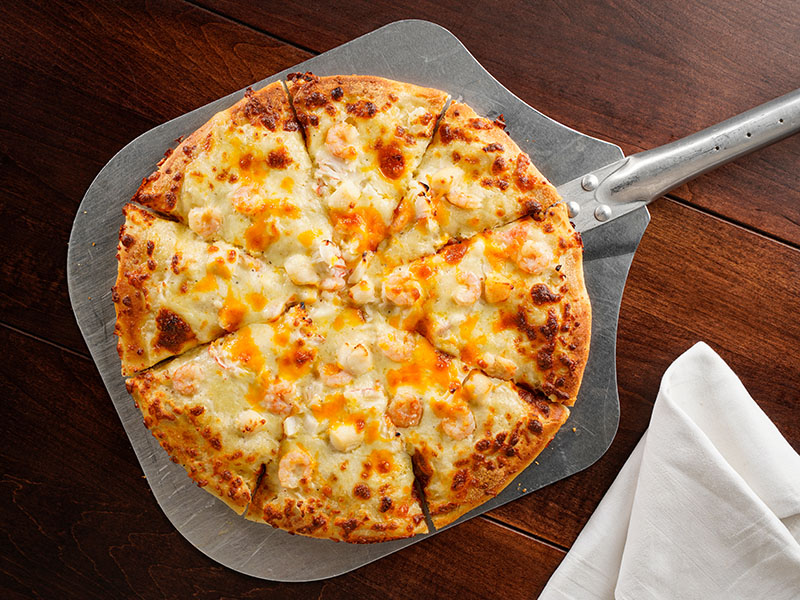 A pizza peel is essential for baking pizza. In some circumstances, you may use a cutting board in place of the pizza peel. However, it is not a permanent solution.
Pizza peels make it easy to transfer pizza into and out of the oven, reducing the risk of burns. You must have incredible skills to use a peel with a short handle to insert the pizza into the oven without getting burnt.
A pizza peel is essential for cooking a pizza in an oven due to its ability to turn the pizza and release excess flour. Without a pizza peel, the oven's extreme heat can burn you. A pizza peel also ensures your pizza will cook evenly and avoid hotspots.
Do you feel the pizza peel is too costly? You can build one at home!
The Best Ways To Clean And Maintain Pizza Peel
Maintaining and cleaning instruments is an essential step. Regular maintenance will help the tool last longer and perform its best function. A pizza peel is no different. In reality, different types of pizza peel will need various preservations.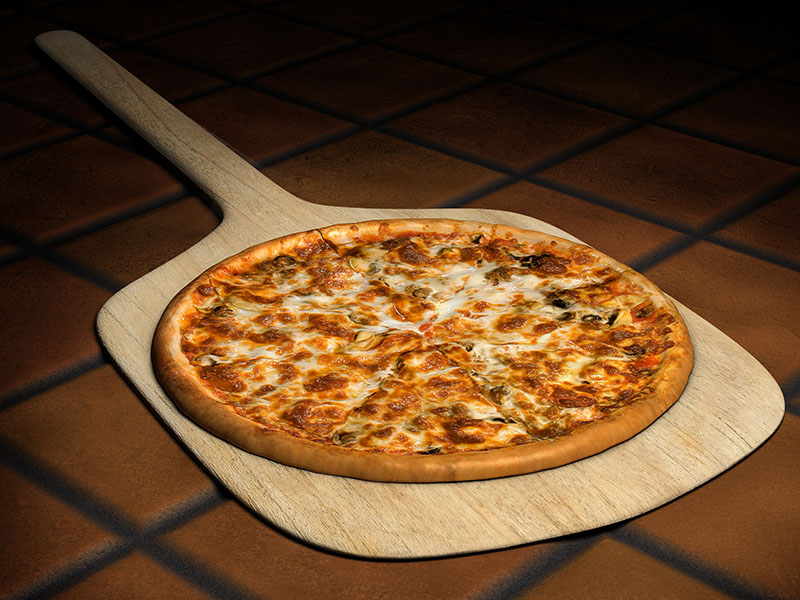 Wooden Pizza Peel
You should avoid cutting the pizza on the wooden peel since it can cause scratches to the surface. Food particles and bacteria can infiltrate your wood peel via these scratches, causing it to decay more quickly.
Hot water might cause your wood to warp, so avoid washing it under high heat. Slightly warm water would be ideal. A plastic dough scraper is an excellent solution to clear food particles from the peels. Remember to wipe the surface with a towel.
Mineral oil is a good product for wood peel care, providing necessary moisture and preventing it from cracking (2). It should be used every three months, spreading 1-2 teaspoons over the peel and letting it absorb. Remove excess oil with a cloth or paper towel.
Metal Pizza Peel
Metal pizza peels are significantly simpler to maintain and clean. The metal peel is made of aluminum or stainless steel. Therefore, it does not rust due to its excellent corrosion resistance. You can clean the metal peel with mild soap and hot water.
However, while cleaning food crumbs from the metal peel surface, avoid using objects that might damage it, such as steel wool. A nylon brush or sponge will suffice.
How To Choose An Ideal Pizza Peel?
You should choose a pizza peel based on your oven. It will be a waste if you buy a peel that doesn't fit in the oven. You can still use pizza peels for the grill, but it is not in the best condition to bake pizza. Take a look at the factors below to pick your ideal pizza peel.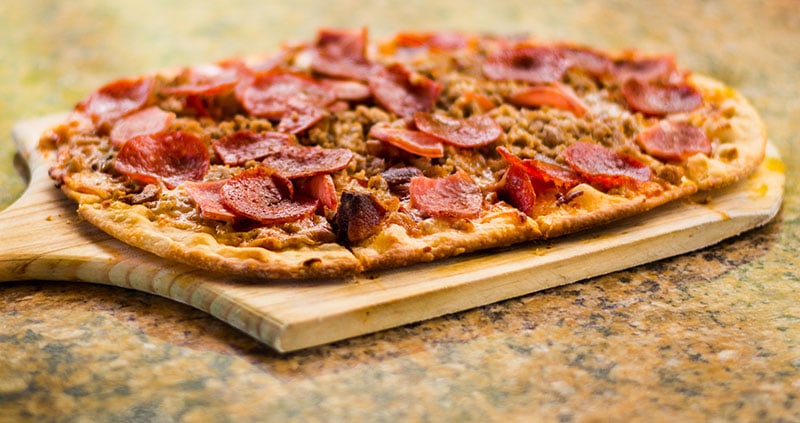 Materials
As you may know, there are distinctive materials used to create pizza peels, the most frequent of which are wood, stainless steel, and aluminum. These materials have their advantages and disadvantages.
The classic pizza peel is made of wood. It does not cling to pizza dough, is light, has an appealing look, and has a solid grip.
However, maintaining a wooden peel is complicated, as it requires a lot of care and can easily be damaged. Furthermore, its shelf life is typically shorter than alternative materials.
Steel pizza peels have a longer shelf life, are more durable, and last longer than wood. However, they are heavier and sticky to pizza dough.
Aluminum pizza peels are lighter than steel peels. It does not adhere to the dough like steel peels and may be used to place pizza easily in the oven. But it is not as long-lasting as steel peel.
Carrying Surface
Before purchasing a pizza peel, check the carrying surface. There are two types of carrying surfaces: perforated and solid. The perforated carrying surface has many holes. It is usually made of metal. The solid carrying surface is often flat, firm, and sturdy.
The materials of solid surfaces are more diverse than perforated ones. Manufacturers can use both wood and metal to make solid surfaces. If you have to choose between them, go for the perforated peel pizza.
These holes will allow excess crumbs from the pizza dough to escape, keeping it from burning and leaving scorch marks on your pizza. Furthermore, the perforated carrying surface makes the dough less sticking to the pizza peel.
Shapes
Pizza peels are available in various shapes. The most popular among them are round and rectangular. The rectangular peel allows you more space to work with, with some being able to handle multiple pizzas simultaneously.
Meanwhile, the round pizza peel makes it easier to rotate the pizza. A round peel can reach the pizza from all edges of the oven.
Size
You'll know what size pizza peel you'll need based on the size of the pizzas you want to make. A standard pizza peel will be 12 to 14 inches (33 to 36 cm) in diameter. Meanwhile, a large pizza peel (maxi) will have a diameter of 16 to 18 inches (40 to 45 cm).
Furthermore, the size of the handle is critical. It should be long enough to get the pizza into the deepest part of the oven without burning you. So take the oven length into account when selecting the proper handle.
An 11-inch (30 cm) handle is enough for compact ovens. Professional electric ovens need a handle about 23 inches (60 cm) long, while a big manual oven requires a handle from 47 to 78 inches (120 to 200 cm).
Thickness
When selecting a pizza peel, consider one that is a little thinner than typical peels. Thin peels make removing the pizza from the oven smoother. Metal pizza peels are ideal for this task.
They are often thinner than wood peels and may slide under the pizza without altering the form of the pizza. However, you should avoid buying an overly thin peel because it is too fragile.
The recommended thickness is between 1 to 3 mm. A wooden pizza peel often ranges from ½ to ¾ inch. A wood peel with a narrow beveled edge is a good choice, although it will not be as effective as a metal peel.
Top Pizza Peels For You
Trying to determine which pizza peel is the best can be exhausting since there are plenty of pizza peels in the market. However, you can save a lot of time by reading my top list of the best pizza peels from many famous brands.
New Star Foodservice Inc. is a business that produces a lot of kitchenware and utensils. You can rely on the quality of their products since they have years of experience and competent processes.
The Restaurant-Graded Wooden Pizza Peel is durable, solid, and the appropriate thickness for carrying a pizza. It is an excellent option for you.
Ooni has been in business since 2012 with deep knowledge of the pizza industry. Ooni offers a wide range of pizza peels in various materials and sizes.
The most impressive product among them is the Ooni Perforated Pizza Peel. It is lightweight and simple to clean. The Ooni brand's products are trustworthy.
Winco is another excellent choice for pizza peel. This firm offers a large selection of cookware in various genres and designs. Their products are widely available from all around the world.
The thin, flat surface of the Winco 26-Inch Aluminum Pizza Peel makes it simple to get pizza in and out of the oven. Its wooden handle provides a secure hold when rotating the pizza in the oven.
FAQs
In the professional pizza business, the pizzerias always use pizza peels to maneuver their pizzas in the oven. You can be like them just by a pizza peel. Do you want to impress your family and guests? Quickly skim through the extra treats below to learn more about them!
Do You Want A Pizza Peel?
Do you think the pizza peel is necessary? From what I see, the pizza peel is a handy tool to have in your kitchen arsenal. It not only facilitates the process but also protects you from the chance of burning.
However, it is still your choice to decide whether to buy a pizza peel. Please like and share if you think this post provides helpful information. I would love to know your thoughts about this article, so don't forget to leave your comments below. Stay safe!
References
Peel (tool) (2022) Wikipedia. Wikimedia Foundation.
DeVore, S. (2019) Mineral oil: Using it to preserve your wooden utensils and cutting boards, Farminence.