Pizza stone substitutes are what you should know since a pizza stone may be too expensive for some. If you don't intend to bake pizzas often, there's no need for a pizza stone. You can use these alternatives to bake pizza on gathering occasions.
Since a pizza stone is still necessary for making pizza, it's wise to possess one. However, in some circumstances, when you don't have it, you can use any suitable cookware to substitute. A cast iron pan or a baking sheet is the best option.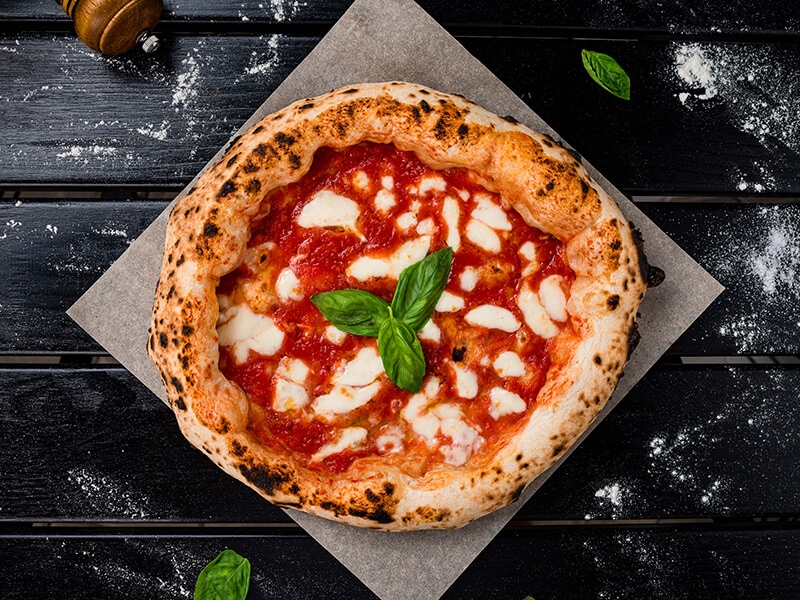 What Is A Pizza Stone?
A pizza stone is an indispensable tool for baking pizzas. I advise everyone who loves making pizzas should have one for their kitchens. However, before you can rush to the nearest store to buy pizza stones, let me tell you what it exactly is.
A pizza stone is a flat block of stone, salt, clay, or ceramic that can absorb moisture. You can put it on an oven rack and place the pizza dough to bake. The heat is transmitted from the pizza stone to the bottom of the pizza crust.
It generates an effect similar to that of a wood-burning oven at pizza restaurants. A pizza stone can retain and transmit heat across the baking surface evenly. Therefore, it helps your pizza dough rise uniformly.
Pizza stones come in a variety of shapes and thicknesses. They are usually round. You can also use a rectangular baking stone rather than a round one.
When looking for a pizza stone, it is critical to note that the thicker stones work better. However, they are more expensive and take longer to heat up.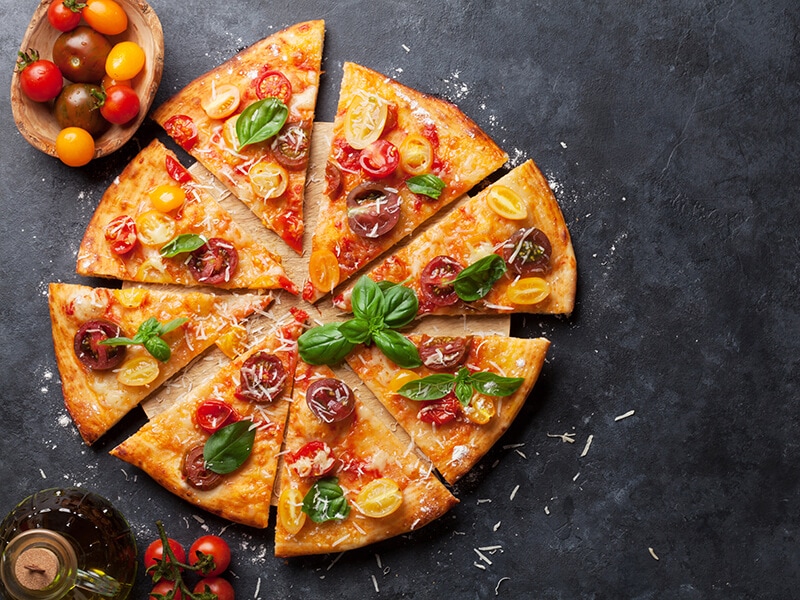 Do You Need A Pizza Stone?
Pizza stones are an excellent solution for those who love pizza but cannot invest in a professional oven.
They may be used in home ovens with temperatures up to 500°F (260℃). It will provide results equivalent to those commercial ovens that reach 700°F (370℃) or more.
Although it may not be as good as the restaurant's quality, you will still amaze your family and friends. The pizza stone is often created from clay and burned in kilns, exactly like bricks.
Therefore, the pizza stone has high thermal mass and electrical conductivity, meaning it can absorb and retain heat from the oven.
The stones' heat conductivity helps cook the pizza evenly, providing a more consistent brown hue and the desired texture. Furthermore, since the stone is porous, it absorbs moisture from the crust, resulting in a more brittle feel.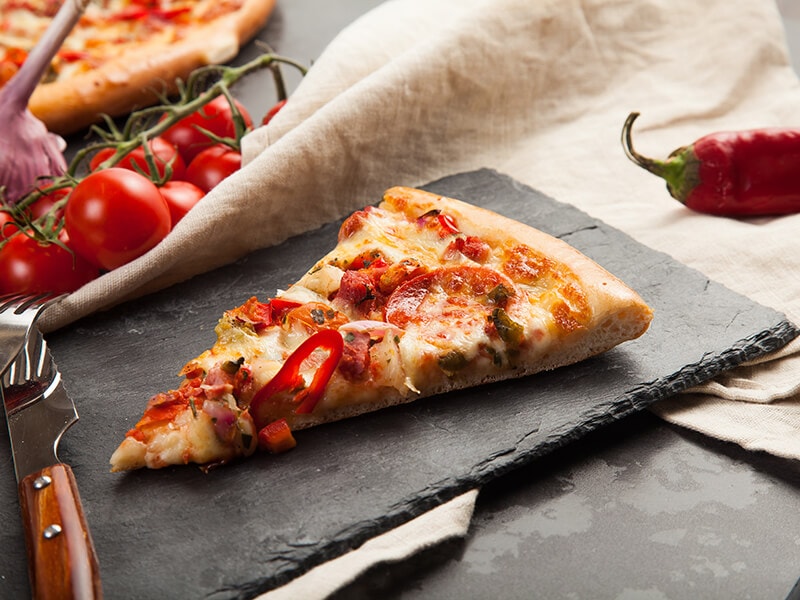 The Best Substitutes For Pizza Stone
Pizza stones are a great tool, but they're not for everyone. While pizza stones work very well, they are costly to some people. Luckily, there are numerous great substitutes for a pizza stone. Let's look at some of these wonderful substitutes!
Pizza Stone Substitutes
Benefits
Downsides
Bread Cloche
Provides an atmosphere like brick ovens
Heats up longer
Cast Iron Skillet
Suitable for stove and oven
Good heat conductivity
Small pizza
Baking Steel
Durable
Easy to clean
Better heat transmission
Heavier
More costly
Baking Sheet
Cheaper
Versatile
Not crispy as expected
Dutch Oven
Suitable for stove and oven
Difficult to place in and out of the oven
Pizza Pan
Prevent moisture buildup
Non-stick
Have borders
The perforation can trap the dough
Heat up longer
Cake Tin
Low-cost
Distribute heat evenly
Need to coat with oil or cover with parchment paper
Fire Bricks
High heat resistance
Heavy
Grill
Rapid baking
Unique wood-fire taste
Can burn your pizza if you don't move it around the grates frequently
Terracotta Tile
Cheap
Even heat-distribution
Might contain toxins
Bread Cloche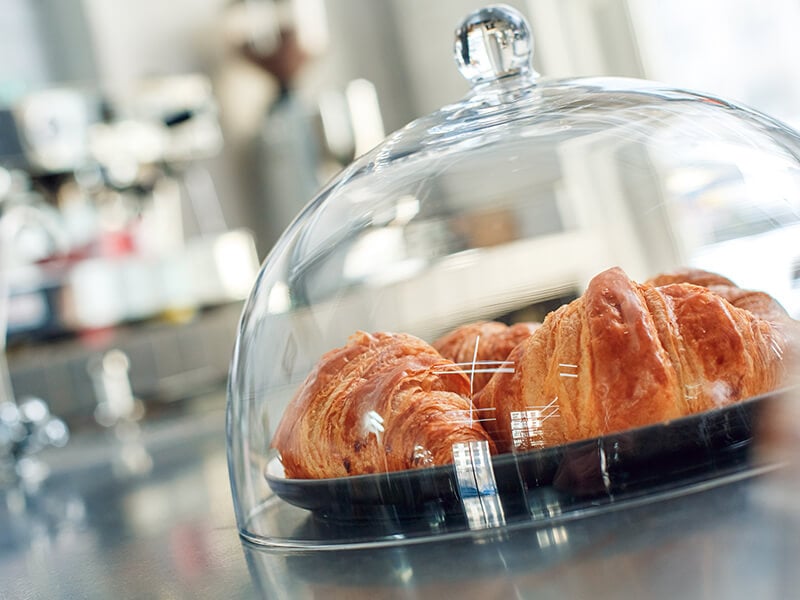 A bread cloche is a two-part utensil composed of a dome lid and a base covered to trap heat.
The cloche retains steam and heat, providing an environment similar to a brick oven, with a dome shape to help evenly reflect the heat.
It helps the pizza come out with a crispy, thick crust and a soft layer inside. To use the bread cloche, preheat it to the desired temperature and then place it in the oven.
You may leave the cloche in the oven during the baking process. It will assist in guaranteeing a uniformly cooked pizza with a crispy crust. However, you will have to wait for a while to bake your pizza thoroughly since the bread cloche takes longer to heat up.
Cast Iron Skillet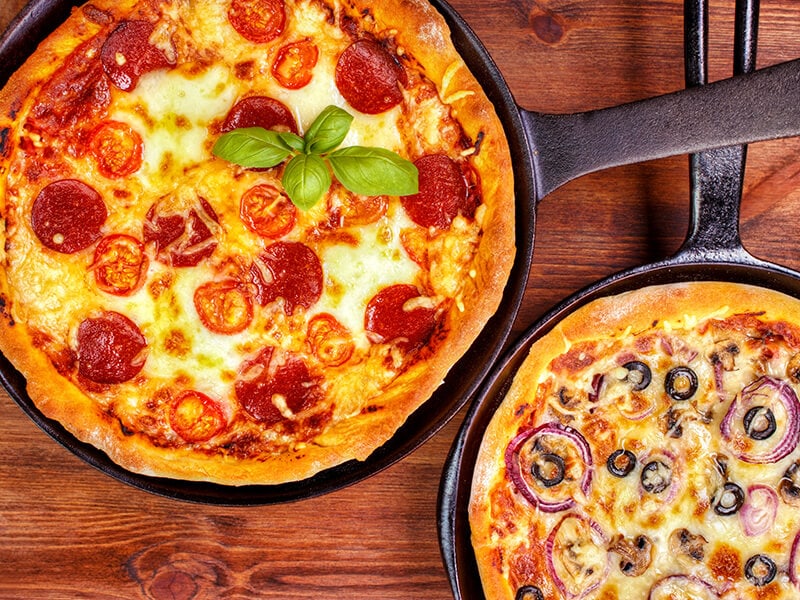 Cast iron skillets are compatible with any dish. For that, you can use it to replace a pizza stone. You can put a cast-iron skillet on the stove or in the oven. Simply ensure your cast-iron skillet is oven safe.
To begin, cover the skillet to cook the toppings thoroughly and melt the cheese. You may also turn the skillet upside down to get a baked surface like baking steel. Put the pizza in the cast-iron skillet after heating it to the appropriate temperature, usually medium-high heat.
When preparing a cast-iron skillet in the oven, it is better to start with a cold oven and gradually heat it for 45 minutes or an hour. But making pizza with a cast-iron skillet will result in a smaller pizza than using a baking tray or a pizza stone.
You can try cooking pizza with your cast-iron skillet for a unique experience.
Baking Steel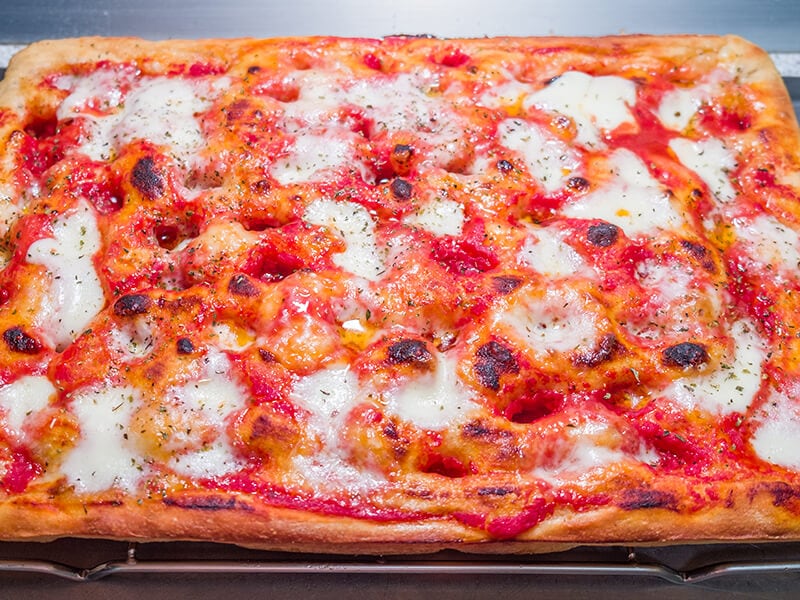 Consider investing in baking steel if you want high durability that can rival a conventional stone. These baking steals are usually rectangular or circular. They are heavier and more costly than other options.
Its main benefit is better heat transmission than other stones, so baking steel can give the best result even if you're using a home oven. The utility is also more durable since it doesn't crack under high heat.
Moreover, it is easy to clean because of its smooth surface. Baking steel can also last longer with appropriate maintenance.
Baking Sheet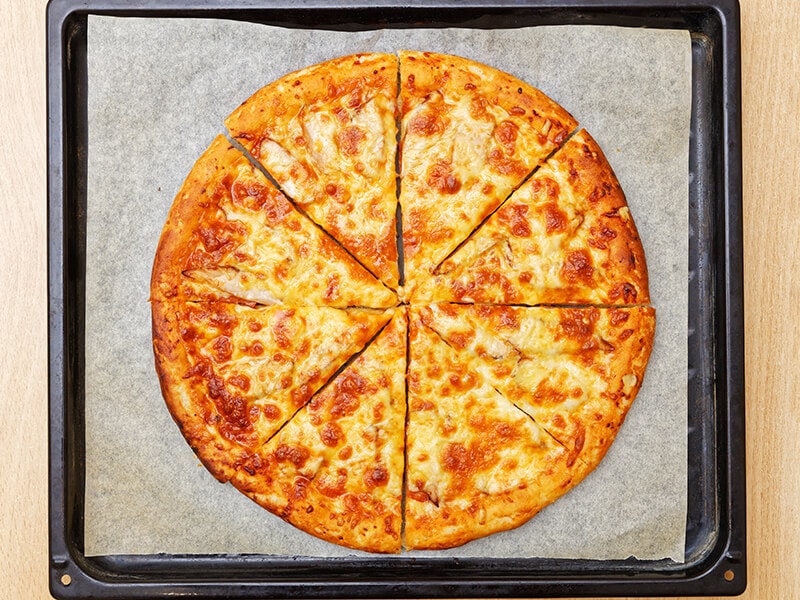 A baking sheet is a cheaper alternative to a pizza stone. Its versatility makes it a great kitchen tool for baking anything, from veggies to pizza.
To bake pizza with it, you can flip the baking tray and set it on the bottom rack of the oven while preheating the oven. Then, like a pizza stone, slide the pizza onto the tray. Although the pizza will be tasty as always, it will not be as crispy as the ones using a pizza stone.
If you don't like flipping the sheet, you can lay a baking sheet with parchment paper, cover it with your favorite pizza, top it with your favorite toppings, and bake in a preheated oven. The parchment paper will keep the dough from sticking and result in a lovely, crispy crust.
Baking the pizza on a baking pan will cook the toppings uniformly and create a beautiful golden-brown finish. Plus, it is also easy to clean.
Dutch Oven
You can replace the pizza stone with a dutch oven. It is made of cast iron, aluminum, enamel, or ceramic. A dutch oven has good heat conductivity, making it suitable for both cooktop and oven baking.
When making pizza in a dutch oven, use parchment paper to make it simpler to remove the pizza from the pot.
Since most parchments cannot tolerate extreme heat, you must keep the temperature below 420 to 450°F (220 to 230°C) (1). Remember that dutch ovens are often huge, making it difficult to maneuver in your oven.
If you are on a special occasion that you don't have parchment paper and an oven, such as camping, you can cook pizza with the cooktop. Don't forget to season your dutch oven with a few teaspoons of oil.
Preheat the dutch oven until it reaches at least 450°F. Once the oil is heated, gently lay the pizza dough in and cook for 2 to 3 minutes before adding your chosen toppings. Bake for 20 minutes and enjoy your tasty pizza!
If you have a dutch oven at home, don't hesitate to make pizzas with it.
Pizza Pan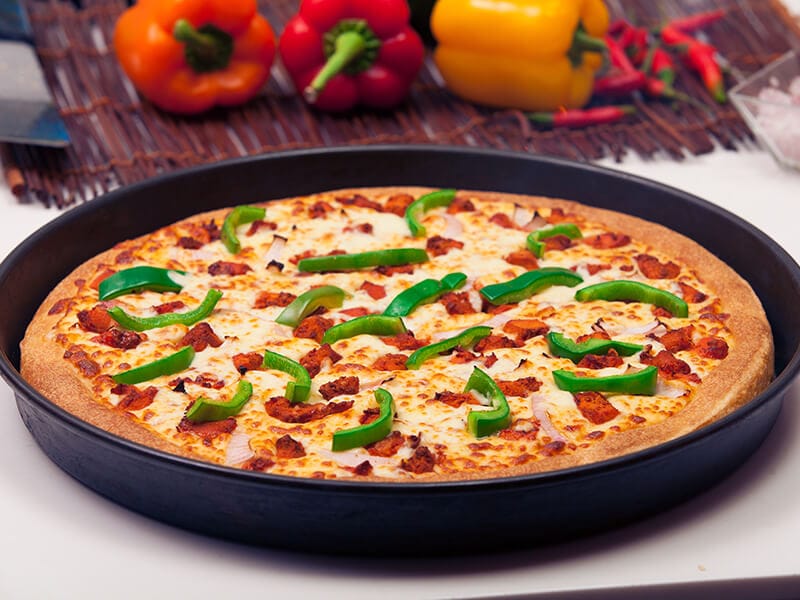 A pizza pan works well in place of a pizza stone. You can think about it like a less expensive version of a pizza stone.
Manufacturers often use aluminum and stainless steel to make pizza pans. The pan usually has perforations to prevent moisture buildup while distributing heat to the pizza dough.
The non-stick surface keeps the pizza from sticking, and you may add extra olive oil or parchment if necessary. You can layer on as many toppings as you want without worrying about them spilling over the pan's borders.
Instead of preheating the pizza pan in the oven, you may put the raw pizza dough straight on and bake it in the oven.
The perforations in the pan allow for better ventilation with faster and crispier baking than a pizza stone. However, the dough can get stuck in these holes, with the pizza pan requiring more time to heat up.
Find out what type of pizza pan is best suited for your home.
Cake Tin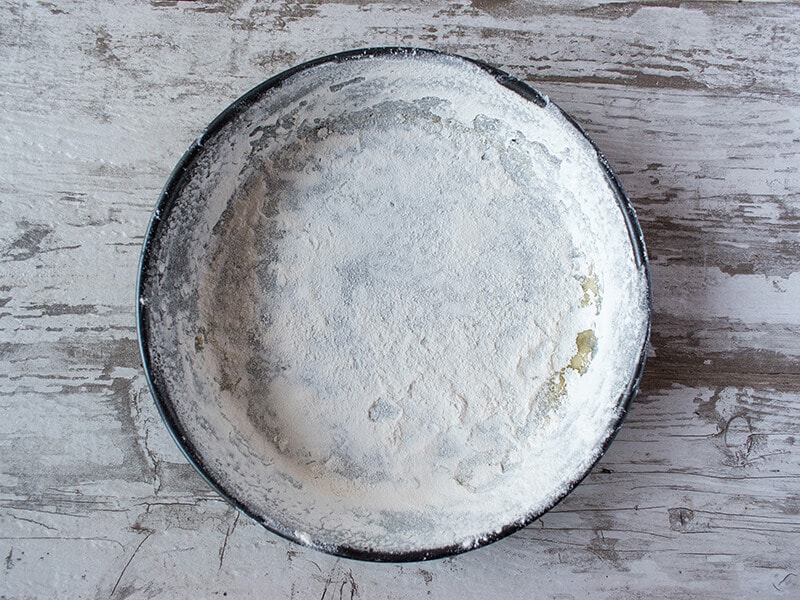 A cake tin is an excellent low-cost alternative for baking pizza. You can turn the cake tin facing down to produce the most baking surface possible. It will make sliding and removing the pizza from the oven easier.
If you don't want to invert your cake tin, you can also bake the pizzas directly in it. Because the cake tin distributes heat evenly, you can expect a golden brown on the pizza exterior.
The cake tin also creates a crispy crust necessary for a perfect pizza. Preheat the oven to the proper temperature before placing the pizza dough in the cake tin.
Throw in your favorite topping. Then, place the cake tin in the oven and bake for the recommended time.
You may choose a cake tin with the thickest bottom for the best results, ideally made of steel or iron. The thicker the cake tin, the crunchier the pizza crust is.
Fire Bricks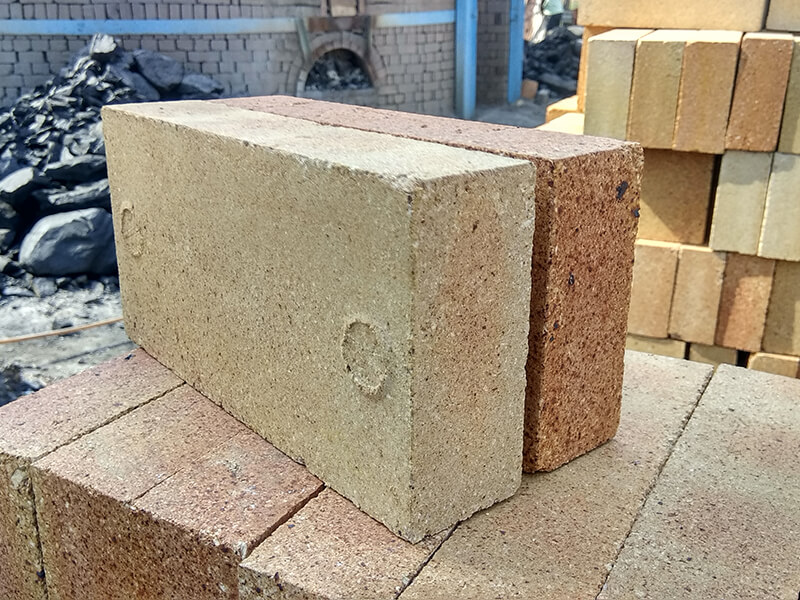 Refractory bricks (fire bricks) are built of refractory ceramic materials to endure high temperatures. They are the major materials for building commercial pizza ovens. The bricks' size is about 9" x 4.5" x 2.5", and weighs 8 pounds (2).
You may need 5 to 6 bricks to bake a 12-inch pizza. By laying bricks on a baking sheet and preheating the oven for at least 60 minutes, they are excellent alternatives to pizza stones.
Because the bricks are so massive, you should put them into baking sheets for additional support. It is critical to allow the bricks to cool properly before removing them from the oven.
Grill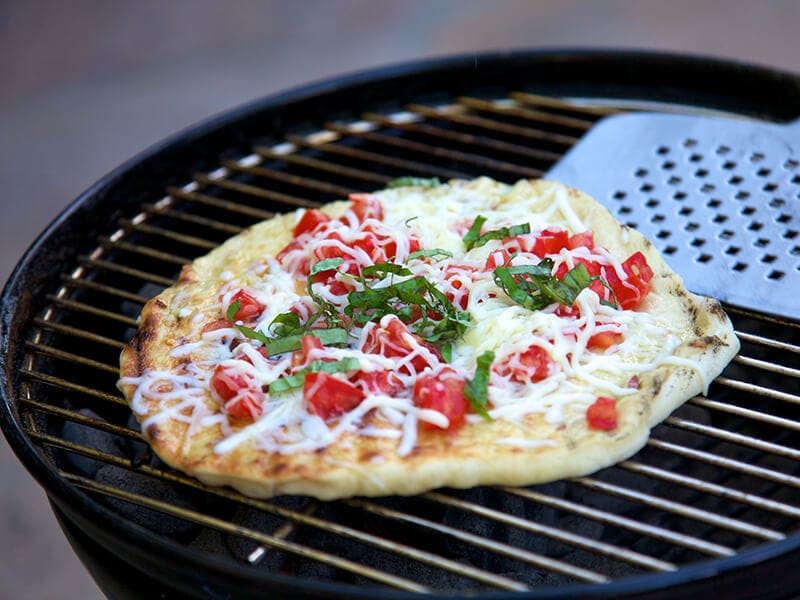 Grilling is an excellent method for baking pizzas. It produces a smoky, wood-fired taste that an oven cannot reproduce. If you have a grill at home, you may use it in place of a pizza stone.
You can employ either charcoal or gas, which will attain temperatures comparable to ovens. It ensures that the pizza bakes rapidly.
Keep an eye on the pizza and move it around the grill to prevent it from burning. The secret to making excellent pizzas is to bake them at a sufficient temperature to give the pizza dough a crispy crust. That's critical for the best outcome.
You will want to save these tips for cooking pizza with your grill next time.
Terracotta Tiles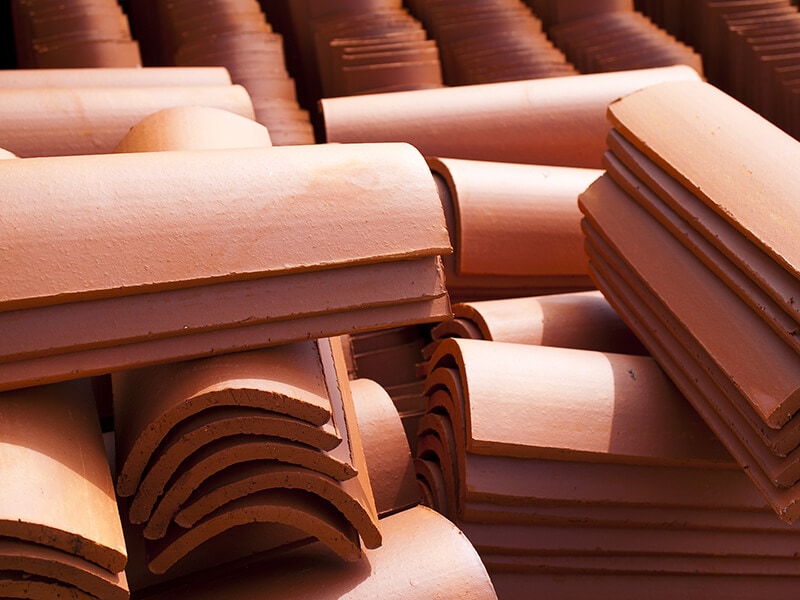 Another option for you in this list is terracotta tiles. It is a more affordable alternative when compared to a pizza stone.
Terracotta is a material that performs very well when used for baking. It does an excellent job of distributing heat. The porous structure of terracotta tile results in an ideally crispy crust.
When shopping for terracotta tiles, it is important to double-check them since some of the glazed tiles may contain harmful toxins. Overall, the tile is a reliable choice for a makeshift pizza stone when you're in a rush.
How To Build A Pizza Stone At Home?
Having a personal pizza stone at home can help you make delicious homemade pizzas. Instead of buying expensive pizza stones, you can explore the simple steps of creating a pizza stone at home. Let's get started!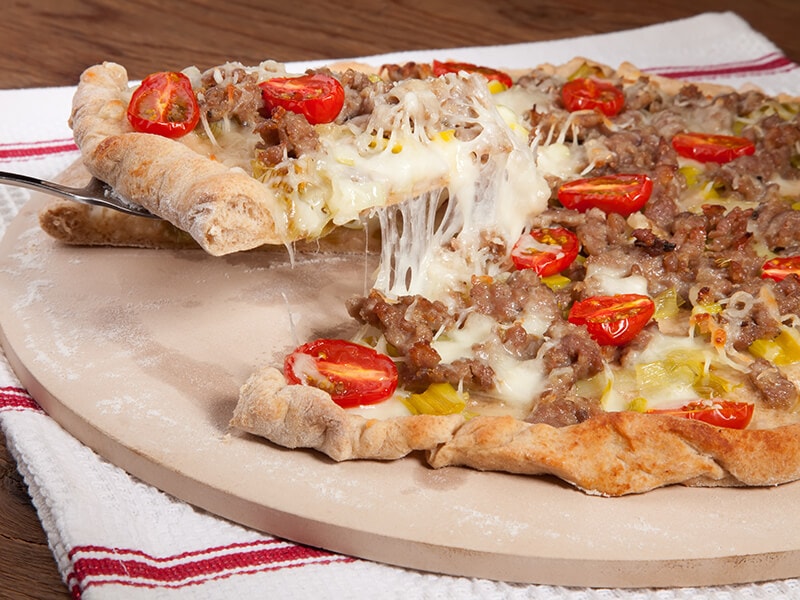 Step 1: Choose A Tile
The closest home improvement store is an excellent spot to locate the unglazed quarry tiles. They are necessary to make a pizza stone. These tiles provide a cost-effective alternative to traditional baking stones.
Step 2: Cleaning Your Tile
The next task on your list should be to clean your tile. You shouldn't use any detergent or soap, as these can seep into your stone and make your pizzas taste and smell like soap.
For drying, place the tile on a rack or let all the water run off and dry it thoroughly. If there is still water inside the tile when you put it in the oven, the heat will damage your tile because of thermal stress.
Step 3: Build The Pizza Stone
Seasoning your pizza stone before use is essential for the best results. The most effective way to do this is to coat the stone with olive oil lightly. You may use a light touch, as you don't want to clog the stone's pores.
Step 4: Cooking With Your Pizza Stones
Once the oil is spread evenly, the stone will be ready to cook delicious pizzas. It is crucial to place the tile in the oven before turning it on. Set the temperature to 450°F (or 230°C) and let it bake for an hour. The stone should be ready to make a pizza when the timer stops.
Learn how to create a simple pizza stone with this instruction!
FAQs
Pizza stones will be unexpectedly helpful at some moments when your pizza stone is not in the best condition for use. You can also look through the other common concerns that people share to have more information about pizza stone replacements.
Picking An Alternative For Your Pizza Stone Is Easy As Pie!
Do you want to bake some pizzas after finishing this post? Some people hesitate to make pizza because they don't want to buy costly pizza stones. However, with the pizza stone substitutes, you can bake pizzas without pizza stones.
What do you think about this article? Leave your opinions in the comment section below. I would love to read them. Anyway, as you find this post helpful, why don't you like and share it with more people? Your interaction is the most value appreciation for me.
References
Smith, R. (2022) Parchment paper temperature! (must know things) 2022, Eats Wise.
Fire brick (2022) Wikipedia. Wikimedia Foundation.