Hand-tossed vs. pan pizza, which is the better pizza? You may be startled when looking at a pizza restaurant menu if you're new to pizza. There are tons of options for you to choose from. They are not only distinctive in ingredients, but also in the way they are made.
Decision-making becomes unusually hard when it comes to choosing delectable goodies like pizza. You can't help but want to try all the mouthwatering pizzas by looking at all the delightful pictures and their appealing description.
Picking the perfect pizza will not be so troublesome if you have some basic understanding of them. Both types of pizza come with their merits and shortcomings. It's time to explore their uniqueness.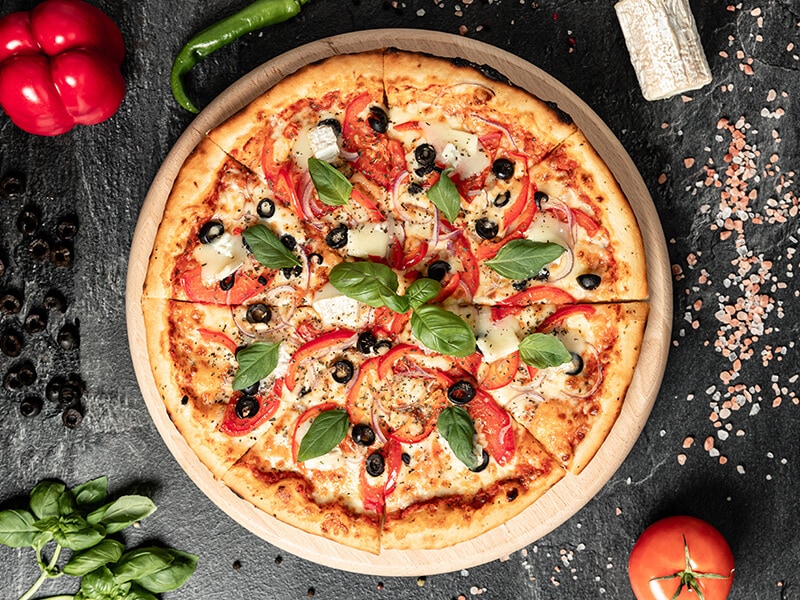 Hand-Tossed Pizza – An Art In The Kitchen
Hand-tossed pizzas come with a unique dough-making method that is ubiquitous both in commercial and household settings. The hand toss movement is to give the dough some designated texture and effects.
What Is A Hand-Tossed Pizza?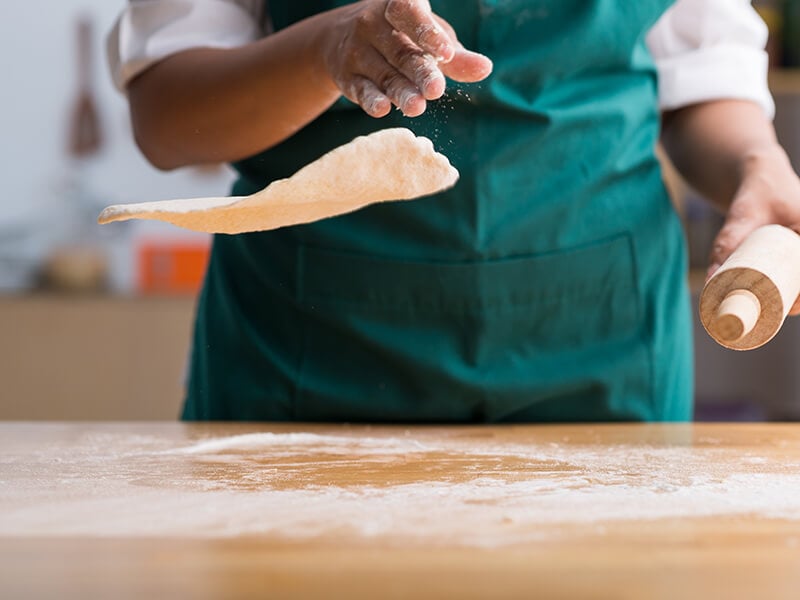 In the process of fermentation, many air bubbles or tiny gaps appear in the pizza dough. Small bubbles are harmless, but big bubbles cause inconsistency on the surface, making them not flat enough to hold toppings.
In this stage, the pizza maker employs hand tossing to get rid of those bubbles. This is why hand-tossed crusts are flat and don't rise very much. This technique also allows the dough to retain moisture, making it softer and lighter.
As the name of the method implies, chefs stretch the dough by tossing and spinning it in the air. While spinning, the centrifugal force stretches the dough into a thin, round shape that isn't overly thick in the middle of your crust.
This technique produces thin pizza crusts like in St. Louis style, New York style, or New Haven style. It is very aesthetically appealing if done by skillful hands.
Let's witness the art of pizza tossing and spinning.
How To Make A Hand-Tossed Pizza
Even though it may sound like sweat and tears to make a hand-tossed pizza, it's not that hard if you closely follow the right procedure. Here is an instruction that you can try to make a palatable pizza for your family:
Step 1: Knead The Dough On A Flat Surface
Mix flour with water and some salt to create the dough. Sprinkle some flour on a surface and coat in hand in flour to prevent sticking. Flatten the dough on the surface.
Knead the dough evenly until it is equal to the size of your hand. You can store it in the refrigerator to let the cold fermentation happen and give your pizza more flavor.
Step 2: Do The Hand Tossing
Squeeze the outer edges to form a crust. Add more flour to the dough. Toss the dough on the back of your fist; let it spin counterclockwise. Keep the dough tossed and rotated like that.
When it drops, catch it with the back of your fist. Do it multiple times until it gets thin, with at least 12 inches in diameter. If the dough breaks apart, pinch it together again.
Step 3: Add Toppings And Cook
Place the flattened dough on a pizza peel and add toppings, sauce, and cheese of your choice. Avoid spilling your ingredients to the outside edge since it can cause burning when baking.
Step 4: Bake Your Pizza
Bake it for 10-15 minutes at 500˚F (260˚C). You should supervise the process to avoid burning your pizza.
Some Interesting Facts About Pan Pizzas
Pan pizzas are the next generation of traditional hand-tossed pizzas. As the name suggests, this method uses a pan to make pizzas. The result of this method is a thick and soft pizza crust.
Brief History About Pan Pizzas
No one knows the accurate history of this pizza-cooking method, but its first record dates back to the early 20th century in Tuscany. Pan pizza or al Teslo was a popular family meal prepared by housewives.
Back in time, a rectangular or pan-like baking tray was used as a container to cook pizzas in woodfired ovens.
Later in the 1960s, Dan and Frank Carney, the original of Pizza Hut, opened a pizza store in Kansas (1). They introduced pan pizzas to the market, which were welcomed with showers of orders and positive feedback.
Many other pizza brands later included pan pizzas in their menus and reaped huge success. Nowadays, a pizza pan is used for cooking thick-crusted pizzas like deep-dish pizza or pan pizza.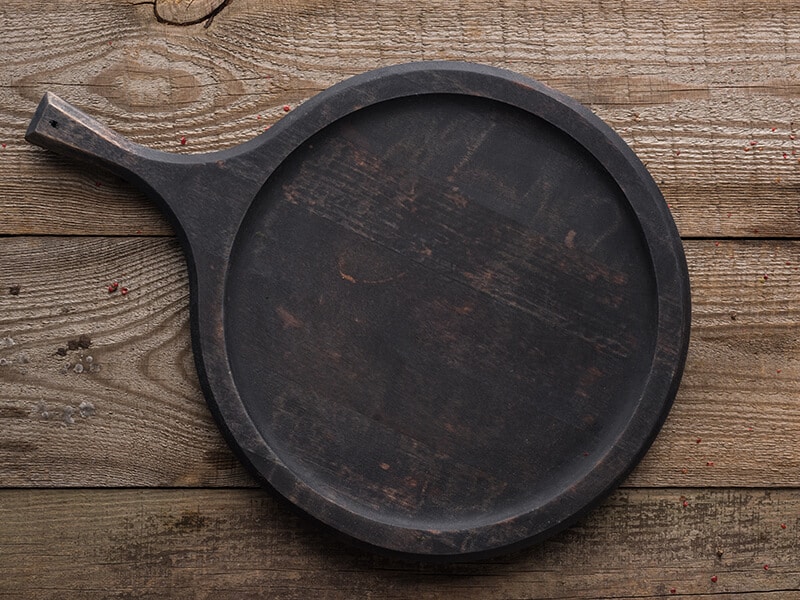 What Is A Pan Pizza?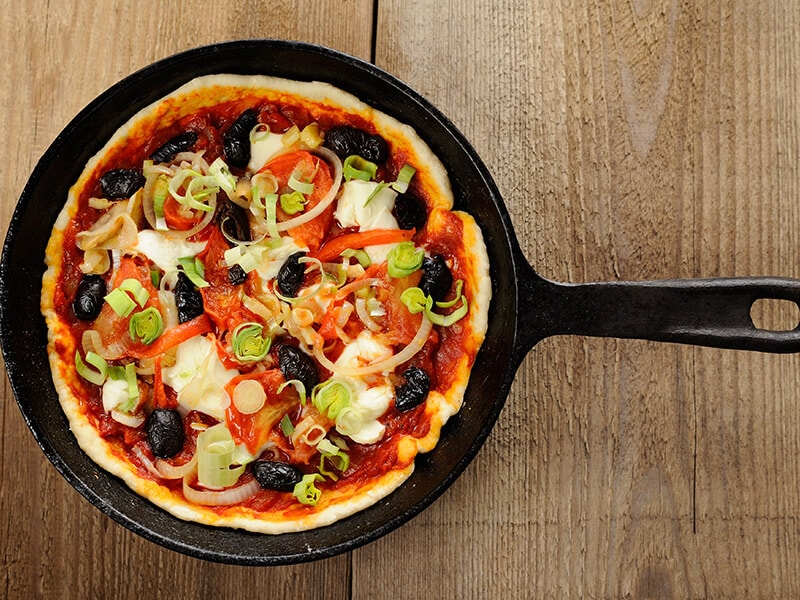 People prepare the dough of pan pizza on a deep-dish pan and bake in it too. The sides of the pan enable you to hold the thicker dough and prevent the toppings from spilling out; the higher the sides, the thicker the crust you can make.
There are many kinds of pan pizza, such as Chicago pizza, Sicilian pizza, or Detroit pizza, each with its unique thickness. Pan pizzas are famous for their huge crusts. That thick crust is always a great base to accommodate the abundance of sauces and toppings.
Catch up with the best method to make a pan pizza now!
How To Make A Pan Pizza?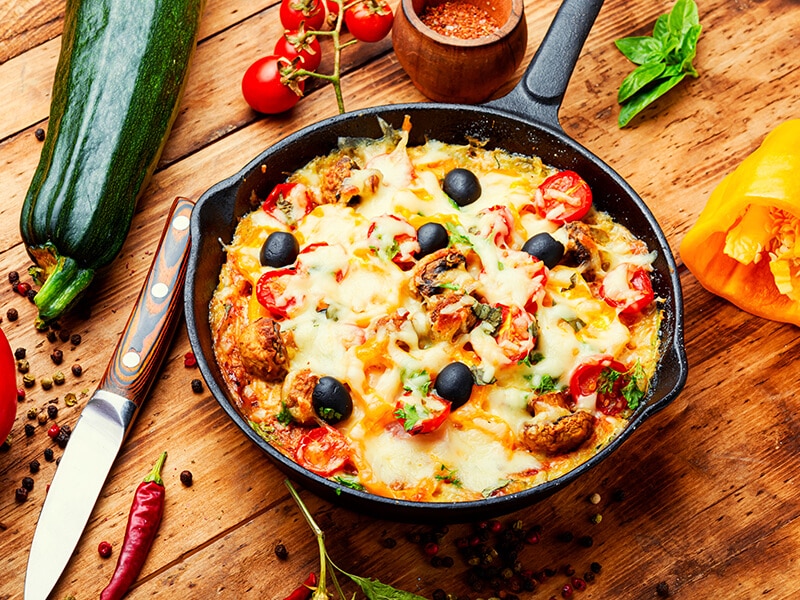 A pizza pan is one of the easiest pizzas to make. The pan will save you from the most painful part of shaping a dough. You just have to make sure your dough fills the pan to have a perfect pan pizza. Here are the specific steps:
Step 1: Prepare The Pizza Dough
Prepare it with basic ingredients such as flour, water, olive oil, salt, and yeast. You can add garlic powder, herbs, butter, or cheese for more flavors.
You can also add ingredients normally used as toppings, like pepperonis or sausages to make a stuffed crust.
Step 2: Coat A Skillet Or A Pizza Pan
Coat it with the oil of your choice. Don't forget to preheat the oven to 500°F to 260°C to cook the pizza to crispy perfection quickly.
Step 3: Put The Dough In The Pan To Shape It
Make sure the outside edge of the dough is shaped around the walls of the pan. That will ensure the bottom and sides of the crust are cooked evenly.
Step 4: Add Toppings
Add toppings like tomato sauce, cheese, pepperoni, hot dogs, sausages, herbs, or any ingredients your recipes call for.
Step 5: Put The Pan In The Oven And Bake
Bake it at 500˚F (260˚C) for 20-25 minutes. Look for any sign of bubbling in cheese that signals the doneness of the pizza.
Follow these useful tips for stepping up your pan pizza cooking!
Hand-Tossed And Pan Pizza: The Clash Of Goodies
Hand-tossed pizzas and pan pizzas have some fundamental differences that make them unique. From a quick look, you can easily tell them apart. Here are some special features of the two kinds of pizzas:
| Properties | Hand-tossed pizza | Pan pizza |
| --- | --- | --- |
| Crusts | Thin crust | Thick crust |
| Preparation and cooking process | The dough is hand-tossed; 10-15 minutes of baking | The dough is pressed around the pan; 25-35 minutes of baking |
| Tools | A pizza stone and a baking tray | A pizza pan and a skillet |
| Toppings | Fewer toppings | More toppings |
| Sauces | Less sauce | More sauce |
| Taste and texture | Dry and crispy but softer than a pan pizza | Crispy and crunchy |
Crusts
The crust is the first and foremost feature that sets hand-tossed pizza and pan pizza apart. Due to the method and purpose of hand tossing, the crust of the hand-tossed pizza is thinner and flatter. The dough won't rise much in the baking process.
The pan pizza crust is thicker and chewier. You don't have any method to get rid of the air bubbles in the dough, so the pan pizza will rise a lot, making it fluffy like focaccia bread.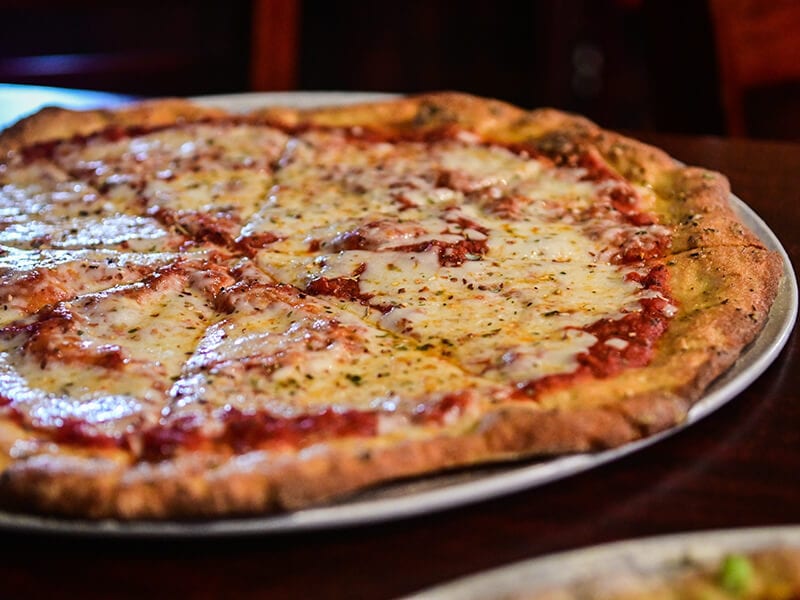 Preparation And Cooking Process
Another distinction that you can tell by the names of the two pizzas is their preparation. A hand-tossed pizza requires tossing and spinning movement to rupture the air bubbles and keep the flat surface from inflating unevenly, resulting in a thin or medium crust.
It takes around 10-15 minutes to cook a hand-tossed pizza at 500˚F (260˚C). The thin crust reduces the time of baking. A pan pizza, on the other hand, doesn't require tossing or much kneading. It's a piece of cake to prepare the dough. Just press it steadily until the dough neatly fills the pan, and it's good to go.
Because of its thickness, a pan pizza will take longer to cook. 25-35 minutes at 500˚F (260˚C) are the recommended time for pan pizza to attain its best taste and texture.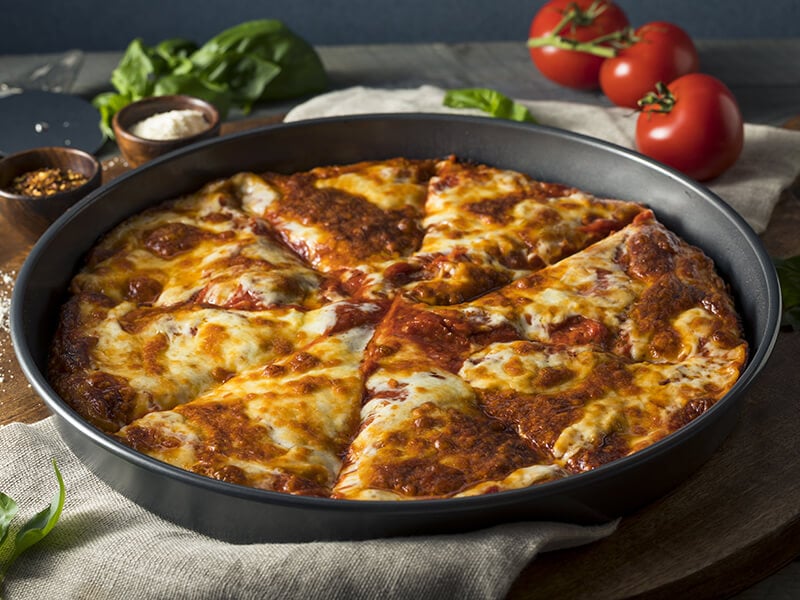 Tools
The only tool you need to make a hand-tossed dough is a pair of skillful hands. Tossing pizza is a tricky technique to master. You can mess the dough up big time if you're not familiar with the movement.
It's very easy to break the dough while tossing or make it clumpy. Pro pizza tossers use the back of their fist to toss, spin, and catch the pizza dough to avoid wearing and tearing. A hand-tossed pizza is suitable for baking on a baking sheet or a pizza stone.
A pan pizza calls for a pizza pan or a skillet; even a deep-sided baking dish will work. The pan harnesses the expansion of the crust, bringing up a fluffier texture.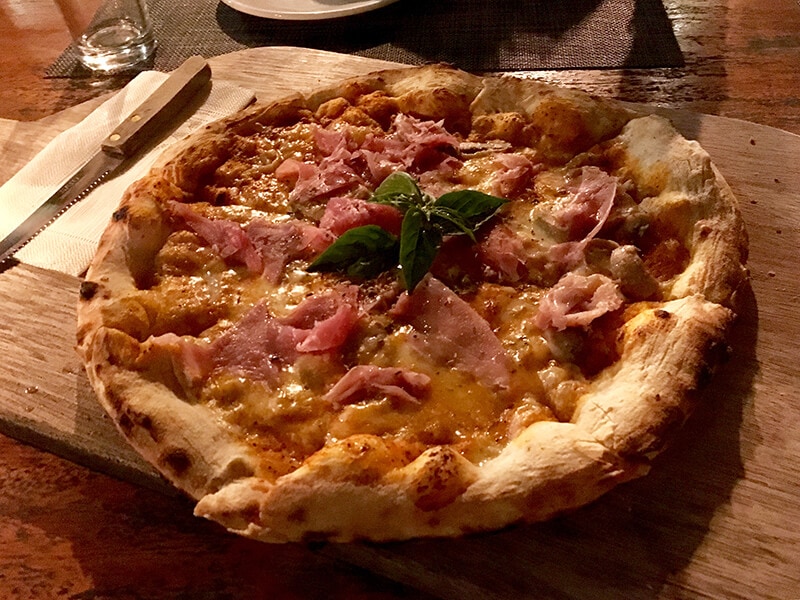 Toppings And Sauces
The two types of pizza don't come with their own standard set of toppings and sauce. The choice of toppings and sauce is more about personal preferences and regional discrepancies.
But the difference in thickness of the crust enables them to hold different amounts of toppings.
Traditional pizza chefs believe in quality over quantity, so a hand-tossed pizza, like New York-style pizza, comes with a thin layer of sauce, mozzarella cheese, and toppings. The thin crust allows it to carry that much without crumbling and getting soggy.
This type of pizza also comes with a more flavorful sauce used in a smaller amount. More herbs, such as basil, oregano, or olive, are also utilized to impart more taste to the pizza.
Regarding pan pizzas, the thick and elastic base can take many layers of toppings. Some kinds of deep-dish pizza, like deep-dish Chicago pizza, contain a huge amount of sauce, various types of cheese blends, and stacked-up layers of toppings.
In making pan pizza, feel free to add your favorite ingredients, such as additional cheese grates, pepperoni, or ham. Due to its great size and abundance of toppings, a pan pizza is usually served with a knife and fork.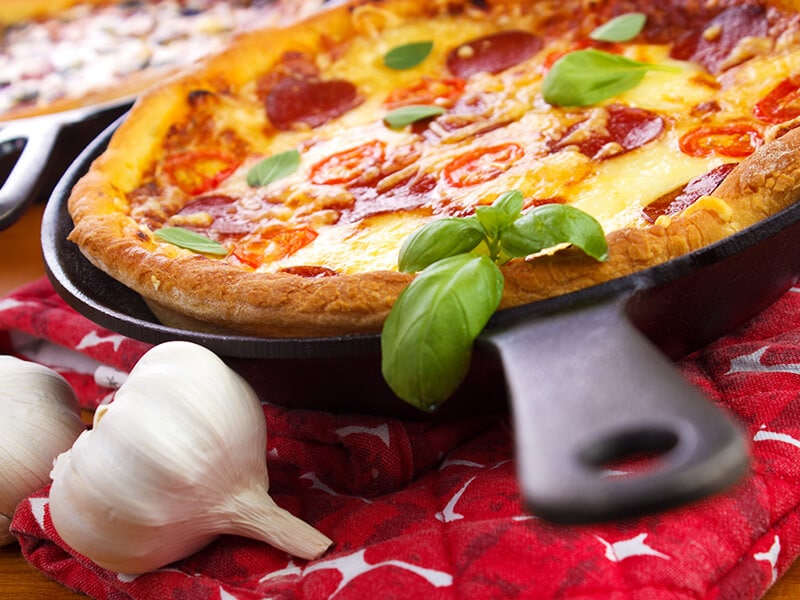 Taste And Texture
The crispiness of a hand-tossed pizza and a pan pizza is quite equal. But the thin crust of the former doesn't allow hand-tossed pizza to retain much moisture, so it feels drier. This pizza should be on top of your list if you're not a fan of greasy foods.
But some hand-tossed pizzas can be oily. The thin crust can't absorb much oil, so it leaks and drips oil outside. Be careful while eating thin-crust pizza because the dripping oil can ruin your suit.
The crunchiness of hand-tossed pizzas is unrivaled. Some even have a cracker-like texture that crumbles with every bite. Such a pizza tends to have a more delicate taste, thanks to its thin layers of sauce, cheese, and toppings.
If baked on a pizza stone, it is even crunchier and crispier and complete with the iconic char that pizzas cooked in a woodfire oven have.
On the flip side, pan pizza crust has a soft, fluffy, and bread-like texture. The crust is an inch thick or more. Cooking with the oil-coated pan gives it a golden-brown bottom and sides. This pizza may feel a bit oily from the significant amount of oil used in baking.
A large number of toppings, sauces, and a blend of cheese bless this pizza with a variety of flavors. The cheese also contributes to the softness of the crust.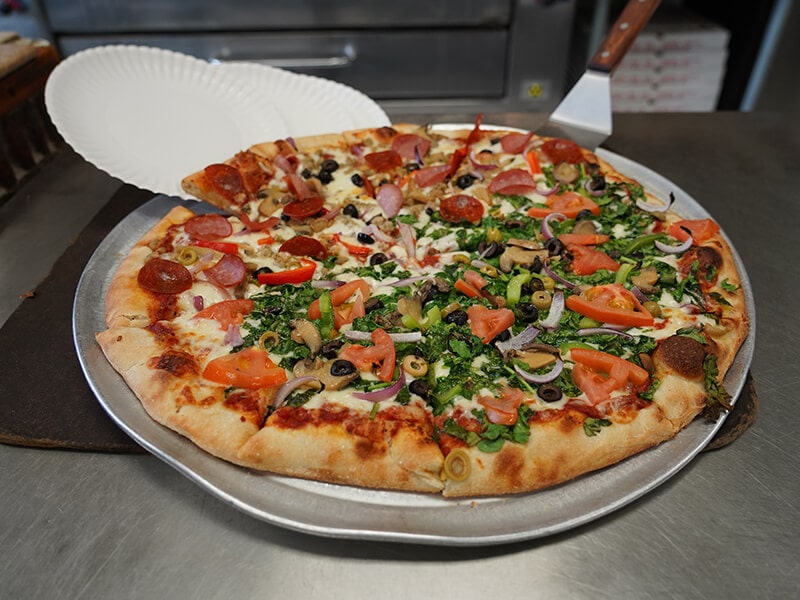 Hand-Tossed And Pan Pizza: Who Is The Winner?
Nowadays, approximately 40 million Americans eat pizza per day (2). Each with their personal preferences. Between the two kinds of pizza, there is no better candidate, just a more favorable one in certain criteria.
For instance, a hand-tossed pizza is perfect for those who love the traditional ways, while a pan pizza offers you a feeling of innovation.
If you think pizza crust is bland and you're into smaller portions, you're a thin crust fan and should always opt for hand-tossed pizza. In case you're the kind of "go big or go home" person, pan pizzas or deep-dish pizzas are your jam.
It also takes some skills and effort to make a hand-tossed pizza. Therefore, for people who are starters in making pizza, a pan pizza recipe should be on your to-do list. After all, every kind of pizza is incredible and delectable on its own.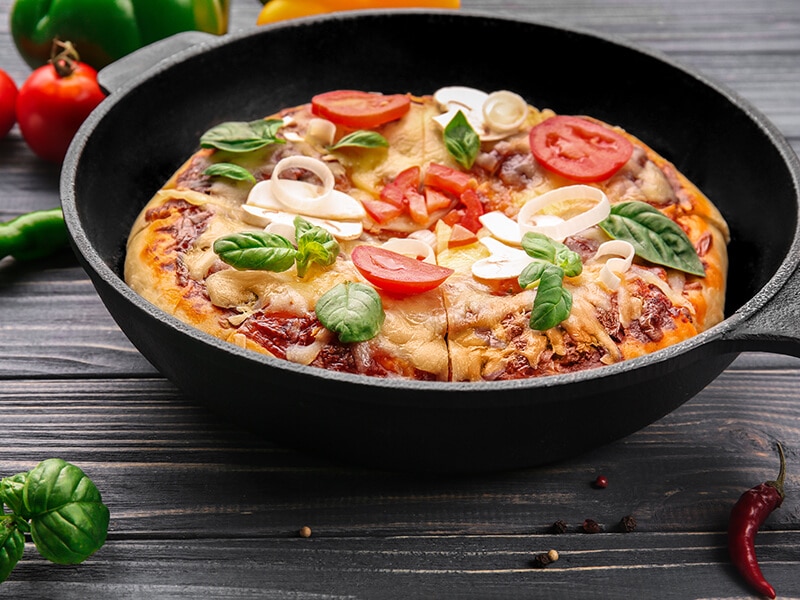 Best Pizza Recipes For You And Your Beloved Ones
The world of pizza is so immense and diverse, and it keeps expanding nonstop. Let's try to follow these savory recipes and cook a delectable pizza for your family.
You can never go wrong with a New York-style pizza. With a few simple ingredients, the crispy and chewy goodness of medium-crust New York pizza will leave you in awe every time. The combination of herbs and extra virgin olive oil also gives this pizza a unique sweetness.
Make the classic New York-style pizza with a few simple steps!
Here is another classic recipe for you to try. Even with the lack of yeast, its incredibly crispy crust and rich aroma will steal your heart right away. Covered with Provel cheese and a savory sauce, this delicious type of pizza is an amazing recipe to fill in your weekend to-do list.
If you're craving a mountain of pizza to quench your cravings, the legendary deep-dish pizza from Chicago is there to get your back. It is a must-try if you are a fan of thick crust. The abundance of toppings and cheese will also not let you down.
Detroit-style pizza is truly one of a kind. It's rare for the pizza crust to have that much water and oil in the thick, rectangular-shaped dough. However, when coupled with yeast and baked to medium-well doneness, the result is a crust that is both crispy and tasty.
FAQs
Now that you have learned a great deal about the style of pizza making. It's time to explore some more knowledge about pizza in these useful queries.
Explore Your Taste With Both Varieties Of Pizzas
Pizza is an excellent goodie that is great on many occasions, such as dinners, family gatherings, or small parties. Whether it is hand-tossed or cooked in a pan, each kind of pizza will not disappoint you.
To wrap up, I hope you've learned the necessary knowledge to distinguish or make these pizzas for yourself. Leave me a comment if you have great experiences with them. Share this article with other pizza lovers to equip them with more knowledge about this famous goodie.
References
Pan Pizza (2022) Wikipedia. Wikimedia Foundation.
Torres, G. (2014) The people who eat pizza every day, BBC News. BBC.