Metal vs. wood pizza peel – which is the better option? You need a pizza peel to bake some fabulous pizza at home. But there are many types of pizza peel with different materials. If you are new to baking pizza, you must have many questions.
What materials should you choose? Which is more suitable for your oven? Or which pizza peel is easier to work with? These questions can mess up your mind.
Fortunately, I will answer all your concerns. I will tell you how to choose the best pizza peel and use it effectively.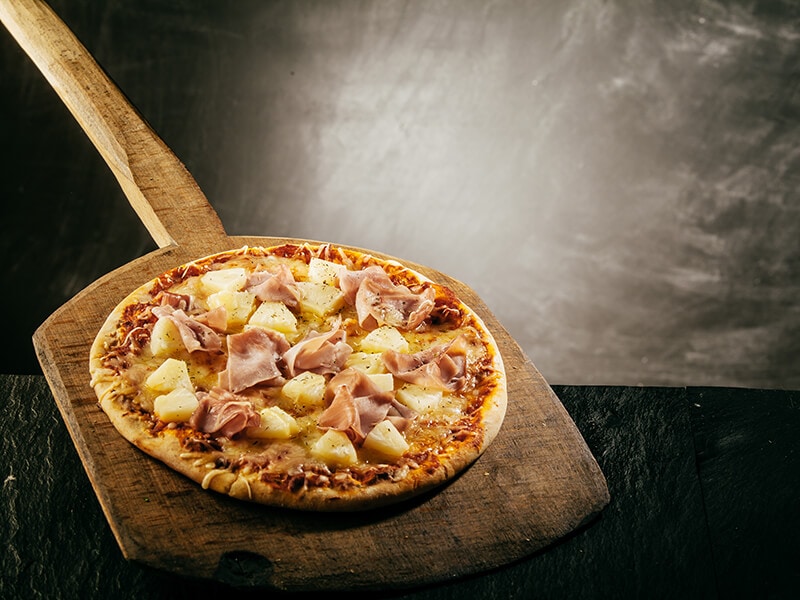 Pizza Peel – What You Should Know?
Pizza peels are categorized based on various factors such as shapes, sizes, and materials. You may learn about these characteristics to pick the ideal pizza peel. But first, you should understand what a pizza peel is.
A pizza peel (pizza slider or pizza shovel) is an instrument used to place a pizza in the oven and remove it from the oven (1). Manufacturers often use metal and wood to make pizza peels. Apart from these two materials, there are two less common types: plastic and perforated metal.
The pizza peel comprises a handle and a flat blade that join each other. There are also two types of carrying surfaces: perforated carrying surfaces and solid carrying surfaces.
As the name suggests, a perforated carrying surface is a flat surface with holes. These holes allow extra flour to slip off while moving the pizza to the oven. It also allows steam to escape, preventing the pizza and the pizza peel's surface from sticking together.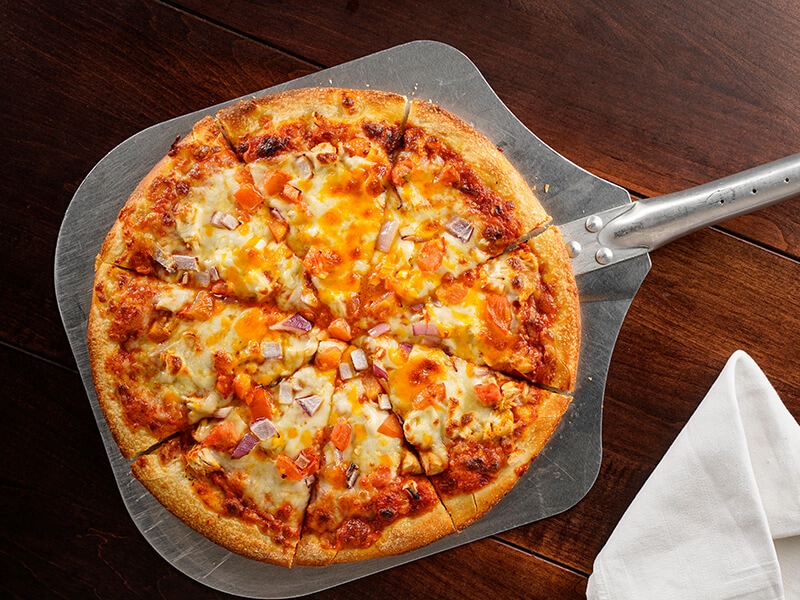 Types Of Pizza Peel
There are various pizza peels that you can choose from. They vary in size and shape, so it can be difficult to choose the perfect one. Nevertheless, there are some criteria for picking the pizza peel. You can base on them to determine what pizza peel matches you.
Size
When you buy a pizza peel, you may pick between a standard and a large size (maxi). You should carefully consider the size of the peel you choose, as these two sizes are significantly different.
A standard pizza peel is about 18 inches, whereas a maxi pizza peel is 36 inches, twice the size of a regular peel. The standard size is appropriate if you wish to make homemade pizzas.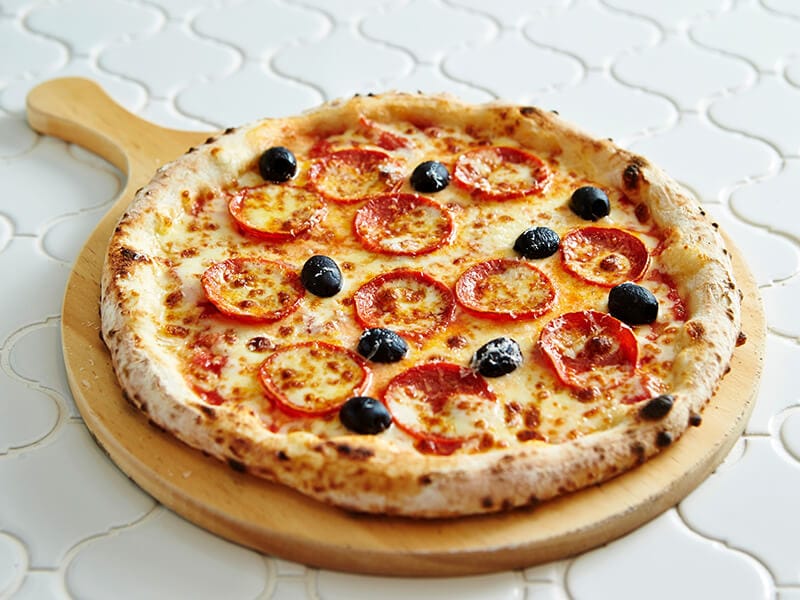 Shape
Although there are other varieties, the two most popular pizza peels are round and rectangular. People use the shape of the pizza stone to choose pizza peels.
The circular pizza peel will go with the round pizza stone, while the rectangle stone will require a rectangular peel.
Since the form of a pizza peel and a pizza stone is similar, it helps to prevent dropping pizzas when taking them in and out. Using a comparable-shaped pizza peel is much easier to put pizzas on the pizza stone.
Application
In terms of usage, pizza peels have two kinds: launching and turning peels. The launching peel has a long handle with a solid, broad, and flat surface. The surface is frequently metal or wood.
You can use launching pizza peel to put the pizza into the oven. However, using it will cause difficulty because the peel surface is relatively large. Therefore, you need to turn pizzas using your hands, which may burn you because of the high heat.
That's why you should use the turning pizza peel instead. It has a smaller circular surface than a launching pizza peel and a perforated surface. Manufacturers often use metal for the surface and wood or rubber for the handles.
Are you a beginner at baking pizza? So you should know what is the ideal pizza peel for someone like you.
What Is Wooden Pizza Peel?
Despite the variety of alternative materials, the wooden peel is still the most common line in pizza products. Except for the wooden surface, the handle can be made of any material, such as plastic, metal, or wood.
Manufacturers often use hardwoods, such as oak or maple, with an uneven surface to make a wood peel that prevents sticking on the pizza peel surface. It also allows more air to circulate from the peel.
In the past, people used thick wood to construct pizza peels. However, they employ a range of wood, such as acacia, agarwood, or bamboo.
You may love wooden peels since they have a vintage aesthetic appearance. Furthermore, as long as you maintain them properly, you can use them for many years.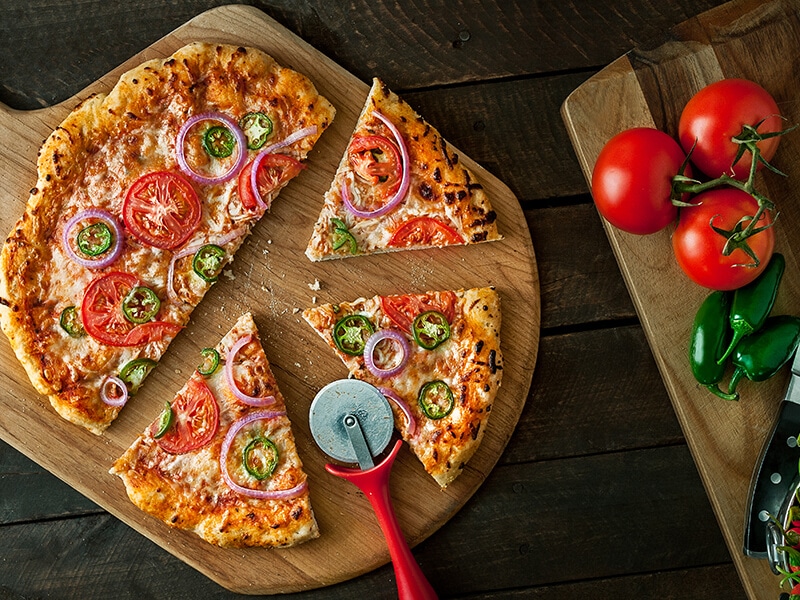 What Is A Metal Pizza Peel?
Metal pizza peels are built of metal, usually stainless steel or aluminum. The surface might be perforated or solid.
It is thinner than wood, so metal peels are often more lightweight than wooden ones. Unlike wood, metal pizza peels are considerably easier to clean and maintain.
You don't need to dry it with a dryer after using it like wood. Also, a wooden peel will absorb different odors over time and develop a little unpleasant taste. But the metal peel does not have this issue. The metal pizza peel is straightforward to use.
You can place them in or take out the pizza from the oven. However, you'll need skills to keep the pizza dough from adhering to the peel. When you do it improperly, the dough will likely stick to the peel's surface.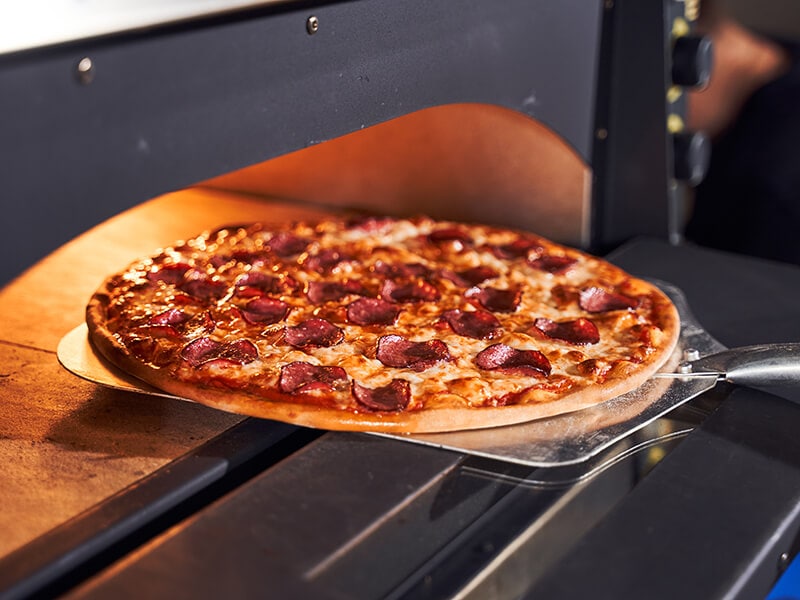 What Is The Difference Between Them?
The wood pizza peel and metal pizza peel have a lot of differences. Knowing their distinctions will help you have an overview of the pizza peels you should choose.
Factors
Wood pizza peel
Metal pizza peel
Appearance

Aesthetic look with light yellow or brown color
Round and rectangular shapes

Normal look with silver color
Round and rectangular shapes

Durability
Lower
Higher
Weight
Heavier
Lightweight
Grip
Better
Slippery
Taste
Preserve the pizza taste
No effect on pizza taste
Maintenance
More complicated
Simpler
Application

Don't need a pizza screen
Put the pizza in the oven better

Need pizza screen
Take out the pizza from the oven better

Safety
Have no negative effect on the pizza
Leak toxic metal in the long run
Price
More expensive
Cheaper
Appearance
As I mentioned previously, a wood pizza peel is more aesthetically attractive than a metal pizza peel. The natural appearance makes you feel more comfortable. In contrast to the metal peel, it also has a beautiful vintage vibe.
Normally, a wooden pizza peel will have a light yellow or brown color, depending on the type of wood used. Meanwhile, the metal pizza stone is usually a metallic silver color. Both types usually have round and rectangular shapes.
However, wooden pizza peels have fewer designs than metal peels. The handle of the wood pizza peel is versatile, allowing adjustments of the handle to suit your needs.
Durability
A wood pizza peel will likely crack when exposed to high temperatures over a long period. That is due to its lack of elasticity and expansion compared to other materials. The wooden peel has a substantially shorter shelf life than a metal pizza peel.
Typically, the most common materials for wooden peels are maple, beech, black walnut, teak, or bamboo. Metal pizza peels are usually made of aluminum or stainless steel. I recommend you choose stainless steel since aluminum will react to food.
Therefore, metal pizza peels are much more durable than wooden pizza peels in terms of heat resistance. So when you choose a wood pizza peel over a metal one, you should consider its shelf life.
Weight
While the wooden pizza peel is much more eye-catching than the metal pizza peel, it's also lighter than the wood variety.
Because of the thick carrying surface of the wood peel, it is naturally heavier. If you do not have any requirements about the appearance of the pizza peel, then the metal pizza peel is the right choice for you.
Grip And Taste
When it comes to grip, the wood pizza peel will outperform the metal pizza peel. As for making pizza, most people use oil. Therefore, using a metal peel will cause the dough to fall out of the peel unless you're skillful.
Furthermore, wood pizza peel preserves the flavor of the pizza better. On the other hand, using a metal peel won't leave any advance in the taste of pizza.
Cleaning And Maintenance
Wood pizza peels require complicated cleaning and maintenance processes. Since wood reacts with moisture, you need to clean and store it properly. You may try to use vinegar liquid to clean the surface of the wooden pizza peel.
You must always dry it completely unless you want to see mold and bacteria on your peel. However, you can simply wash the metal pizza peel with soap and water.
Application
In terms of usage, wooden and metal pizza peels have advantages and disadvantages. Because the wooden peel has a better grip, you can use it without the pizza screen.
Furthermore, the wood pizza peel absorbs moisture, making it easier to slide the dough off than the metal pizza peel (2). You won't have to worry about accidentally ruining your pizza's toppings and bottom.
Contrary, the metal pizza peel has better heat conductivity and heat resistance than a wooden one. Moreover, as the carrying surface of a metal pizza peel is thinner than a wood pizza peel, it will be easier and faster to remove the pizza.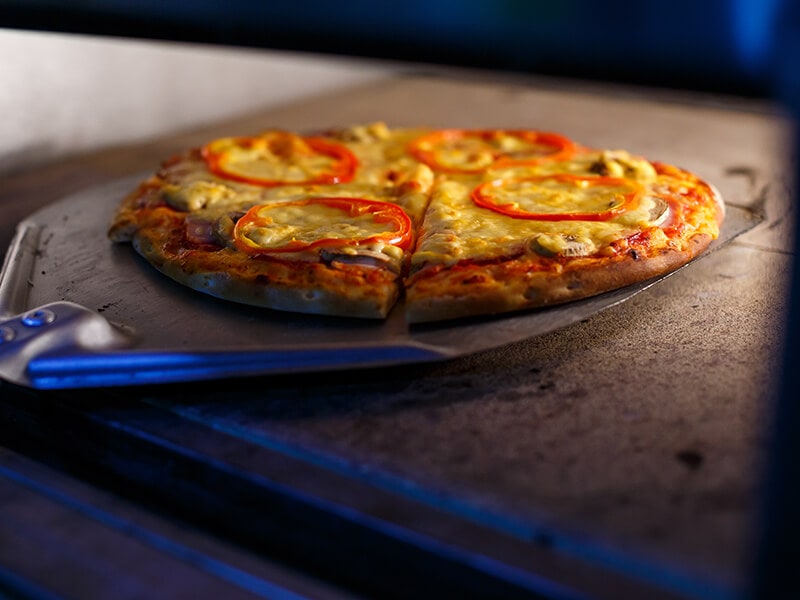 Safety And Price
In terms of safety, the wood peel is a superior option. It won't react with food, like metal, so the wooden peel doesn't pose any risk. When it comes to metal peel, such as aluminum, it is likely to leak toxins over an extended period.
However, the wood pizza peel is much more expensive than the metal pizza peel. If you are on a budget, you may consider a metal peel rather than a wooden one.
Which Is Better For You?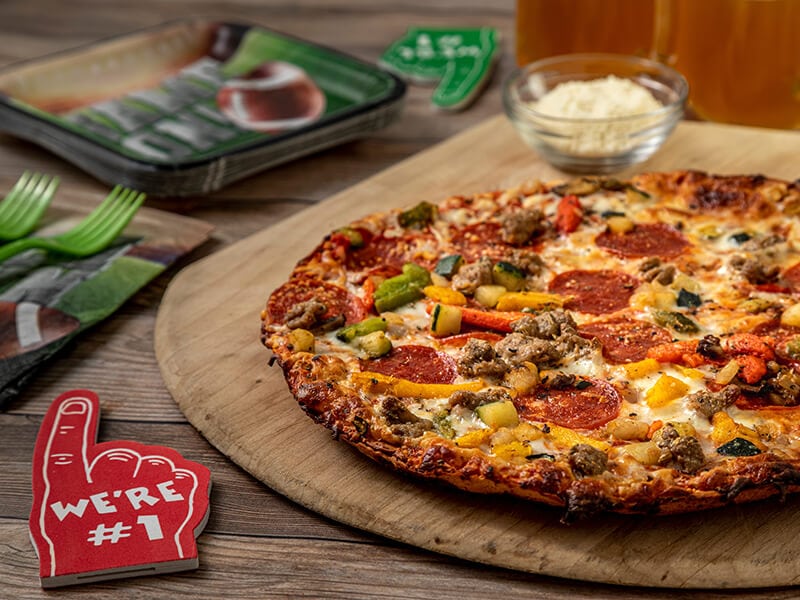 The choice will change depending on how often you use it. If you need to use the pizza peel a lot, I suggest you get a metal peel instead of wood for its long shelf-life and easy cleaning.
Usually, the wooden peel doesn't stick with the pizzas, so it's easy to put on the pizza stone. You may use a metal peel to get the pizza out of the oven. It has a thinner surface and can slide under the pizza more easily.
Also, using a wooden pizza peel helps preserve the authentic pizza flavor and can slightly enhance the taste. In contrast to the wooden peel, metal pizza peel does not affect the pizza flavor.
You may also choose an oven-friendly pizza peel with a suitable handle. Commercial ovens are a lot bigger than ovens people use at home. So the handle must be long enough to reach the oven's innermost corner.
Wood vs. metal pizza peel – Which is the most superior peel?
How To Choose A Perfect Pizza Peel For You?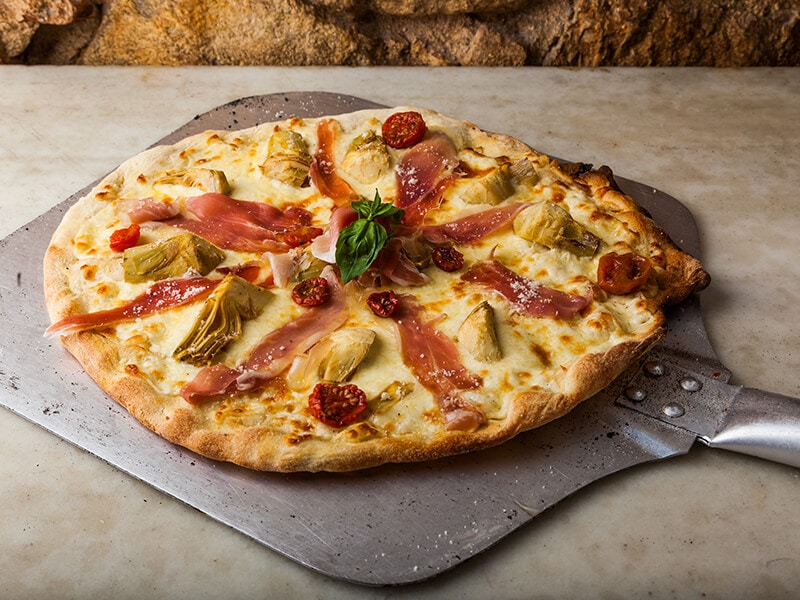 There are numerous designs of pizza peels available on the market to pick. Depending on the requirements, you may select the best pizza peel.
First, determine the shape of the peel. If you are buying for a professional restaurant, you should choose a round shape. This design makes it much easier to turn pizzas in the oven. Therefore the circular peel will operate regardless of the angle of the oven.
A square peel is the best option for personal use. You can work easier when putting the pizza in the home oven with a square pizza peel.
However, the criteria above are just preferences. The best way to select the pizza peel is based on the pizza stone. The pizza peel works best when it has a compatible shape with the pizza stone.
The handle is also essential. You may look for a peel with a 4 to 5-inch handle. This length allows you to work safely with the oven without getting burnt.
Also, you may purchase a pizza peel with a perforated carrying surface. The surface assists in removing excess flour, preventing the oven from scorching your pizza. Nevertheless, this type will be more costly than a solid carrying surface.
Learn how you can simply put together a homemade pizza peel with simple components!
How To Use Pizza Peel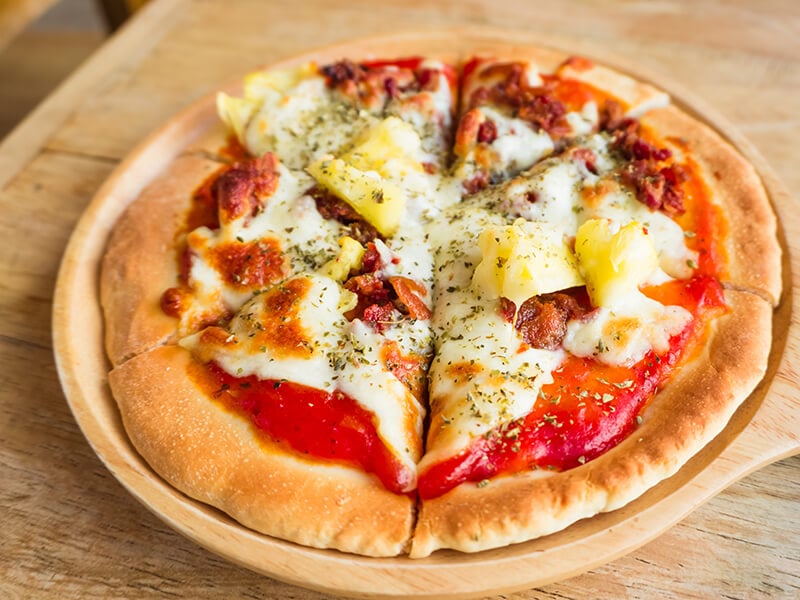 The most important thing you should know is to use the pizza peel properly. Even though you have a good pizza peel, it can still lead to unexpected results if you don't know how to utilize it.
When you finalize shaping the pizza dough, gently pull it across the countertop to check its consistency. If the dough is sticky, you have not evenly covered the pizza. Your pizza dough is ready when it slides across the countertop without resistance.
Before you place the dough on the pizza peel, coat the peel with semolina flour. As your pizza peel is thick, you can slightly raise the dough and then put it on the peel. A metal pizza peel can help you easily slide the pizza over the carrying surface.
Now is the most crucial step in the process. Pull the oven rack out, enabling the pizza peel to reach the stone. With both hands, hold the pizza peel at a slight downward angle.
Insert the peel in the oven and gently shake it so the furthest edge of the dough touches the innermost edge of the pizza stone. Pull the pizza peel gently towards you. You have succeeded when the pizza has settled on the pizza stone.
Do sticking pizzas bother you? Then you can't skip these instructions.
How To Clean And Maintain Your Pizza Peel
To use a pizza peel for a long time, you need to know how to store and clean it properly. Cleaning helps your utensils last longer and keeps harmful bacteria from entering your food through the cookware.
Step 1: Remove Excessive Food
Before washing the pizza peel, remove any food debris that has accumulated on it. Scrape it off gently, be careful not to leave a scratch on the peel. Soak it in warm, clean water for about 15 minutes. It will allow you to remove stubborn stains later.
Step 2: Wash The Peel
Next, use mild soap and warm water to clean the peels. Avoid steel brush since it will scratch your pizza peels and degrade them.
It's best to avoid using abrasive detergent so it won't corrode your peel. In reality, vinegar liquid is the most excellent choice to clean the pizza peel rather than detergent.
Step 3: Dry The Peel
After washing, you should dry it with a clean towel. You do not need to dry the metal pizza peel thoroughly. When you notice rust spots, use salt or baking soda to remove them. Generally, drying peel is especially crucial for wooden peel because it can absorb moisture.
You can use a dryer to dry a wooden pizza peel. Typically, wood is more vulnerable to moisture than metal; it is easy for bacteria and mold to grow, putting you at risk of food poisoning.
Step 4: Store It
You can use mineral oil to protect the wood peel. Mineral oil is a barrier between the peel and bacteria, extending its shelf life. You may apply mineral oil evenly across the entire surface of the wooden peel. Allow it to dry for a few minutes before wiping any excess oil.
Finally, hang the pizza peel in a cool, dry place at all times. You can hang it somewhere that gets plenty of sunlight to keep bacteria at bay. Avoid leaving it near a direct heat source, such as a stove or fire; the pizza peel will catch fire and cause damage.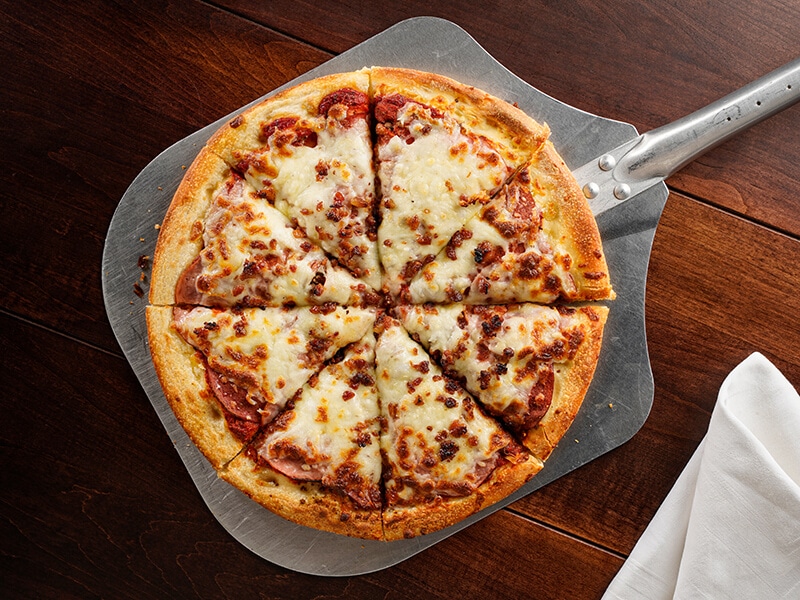 The Top Brands Of A Pizza Peel
You can easily find plenty of reviews of pizza peels from different websites. However, it would be difficult for you to research all these products carefully.
For that reason, I have created a list of the top pizza peels of various brands, including wood and metal.
Honey Can Do, founded in 2008, has delivered thousands of orders to customers all over the world. Give the 12 x 14-Inch Foldable Pizza Peel of Honey Can Do to start handling your pizza with ease.
It is a popular product among pizza bakers since this pizza peel offers exceptional heat, conductivity, and a high-grade aluminum composition. It is the best option for making tasty pizzas.
Ooni is a professional business providing a lot of pizza-making instruments. 12" Perforated Pizza Peel from Ooni brand is an outstanding product from this excellent brand. The perforated carrying surface will help you release excessive pizza flour during baking.
With more than 20 years of experience, Ironwood Gourmet is an ideal brand for pizza-baking appliances. Napoli Pizza Peel From Acacia Wood of Ironwood Gourmet is the best saving for the wooden pizza peel.
This peel is made from acacia, an antibacterial and durable type of wood.
Epicurean has produced many excellent utensils and kitchenware since 2003. Therefore, you can believe in their products' qualities.
21-Inch By 14-Inch Pizza Peel of Epicurean is a wonderful choice from this brand. This pizza peel provides enough space for your pizzas. You can bake two pizzas at once.
FAQs
Beside the necessary information about pizza peels, I also have some extra things which may be useful for you. Do you want to take a look at it?
Which Pizza Peel Is Your Favorite?
A pizza peel is a wonderful appliance for perfect baked pizzas. Do you know how to choose the ideal pizza peel now? I believe this post covers the most necessary information about pizza peels.
However, if you have any questions about the pizza peel, you can leave your thoughts in the comment section below. I hope this article helps you. Why don't you share and like this post? It will be the most valuable support for me.
Reference
Peel (tool) (2022) Wikipedia. Wikimedia Foundation.
Sassmann, B. (2019) Why does dried wood absorb moisture?, Hardwood Distributors Association.