How to layer a pizza? Have you ever questioned yourself before? This type of fast food is not hard to make, but it's not easy either. Every year, Americans alone eat more than 3 billion pizzas (1), but not all of them know how to create homemade pizzas.
Do you want to stay ahead of the crowd and make your own pizzas? Perfect! But first, there are many things you should learn to cook successfully, such as layering a pizza masterfully. There are a lot of ways to top a pizza, but which will suit you?
Do you know what kind of toppings you can put on the pizza? Which kinds of cheese will taste good when paired with your toppings? Do you need to cook the toppings first? In this post, I will answer these questions and show you how to make a perfect pizza.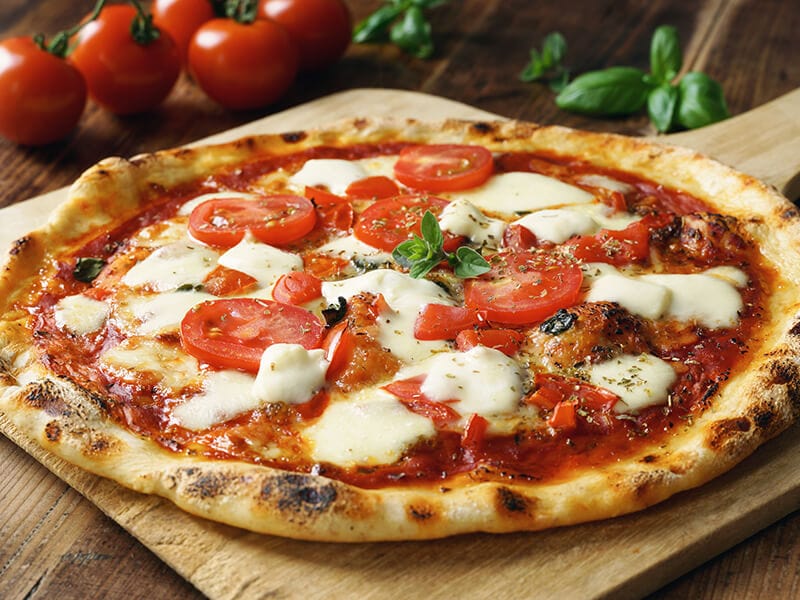 Why Is Layering Pizzas In A Proper Order Necessary?
Each pizza ingredient has a variable moisture content and requires a different cooking time. Obviously, raw toppings need more time to bake than cooked food. And you can't cook both soft and hard veggies in the same way.
In addition, the layers of the pizza can affect the cooking time: the closer to the top an ingredient is, the more heat it receives. Therefore, you must correctly organize them so that no components are unevenly cooked or raw.
Otherwise, you can end up with a soggy crust. For example, putting the cheese on top of the other components is a mistake: When the cheese melts, it captures all the moisture from the sauce and other toppings, making the pizza mushy.
The right layering order helps prevent that scenario and create a crispy crust, melting cheese as well as a nicely toasted top. Moreover, it ensures that all components get the appropriate heat level and enables the toppings to receive enough direct heat to crisp up.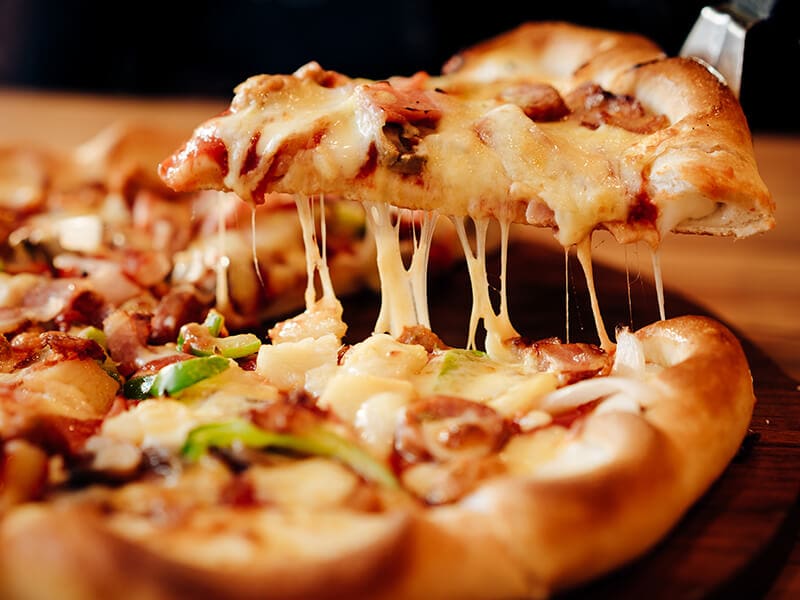 The Standard Way To Layer A Pizza
There are many styles of layering a pizza. However, I will show you the most effective and popular way to prepare your pizzas. Follow the instructions below to ensure you bake the pizza successfully.
Crust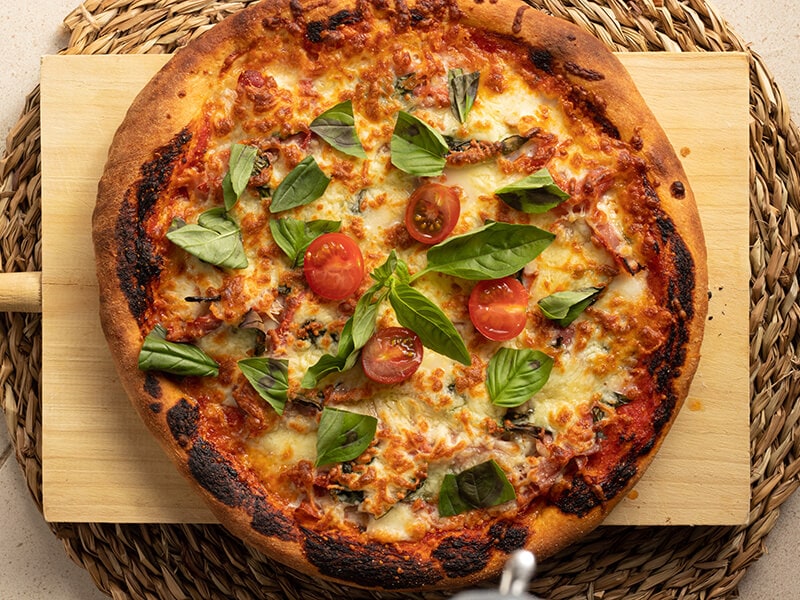 Pizza dough is an essential factor in making pizza. If you work well with the dough, your pizza will have a nice-texture crust.
Bread flour is an excellent choice for you. It has a higher gluten content than all-purpose flour, which leads to a crunchier crust when baked.
Also, if you waver between lean and rich dough, you may pick the first option. The lean dough is made with no oil or fat. It has a more elastic and chewy texture when cooked than rich dough.
Besides, it is important to let the dough come to room temperature before working with it. You will face more difficulty stretching the cold dough.
Sauce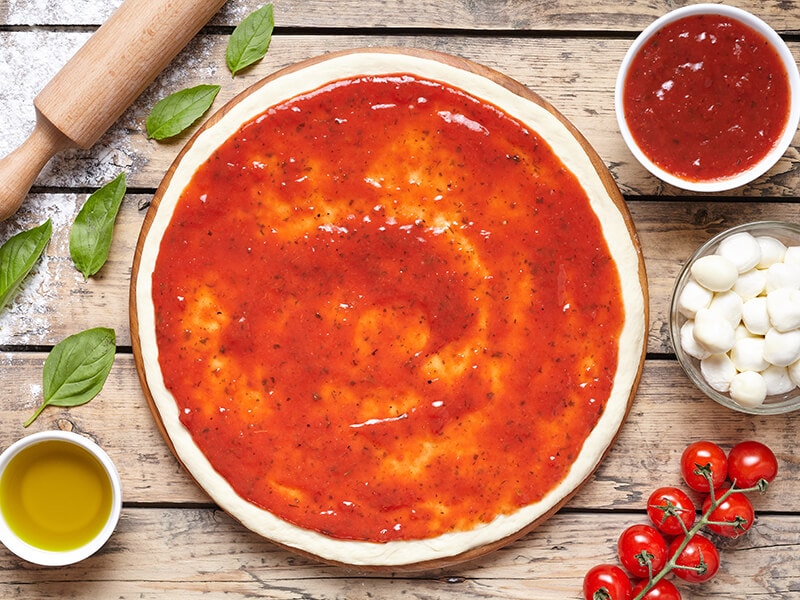 The sauce adds moisture and flavor to the pizza dough, so people tend to add it to the dough first. Most types of pizzas come with red tomato-based sauces. Those with a thinner crust require less sauce and vice versa.
Pour the appropriate amount of pizza sauce into the middle of the pizza and evenly spread it in a spiral motion, ending just in front of the edge. If the sauce is overly thick, you will have some difficulty spreading it over the pizza dough.
However, the dough can absorb and retain moisture, so putting too much sauce directly on the base will result in overmoisture and may collapse the dough. To avoid it, you can add a little cheese to the dough first to keep the moisture from penetrating the crust.
Cheese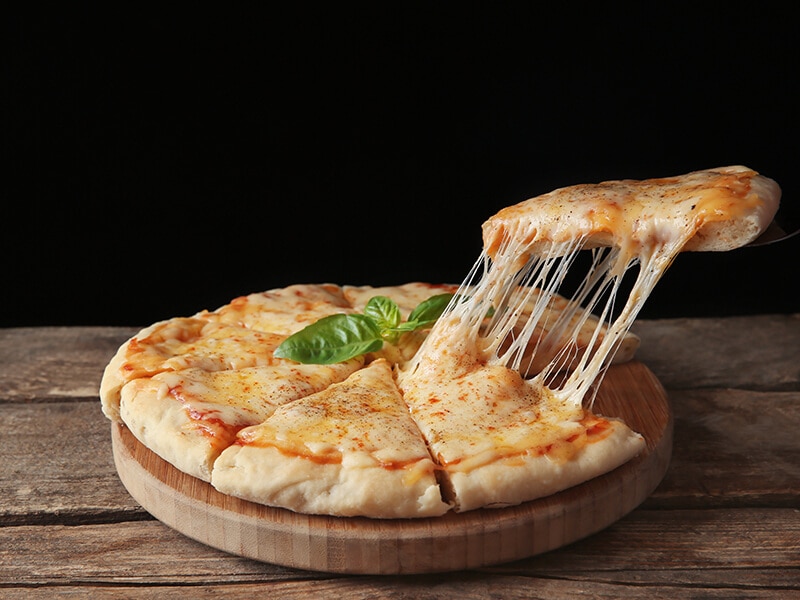 Without cheese, pizza is incomplete! It gives each mouthful a wonderful, creamy texture and provides a melty, greasy coating that complements the other toppings.
Cheese offers a savory, salty taste that helps to offset the tomato sauce's sweetness. Therefore, it is a good idea to add this ingredient after the sauce. In addition, doing so moved the cheese closer to the heat source, toasting it properly and improving its taste.
You may limit the cheese you add to your pizza since too much cheese may result in a soggy crust. For the best results, use low-moisture cheese.
If you wish to use several kinds of cheese, place the high-moisture one on top so that its water won't get trapped in the crust.
Toppings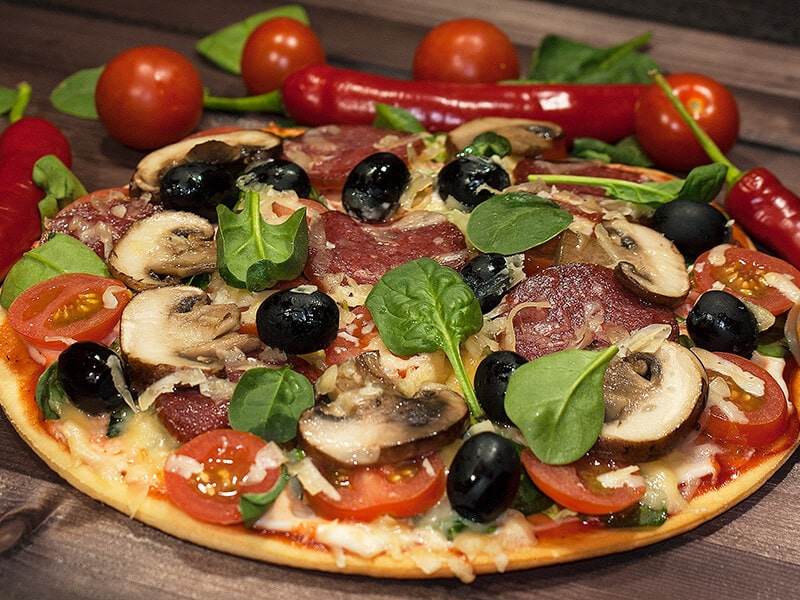 When spreading toppings on your pizza, you should begin with the thinnest slices of meat, such as salami, before moving on to larger pieces of meat and vegetables.
Put the pizza in the oven and top it with your favorite toppings, such as prosciutto or fresh fruit. Allow enough room between toppings to ensure that the cheese and sauce acquire adequate heat.
Remember that too many toppings might result in a mushy, watery pizza, so you should not overboard it. In addition, by placing the toppings on the pizza last, you can see what is on it and make it seem tasty.
Do you want to bake the most delicious pizza ever? You need to save this recipe!
Pro Tips For Layering Pizza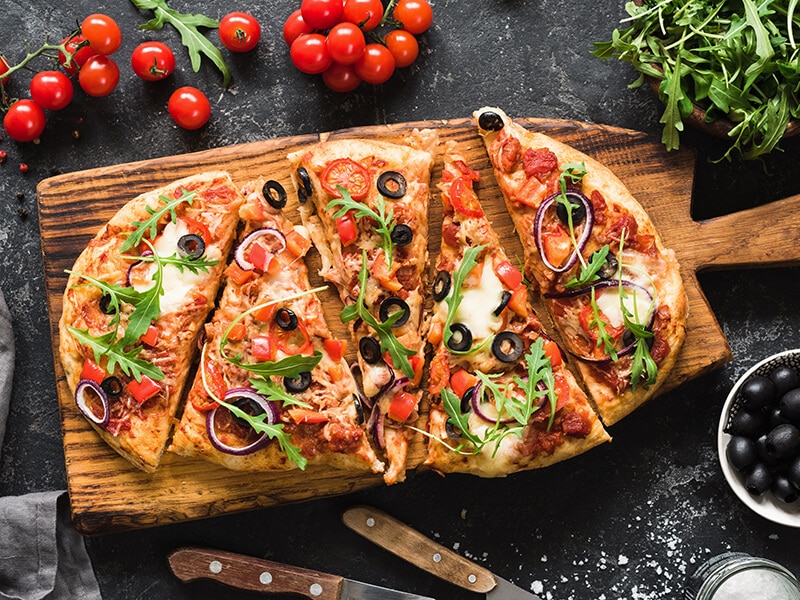 Layering pizza is not a challenging task. Everyone can do it with the minimum effort. Even so, some people still fail to bake delightful pizzas as they expected. There are several things to notice; you can follow the tips below to learn more about them.
Squeeze the mozzarella well to eliminate extra moisture.
If you are bored with pizzas made of gluten-rich flour, you can try some new things. Pizza crust may also be made with chopped cauliflower or zucchini blended with cheese and eggs.
You can also use stale bread to create pizza by softening it with water.
To add potatoes, boil them first, then cut them into half-inch slices or cubes before adding them to the pizza.
Instead of rolling the pizza dough to form its shape, you may want to stretch it. Stretching the dough will enhance the gluten of the flour and make your crust crispier in the oven.
If you are a fan of sweet foods, you can make a sweet pizza for yourself. You may use hazelnut cream, jam, custard, apple cream, or fresh fruits to bake a unique-sweet pizza.
You can pre-cook the toppings first to reduce the baking time.
You cannot miss these helpful tips: write them down if you want to be good at topping a pizza!
Can You Put Cheese On The Pizza First?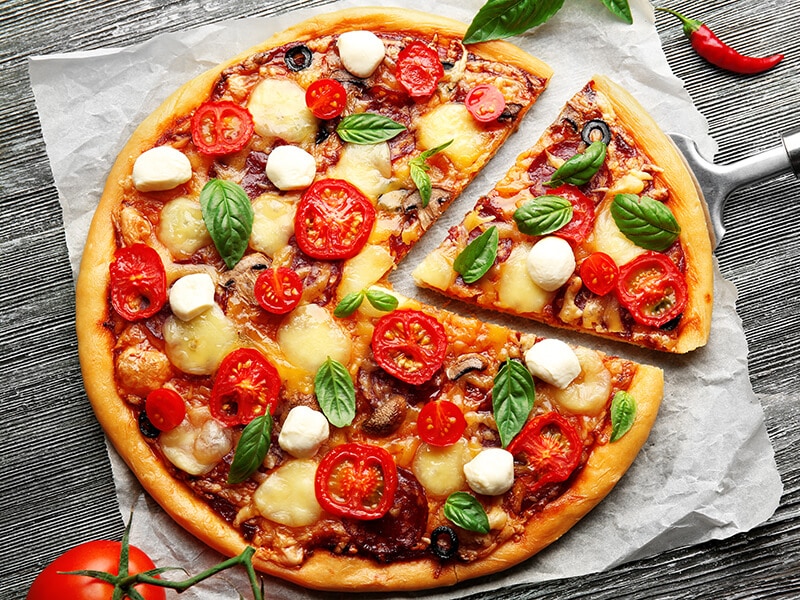 Putting sauces on the pizza first is the safe choice for baking delicious pizzas. However, it's not the only option for you. Assuming you have an intense passion for cheese, you can apply it first.
The Sicilian pizza style places the cheese on the pizza dough before adding the sauce. This recipe is popular in Chicago, New York, and many other cities around the country.
Like I said above, the cheese acts as a barrier between the crust and the wet topping, such as mushrooms or spinach. It prevents water logging before the pizza is completely baked. This procedure is significantly helpful for thin-crusted and deep-dish pizzas.
Also, cheese enhances the taste of other foods, such as meat and veggies. It adds more flavor to your pizza, making it even more delicious. After adding the cheese, you can apply the sauce next and the other toppings last.
Remember These Things Before Adding Vegetable Toppings To Pizzas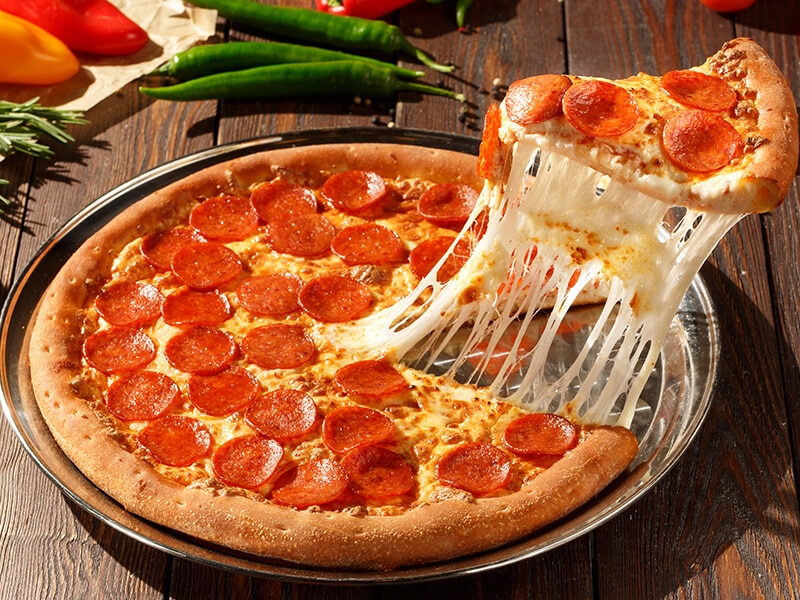 Adding veggies to pizza may be a disaster if not done correctly. These types of toppings often have high moisture content. Cooking pizza at high heat will make their water seep out.
That moisture will leech back into the pizza crust, resulting in a soggy base and preventing them from being baked thoroughly. If you make thin-crust pizzas like that, it will be worse.
To avoid that scenario, you can pre-cook soft vegetables such as mushrooms, eggplants, or artichokes. You can grill or roast them to help all the excess moisture escape. With mushrooms, you can sauté or microwave them for a few minutes.
With canned veggies like carrots or black olives, drain the liquid first (2). Thinly sliced mushrooms and onions can also dry out rapidly when cooked over high heat, so arrange them underneath the cheese.
Hard veggies, such as broccoli or cauliflower, have less water content than soft ones. Therefore, they are more likely to be burned and overcooked. To deal with that, you can cut them into small pieces and soften them through steaming or blanching first.
Best Pizza Varieties And Their Popular Topping Combos
There are many ways to prepare your pizzas. You can choose the Chicago-style or opt for the New York style. Different styles of pizza will require various topping combinations.
Chicago-Style Pizzas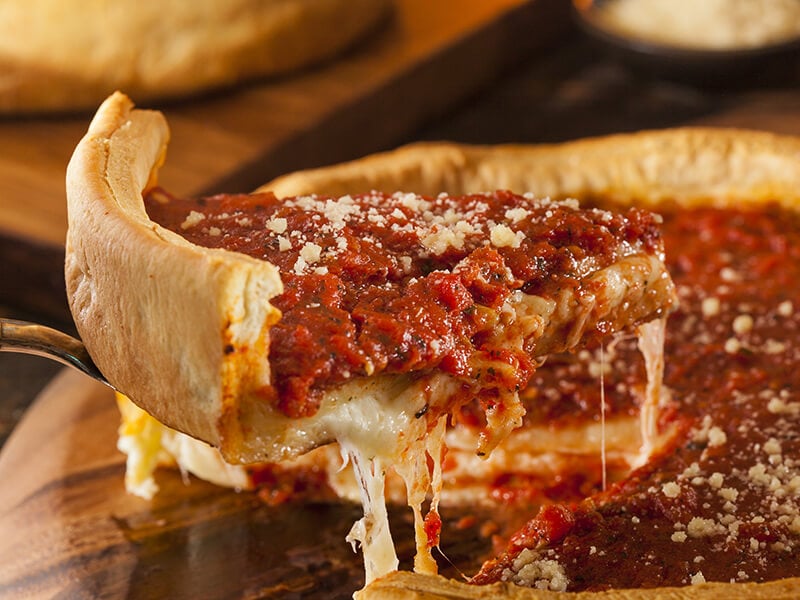 A thick crust with a heavy topping of cheese, veggies, and meats defines Chicago-style pizza. In addition, the interesting layering order also makes this deep dish type of pizza stand out from the rest.
Put a layer of cheese over the crust to begin, then top with your favorite toppings. Arrange the toppings so that they bake evenly. Finally, spread a generous amount of tomato sauce before baking the pizza. This upside-down approach helps cook the pizza to perfection.
New York-Style Pizzas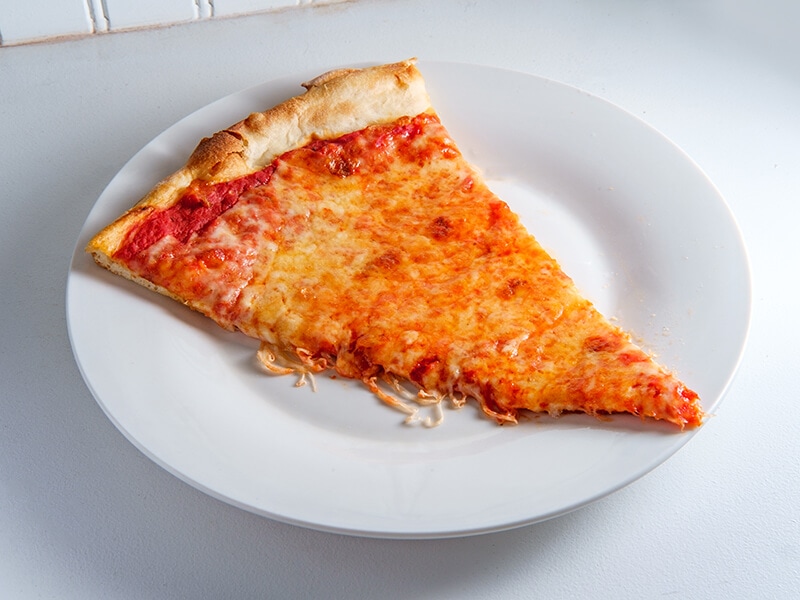 Making New York-style pizza is an art form. The trick to making this beautiful pizza is to layer it properly. A New York-style pizza is usually hand-tossed and served in wide slices.
New York-style pizza often has a thin crust, so you should begin by slathering the pizza dough with a thin coating of full-flavored tomato sauce. Then, on top of the sauce, put shredded mozzarella cheese.
After that, top with your preferred toppings like olives, pepperoni, onions, or mushrooms. Finish with a sprinkling of grated parmesan cheese.
Chicago pizza vs. New York pizza, which one is better? Find out here!
BBQ Chicken Pizzas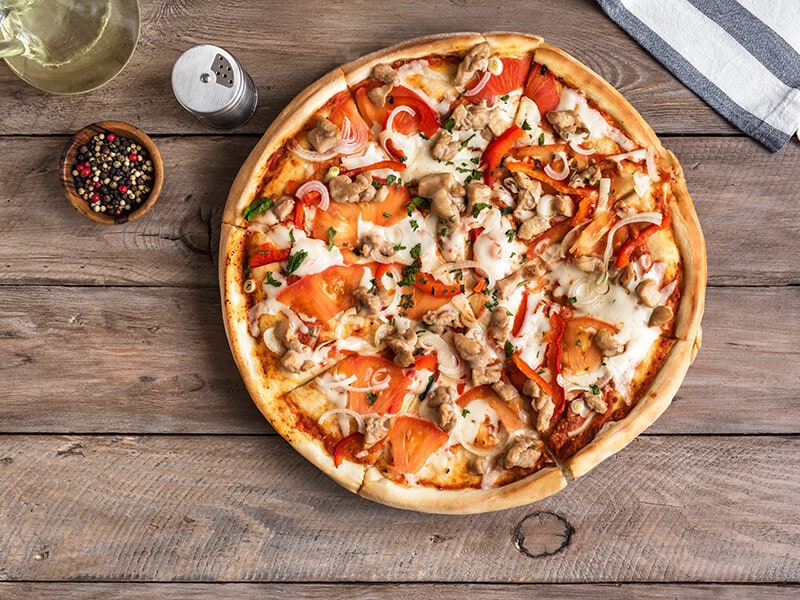 Layering a BBQ chicken pizza is a quick and easy way to enjoy a traditional taste combo. To begin, preheat your oven to 425°F.
Cover the dough with your favorite barbecue sauce. Top with grilled bacon, chicken, jalapenos, gorgonzola cheese, and red onions before applying a thick layer of mozzarella cheese. Bake for 10 to 15 minutes or until the cheese has melted.
Margherita Pizzas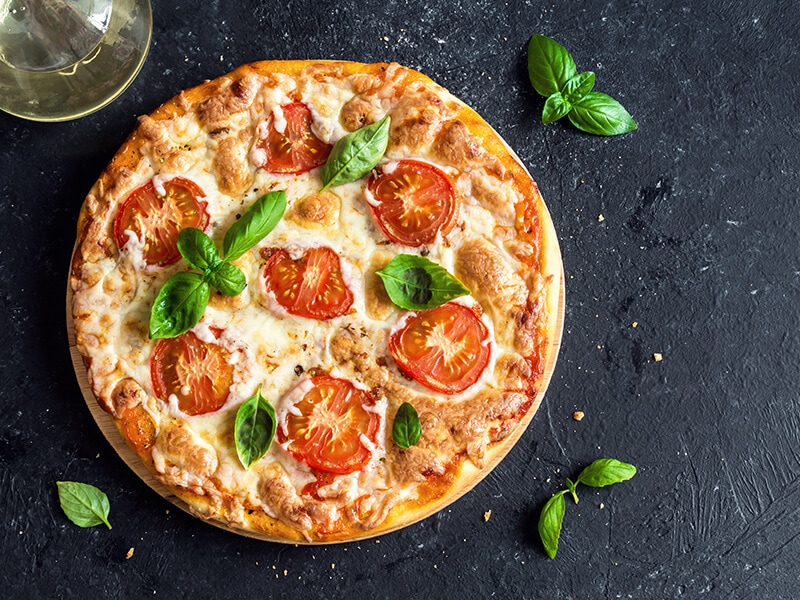 Topping a Margherita pizza is an easy method to enjoy a classic Italian meal. Begin by sprinkling a liberal quantity of tomato sauce evenly over the pizza crust.
Then, top with a thin layer of mozzarella cheese and fresh basil leaves. Lastly, add sliced tomatoes, parmesan cheese, and a drizzle of olive oil.
Supreme Pizzas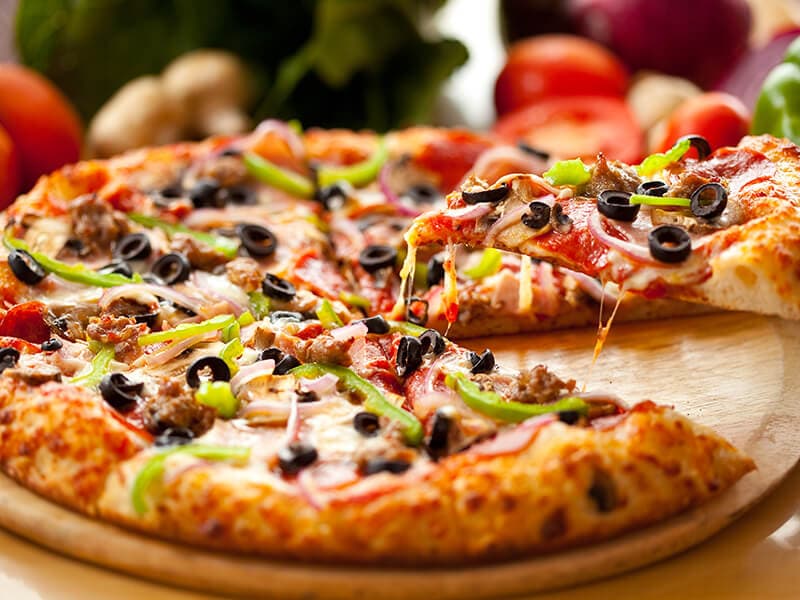 A supreme pizza contains both vegetables and meat toppings, which must come in numerous varieties. The word "supreme" implies that this pizza involves a large number of toppings that don't conform to any standard: you can add whatever you fancy!
You may begin by applying a layer of pizza sauce to the dough. Then top it with shredded mozzarella cheese, parmesan, chopped pepperoni, sliced mushrooms, and bell peppers (the standard choices) or anything else you like. Some herbs will be nice, too.
Pepperoni And Sausage Pizzas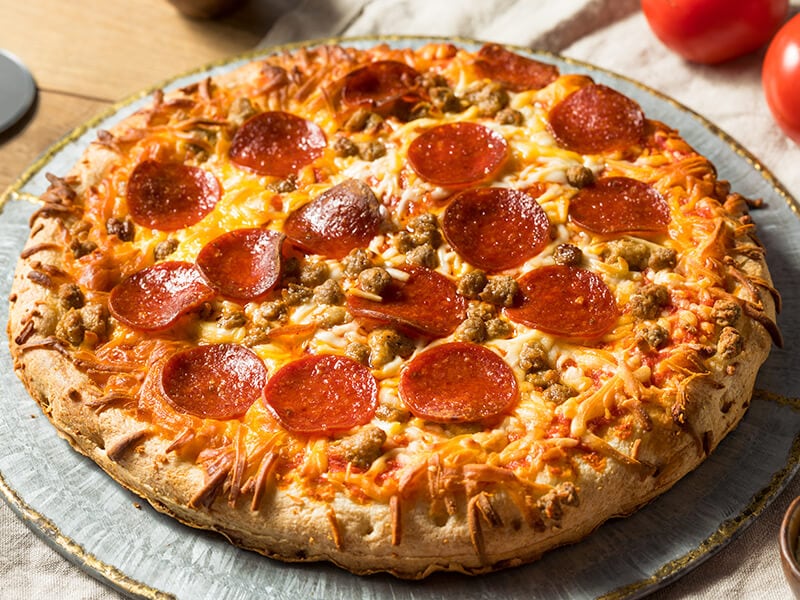 For many pizza fans, pepperoni and sausage pizzas are a traditional favorite. The mix of delicious pepperoni and spicy sausage is an unbeatable combination.
The pepperoni gives the pizza a smoky, salty taste, while the juicy sausage provides an amazing savoriness. Typically, many people tend to put them on top of the cheese layer. It allows them to get enough heat and release the deliciously fatty juice.
Topped with various veggies, a cheese combo, and homemade sauce, this culinary wonder is guaranteed to please any pizza lover. Its blend of tastes, textures, and colors makes it an excellent option for any pizza night.
Classic Veggie Pizzas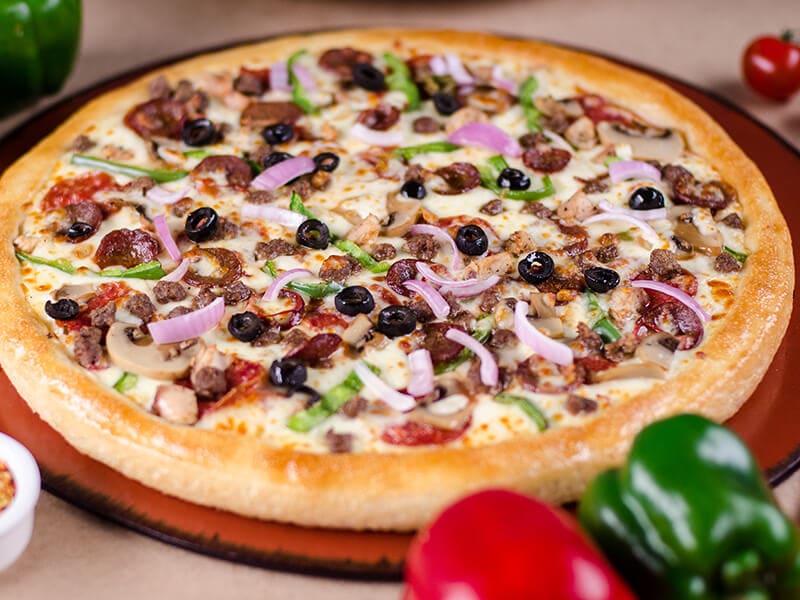 Following the same layering order as normal pizzas, the classic veggie pizza is an excellent choice for vegetarians. The blend of veggies, cheese, and spices creates a delightful taste profile that will not disappoint you.
Popular toppings include mushrooms, bell peppers, onions, and olives, but the options are limitless. This veggie-packed type of pizza is always a delight overflowing with health benefits.
Spinach Pizzas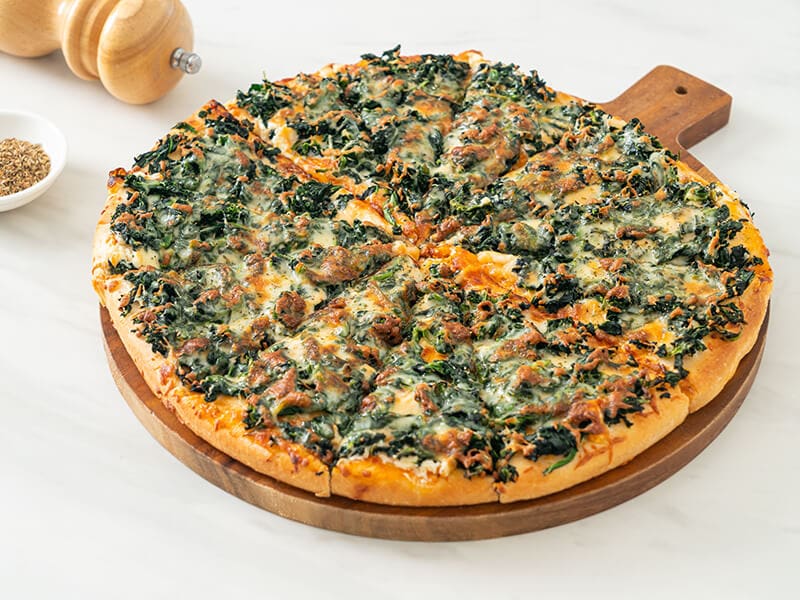 For pizza fans, spinach pizza is a tasty and helpful alternative. Thin-crust spinach pizza, made with fresh spinach and a range of additional toppings, such as artichoke hearts, olives, or mushrooms, is a pleasant way to eat your greens.
To bake this type of pizza, you should top the spinach and cheese on the pizza evenly. Arrange the spinach leaves at the center of your pizza at some distance from the edges. After that, you can bake for a few minutes or until the spinach wilts enough.
You may add some garlic and herbs for more taste, and you've got a great supper guaranteed to please everyone. Plus, spinach is high in minerals, such as magnesium, iron, and vitamin E, making it an excellent way to start the day.
Breakfast Pizzas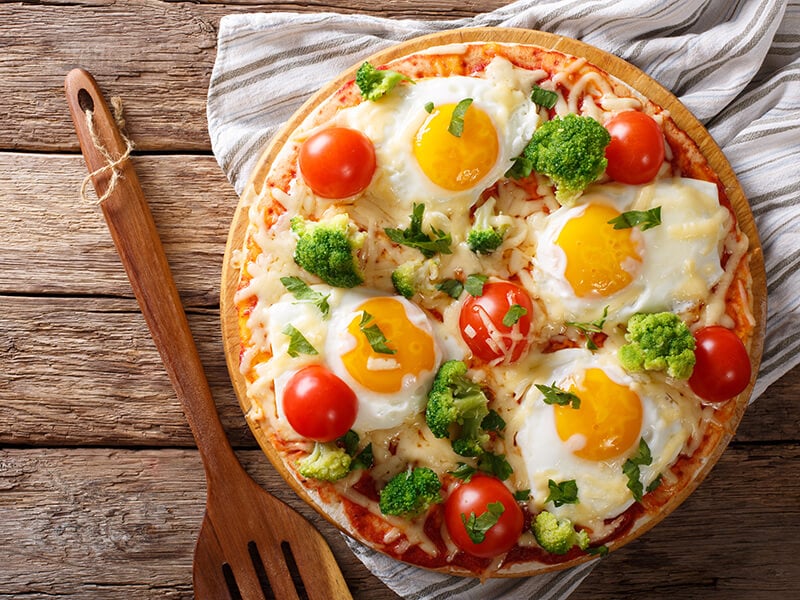 Breakfast pizzas are an excellent meal. They may be as basic or complicated as you desire, with a wide range of breakfast foods to satisfy everyone's appetite. Bacon, eggs, sausage, cheese, tomatoes, and mushrooms are popular breakfast pizza toppings.
You may also experiment with other ingredients, such as spinach, avocados, or black beans. Don't forget to add some fresh fruits for a delicious twist.
Do You Need To Pre-Cook Toppings?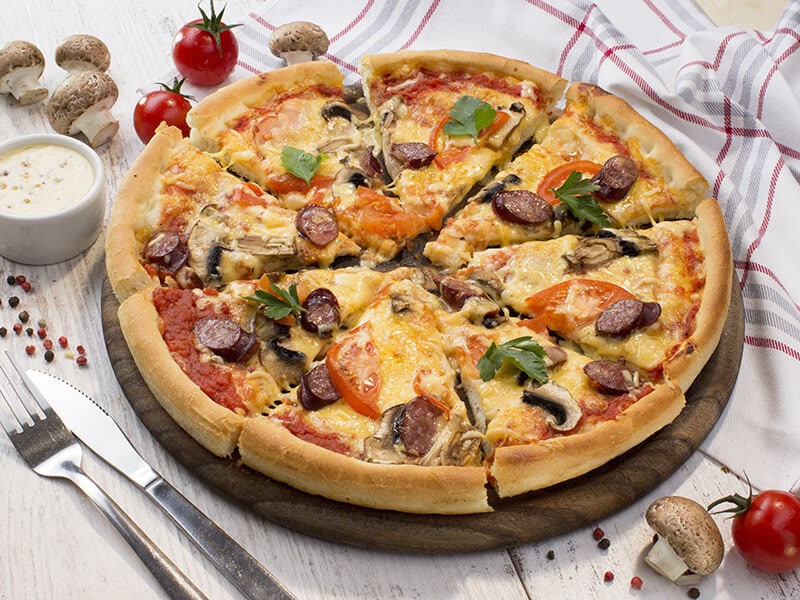 You need to prepare some ingredients before adding them to pizza to guarantee food safety. It is particularly crucial for pork and chicken, which takes longer to reach acceptable doneness.
The baking time in the oven may not be enough to cook them thoroughly, so you may pre-cook them before putting them on the pizza to ensure they're crispy and tasty.
You can cook the bacon first to remove some fat before adding it to your pizza. It will prevent the fat from accumulating in the oven and causing the pizza to get greasy. Meanwhile, lightly sauté your mushrooms and veggies to achieve a crispy pizza.
Pre-cooking vegetables also assist in removing some of the moisture they contain. It will make your pizza taste better rather than being soggy.
FAQs
To make a perfect pizza, you will need to practice a lot. Besides the necessary information above about how to layer pizza properly, you may also read these extra tips. Save these insightful answers to popular questions about pizzas!
Do You Think Layering Pizza Necessary?
Some people think layering pizza is a simple task. However, you can only bake the perfect pizza when you know the perfect way to arrange its layers. The job just takes you about 5 minutes, but it can keep your pizza away from going mushy and soggy.
I hope you like this post. If you find the information I provided interesting, don't forget to like and share it. Doing so means a lot of support to me. Also, feel free to leave any opinion in the comment section below. See you soon!
References
Bernstein, L. (2021) We eat 100 acres of pizza a day in the U.S., The Washington Post. WP Company.
Best Food Facts (2016) Should you rinse canned food?, Best Food Facts.