Have you ever wondered about the history of pizza? There is no doubt pizza is one of the most famous foods in the world. It appears in countless forms worldwide. No matter where you are from, there is always a type of pizza that suits your taste.
Being that universal, it's strange how people don't know much about the origin of pizza. Some say it may derive from China, while others claim its home country is Italy. It's hard to explain in just a few words.
But this article is here for a reason! So, if you want to enrich your knowledge about pizza, this is a great start!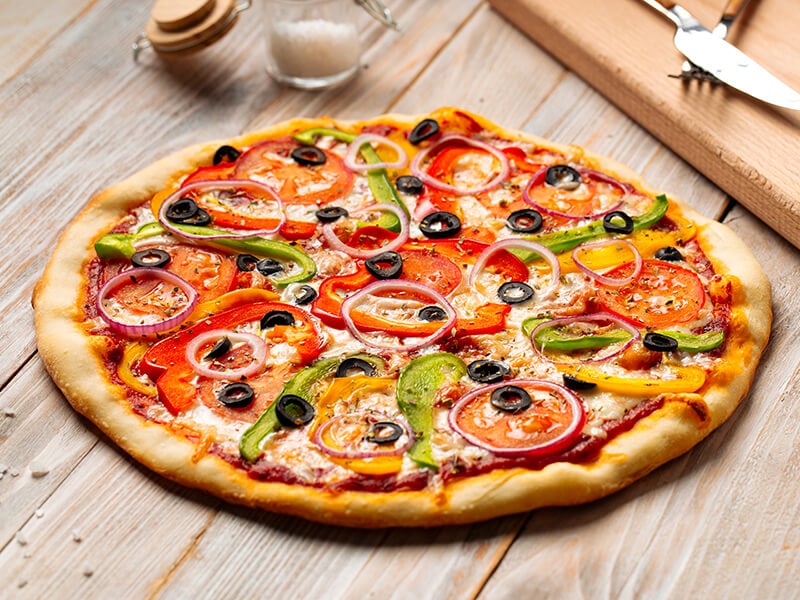 Where Does The Word Pizza Come From?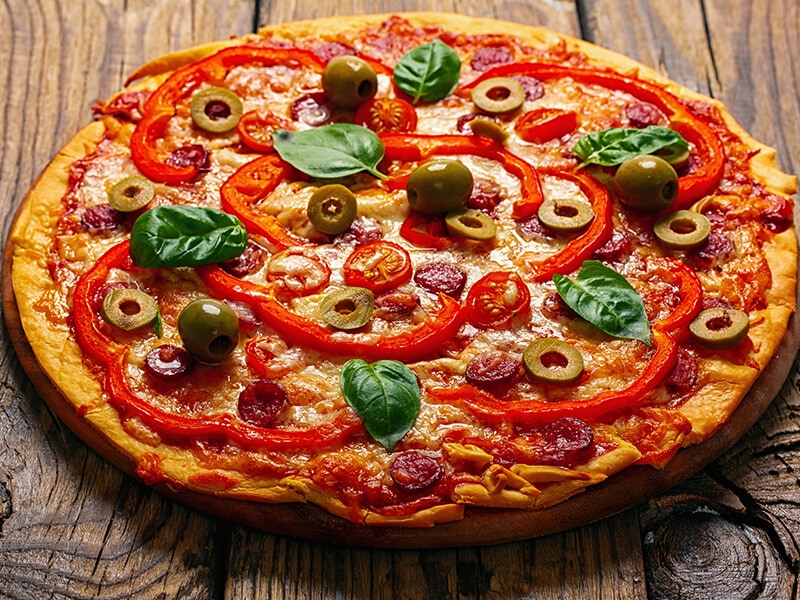 First, let's get to know the basic information about pizza. Pizza is a round, flat dough topped with tomatoes, cheese, and other savory foods, which is then baked at high temperatures.
The first printed preference for the word pizza is in a Latin manuscript in the 10th century (1). The document originates from Gaeta in Lazio, next to Campania in Italy. In 1598, pizza entered the Italian-English dictionary with the definition of a small cake or wafer.
The word pizza probably comes from the word "pitta" in Greek. The ancient people in Greece used this word to describe fermented pastry. In Latin, it turned into a homonym, "picta".
Meanwhile, some people link the root of pizza's name to the word "bizzo" in Langobardic (an extinct German language in northern Italy), which means mouthful.
Where and When Pizza Was First Made?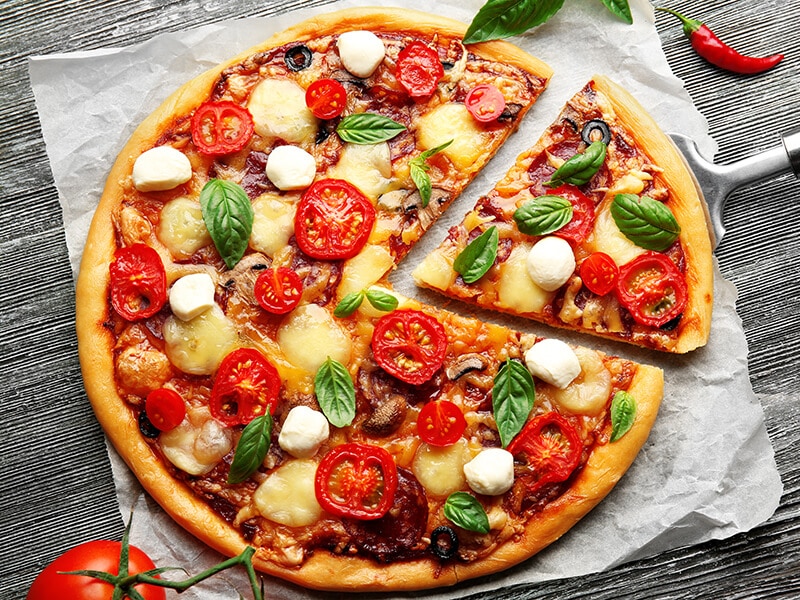 In the 6th century BC, Persian soldiers under the reign of Darius the King used their battle shields to bake flatbreads with cheese and dates on top.
The presence of flatbreads with various oils and herbs also appeared in ancient Egypt, Rome, and Greece. People baked the bread on a hot stone or in a mud oven with toppings on the flatbread's surface.
However, today's pizza originates from the third largest city in Italy – Naples, the capital of the Campania region.
Around 600 B.C., Naples was a Greek settlement. Centuries went by; it became a thriving waterfront city in 1700 and early 1800. Back then, the city was known as a home to lazzaroni – one of the poorest working classes of Neapolitans.
These people required a type of food that was fast and inexpensive. On the other hand, the bakers also needed to use up the excess dough of the day. Therefore, they decided to cook it in the mud oven and sell it to the poor.
Nonetheless, it was in 1738 that the first pizzeria appeared in Naples. Its name is Antica Pizzeria Port'Alba, and it remains open to this day.
Since 1930, pizza has moved northward following a group of Neapolitan migrants. In 1943-1944, when Allied soldiers invaded Italy, they were stunned by how good pizza was and asked for it wherever they went.
After the postwar period, when the cost of travel declined, pizza became widely known as an Italian dish among tourists.
The Birth of Pizza Margherita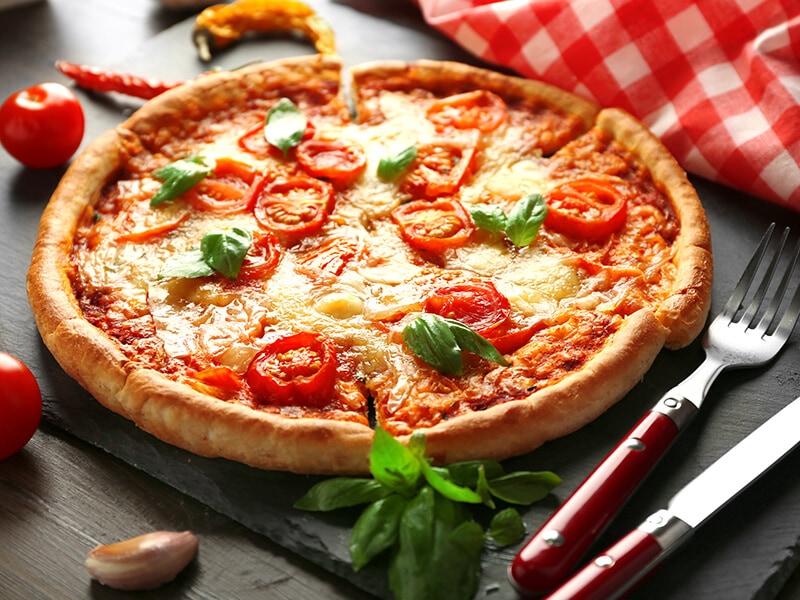 After the unification of Italy in 1889, King Umberto I and Queen Margherita visited Naples. Having tired of the French dishes, they summoned chef Raffaele Esposito to prepare some local specialties.
The chef then made 3 types of pizza: the first with lard, stretched-curd sheep's or cow's cheese, and basil; the second with whitebait (the juveniles of six species of fish); and the last with mozzarella, tomatoes, and basil.
Legend says that Pizzeria di Pietro was where the chef performed his mission. The Queen was delighted. Her favorite was the third one since it evoked the color of the Italian flag with the green from basil leaves, red from tomatoes, and white from mozzarella cheese.
Eventually, the pizza was named after the Queen's name and became the famous pizza type that the world knows today – pizza Margherita. Afterward, pizza was no longer a food for lazzaroni but a delicacy for the royal family.
Who knows, Margherita pizza can be this easy to make! Check out this recipe for better instructions.
Pizza's Journey To North America
Pizza's reputation has increased since it got a royal seal of approval. A few years later, it made its entrance into North America.
Pizza In America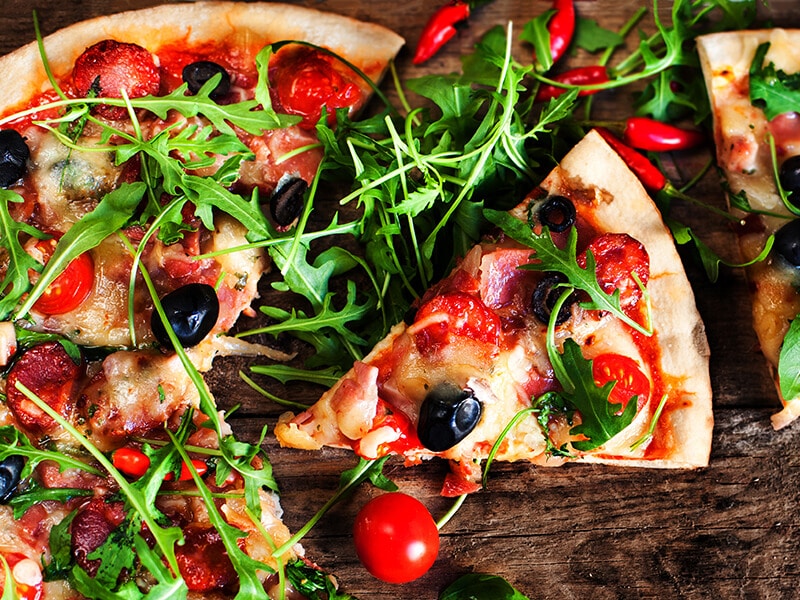 Pizza traveled to America in the late 19th century through Italian immigrants (2). In 1903, Giovanni and Gennero Bruno introduced the Naples version of pizza to Boston.
In 1905, the first licensed pizzeria named Lombardi's appeared in New York City. Soon, America became a second home to pizza. Along with the growing pace of urbanization, many restaurants started to include pizza on their menu.
The bread also adapted to native palates, identities, and needs. Not long after the US entered the Second World War, Ike Sewell, and Ric Riccardo invented a new version called deep-dish pizza.
Simultaneously, in Colorado, Rocky Mountain Pie was established. It is not as deep as the one from Texas, but its crust is wider to serve with honey as a dessert.
Before the 40s of the 19th century, pizza mostly circulated among Italian immigrants and their descendants. However, as the popularity of pizza rose, pizza chains sprang up all around the country, and the preparation of pizza also varied.
Pizzerias started to offer take-and-bake and frozen pizzas. These days, you can find pizza in every corner of the United States. In fact, 13% of America's population consumes pizza daily.
Pizza In Canada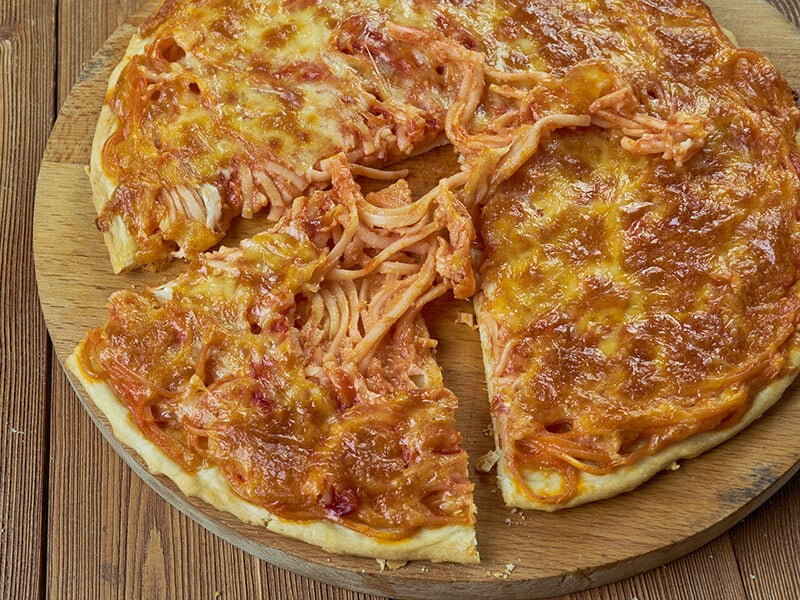 The first pizzeria in Canada opened in 1948 under the name Pizzeria Napoletana in Montreal (3). Pizza ovens also appeared in the country in the late 50s.
Canada has many pizza variations. The most common type is Canadian pizza featuring tomato sauce, pepperoni, mushrooms, bacon, and mozzarella. Among these ingredients, mushrooms and bacon make the pizza distinctly Canadian.
In the province of Quebec, there is a type of meal called Pizza-ghetti. It contains half of a pizza, spaghetti, and tomato-based sauce.
Although the first two components are famous foods in Italy, their combination creates the signature of the Canadian invention. Another variant of this pizza uses spaghetti as a topping and covers it with mozzarella cheese.
During the 1960s, pizza's popularity spread across the country. Many pizzerias started serving popular Italian dishes along with pizzas, such as salad, sandwiches, and pasta. Two of the most successful pizza brands are Boston Pizza and Pizza Pizza.
Founded in 1967, Pizza Pizza is one of the largest domestic brands in Ontario, with Pizza 73 as its subsidiary. Today, it has more than 500 locations across Canada.
Have you ever tried placing spaghetti on top of your pizza? If not, take a look at this tutorial and give it a try!
The Appearance of Many Pizza Varieties
From a basic flat dough with simple toppings, pizza now becomes an extremely versatile food with various worldwide varieties. With each country, pizza adapts itself to fit the tastes of people there.
Neapolitan Pizza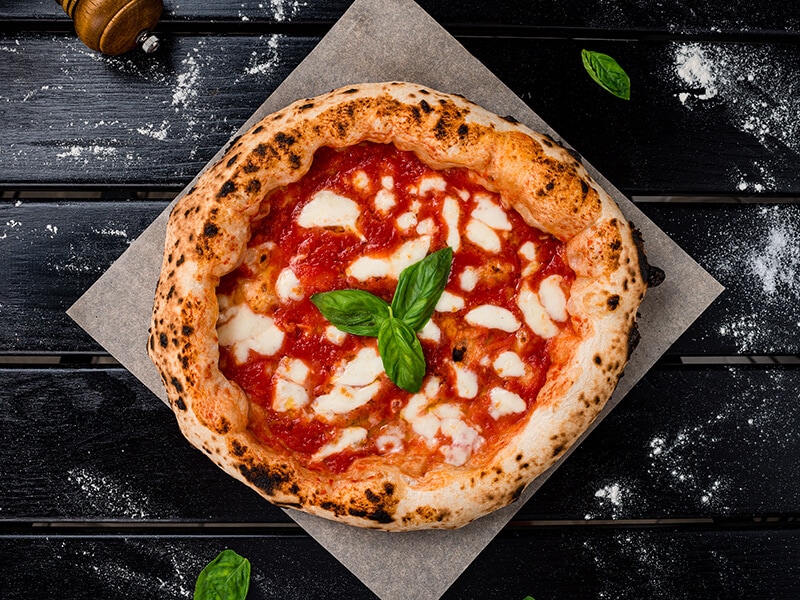 Neapolitan pizza must be one of the most well-known pizza types, not to mention it's the oldest. During the 18th century, this pizza was a common food for the poor class in Italy. After the recognition of queen Margherita, it became known to the world.
This pizza variant appears with a lot of sauce and very little cheese. While traditional Neapolitan pizza contains mozzarella and basil, its modern version is more versatile with the addition of various toppings.
Chicago Pizza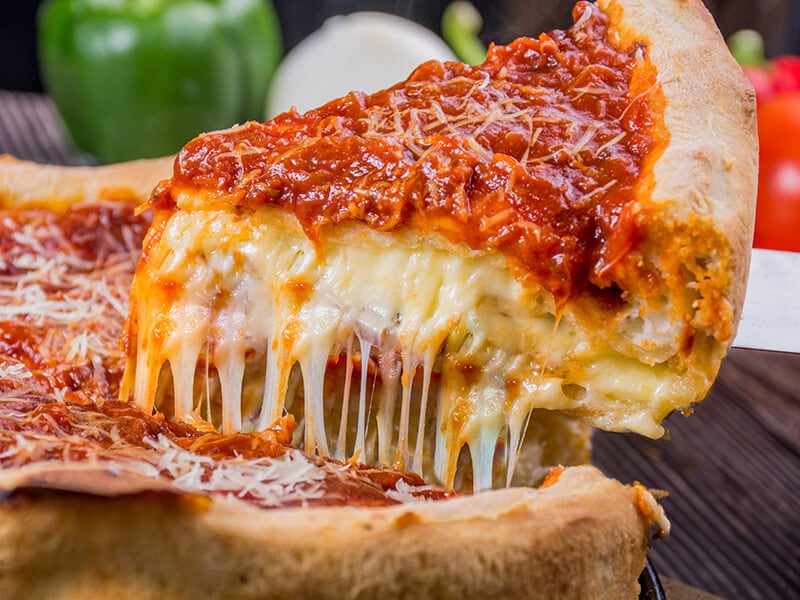 Chicago pizza is a deep-dish pizza with a much smaller size than Neapolitan pizza. It got its name from the place it was born in the early 1900s.
Chicago pizza comes in a thick crust with raised edges and a layer of cheese lining the dough. People often add toppings such as meat and vegetables to the pizza, followed by crushed tomato. You can also sprinkle some Parmesan cheese on top of the sauce.
New York-Style Pizza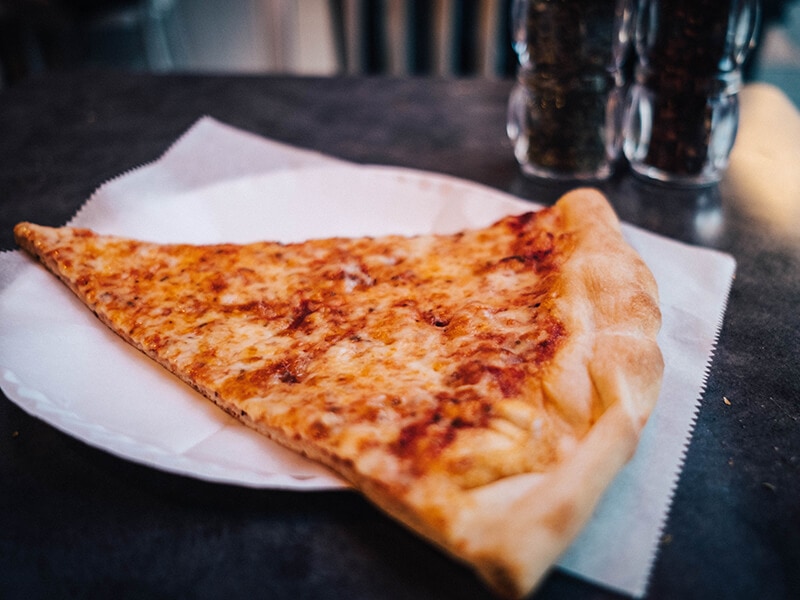 As its name suggests, this type is very common in New York. New York-style pizza has become popular since the beginning of the 1900s. It is usually made with a thin crust and served as a wide slice.
The majority of this pizza variety just contains cheese and tomato. In addition, people use dry and grated mozzarella instead of fresh cheese for these recipes.
BBQ Chicken Pizza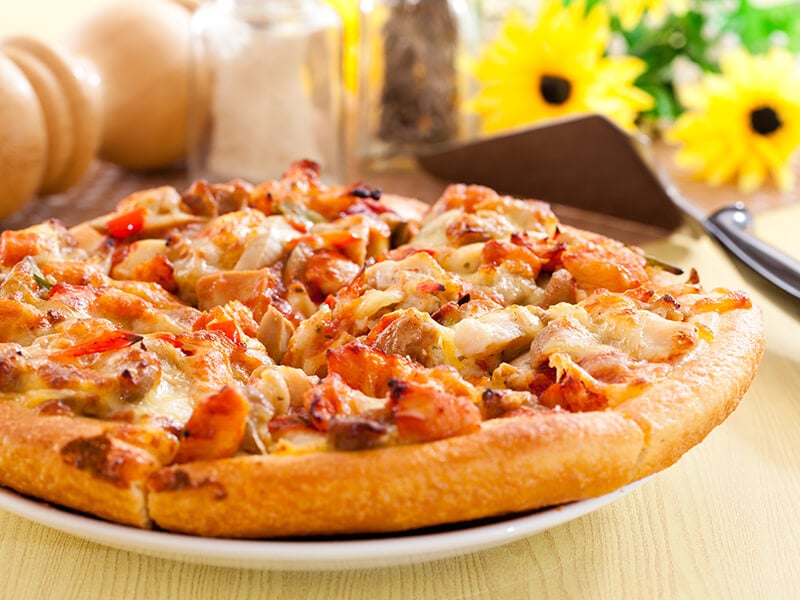 BBQ chicken pizza was the creation of chef Ed LaDou for California Pizza Kitchen in 1985. It was one of the first items of this pizzeria. Initially, the pizza contained BBQ sauce, fontina cheese, shredded chicken, and vegetables such as onions and cilantro.
These days, many pizzerias feature BBQ chicken pizza but with an addition of new ingredients. While the pizza comes with various sauces and toppings, the main components remain the same.
California Pizza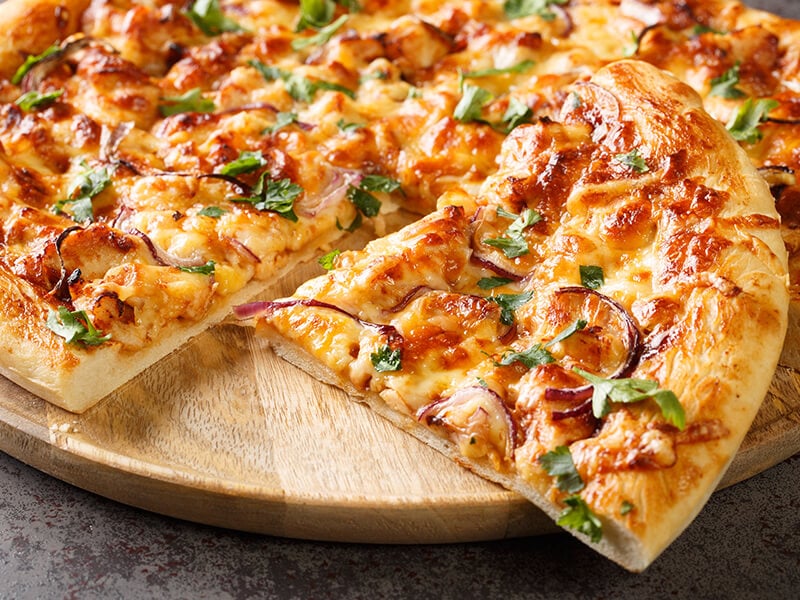 California pizza resembles the New York-style one with a thin crust and a thin base. It was another creation of chef Ed LaDou but in the late 1970s. He made a pizza with mustard, pate, ricotta cheese, and red pepper.
However, the modern version of this pizza typically contains toppings such as goat cheese, pepperoni, vegetable, bacon, and sometimes eggs. It also appears in one slice serving rather than a whole pizza.
Hawaiian Pizza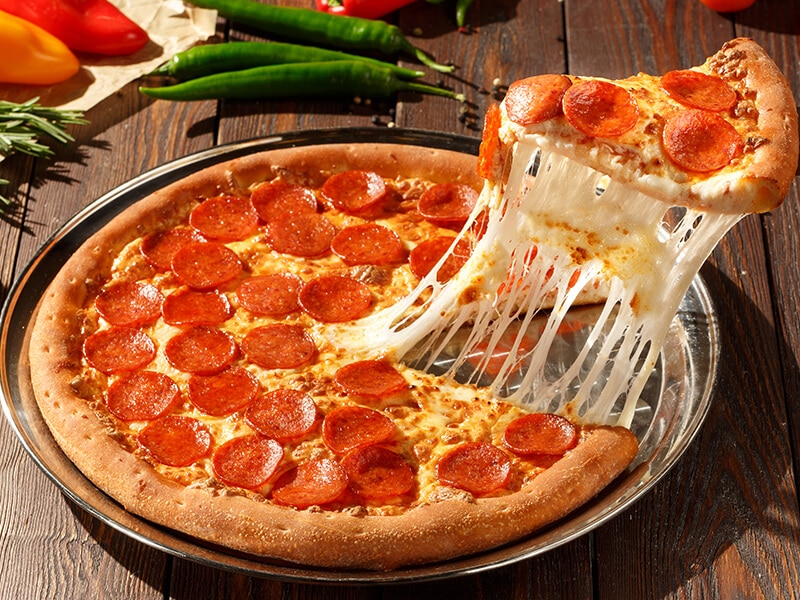 The derivation of Hawaiian pizza is not from Italy. And regardless of its name, it does not originate from Hawaii either. In 1959, Hawaii became an official state of America. As a result, canned pineapple and pineapple juice began to enter North America.
In 1962, a Greek immigrant in Canada came up with the idea of putting pineapple onto the pizza and called it "Hawaiian pizza". It perfectly balances sweet and savory flavors, consisting of toppings like pineapple, ham, sometimes bacon, and mushroom.
Making Hawaiian pizza isn't hard if you know this simple recipe!
Sicilian Pizza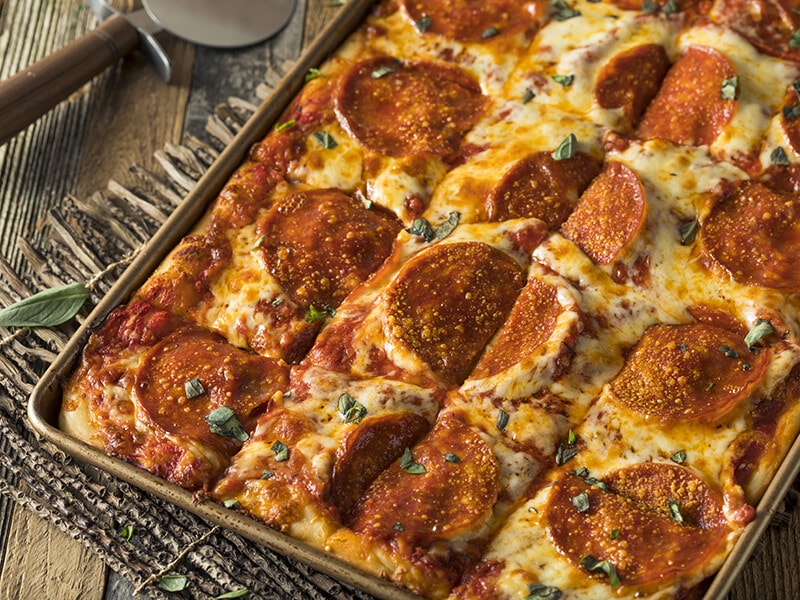 Sicilian pizza, or sfincione, originated from Sicily Island in Italy. In the 19th century, Sicilian immigrants brought it to America. After the Second World War, this pizza became renowned.
What makes Sicilian pizza different from other pizzas is its shape. Instead of having a round base, it appears in a rectangle with some common toppings like tomato, onion, herbs, and anchovies.
St. Louis Pizza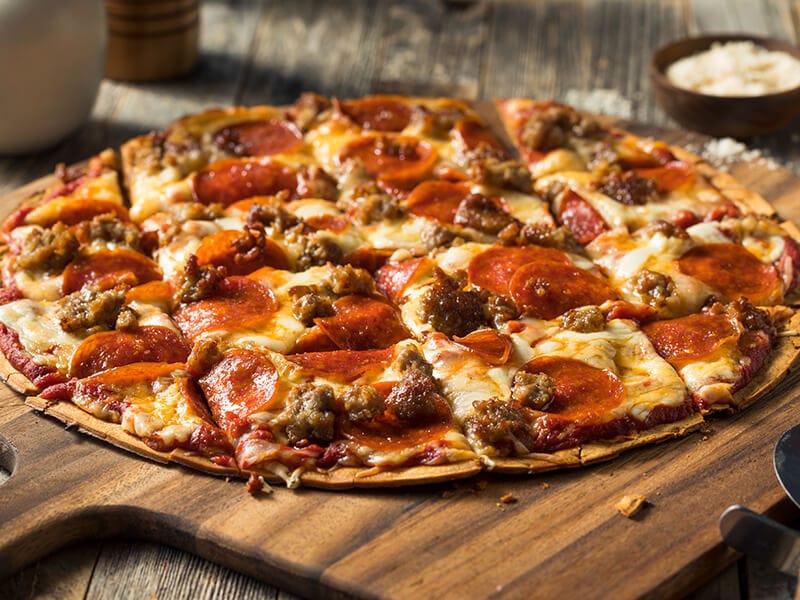 St. Louis pizza is a typical type of thin-crust pizza. It was made by the Italian community in St. Louis back in the 19th century and has gained a lot of love since then.
It has a crunchy texture due to containing no yeast like other pizzas. The cheese on top of the pizza is a combination of Swiss, cheddar, and provolone cheese. Like Sicilian pizza, the pizza is usually cut into rectangles with a size of 3 or 4 inches when served.
Greek Pizza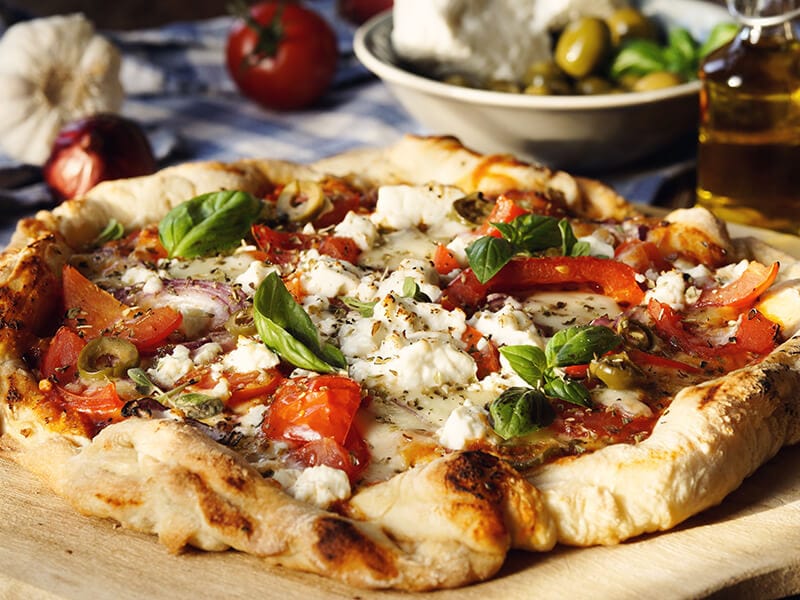 Greek pizza looks similar to Italian pizza, but the process of making it is different. It requires a lot of oil to bake, allowing it to have a larger and thicker crust.
It was made by a Greek in Connecticut in 1955 and is exceptionally famous in New England states. Greek pizza sauce has a tangy tomato taste and a strong oregano flavor. The cheese used on top of the pizza is often a mix of mozzarella and cheddar or provolone.
Pepperoni Pizza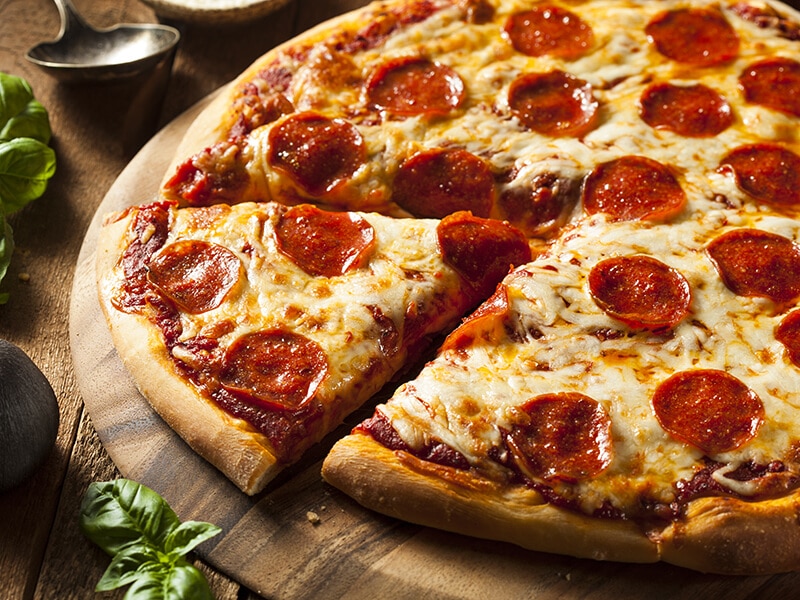 The first pepperoni appeared in New York City in 1919, but only in 1950 did it debut as a pizza topping. Pepperoni is a variety of dried sausage made from beef and pork, similar to salami.
It was an invention of Italian Americans. Tracing back to its origin, you might be surprised that it appeared in the early days of the Roman Empire. The ancient Romans used salt and other spices to keep the meat last longer.
No need to buy pepperoni from the stores; use this way to make your homemade version!
Most Famous Pizza Brands Worldwide
Following the rapid growth of pizza, countless pizza companies emerged. And a few of them started to make their way to the top.
Founded in Ypsilanti, Michigan, in 1960, Domino's Pizza is now a leading pizza chain worldwide. It currently has 6,571 locations across the United States. Domino's is also one of the pioneers that came up with the delivery concept of "30 minutes or less".
The interesting fact about Domino's Pizza is that its revenue does not only come from pizza sales. It is also from selling pizza ingredients such as dough or toppings to other companies.
There is another special thing that helps the company retain its position. They constantly release new toppings to stimulate the interest of customers.
In 1958, a humble store set a foundation for one of the world's best-known pizza restaurants in Wichita, Kansas, America. Today, Pizza Hut accounts for half of the pizza market in America, along with Domino's Pizza, and has over 18,000 facilities worldwide.
Pizza Hut sets itself apart from its rivals thanks to its affordability and uniqueness. Pan pizza and stuffed crust, for example, are famous strategies of the company. While pizza is its main product, Pizza Hut also offers breadsticks, pasta, and wings.
Papa John's is one of the first pioneers in ordering pizza online and leading the trend toward green and fresh ingredients. The restaurant was established on October 2, 1984, in Jeffersonville, Indiana, America.
Although its menu might not be as diverse as other brands, you can certainly count on it when it comes to pizzas.
Products from Papa John's are famous for their freshness and wide range of toppings. In addition, their crusts are entirely vegan. You can always ask for the famous garlic dipping sauce if you prefer a creamier version.
The first restaurant of the brand came into existence in Beverly Hills in 1985. Despite having a less popular name than others on the list, the novelty flavors help California Pizza Kitchen gain many loyal customers.
The company's menu contains many unique concepts, such as Thai chicken pizzas. What's more, the barbecue pizza of California Pizza Kitchen is a hit with pizza lovers. It also produces frozen pizzas for grocery stores.
Little Caesars has been operating since 5/8/1959 in Garden City, Michigan, United States. It is the third-largest pizza chain by total sales in this country.
The strengths of Little Caesars lay in its price and speed of delivery. You can find the same pizza sizes at half of the costs of other stores in Little Caesars. For this reason, it is a perfect choice for college students.
FAQs
Can't get enough of these interesting pizza facts? No need to worry; there is more for you to find out. Check out these most related questions about the history of pizza right below!
From A Food For The Poor To The World's Most-Loved Meal
Every day, thousands of pizzas are baked and consumed worldwide. With the development of technology, having a hot and delicious pizza in just a blink of an eye is not a difficult task.
It's hard to believe that pizza used to be the food for the poor back then. Fortunately, everything changed once it received the recognition of the royals. Today, pizza is a globally popular meal that nearly everyone wants to try.
Now you can proudly tell your friends about the history of pizza. Share this post with them and let them know how a small food can boast a great story like that. Also, don't forget to leave a comment below to mark your presence!