How to store pizza dough? How long can it last? These are the most asked questions when it comes to preparing pizza dough. Because making this type of dough is quite long, preparing the dough in advance and storing it to use later is a good idea.
Pizza dough can be simple to make but a little more complicated to store. Therefore, I will tell you everything you need to know about pizza dough, how it's made and how to keep it properly. Let's check out the solutions now!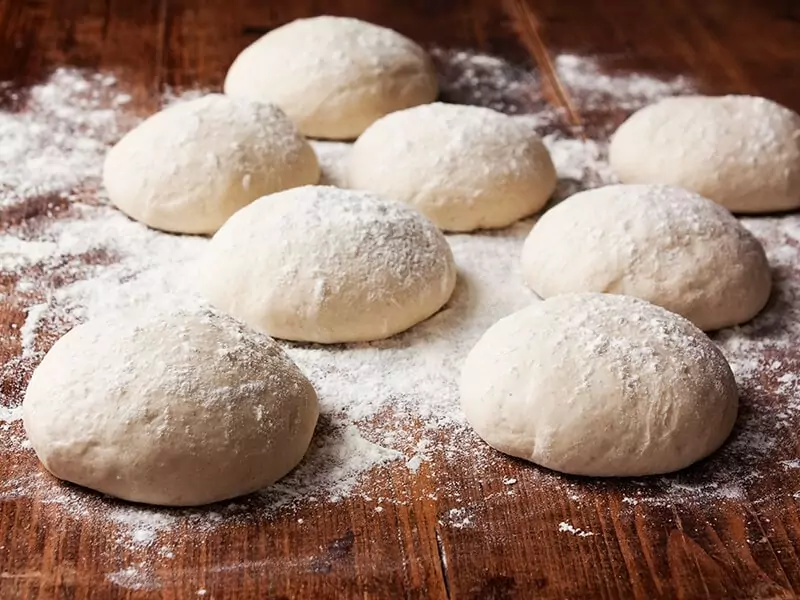 Overview Of Pizza Dough
Before taking further to storage solutions for pizza dough, let's first learn about the generality of this dough.
How To Make Pizza Dough: The Standard Approach
Pizza dough is relatively easy to make since you only need some basic ingredients. The following is a general guide to creating a successful pizza dough.
Let's discover how to make Neapolitan pizza dough like a chef.
Step 1: Preparing Ingredients
Pizza dough ingredients are basic and simple to find. You can easily find them in your kitchen or grocery stores. The necessary ingredients are yeast, water, wheat flour, neutral oil, salt, and sugar.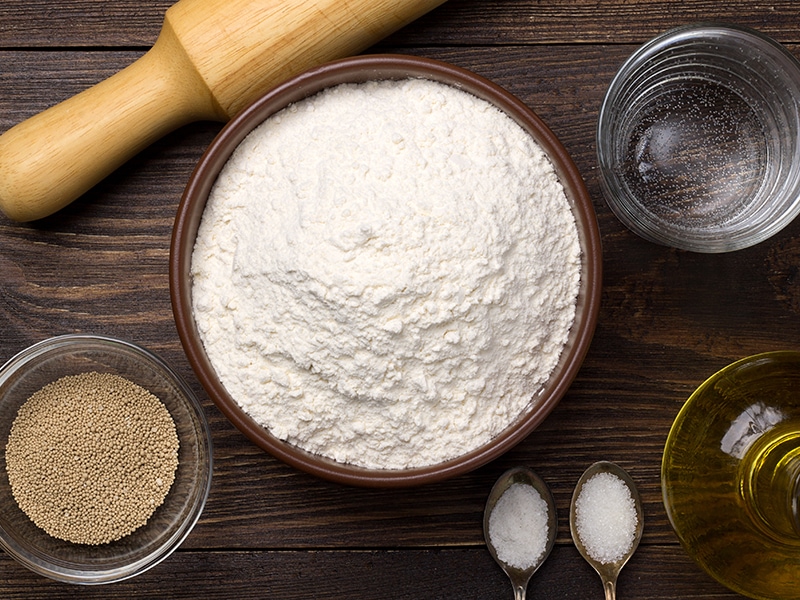 Step 2: Mixing And Kneading
The next step is mixing the prepared ingredients by hand or a mixing machine. You should mix water, yeast, and sugar together first. Next, add olive oil (or any neutral oil you like), salt, and flour.
After stirring all ingredients, you must continue knitting the dough for 5 to 10 minutes for a smooth and elastic texture.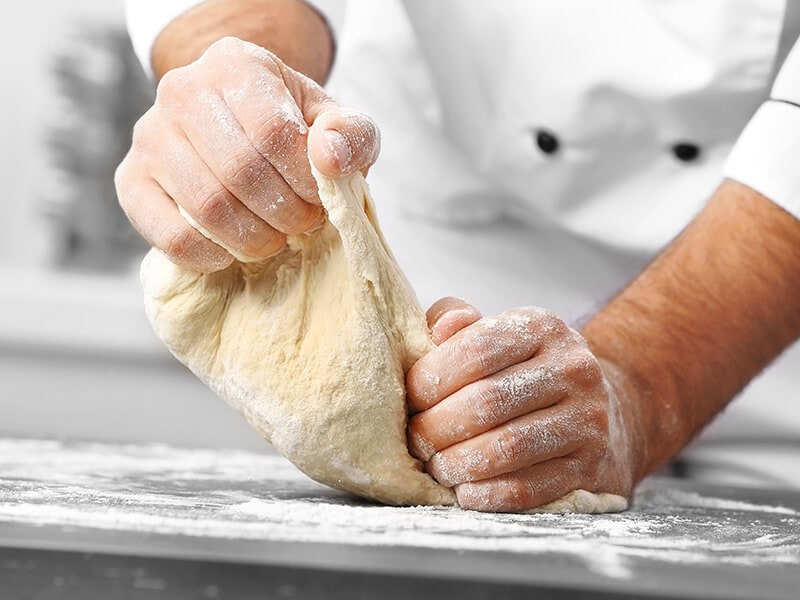 Step 3: Waiting For The Dough To Rise
Depending on how much yeast you use, your dough may take 30 – 60 minutes to rise. When the dough ultimately rises, you can sharpen it to a suitable form and prepare it for baking.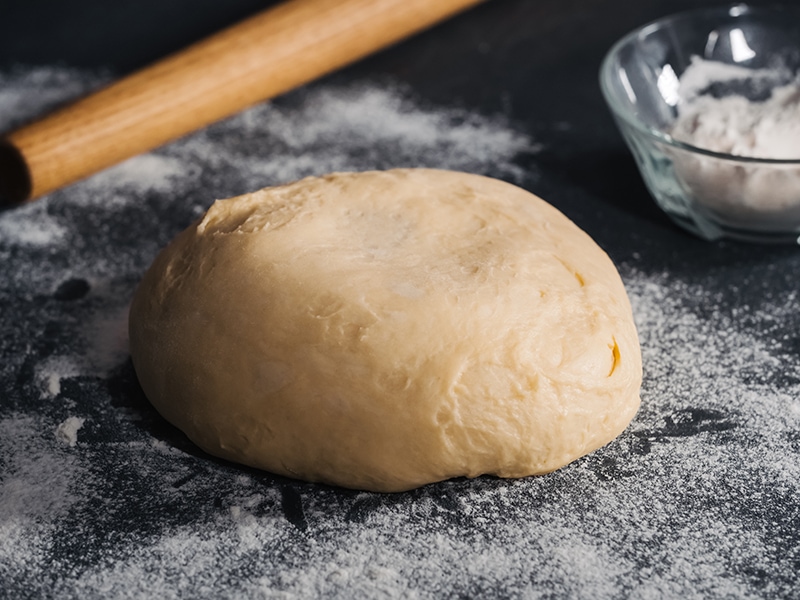 Role Of Ingredients In Pizza Dough
The dough is served as the base of the pizza, which determines the pizza texture. Or, put in other words, the amount of each ingredient you put in the dough will affect your final pizza crust.
Flour: plays the most important role. Usually, hard wheat flour with higher protein content is used for making the best dough consistency (1). Flour with higher protein content produces firmer dough and vice versa.
Water: supports the production of gluten. Besides, water also helps to bind the gluten with starch to make the pizza crust firm.
Yeast and sugar: are used for the fermented phenomenon. While yeast activates the rising and makes the dough more pliable, sugar is added to speed up the fermentation rates.
You can adjust the amount of sugar and salt to change the fermentation speed to your liking.
Salt and oil: are added to increase the flavor of the pizza. Besides, salt also slows down the fermented progress, while the oil helps the dough moisture. Olive oil is the most popular choice, but sunflower or canola oil is also great.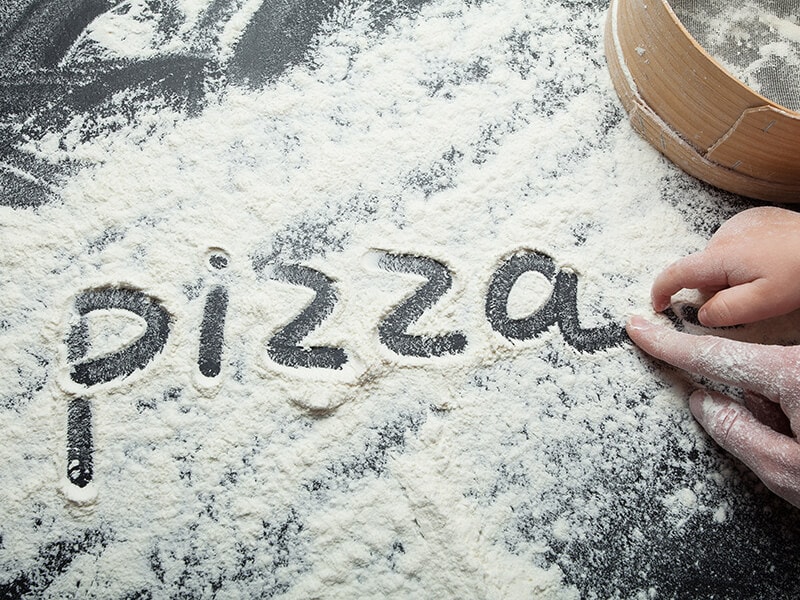 Signs Of Spoiled Pizza Dough
When you leave pizza dough to rest for too long or vulnerable to bacteria, it usually goes bad, loses its structure, and becomes inedible. If you see any of the following signs, throw the dough immediately!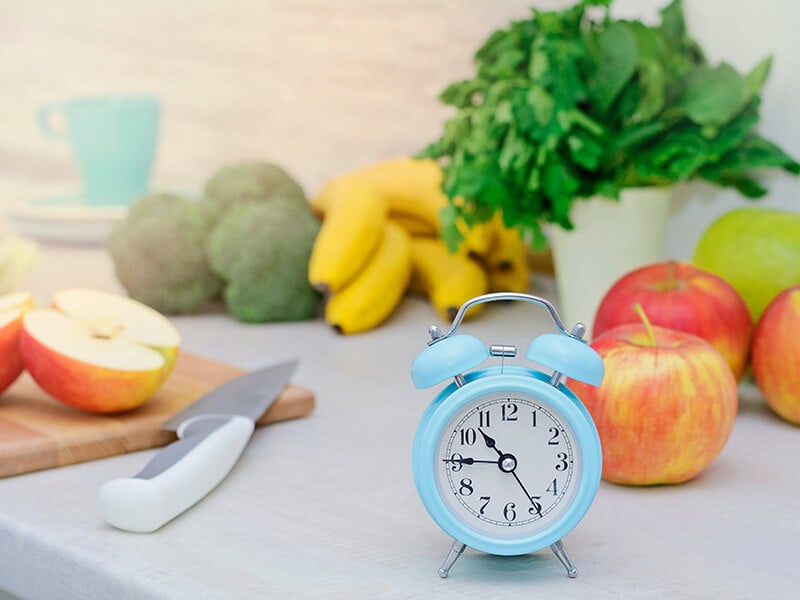 Gray Dough
If you take your dough out of the freezer and see the gray color instead of white, then you must put the dough in the trash bin.
The gray color in your dough is a sign of mold, which is never good for your health. Molds produce allergens, irritants, and in some cases, potentially toxic substances (2).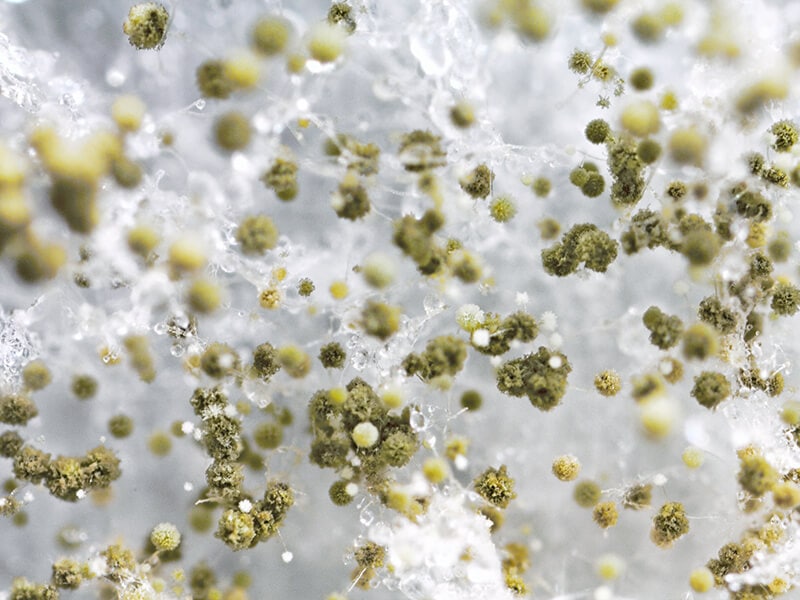 A Sour Smell
Usually, good dough has the scent of wheat flour. However, you should not use this dough if you feel an odd smell, such as a stale, sour, and musty odor.
A Diminished Texture
The diminished texture means your dough loses its structure of trapping gas inside, and you won't be able to use it anymore. When poor texture occurs, it is better to throw the dough.
Can I Leave Pizza Dough Overnight?
Pizza dough can be left overnight if it does not contain dairy. However, doing so is not recommended since it can cause over-proofing. Besides, if you place the pizza dough overnight without the proper protection, your dough can be infested by dangerous bacteria.
Anyway, if you still want to let the dough rise overnight, put it in a safe container or use less yeast to keep it from rising too much. Also, since dough rises faster at high temperatures, ensure that your kitchen isn't too hot.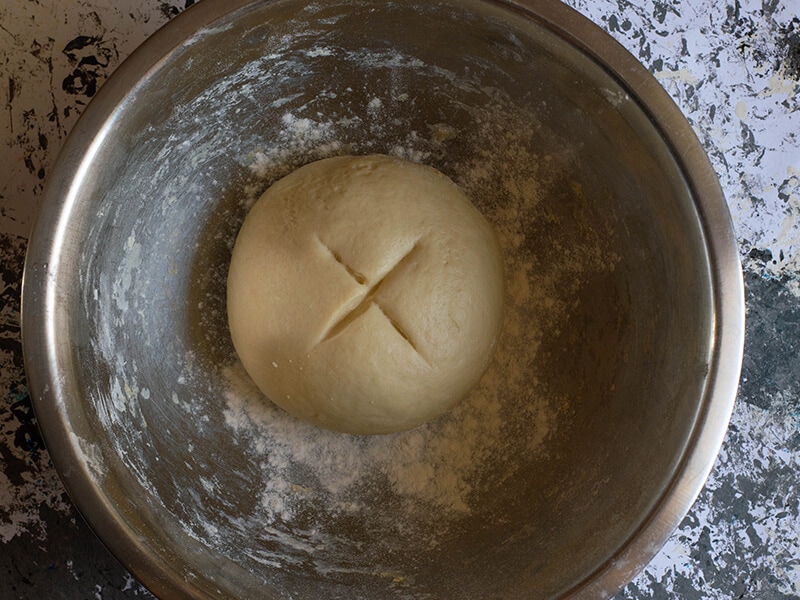 All Things You Must Know About Storing Pizza Dough
I know you are hurrying to learn how to store pizza dough. However, understanding the basics will give you a solid foundation to win any game. Therefore, let's discover essential information about storing pizza dough.
Why Is Pizza Dough Storage Important?
Storing pizza dough in the right way is so essential if you are an avid baker. When you rush in craving a piece of pizza, it always helps to know that your dough is available for baking.
Besides, most people don't use up the dough after making a batch of pizza. Therefore, knowing how to store leftover pizza dough can help you keep it for your subsequent use.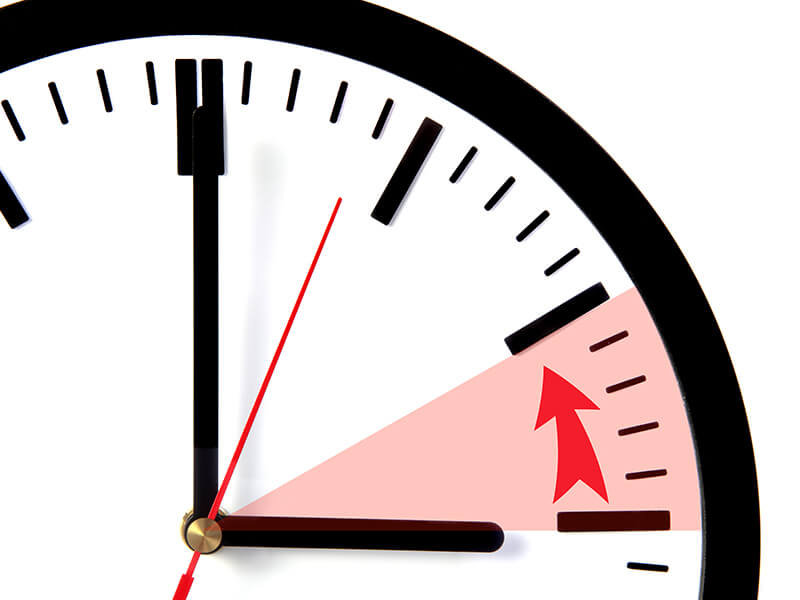 When Is The Right Time To Store Pizza Dough?
If you store the dough at room temperature, you simply leave it on the counter and store it. However, if you keep the dough in a cold environment, it would help to have more time for the dough to rise before applying any storage methods.
Can You Refrigerate Pizza Dough After It Rises?
After rising, the dough should be refrigerated to help increase the pizza flavor. However, remember to knead your dough again before placing it in the fridge.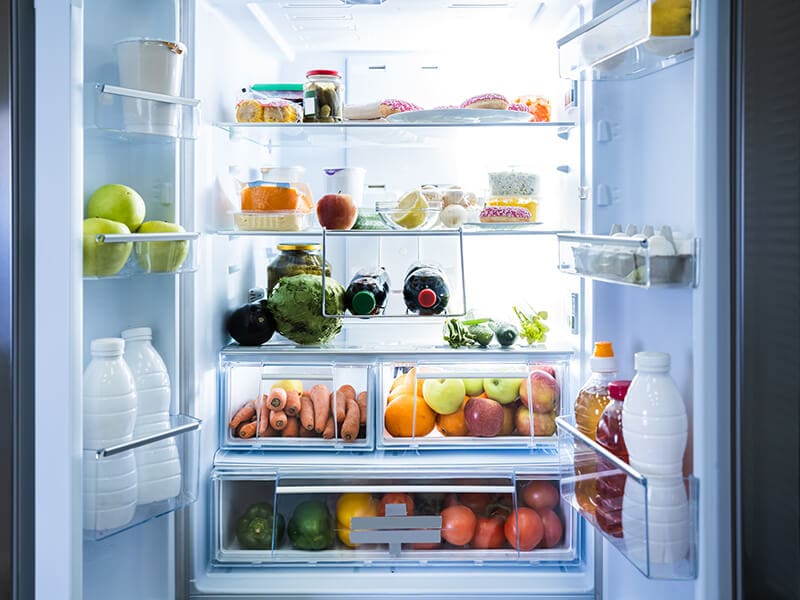 How Long Can You Store Pizza Dough?
How long you can store pizza dough depends on the storing method and the amount of yeast in it.
Generally, you can store the dough at room temperature from 4 to 24 hours. If you place the dough in the fridge, you can keep it for up to 4 days. Your dough will last the longest if you freeze it. You can save the dough from 2 to 3 months in the freezer.
Besides, the amount of yield also affects the storing process. The less yeast you put in the dough, the longer you can keep it. However, your dough will only rise if you use enough yeast.
Step-To-Step Guides To Preserve Pizza Dough
Now that you all know the reasons and benefits of storing pizza dough, let's jump into the step-to-step guides for preserving it. Generally, there are three standard methods.
Storing At Room Temperature
If you plan to make a pizza soon, storing your dough at room temperature is an option. You can keep your dough for 4 hours on the countertop. However, if you use less yeast in your dough, you can keep it for up to 24 hours.
Below is a detailed guide that shows you how to keep the dough at room temperature.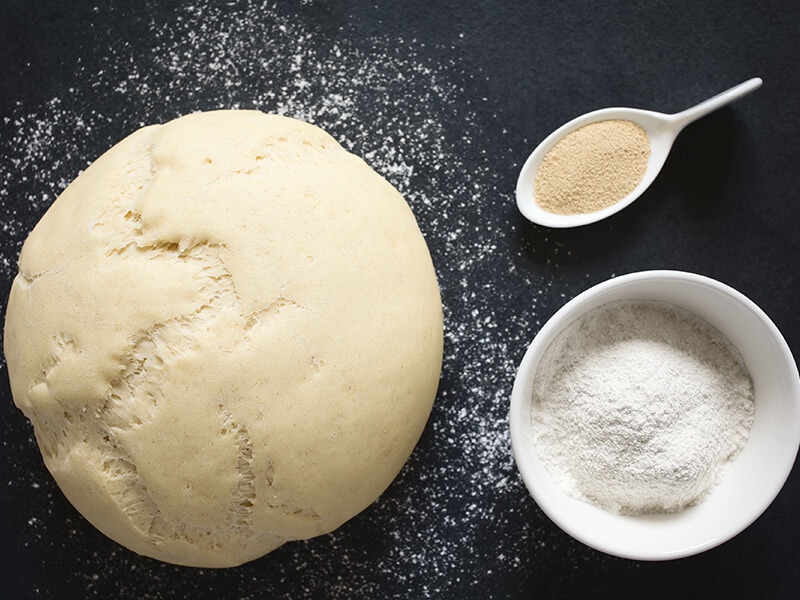 Step 1: Roll Your Dough Into A Big Ball
After kneading the dough, roll it into a large ball and set it aside to rise. Because you will use the dough soon, separating it is unnecessary and redundant.
Step 2: Prepare The Bowl
To keep the big ball dough at room temperature, you must leave it in a bowl. Prepare your bowl with a layer of oil to prevent sticking between the bowl and the dough. Besides, don't forget to brush the surface of the pizza dough with a layer of olive oil to keep the dough moist.
Step 3: Cover On Top Of The Storing Container
The ideal storing bowl is a glass bowl with an airtight lid. After preparing the bowl and dough inside, you need to close the bowl by its lid. If you do not have one, you can replace it with a layer of plastic to cover outside the bowl. Remember to wrap your bowl tightly.
Step 4: Leave The Dough On The Countertop
You just need to leave your dough on the countertop until you want to use it. However, remember to use it within 4 – 24 hours. Otherwise, your dough will go bad.
Storing In The Fridge
If you want to invite friends for homemade pizza but only have a little time to prepare, you can make the dough in advance and keep it in the fridge. The guide is quite similar to the previous method. You just need to take 1 to 2 more steps to preserve your dough for a few days.
Step 1: Let Your Dough Rise Outside
Before storing your dough in the fridge, remember to allow your dough to rise. One to two hours outside, at room temperature, must be perfect.
Step 2: Portion The Dough
This step is optional. Portioning the big ball is necessary if you make a large amount of dough. The size of your portion depends on the size of your pizza.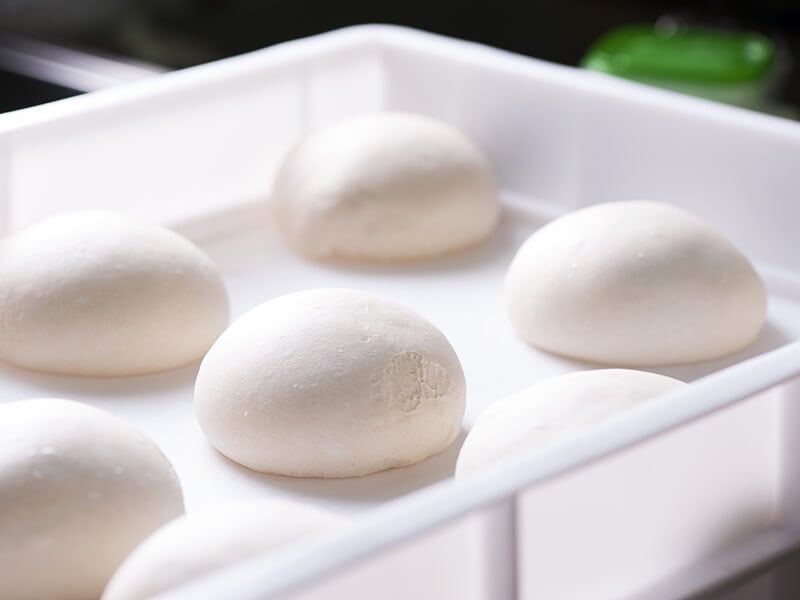 Step 3: Keep The Dough Moist
The low temperature in the fridge may make your dough turn dry, so remember to add extra oil to your dough surface. Olive oil is recommended because it can help increase your dough flavor.
Step 4: Cover Your Dough
It is the same step as the previous guide. You must keep covering your dough with a tight plastic layer. It is better to have an airtight lid container to cover the dough.
Step 5: Place The Dough In Fridge
After preparing your dough well, you can place it in the fridge. The cool environment of the fridge makes the yeast less active, so you can keep the dough for up to 4 days.
Storing In The Freezer
The last method is also my favorite, storing dough in the freezer. You can preserve your dough for a long time and constantly stay ready to bake a pizza by freezing it.
Step 1: Prepare The Dough
It is the same as the storing dough in the fridge method. Before placing your dough in the freezer, please allow your dough to rise once and portion your dough.
Because freezing the dough will make its texture hard, it is better to portion the dough into smaller balls.
Step 2: Wrap The Balls
Wrapping each ball in paper or plastic will prevent them from sticking to each other. There are various options to cover the ball, such as parchment paper, wax paper, or plastic.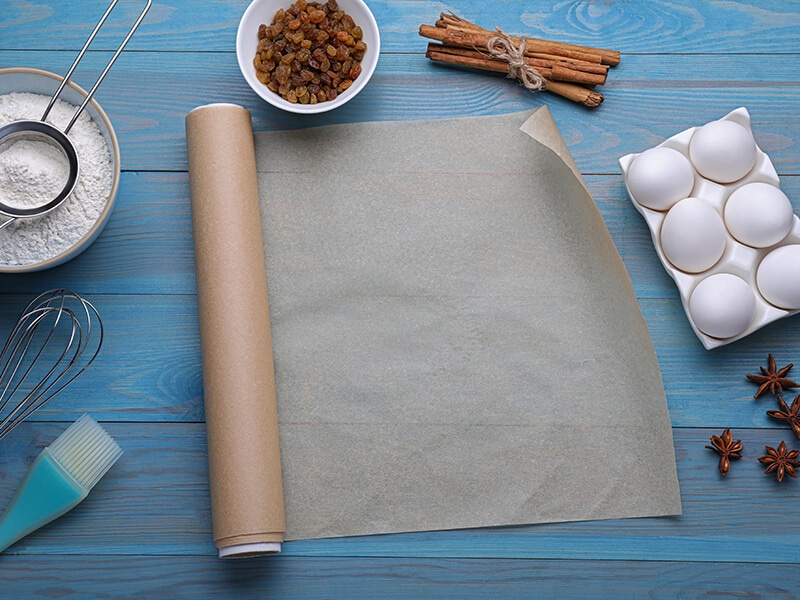 Step 3: Place The Dough In The Freezer
The last step is putting each separated ball into one big plastic bag and placing it in the freezer. Please use only the freezer-safe plastic bag and put all the air out before closing it.
Here is the right way to store pizza dough in the freezer. Check it out now!
How To Use The Pizza Dough After Freezing It?
Keeping the dough in the fridge or freezer will make it icy and harder. Therefore, you need to take a few simple steps to unfreeze the dough and use it as a fresh one.
After taking the dough out of the refrigerator, you must let it defrost at room temperature. The time for defrosting your dough may differ due to your storage method.
If you store the dough in a fridge, then you should place the dough on the countertop for 1 – 2 hours. For the frozen dough, this process may take up to 4 hours.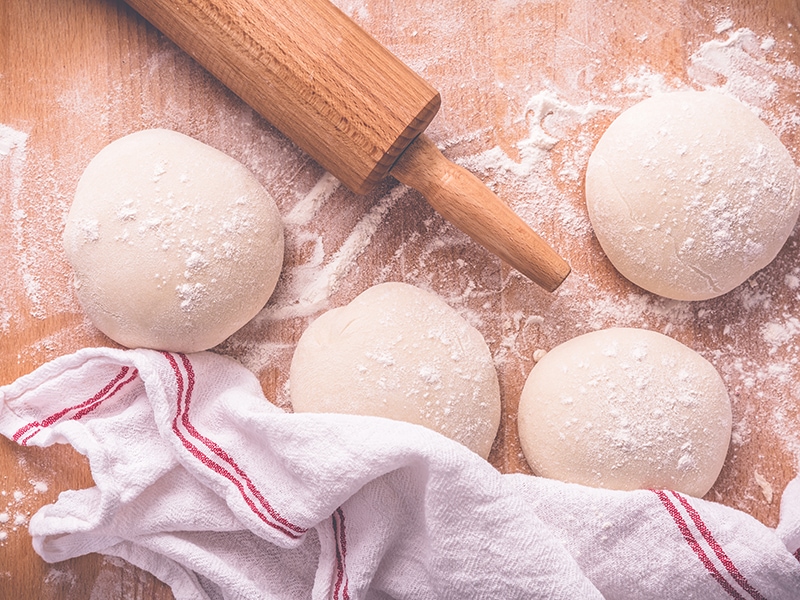 The Rise Of Pizza Dough: The Factors That Count
A successful pizza crust has to rise beautifully. The way you make pizza dough can affect this phenomenon. Therefore, let's learn the two factors that affect the rising pizza dough phenomenon below.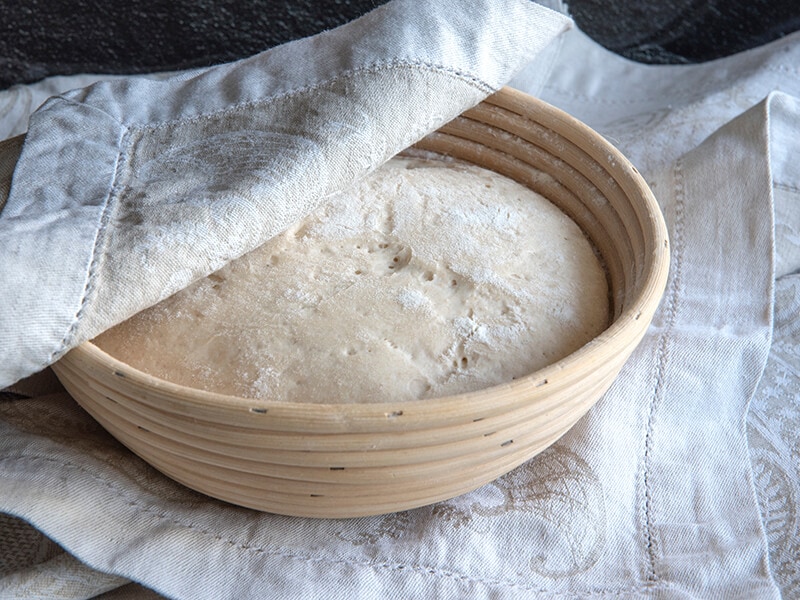 Temperature
Higher temperature leads to quicker fermentation. The dough may take 3 – 4 hours to rise if you live in a warm area. This process will take longer at a low temperature, such as in winter.
You can push the time for the rising phenomenon by using warm water to mix your dough or putting the dough in a warmer place, such as near the oven.
Amount Of Yeast
Yeast is essential for raising your pizza dough. The more yeast you put in the dough, the shorter it takes to rise. But more yeast is also not good as yeast can eat all the sugar in your dough, making the dough not rise anymore.
You can add 10% more yeast to each batch if you live in a cool place.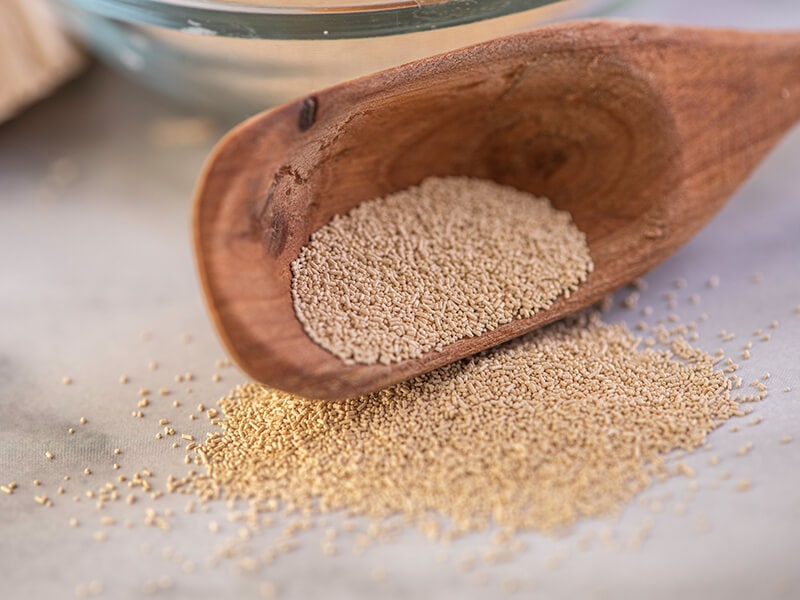 Some Creative Recipes With Pizza Dough
Pizza dough is only sometimes for pizza. It has more than one way to cook. Don't limit your creativity since I will share four recipes with pizza dough. You must get many compliments if you try to make these fantastic baked goods.
Let's lift up your mood with some fragrant cinnamon rolls. You can easily make these goodies from pizza dough with simple ingredients. The final result will fill your kitchen with the tempting scent of cinnamon for days!
Let's discover how to make a cinnamon roll from pizza dough.
Breadstick is a perfect snack you can whip up from leftover pizza dough. Simply roll out your dough and cut it into six lengths and roll them out, and you will have crispy breadsticks. You also can add salt, garlic, and pepper to the stick to increase flavor.
Garlic knots are always served at dinner parties as snacks. These little knots are always easy to make, especially when you have ready pizza dough. A layer of garlic sauce will increase the flavor. Fluffy, airy, and soft are what you can feel when taking a bite of this buttery treat.
Pretzel bites are a perfect soft appetizer or snack. People usually pair it with cheese or mustard sauces. The recipe for this great good is relatively easy since you can use pizza dough to make it.
You can try many flavors for these soft and warm pretzels. The traditional choice is sea salt, but cinnamon sugar is also good.
FAQs
All the information about storing pizza dough is already at your fingertips. However, looking at these commonly asked questions will help you have a better review.
Storing Pizza Dough Is Always That Easy!
So this is the end of the topic of how to store your pizza dough. To all pizza lovers, these storage methods are made for you. From now on, you will never worry about leftover dough as you already know how to store it.
Please remember to like and share this article with the one you think they must know. If you have any special notes for storing the dough, don't hesitate to leave a suggestion in the comment section.
References
Shewry, P. (2019) What is gluten-why is it special?, Frontiers in nutrition. U.S. National Library of Medicine.
EPA. Environmental Protection Agency.