Do you know why and when to put this fresh basil on pizza? It is one of the most beloved and popular herbs in the world. It helps elevate many recipes with its unique minty and peppery flavor.
The most noteworthy use of this herb is in Italian dishes, especially pizza. It goes so well with traditional Italian pizza that you will miss the taste of basil when going back to eating commercial pizza without any fresh herbs.
This article will give you ideas on how to pair this savory herb with pizza for maximum flavor and health benefits. You can try this at home to bring authentic Italian cuisine to your table.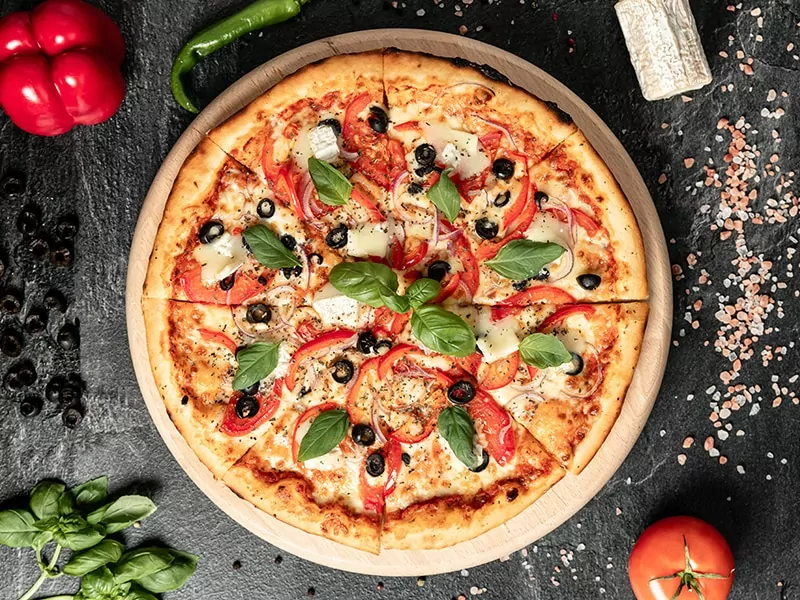 Basic Facts About Basil
Basil is a fragrant herb that appears in many Italian dishes. It is so common due to its flavor and versatility in cooking. Here's the common knowledge about this herb you might not know!
The Origin Of Basil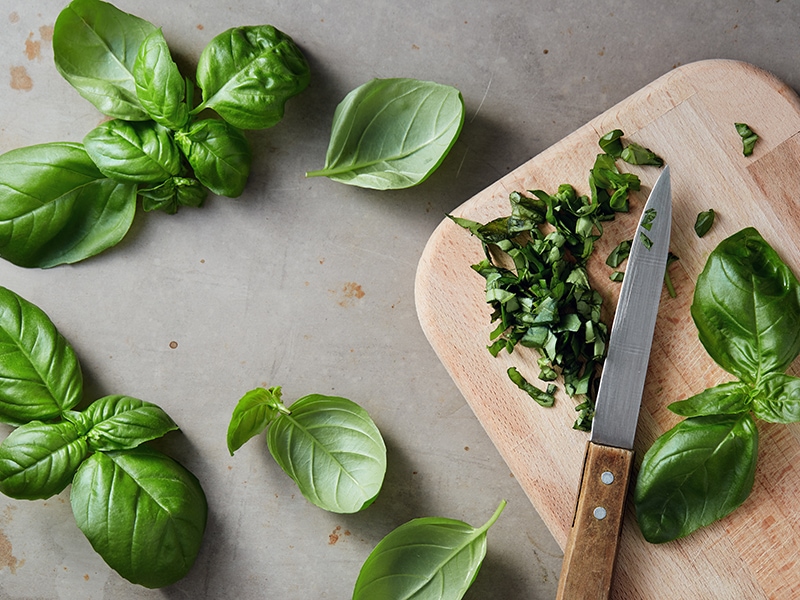 Basil, or great basil, is a herb of the family Lamiaceae. Even though it originated in Central Africa and Southwest Asia, its use is prevalent in many cuisines, especially in the West (1)
Many variants of basil grow in different climates. Basil in temperate regions grows as an annual herb, with its life span lasting for a single growing season. Meanwhile, it can be perennial in warmer zones like the Mediterranean or tropical climates.
Taste Of Basil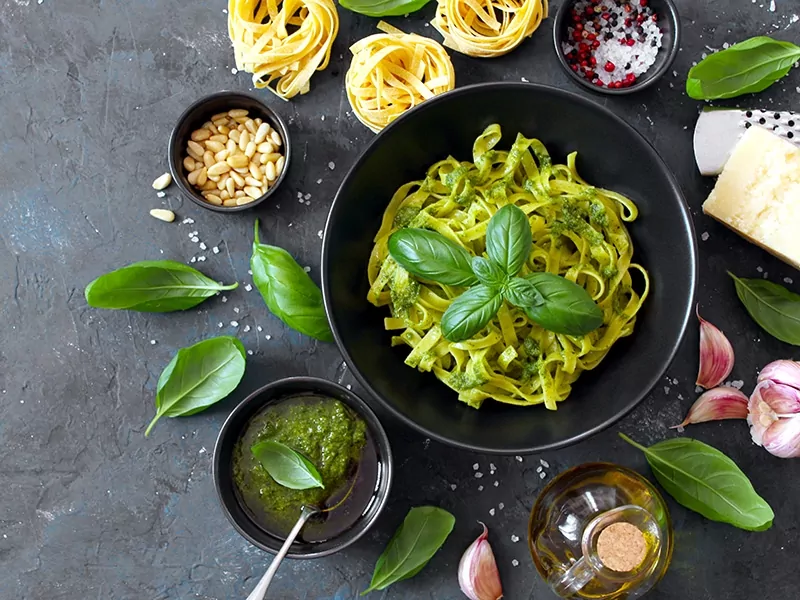 Basil belongs to the mint family, but its taste is one of a kind. It is one of those herbs rich in taste but hard to describe.
Let me put it this way: it packs a strong herbal and minty scent and a sweet and savory taste. Most people say it also reminds them of anise on first taste.
To further complicate this matter, there are various kinds of basil, each with its distinctive flavor. For example, lemon basil boasts a citrus and clove-like flavor, while the Thai variant is more spicy and licorice in taste.
Learn how fresh basil can go with many delicious dishes.
A Guide On Adding Fresh Basil To Pizza
Adding fresh basil to pizza is not a new and uncommon practice, but not many people know how to get it right for the best flavor. This section will give some ideas for incorporating this fresh herb into your pizza.
Why Paring Fresh Basil With Pizza?
Even though oregano is the most common herb to pair with pizza, fresh basil is no less amazing to take your pizza to the next level. It boasts a pungent and peppery aroma that complements the pizza taste exceedingly well.
It will garnish your pizza with a refreshing green color and a herby taste that you never knew you needed on a pizza.
Its sharp taste will blend perfectly into the sauce, the cheese, and other ingredients. Not just the taste, fresh herb gives your pizza a fibrous texture that your pizza will need.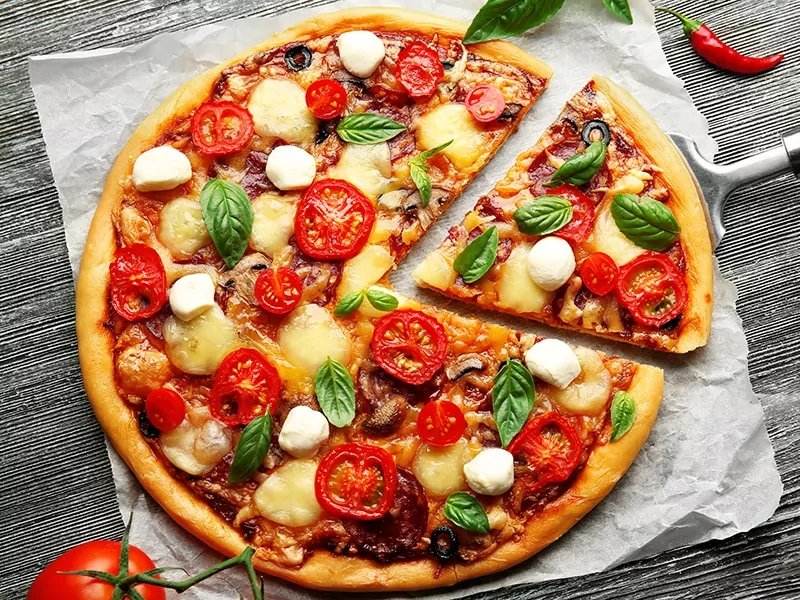 Best Ways And Time To Put Fresh Basil On Pizza
There is not only a single way to add fresh basil to pizza. Your choice of implementing this herb can alter the taste of your pizza. Here are some ways you can use it on pizza and how it affects the taste.
Add Fresh Basil After Finishing Cooking Pizza In Oven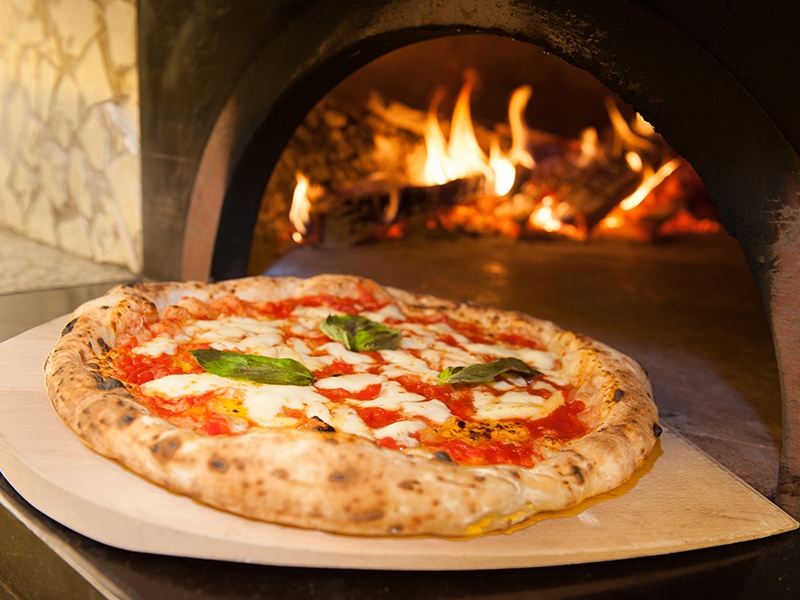 Fresh basil is the kind of herb that is best eaten fresh. It loses its unique flavor when dried or cooked. It will taste more like mint in those cases and won't contribute much to the overall flavor of your dish.
Cooking it with pizza also diminishes its sweet and herbal taste and deprives it of water content inside, making it bitter. Also, cooking these herbal leaves for a long time turns them into a dark green color, sacrificing the refreshing green color with no obvious benefit.
It usually takes 10-20 minutes to cook pizza in the home oven. That's why you should add fresh leaves as a garnish after you have finished cooking your pizza in the oven.
The heat from freshly baked pizza will make your leaves slightly turn dry, but the fresh taste and texture won't change much.
If you want the leaves to be intact, wait about 5-10 minutes for the hot cheese to slightly cool down before adding them. That will prevent your leaves from wilting and crumbling.
You can either slice the leaves thinly and sprinkle them on top of the pizza or keep the whole leaves. I recommend chiffonade basil (rolled and sliced leaves) for pizza for better visual appeal.
But don't cut the leaves too early, as it's prone to oxidation and can turn wilt soon. The best time to slice or tear your herb is when the pizza is done baking.
Discover how to make chiffonade basil to make your pizza more appealing.
Add Fresh Basil After Cooking Pizza In Woodfire Oven
If you have a woodfire oven at home dedicated to baking pizza, you can put basil before the baking process. Many famous pizza restaurants in Naples, the home of pizza, and reputable chefs make their pizza this way.
A wood fire or brick oven is a traditional way of cooking pizza. The inside of the oven can reach 500°F ( 260°C), so the pizza is cooked in extreme heat for roughly 2 minutes (2). Some restaurant woodfire ovens can even reach 900°F (482°C).
It's safe to add basil to pizza before cooking because it doesn't have enough time to turn dark and wilt or crunchy on the edges. You can drizzle olive oil on those leaves after cooking to make them look fresh.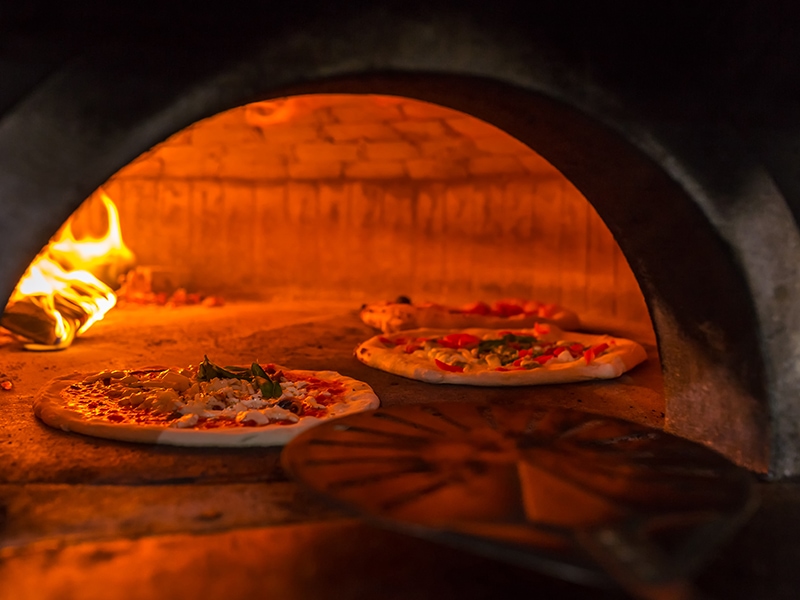 Adding Fresh Basil In Pizza Sauces
If you don't like fresh basil as a pizza garnish, you can add it to the pizza sauce. With pizza sauce, you should add it at the start of cooking and right when you serve your pizza for more color.
It will lose its color, texture, and taste in the cooking process, but it will impart its sweet and herbal flavor to the liquid. The heat will make it release its classic aroma. This herb is good in both tomato sauce and marinara sauce.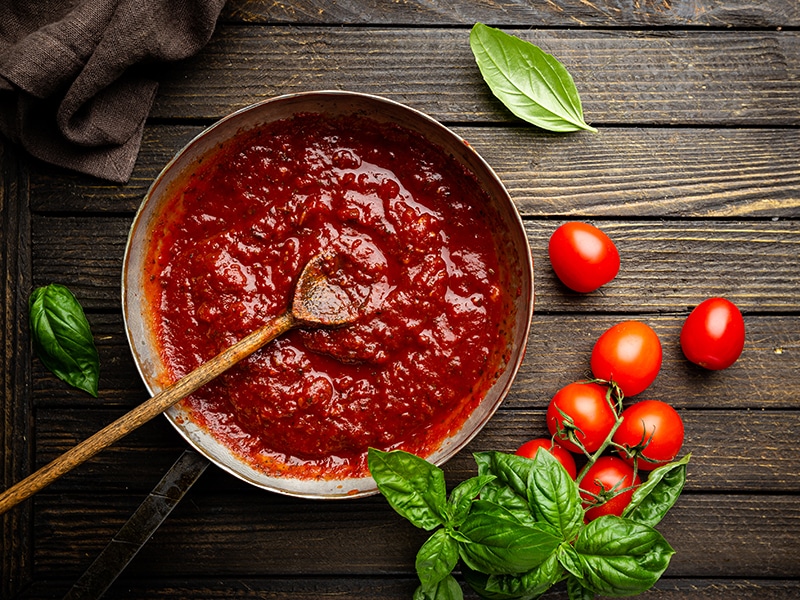 Fresh Basil Substitutes For Pizza
Some products that you can use on a pizza are dried basil, pesto sauce, basil salt, and infused-oil basil. Each product will give your pizza a different kick of flavor.
There are no hard and fast rules to add each substitute perfectly into pizzas. But based on their characteristics, I have made this table for you to grasp some ideas to implement basil into your recipes.
| Products of basil | Best way to add to pizza | Best time to add to pizza | Change of taste |
| --- | --- | --- | --- |
| Dried basil | Add to marinara sauce | While cooking sauce | Slightly bitter and more herby |
| Pesto sauce | Add to tomato sauce | After the sauce is done | Bright, rich, and herby |
| Basil salt | Season pizza | Before and after baking pizza | Salty, fresh, and peppery |
| Basil-infused oil | Drizzle on pizza | After and while baking pizza | Fresh, fatty, and herby |
1. Dried Basil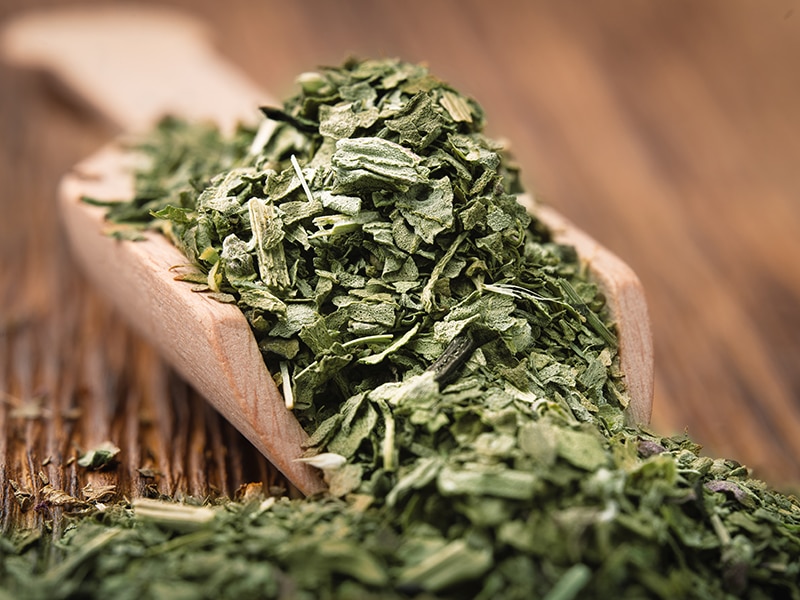 Dried basil is packed with a more concentrated flavor than its fresh variant. The drying process took some of its mint flavors and left it with more anise flavor. Therefore, the rule for the dried variant is one-third of dried basil for one portion of fresh basil.
It's also more herby and bitter than its fresh counterpart, so it's great in marinara sauce. The sauce will help curb that strong flavor. Plus, the dried variant will impart its taste better on the liquid.
You should not garnish your finished pizza with it since its bitter and potent flavor can overwhelm other tastes of your pizza. Neither should you cook dried basil in the oven with pizza. The heat will intensify the taste and make it more pungent.
You can easily make dried basil at home by following this simple guide:
2. Pesto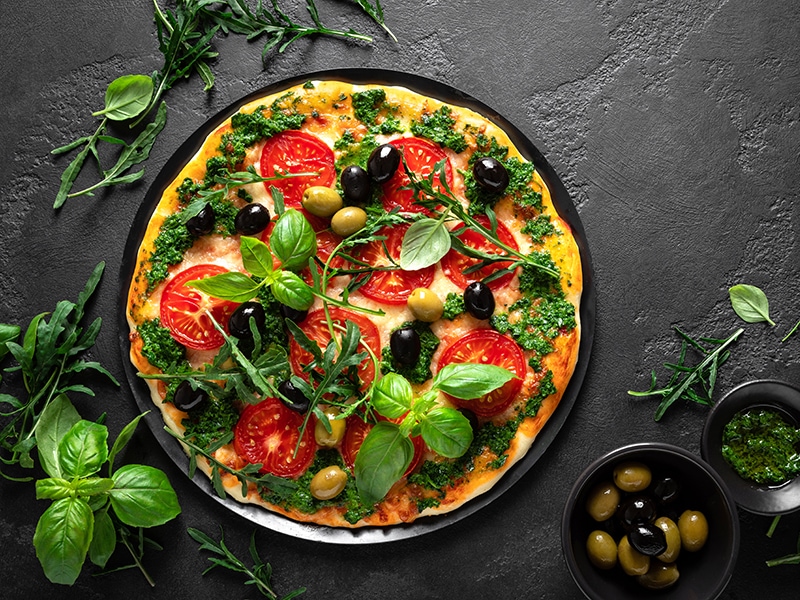 Basic pesto sauce is a mixture of fresh basil leaves, coarse salt, pine nuts, virgin olive oil, garlic, and Parmesan cheese. You will have a homemade pesto sauce by pulsing these ingredients in a food processor.
This classic Italian sauce is a creative way of flavoring your pizza. The authentic taste of basil blending with other spices makes pesto a great replacement for tomato sauce.
To add pesto sauce, spread some pesto on the dough and mozzarella cheese halfway through the baking. Then, bake your pizza for another 15 minutes until the crust turns brown. Finally, drizzle some pesto sauce on top for extra flavor.
3. Basil Salt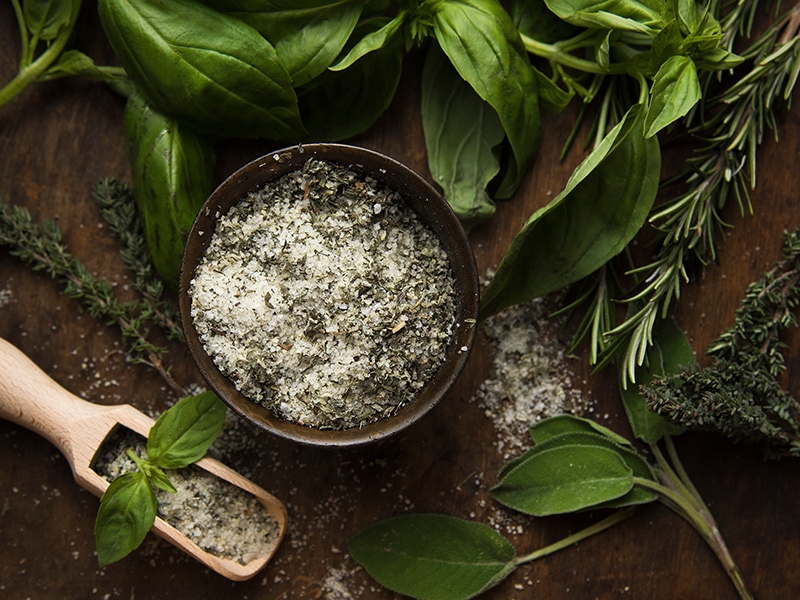 You can buy this salt at the store or make a batch at home. All you need is ½ cup of fresh basil, ½ cup of kosher salt, and a blender to make this aromatic seasoning. Just blend fresh basil leaves and salt finely in the blender, and it's good to go.
It can go with pesto pizza along with mozzarella and tomato. Before baking pizza, season it with black pepper and basil salt. When finished baking, garnish your pizza with some more of this spice if necessary.
This spice helps balance the saltiness of kosher salt and the sweetness of fresh basil leaves. The ground leaves still retain their hints of mint, pepper, and anise. But be careful with your use because too much of this salt can make your pizza salty.
4. Basil-Infused Oil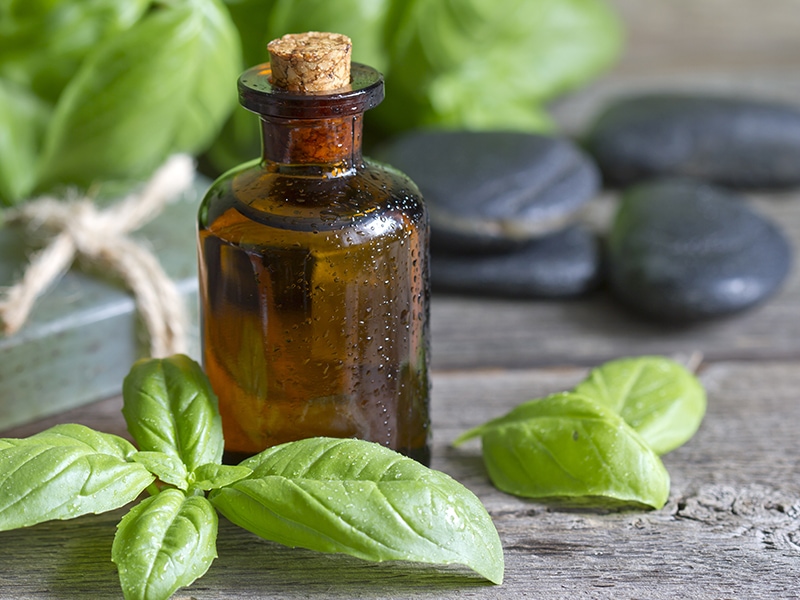 Like many other basil products, basil-infused oil nicely complements your pizza with its fresh and herby flavor. This infused oil is mostly virgin olive oil with very low smoke points, so you shouldn't cook it with heat.
Cooking this oil will not only rob it of basil flavor but also causes your oil to be burned. Therefore, you should drizzle the oil on top of the pizza after cooking or right before serving. Don't use too much oil, or your pizza will be greasy.
Some Savory Pizza Recipes With Basil
There is an abundance of pizza recipes with basil you can try at home. Here are some of the best ways to combine pizza with basil products for your family dinner:
This classic fresh tomato pizza is incredibly juicy and savory. The perfect harmony of tart and sweet Roma tomatoes with the minty and strong taste of the fresh herb will make you love it on the first bite.
Find your inspiration for cooking and make a pizza now!
This summery pizza packs many seasonal flavors with aromatic pesto sauce. The taste of basil from fresh leaves and pesto sauce blend incredibly well with mozzarella, Colby-Jack, and Parmesan, making it a perfect treat for family gatherings and parties.
This recipe comes with so much flavor, from crushed tomatoes, pesto, cheeses, spicy jalapeños, and pepperoni. It's spicy, sweet, and savory all in one bite. When the pizza is done baking, put some fresh basil on top and drizzle honey on the leaves to keep them fresh.
The combination of two basil products, pesto and basil salt, gives your pizza a wonderful and refreshing taste. The sweet and savory taste of pesto and a little saltiness from the salt truly complement other ingredients in your pizza.
Make your fresh pesto pizza with a few simple steps in this instruction:
This Thai pizza variant with chicken and Thai basil will be the taste you have never tried before. This stir-fried basil chicken mixture astonishingly pairs so well with pizza. The combination of various herbs, chicken, and mozzarella cheese makes this dish more special.
FAQs
Now you know basil is one of the top-notch additions to pizza. You can try many of its variants to know which is the best for your taste. In this section, you'll also find the most frequently asked questions that unveil more about basil and pizza.
Basil And Pizza Are A Perfect Duo!
Not only does basil impart to your pizza a distinctive color and taste, but it also adds a large range of nutrients to your diet. It is bound to be an indispensable part of your next pizzas once you try it.
That's the end of the article. Please leave a comment in the section below about your favorite basil pizza recipes. Also, give me a big thumbs-up if this article is useful to you, and don't forget to share this with your fellow pizza lovers.
References
Basil (2022) Wikipedia. Wikimedia Foundation
M;, F.A.M.P.M. (no date) Performance characterization of a traditional wood-fired pizza oven, Journal of food science. U.S. National Library of Medicine.