Pizza pan vs. pizza stone, do you know how these cooking utensils will affect your pizza? Used in both household and commercial contexts, both come with their own merits and shortcomings.
This information is vital if you want to set up a pizza station in your kitchen or at least find a new way to make pizza other than the same boring baking tray.
Gathering knowledge about these tools will not only help you step up your pizza quality but also save you a lot of time. With no further delay, let's get into the main content to see what these methods are and how to use them.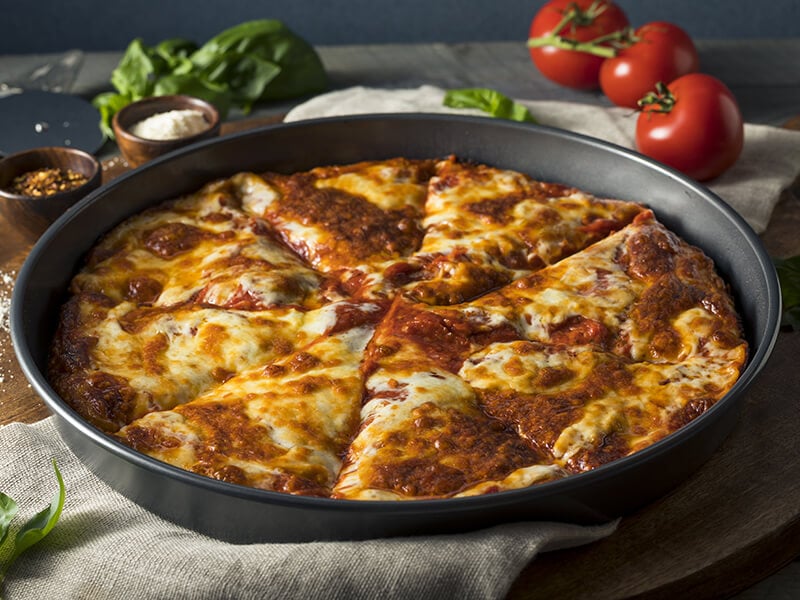 Pizza Pans – A Great Gadget For Your Pizza
For clarity, this article discusses the thin and flat pan, not the kind of pan used in deep-dish pizza. This pizza cookware is prevalent in pizza chains and restaurants for its convenience and ease of use.
Some appealing history of the pizza pan can give you some idea about the origin of this cookware and how people used it to cook in the past.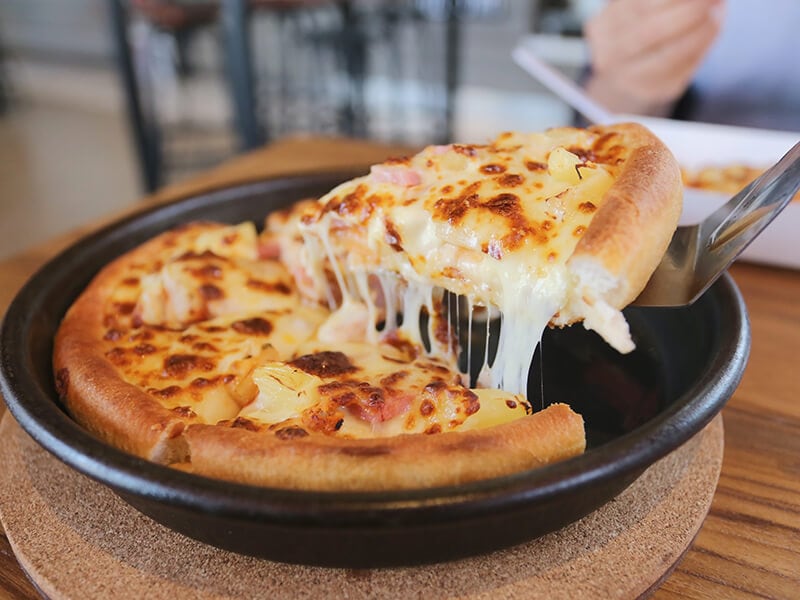 What Is Pizza Pan, And What Is It For?
As you can tell by the name, it's a kind of pan designed for pizza baking. It is not so different from a standard pan, with an elevated edge and flat bottom to contain the pizza dough. The pan will absorb the heat from the oven to cook the bottom of the crust.
It is usually made of metals that are good in heat distribution. Cast iron is also used in pizza pans, but this material is not common due to its weight and bad heat conducting capacity.
Some types of pizza pans have various holes on the bottom. The holes leave space for the steam to escape, making the dough crispier. Some others are designed for making deep-dish, so they have higher sides to hold thicker dough and ingredients.
How To Use A Pizza Pan To Make Pizzas
A pizza pan is easy to use, but there are some procedures you should follow to get the best result. Here are some steps you should be mindful of:
Spray your pan: This is to prevent the pan from sticking and add some healthy fat to your crust. Spray your pan with non-stick cooking spray, or you can use cooking oils, such as olive or peanut oil.
Flatten your dough: Roll and flatten it to the thickness of your choice with a rolling pin. Remember to sprinkle some flour over the dough to prevent sticking.
Press the dough onto the pan: Press the dough into the pan so that the edge of the dough makes contact with the sides of the pan. Never let the dough stand taller than the pan because that part will be cooked faster than the rest, leading to burning.
Add toppings and bake the pizza: Add mozzarella cheese, tomato sauce, and toppings of your choice on top of the pizza. Then, put the pan in the preheated oven and bake at 400°F (204°C) for 15 minutes.
Do you want a simple guide to making delicious pizza at home? Check out this instruction now!
Some Background Information About Pizza Stone
The pizza stone is a ubiquitous tool that is present in many cooking scenarios, ranging from commercial to household kitchens. It can be a bit tricky to use, but also an excellent way to make killer pizzas. Let's take a quick look into the history of this unlikely cooking device.
Pizza Stone History: A Seemingly Ancient Cooking Tool
People who are not familiar with bakeries might assume baking stone is some extinct cooking method from the stone age. Technically, they are not completely wrong.
This cooking technique can be traced far back to the Stone Age. People from the Early Paleolithic Age (between 2.5 million years ago to 10,000 B.C.) learned to use stones to make tools for various purposes (2).
There is proof that cavemen learned to use hot stones for cooking food and water in fire pits. Nowadays, people still implement this ancient method in baking various products, including pizza.
The modern history of pizza stone dates back to the 1970s. Inspired by a cooking session by Julia Child, Pat Bruno, a Chicago restaurant critic and cooking book author, resurrected the baking stone and made it popular countrywide.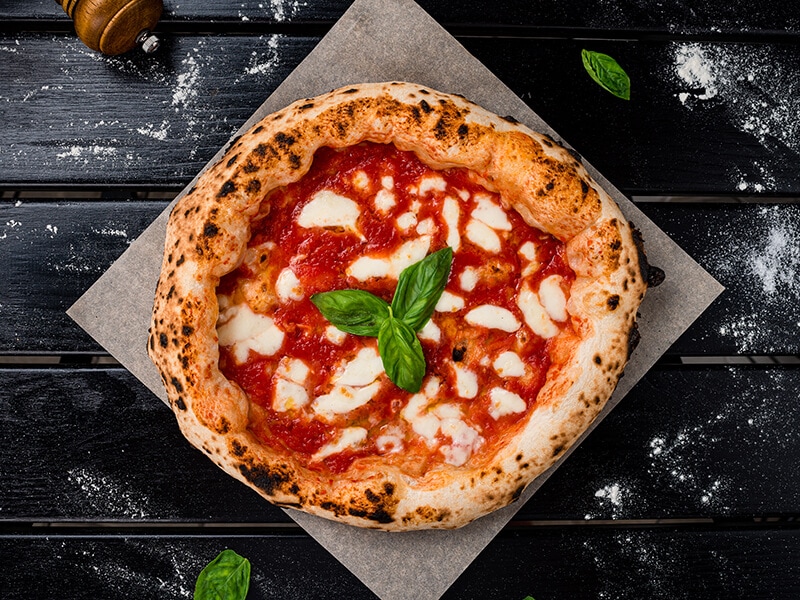 What Is A Pizza Stone And What Is It Good For?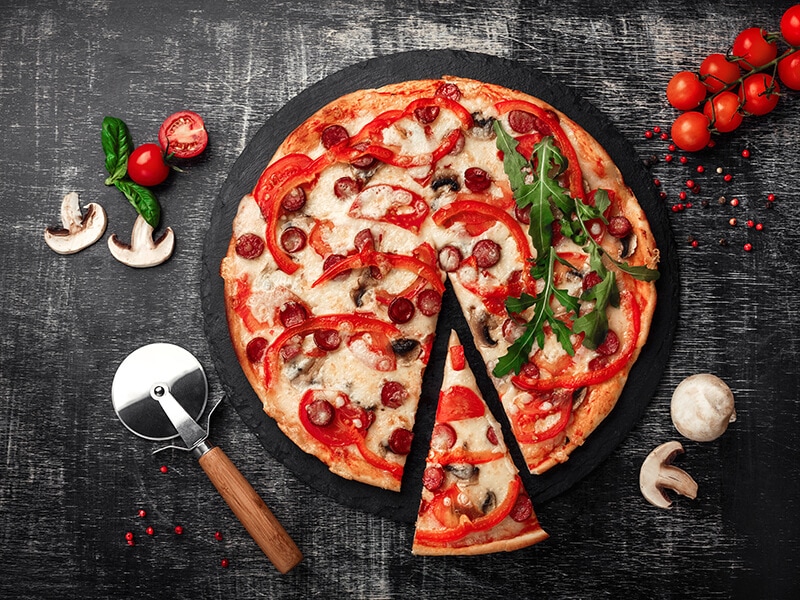 Even if people call it a pizza stone, it can come with other materials like steel, ceramic, cast iron, cordierite, etc.
This simple tool can slowly and evenly heat the bottom of any baked goods in a similar way to brick oven cooking.
The incredible heat retention of it can give your dough a strong burst of heat, puffing up the crust immediately on contact. Pizza stones have proved their effectiveness after more than five decades since their invention.
How To Make Pizzas With A Pizza Stone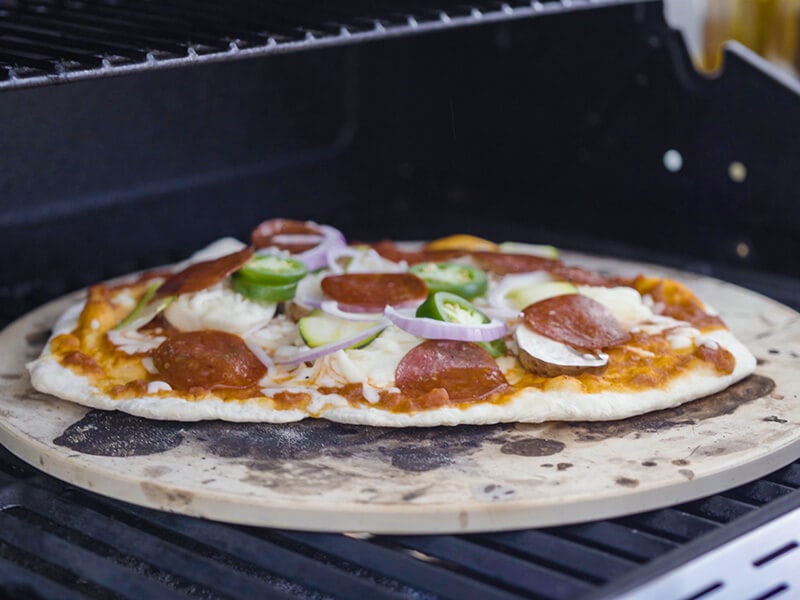 It takes some effort to bake your pizzas with a pizza stone. But follow these simple instructions, and the result will be spectacular!
Step 1: Preheat Your Pizza Stone
Turn on the oven and put the pizza stone in it for at least 45 minutes.
Step 2: Prepare Your Pizza Dough
You can use your hands to knead the pizza dough evenly, or a rolling pin will do. If you're skillful enough, you can even do some tossing to flatten the pizza to your desired thickness.
Step 3: Let The Dough Rise
Prepare a large bowl and coat the inside of it with olive oil. Put your dough in the bowl and turn it around a bit. You can decide how long you want it to rise in the fermentation. A cold and slow process gives your dough more flavor.
By contrast, a fast process in a warm place makes it rise in a shorter time. For a fast rise, place the bowl in warm places (75-85°F/ 24-29°C) for 90 minutes. For slow rise, put it in the fridge for at least 24 hours to slow down the fermentation.
Step 4: Flatten The Dough, And Stretch It Into A Round Shape
You can use a rolling pin to flatten it. If you prefer using your hands, gently press the dough ball with fingertips from the center to the outer edges until it is ½ inch (1.3 centimeters) thick.
Let the dough stay for 5 minutes, then go on with the stretching until it reaches 10 -12 inches in diameter.
Step 5: Brush The Dough With Olive Oil
Press down the top of the dough at many places with your finger so that it won't bubble while baking. Use a brush to apply olive oil to the surface to prevent it from getting soggy.
Step 6: Add Toppings
Add a thin layer of mozzarella cheese, tomato sauce, and toppings such as pepperoni, sausage, or bacon on top of the pizza.
Step 7: Move The Pizza Into The Oven With A Pizza Peel
Sprinkle some flour or cornmeal to prevent sticking. Put the flattened dough on the pizza peel, then transfer it to the pizza stone to bake.
Step 8: Bake Your Pizza
Use a pizza peel to move your pizza into the oven and put it on the pizza stone. Bake at 400°F (204°C) for 10 – 15 minutes or until the pizza is golden.
Not sure about how pizza stones work? Explore how experts use a pizza stone in baking pizza.
How To Use A Pizza Stone To Reheat Frozen Pizza
A pizza stone is the best tool to preheat a frozen pizza. The first thing you have to do is preheat your oven to 450°F and put your frozen pizza in the middle of the stone. Cook it for 6-8 minutes until you see the cheese bubbly and turning brown.
Pizza Pan Vs. Pizza Stone: Differences, Merits, And Drawbacks
Finally, it's time for the showdown between the two brightest candidates among pizza baking tools: pizza pan vs. pizza stone. Before going into the details, check out this brief table to know the most striking disparities between them:
| Properties | Pizza pan | Pizza stone |
| --- | --- | --- |
| Material | Aluminum, aluminum steel, ironclad | Ceramic, stone, reinforced cast iron, or steel |
| Size and shape | Round, square, or rectangle; various size | Round or square; small size |
| Weight and durability | Light (1-3 pounds/ 0.5 - 1.4 kilograms) | Heavy (10 - 17 pounds/ 4.5 - 7.7 kilograms) |
| Storage | Stackable, hangable, and easy to store | Hard to store due to the heavy weight |
| Heat distribution and retention | Average heat distribution, bad heat retention | Excellent heat distribution and heat retention |
| Ease of use | Easy to use | Require preheating |
| Ease of cleaning | Easy to clean | Hard to clean |
| Cost | Cheap | Expensive |
Materials, Sizes, And Shapes
Pizza pans are usually made of aluminum, aluminum steel, and, occasionally, ironclad. They usually come in various shapes and sizes, with round, square, and rectangle being the most popular. Due to their versatility, it enables you to cook many sizes of pizza to your liking.
Comparatively, a pizza stone is made of ceramic or stone. In some cases, it comes in reinforced cast iron or steel too. Most pizza stones have only two shapes: round and square.
The size is generally smaller than a pizza pan because the heavy weight of the material prevents it from coming in a bigger size.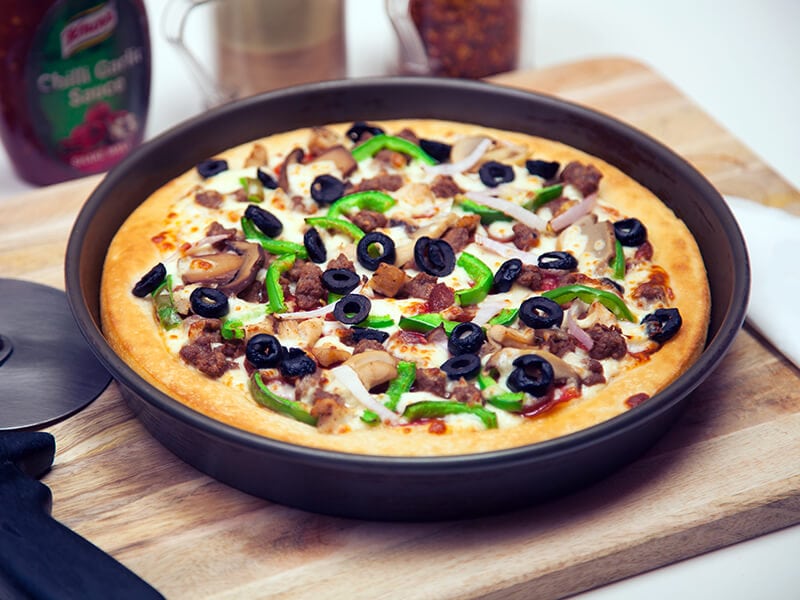 Weight And Durability
Most pizza pans are lightweight and easy to handle. In most cases, their weights range from 1-3 pounds (0.5 – 1.4 kilograms). Meanwhile, pizza stones can weigh up to 10 – 17 pounds (4.5 – 7.7 kilograms).
Regarding durability, a pizza pan is more durable and less prone to damage. Just imagine dropping a pizza pan vs. dropping a pizza: the pan can get scratched, but the ceramic or clay pizza stone can shatter. These two materials are fragile on impact.
A pizza stone is also vulnerable to temperature shocks. Rinsing it right away after baking can lead to cracks or even shatter.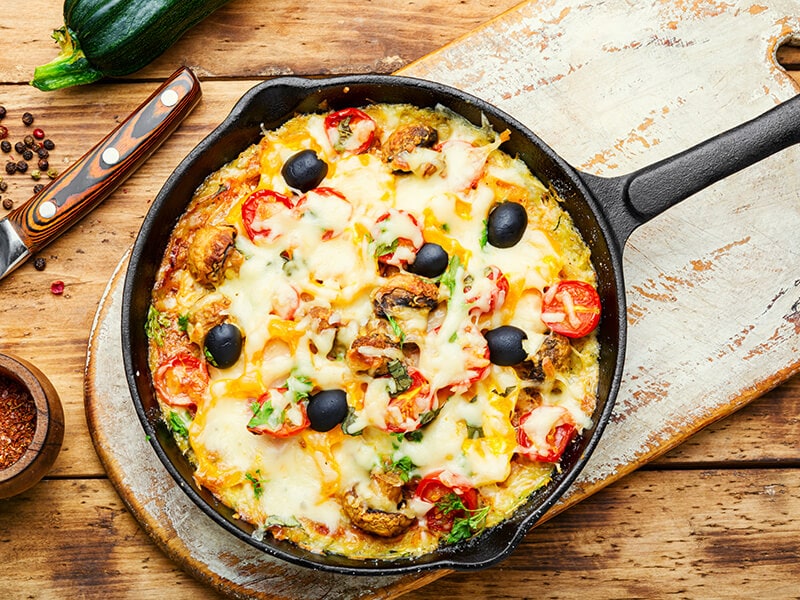 Storage
Another advantage of a pizza pan is that it's thin and lightweight, which makes it easy to store even in humble spaces. Its flat surface makes it easy to stack on other utensils or put on a dish rack. Some pans come with handles, so you can hang them up with some tools.
In the pizza stone's case, the heavy weight makes it such a nuisance to store. Weighing up to 10 – 17 pounds, this tool can make you sweat moving it around, let alone storing it in high places.
Storing a pizza pan requires some careful planning. If you don't like lifting your pizza stone, don't store it above head level.
You should let the pizza stone air dry naturally. Don't heat it in the oven because sudden heat may shatter it. The best place to store your pizza stone is in a clean space with good air ventilation or on the bottom rack of the oven.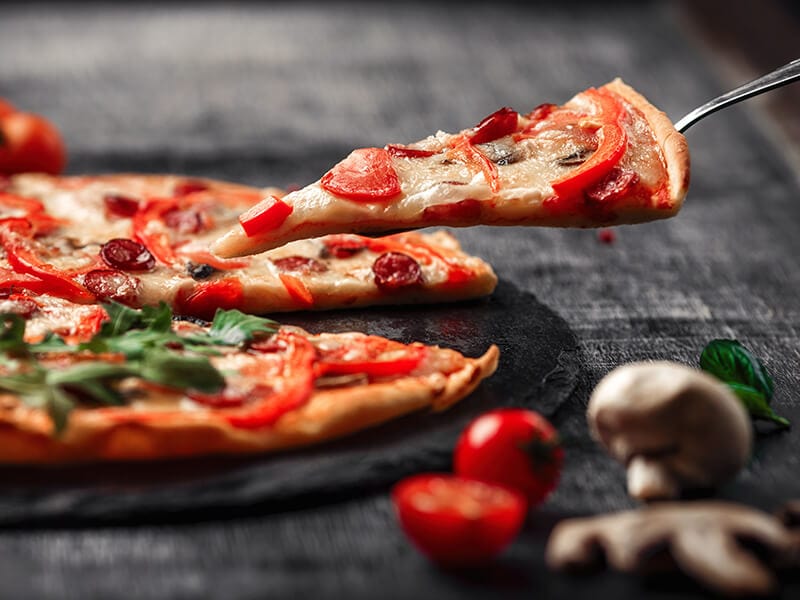 Heat Distribution And Heat Retention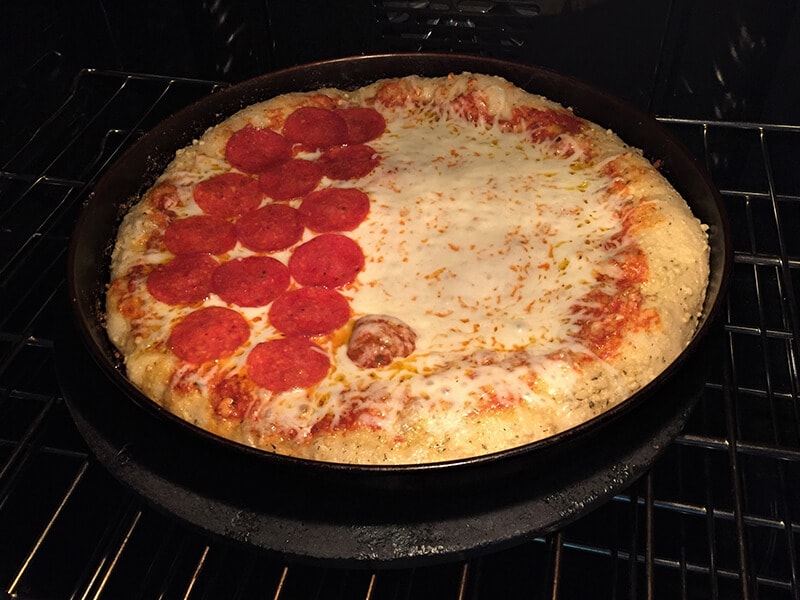 The dough takes longer to cook than the cheese and toppings, so the pizza pan and pizza stone are there to help accelerate the cooking process. But the former exhibits lots of drawbacks when baking.
Apizza pan can't be preheated in the oven since you prepare your dough and toppings on it. Its heat distribution is also not great. All these lead to the pizza being unevenly cooked and having a denser crust.
Non-perforated pans (pans without holes) prevent steam from escaping. Combined with the long cooking time, it is much harder for the crust to achieve crispiness.
So you think perforated pans can solve that problem? Partly yes. The holes untrap the steam, making the dough cook faster and crispier. However, they cause another problem in the process.
The holes make perforated pans heat up slower. Sometimes, heavy pizzas will put pressure on the bottom and make the dough sink into the holes.
This dilemma of pizza pans can never be solved, but it doesn't stop you from making good-quality pizza at home. Your pizza will just lack that mega-crispy crust from the brick oven effect.
On the flip side, pizza stones perform exceptionally well in baking. After preheating, the pizza stone retains most heat and distributes it evenly on its surface. It will cook your pizza immediately upon putting the pizza in the oven.
The extreme heat from the stone caramelizes the base in a brink of time; it also gives your pizza a quintessential char and oven spring.
Plus, a pizza stone is porous, so it absorbs extra moisture from the dough, making it crispier and quicker to cook.
Let's explore how to build your wood-fired oven with a low budget.
Ease Of Use
Like a regular pan, a pizza pan is easy and convenient to use due to its lightweight property. You can prepare a whole pizza with cheese, toppings, and sauce on it. Also, this tool requires no extra kitchen gadgets.
You also want to season your pan to avoid sticking and save you from using oil or butter to coat the bottom. By contrast, pizza stones don't ask for such things.
Furthermore, you don't want your ingredients to spill on the stone, as it can generate smoke in the oven and imparts bad flavors to your pizza. Additionally, pizza stones require preheating. Failure to do so may result in uncooked, raw, or soggy crust.
In addition, a pizza peel is a necessary tool to move your pizza. In addition, it will require some practice to avoid ripping off your pizza bottom.
Practice your pizza peel skill with this in-depth instruction.
Ease Of Cleaning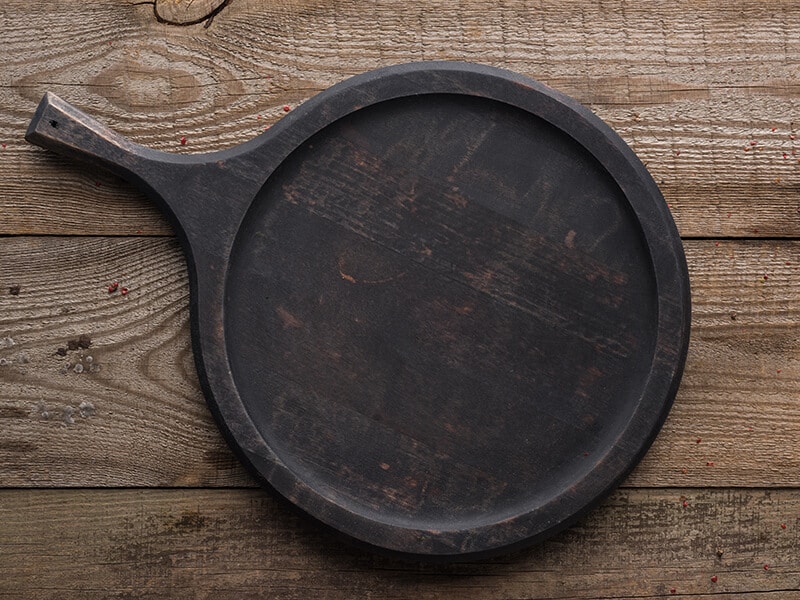 Similar to a regular pan, a pizza pan is easy to clean. Its smooth and flat surface lets you slide the sponge on it with ease, and all the hard-stuck residues will be gone with a bit of soap. Some pizza pans have a non-stick layer, making them much faster to clean.
On the other hand, pizza stone will give you a much harder time. There are tiny spores on the surface that make the crust and ingredients stuck on the stone. The stone also absorbs moisture that's hard to remove.
This creation creates a heaven for bacteria, so cleaning is a must after baking. But this tool requires its own method. You need to brush while running the water on the surface to do away with the hard-stuck food.
Please note that pizza stones are prone to cracks with sudden temperature changes. You should wait 1-2 hours before cleaning. Avoid using detergent or soap, or the stone will absorb the chemical smells and imparts them on your next batch.
Cleaning your stained pizza stone is no longer troublesome with this insightful guide.
Cost
Pizza pans are more economical, which is a much better investment than spending on commercial pizzas.
As you can predict, the price of a pizza stone is not low at all since it is made from premium materials such as reinforced ceramic, terra cotta, cast iron, or high-grade steel.
The highest-quality pizza stone can cost three times as much as its counterpart. Don't forget the pizza peel is its inseparable sidekick. That can be an added cost in case you are calculating your budget.
Pizza Pan Vs. Pizza Stone: Which Is The Better Choice For Your Kitchen?
To decide which is better, you need to consider your frequency of making pizzas and how you are going to make them. If you don't intend to make pizza regularly, I highly recommend you get an affordable and convenient pizza pan.
In case you're opting for the best-quality pizzas, a pizza stone should be on the list of your kitchenware. Storing and cleaning a pizza stone might feel troublesome, but the payoff is worth the effort.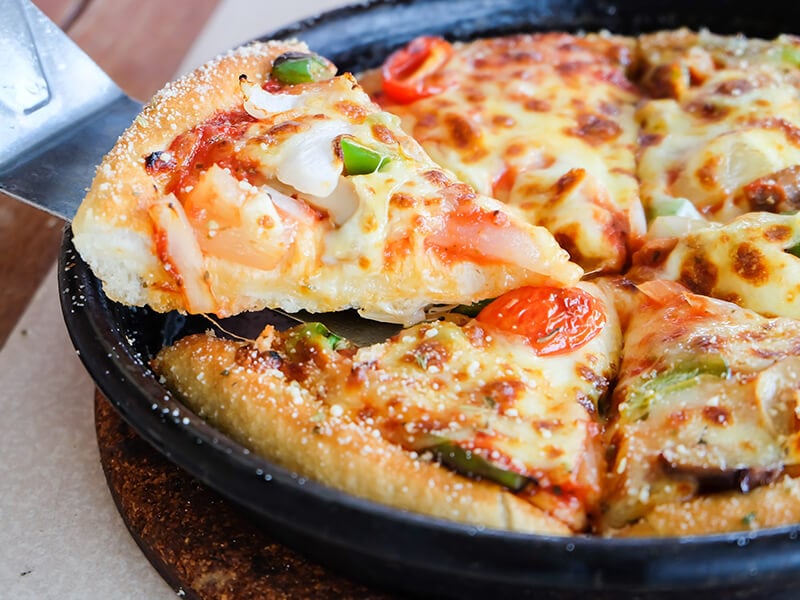 Best Pizza Pans And Pizza Stones You Should Buy
It may feel overwhelming to look through pizza pans and pizza stones on the internet. Here are some of my best recommendations for you:
This Honey-Can-Do Old Stone Oven Rectangular Pizza Stone can create restaurant-quality pizzas and breads. This pizza stone bakes up crispy and crunchy crusts. It is good at absorbing heat and transfers evenly for well-baked pizza.
If you're looking for a big pizza pan, try this Wilton Perfect Results Premium Non-Stick Bakeware Pizza Pan for Oven, 14-Inch Steel Pan. This pizza pan is made up of durable steel that resists warping. It's also non-stick and easy to clean.
In case you're opting for a more economical choice of pizza pan, this Pizza Pan, Wide Rim,16 In is perfect for you. It is made of aluminum with good heat conduction and ease of cleaning. There are also many sizes for you to choose from.
FAQs
Congrats! You have just passed the crash course about kitchenware for cooking pizza. Here are some queries for you to reinforce your knowledge:
Choose The Best Pizza Tool To Bake Your Dream Pizzas!
Making pizza is a work of art. With knowledge about tools like a pizza pan and pizza stone, you can turn your pizza into a masterpiece. The key here is to distinguish the merits and drawbacks of each tool so that you can choose the suitable one for your needs.
Keep in mind that you're still the main agent dictating the flavor and quality of your pizza. "Rome wasn't built in a day." Try to step up your cooking skills every day!
Before leaving, don't forget to leave me a big thumbs up if you find this article useful. Your fellow home cooks may need this piece of information, too, so share it with them! Best of luck with your pizzas!
References
Pan Pizza (2022) Wikipedia. Wikimedia Foundation.
(no date) The old stone age (paleolithic era).