The best pizza stone from a trustworthy brand is a priority of any pizza house or person with vast information about artisan pizza. However, various kinds of pizza stones have different shapes and materials.
Don't worry; this article will give you all the best ideas and a comparison of their features. Whether you're a busy person who usually eats frozen pizzas or pizza-loving households with the freshest ingredients, this post is for you.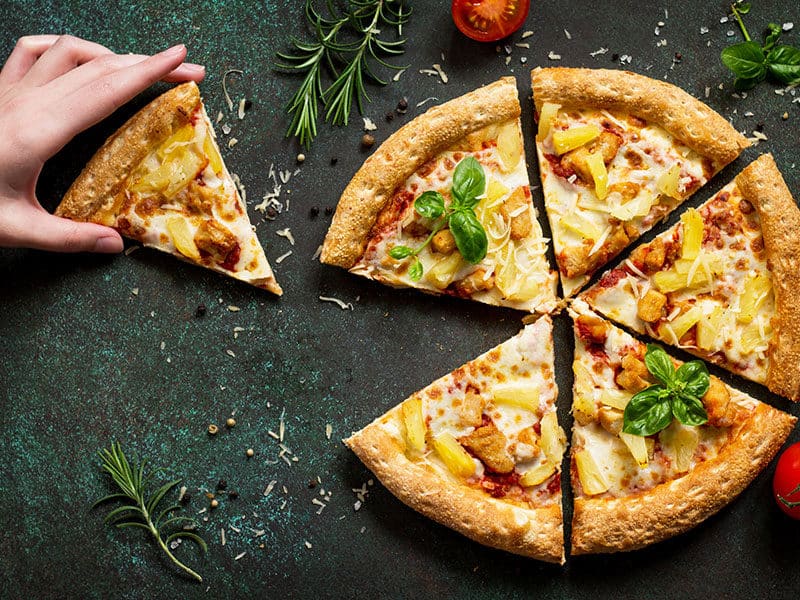 Why Use A Pizza Stone?
Normally, the temperature of a professional pizza oven goes up to 450°C that makes the dough rise rapidly. However, the problem of homemade pizza is that the heat inside the oven isn't high enough to make the dough crispy without making the toppings overcooked.
What's the solution? Many culinary experts recommend to turn the oven to the highest temperature and let the pizza stone does its work. It will absorb the moisture from the dough so quickly, not giving the heart time to dry. Your pizza becomes delicious, crispy, and soft inside.
Although at first, a pizza stone is designed only for baking a pizza, people nowadays use it as a homemade version of a professional brick oven. As the normal oven cannot go up to extremely high temperatures, it limits the ability to reach the restaurant standards of our meals.
With a pizza stone, high heat can be evenly distributed, creates mouth-melting dishes. Not only pizza but also bread, vegetables, cookies or croissants can benefit from this Stone.
Therefore, from now on, whenever you make a pizza, you can put some more broccoli, bell pepper around to provide you more vitamins and other fiber necessary. Pizza is no longer an unhealthy fastfood , but a meal with all the fiber and vitamins needed.
Furthermore, if you order a pizza from a restaurant, you can only eat what is already on it. However, now you can modify the recipe ups to you but remaining the restaurant standard. Adding more vegetables or put more cheese, it ups to you!
Types Of Pizza Stones
There are 3 main types of Pizza Stones: ceramic, stainless steels, and cordierite stones.
Stainless Steels
Among various materials used for kitchen tools, stainless steel is the newest trend. Its ability to exothermic is less even, making achieving higher temperatures easier. You can also use it for bread or pastries. It can achieve the highest temperatures among the three.
However, you need to pay more attention to this cause it gets rusty more easily. Therefore, you need to season Stainless Steel from time to time.
Cordierite
Cordierite stones are lead-free and non-absorbent. Stones made of this material has thermal shock resistant capacity. It It is slightly more expensive than other materials.
However, it is the most durable material for pizza stones, unlikely to be cracked like others. Their prices are almost higher than $30 but considering their durability, it is well worth the investment.
Ceramic
People have long compared dishes made of ceramic and porcelain. But how about pizza stones? As ceramic is baked clay, it can conduct heat from low to very high temperatures. This material helps users easily handle the pizza stone as it is the lightest material.
However, it is more fragile than Cordierite Stone. Importantly, it is cheaper comparing to Cordierite or Stainless Steel. Therefore, consider the lifespan and price to choose it wisely.
Which Are The Best Pizza Stones To Buy?
If you find difficulty in deciding, you can consult my list of 9 suggested Best Pizza Stones. However, don't forget to read their detailed reviews below before purchasing.
Comparison Table 2023
You can quickly compare some important information regarding to size, material and weight of 11 Best Pizza Stones this chart. Check it out before reading the review of each product!
Top 11 Best Pizza Stone Reviews 2023
Each Pizza Stone has its own strength and weakness depending on its material and size. Let's check Top 11 Best Pizza Stones' details!
1. Honey-Can-Do KCH-08411 Pizza Stone
(Best Overall)
This product was rated as one of the Best Pizza Stones by America's test kitchen. There are 2 sizes available for this round version: 14 and 16 inches diameter. This company confirmed that there is zero lead and free of carcinogenic heavy metals in their pizza stones, ensures costumers' health.
With advanced engineered Heat Core, this pizza stone can evenly distribute heat, providing a soggy-free center. Besides using standard home ovens (500'C maximum), it can also be used on gas grills.
You don't need to spend much effort on maintaining this Stone. Just rinse with hot water and air dry.
One thing that I don't really like about this product is that the feet on the bottom which can get jammed on the oven rack. Therefore, please move the Stone carefully.
Key Features:
Round, Cordierite
Specially advanced engineered Heat Core
Lead-free and zero carcinogenic heavy metals
Available in 2 different sizes
Pros
Out-standing absorbing and retaining heat
Thinner than other stones in similar size
Can be used on oven and gas grill
Easy to clean
Cons
High price
Sometimes has a chemical smell
Product Specifications:
Dimension
16.00 x 16.00 x 0.59 inches
14.00 x 14.00 x 0.43 inches
Weight
8.98 pounds
4.69 pounds
Material
Stoneware
Manufacturer
Honey-Can-Do
2. Unicook Heavy Duty 10.25 Inch Round Pizza Stone
(Best Budget)
I was faced with some reluctance to choose the best overall pizza stone because Unicook Heavy Duty comes with a really affordable price and high quality. Unlike metal, durable cordierite stone with extreme heat resistance makes this Stone distributes heat evenly.
This product can withdraw the temperature up to 1450'F therefore it can be used for both ovens and grills. Also, I never experienced unwanted odor.
It is recommended never to season this product with oil or grease. In addition, avoiding using soap or detergent to clean as it will damage the non-stick surface.
Buying this baby and I can promise you won't regret this investment!
Key Features:
Affordable price
Rectangular, cordierite
Extreme heat resistance
Usable for both ovens and grills
Pros
No odor
Withdraw the temperature up to 1450'F
Lightweight
Durable
Cons
Sticky to cheese
Not quite easy to clean up
Product Specifications:
| | |
| --- | --- |
| Dimension | 15.00 x 12.00 x 0.63 inches |
| Weight | 6.50 pounds |
| Material | Cordierite |
| Manufacturer | Homepro Manufacturing |
3. Solido Rectangular 14″ x 16″ Pizza Stone
(Best Choice)
The Solido stone is the best-selling pizza currently on Amazon.
What makes Solido stone stand out is the spiral grooves underneath the base. It works as a funnel that allows for airflow and heat from around to be concentrated in the center. This technique makes the pizza to heat faster and improves the heat retention capacity.
You might be wondering about cleaning up. Unlike the others, cleaning this Pizza Stone is really easy. I just need scraper the residue and scrub it with a damp cloth.
You can also place the flame directly unto the pizza stone but remember to have enough heat above the pizza to achieve golden toppings!
This pizza stone is perfect from beginning to the end. It usually runs out of stock due to the high demand so let's shop now on Amazon!
Key Features:
Rectangular, cordierite
Large surface
Unique spiral design on the bottom
Absorb moisture
Pros
Save time on pre-heating
Pizzeria standard
Usable for both ovens and grills
Outstanding the heat retention capacity
Cons
High price but quality worthy of the price
Hefty weight makes it hard to maneuver
Product Specifications:
| | |
| --- | --- |
| Dimension | 16.00 x 14.00 x 1.10 inches |
| Weight | 13.32 pounds |
| Material | Cordierite |
| Manufacturer | Solido-baking |
4. Old Stone Oven Round Pizza Stone
(Best for Frozen Pizza)
Coming home at 9 pm after work? Running out of battery after a long working day? Frozen pizza is perfect for your end of the day. However, how to turn a prepared pizza to a restaurant dish but wasting not too much time? The Old Stone Oven Round Pizza Stone is definitely made for you.
The ceramic material is durable enough to put your frozen pizza form refrigerator directly to the oven, so you don't have to waste time to deforest your pizza. With 1-inch thick, it requires much less time to preheat the oven.
Furthermore, it is featured with 3 stoppers on the underside to move the Stone easier. This 16-inch in diameter pizza stone is perfect for most of the prepared pizzas and takes a small surface in your kitchen.
I use this Stone not only for pizzas but also breads and other cakes. And guess what? Restaurant quality bread loaves and excellent Paris standard croissant!
Key Features:
Specially engineered Heat Core
Round, Ceramic
Absorbs moisture
Medium size
Pros
Less time to preheat
Easy to handle
Versatile
Cons
Not fit big homemade pizza
Product Specifications:
| | |
| --- | --- |
| Dimension | 16.00 x 16.00 x 1.00 inches |
| Weight | 0.16 ounces |
| Material | Ceramic |
| Manufacturer | Honey-Can-Do |
5. Culinary Couture Round 15 Inch Pizza Stone
(Best for Fresh Pizza)
Do you want to enjoy your authentic Italian style pizza with the freshest and healthy ingredients? This pizza stone will help you master all the favors! 3 factors that make this Stone really popular these days:
Firstly, with high-density cordierite stone, it provides extreme heat resistance. The better the Stone retains heat, the crispier the pizza is!
Next, thanks to its large surface, you can also save your washing time by using it as a preparing surface and then take it directly to the oven. This product also is absolutely safe for almost all kinds of grills and other foods like chicken tenders, seafood or bread.
Last but not least, it is only 0.80 inches thick, much thicker than any other similar size's stones. Hence you can enjoy your pizza with less preheat time.
Equally important, this pizza stone comes with 45 pizza recipes e-book.
However, the thing that makes this pizza stone outstanding from its competitors is the service providing by the company. The packaging is enforced with polyethylene foam, making it super safe during delivery.
Also, if it is broken or harmed, the company will send you a new one, even after over 1 year old. This is confirmed by many customers on Amazon and Reddit.
Key Features:
Large surface
Round, cordierite
Including e-book
Suitable for fresh pizza
Pros
Good customer service
Thick when comparing the big size
Extreme heat resistance
Can be used for other food
Product Specifications:
| | |
| --- | --- |
| Dimension | 15.00 x 15.00 x 0.80 inches |
| Weight | 9.00 pounds |
| Material | Cordierite |
| Manufacturer | Culinary Couture |
| Included component | Pizza recipes e-book |
Two short but really detailed video reviews about Culinary Couture Pizza Stones:
6. Good Cook 14.75 Inches Pizza Stone
(Best for Gifting)
Are you looking for an affordable wedding or housewarming gift? This Good Cook pizza stone 16.5 inches may be a good choice for you.
It is just beautiful in its simplicity by the elegant design and light beige color. With large non-stick surfaces and rack, this pizza stone not only provides crispers crusts but also easy to handle and clean.
Additionally, it is provided with a wire handle so that you can carry your Stone much easier. However, one thing that I am not so satisfied with this pizza stone is that although its surface is non-sticky, it often stains after using.
Key Features:
Giftable
Avoiding accidents thanks of rack
Round, Stone
Absorb moisture perfectly
Pros
Budget-friendly
Lightweight
Easily- cleaned, non-sticky
Versatile: used for bread, rolls and biscuits as well
Cons
Take time to preheat
Surface often stains
Product Specifications:
| | |
| --- | --- |
| Dimension | 16.50 x 15.50 x 2.00 inches |
| Weight | 4.6 pounds |
| Material | Stone |
| Manufacturer | Good Cook |
| Included component | Rack |
This video can give you an idea on the size of this product in real life and how can clean it:
7. CucinaPro Pizza 16.5 Inches Round Pizza Stone
(Best for The Oven)
This brand has been popular from Europe to Asia since 2005 and now well-known for being an affordable housewares.
This pizza stone is made of quality ceramic clay, which stimulates a professional brick oven. Therefore, it will take your pizza to the next level. With the medium surface, it allows you to use with any oven and pizza size. And also, with 2.25 inches thick, it is nearly unbreakable.
One thing particular of this Stone is that the material can season itself after each time using. Hence, the next pizza tastes more delicious than the previous one.
However, remember to follow the cleaning instruction strictly and don't put any liquid on it, as you may experience smoke when you try to clean this Pizza Stone by oils or soaps.
Key Features:
Professional grade porous material
Round and ceramic clay
Heat retaining
Lead-free
Pros
Durable
Fit nearly all ovens
Material stimulate professional ovens
The stone season itself overtime
Cons
Quite heavy
Not quite easy to clean
Product Specifications:
| | |
| --- | --- |
| Dimension | 18.50 x 18.00 x 2.25 inches |
| Weight | 9.86 pounds |
| Material | Ceramic Clay |
| Manufacturer | CucinaPro |
8. Cast Elegance 16 Inches Round Pizza Stone
(Best for Grilling)
Both BBQSmarts and Amazon ranked Cast Elegance as the best pizza stone for grill. With grills, the smell is always the problem. However, I witnessed no organic matter and smells coming with the heat as this Stone can eradicate them.
Cordierite can go up to 2000F so you can use any kind of grills (gas, charcoal, wood, electric, fuel) and provide an outstanding moisture absorption to create the crunchy on the outside and soft on the inside.
It is also usable for you Big Green Eye and other similar round cookers.
Key Features:
Advanced thermal shock capacity
EU and US FDA certificated safety
Round, cordierite
Heat is distributed evenly
Pros
No need to defrost your frozen pizza
Less time to preheat in the oven as its thickened is only 2 inches
Perfect size for most of t prepared pizzas
Including polycarbonate scraper and a bonus electronic cookbook
Quite lightweight comparing to similar size's pizza stones
Cons
Not quite easy to keep it new after using it
Slightly higher price
Product Specifications:
| | |
| --- | --- |
| Dimension | 18.00 x 17.90 x 2.30 inches |
| Weight | 8.78 pounds |
| Material | Cordierite |
| Manufacturer | Cast Elegance |
9. Love This Kitchen The Ultimate Rectangular Pizza Stone
(Best Versatile)
Comparing to round Stone, the rectangular shape has a wider surface. With 16.00 x 15.00 inches size, you can even cook 2 small pizzas side by side or even some cookies for dessert around the pizza. You can cook not only pizza, cookies but also vegetables or baguettes.
Furthermore, the wider the surface is, the more heat is absorbed and retained, which makes your pizza perfectly crisp. The durability of this product is proven by the exclusive Core Convection Technology™ concentrates heat in the core and projects its outwards.
One thing that I love the most about this pizza stone is that it has an all-around ledge on the underside making it easy to handle and avoiding spilling. Moreover, 108 pizza recipes eBook is included in your purchase.
Key Features:
Wide surface
Exclusive ThermaShock Protection & Core Convection Technology
60-day full refund
Round and Cordierite
Pros
Wider surface to cook
Can handle very high temperature
Greater heat retention
No-spill stopper
Cons
Some customers have experienced chemical odor
Product Specifications:
| | |
| --- | --- |
| Dimension | 16.00 x 15.00 x 2.00 inches |
| Weight | 10.68 pounds |
| Material | Cordierite |
| Manufacturer | Love This Want This |
10. American Metalcraft PS105 Pizza Stone
American Metalcraft was the first company producing deep-dish Chicago-style pizza pans in the 1950s. They began to produce custom stainless steel plate covers and pizza stones based on their experience in pizza. Hence, Pizza Stones from this company have been widely used for decades in the US, proving their stability quality.
This model, with 0.5-inch thickness, it only needs half the time to heat up compared to other types and no-need to seasoning or conditioning. It is recommended to rinse it in warm water before first use.
Tips:
You can sprinkle Stone with a thin layer of cornmeal (NOT flour as it may burn the Stone) before sliding the pizza or dough.
To remove the leftover food on the Stone, rinse it in warm water!
Attention: I highly doubt about the weight of this product. Except for the information that the company provides on Amazon, I can't find any other data. I will update you later…
Key Features:
Small size
Thick
Round, cordierite
Absorbs moisture evenly
Pros
Require less time for preheating
Reasonable priced
Less time to preheat
No-need to seasoning
Cons
Have to follow strictly cleaning instruction
Can't use for big size pizzas
Product Specifications:
| | |
| --- | --- |
| Dimension | 10.50 x 10.50 x 0.50 inches |
| Weight | 1.00 pound |
| Material | Cordierite |
| Manufacturer | American Metalcraft |
11. Pizzacraft PC0003 (Set of 4) Pizza Stone
I doubted the capacity to retain the heat of this pizza stone by their size before purchasing but Pizzacraft doesn't let me down. After preheating the oven about 10 mins, I put my 2 fresh pizzas and 2 frozen ones into it.
And the result surprised me. All of them are pizzeria quality, although the fresh ones stuck to the Stone a little bit as I forgot to put a layer of cornmeal. More importantly, they can be cleaned by a dishwasher. Super convenient!
You can also let your children or invite your friends to do their pizza, put all of them in the oven and enjoy your meal after just 1 baking time. An interesting idea for a weekend evening, right?
Key Features:
Round, Ceramic
Set of 4 minis
Safe to the dishwasher
30-days return policy
Pros
Do not take time to clean
Do maximum of 4 pizzas in one time
Require no seasoning
Eliminate hot spots while cooking
Cons
Not fit big size pizza
Must be careful as it is quite easy to be broken
Product Specifications:
| | |
| --- | --- |
| Dimension | 7.99 x 7.99 x 0.43 inches |
| Weight | 1.53 pounds |
| Material | Ceramic |
| Manufacturer | Charcoal Companion |
How To Choose A Suitable Pizza Stone?
It may seem easy but there are a variety of shapes, material, size available. Don't worry, here are some tips to choose.
Know the exact size of the oven.
Measure the depth and width of your oven cavity.
Tip: For a natural gas oven, it is advisable to allow a minimum of 2 inches, 1 inch on each side for air circulation.
After considering the depth and width of the Stone, ask yourself if you often cook bread, pizza and cookies or not. If yes, just go with the thicker one. The thicker your Stone, the better heat absorption and distribution.
Next, choose the shape that fits your needs. If you just bake pizzas, the round Stone is enough (and cheaper as well). If you have the intention to bake bread, baguettes, chicken tenders or even seafood, vegetables, rectangular ones are more suitable. They provide more surface area as well as can be used as a preparing surface.
Which Are The Best Brands Of Pizza Stone?
Honey-Can-Do
This company has a wide range of Pizza Stones with different sizes and shapes. From 12 to 14-inches round stones to extra large rectangular ones.
All of them are made of Cordierite. This mineral is well known for its outstanding thermal shock resistant capacity. Furthermore, this company ensures their products' safety as they are lead-free and contain zero carcinogenic heavy metals.
Pizzacraft
You might be confused by the different materials as each as its own perks. Whether you are looking for a product for your oven or grill, Pizzacraft provides you a large selection of Pizza Stone from cordierite, round, square, glazed, with steel handles, frames, etc. Pizzacraft' products are well known for their high-quality standard and easy to use.
Love This Kitchen
Comparing to other brands, Love This Kitchen' products have slightly a higher price. However, I never regret when purchasing from them. Each of their products is made carefully with the most advanced techniques.
The best part? Their Pizza Stones last almost forever. No broken, easy to wash. The quality is really worth the price!
How To Clean A Pizza Stone?
I will introduce to you 3 most popular ways to clean a pizza stone.
Clean The Stone by Hand
You should not clean the Stone right after using it. It is advisable to take the Stone out of the oven and leave it for at least 1 hour. Remember to handle it carefully or use heat resistant gloves.
Use a stone brush or plastic spatula to scrape off leftover food stuck on the Stone. Gently rub the surface.
Do not use soap, detergents on the Stone. Why? The soap will leave its perfume on the Stone. You do not want to eat your next pizza with a soap flavor, do you?
Use a damp cloth to wipe the Stone. Moisten a washcloth with lukewarm water and wipe the surface gently.
Like I mentioned before, NO olive oil, both before and after using the Stone. If you try to clean it with oil and other fats, you may experience smoke for the next time. Oil doesn't help to create a non-stick surface. The pores will suck the oil, which gets burnt when you put the Stone in the oven the next time.
Clean The Stone With Baking Soda
In case you are not sure that wiping with water works well, you can try this method.
Preparing the baking soda:
Mix baking soda and water in a bowl with 1:1 ratio. Mix it until you have a thick paste-like toothpaste.
Baking soda is really helpful to clean up dirt and grease but not affect the taste of food after.
Use a plastic spatula to scrape off large pieces of food.
Apply baking soda you have just made on a toothbrush. Then make small circles on Stone with it until all the surface is scraped.
Use a damp cloth to wipe the Stone.
Let it wind dry. Unlike the first method, it would better 24h before the next time.
This short video shows you how to clean up your Pizza Stone by hand a more intuitive way.
Or you can try to clean it by using a Sander:
How Do You Cook Pizza On A Pizza Stone?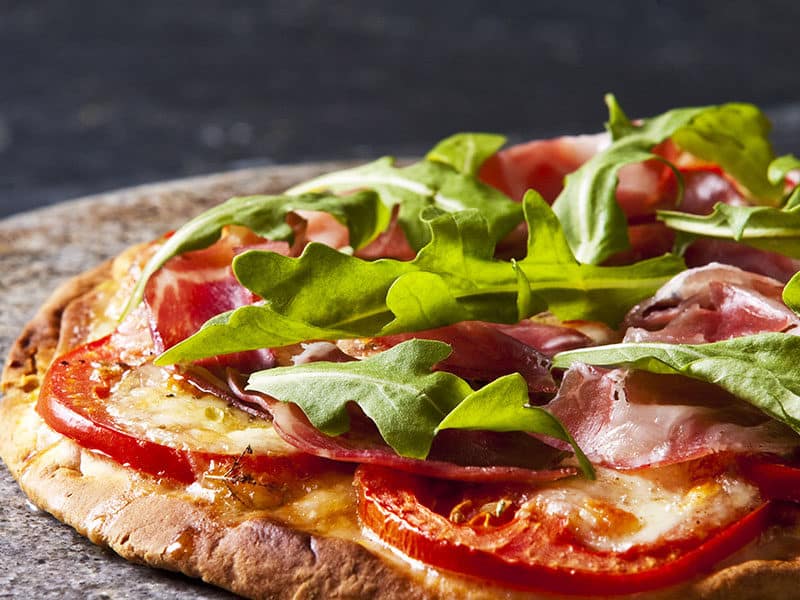 Normally, when you buy a pizza stone, there is an instruction guide for you to follow. However, I would like to talk about the general guideline that can be used for all stones and some useful tips.
The pizza stone allows even and gentle cooking of the pizza. It does require some preparation steps:
Put Your Pizza Stone In The Oven Before Preheating It
Placing your pizza stone in a hot oven can break it. Although every company says that their pizza stone can go from low to very high temperature, the durability of pizza stones can be negatively affected.
Maybe one time doesn't matter but it will make some small cracks inside the products. It cannot handle the sudden temperature change.
Preheat The Stone
If you think preheat the Stone means that preheat the oven so now you have to change your idea. Even when your oven is done heating up, it doesn't mean that your Stone reaches the right temperature.
The purpose of this step is to allow the Stone to absorb the moisture and heat evenly.
If you do not take your Stone a suitable temperature, your dough can be flat and soft from inside to outside. It is recommended to preheat it for 30 minutes to 1 hour but it depends on the thickness and material of your Stone.
For A Smooth Surface Like Cast Iron, You Should Season Your Stone With Oil
But for a stone made from ceramic or cordierite, follow the "lubrication" method, add a little flour, semolina or cornmeal to facilitate removal.
Remember that never put oil or excess fat drip onto it.
Leave The Pizza Stone In The Oven Until It Has Cooled Slightly.
You don't have to take it out right away, as it can add a "wood oven" effect that will work to even out your oven's temperature despite door openings.
At this step, I suggest you prepare a high-quality pizza peel. It can be a bit difficult to use at first, but this is a very useful tool, especially when carrying an uncooked pizza dough to the Stone.
This guideline also works with the grill but you have to control the temperature of your grill more carefully.
Follow this video and you can master how to use the Pizza Stone:
FAQs
My Top Pick
It's clear that Pizza Stone is indispensable for your kitchen if you really want to take care of your family's meals. I hope my reviews can help you choose the most suitable one.
My choice is obviously Solido Rectangular 14" x 16" Pizza Stone. This Stone brings me excellent pizzas as it heats evenly, absorbs all the moisture to produce really crispy pies of Pizza. I just can't stop eating…
Additionally, I can really feel the brand's scrupulous from the packaging to the after- sell support.
If you know other Pizza Stone or any tips to prepare, clean up it, please feel free to tell me and comment to share your experience with others! Thank you for reading my Best Pizza Stones list and I hope you make a good choice of Pizza Stone.