Does frozen pizza go bad? And when will it spoil? These questions seem redundant to some people because they think it's blasphemy to turn a hot and mouth-watering dish into a frozen state.
However, sometimes frozen pizzas are your best bet if you have surprise parties or family gatherings. It may not be able to match a pizza baked in a woodfire oven, but it's not a terrible choice either.
Everything you need about frozen pizza is wrapped up in these insightful articles. Let's waste no more time and proceed to the crash course on how to store frozen pizza correctly.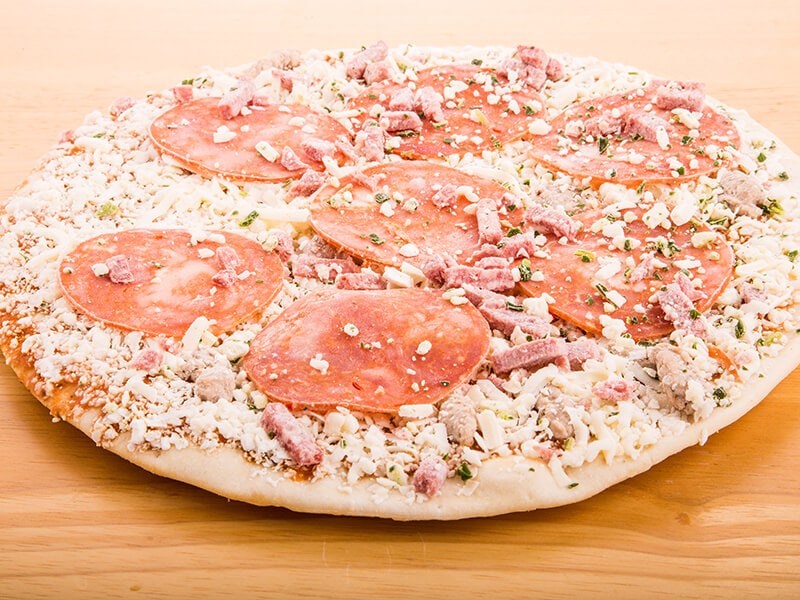 Some Insightful Background About Frozen Pizza
The truth is most people around the world know about pizza. However, some people are still reluctant when it comes to frozen pizza. Come with me to explore this staple variant.
As you might know, pizza is a traditional dish of Italy and has been loved since its birth. The market for pizzas was huge, so food manufacturers couldn't overlook that opportunity. Frozen pizzas are a convenient invention that works the same way as instant noodles.
While enjoying frozen pizzas, you may wonder why that seemingly unpalatable pizza product could have stood so unwaveringly to the test of time. The two adjectives to explain this are "convenient" and "tasty".
What Is A Frozen Pizza?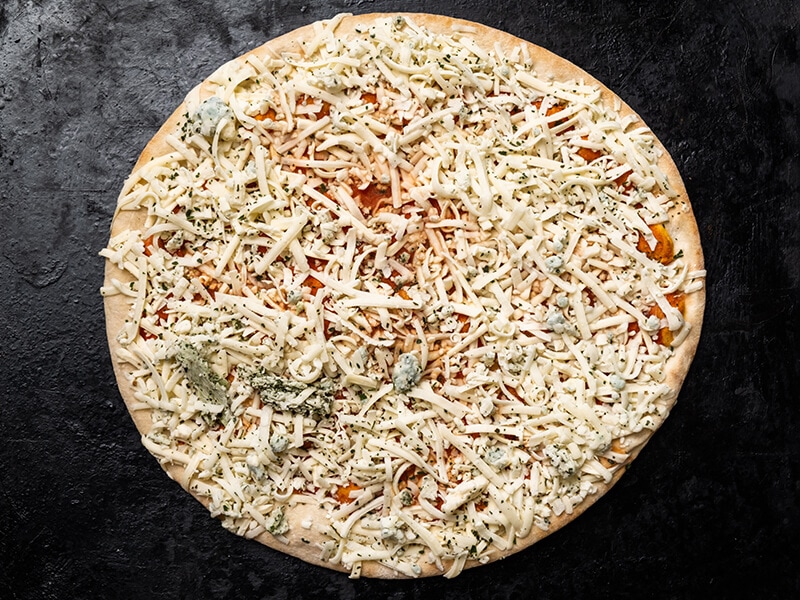 People who are unfamiliar with this fast food may assume it's just pizza put in the freezer for storage. It's got more of a story than you might think.
Frozen pizzas are also uncooked premade pizzas that have been flash-frozen and sold in that state so that buyers will bake them in their own oven.
Following the invention of the quick freeze method in 1924 (1), frozen pizzas were later produced en masse in industrial machines with the production capability of thousands of pizzas in just seconds.
Pizzas had been a staple in the US for a very long time, but it was not until the 1950s that frozen pizza became a popular product in the supermarket. The trend of "read-to-cook pizzas" started in Boston and gradually spread to other parts of the US.
Initially, frozen pizzas consisted of a very simple and easy-to-find set of ingredients, such as flour, yeast, water, spices, mozzarella cheese, vegetables, and toppings of various kinds. The ratio of ingredients varies differently between manufacturers.
Similar to other frozen products, industrial additives and preservatives are necessary to keep the product lasting longer.
Most frozen pizzas have a crispy and crunchy crust as a result of baking. Different sizes of crust serve as a base to hold tomato sauce, blends of cheese, and toppings like pepperoni, bacon, sausage, ground beef, or vegan ingredients.
Do you love frozen pizzas? Let's discover some amazing facts about this delectable fast food.
Types Of Frozen Pizza
Many types of frozen pizzas have been inspired by traditional baked pizza, and the simplicity of frozen pizza hasn't changed much. They all boil down to two major categories: thin-crust and thick-crust frozen pizza.
Thin-crust frozen pizza closely resembles traditional pizza. Some of the most famous thin-crust pizzas are New York pizza, St. Louis pizza, and New Haven pizza.
On the other hand, thick-crust frozen pizzas come with thick bases to be able to hold multiple layers of toppings. Remarkable thick-crust pizzas are Chicago deep-dish pizza, Sicilian pizza, and Detroit pizza.
Come with me to explore frozen pizza production in the factory.
Nutritional Content
This staple contains a lot of nutritional content that is enough to supply you with energy to function in half of the day. Most pizzas are rich in energy fat, proteins, and carbs. Their content of sugar and sodium is also significant (2).
Generally, carbs and calories are the most prominent components of a frozen pizza. Different pizzas come with different toppings and vegetables, so the nutritional contents vary greatly between them.
Processed foods like frozen pizzas are high in unhealthy components. They contain preservatives and unhealthy fats. People who have obesity, blood pressure, and heart problems should think twice before munching on this kind of pizza.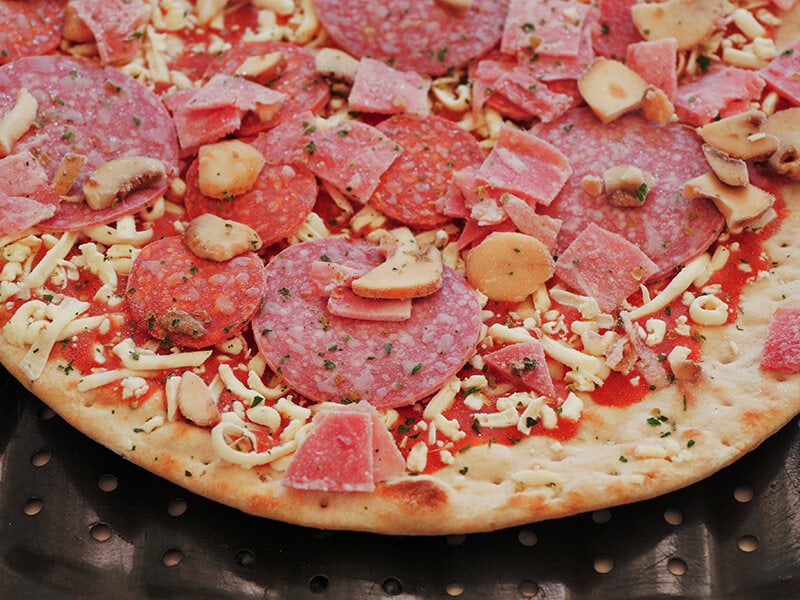 Can Frozen Pizza Go Bad?
Most people think frozen pizza can't go bad, but that's not the case. Frozen pizzas can outlast many foods in your freezer, but they are not a kind of magical food that can withstand time. At some points, you should consider throwing them away.
Your frozen pizza contains a lot of ingredients, such as dough, cheese, tomato sauce, and many other toppings like ham, pepperoni, mushroom, sausage, etc. Each ingredient comes with a different shelf life.
However, thanks to preservatives and cold storage conditions, frozen foods like frozen pizza or vegetables can still be consumable after the expiration date.
Anyway, when an ingredient goes bad, it can lead to the spoilage of the whole pizza in a short time. Eating spoiled pizza can lead to food poisoning or food-borne illness. Some symptoms are stomach ache, diarrhea, and vomiting.
Various factors can make your frozen pizzas become heaven for bacteria and the like. Here are some of them:
Long Exposure To The Air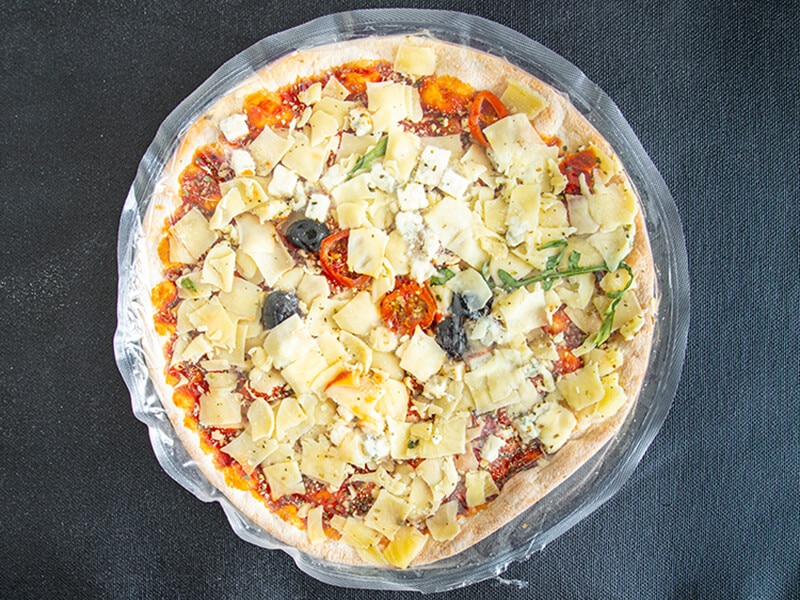 If you unpackage your frozen pizza and forget it outside for some days, your pizza will go bad, even if you put it back in the freezer. Similarly, when you buy frozen pizza packages and leave them at room temperature for several days, your pizza might not be safe to consume anymore.
Improper Storage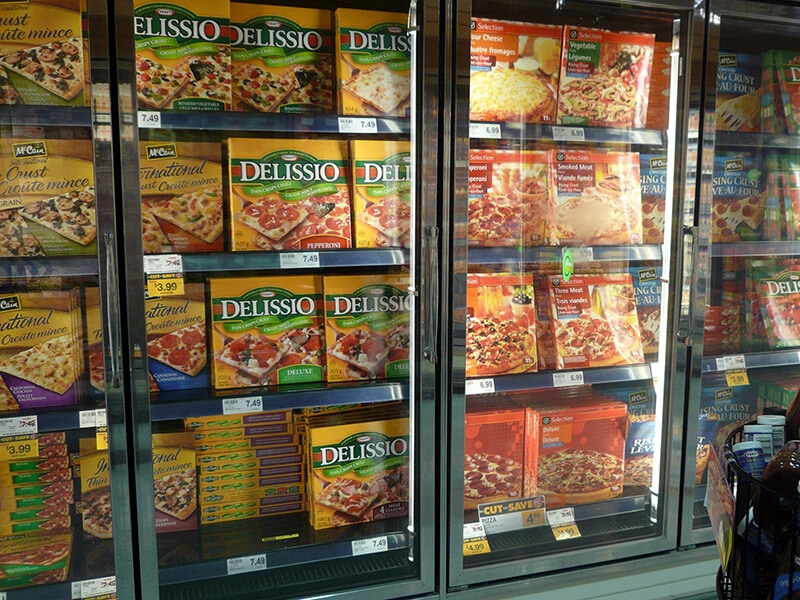 As the name suggests, frozen pizzas should be in the freezer. You should store them immediately after bringing them home from the store. Some people are afraid of freezer burn, so they store their frozen pizzas in the fridge.
But doing so will shorten the shelf life of your pizzas very much since the fridge can't provide the freezing temperature they require. The fridge can be a temporary measure, but never the best place for storing frozen pizzas.
Keep in mind that the more abundant and complex ingredients on the pizza, the shorter its shelf life in the fridge is. Meat and sauce can go off quickly without freezing. After all, it's got the name frozen pizza – not cold pizza – for a good reason, right?
Must-Know Facts About Storing Frozen Pizzas
You can never go wrong storing frozen pizzas in the freezer, but that's not always an available option. Learning about how to store frozen pizzas and their shelf lives in each condition will boost your confidence.
| Ways of storage | Shelf life | Temperature |
| --- | --- | --- |
| Freezer | About 18 months | 0°F (-18°C) |
| Fridge | 2-3 days | 37°F (2.8°C) |
| Room temperature | 1-2 hours | 68–72 °F (20–22 °C) |
Storing Frozen Pizzas In The Freezer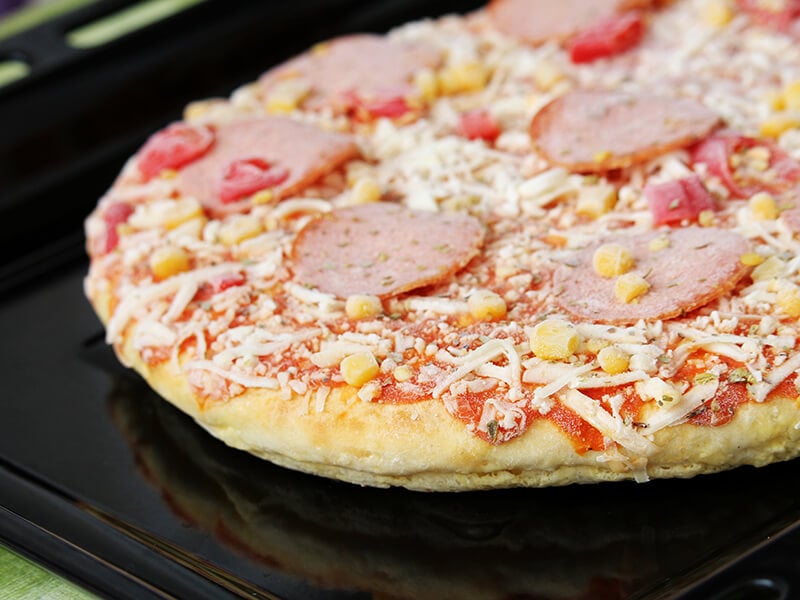 It's best to heat and consume newly bought frozen pizzas within the buying day. If not possible, store them unopened at 0°F (-18°C) right after you go home. Your frozen pizzas can last up to amazingly 18 months in the freezer.
However, your frozen pizzas can experience freezer burn when stored in the freezer for too long a time. It happens when you bring frozen pizzas out of the freezer or the store, and they begin to thaw, creating moisture. This excess moisture becomes crystalized on your foods.
In that process, the water content inside the foods dries out, causing discoloration and oxidation. That will deprive your frozen pizzas of their original texture and taste.
Storing Frozen Pizzas In The Fridge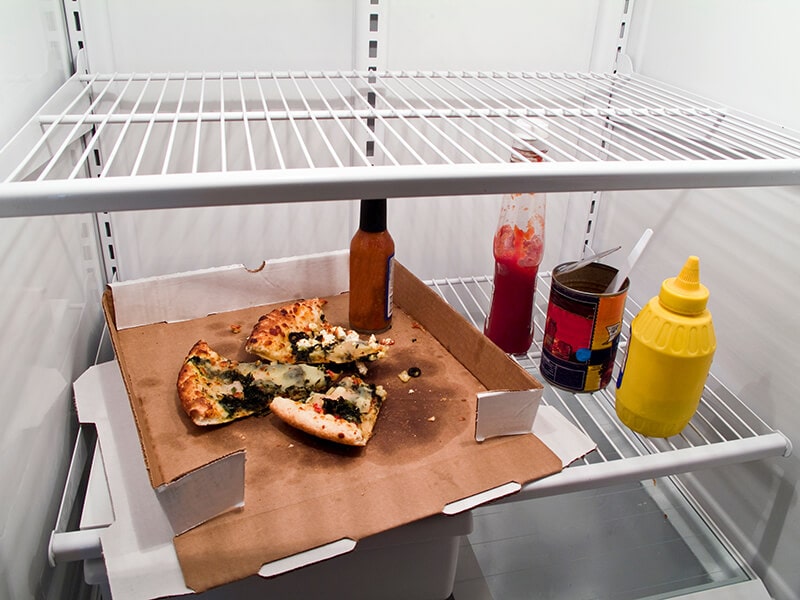 In case your freezer is stuffed, it's not harmful to store frozen pizzas in the fridge for a few days. Storing them there longer than that will cause them to go bad. But if the packages say, "Do not thaw", "Keep frozen", or "Do not refrigerate", the freezer is the only option.
Your fridge is a great temporary stop for your frozen pizza but not a reliable place for long-term storage at all. Your frozen pizzas can only last for 2-3 days in the fridge at 7°F (2.8°C). After that time, your pizza will begin to deteriorate.
Storing In Room Temperature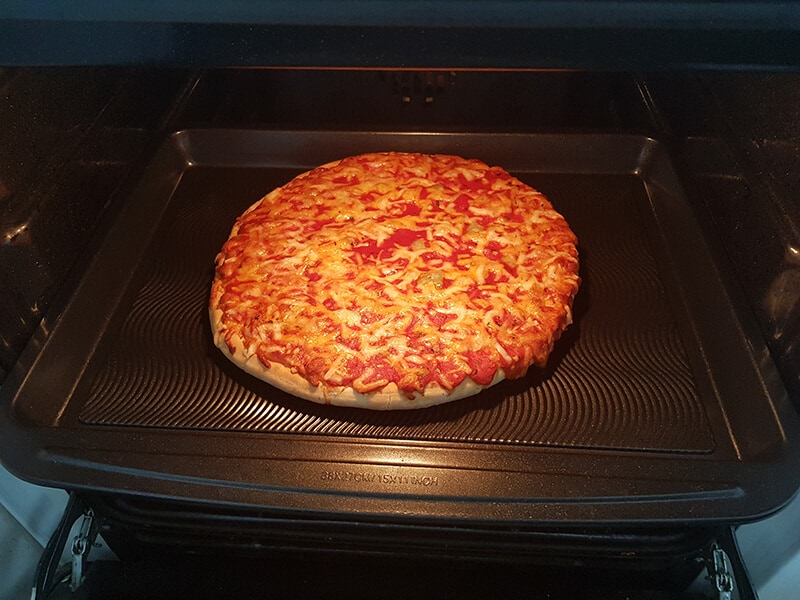 This section is more of a warning than a method of storing frozen pizzas. Generally speaking, your frozen pizzas should not stay for longer than 2 hours at room temperature. They will not spoil immediately after that period, but the quality will quickly go down from there.
Even if you put your frozen pizzas into the freezer after that time, they will not stay fresh as long as you store them in the freezer immediately.
Learn how to step up your frozen pizza taste in this simple instruction.
Tips To Extend The Shelf Lives Of Frozen Pizzas
As discussed above, the freezer is the safe haven for frozen pizzas. However, there are still some points you should keep in mind to keep them in the best storage condition and minimize quality decrease as much as possible.
Shopping For Frozen Pizzas
When you go shopping for groceries, the rule of thumb is to put the frozen foods in your shopping cart last. Goods in the frozen section should be kept frozen as long as possible, so as frozen pizzas.
Your shopping trip may take hours, so taking frozen pizzas out of the freezer too soon will leave them in a vulnerable condition, which badly affects the integrity of the pizzas or even risks spoiling them in the long run.
One of the reasons you should put your frozen pizzas at the bottom of the shopping list is that they should be on top of your stack of groceries, not under them. Failure to do that leads to the spilling of ingredients and squished pizzas.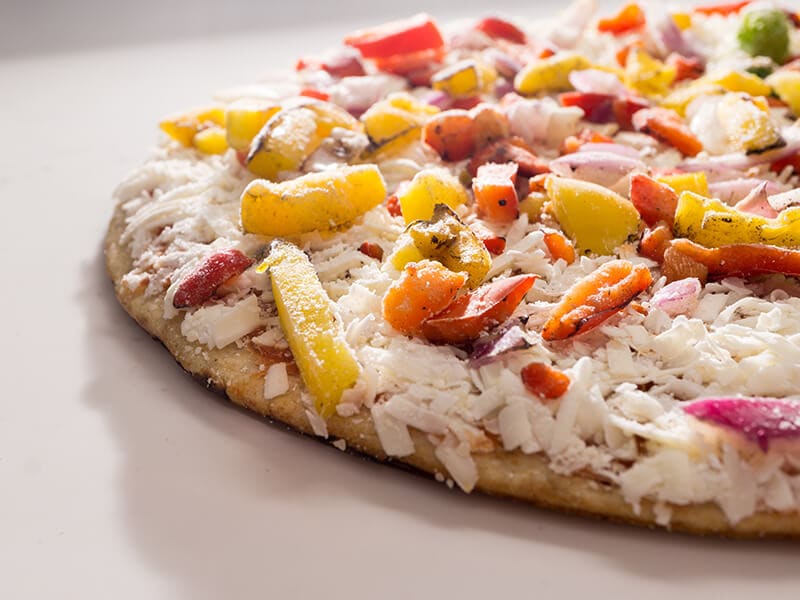 Don't Bake More Pizzas Than You Need
If you go home with more pizzas than you need to eat right away, you should take out or cut up the pizza as you need and refreeze the rest within a few minutes. Otherwise, refreezing the leftovers will likely cause them to have freezer burn and even spoilage.
Don't know about frozen pizza? This review can give you some ideas about famous frozen pizza brands!
Signs That Your Frozen Pizza Has Gone Bad
There are tell-tale signs for you to know it's time to dispose of your pizza. They indicate that your frozen pizzas are no longer safe to consume and should be in your trash bin.
Bad Odors
Most spoiled foods come with unpleasant smells. However, frozen foods don't smell much in a frozen condition, so you will need to thaw them a bit to realize those smells.
Frozen pizzas contain meat, sauce, cheese, and crust. The bad smells come from either of those ingredients. Even if only the meat is off, you should dispose of the whole pizza. Never risk poisoning yourself with potentially spoiled foods.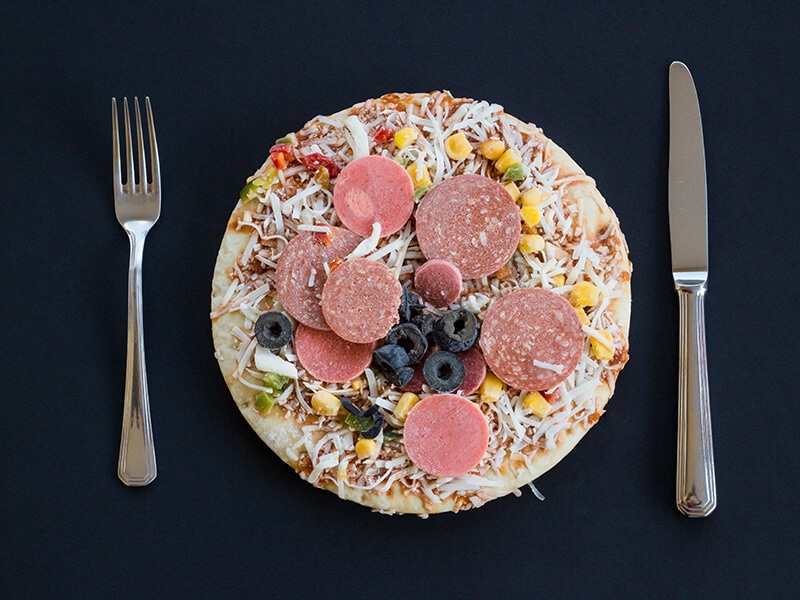 Discoloration
If your pizza has suspicious spots or a change of colors from ingredients, it may have gone bad. Trust your eyes: the unusual colors are usually a sure sign of spoilage.
Mold
Molds don't always appear in frozen foods, but it's not impossible. This happens due to some malfunction of your freezer or the pizza has been thawed and refrozen a couple of times.
Mold is tiny black or green spots on the surface of the food. It tells you that bad bacteria have severely infected your pizza. A moldy pizza is the last thing you want to eat since it can lead to fatal food poisoning.
Slimy Texture
If a portion of food feels slimy to touch when it's not supposed to, it is no longer edible. Frozen foods rarely get slimy, but some mistakes in storage can make that happen. Pizzas with slimy texture ingredients, such as cheese, meat, or crust, are not safe to eat anymore.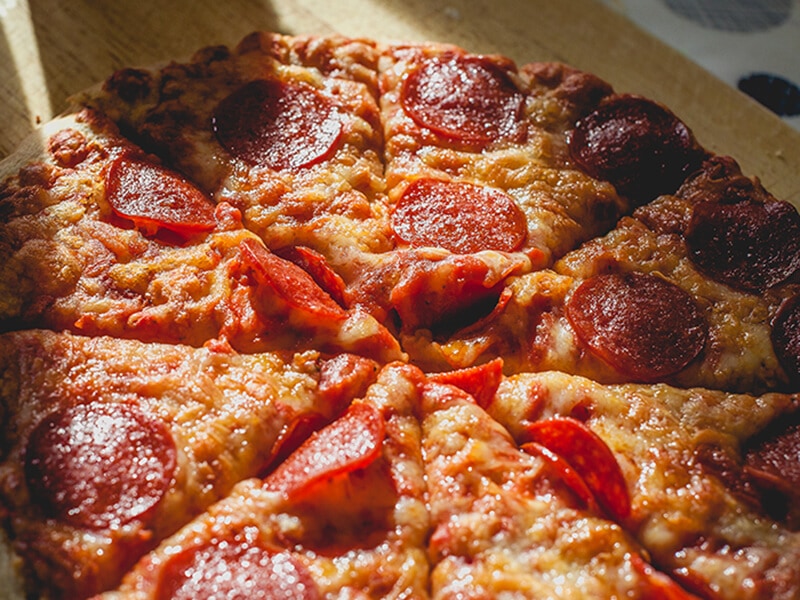 Off-Putting Taste
In case you miss all of the above signs and proceed to heat your pizza, the foul taste in the first bite is the final red flag telling you to get rid of the pizza. Another situation is that the crust and other ingredients have turned bland and tasteless.
Always trust your senses. It's not worth putting yourself through all the risk just for a potentially spoiled pizza.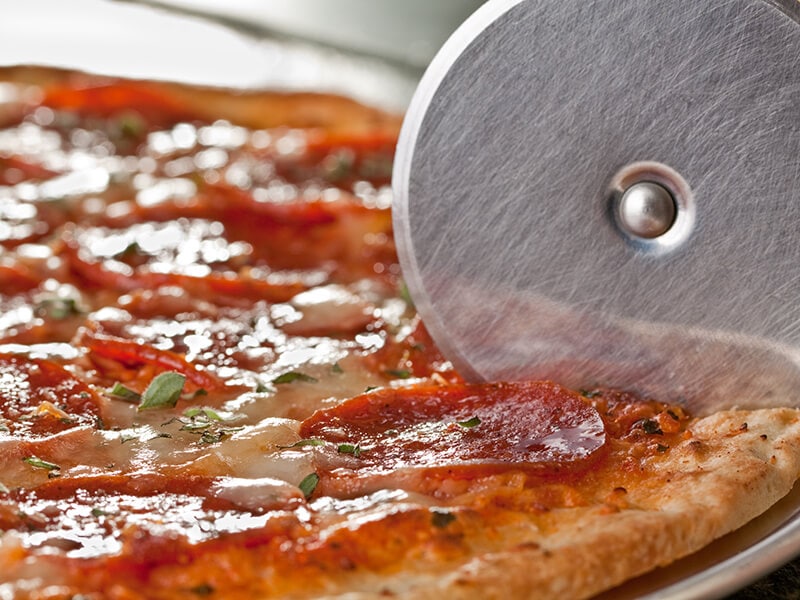 How To Avoid Freezer Burn In Frozen Pizzas?
Although freezer burn is not dangerous, it gives your pizza an unappealing look and deprives some of its taste. There are some ways you can prevent this.
The first way is to use an airtight container. The lack of air will harness the formation of crystals over your pizza.
Keep in mind that the original package of your frozen pizza is also a great airtight container. But whatever container you use, you should limit the time it is exposed to room temperature to minimize the condensation of moisture.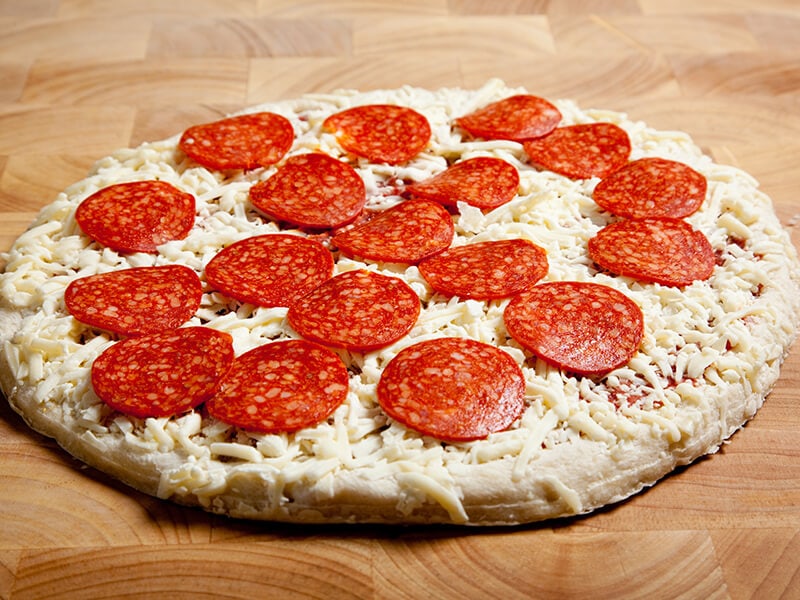 FAQs
Frozen pizzas are easy to store, but it takes some learning to know how to store them correctly. This section is here to complement your knowledge about frozen pizza:
Never Be Overconfident With Your Frozen Pizza!
As you have learned that even frozen pizza can be subject to the circle of life, don't take the storage of your frozen pizza lightly. However, the best-by date isn't necessarily the ultimate sign to tell your pizzas have gone bad. Watch out for other changes in your pizzas, instead.
If you don't want to sweat yourself over determining whether your pizza should be disposed of or not, you should be extra careful in every storage step. That will help you to enjoy your delectable frozen pizzas to the fullest.
Let me know your favorite kinds of frozen pizza in the comment. Your big thumbs-up will be a great motivation for me. Also, don't forget to share these useful tips with other pizza lovers in your circle. May your pizzas live long and prosper!
Reference
Who invented frozen food? (no date) The Library of Congress.
Kubala, J. (2018) Is pizza healthy? Nutrition tips for Pizza Lovers, Healthline. Healthline Media.