Do you know that there are plenty of types of pizza crust? Each type of pizza crust plays a vital role in the constitution of your pizza taste since the crust accounts for more than half the size of pizza.
Whether you belong to the crust or topping team, it's undeniable that the right combination of crust and toppings make a delectable pizza. And more often than not, its crust makes a pizza unique.
Each type of crust has its taste, cooking style, and toppings. Let's find out 11 types of crust are out there to see how immense the pizza world is.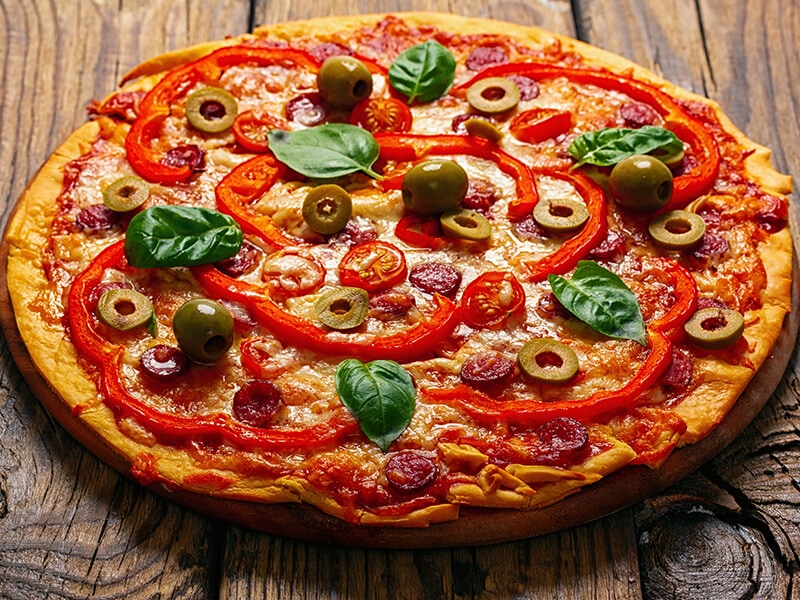 | Types of pizza crust | Distinctiveness | Texture |
| --- | --- | --- |
| New York | Large size, foldable | Chewy, crispy, thick |
| Neapolitan | Blackened bubbles, traditional making process | Floppy |
| St. Louis | Cheese blend, unleavened | Super crunchy, unpliable |
| New Haven | Irregular shape, super thin | Crunchy |
| Cracker crust | Cracker-like, super thin | Crunchy, crispy |
| Grandma crust | Rectangular shape, uncooked tomatoes | Crispy, dense |
| Chicago deep-dish | High sides | Thick, crispy |
| Sicilian/Detroit | High oil and water, medium-well done | Thick, chewy |
| Greek | Deep fried bottom | Puffy, chewy |
| Flatbread | More yeast | Fluffy |
| Stuffed crust | Crust has fillings | Crispy, stuffed |
6 Thin-crust Pizza
The thin crust was the initial form of pizza before it got famous. The thin and stretched center doesn't allow it to hold much weight, so it works better with fewer toppings. There are various kinds of thin pizzas with different textures and tastes for you to explore.
1. New York Crust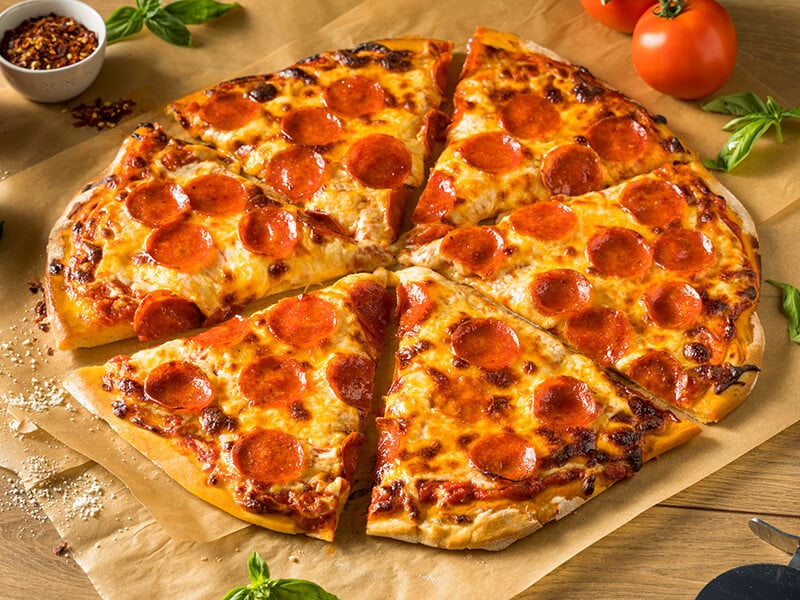 New York-style crust deserves its first spot on the list because it is the first pizza to appear in America. The absurdly large size of the classic New York pizza has been prevalent in the media, ranging from movies to ads, since the dawn of this legendary foodie in the 1900s.
Compared to other thin crusts like Neapolitan and New Haven, the New York crust is somewhat thicker and crispier on the outside. The hallmark of New York pizza is the foldable big slices that are best enjoyed with bare hands.
The secret formula of New York pizza crust is gluten-rich bread flour and mineral-rich water from New York City; the oil and sugar component in the dough also contribute to its unique taste.
Another interesting aspect of the process of making New York pizza crust is hand-tossing. Sometimes, you will see the chef do the "pizza dance" with his pizza dough tossed and swirled. This gives the crust a medium-thick yet crispy texture.
People usually cook this pizza in a gas-heat pizza oven with a large flat bottom. Due to the thick crust, it takes longer (around 15-20 minutes) to bake this pizza.
Discover the dough-tossing skill of a chef in a New York restaurant.
2. Neapolitan Crust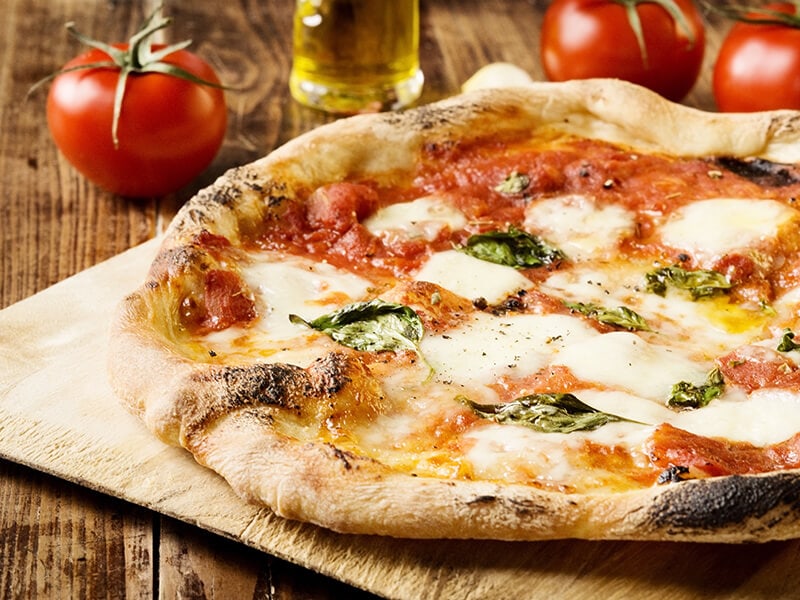 This classic pizza crust is the direct descendant of traditional pizza made in Naples. A type of Neapolitan pizza named "pizza Margherita" was served to Queen Margherita in 1889.
As the saying goes, "Beware of an old man in a profession where men usually die young," old Neaoilitan crust wouldn't have stood unwaveringly on the competitive fast food market for too long without its strict sets of production requirements.
You may think of Neapolitan pizza chefs as the most conservative minds in the pizza field. A Neapolitan crust that lives up to its name must have its dough hand-kneaded. The crust must not exceed 35 centimeters in diameter and be less than 0.3 millimeters thick at the center.
Nothing other than traditional ingredients is used in the dough. Floor, yeast, water, and salt are all you need. The simplicity and exquisite taste also prove Neapolitan's indispensable role in pizza.
This pizza has its crust baked in a coal-fired or wood oven in extreme heat (more than 800°F/ 426°C). That explains why they come with special "birthmarks" of blackened bubbles on the surface. Its taste and crispy texture are unrivaled when cooked this way.
3. St. Louis Crust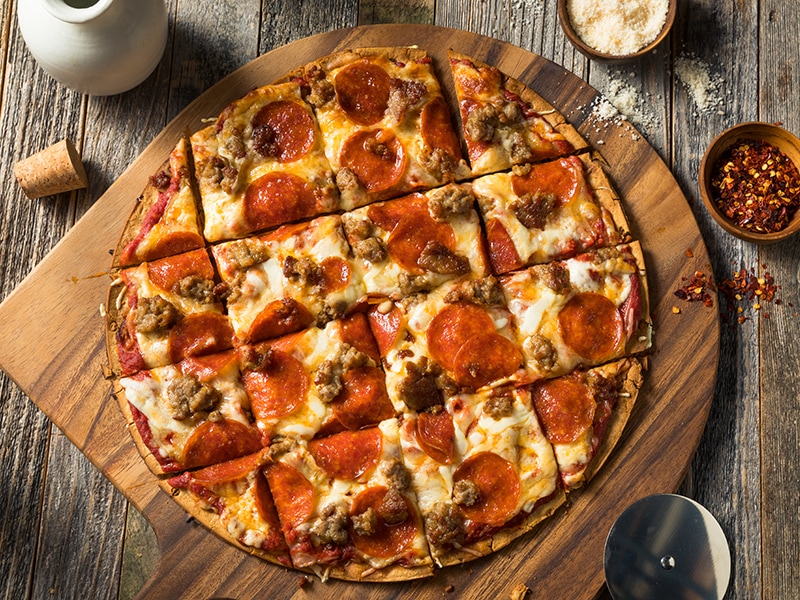 This specialty didn't get so much love for no reason. It's an iconic specialty in the Midwest for its superior crunchiness or, may I say, cracker-like texture. It's got that crumbling bite and thin crust from the unleavened dough (not yeasted).
Despite being a thin crust, the St. Louis crust can hold a lot of toppings. The savory sauce packs a strong oregano flavor. It is also sweet, thanks to the influence of Sicilian immigrants.
St. Louis pizza is also distinguishable from its cheese blend, consisting of provolone cheese, Swiss cheese, and white cheddar cheese. You usually see this pizza in "tavern cut" slices with the shape of rectangles.
4. New Haven Crust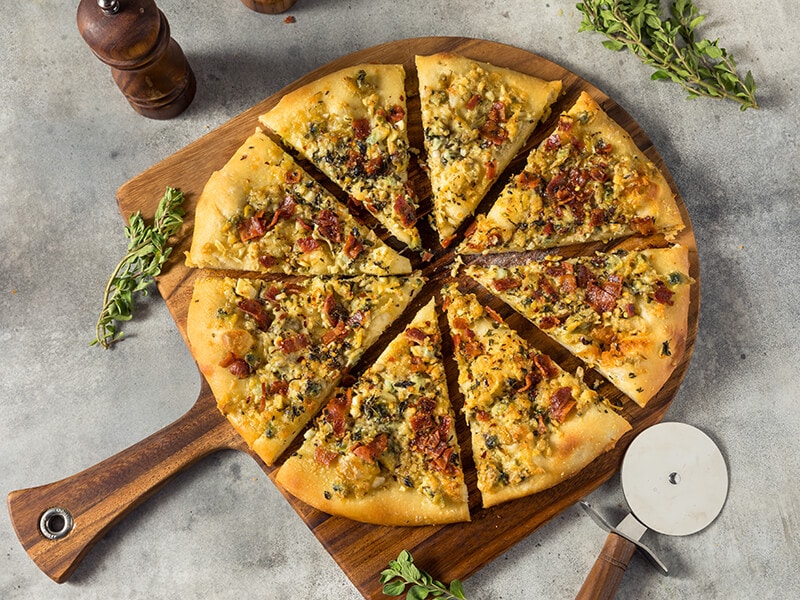 New Haven is truly a one-of-a-kind pizza crust. It is not recommended for people with OCD because its irregular shape can trigger them big time; some may describe it as an "oblong shape" – the combination of round and rectangle.
The crust is super thin and spread out, so it's guaranteed crispiness on every bite. It may be the thinnest pizza crust on the list, but it's by no means fragile.
People cook this pizza in a piping hot coal-fired oven on the brink of time to retain its moisture without compromising the quintessential char of pizza.
The mineral-rich water in the area also contributes to the distinctive taste of the pizza. The dough has a springy consistency thanks to the long fermentation time. This kind of pizza is popular in Connecticut.
Learn how to make New Haven pizza at home.
5. Cracker Crust
The Cracker crust is one brilliant idea for making pizza from the Midwest. The thickness of the crust is equal to a cracker, hence the name. This pizza crust doesn't employ yeast, so it has no doughy texture.
Its crispiness is top-notch, with or without toppings. Furthermore, the toppings also dictate the thickness of this pizza, as too thin of a crust won't support the heavy elements.
6. Grandma Crust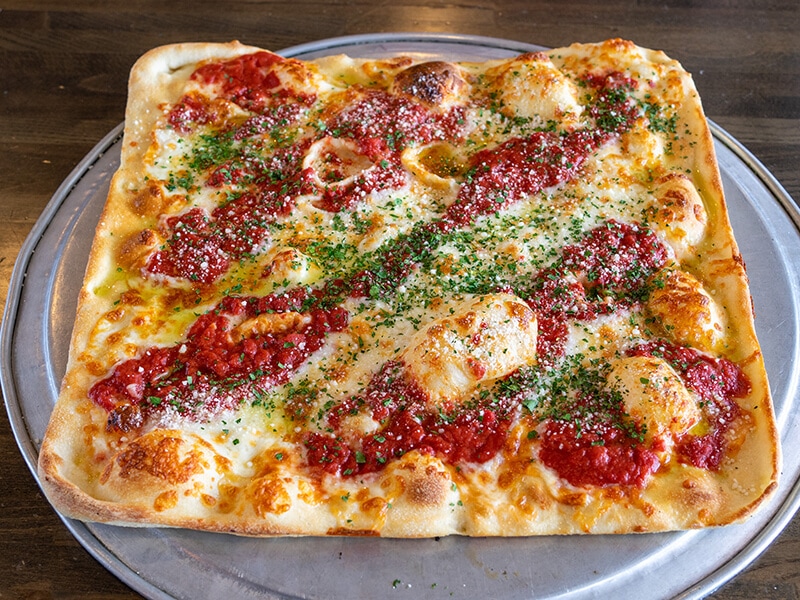 Originating in the 20th century, grandma pizzas come with a thin crust. The rectangular crust topped with cheese, and fresh uncooked tomato is reminiscent of an old peaceful time in the Italian countryside.
Housewives baked this pizza without an oven at home. Despite its long origin, it was not well-known outside of Long Island. It is cooked in rectangular pans coated with olive oil and produces a crispy and denser crust than Sicilian-style pizza.
5 Thick-Crust Pizza
Do you know what is better than a pizza? It's a whole tower of pizza! The thick crust's towering size and abundance of toppings are there to fulfill your deepest craving for this Italian goodie.
The crusts should be at least 0.5 inches in thickness. Most of them are prepared by hand. Chefs can roll out or shape the dough to fit deep-dish pans. Characterized by the thick crust that accommodates a multitude of toppings, these pizza crusts will make you full to the core.
7. Chicago Deep-Dish Crust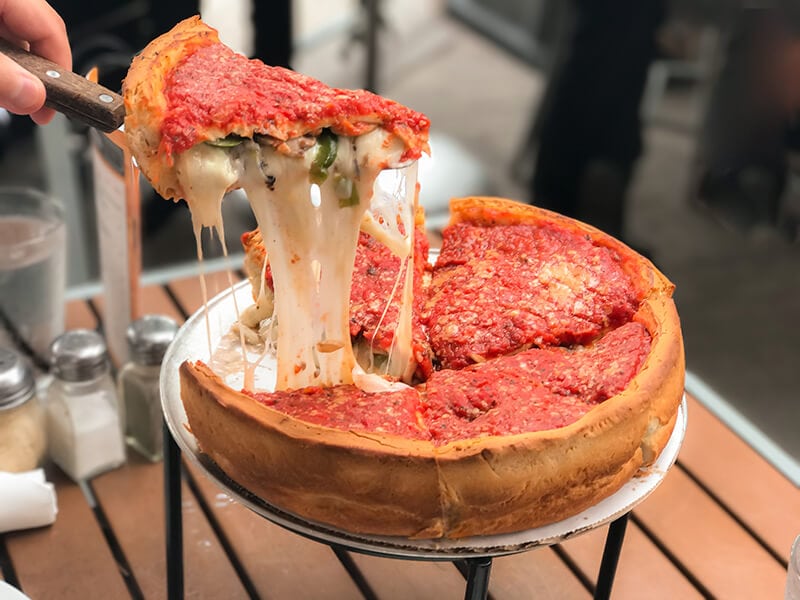 This staple is a must-try if you ever have a chance to visit the Windy City of Chicago. It will be a once-on-a-blue-moon dining experience for you and your companions.
The first and foremost thing you will notice in a Chicago deep-dish pizza is a mountain of crust, a tower of mozzarella cheese, a puddle of savory tomato sauce, and layers of toppings. The Chicago people don't take things lightly; it's either go big or go home.
It is hard to imagine how that huge amount of toppings can lay on top of the pizza without the pie-like crust of this pizza variant. Don't jump to the conclusion that it sacrifices its taste for integrity. Chicago deep-dish crust is rated as one of the tastiest crusts out there.
It takes much longer to create the crust, around 30-45 minutes. The chef lays the pizza in a cast-iron pan coated with oil and butter to avoid burning. The toppings are set in a reserved order, with the cheese on top to protect the rest.
In the baking process, the crust will absorb all the flavors and the fat dripping down from the ingredients to reach its final form of the delectable and crispy bottom.
Let's see how people make Chicago deep-dish in a pizza restaurant.
8. Sicilian/ Detroit Crust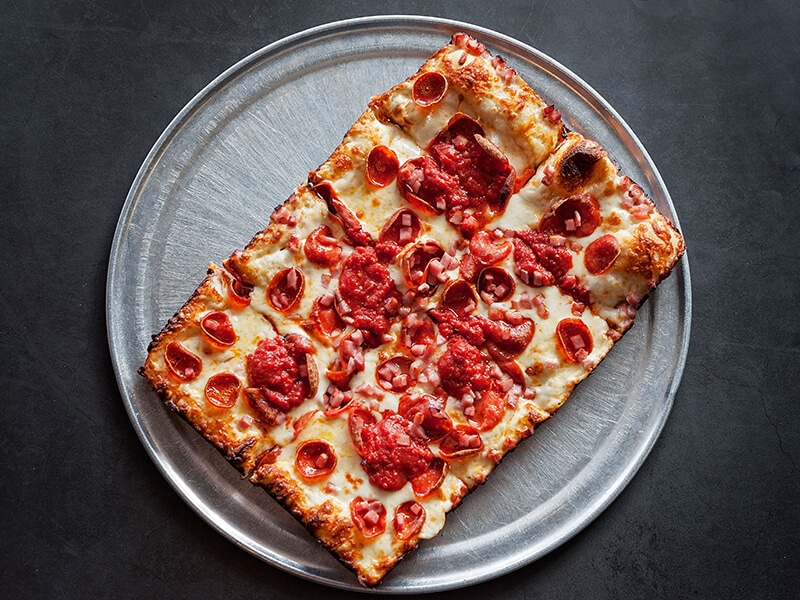 There is a fun fact that metalheads in Detroit utilized metal trays used in motor assembly lines to cook their pizzas. This particular type of "pan" can quickly reach a piping hot temperature, making the bottom extremely crispy while the inside is still fluffy.
That might sound a bit metal, but Detroit pizza is a delicate recipe. The making of the Sicilian crust is simple. The Motor city people love machines, so don't be surprised if you find out the dough is prepped in a stand mixer.
The thick, rectangle-shaped dough contains a lot of water and oil, which is unusual in the pizza crust. But combined with yeast and the medium-well-done baking method, the final product is a porous, chewy, crispy, and flavorful crust.
A true Detroit pizza crust should be about 1.5 inches thick and baked for 13 minutes at 440°F.
9. Greek Pizza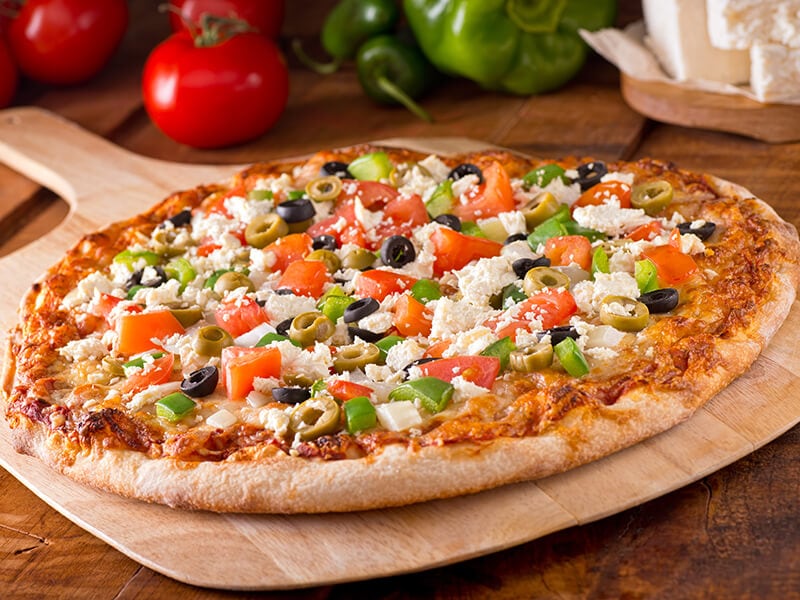 Another savory thick-crust pizza for your recommendation. Greek pizza has reigned supreme in Eastern America with its deep-fried bottom and chewy, thick crust. Costas Kitsatis invented this dish at his restaurant Pizza House.
People bake this pizza in a shallow pan instead of the deep pans like in Sicilian. This type of pizza can feel quite oily to most people.
This classic Greek native is more bloated and chewier but can't match Chicago deep-dish in thickness. Greek Pizza is packed with oregano tomato sauce covering traditional feta cheese, spinach, olives, and red onions.
10. Flatbread/ Focaccia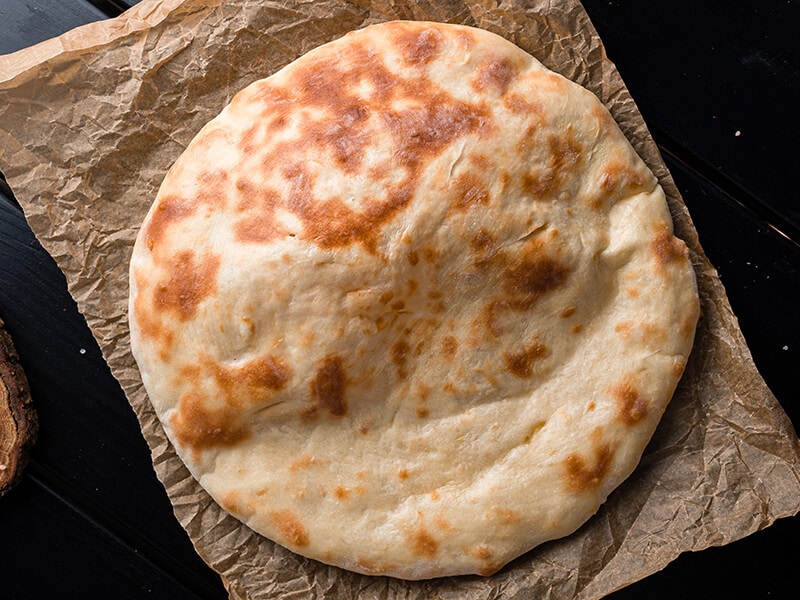 Contrary to popular belief of most Americans, flatbread is in no way a new invention in the pizza world. Flatbread, or pita in Greek, is one of the earliest bread eaten in the history of ancient Greek, Rome, and Egypt.
Focaccia is baked in the blazing heat of 475°F (246°C). This style of bread doesn't become stale thanks to olive oil and other herbs. The light and fluffy texture make it more suitable for thin layers of toppings and cheese.
11. Stuffed Crust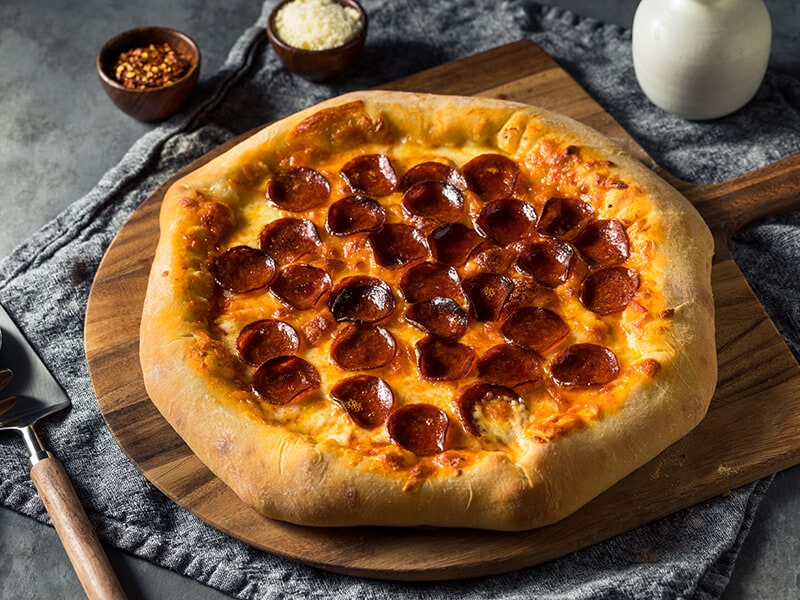 This special crust will keep you returning even if you are not a fan of pizza crust. The puffy edge and bottom of the stuffed crust are packed with cheese and ingredients like pepperoni, sausage, or hot dog.
Stuffed crust is the same as deep-dish pizza, except the crust has fillings inside. Every bite is now so fulfilling and full of fillings simultaneously. This type of pizza is among the most ordered items in pizza chain restaurants.
Thin-Crust Vs. Thick-Crust
This is not supposed to put up a fight from the start. Regardless of thin or thick crust, they are there for different purposes. Thin crust allows you to enjoy a pizza slice with crust, cheese, sauce, and toppings without feeling too heavy.
Meanwhile, the thick crust is truly a powerhouse in that you can hold lots of cheese, sauce, and toppings of your choice.
Thin crust is the perfect choice if you're on the go, while the thick crust is best to enjoy by sitting and having interesting conversations with your partner or family. Just be flexible; never limit your choice!
Some Slides Of Background Of Pizza Crust
Pizza has scored an unbelievable hit in just a few decades. From an inside food for Italian immigrants, pizza has become the brightest representative of Italian culinary culture to be a staple in the world cuisine stage.
The pizza recipe wasn't like it is now. It has gone through a revolutionary process to become the savory dish people know nowadays. The dawn of pizza started with finding dough to make pizza crust.
History Of Pizza Crust
No one knows about the first origin of pizza. The oldest record about the name of pizza dates back to ancient Mediterranean civilizations (1). Ancient Greeks and other cultures in the region learned to combine water and flour to make a dough, then cook it in hot water.
That might be the earliest and crudest form of Pizza since ancient times. The Greeks called their creation "plankuntos" (round bread). They used it as an edible plate to accommodate different toppings, soups, and stews.
The initial form of the crust was a flatbread that people throughout Rome, Babylon, and Egypt used widely as a versatile food. Some sources say that the name "Pizza" was derived from the Latin word "pinsa" (in AD 997), which means "flatbread".
At the time, people topped the dish with a wide range of ingredients, such as honey, olive oil, and herbs. Over time, it became more and more like the pizza people see nowadays.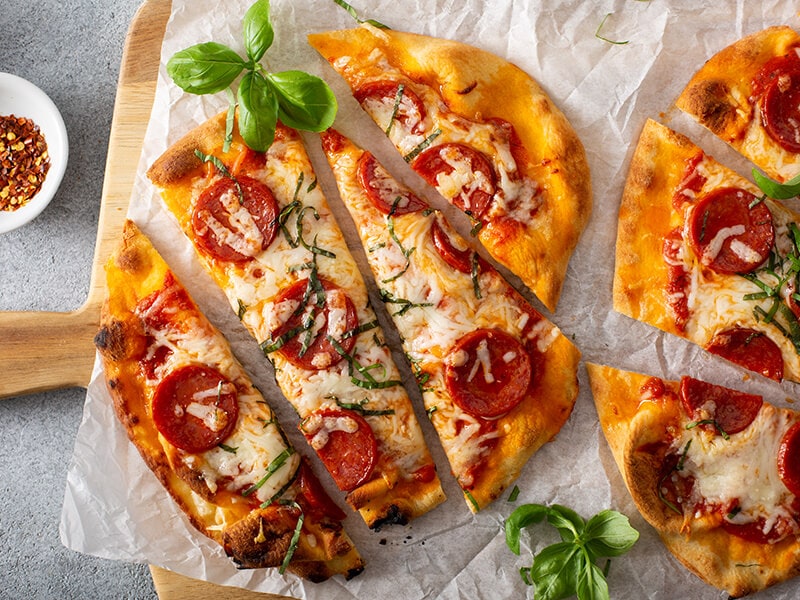 What Is Pizza Crust?
If people say the toppings are the soul of pizza, then the crust is the body that accommodates that soul. The crust is the base of pizza that harbors cheese, tomato sauce, multiple kinds of toppings, and herbs.
A pizza crust is made from pizza dough with bread flour, salt, water, yeast, and olive oil. Among those ingredients, yeast is a cluster of fungus used in dough to serve as a leavening agent.
Bacteria in yeast ferment sugar and release CO2, making the bread inflate or rise (2) . They also add strength to the crust. Doughs that don't use yeast are called unleavened dough.
There are many types of pizza crust, but judging by the shape, they all boil down to 2 main types: thick and thin crust.
Never think only chefs can make pizza. Find out how to make pizza at home!
FAQs
Does this article make you fancy a hot pizza right away? Don't be thrifty with yourself, and order a pizza to test the theory quickly. In the meantime, you can read this FAQs section to learn about pizza crust.
Choosing The Right Pizza Crust For Your Next Party
All kinds of pizzas have merits and qualities that have stolen the heart of pizza lovers all around the world since the last century. Whether you are team crust or team toppings, every pizza is special and delectable.
Never refuse your chance to try a new kind of pizza if you can travel to its place. As an Italian food lover, I hope the love for pizza in your hearts will overflow after tasting all these brilliant pizza crusts.
Before leaving, let me know your favorite pizza crust in the comment. I bet your fellow pizza fans will love this post; like and share this article on your social media for more people to know. Time to make some pizza!
References
Pizza (2022) Wikipedia. Wikimedia Foundation.
Science of bread: Yeast-air balloons activity (no date) Exploratorium.