When holding a pizza party, how to keep all those pizzas warm for the guests is a tough question. So many accidents can happen and make the piping hot pizzas turn ice cold and unappetizing.
If you're struggling with keeping your tasty pizzas at their ideal temperature, this article is made for you. Keep reading to master the easiest yet most effective methods to maintain pizza's warmth.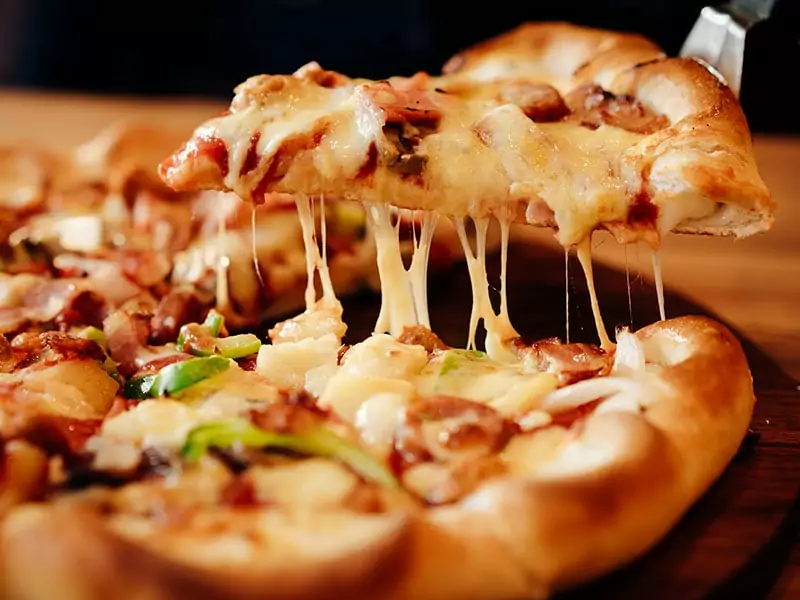 What's The Best Way To Keep Pizza Warm For A Party?
Here are some easy, convenient solutions to keep pizza warm in every situation. These can apply to virtually every popular kind of pizza available nowadays. So rest assured; even if your pizza is a little unconventional, these solutions are still suitable for your dish.
Delivery: If you have an insulated bag, use it. But if you don't, then your blanket or towel will help preserve your pizzas' temperature. Then put them on your heated seat.
For indoor parties: The fastest, easiest way is to use aluminum foil. Other options are pizza stone, skillet, microwave,…
For outdoor parties: Insulated bag or blanket's still the best option. However, you can use a portable stove, or a cooler, as an alternative.
You will learn about the pros and cons of every method, thus choose the most suitable one for you.
Let's scroll down for the knowledge awaiting you!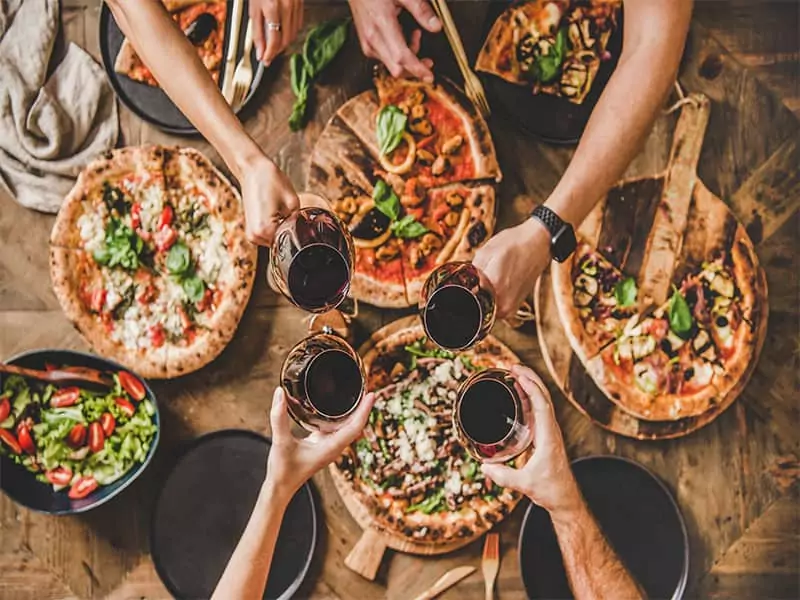 4 Solutions To Keep Pizza Warm Even When Delivering
Many only think of keeping the pizzas warm after they arrive. However, it's still important to learn how to retain your pizzas' temperature in case the delivery is not available. This will save you the troubles of having to figure out the various methods to reheat pizza with an oven.
Do Not Open The Box Lid
Most pizzas nowadays are served in a carton box. If you are going to drive them home, keep the box lid on. Open it and your pizza will cool off in no time. Moreover, undoing the cover can make all the toppings messy.
Using some soda bottles is one way to properly keep the lid shut: Set one bottle below and another on the sides. This way, your pizzas will stay perfectly beautiful on their way home.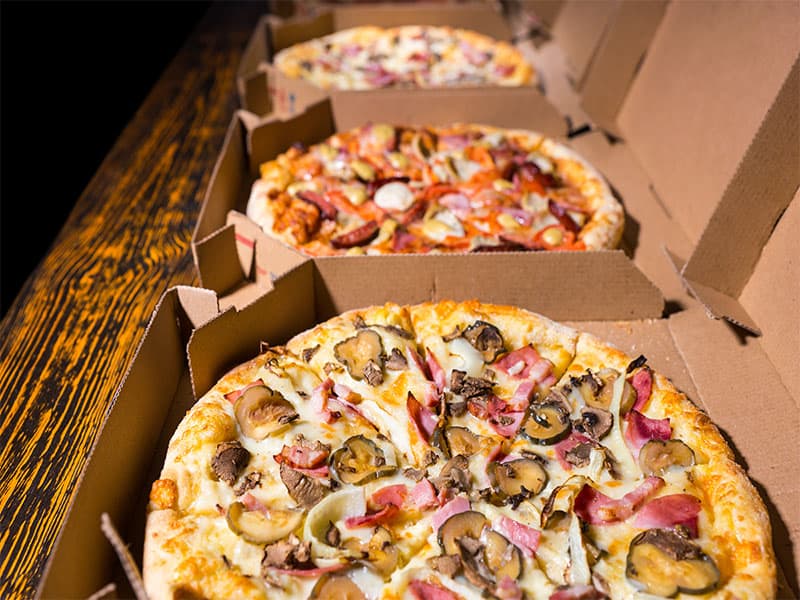 Use A Heated Seat
Heated seats utilize a heating element called a resistor to produce heat, thus keeping you warm and cozy during the winter (1) . However, to preserve your pizzas' temperature, don't wait until winter to use it. This is an easy way: Just put the pizzas on the seat and turn on the seat warmer.
That will keep your pizzas warm no matter how long you have to drive.
Use A Blanket
A seat warmer may be enough, but wrapping your pizzas with a blanket or towel may increase the chance of them still being piping hot after quite some time.
In this way, first, make sure there is no steam accumulating, hence dampening the box and the pizza. Undo the box lid for the steam to ooze out. When all the steam has passed out, close the cover and punch into all the pizza box's openings.
Then, use a blanket or a bath towel to cover the box entirely. The more blankets you wrap, the longer your pizzas stay warm.
One family has tried this solution, along with their heated seat. Check this video to see the result.
Use An Insulated Bag
After reading all these suggestions, you may wonder how the store can deliver your pizzas nice and warm without any heated seat or blanket. That's because they have their own insulated bags/boxes.
Insulated bags/boxes boast a multi-layered design with a thick foam in the middle, which effectively traps the heat inside the bag/box (2) . Because the heat can't escape from the bag/box, the food stored inside can retain heat for a surprisingly long time.
Fortunately, high-quality thermal bags/boxes are quite easy to come by. Keeping your pizza warm can't get any easier than this, right?
5 Ways To Keep Pizza Warm For Indoor Parties
It's one thing that your pizzas come home toasty. Keeping them warm until all the guests arrive is another thing. Sometimes, your guests come across some troubles and can't come on time, maybe two or three hours late.
Another case is the party prolongs too much and the reserved pizzas all turn cold. Here are some options for you to save your pizzas' temperature and the guests' appetite.
Use Aluminum Foil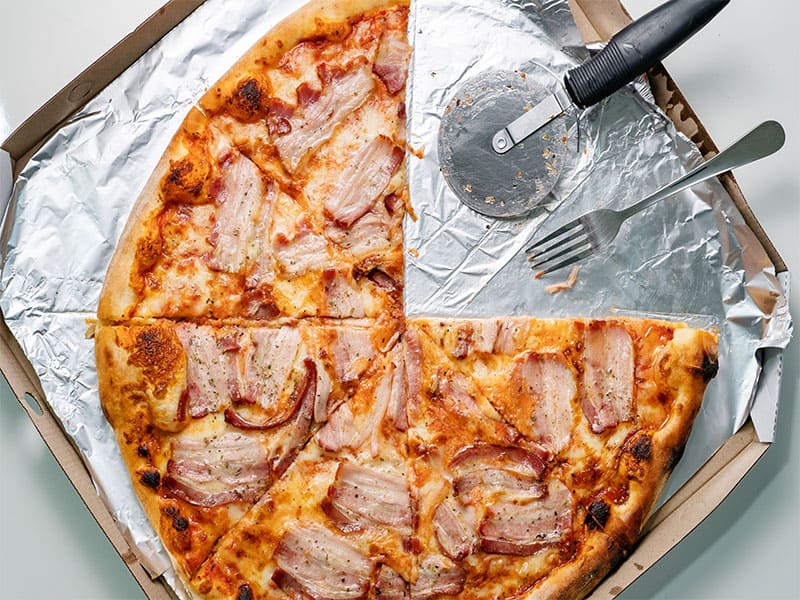 Although it's unlikely to happen, someday your guests can arrive three-hour late. In that case, aluminum foil is the "hero" you need to keep your pizzas nice and warm. Aluminum foil has an insulating effect, which can maintain the pizzas' temperature for a long time.
Moreover, aluminum is a kitchen tool available in almost every kitchen. You may have it in your pantry already. So just wrap your pizzas right when they come home to keep them warm.
However, what if my pizzas got cold before I could use aluminum foil? No problem! Because in fact, aluminum foil does not concern if the food is hot or cold. Follow these steps and your pizzas will turn steaming in no time:
Step 1: Wrap Each Slice In The Aluminum Foil
You can wrap as much as you want to serve. However, don't pile them all up on each other, or else the cheese will make them stick together. It will take some time to wrap all the slices, so remember to do it before your guests arrive.
Step 2: Turn On The Oven
400°F is the recommended temperature. Too high and you may burn or overcook the pizzas. You can set the temperature lower but it will take longer.
Step 3: Place The Pizza Slices Into The Oven
Remember to put some distance between them for the steam to pass. You can place them right on the grates or use a baking sheet instead.
Step 4: Wait For The Pizzas To Be Baked
It takes about 8-12 minutes. When the cheese starts to bubble, it's the sign to take out your pizza slices.
After removing them from the oven, if your guests still haven't come yet, just let them stay in the aluminum foil. Since aluminum foil can insulate the heat, it can keep the pizza slices warm for up to three hours.
Also, because this method does not require the pizzas to be hot, you can buy pizzas in advance and keep them in the fridge, only put them in the oven when you want to eat.
You should apply this way with thin-crust pizzas as it will make your pizzas crispy. However, this comes along with a major disadvantage. If you haven't tried this method before, be careful because aluminum foil can easily dry out your pizzas.
With The Pizza Box
Before going into details about this option, there is a question needed to be solved: Should the pizza box be put into the oven?
You may hear many people say that it's completely fine to place a cardboard box inside the oven. Because it will not get burnt if the temperature is under 300-400°F. Well, that can be true with a normal cardboard box.
However, a pizza box is totally different. The reason lies in all the decoration and colors on it. Often, those are flammable chemicals and coatings. One wrong move and your pizza, your oven, and maybe your kitchen, may end up in smoke and fire.
Now you know the risk, let's learn about this method. Remember, in this way, you will keep your pizzas warm with the oven and the pizza box, instead of reheating it like with aluminum foil. Below are some suggesting steps for you to follow
Step 1: Preheat The Oven
Even when preheating, you should not set the temperature too high. Keep it around 170-200°F. It'd be better if you preheat in advance while waiting for your pizzas to be delivered or when the party just starts.
Step 2: Let The Steam Come Out
When the pizzas arrive, open the box lid for the steam to ooze out. Wait for about 30 seconds, until the steam lessens, before closing the cover again. Open all the cutout vents to prevent the pizza from getting soggy because of the steam.
Step 3: Place The Pizza With Its Box Inside The Oven
Reduce the oven's temperature to the lowest as possible. The cardboard box will keep the pizza from being overcooked or too soggy.
After that, you can leave your pizza box in the oven like that to keep it warm. However, when the oven inside starts getting too hot, switch it off immediately. You can still keep your pizza inside for 30 minutes at most. The closed atmosphere preserves the heat better than you think.
Make sure to focus on the time and the temperature as the chemical layers outside the cardboard box may get burnt and leak some unknown compounds that can harm your pizza. Remember to check if your oven can go under 200°F before trying this method.
Note
If you are afraid of getting the cardboard box burned, then you can just remove the box and place your food on a decent pizza pan, which will ensure even distribution. This way, you won't have to worry about accidentally burning your pizza. Now, let's check out the necessary steps.
Step 1: Preheat The Oven
Set the temperature at around 200°F. Since you only keep the pizza warm, don't turn the heat too high.
Step 2: Place The Pizza
Slide the pizza, without the box, onto the middle rack of the oven. Be careful not to drop any toppings or cheese. Let the pizza sit inside until the cheese melt or the party starts.
If you worry about the spilled toppings, set a baking tray beneath the pizza to catch them.
Use A Pizza Stone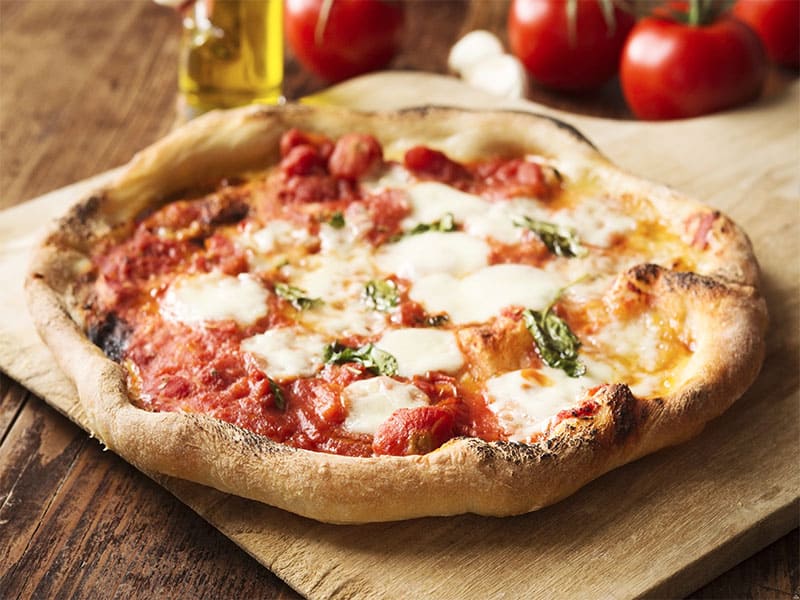 For a true pizza lover, pizza stone is a must when it comes to keeping the pizzas warm. It won't get your pizza crust crispy too much or being too soggy. With the pizza stone, you will get a perfectly nice and warm pizza every time.
However, sadly not everybody owns one at home. But if you happen to have it, then you just need to stick to this simple guide to save your pizzas from getting cold (1):
Step 1: Heat The Pizza Stone
Place it inside the oven and turn the temperature up to 200°F. Keep it going for about half an hour until it's hot enough for the heat to spread to the entire pizza.
Step 2: Place Your Pizzas
Put your pizzas on top of the pizza stone, mostly one or two each time. Then, turn off the heat and it's all done.
You can let them sit still inside the oven or pull them out. The pizza stone has holes all over its surface. These holes trap the heat and circulate it, which makes your pizzas feel like they're fresh.
Some prefer the combination of this and aluminum foil as it prolongs the warm period while keeping the pizzas fresh. The only drawback of the pizza stone is it takes quite some time to heat up, therefore, not suitable when you have lots of pizzas.
Use A Skillet
Although less favorable, the skillet's still a typical way to heat a few pizza slices, especially for those who don't own an oven. You can also try it if you have too many pizzas for the oven to handle. Not to mention, every housewife owns at least one skillet in her house.
In case you don't have a skillet available, you can opt for a frying pan. Although when you compare frying pan and skillet side-by-side, you'll notice that they're not exactly the same. However, a frying pan can still be used as a temporary replacement for a skillet in this situation.
To get your pizza slices heated with a frying pan, you just need to stick to this procedure:
Step 1: Heat The Pan
Place the skillet, best with a stainless steel pan, on the stove at high temperature for roughly two minutes. Pour some water to check whether it's hot enough. If the water sizzles and evaporates, it's the right temperature.
Step 2: Heat The Pizza
Put your pizza on the pan and let it sit for nearly two minutes. This will make the crust crispy without scorching it. Then, turn down the temperature, or switch off the stove if you worry, put a lid on the pan and wait for the cheese to melt and the sauce to turn warm.
For the last step, you can pour a few drops of water into the pan as well. But make sure it won't touch the pizza, or else all you get is a soggy pizza.
See this video to have a close look at how to keep the pizza warm with a skillet.
Use A Microwave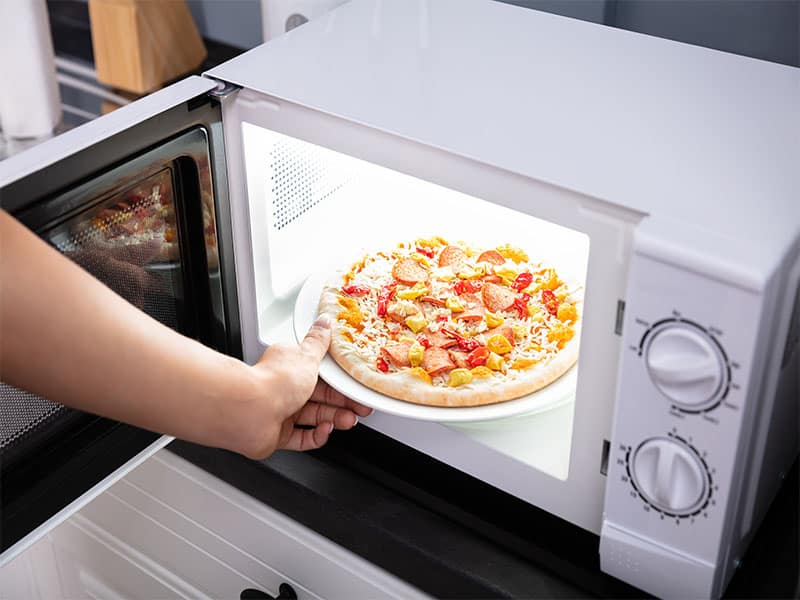 Compared to other options, using a microwave is not an ideal way. However, when push comes to shove, you have to use whatever you have. Check if your microwave is big enough for the pizza, then act accordingly to this instruction:
Step 1: Place Your Pizza
Find a ceramic, or microwave-safe, bowl and pour water until 2/3 of it is filled. Place the bowl inside the microwave. Next, set the pizza slices on a microwave-proof plate with some distance between them, then put the plate on the bowl.
Step 2: Microwave The Pizza
Set the power to only half the normal. The microwave process may take about one minute. You should set an interval in-between to control the process better.
The important part of this way is the water bowl as it keeps the pizza from getting mushy and chewy. The result is not as delicious as those above methods, but if you want to have your pizza warm up fast, then this can be a good choice.
4 Methods To Keep Pizza Warm For Outdoor Parties
It's easy to heat your pizzas when having all the electronic appliances surround you. But with the parties in the open air, it's another story. Let's find out some convenient ways to keep your pizzas warm without harming nature.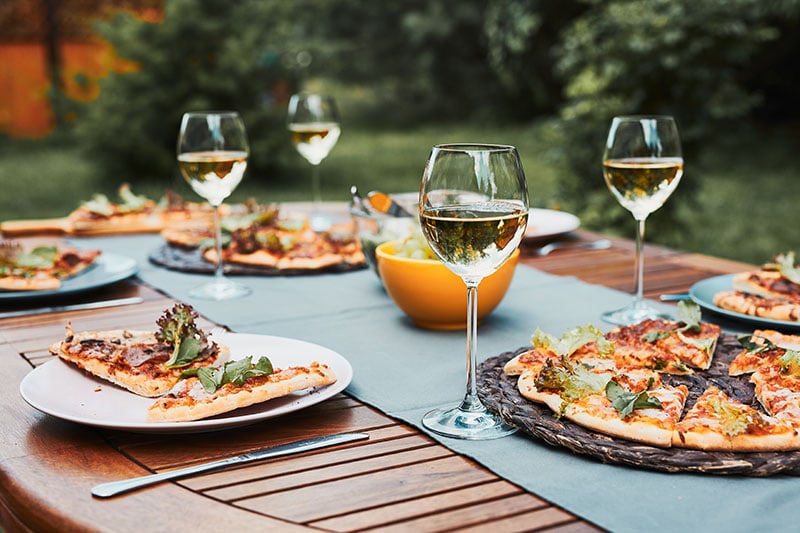 Use A Portable Oven
Just like its name, a portable oven allows you to bring it virtually anywhere, making it a perfect choice for a picnic. You can effortlessly carry and use it to heat the pizzas at the lunch picnic. It can also heat up the scrumptious side dishes for pairing with your pizza.
Each oven brand has its own instruction, so be sure to read before using the stove. But most of the time, you can heat the pizza inside the oven and switch off the temperature without getting the pizza out to keep it warm.
To preserve the temperature better, you can wrap the pizza slices in aluminum foil in advance. Then, preheat your oven. You may only need it at around 340-400°F, or else your pizza can get burnt. Put the pizza inside then pull out after 10-20 minutes.
The best thing about the portable oven is you can easily find and order one online.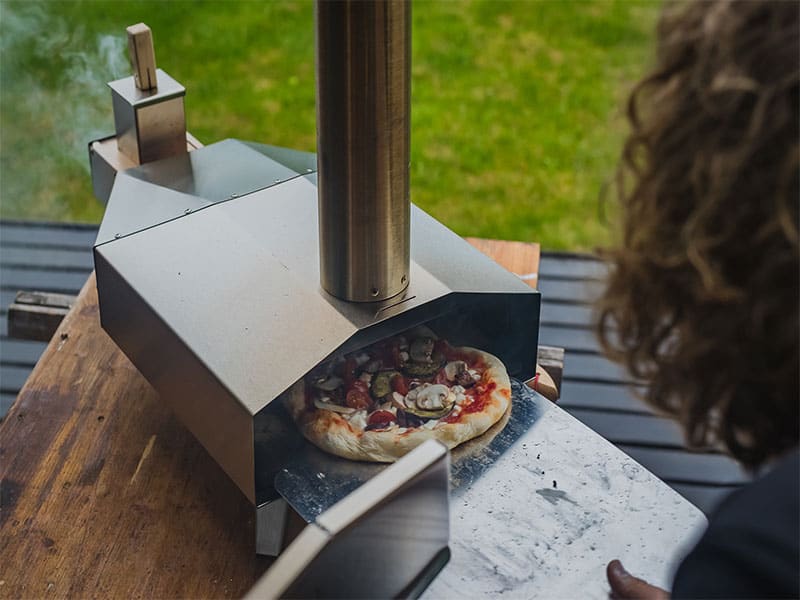 Use An Insulated Bag
I have mentioned this option as a way to keep the pizzas warm when driving home. It can be used as well with outdoor parties. This bag will preserve the heat when you and your guests enjoy other activities.
The insulated bag has various sizes so you can choose yours big or small depending on how many pizzas you have. However, this bag isn't able to keep the pizzas warm for a long time, so pay attention to the time if you intend to use it.
Use A Blanket
Here is another method already described above. If you don't have an insulated bag, a blanket or a bath towel will be a suitable replacement. You can wrap as many towels as you have to retain the heat better.
Use A Cooler
Strange as it may sound, a cooler can actually warm your pizzas up. You just need to do as this guide tells.
First, use foil paper to wrap two bricks. Next, heat them to 300°F in around 20 minutes. Put a newspaper on the cooler's surface and the bricks on its floor. Lastly, place the pizza on the bricks. You can also use a blanket or a towel to prevent heat escape.
FAQs
Even with all the knowledge provided, I bet you still have some troubles left. Keep on reading because here I will answer some of the most frequently asked questions.
Further Tips To Keep Pizza Warm
With all the guidance above, I think you have acquired enough knowledge to serve your pizzas nicely hot at every party. However, there are still some small tips to enhance the pizza's quality.
You may not notice but any delivered pizzas will have some particular box flavor. You can use the pizza stone to get rid of it. But if you happen not to have one, then place the pizza onto a cooling rack, and put it on a baking sheet. Use foil to cover the sheet.
If your pizza is going to sit in the oven for over an hour, put a cup of boiling water on the lower rack in just five minutes to increase the moisture inside. This way, your pizza will be moist enough but not too soggy.
I hope all this information is helpful to you. If you have any other tips regarding this topic, feel free to share them with every reader in the comment section!
Nutrition Facts
1 servings per container
Serving Size135 grams
---
Amount Per ServingCalories387
% Daily Value *
Total Fat 19g

30

%

Saturated Fat 6.6g

30

%
Trans Fat 0.3g

Cholesterol 31mg

11

%
Sodium 805mg

34

%
Potassium 259mg

8

%
Total Carbohydrate 40g

14

%

Dietary Fiber 2.7g

8

%
Sugars 2.5g

Protein 15g

30

%
---
Vitamin C

4

%
Calcium

18

%
Iron

18

%
* The % Daily Value tells you how much a nutrient in a serving of food contributes to a daily diet. 2,000 calories a day is used for general nutrition advice.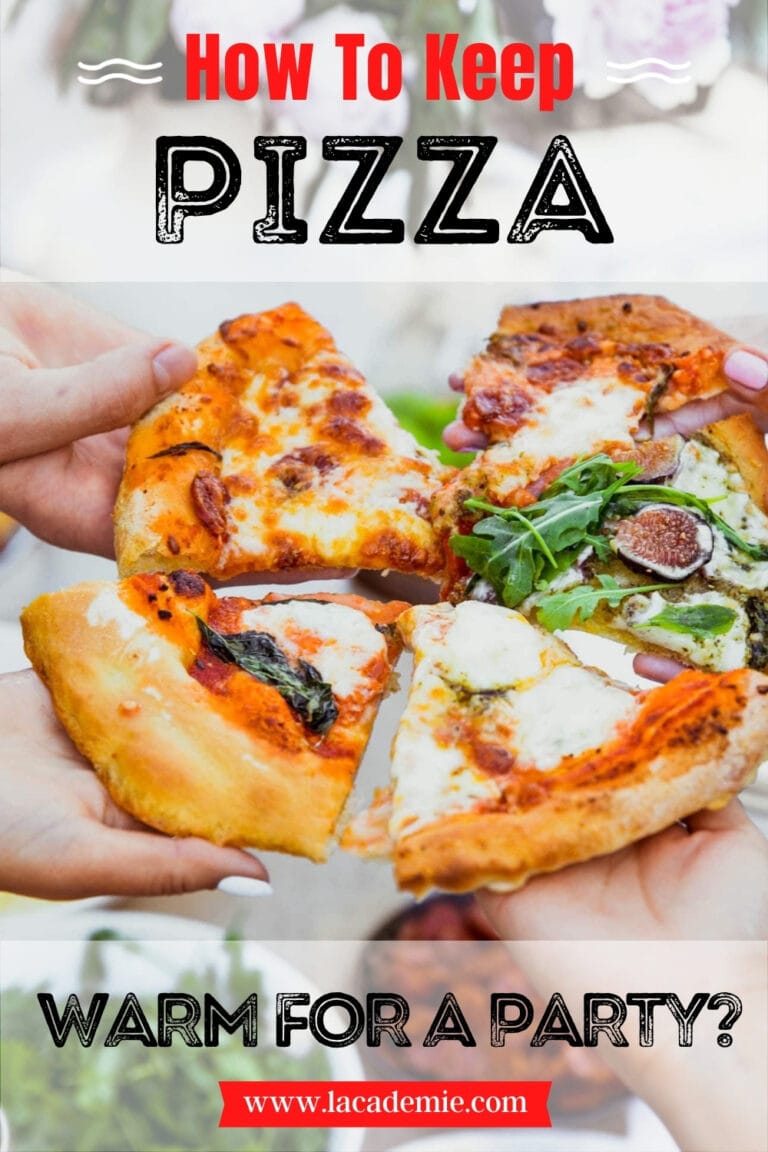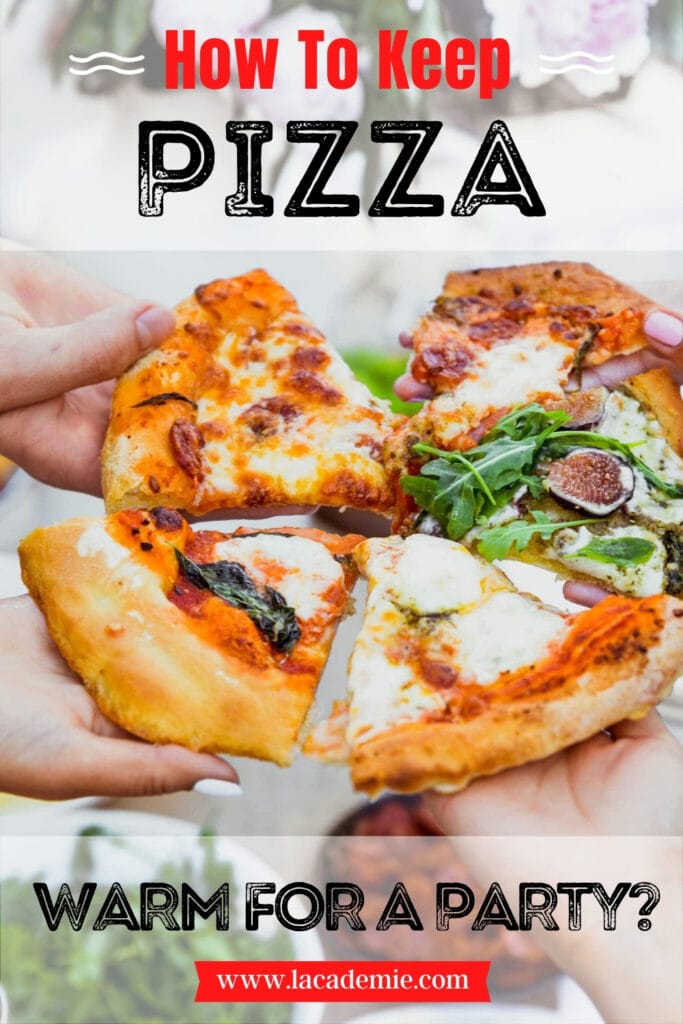 References
Bockmansautocare.com. 2021. How Do Heated Seats Work? | Bockman's Auto Care.
Totebagfactory.com. 2021. How Do Insulated Lunch Bags Work?.