How to fix greasy pizza? It is a frequently asked question because the grease on most pizzas has deterred many people from enjoying this tasty dish. On the other hand, consuming grease is bad for your health.
Therefore, this article is for you who dislike the grease on most pizzas or prefer a healthy diet. During the journey, I will explain the reasons for greasy pizza and provide a step-to-step fixing guide. Learning all this information will bring you to a healthier life.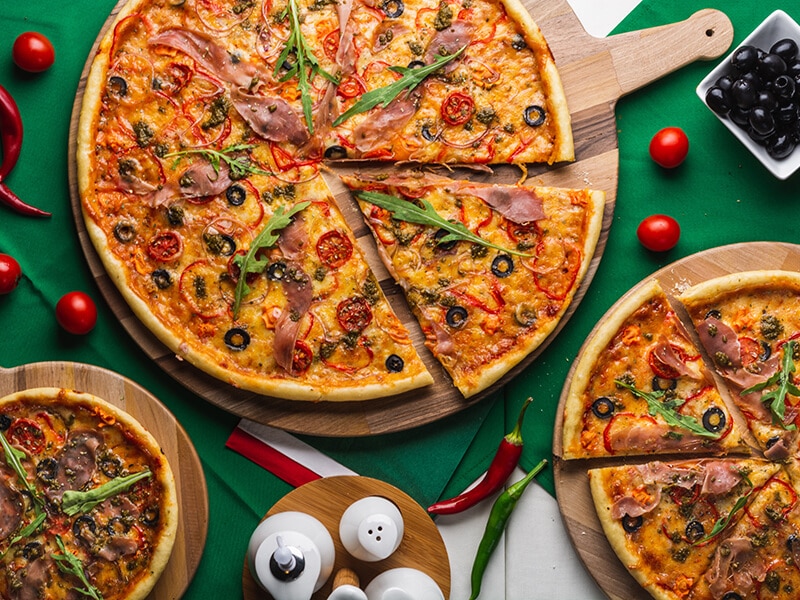 What Is Greasy Pizza?
It's undeniable that pizza is the most popular fast food. However, it is also a greasy food. Even though grease creates the flavor and helps the crust not dry out, heavy oil and fat on the pizza's surface are never good for your health.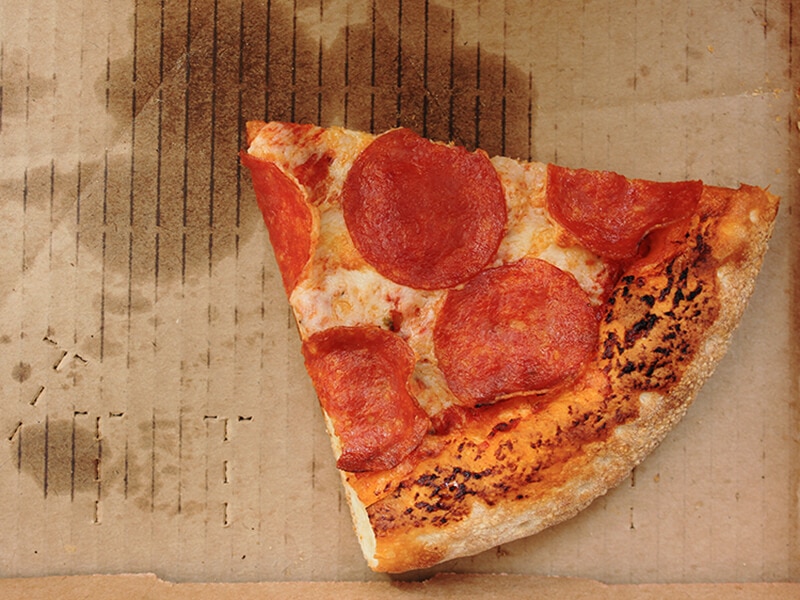 Reasons Behind A Greasy Pizza
Identifying sources of grease is the best way to apply a suitable method to fix greasy pizza. Usually, the reasons for grease are divided into two main groups: Grease caused by ingredients and grease caused by applying the wrong cooking method.
Fat-Content In Pizza Ingredients
The primary oil source for most pizzas is ingredients. How greasy your pizza is will depend on the topping you put on it. Below I will show you some common fat-content ingredients you frequently use when making pizza.
Cheese: If you look at most pizzas, they are usually full of cheese. But the sad fact is that cheese is the most common cause of a greasy pizza due to its high-fat content.
The sauce: The unique taste of each pizza type is made from distinct sauces. However, many pizza sauces require putting oil in the receipts. As a result, the excess oil in pizza sauce contributes to pizza grease.
Pepperoni: This topping is full of fat. Even not all pizza has pepperoni as a topping, but most do. Since pepperoni mainly consists of belly meat, it is the main reason for grease, especially when you place it on top of the pizza and bake it together.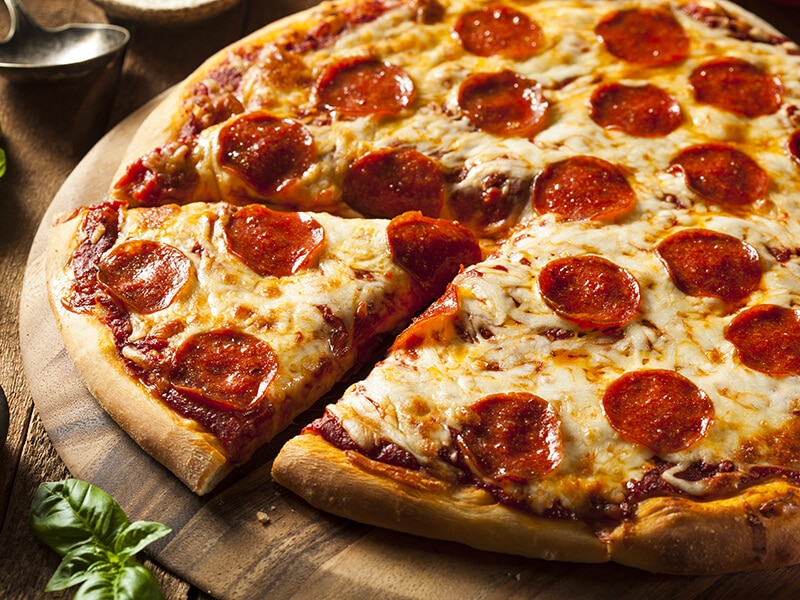 Inappropriate Method
The wrong way of making pizza is another reason for a greasy pizza. If you don't follow the right direction, the fat from the ingredients can quickly soak into the pizza and make it greasier.
Wrong dough kneading: Kneading a wet dough is the leading cause of a greasy pizza after baking. Besides, if you don't knead the dough long enough, leading to a lousy crust texture.
The thickness of crust: When you roll the dough to make pizza crust, pay attention to its thickness. Usually, a thick crust holds more oil and fat from the topping.
The baking method: Wrong oven and low temperature are the main causes of a greasy pizza because these factors allow fat and oil to settle to the bottom of the pizza.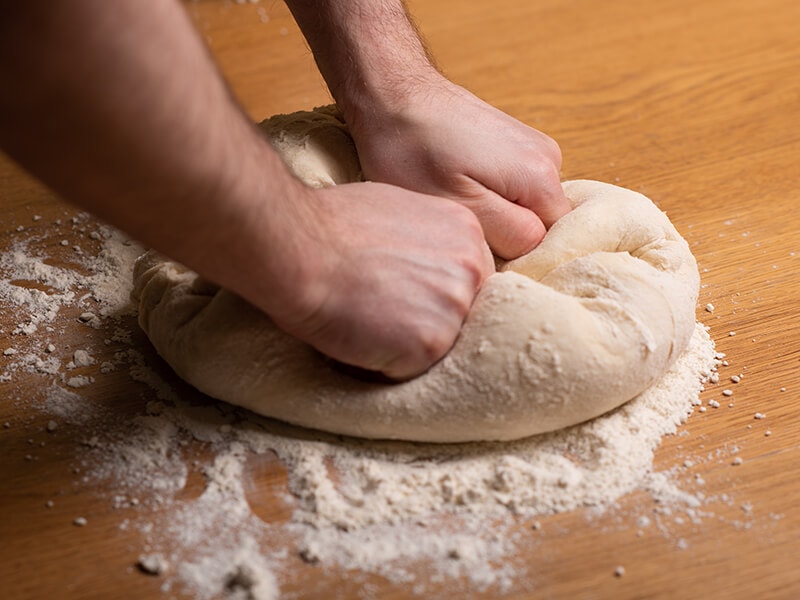 Guides To Fix Greasy Pizza
After knowing about common reasons that cause greasy pizza, it is time to discuss how to fix it. Below, I will share five easy methods to do the fixing.
1. Precooked Pepperoni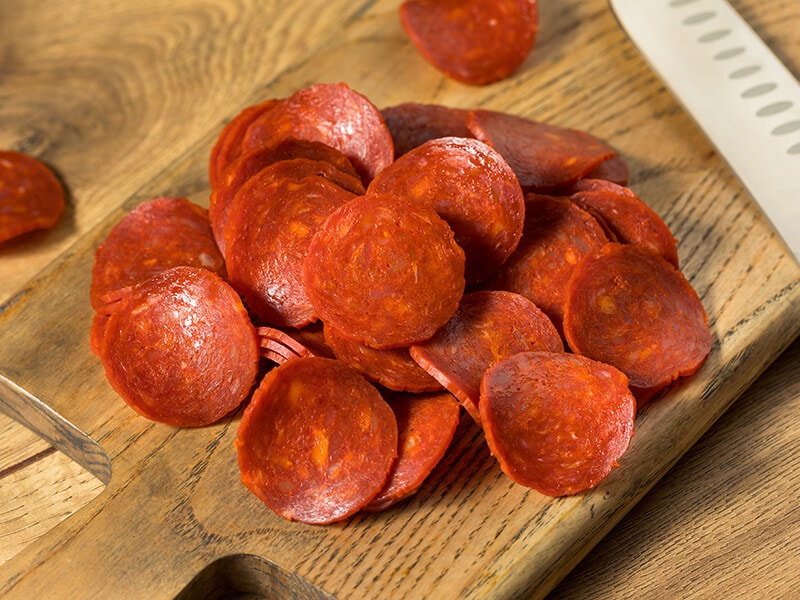 Regular pepperoni is made mainly from beef, pork, and chili. Therefore, it is understandable when pepperoni possesses high fat. Usually, there is 46.3g of fat and 97 mg of cholesterol in every 100g of pepperoni (1).
Since there is a high portion of fat in each slice of pepperoni, I highly recommend you use precooked pepperoni rather than a regular one to add to the pizza.
Cook the pepperoni separately at the highest temperature in the microwave for 20 – 30 minutes before using it as a pizza topping. Precooking helps release most of the fat before placing pepperoni on the pizza. Therefore, your pizza can become less greasy.
2. Use Less Oil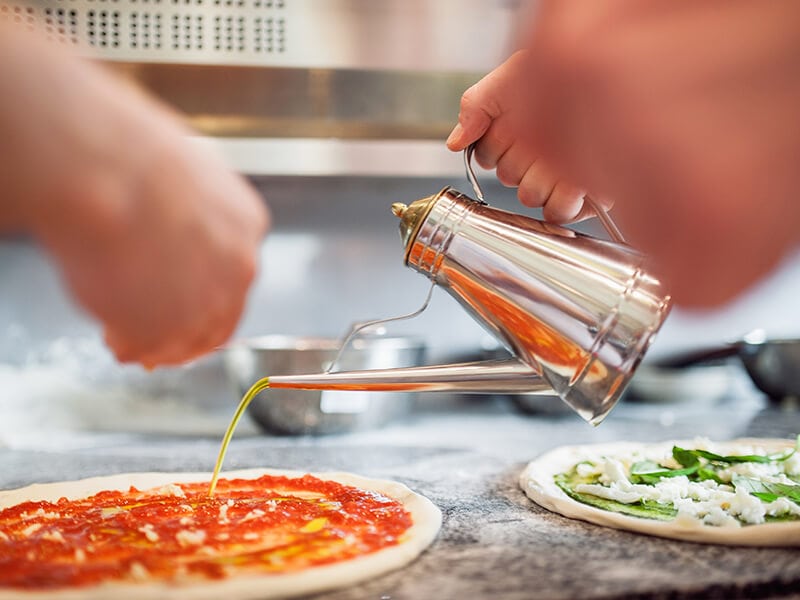 Oil is essential in making pizza, from preparing the dough and baking to making the sauce. In each phase, oil is added to ensure the pizza's tastiness. Even so, if you abuse oil, it can become a problem.
You do not need to omit oil in the recipe. Instead, simply being more cautious when covering the pizza stone and baking tray with oil will help make the pizza less greasy. You can control the fat by using a brush to apply oil.
3. Make A Thinner Crust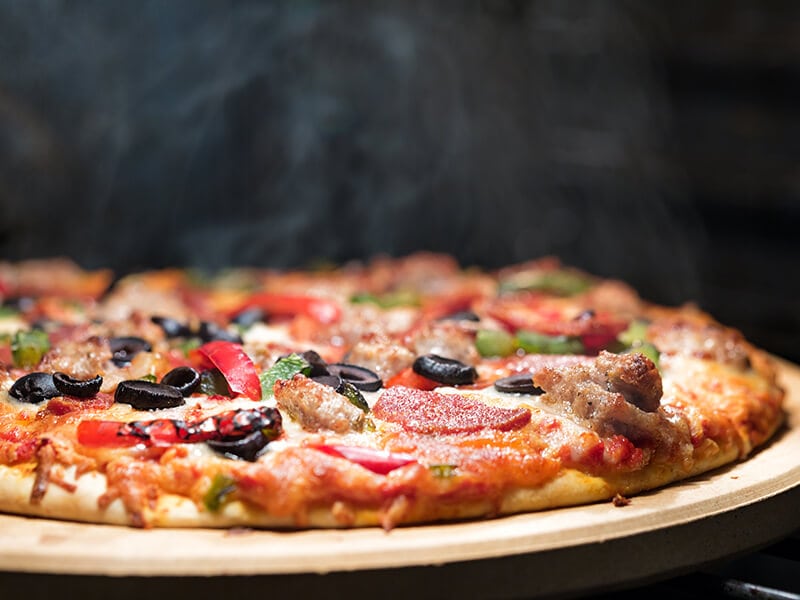 The crust is the base of the pizza, where all toppings will be placed. Therefore, if the crust is too thick, it tends to absorb more oil and fat released from other ingredients. For that, the solution is to create a thinner crust.
Besides, making a thinner crust requires you to put less topping on it because the baked dough can't handle too many toppings at once. For that, the pizza will be less greasy due to less fat toppings.
It's easy to knead your dough into a thin-crust pizza.
4. Use Low-Moisture Cheese
Cheese may always be the main reason for greasy pizza because of its high-fat content. For every 100g of Mozzarella cheese, there is 22.1g of fat (2). Furthermore, using frozen cheese may increase the moisture content, making the pizza extra greasy.
Therefore, it is better to consider using low-fat or low-moisture cheese without making the pizza less tasty. In addition, you should only include the cheese on the pizza after baking to let the heat slowly melt away the cheese.
5. Bake At High Temperature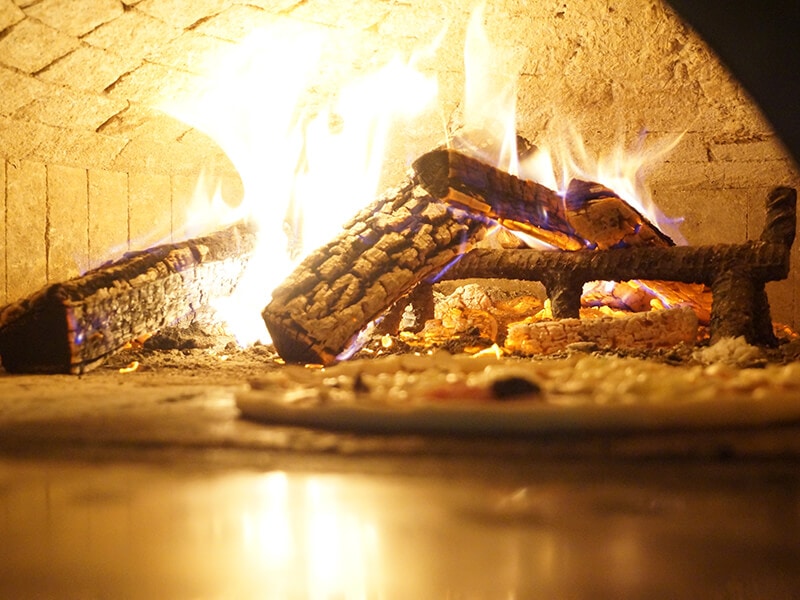 If you look at famous pizza brands, you will see how they bake pizza in a giant oven in a few minutes. The secrets behind that are not only for efficiency but also for reducing grease.
Baking pizza at high temperatures promotes moisture evaporation, making pizza less absorbent and greasy. The recommended heat for the oven is 450-500°F (230-260°C). However, if you can go with too high a temperature, your pizza may result in a hard crust.
Simple Ways To Remove Grease From The Pizza
It is simple to fix a greasy pizza since you can control the dish's elements. But how about if you eat out? Can you still remove the grease physically? Well, it's not impossible. I have two tips to share with you.
Blotting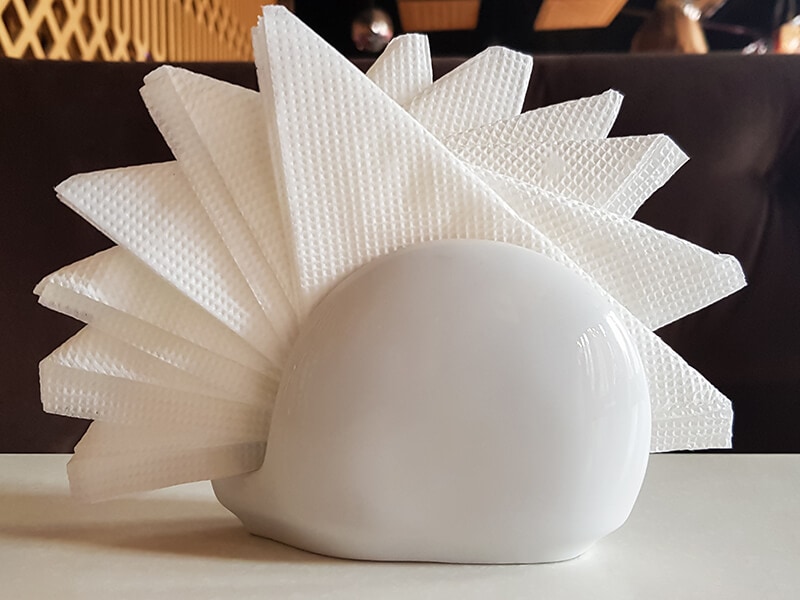 I suggest using a napkin to blot the pizza's surface to make the pizza less greasy. This way is relatively easy but effective.
However, don't put the entire napkin in the pizza because it will stick to the grease and won't come out. Furthermore, although this method reduces fat on the pizza's surface, it can't take the grease inside the crust.
Using The Bread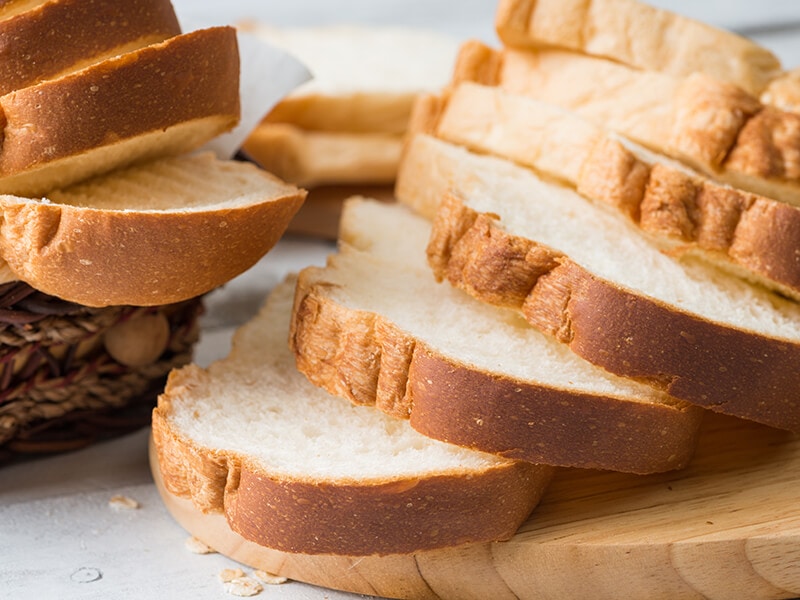 The absorbent capability of bread is perfect for reducing grease in the pizza. You can simply remove the grease by tapping a slice of bread on the pizza's surface.
However, when tapping bread, you must be careful not to press too much and remove the sauce and other toppings.
Remove Grease From Frozen Pizza
Frozen pizza is becoming more popular since it is convenient and easy to store. But sometimes, the topping of frozen pizza makes it greasy.
Putting paper between the frozen pizza and the tray will help reduce the grease because the paper will soak fat and prevent the pizza crust from absorbing the oil. Using a toaster oven to bake every slice of pizza separately also helps leave the grease away.
This is all you need to know about baking frozen pizza.
Some Greasiest Pizzas
The world of pizza is various due to its ease of combination. That's amazing, but be careful since some toppings contain more fat than others. Let's check out some greasiest pizzas below.
| Types of pizza | Calories | Percentage of fat |
| --- | --- | --- |
| Cheese Pizza (100g) | 276 kcal | 38% |
| Meat Pizza (100g) | 301 kcal | 42% |
| Chicago Pizza (one slice) | 325 kcal | 19% |
| Detroit Pizza (100g) | 291 kcal | 51% |
Cheese Pizza
As mentioned before, cheese is one of the reasons for creating grease for your pizza. When baking, the cheeses melt and dive into the crust, but a lot remains on the surface. Therefore, a cheese pizza is understandable as one of the greasiest.
Some cheese toppings usually used are mozzarella, gorgonzola, parmigiana Reggiano, and goat cheese.
For one slice serving (100g) of Cheese pizza, 276 kcal is counted with 38% of fat. Even though it's tasty, I can not deny this is the greasiest.
Quattro Formaggi is the best example of cheese pizza.
Meat Pizza
Pizza with meat toppings on top is also a very greasy pizza since, for every bite, you can feel the fat and oil released from the toppings. Some typical meat toppings are ham, prosciutto, bacon, and pepperoni.
Usually, for a 100g serving of meat pizza, 301 kcal is counted with 42% fat content.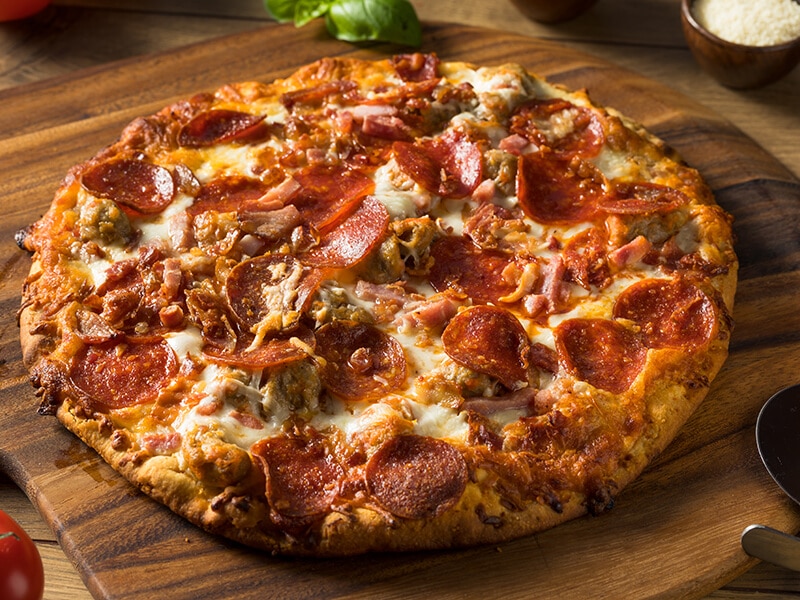 Chicago Pizza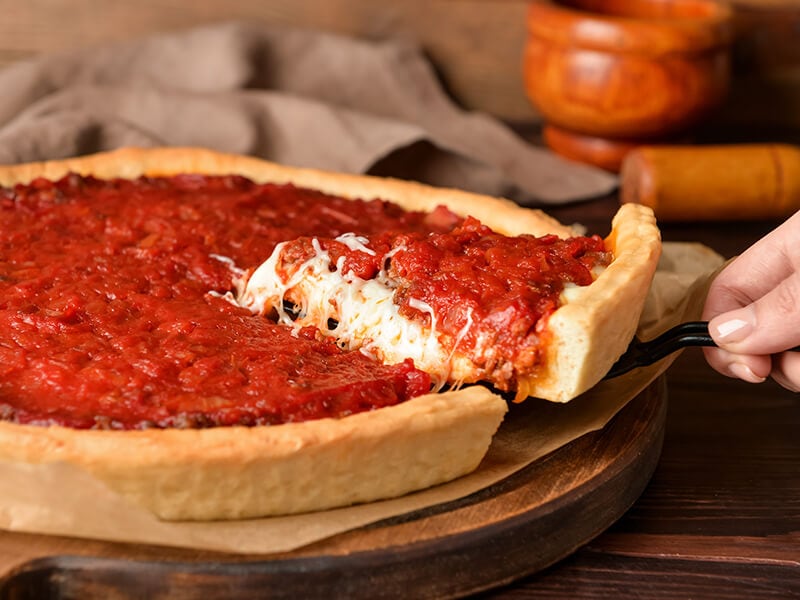 The main toppings of Chicago pizza are ground beef, sausages, and pepperoni. With that many types of meats in the pizza making, it is so delicious and greasy. Generally, one slice of Chicago pizza contains 325 kcal with 19% fat.
Otherwise, the crust of Chicago pizza is designed as thicker than regular crust and looks like a bowl, which makes it hold almost oil and fat from meat.
The way Chicago pizza is made makes it become the greasiest pizza.
Detroit Pizza
Detroit pizza is topped with pepperoni and cheese, which are incredibly greasy. Alone, cheese and pepperoni bring much fat and calories, and when they are paired, the grease is doubled. 100g of Detroit pizza brings 291 calories, half of which come from fat.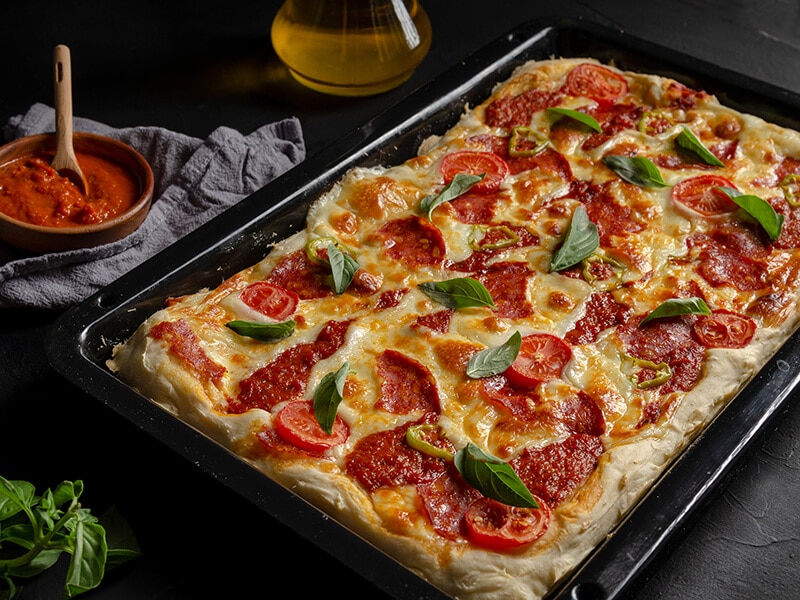 The Best Cheese For Less Greasy Pizza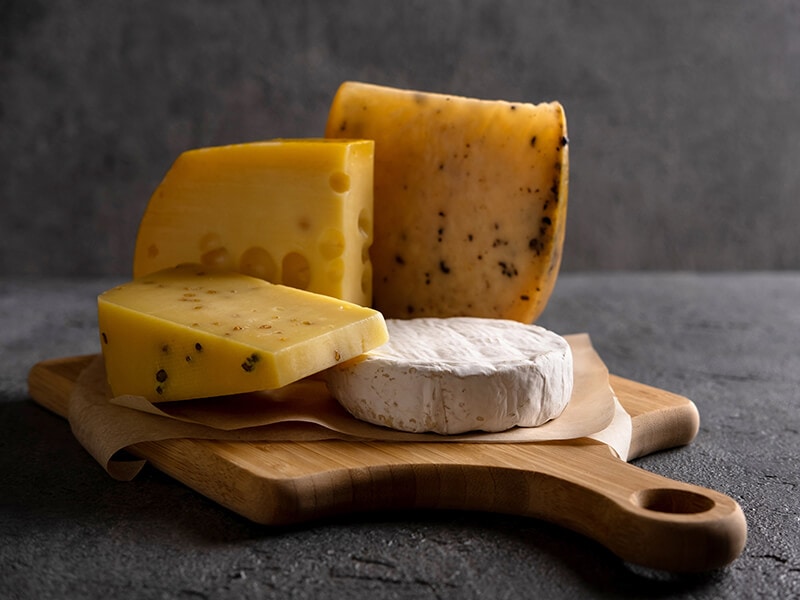 I know many people love cheese, and it would be sad if you needed to remove cheese to avoid grease. Therefore, I have some suggestions for healthier cheese that will help reduce the oil.
Ricotta: This semi-firm cheese has a mild, slight and nutty flavor. Ricotta melts less when put in hot pizza, preventing the crust from absorbing grease from the cheese. That is the perfect alternative cheese for less greasy pizza.
Emmental: Like Ricotta, Emmental is a semi-firm cheese with a mild, fruity, and slightly buttery flavor. Putting the Emmental cheese on a hot pizza will not melt; instead, it will be stretchy and perfectly fit to prevent oil.
Vegan Mozzarella: Vegan Mozzarella is made from raw cashews with less grease and calories than normal cheese. Although it's vegan, the cheese is still tasty and stretchy as other milk-based ones.
Brick Cheese: This is a medium-soft cheese with a sweet and mild flavor that will become ripe and strong when matured. Brick cheese melts when baked, reducing the oil for pizzas. Usually, this cheese is used for Detroit-style pizza.
The detailed guide to making a perfect Vegan Mozzarella!
Does Greasy Pizza Harm Your Health?
Pizza, especially greasy pizza, is bad for your health. Like other fast food, pizza contains many calories, chemicals, and artificial flavors from ready-made ingredients (cheese, tomato sauce, ham, etc.).
In addition, the grease in pizza is saturated fat which is not good if over-consumed. A diet rich in saturated fats can elevate the total cholesterol, promoting blockages in arteries in the heart and the body (3).
Since greasy pizza is rich in carbs with less satiating fiber or protein, consuming pizza is the main reason for obesity and constipation.
More dangerous, having greasy pizza frequently increases the chance you meet fatal diseases, such as heart disease, blindness, neuropathy, and kidney failure. The high sodium content in each ingredient placed on the pizza is the reason behind your sickness.
FAQs
Below are some commonly asked questions about greasy pizza that you want to know more about. Keep reading to gain more knowledge for yourself.
Let's Protect Your Health With Less Greasy Pizza!
It is undeniable that grease makes pizza tastier. However, grease is not good for your health since it contains too much cholesterol. Therefore, knowing how to cut the grease off the pizza will bring many benefits.
I hope you can share this article with your beloved to tell them all tips to decrease fat in pizza and enjoy pizza healthier. For any suggestions and tips, please leave them in the comment section.
References
Fooddata Central Search Results FoodData Central.
Fooddata Central Search Results FoodData Central.
The truth about fats: The good, the bad, and the in-between (2022) Harvard Health.