Pizza vs. Marinara sauce, which one do you like? People often associate sauces with the soul of the dish and represent the whole cuisine.
The sauce plays an important role in famous Italian pizzas and pasta dishes. Both pizza sauce and marinara sauce are the main ingredients that determine the deliciousness of the base and the bland noodles.
Both pizza and marinara sauce have their own remarkable characteristics. Today, however, many people forget about this and consider pizza sauce and marinara sauce to be just two types of tomato sauce.
You can check out this article to clear all the confusion about pizza sauce and marinara sauce. It gives you everything, from why many people consider the two as one, the ingredients, and how to preserve these two sauces properly.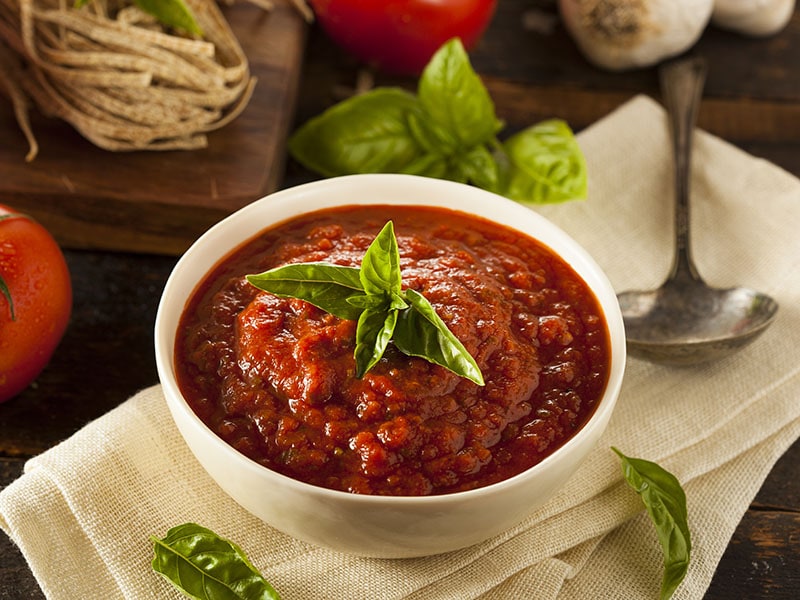 What's Exactly Pizza Sauce?
Pizza sauce, as its name implies, is the sauce used to make the well-known Italian pizza. People use the name pizza sauce to refer to a unique, original pizza sauce that distinguishes itself from today's store-bought or modified tomato sauce.
Italian pizza sauce consists of fresh tomatoes, garlic, little olive oil, salt, and pepper. The most special thing here is that you can grind or add directly to the pizza base without cooking.
As a result, people often complain that pizza sauces are difficult to store because they are fresh and do not have any added preservatives.
Check out this short guide to making raw pizza sauce for the ideal pizza.
Marinara Sauce In The Food World
The similarities between pizza and marinara sauce are that they both have a tomato base sauce and originate from Italian cuisine. These two major factors contribute to the confusion: pizza and marinara sauce are the same.
These two sauces are very similar in ingredients. Marinara sauce is also a simple version of tomato-based sauce. In Italian, marinara sauce – or alla marinara is a tomato sauce with other ingredients such as garlic, basil, and oregano.
Marinara sauce is usually made from tomatoes or tomato sauce. For your convenience, you can choose from tomato paste, store-bought tomato sauce, and even pizza sauce.
The marinara sauce can adapt to the use of fresh tomatoes or store-bought tomato sauce. Its other ingredients include olive oil, basil, chili peppers, fennel leaves, oregano, and optional spices such as salt and black pepper.
The next step in making marinara sauce is combining all the above-mentioned ingredients. After that, simmer them for a while to achieve the ideal texture of marinara. This sauce requires you to cook everything thoroughly.
It takes just over a minute, and you have a marinara sauce under the guidance of a professional chef.
What Are The Key Differences Between Pizza & Marinara Sauce?
It's challenging to pinpoint the most distinct feature between pizza sauce and marinara sauce if you do not dig deep into their details. Please scroll down below if you are a food enthusiast. Everything you need about these two signature sauces is in this article.
Key Differences
Pizza sauce
Marinara sauce
Origin
In 1889 by Raffaele Esposito - a chef in Naples
Before the 19th century

Based on the word sailor
Ingredients
Fresh tomatoes and additional ingredients (olive oil, garlic powder, and sometimes oregano leaves)
Tomato sauce and garlic, onion, olive oil, and some dried oregano leaves
Cooking
Uncooked
Cooked
Consistency
Thinner
Thicker
Flavor
Mostly salty with the herbal flavor
Mainly sour taste
Origin
Both pizza sauce and marinara are Neapolitan dishes. They are associated with Italy and have origins dating back to the 19th century.
Pizza
The first pizza was the work of Raffaele Esposito – a chef in Naples. She made this dish for the reception of King Umberto I and Queen Margherita in about 1889.
She topped the pizza with green basil, mozzarella cheese, and red tomato to resemble the Italian national flag (three green, white, and red stripes from left to right). This is the explanation for why a majority of people still refer to pizza as pizza Margherita nowadays.
Many said that some street vendors in Naples were the actual creators of pizza sauce because they put the tomato puree over a flatbread to sell them at their stalls.
From here, many Italian immigrants brought their pride – pizza to places like Britain, Spain, America, and France. And pizza became more popular than ever. (1)
Marinara
There is no exact date, but many people believe that marinara sauce originated in Naples or Sicily (Southern Italy). It may have appeared before the 19th century. The name "Marinara" is the Italian word for "sailor."
There are two explanations for the sauce. Firstly, marinara sauces were one of the main food sources for serving with pasta for the sailors because they didn't spoil easily. Next, it was also prime food when the sailors returned home.
Because their wives, when they saw the ships approaching shore, they would scramble to make a hot marinara for these returning sailors. Either way, come the early 1900s, this sauce was well-known worldwide. (2)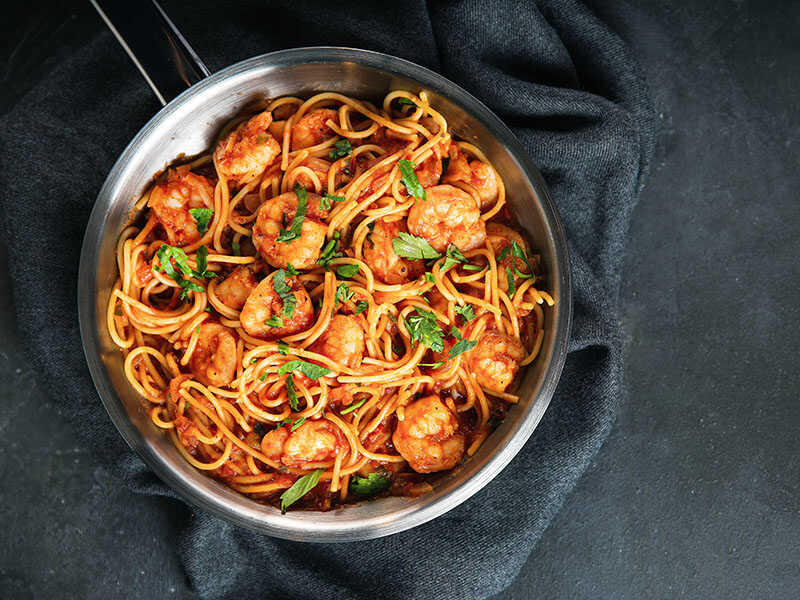 Ingredients
Ingredients are the most important thing contributing to the deliciousness, sophistication, and character of the dish. Let's see if the ingredients for pizza sauce and marinara are different.
Pizza
The original pizza sauce is not as fussy as most of the recommended recipes. You just need fresh tomatoes with additional ingredients like olive oil, garlic powder, and sometimes oregano leaves.
For this recipe, fresh tomatoes are the best choice. Of course, you can substitute canned tomato sauce today to save time.
Alternatively to olive oil, you may use coconut, soybean, or canola oil to make pizza sauce. However, olive oil has unique odor properties like garden-fresh herbs and fruits.
To balance the sourness, you can use any sweetener (typically sugar) for this delicious dish. Add some ground pepper to optimize the aroma and pungent profile of the pizza.
Herbs like oregano, rosemary, basil, or thyme are typical ingredients in Italian seasoning. Besides, you may include garlic (or minced onion and shallot). The trick here is to use fresh rather than dry ingredients because they bring a fresh flavor.
Marinara
In a similar fashion, the marinara sauce also needs tomato sauce to be its base. Some people decide to add fresh diced tomatoes to give extra flavor. However, marinara sauce is usually made from store-bought tomato sauce.
Other ingredients which must be in marinara sauce are garlic, onion, basil, olive oil, and some dried oregano leaves. It makes this sauce more savory than a pizza.
To season, you may optionally add some salt and pepper to enhance the taste. Make sure to add a small amount of the seasoning; otherwise, it may be too salty or too spicy.
Balsamic vinegar is another brilliant choice if you prefer a deep, tangy sauce.
The herbal flavor of marinara sauce is always suitable for seafood pasta dishes.
Cooking
Depending on the variation, different people will use different methods. However, for the basic recipe, both sauces still have to adhere to some caveats.
Pizza
The most basic pizza sauce usually does not need to go through the cooking process. The raw pizza sauce will cook well with the pizza when baking.
Removing the tomato peel: This step ensures your sauce has a consistent texture and avoids any remaining stringy pieces.
If you like the sauce to be chunky, put it in the blender for a few seconds. For a smooth texture, you blend the mixture longer and maybe sieve it through a rail.
Marinara
As mentioned earlier, marinara sauce is a cooked sauce. People often fry the onion and garlic with olive oil until fragrant to create an aromatic base for the sauce.
Then comes the prepared tomato sauce and other mentioned herbs. Cook until reaching the desired consistency. Usually, marinara sauce is much thicker than pizza sauce.
Because served with pasta (mainly no flavor), the sauce must be velvety to stick to the pasta. People also tend to mash this mixture to ensure it doesn't have a lumpy texture.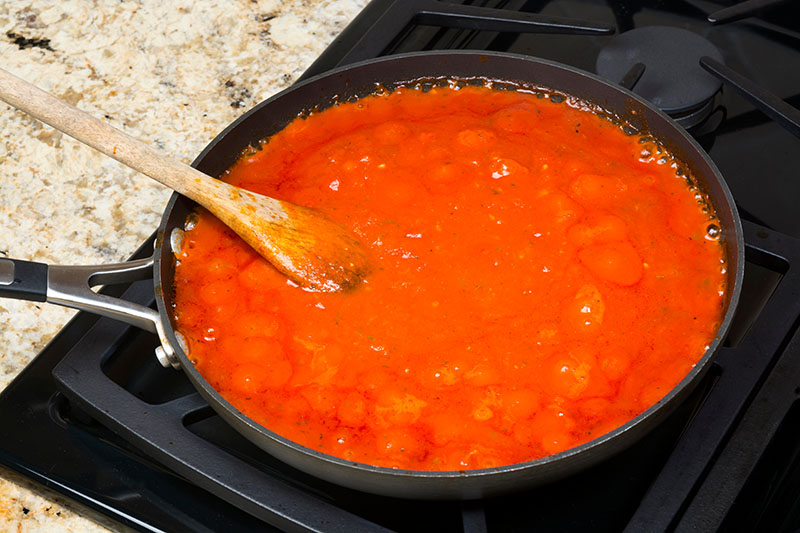 Consistency
Consistency is what helps you identify pizza sauce and marinara the easiest. With various implementation methods, the overall results are also different.
Pizza
Pizza sauce is usually a bit thinner because it is made from tomato puree. As a result, it has a beautiful bright red.
The fresh pizza sauce is more liquid, perfect for coating the pizza base. It will be easy to spread over the entire surface and create the flavor of the pizza base.
Marinara
Marinara is a thick sauce with a richer profile than other sauces. The original marinara sauce tastes fresh. In addition, its texture should be smooth and creamy, especially rich in olive oil flavor.
Many believe that boiled pasta water will help the sauce mixture be much thicker than ordinary filtered water.
Check out these technical tips to make a perfect pizza sauce coating.
Flavor
Both pizza and marinara sauce have distinctive flavors, making them well-loved by many. So, you should not think these two sauces carry the same profile as a common tomato sauce.
Pizza
Pizza sauce plays an important role in a pizza, so its flavor doesn't need to be too strong. It doesn't give a variety of flavors when compared to Marinara sauce. For the most part, pizza sauce is mostly salty, with an herbal note of oregano leaves and basil.
The combination of flavors like sour, spicy, or sweet comes mainly from the toppings of the pizza, not the sauce.
Marinara
Apart from the sour taste, you won't find anything else in the original marinara sauce. However, as suggested, onions or Italian seasoning help it add a delicious flavor.
Compared to pizza sauce, marinara has a strong flavor. This is the biggest difference between them. Usually, people will season this sauce just enough to eat with pasta and its toppings instead of adding salt or sugar little by little.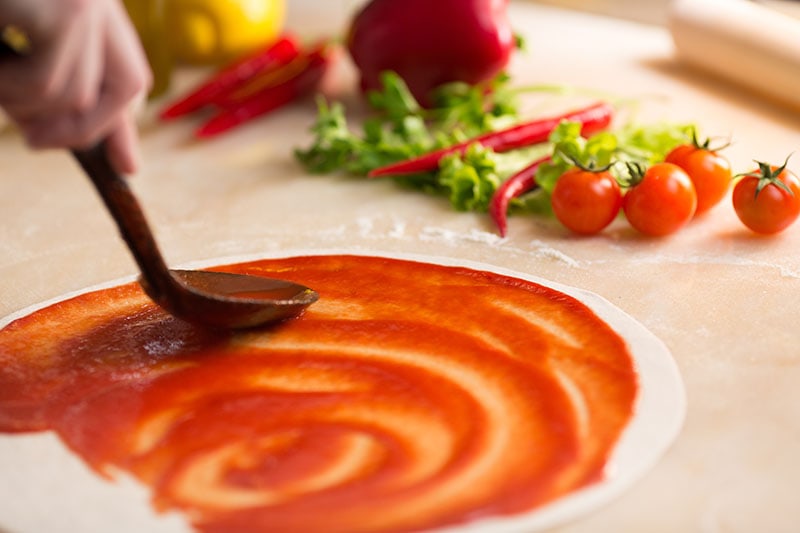 Can You Interchange Pizza Sauce With Marinara Sauce?
Both of these sauces have distinct characteristics that go perfectly with the food they go with. However, you can modify them and use them interchangeably in cases of need.
If you can't find the right pizza sauce for pizza and marinara sauce for pasta, you can refer to this article's instructions.
You can use pizza sauce as the base for marinara because both include tomatoes in the ingredients. Then, simmer all the sauce until the water evaporates.
What if you're craving pizza but only have marinara sauce at home? Don't worry. You just need to add water or tomato juice depending on the desired dilution, mix well, and cover all over the pizza base.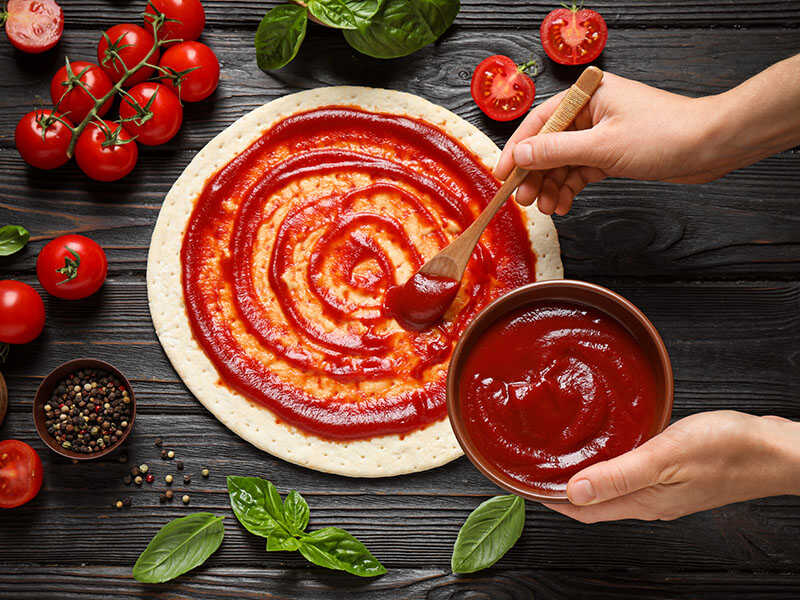 Tasty Recipes That Feature With Pizza & Marinara Sauce
The taste of pizza sauce and marinara sauce are different when combined with different dishes. You can make them at home or find a well-known restaurant to enjoy by referring to some recommendations I provide below.
Best Dishes With Pizza Sauce
Of course, pizza sauce must go with the pizza. However, some pizza variations also surprise you.
You can use pizza sauce for simple pasta dishes to change up your meal. Everyone loves cheese, so the trick here is spraying non-stick spray on the aluminum foil. When baking, the cheese will not stick to the foil, and your dish will still maintain its gorgeous shape.
Is it too perfect when this dish combines cheese, pepperonis, and pizza sauce? This casserole pizza elevates itself with rich, aromatic garlic butter. You can try making this dish for the whole family without too much technique. The melting of ingredients when finished baking makes everyone crave.
A quick and easy recipe to make fluffy muffins in just 30 minutes. You feel the fat of the cheese and the slight sourness of the hot pizza sauce melting on the surface of the cake.
You can replace it with healthier options like adding bell peppers and mushrooms for a fiber boost.
Best Dishes With Marinara Sauce
Marinara sauce not only plays an important role in many tasty pasta dishes, but it is also a perfect dipping sauce and suitable for upgrading some popular dishes.
This oversized pizza looks nothing like the pizza shape you'd imagine. However, when people use the marinara sauce to enhance the main flavor of the dish, it emphasizes the cheesy taste and enhances the pepperoni flavor.
Ravioli with basil leaves is a true dish to represent Italian cuisine. Ravioli looks like a small cookie with a filling inside without a long or flat shape.
In this recipe, when deep-fried, the dish is more appealing. However, to avoid overeating, the sourness of the marinara balances everything out perfectly.
Gnocchi, in German, means "button" or "block." This is an Italian dish usually made from flour, eggs, and added cheese. Today, however, the potato gnocchi version is more popular.
Depending on your preference, this type of dumpling can be savory or sweet. Alternatively, you can use them like pasta and add lots of marinara sauce to help them soak up the seasoning.
The Ultimate Tricks To Preserve Pizza & Marinara Sauce
As a fan of Italian food, you must have made pizza or marinara sauce at home and sometimes overdo it. Don't throw it away; refer to the following ways, and you can store these two sauces.
The first way is to store it in the freezer—the best method for all sauces. Freezing the sauce can double or even triple its shelf life. The frozen pizza sauce can last about 3 months. But for the marinara sauce, you may store it for up to 6 months.
Furthermore, if you want to use these sauces more often, put them in glass jars and preserve them in the fridge. However, make sure to use all the pizza sauce within 5 to 7 days. The storage time of marinara sauce is longer; it can last about 7–10 days.
Alternatively, you can add a little citric acid, lemon juice, or vinegar (about a quarter teaspoon) before storing. Citric acid is an antioxidant that can be used in foods. It is not only used to increase acidity but also to keep food fresh for longer.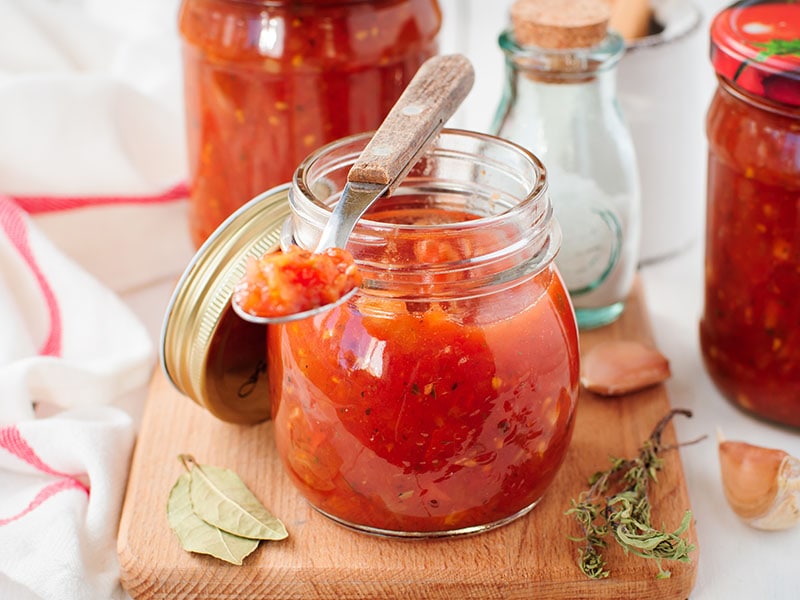 FAQs
It's too easy to confuse these two sauces. Although the article has delved into the analysis, please refer to the section below if you still have questions. This FAQs section hopes to answer all of your questions.
Pizza & Marinara Sauce – Elite Of Italian Cuisine
Through all the information provided above, it is probably easy for you to distinguish between pizza sauce and marinara sauce. Yet there is not much difference between them, so I believe many other people are still struggling with this issue.
After all, why don't you ignore those similarities and differences and enjoy them? They are not simply two sauces but represent the cuisine of a famous country.
Please leave a comment to tell everyone some dishes that best match pizza and marinara sauce after reading the article!
References
Wonderopolis.org. 2022.
En.wikipedia.org. 2022. Marinara sauce – Wikipedia.