Deep dish vs. stuffed pizza: is there any difference between them? Of course, there is. While pizza is one of the most favorite foods in the world, not everyone knows the ins and outs of this amazing dish, including the disparities between the two most popular varieties.
How about you? Are you ready to dig into the mystery? In this post, I will explain thoroughly about these two kinds, from their origins to their differences. Americans eat about 3 billion pizzas each year, so it's worth knowing these interesting facts. Sit back, and join me on this journey!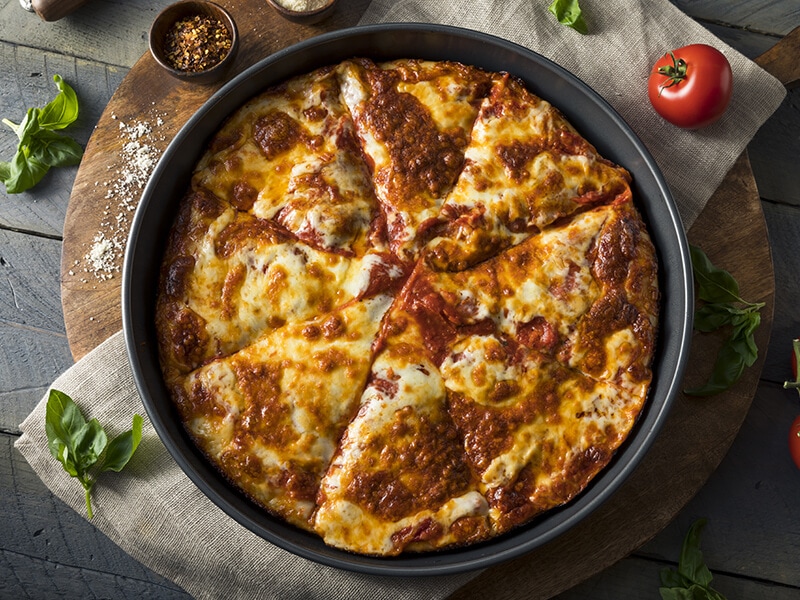 An Overview Of Stuffed Pizza
Stuffed pizza is a tasty twist on the classic pizza. It will make a terrific choice if you want something different for your next pizza night.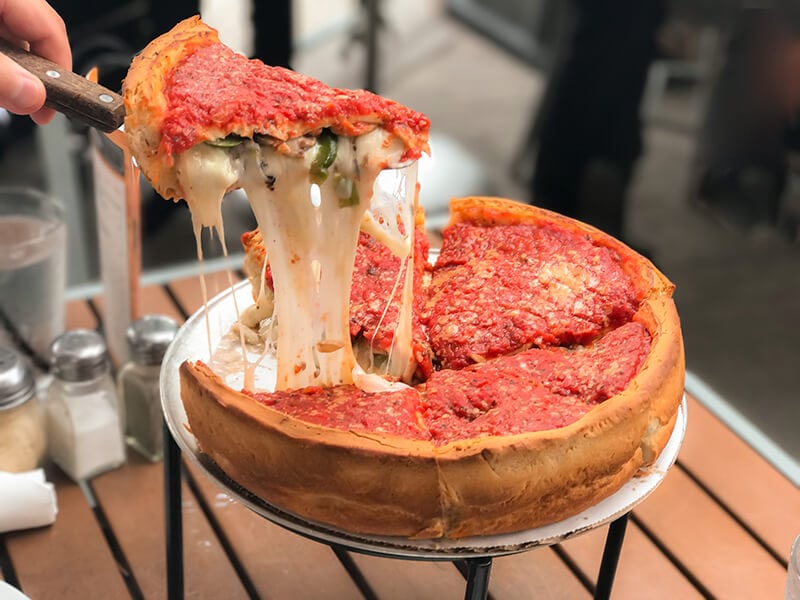 What Is A Stuffed Pizza?
People make stuffed pizzas with the dough pressed into the deep pan edges. Layer cheese and preferred toppings, then add extra cheese onto the dough-line pan to make the pizza.
This pizza includes an extra layer of dough on top of the filling. The uppermost layer of the dough is smeared with a thin coating of sauce and punctured with a few holes.
Next, you will finish it with marinara sauce. The hole in a stuffed pizza allows air to escape, ensuring that the toppings under the dough cook evenly. It helps to keep the pizza dough from tearing.
Generally, stuffed pizza is encased between two layers of dough, resulting in a deeper, smoother texture and slightly sweet flavor.
The Origin Of Stuffed Pizza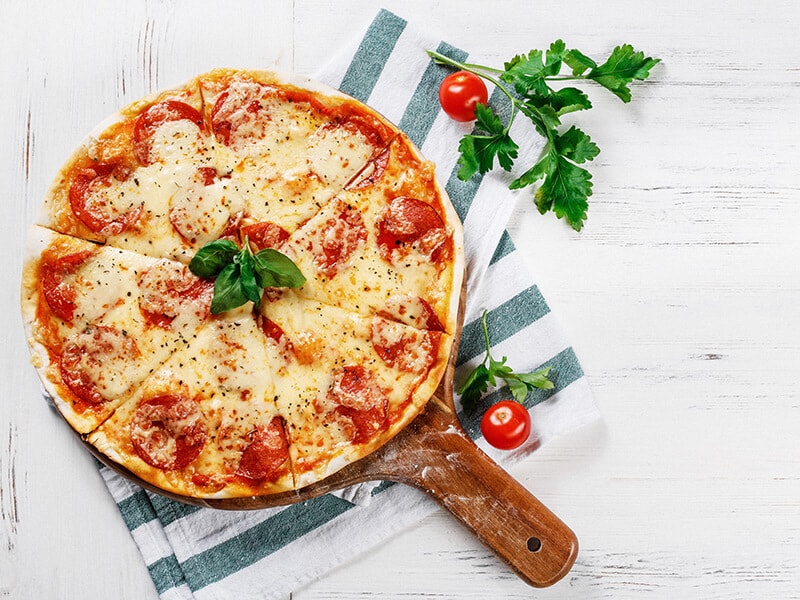 The stuffed pizza's origin is also unclear. Back in the 1970s, Nancy and Giordano's, two famous pizzerias from Chicago, supposedly competed with each other to create a new pizza recipe.
To this day, both pizza chains are still known for their original stuffed pizzas. But Giordano's features something else different: you must have heard of Giordano's Famous Stuffed Deep Dish Pizza.
Nevertheless, the most popular stuffed pizza recipe probably belongs to someone else. In 1995, Pizza Hut introduced its iconic stuffed crust pizza, which is still among its flagship products (1).
Stuffed pizzas are tasty, but do you know about their origin?
The Overview Of Deep Dish Pizzas
Deep dish pizzas are a well-known dish in the United States, particularly in Chicago. It is a popular option among pizza lovers. What makes this pizza variety so special?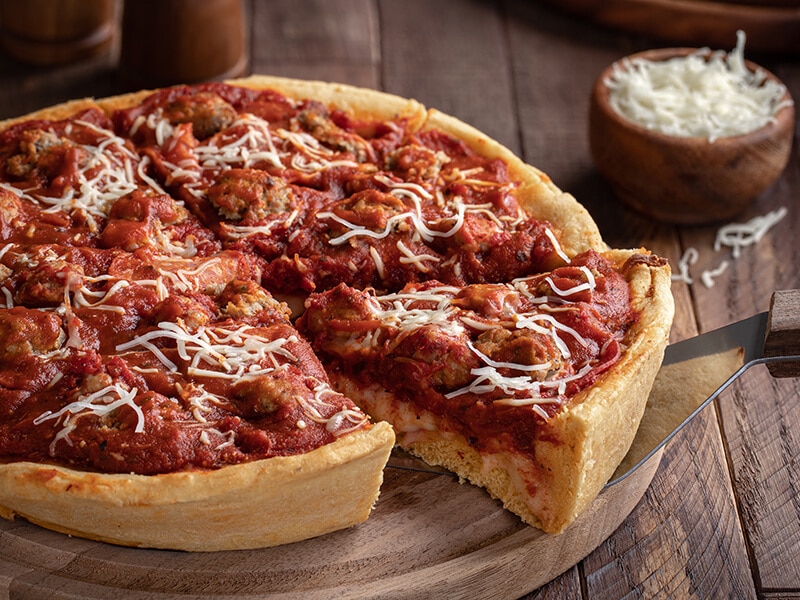 What Is Deep Dish Pizza?
This Chicago staple has a thicker crust, unique topping, and cooking procedures when compared to other pizzas. Its name comes from the fact that it is cooked in a steel pan.
The pan is spherical with deep walls and a bottom that forms a 'basin' in the dough that can be filled with sauces, toppings, and cheese. The thick and crispy crust is made by frying the pan's edges in oil. It also helps in removing the baked pizza from the pan.
People put cheese at the bottom of the deep dish pizza, followed by the meat and veggies toppings, then cover it with tomato sauce. This layering order ensures that all the ingredients will get cooked evenly.
The Origin Of Deep Dish Pizza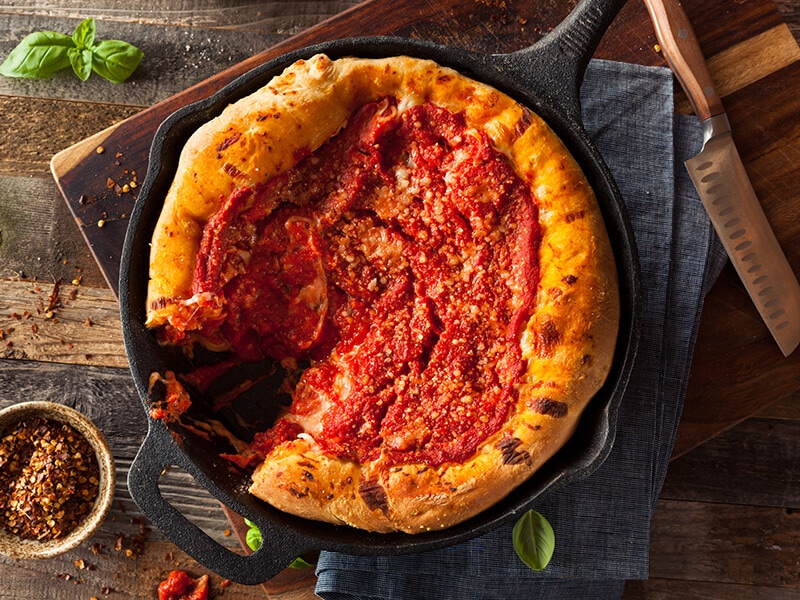 How this type of pizza came about is unclear. However, many people assume that Ike Sewell, the man behind Pizzeria Uno (now known as Uno Pizzeria & Grill), created it in 1943 (2).
However, others credit the creation of deep dish pizzas to Rudy Malnati, a cofounder of the highly popular restaurant chain Lou Malnati's Pizzeria. To make matters more interesting, the third theory considers the casual restaurant chain Rosati's as responsible for creating this dish.
The three names are all popular brands and closely associated with Chicago-style pizzas. It is possible that one of them gave birth to deep dish pizzas in the past, but the true answer may be a completely different name. Sadly, the undeniable truth might never be known.
The history of deep dish pizzas is a mystery. But in the end, it still belongs to Chicago.
Deep Dish Vs. Stuffed Pizza: Their Similarities
Nobody knows for sure who invented both types of pizzas, but they all began in Chicago. They have some other interesting things in common.
These two types of pizza show ingenuity in flipping the order of the toppings. Instead of layering the cheese on top, you will put it directly on the dough. Then, you may position the toppings under the sauce.
These pizzas both have a higher and thicker crust than regular pizzas, such as the Brooklyn variety. People usually serve them in pans rather than on boards like regular pizzas.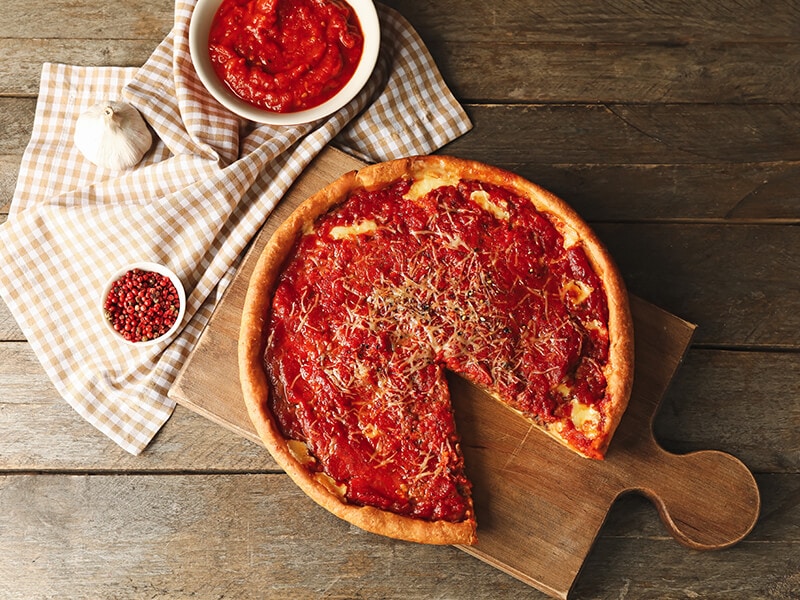 Are There Differences Between The Pizzas?
Deep dish pizzas and stuffed pizzas are two of the most popular pizza varieties. Learning about the distinctions between them will help you choose the best option. Why don't you scroll down to find out?
| Differences | Deep Dish Pizza | Stuffed Pizza |
| --- | --- | --- |
| Dough | Single layer | Double layer |
| Crust | Buttery, crumbly, and thinner crust | Sweet and thicker crust |
| Sauce | A thick sauce layer is placed on top of the toppings | A thinner layer of sauce applied on top of the second layer of dough |
| Cheese | A lot of cheese | Cheese is blended with toppings |
| Toppings | Many toppings | Fewer toppings |
| Cooking method | Take less time | Take more time |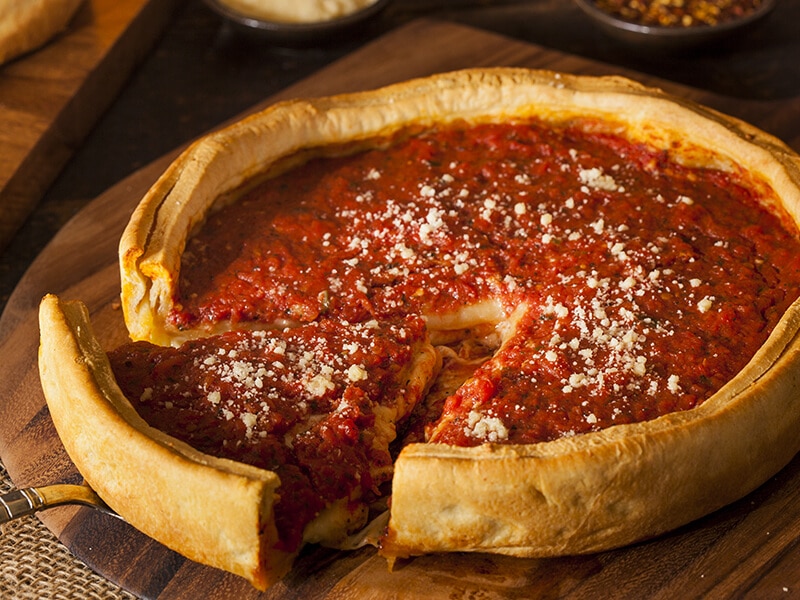 The Dough
The keyword is "extra dough layer": For stuffed crust pizzas, its double-layered crust has to be very elastic. The dough forms both the base and the upper layer that covers the toppings, so it is more complex to prepare.
On the other hand, the dough for deep dish pizzas is prepared in the standard way. People mix semolina flour and wheat flour to form deep dish pizza dough, then let it rise. Afterward, they will spread the dough evenly with their fingertips.
The specialty of this pizza lies in an extra dough layer. People will put more dough on the pizza. This dough layer results in a stuffed pizza with a distinct texture and appearance.
The Crust
The deep dish pizza has a golden and crispy crust with a crumbly feel. This pizza is well known for its rich, buttery taste.
Moreover, its medium thickness is amazingly ideal. The deep dish crust consists of a thin layer inside and a broader layer outside. If you prefer a pizza crust that is not too thin or thick, this type of pizza is the best choice.
Meanwhile, the crust of the stuffed pizza is sturdy and dry with a slightly sweet flavor. It features a higher outer crust. Its crunch is also more pronounced.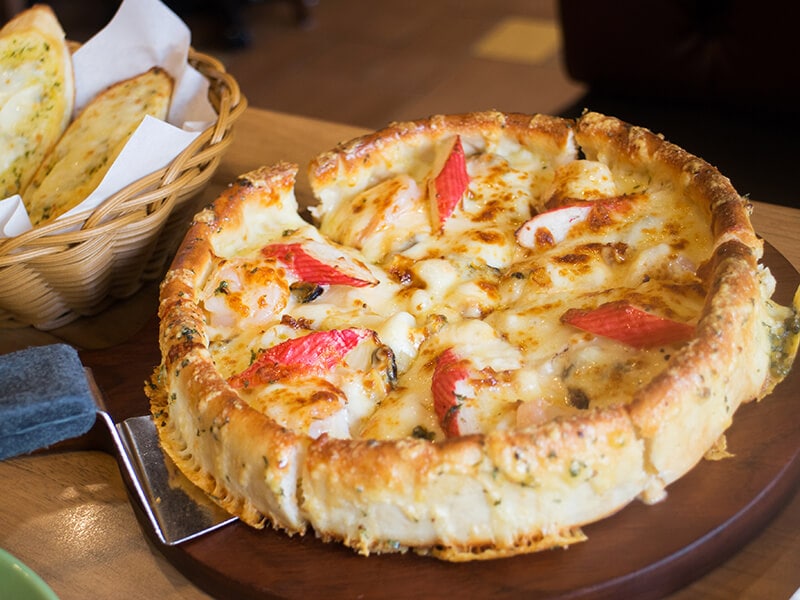 The Sauce And Cheese
The deep dish pizza contains a dense and thick sauce prepared with stewed or crushed tomatoes to keep the generous layer of cheese from burning during baking. You can use any type of melted cheese to add gooey richness to the pizza.
Meanwhile, the stuffed pizza sauce uses pureed tomato as a main ingredient, providing a distinctive delectable flavor experience. Contrary to deep dish pizzas, this variety can include a combination of cheese blended with toppings rather than in different layers.
Toppings
Deep dish pizzas boast a unique assortment of vegetables. You may layer this pizza with mushrooms, sausage, or pepperonis on top of the cheese. These toppings will form a thick layer on the dense veggie canopy.
However, the order of the toppings in a stuffed pizza is entirely up to you. Begin by pilling the cheese, then add any desired toppings. After that, if you wish, top it with more cheese.
Both stuffed pizzas and deep dish pizzas can handle an enormous amount of toppings. But I would say that the former can boast a more substantial filling than the latter.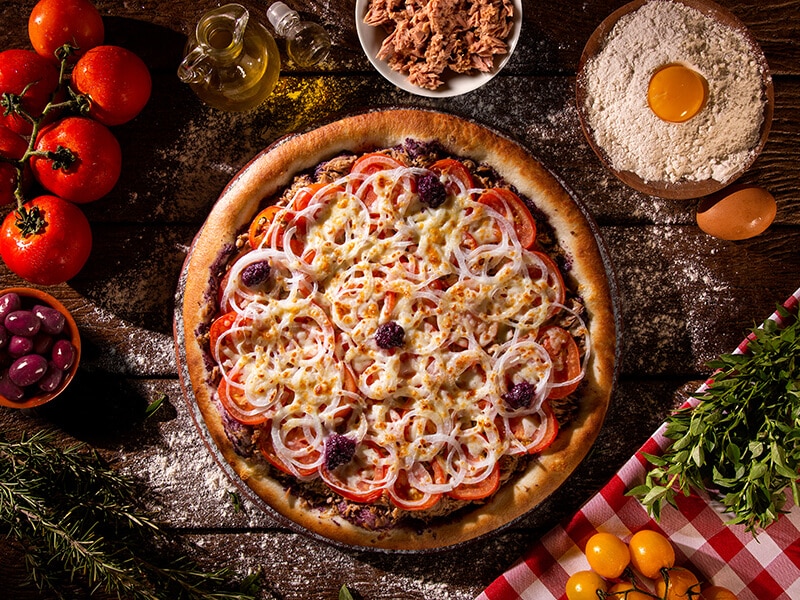 Cooking Method
Deep dish pizzas typically take 25 to 35 minutes to cook at temperatures ranging from 420°F to 430°F (215 to 221℃). Because of the depth of the pizza, it is less than many people imagine.
However, there is a different story when it comes to stuffed pizza. It takes an extra 15 minutes or so (meaning 40 to 50 minutes) to prepare. The temperature also needs to be lower, about 420℉ (215℃).
Deep Dish Pizza Vs. Pan Pizza: A Comparison To Remember
In this comparison, I will point out the differences between the two popular types of pizzas to help you determine which is more suitable for your preferences.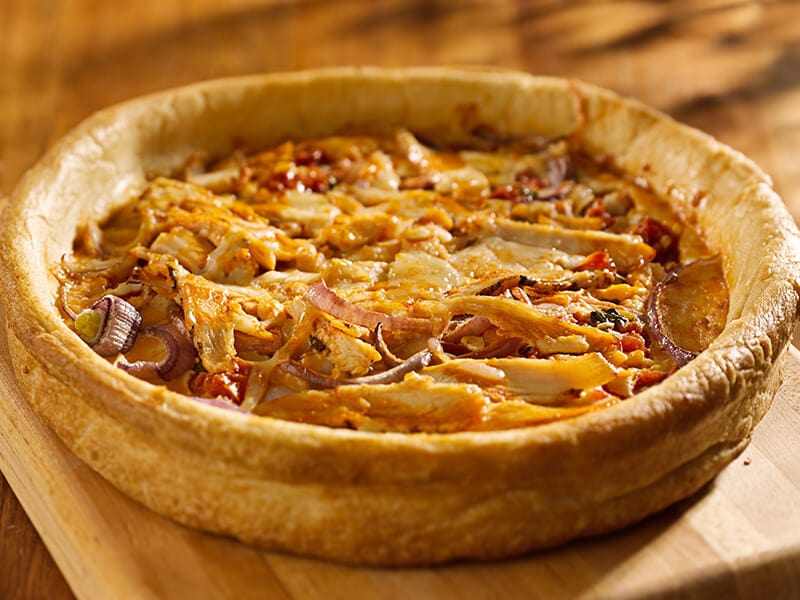 The Most Crucial Factor: Crust
The crust of the deep dish pizza is unique, as it is both crunchy and sturdy enough to hold all the toppings. Deep dish pizza is taller than regular pan pizzas, but there is still a thin coating on the bottom. Its crust brings out a smooth feeling and buttery flavor.
In comparison to other pizza types, the dough is softer. It also has a thick edge, which gives pan pizza a slight-rounder appearance. Because of the heat, its crust is more lifted than standard pizza, rather than being shaped by the pan's curvature.
You Can't Skip The Cheese
When making a deep dish pizza, many people tend to add a considerable quantity of cheese to compensate for the sauce and toppings. They often slice the cheese rather than grate it. Also, the cheese has to become very soft.
By contrast, the pan pizza's cheese falls on the browning side. It doesn't melt all the way to gooeyness. You can put it on top of the toppings or beneath them.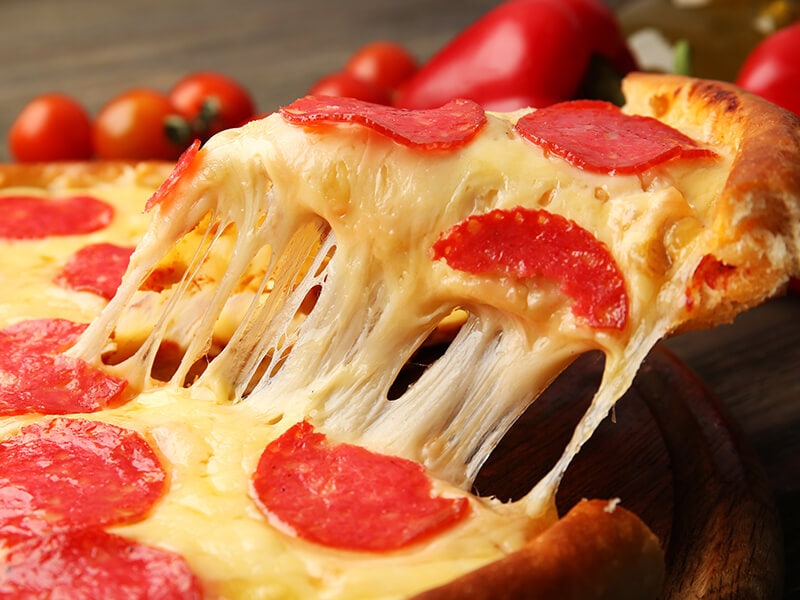 The Sauce Matters
The sauce is a significant component in deciding whether your pizza is delicious. A good sauce will provide a delightful taste to your pizza instead of making it overly salty or mushy.
When cooking for a lengthy duration, the sauce of a deep dish pizza keeps the toppings from scorching. Therefore, it needs more pizza sauce than regular pan pizza. Moreover, its sauce is usually thick, like crushed tomatoes or jams.
Don't Forget About Toppings
As for making a deep dish pizza, you may put the toppings between the pizza and the sauce. Therefore, the toppings will stay above the cheese and under the sauce.
However, meat toppings are typically more complicated. You will arrange them in two layers separated by cheese. This topping arrangement is the unique feature of this pizza.
The topping order of the pizza pan is similar to regular types of pizza. You can put the toppings, such as meat or vegetables, either beneath or over the cheese. It's up to you.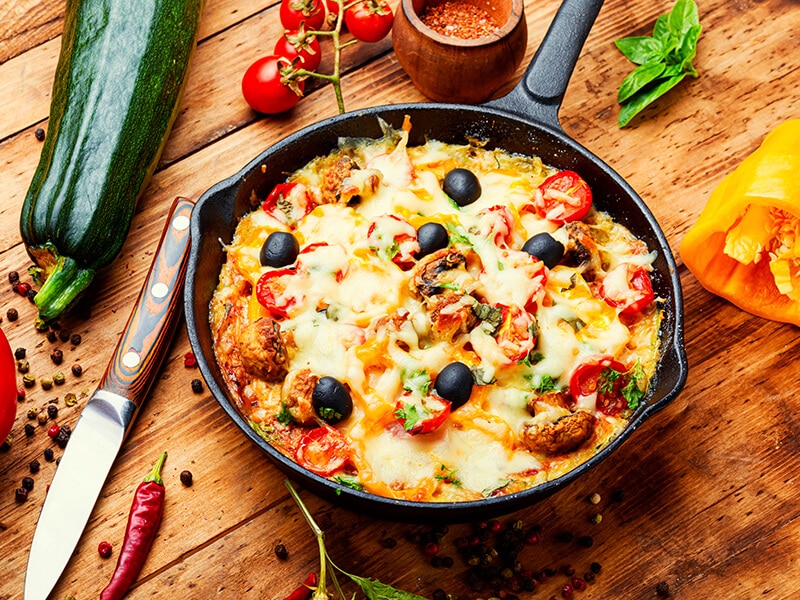 Try These Easy Recipes With Deep Dish And Stuffed Pizzas
So, which pizza is your favorite? Regardless of what you choose, I believe these two types of pizza are both tasty in their distinct ways. Why don't you rush into the kitchen and bake one now?
You may use either your cake pan or cast-iron skillet for this recipe. But there is something you must keep in mind. The latter will lead to a crispy crust, while the former will bring you a softer base. The pizza will still come out nice, no matter how you do it.
You will want to make a deep dish pizza after knowing this simple recipe.
This recipe results in the best gluten-free pizza ever! I suggest using a springform pan to make this pizza. Assuming you don't have a springform pan, a cast-iron pan is another perfect alternative.
Learn to make a delicious stuffed crust like in the Pizza Hut at home right now! Follow these simple instructions to create a stuffed crust with your favorite toppings, string cheese, and the perfect sauce. You can enjoy your delectable pizza without ever leaving the house!
This vegan stuffed crust pizza is sure to amaze all vegetarians. You can top it with kale, mushroom, artichoke-garlic sauce, and vegan cheeses. The wholesome richness of vegan cheese will impress you and make you completely forget that there is no meat in it!
FAQs
What else do you want to know about the two types of pizzas in question? Take a quick look at this section to clear away your doubt for good!
Which Pizza Type Do You Like More?
Both deep dish pizzas and stuffed pizzas have their charms. They all can bring out unique flavors that may please your appetite. Therefore, which one is superior is up to your personal preference.
Do you find what you need in this article? Assuming that you have any questions about deep dish or stuffed pizza, you can leave your comment below. Also, don't forget to like and share this post: your support is the best gift for me.
References
Stuffed crust pizza (2023) Wikipedia. Wikimedia Foundation.
The deep rooted history of Chicago's deep dish pizza (2013) BBC Travel. BBC.