How to reheat deep dish pizza? Well! This is the most asked question when it comes to deep dish pizza. Sometimes you cannot eat a large pizza and end up having some leftovers. Storing it to eat tomorrow is a tempting choice. But you need to know how to reheat it.
There are many ways to reheat foods. Yet, your precious deep dish pizza needs special treatment. Reheating it properly will help you to make leftover deep dish pizza taste like new. I will help you to do that. So read along!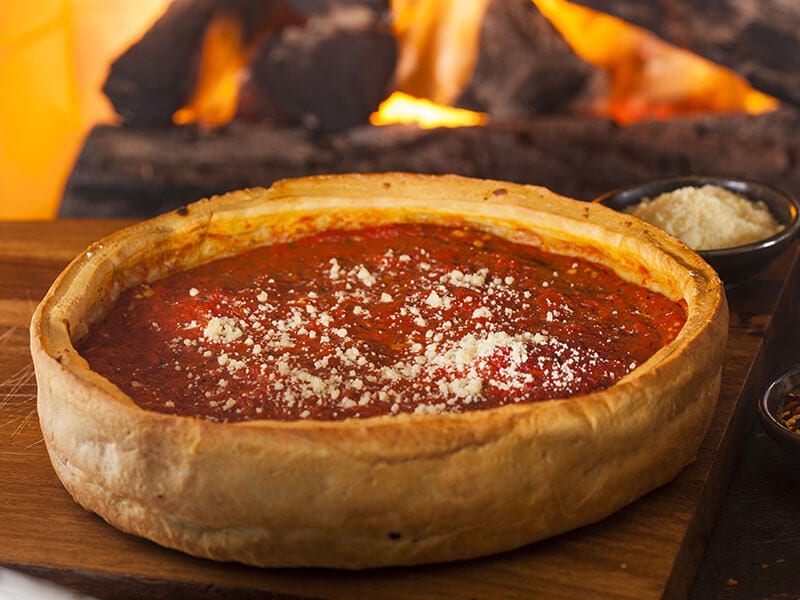 Is There A Best Way To Reheat Deep Dish Pizza?
Yes, there is always a way to reheat deep dish pizza so that it retains the original flavor and texture.
Although it doesn't sound easy, it can be achieved as long as you have good instructions to follow. I promise that after you read this post, reheating deep dish pizza will no longer be a challenging task.
There are 5 ways to reheat deep dish pizza. You can use the skillet, oven, toaster oven, air fryer, and sandwich maker. The detailed step-by-step guide will be provided in the following content. Let's move on!
Overview Of Deep Dish Pizza
Before getting straight to the reheating guide, let me first talk a bit about it. Stay tuned! There may be some information about deep dish pizza which you have not yet known.
What Exactly Is Deep Dish Pizza?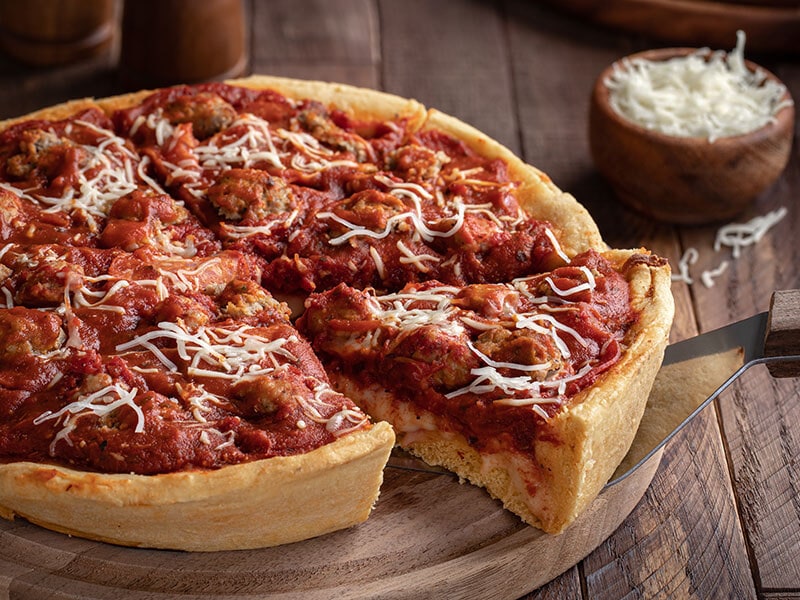 Deep dish pizza is also called Chicago-style pizza. As the name suggests, this tasty kind of pizza takes root in Chicago. It is thicker than ordinary pizza, roughly 2-3 inches tall. That is why it is called "deep dish."
The pizza is made with vegetables, meat, cheese, tomato sauce, and wheat flour. The flour is baked in a round pan or baking sheet. Its shape resembles a lake where you can fill it with cheese, vegetables, and meat in the middle and tomato sauce on the top.
Learn the interesting procedure to make deep dish pizza here:
Stuffed Pizza Vs Deep Dish Pizza: Are They The Same?
If you like Chicago-style pizza, surely you have heard of stuffed pizza. Stuffed pizza and deep dish pizza are both Chicago-style pizzas. Many people often think of them as being the same because they both have thick crusts and are way deeper than regular pizza.
However, they are not identical to each other. There are some differences between them that you should know in order to tell them apart.
First, stuffed pizza is actually deeper than deep dish pizza. (1) Stuffed pizza has more cheese than deep dish pizza, it also has another dough on the top.
Reheated Deep Dish Pizza Will Taste Like New With These Methods
There are several ways to reheat deep dish pizza. I will introduce you to 5 most effective ways. Once you apply one of these methods, your deep dish pizza will taste fresh despite being reheated.
Before turning to the reheating methods, I want to note that you should never use the original box to reheat deep dish pizza. The box will burn and the pizza might get ruined as a result.
See the table below to have a quick summary about these methods.
| Reheating devices | Heat | Expected duration time |
| --- | --- | --- |
| Skillet | Medium-high | 4-5 minutes |
| Oven | 450° Fahrenheit | 10-15 minutes |
| Toaster oven | 450° Fahrenheit | Several 5-minutes intervals |
| Sandwich maker | Medium | 3-6 minutes |
| Air Fryer | 300-350° Fahrenheit | 3-6 minutes |
Method 1: Reheat Deep Dish Pizza In The Skillet
This is the experts' recommended method for reheating deep dish pizza. And it works best when you just want to reheat one or two slices of pizza.
Step 1: Prepare The Deep Dish Pizza.
First, you need to take your deep dish pizza out of the fridge or freezer to make it ready for reheating. For frozen deep dish pizza, make sure you thaw it before reheating. I will show you some thawing methods in the next section.
Cut your deep dish pizza into equal slices if you haven't.
Step 2: Prepare The Skillet.
Choose a suitable skillet to reheat deep dish pizza. You should choose the one that best fits the slices. Whenever possible, use a nonstick skillet.
Set the stove at medium-high temperature, and add in some olive oil. Do not pour too much oil or your deep dish pizza will come out greasy and non-crispy.
Step 3: Place The Slices In The Skillet And Cover The Pan.
After 1-2 minutes, arrange the slices in the skillet. It is best to place them along the wall of the pan. You may want to add some water around the slices to add moisture to them. Next, turn the stove to medium heat and put the lid on the pan.
Covering the slices prevents them from losing moisture and keeps the cheese, meat, and other toppings warm.
Step 4: Wait And Enjoy!
The last step is the easiest one, but you should do it carefully. You must keep an eye on your deep dish pizza for 4-5 minutes until it is ready to serve.
When it is reheated, take it out and let it cool at room temperature for 5-7 minutes before serving the pizza with a suitable side dish.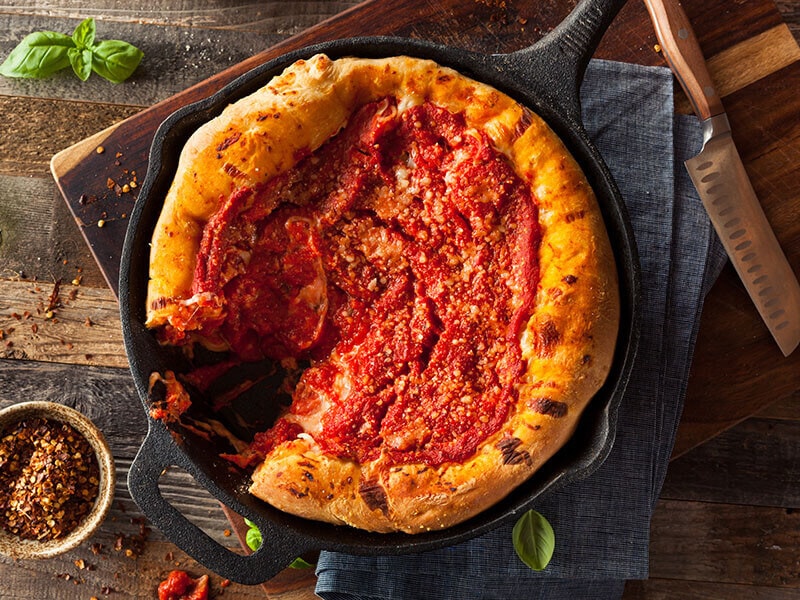 Method 2: Reheat Deep Dish Pizza In The Toaster Oven/Conventional Oven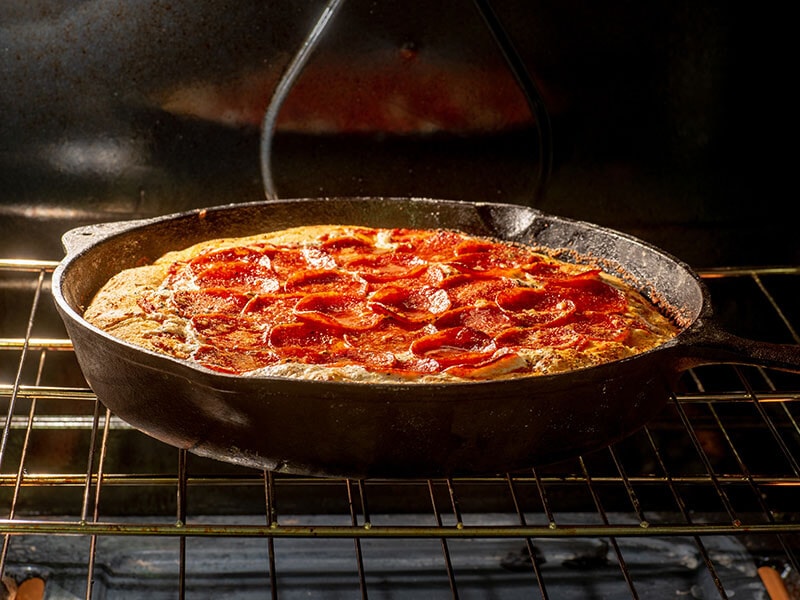 Another effective method to reheat deep dish pizza is to use a toaster oven, ordinary oven or sandwich maker. This method takes more time. However, it is particularly effective when you reheat a large leftover pizza. For optimal results, consider placing the dish on premium-quality pizza pans.
This step-by-step guide is applicable to the oven and toaster oven. There are just some small differences, which I will note for you along the way.
Step 1: Turn on the oven and preheat it to 350-450° Fahrenheit. Your deep dish pizza will get burned if you fail to preheat the oven. So make sure you don't forget this step.
Step 2: Take out a cooking sheet and line it with a layer of aluminum foil. If you have cooking water, spray some on the wrapped sheet.
Step 3: Place the deep dish pizza slices on the cooking/baking sheet, spare some space between them. Spray some water on them to prevent them from drying out. Make sure the slices are not too moist. Otherwise, they might become quite sloppy.
Step 4: Cover the sheet again with a layer of aluminum foil and put it in the oven. This layer will protect the slices from being burned and from moisture loss.
Step 5: Wait for 10-15 minutes and enjoy! If you use the toaster oven or sandwich maker, check the deep dish pizza every 5 minutes. When you see that it is ready to eat, turn off the oven and take it out.
Reheating deep dish pizza can still be trouble without a visual instruction.
Method 3: Reheat Deep Dish Pizza In The Air Fryer Or Sandwich Maker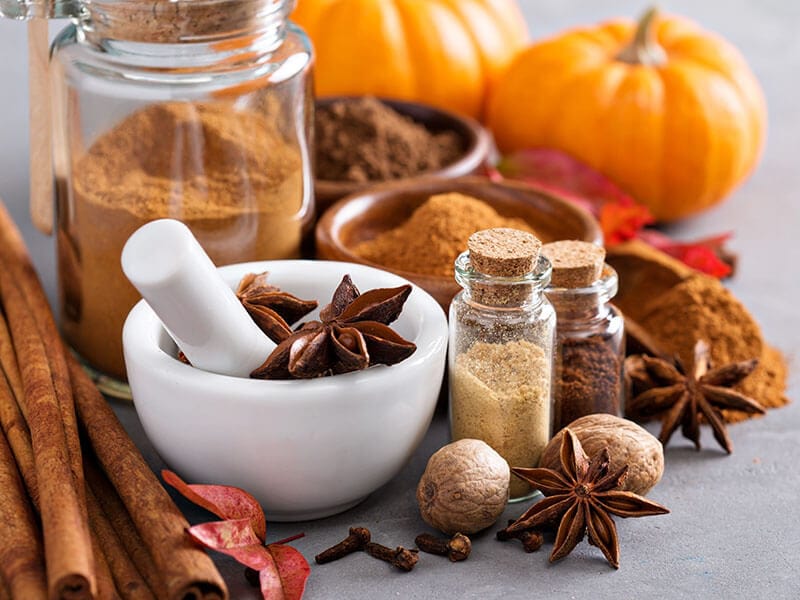 Air fryers and sandwich makers are also great devices besides the skillet and oven. However, it may require some effort because you need to adjust the temperature depending on the current condition of the slices.
Step 1: Preheat the air fryer to 300-350° Fahrenheit for roughly 10 minutes.
Step 2: Put the slices in the air fryer basket or the sandwich maker plates. If using a sandwich maker, turn it to medium heat.
Step 3: Set the timer to 3 minutes. If they are not crispy after 3 minutes, fry them for another 2-3 minutes. Next, turn off the air fryer or sandwich maker and take them out.
Step 4: Let it cool at room temperature for 10 minutes, and enjoy. Alternatively, you can try a few methods to keep the pizza warm and toasty until it's ready to serve.
How To Thaw Frozen Deep Dish Pizza?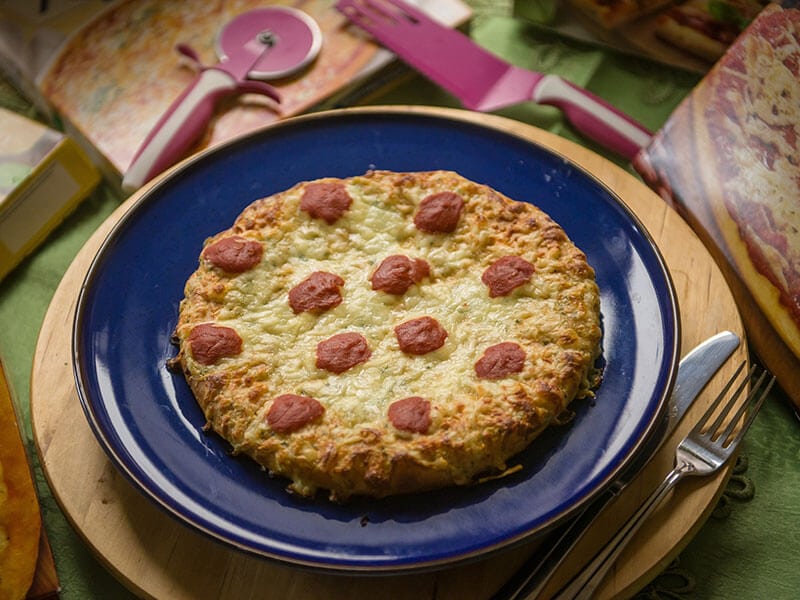 Thawing deep dish pizza is of equal importance to reheating it. There are multiple ways that you can defrost it. They are different in terms of time. And the best method takes the most time.
If you have more than 12 hours to prepare, you should defrost frozen deep dish pizza in the fridge. This is the best way. The procedure cannot be easier. Just move the pizza from the freezer to the fridge.
In case your mealtime is about to come, there is a way to reheat deep dish pizza in just several minutes. That is using the microwave.
However, it is the worst device to reheat deep dish pizza. It will thaw your deep dish pizza in 5-6 minutes. But there is a high chance that it will cook the pizza instead. You should be very careful when using it.
How Long Can You Store Deep Dish Pizza?
Before learning to reheat deep dish pizza, you should know whether it is reheatable or not. I will provide you with everything about the shelf-life of deep dish pizza.
| | |
| --- | --- |
| Storing Places | Deep Dish Pizza |
| Pantry | 1 hour |
| Fridge | 1 hour |
| Freezer | 3-4 days |
Leftover deep dish pizza can be a concern for most pizza lovers. But don't worry, there are some ways that you can store the leftovers to reheat it for later uses.
First, you should note that deep dish pizza does not last long at room temperature. Once you let it sit out for more than 1 hour, it will be spoiled and you have no choice but to throw it away.
To prevent that, put it in the fridge right after you decide that you cannot finish it in one sitting. You can refrigerate deep dish pizza for 3-4 days so don't be too concerned about it.
Have you ever thought of freezing your deep dish pizza? Yes, it can be frozen. And freezing makes it last longer than ever. You can still eat your leftover pizza after 1 month, isn't it amazing?
The Most Effective Ways To Store Deep Dish Pizza
Deep dish pizza won't last long unless you store it properly. But this is an easy task. You can either refrigerate or freeze deep dish pizza.
In The Fridge
The first thing to do is to take the pizza out of the original box. It is not a good container for refrigerating deep dish pizza.
Also, do not put the whole pizza in the fridge. You'd better slice it into edible slices and pile them up while placing a paper towel between each slice. Then, cover the stack of slices with a plastic layer or aluminum layer and put it in the fridge.
Be sure to refrigerate deep dish pizza as soon as you can. Leaving it outside for more than 1 hour will trigger the growth of bacteria.
In The Freezer
If you do not plan to eat leftover deep dish pizza within several days, the best way is to freeze it. By doing this, you can keep the pizza for up to 2 months.
What if you've already cooked your deep dish pizza? Should you put cooked pizza in the freezer? Will this process impact the overall taste and texture of your dish?
Fortunately, as long as you know the correct method, it's possible to freeze both cooked and uncooked deep dish pizza.
The method to freeze deep dish pizza is super easy. Just slice it into even slices first. Then, wrap each slice with a plastic layer. To be more careful, wrap it with an aluminum foil layer. Finally, put all of the slices in the freezer.
You should use a Sharpie pen to write the current date, so you remember how long you have put it in.
How To Tell If Deep Dish Pizza Is Bad?
Deep dish pizza will go bad after some time, often when you have stored it for too long. The typical signs of bad pizza are rancid odor and mold. Use your senses to decide. Whenever you feel that it is bad, it really is.
Appearance
Spoiled deep dish pizza has a dull look. Once you feel that the pizza does not look as fresh and attractive as it used to be, it is a sign that your pizza is no longer edible.
Another symptom is mold, and it is the most serious symptom. Throw the deep dish pizza away when you detect any mold, even a small one.
Smell
Pizza's smell makes your stomach rumble with cravings. However, when it starts to have a rancid or any unpleasant odor, it is an indication that harmful bacteria have found their way into your pizza. You shouldn't eat it.
Texture
Leftover deep dish pizza can have a dry or sloppy texture because it is stored for some time and you don't reheat it properly. This is the most common symptom. Yet, it is not a spoilage sign. It will not give you the best taste but is still safe to eat.
You don't need to worry much about it. Whenever the texture of deep dish pizza is still acceptable, just eat it.
Taste
This is the last thing that you need to check after seeing that everything else is fine. Give the deep dish pizza a try and carefully examine it. If it tastes good, then you are lucky. It is safe to eat.
And remember this, whenever it makes you feel terrible, get rid of it immediately.
FAQs
Are you ready to reheat deep dish pizza now? Not yet. You may need some further information that I haven't mentioned in the main content. Stay a bit longer and explore it.
Tasting "Day One" Deep Dish Pizza Is Not Difficult
How to reheat deep dish pizza? Use the skillet or the oven. Put your effort into each step and get the most satisfying result. At this point, you have become a master at reheating deep dish pizza. Now you can feel free to order a big pizza without worrying about the leftovers.
Do you often eat deep dish pizza? What do you do with the leftovers? If you have tried the above methods, how did your deep dish pizza taste? Comment below to let me know!
Nutrition Facts
1 servings per container
Serving Size135 grams
---
Amount Per ServingCalories387
% Daily Value *
Total Fat 19g

30

%

Saturated Fat 6.6g

30

%
Trans Fat 0.3g

Cholesterol 31mg

11

%
Sodium 805mg

34

%
Potassium 259mg

8

%
Total Carbohydrate 40g

14

%

Dietary Fiber 2.7g

8

%
Sugars 2.5g

Protein 15g

30

%
---
Vitamin C

4

%
Calcium

18

%
Iron

18

%
* The % Daily Value tells you how much a nutrient in a serving of food contributes to a daily diet. 2,000 calories a day is used for general nutrition advice.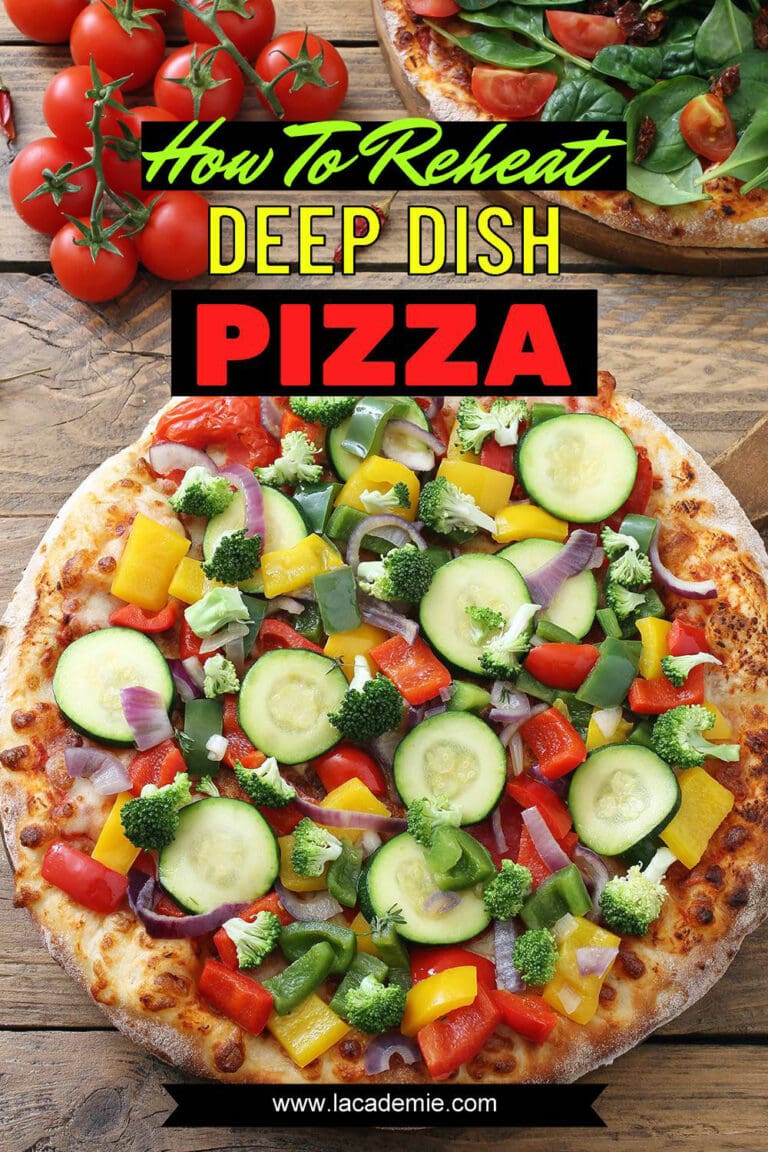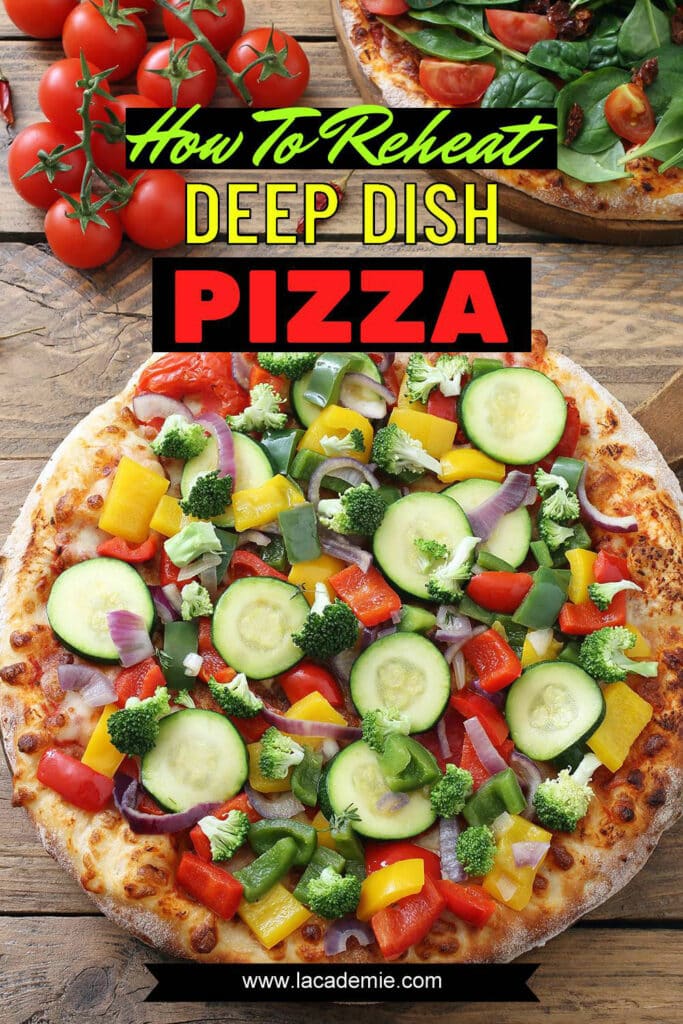 References
En.wikipedia.org. 2021. Chicago-style pizza – Wikipedia.
Penn State Extension. 2021. Health Benefits of Tomatoes.