Does pizza dough go bad? Do you want to keep the fresh dough longer? I'll show you everything in this post. The reasons why the dough goes bad, pizza dough's shelf life, or signs of bad dough will be explained in this article.
Pizza dough is one of the primary factors that directly affect pizza's deliciousness, so it is necessary to ferment and store it well to get the best pizza. Keep scrolling down because you are only a few steps away from information on how to make and store the pizza dough properly.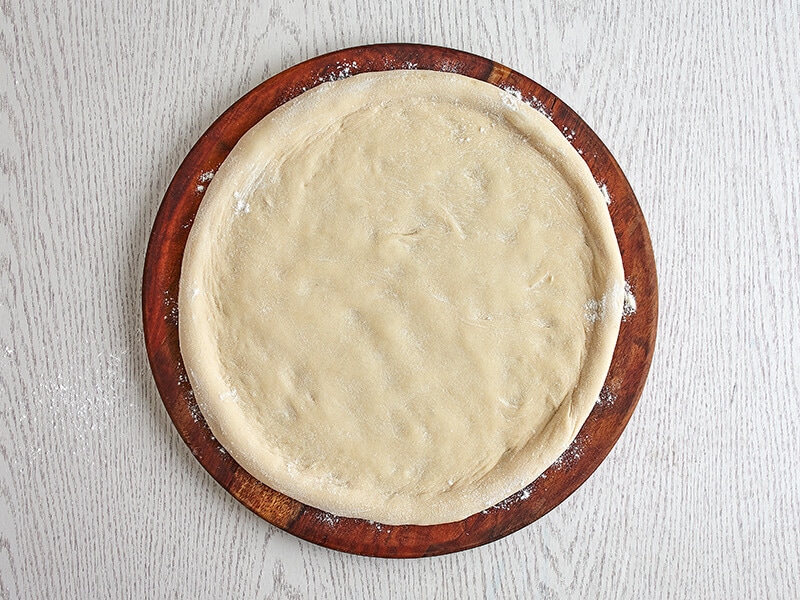 Interesting Things About Pizza Dough
Pizza is one of the favorite foods of many people around the world. Also, it is served as a common fast food around the world (1). Whether served hot or cold, it always grabs the love of diners thanks to its crispy, yummy crust, rich sauces, and mouthwatering toppings.
To cook the pizza, people will bake in an electric deck oven, wood, or coal-fired brick oven. Pizza comes in various varieties and styles, such as Hawaiian pizza, pizza Margherita, Chicago-style pizza, or deep-fried pizza.
As I mentioned, the crust is an important part of delicious pizza, which is made from pizza dough. The dough can be plain or seasoned with herbs and garlic to enhance the taste. In addition, some restaurants stuff the dough with cheese to make the pizza more cheesy.
Pizza dough comprises wheat flour, salt, water, and yeast. After mixing these ingredients together, the pizza maker will use a dough hook to knead the dough to make it elastic.
The elasticity must be enough to stretch the dough without tearing. It is better to add a dusting of flour on the sides of the dough before stretching to prevent it from sticking.
There are various types of pizza dough you need to know, including Neapolitan pizza dough – famous pizza in Italy, 48-hour fermented pizza dough, New York-style pizza (a thin-crust American pizza), etc.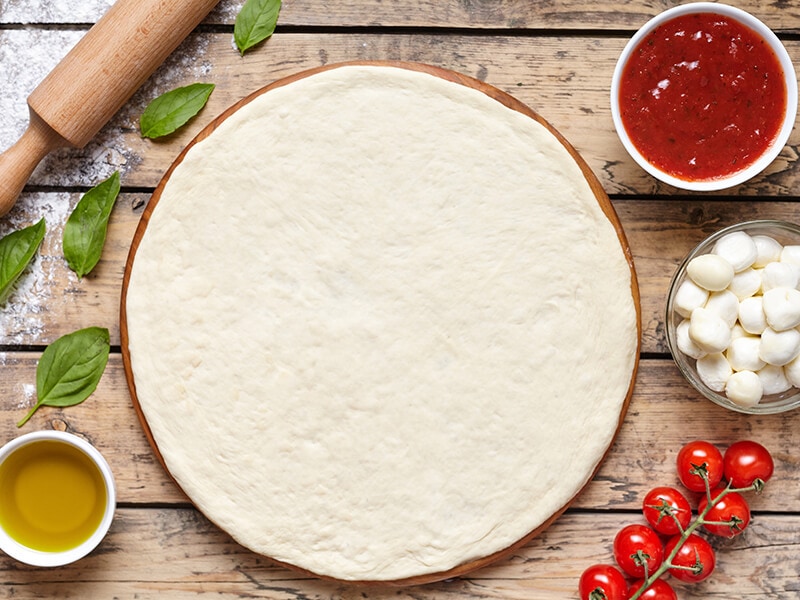 Factors Affecting To The Shelf Life Of Pizza Dough
There are a few essential things that directly affect the quality and shelf life of the pizza dough. Let's see what effects they cause and how you can master them.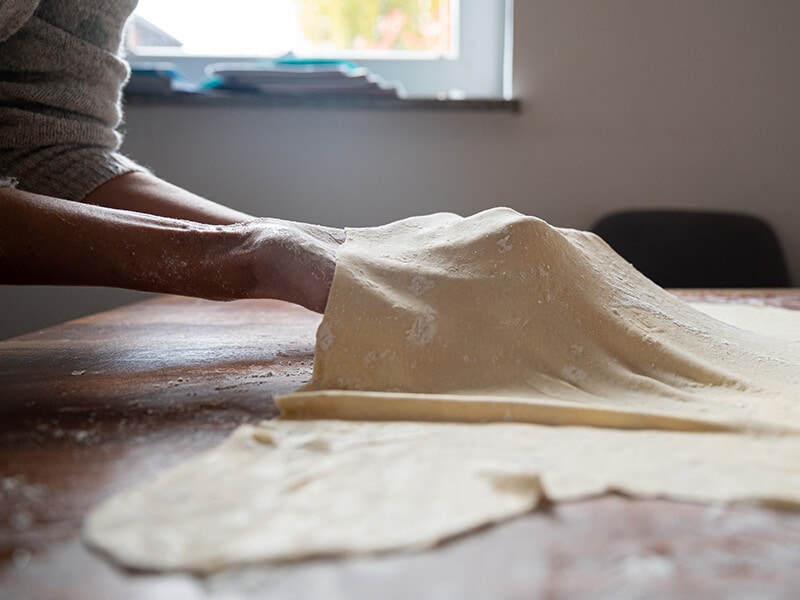 Temperature
Temperature plays an important role in accelerating the rise of pizza dough. High heat will increase the yeast activity and help the dough grow more quickly. Therefore people often use warm water instead of cold water. However, the high temperature can also accelerate spoilage.
Yeast
You'll not be successful in making elastic pizza dough without yeast. It acts as a catalyst to help fasten the fermentation process and help the dough rise faster. But, using too much yeast also makes the dough spoil quickly and become sticky.
Also, if you leave the dough with a lot of yeast at room temperature for too long, the dough can become sourdough because of its over-fermentation.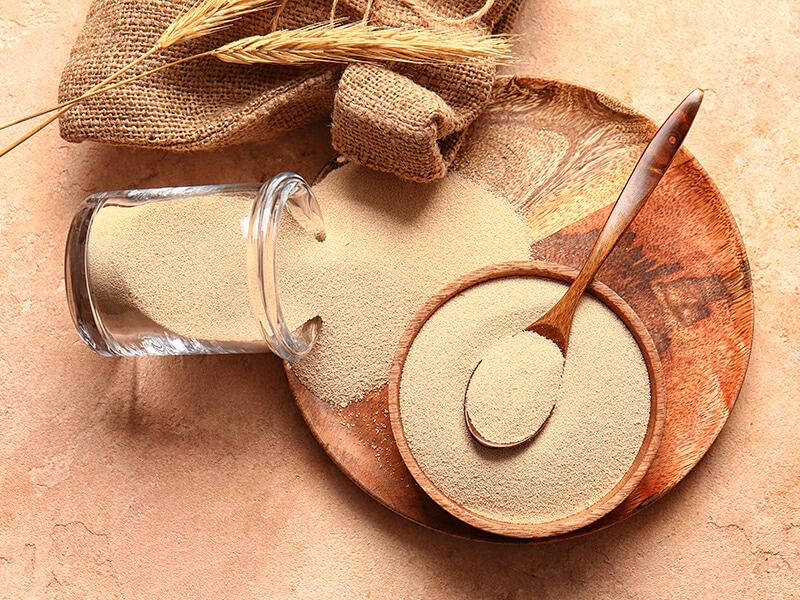 Protein
Protein gives pizza dough a more stable and firm structure. Furthermore, flour doughs with a high gluten or protein content are easier to store and have a longer shelf life.
In general, one of the best ways to prolong the longevity of pizza dough is to use higher protein flour and less yeast. Of course, don't forget to let the dough rise overnight in the fridge to get the best dough.
Pizza Dough Can Go Bad, Can't It?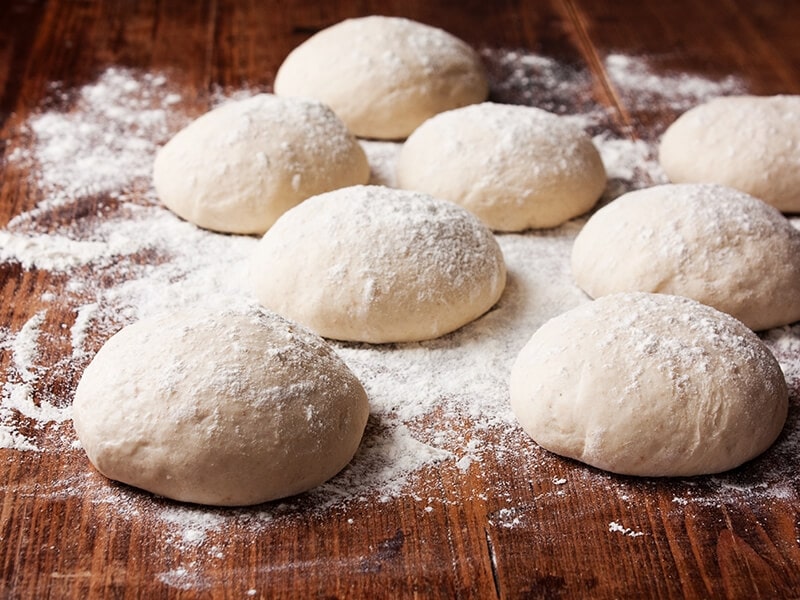 You cannot keep the pizza dough in your kitchen forever because it will go bad after a long time. This bad situation will come faster if you store the dough incorrectly and let bacteria attack it.
Excessive fermentation is also one of the main causes of shortening the shelf life of pizza dough. Meanwhile, traditional pizza dough with flour, water, and yeast can last longer.
Typically, you can keep the pizza dough fresh at room temperature for 4 to 24 hours. If you leave it too long, the effects of temperature, airflow, and bacteria will make your pizza dough spoil immediately.
Like other food, pizza dough still goes bad even if you keep it in the fridge or freezer. Sooner or later, you can find the color, smell, texture changes, visible freezer crystals, and burns on the refrigerated or frozen pizza dough if you keep it for too long.
Check what you should do when the pizza dough is overproofed.
How Long Does Pizza Dough Last?
Normally, homemade pizza dough can last from 4 to 24 hours in a normal kitchen. The shelf life of the pizza dough can be affected by the amount of yeast you add to it. If you use too much yeast, the fermentation is faster, but the dough is also more likely to spoil.
| Pizza Dough | At Room Temperature | Fridge | Freezer |
| --- | --- | --- | --- |
| Homemade pizza dough | 4 to 24 hours | 3 to 5 days | 3 months |
| Par-baked dough | 4 to 24 hours | 5 to 7 days | 6 to 12 months |
| Dough balls | 4 to 24 hours | 3 to 5 days | 3 to 6 months |
Refrigerated pizza dough can last between 3 and 5 days. The shelf life can be different depending on the temperatures inside the fridge. It can exceed 5 days if you keep the dough cold and place it in the fridge immediately.
When you store pizza dough in the freezer, you should use it within 3 months. You should place frozen pizza dough in the fridge for about 12 hours to thaw the dough whenever you want to use frozen pizza dough.
Compared to commercially made items, hand-made pizza dough shelf life is shorter. For instance, dough balls can last up to 3 to 6 months in the freezer, and par-baked dough and live dough can keep their best qualities in the freezer from 4 to 6 months.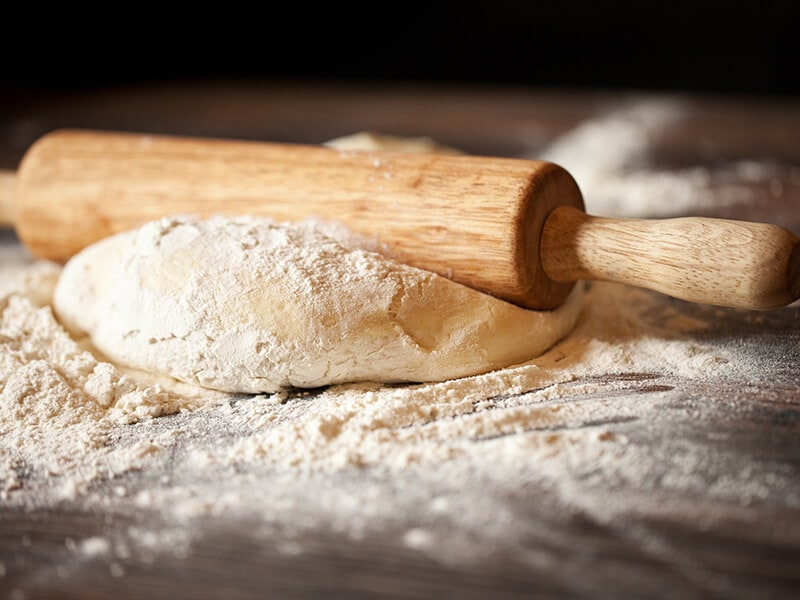 What Happens If You Eat Pizzas Made Of Spoiled Dough?
Spoiled pizza dough is overflowing with harmful bacteria. If you accidentally eat the spoiled dough, E.Coli or Salmonella bacteria will attack your intestines and cause poisoning after a few hours or days.
Fever, vomiting, headache, stomach cramps, and nausea are common symptoms of food poisoning caused by eating expired or spoiled pizza dough (2). The worst problem you can get is bacterial toxins which cause life-threatening dehydration and watery diarrhea.
Even store-bought dough is as likely to go bad as homemade one. Also, the bacteria in spoiled dough can create toxins that can survive very high temperatures, so they can be harmful even if you bake the dough at high heat.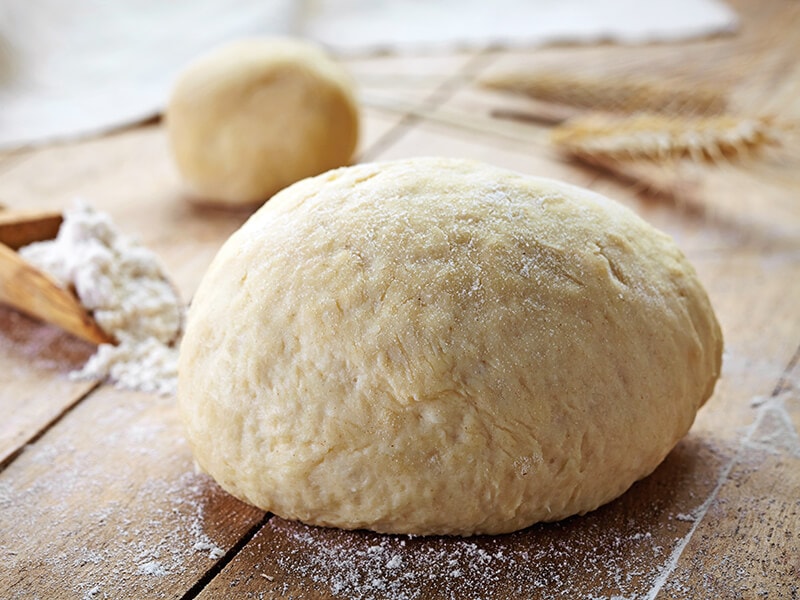 Common Signs Of Spoiled Dough You Must Know
As I mentioned in the above section, pizza dough can spoil and lead to severe consequences if you don't store it properly. Luckily, you can determine if your dough has gone bad by looking for the right signs.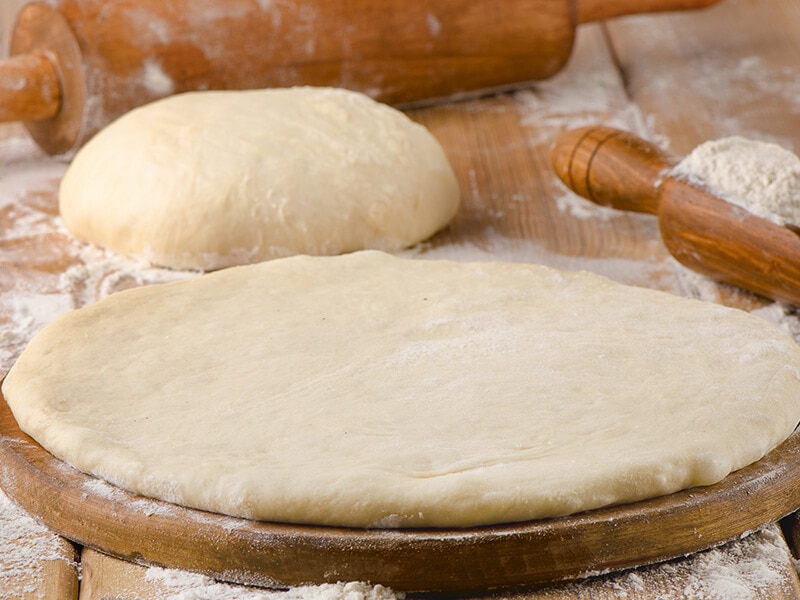 Mold
Mold is a familiar companion to spoiled food, including bad pizza dough. When the dough expires or is not stored properly, mold will begin to form and spread quickly. You can recognize this stuff thanks to its slimy or fluffy texture and characteristic opaque white hue.
Freezer Burns
Storing pizza dough in the freezer is one of the common storage methods, but your dough can get freezer burns if frozen for a long time. Freezer crystals or whitish spots are common signs you can see on pizza dough at this time.
Although it is safe to consume pizza dough with freezer burns, its flavor will not be as good as its original state, and the texture will be drier. I recommend you get rid of the dough.
Change In Flavor
To identify whether your pizza dough has gone bad, you should check its flavor. If you find a sour taste or weird flavor when tasting the dough, that means the dough is spoiled. In addition, its off-taste is another sign of bad pizza dough.
Change In Texture
Good pizza dough has a soft and elastic texture, so you should throw the dough if its texture becomes dry and extremely difficult to knead or toss. While you can still bake pizza with this dough, the flavor of your pizza will be unpleasant.
Weird Smell
A different smell doesn't necessarily mean that the dough is spoiled since the fermentation can bring strange odors, such as sour or alcoholic odors.
In this case, it is safe to turn the dough into delicious pizzas. The sour smell is similar to beer or alcohol and is a common characteristic of fermented food. However, you should get rid of your pizza dough if it has a rancid smell like bad cheese.
Change In Color
Discoloration in pizza dough can happen if you leave the dough at room temperature for too long or store it incorrectly. Throw away the pizza dough when you notice it has turned from cream or beige to grey.
The dough can also leak water on the surface when you place it in the refrigerator for a long time.
How To Keep Pizza Dough Last Longer?
Although the pizza dough can go bad after a long time, you can extend its shelf life in some simple ways. Let's apply these solutions below right now!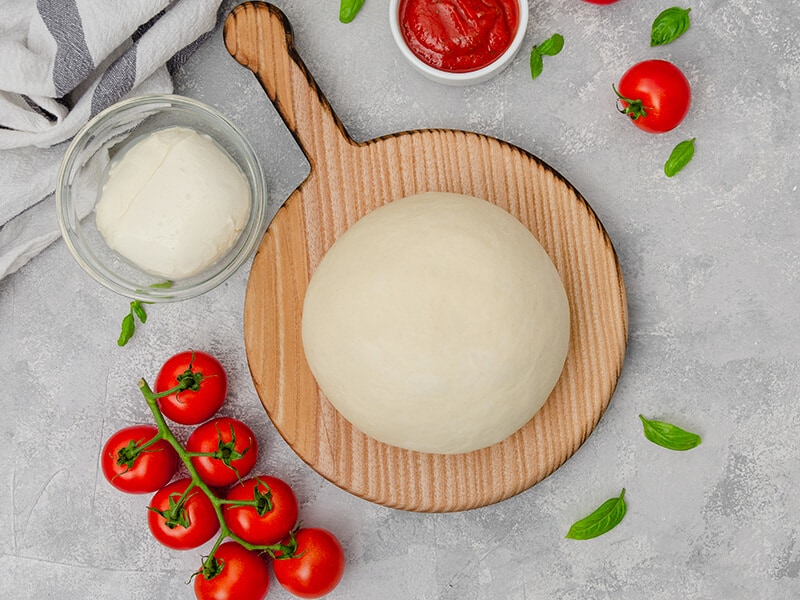 Use Basic Ingredients
One of the best ways to extend your pizza dough's shelf life is to use the basic components mentioned in the recipes, including flour, salt, yeast, and water. To make it taste better, you can add a bit of oil or butter. These ingredients don't cause shelf life reduction to the dough.
I don't recommend adding yogurt, milk, or sour cream to the pizza dough because they can create a great environment for bacteria to grow and spoil the dough faster.
Reduce The Amount Of Yeast
Slow dough fermentation is the way. Cutting back on the yeast is an effective method to keep the high quality of pizza dough longer because the dough will ferment and collapse faster with the higher amount of yeast.
Keep The Dough Wrapped
Airflow around the dough's surface is one of the main causes of pizza dough drying faster. You can prevent this problem and extend the shelf life of the dough by covering it with a layer of plastic wrap.
Do Not Add Sweeteners
You shouldn't add sweeteners to the dough in case you don't make a quick dough since they can cause the dough to ferment and spoil faster. In addition, adding sweetness is unnecessary because the breakdown of complex starches after a long fermentation gives the dough a natural sweetness.
Knead The Dough Lightly
Don't knead the dough too hard because this increases the amount of oxygen in the dough and accelerates the oxidation process. This reduces the number of carotenoids in the flour and causes the dough to lose its taste or change color.
Store The Dough Properly
Proper storage plays an essential role in prolonging the shelf life of pizza dough and other foods. Refrigerating, freezing, or storing it at room temperature are common methods to keep the pizza dough fresh longer. Let's see what you should do.
At Room Temperature
Storing the dough at room temperature is the best choice if you want to bake pizza soon. Normally, the dough can last 4 hours at room temperature. Sometimes, it can keep its original quality for 24 hours if you add a little yeast.
Step 1: Shape the pizza dough into a large ball.
Step 2: Place it in a large bowl.
Step 3: Add a layer of olive oil on the surface of the dough to prevent it from drying out.
Step 4: Wrap the dough carefully.
Step 5: Leave it in your kitchen and use it within 4 to 24 hours.
Refrigerate The Dough
The fridge is a familiar appliance for storing many kinds of food, like veggies, cooked dishes, fruits, raw food, and pizza dough. To use it in pizza dough storage, here is what you should do:
Step 1: Prepare the pizza dough and let it ferment overnight in a large container.
Step 2: When your dough is ready to refrigerate, use plastic wrap to cover the dough's surface.
Step 3: Place the wrapped dough in an airtight container and put it in the refrigerator.
Freeze The Dough
Frozen pizza dough lasts longer, but you need to be more careful with the freeze burns that can affect the dough's quality.
Step 1: Shape the prepared dough into balls and layer them on a sheet pan.
Step 2: Use parchment paper to cover the pan and put it in the freezer for 3 hours.
Step 3: Take the frozen balls from the freezer and put them into a freezer-friendly bag.
Step 4: Seal the bag tightly. Put on a date label to keep track of the time (optional).
Step 5: Place the bag in the freezer.
Follow these directions to freeze and thaw pizza dough properly.
FAQs
Read these answers to common questions about pizza dough so that you can understand more about pizza dough and have a great plan to protect the dough better.
Do You Have Bad Pizza Dough In The Kitchen?
In conclusion, the pizza dough can spoil and lose its quality if you leave it for too long in the pantry or store it improperly in the fridge/ freezer. But I hope that after reading this post, you have found ways to protect your pizza dough more effectively.
In case you don't understand any information I mentioned in this article, don't hesitate to leave them in the comment section, and I'll try my best to respond to them as soon as possible. Also, please share the post before turning off your device. Thanks a lot!
References
Pizza (2022) Wikipedia. Wikimedia Foundation.
Food poisoning (2020) Mayo Clinic. Mayo Foundation for Medical Education and Research.