Are you looking for the best cheese for pizza? You are not alone! Many people have the same query as you as well.
Cheese is indispensable for pizza. You can hardly find a pizza without this ingredient on top of it. Many people assume that mozzarella is best for this kind of dish. But is it the only option?
The answer is a big no. In this post, I will introduce to you various kinds of cheese to go with pizza, offering you a variety of choices to opt for. So keep reading and let's see what they are.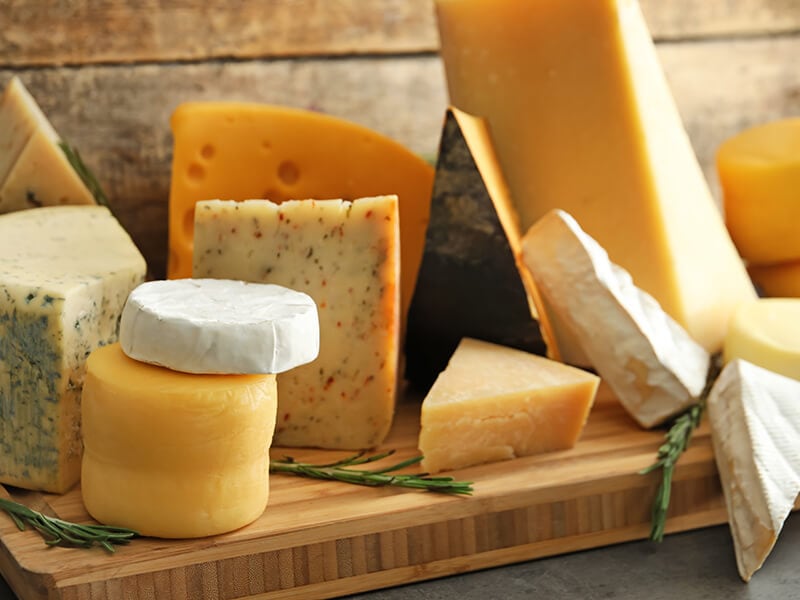 What Is Cheese?
Cheese has been part of human life for so long that it is very difficult to imagine a world without cheese. These days, you can easily find various cheese products on supermarket shelves.
Cheese Is A Type Of Curdled Milk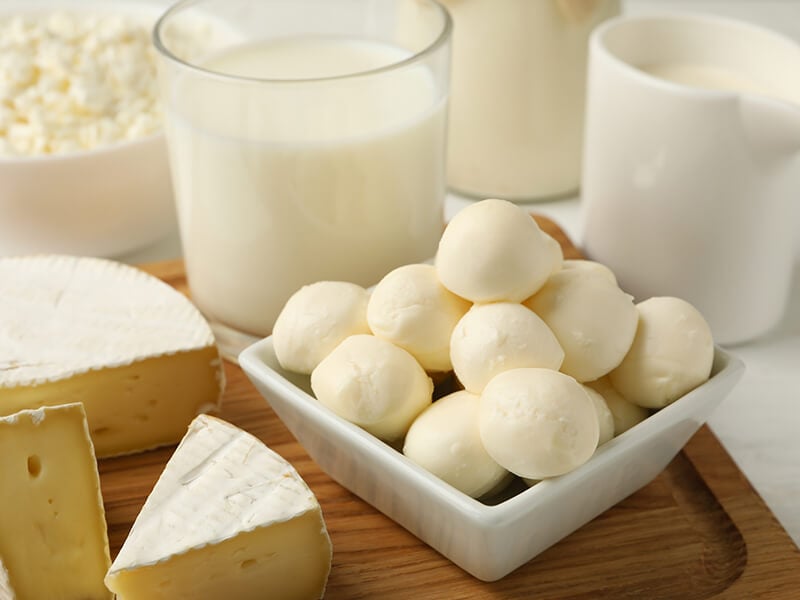 Cheese is primarily made from milk. In the United States, people mostly get milk from dairy cows. However, in other parts of the world, goats, sheep, horses, buffalos, or even rhinos are other sources of milk.
Naturally, when milk gets old, the bacteria inside grow rapidly. They then digest the sugar and produce lactic acid, which makes milk curdle and give off a sour smell.
To produce cheese, people intentionally add a group of bacteria called lactic acid bacteria (LAB) into milk(1). With time, the milk becomes curd and forms a solid texture.
Have you ever wondered how cheese is made? Watch this video to have an overview!
Classification Of Cheeses
There are over 2000 cheese types in the world (2), so it is necessary to divide them into different categories. The most frequently used way to determine is by looking at their texture.
Fresh Cheeses
Fresh cheeses are white, soft, rindless, and have not been aged. They also contain the highest amount of moisture. Some typical fresh cheeses you can name are mozzarella, ricotta, cottage cheese, etc.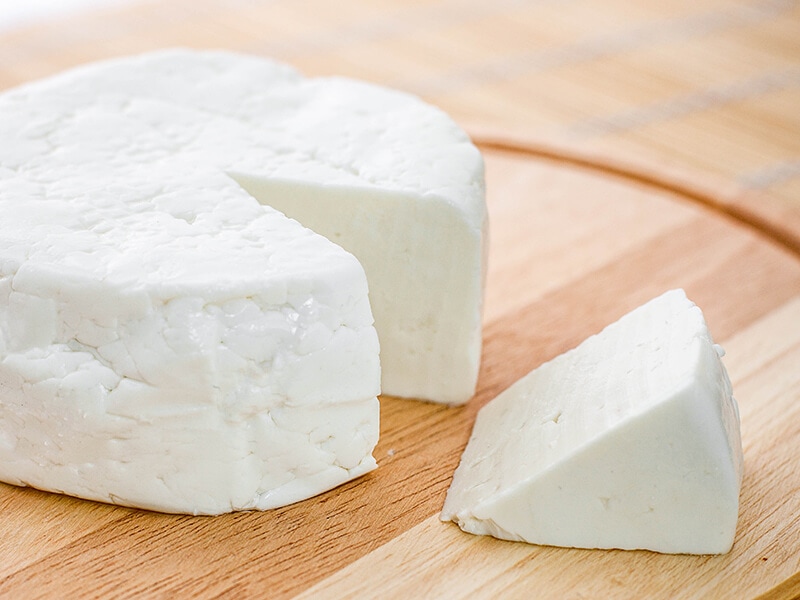 Soft Cheeses
Cheeses that are aged less than 60 days, have high levels of moisture, and are soft enough to spread can be considered soft cheeses. They only last for 1-2 months, with Brie as a good example.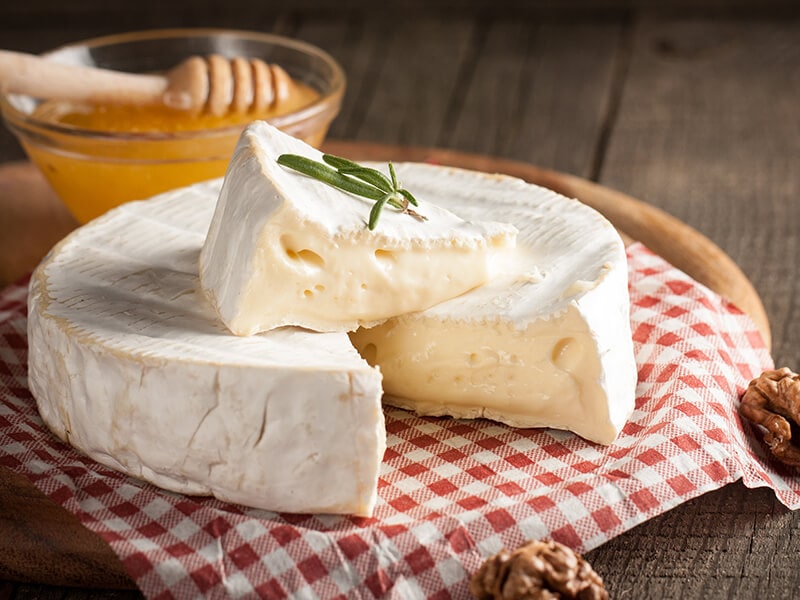 Semi-Soft Cheeses
Semi-soft cheeses are more solid than soft ones. They usually have a ripening time of 1-3 months and have a water content between 36-45%. Some popular semi-soft cheeses are provolone, American cheese, or Havarti.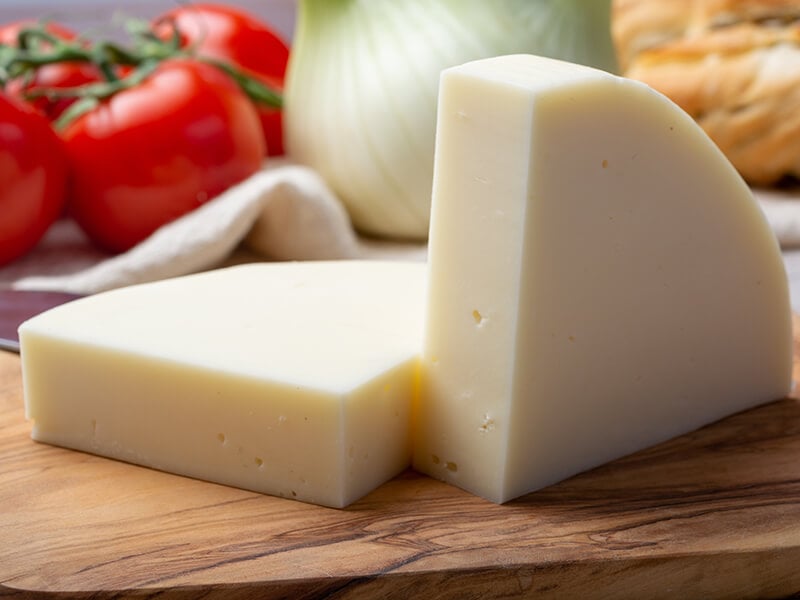 Semi-Firm Cheeses
Gouda and cheddar are classified as semi-firm cheeses. They are neither soft enough to spread nor have sufficient firmness to grate. But you can shred or slice them. Their moisture level usually varies from 40-60%.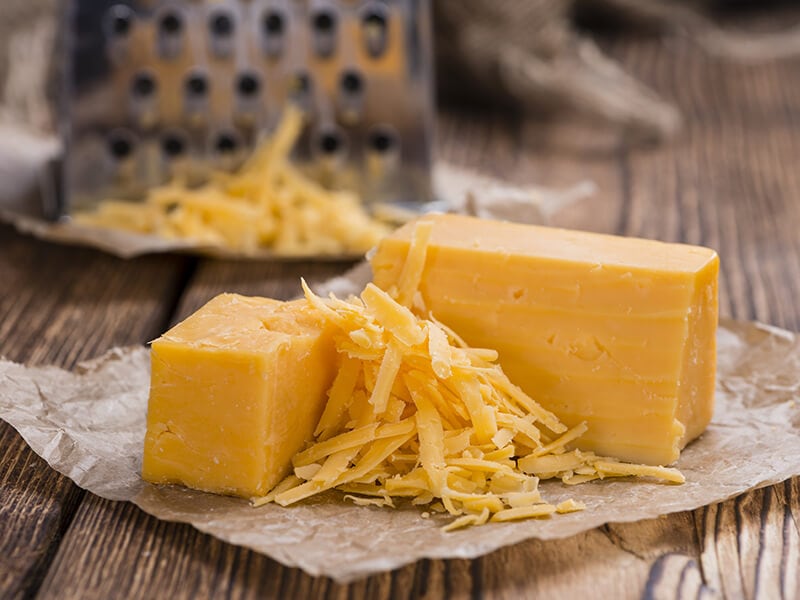 Hard Cheeses
Hard cheeses have a dry, firm texture and are best for grating. The more aged they get, the more flavorful they become. Just look at Parmesan and Parmigiano-Reggiano cheese, and you will know!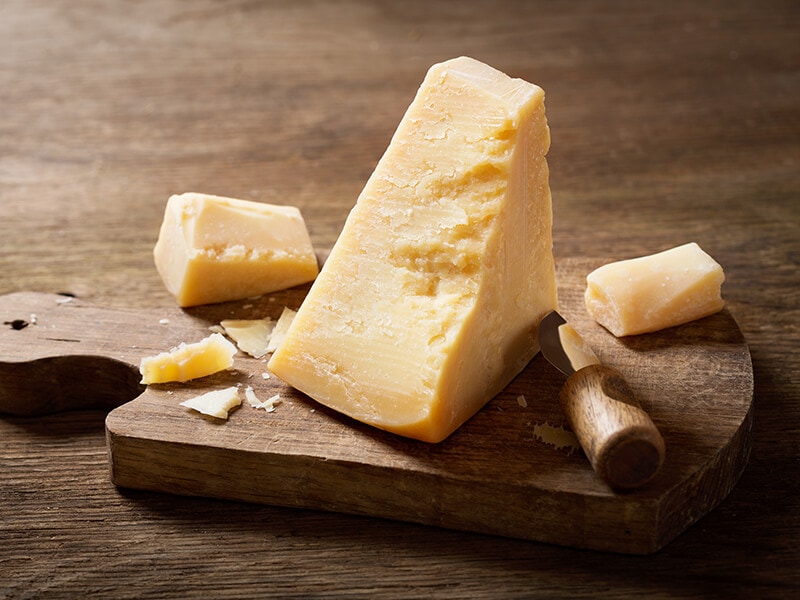 Blue-Veined Cheeses
This extraordinary cheese type is created by using a stainless steel rod to spike the cheese at the early aging stage.
This action creates veins for the growth of Penicillium. This blue mold results in a unique taste, smell, and appearance of blue-veined cheese. You can cut a block of Roquefort or Stilton cheese to verify.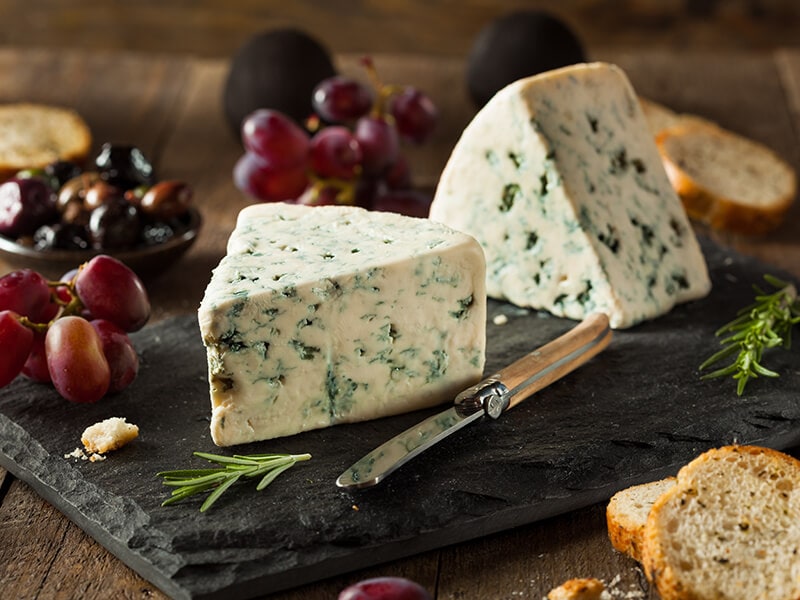 What Does Cheese Taste Like?
As there are many types of cheese, their flavors also diversify. Each cheese type has its distinct aromas and flavors, creating a diversity of cheese for people to choose from.
Fresh cheeses have a somewhat bland or mild flavor. With soft cheeses, you may taste a slightly salty sense and a bit of sweetness.
As for the semi-soft cheeses, they are a bit more buttery and sweet, sometimes dense and earthy as well. Semi-firm cheeses are fruity and floral, while hard cheeses give you a more savory flavor than other types.
And finally, being the most complex cheese of all, blue-veined cheeses can take you to heaven with a rich, creamy taste, a pleasant tang tinged with some spiciness, and a fragrant odor.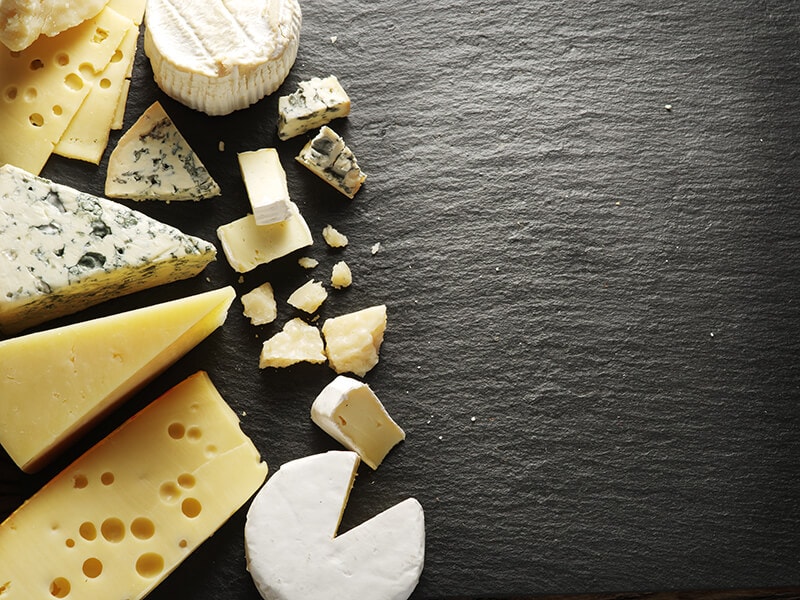 Is Cheese Blend The Same As Cheese?
Cheese blend (or blended cheese) is a cheese that contains different cheese types. These are made because people want to combine special traits of different types of cheese. There are 2 main types of cheese blends:
Marble Cheese
Marble cheese is a blend of 2 cheese types that have the same milk content and primary culture but differ in colors and adjunct cultures. All compositions are blended before they form into a block.
Notable examples are Colby Jack (a combination of Colby and Monterey Jack cheese), white and orange cheddar curds, etc.
Mash-Up Style Cheese
This cheese blend is made from a primary cheese and other substitute cheeses (usually no more than 10% of the total weight). Mozzarella is usually the main component, then 1 – 3 other cheese types are added in small quantities to complete the blend.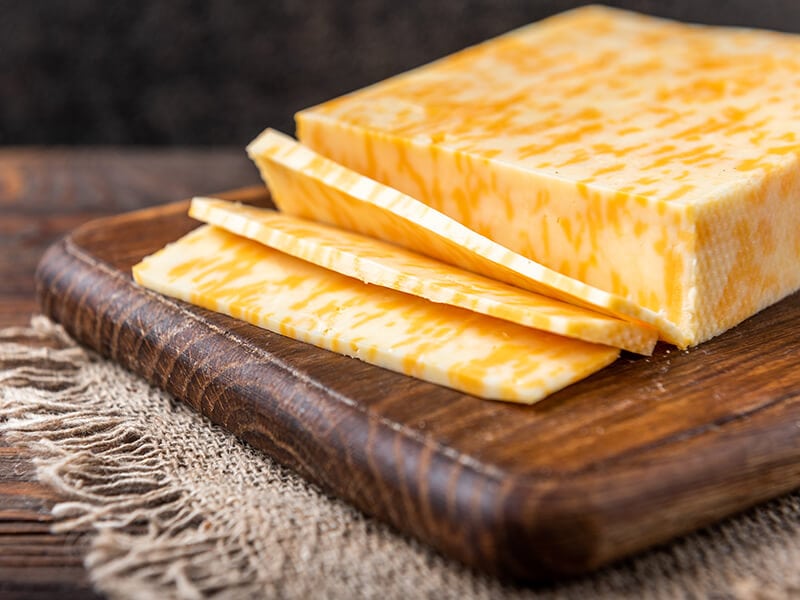 What Makes A High-Quality Cheese?
A lot of factors can directly or indirectly affect your cheese quality, from milk source to the process of coagulating milk.
Milk Source
Depending on where the sources come from, the taste and the texture of cheese can be different. And by "sources", I mean the type or the breed of the mammals, the diet that they are fed, and even the geographic location they are at as well.
Most cheeses are made from cow's milk. However, you will find that goat cheese is softer once you have a chance to taste it. Its flavor is stronger and has a bit of a sour taste.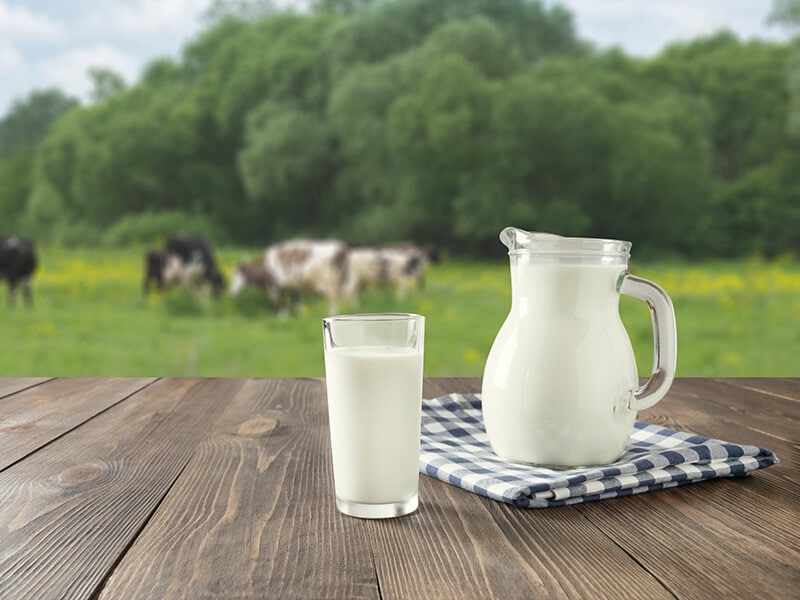 Heat Treatment Of Milk
Heat treatment can be categorized into pasteurization, ultra-pasteurization (also known as ultra-high temperature processing), and sterilization.
A cheese made of pasteurized milk is safer for consumption, but its taste will take a turn for the worse. Pasteurization kills most of the bacteria, including good ones, so the flavor is not as diverse and natural as usual.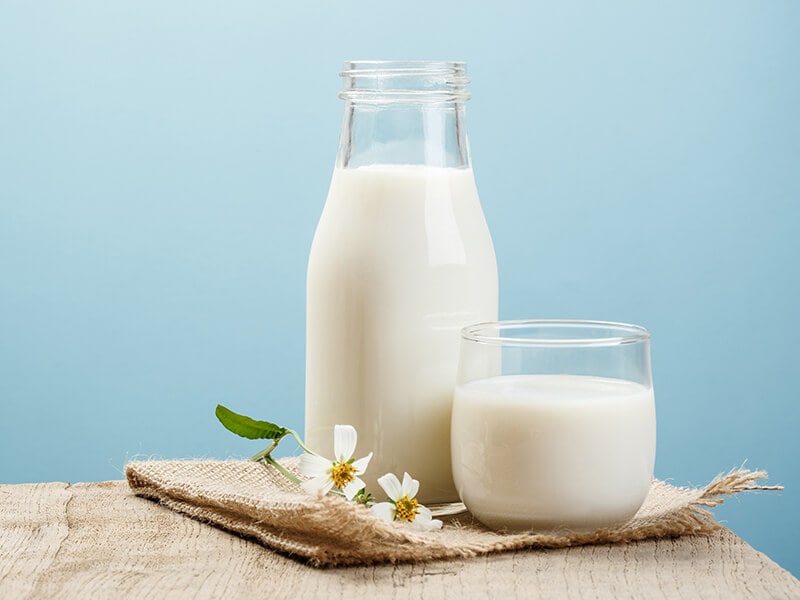 Bacteria And Mold
Cheesemakers often inoculate acid directly or add bacteria to produce acid. Cultures for making cheese are two main families of lactic acid bacteria: lactococci and lactobacilli.
Starter cultures are responsible for transforming milk into cheese, while adjunct cultures create the iconic texture and flavor of cheeses. Yeasts and molds also play an important role in characterizing different cheese colors and flavors.
There is a whole microbial ecosystem in cheese!
Aging Process
The aging process requires environmental factors such as temperature and humidity. Though the exact numbers for different cheese types vary, overall, the proper range for temperature is 50°F – 55°F. Meanwhile, the humidity level should be between 75 – 95% RH.
The aged a cheese is, the more sour and sharp its flavor turns. That is the reason why hard cheese is more flavorful than soft ones.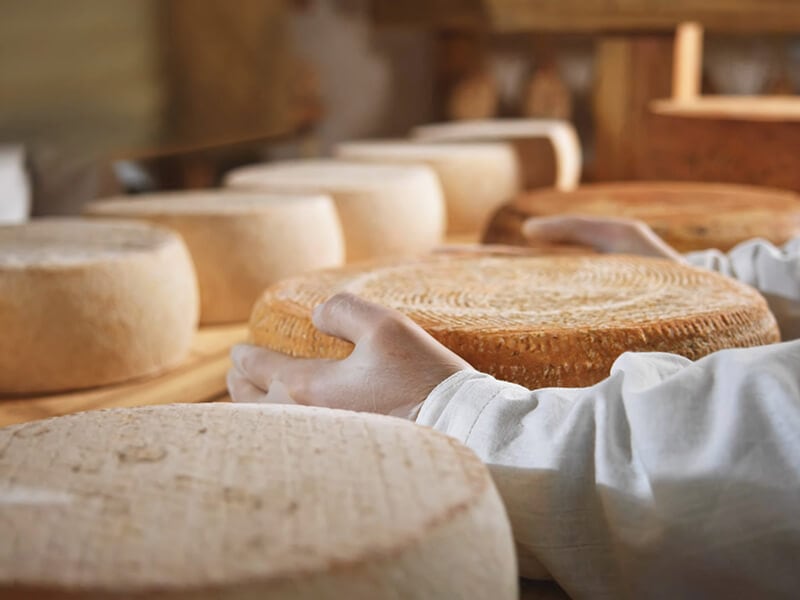 Characteristics Of Cheese Required For Making Pizzas
What should be the requirements for cheeses to be atop your pizza? When it comes to choosing cheeses for your pizza, you may want to choose the one that fits your recipe the most. That is exactly why you should keep reading this.
Stretchability
A way to determine the stretchability of cheese is by the strand lengths when they break, which relate closely to the moisture inside cheeses.
If you expect a gooey, stretchy outcome, pick cheeses that have a high moisture level and can get brown when baked. On the other hand, if you prefer a rather "neat" pizza, choose cheeses with low moisture.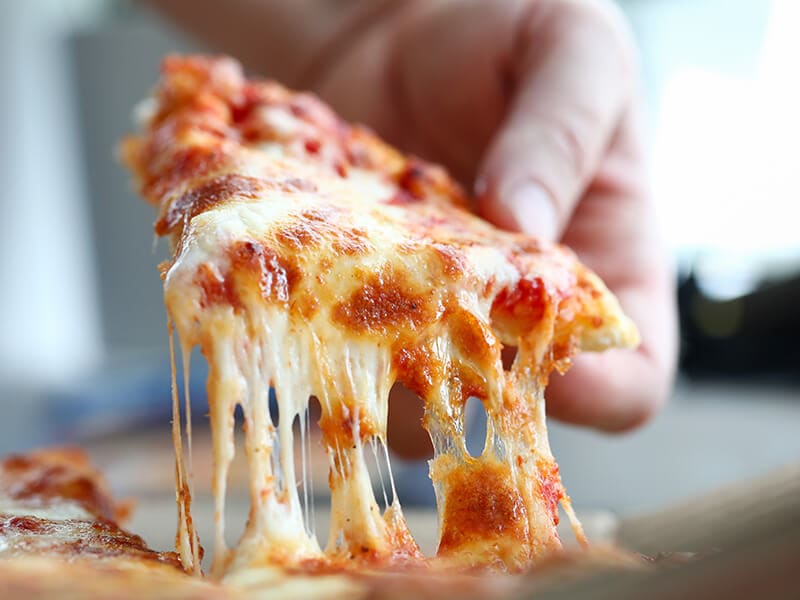 Meltability
In general, hard-aged cheeses melt much more difficult than others, as they are drier. Therefore, for a better melting effect, you should choose soft, young, and moist cheeses.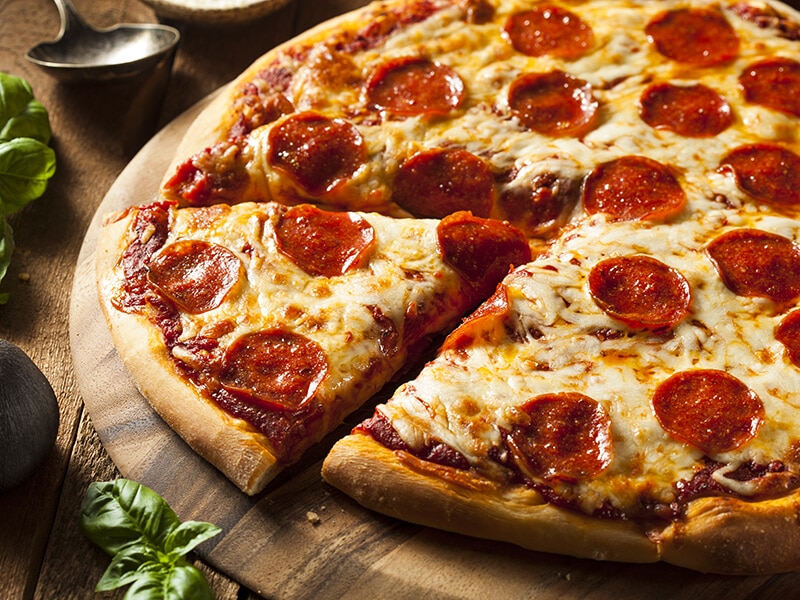 Flavor
When you want to put something on your pizza, you would want its flavor to blend perfectly with the rest of the ingredients. Each cheese type means different flavors. Therefore, you should choose the ones that suit your pizza best.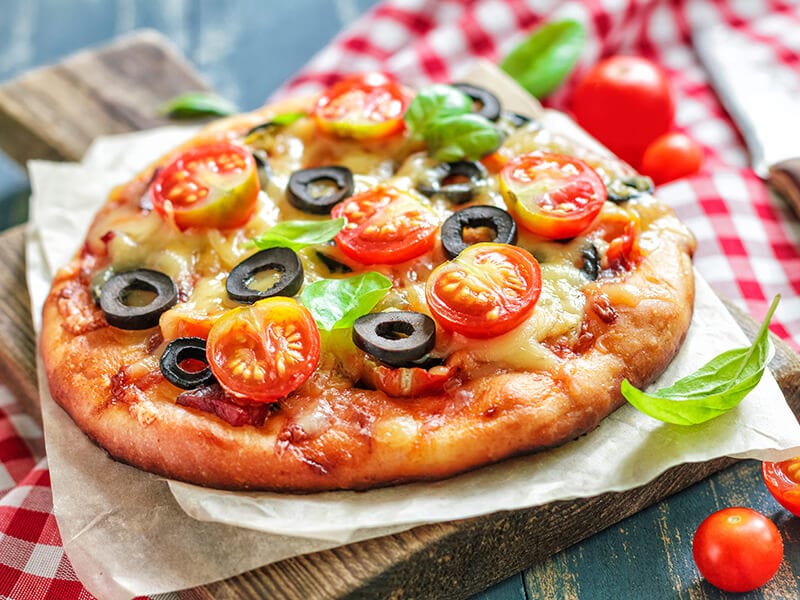 Fat Content
There is always a certain saturated fat inside the cheese, which helps it become denser. The fat content, along with the moisture, also contributes to the stretchability of your cheese, but it should not exceed 40%.
What Are The Best Cheese Brands?
As cheese becomes more and more popular, the varieties and brands diversify. Do you have to scratch your head every time you want to buy cheese? Then these world-famous cheese brands are for you.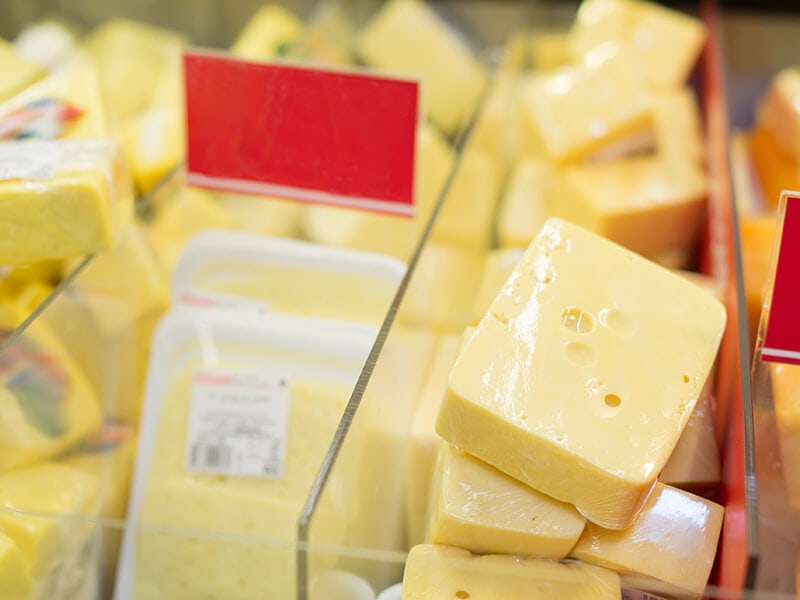 When it comes to cooking with cheese, products from Cabot Creamery are your best bet. This brand offers you creamy, flavorful cheeses that are available in bars, chips, shredded, or sliced.
Along with Cabot Creamery, Tillamook is also on top of the list. It provides a variety of cheeses, from Parmesan to cheddar and more. Stop by your local grocery store or supermarket, and you are very likely to find its products on the shelf.
President Cheese is a French dairy brand whose products are sold in more than 150 countries. This number-one brand of Brie in France provides a large selection of high-quality and authentic cheese products.
Kerrygold cheeses can elevate your dishes to a whole new level. Its products use milk from Irish grass-fed cows and come in silver-gold packages. These natural cheeses are totally delicious and healthy.
Come to Sargento if you want to find cheeses that are easy to eat. This brand makes flavor-wise cheeses with a mild flavor and smell. In addition, Sargento also produces famous cheese blends and pre-cube cheese.
12 Best Cheeses To Go With Your Pizzas
In the table below, I include the characteristics that cheeses often have. You can choose a specific one or just put some of them together to your liking. There is no problem with that!
| Best Cheese To Go With Pizza | Flavor | Stretchability | Meltability | Fat content |
| --- | --- | --- | --- | --- |
| Mozzarella | Rich, mild, sweet | Good | Good | Relatively low |
| Cheddar | Nutty, sharp, rich | Good | Medium (shredded cheddar melts well) | Fairly high |
| Ricotta | Mild, a bit sweet, fresh | Not good | Not good | Low |
| Parmesan | Nutty, salty | Not good | Good | Low |
| Provolone | Nutty, sharp | Good | Good | Moderate |
| Gouda | Intense, buttery, a bit sweet | Good | Good | High |
| Goat cheese | Mild, buttery, tart | Not good | Not good | High |
| Swiss cheese | Mild, sweet, buttery | Good | Good | Low |
| Jack Monterey | Mild, buttery, a bit sweet and acidic | Good | Good | High |
| Asiago | Milky, intense, a bit salty | Not good | Good | High |
| Grana Padano | Salty, full-flavored | Not good | Good | Moderate |
| Pepper jack | Nutty, tangy, and spicy | Good | Good | High |
1. Mozzarella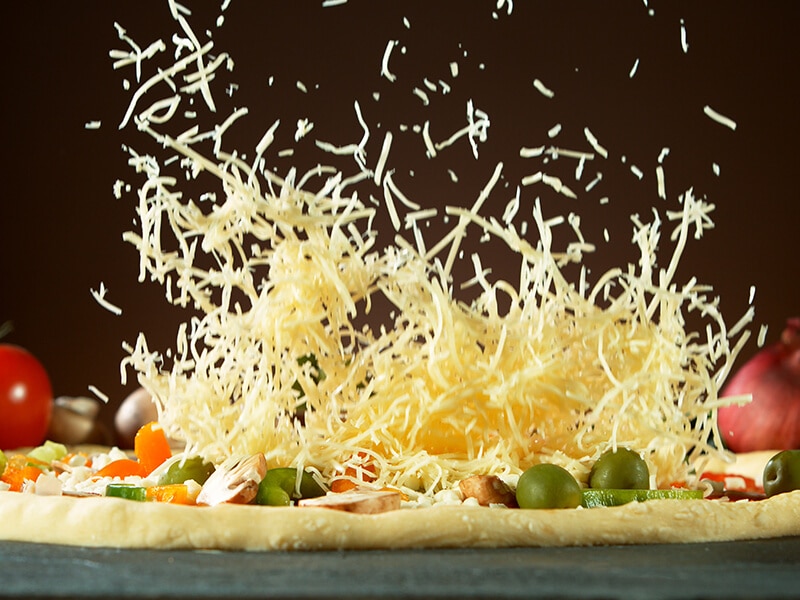 Mozzarella has always been America's favorite cheese and always appears on top lists of must-have pizza toppings. Traditionally, people use buffalo milk to make mozzarella, but many products are now cow milk-based. Unlike most cheeses, mozzarella cheese is not aged.
Stretchy and low in moisture, this special cheese type performs an excellent task in melting. Besides, it has a rich, mild, and a bit sweet flavor. These traits make them ideal for pairing with pizzas.
You can actually make mozzarella cheese at home. With a few ingredients that you can find in specialty markets or food stores, such as rennet, citric acid, and milk, you can enjoy your homemade fresh mozzarella.
If you are looking for a more convenient option, check out this Cheese String mozzarella from 365 by Whole Foods Market. Of course, there are many other products available online for you to choose from.
Can you make mozzarella cheese at home with just 2 ingredients? Check out this video to know!
2. Cheddar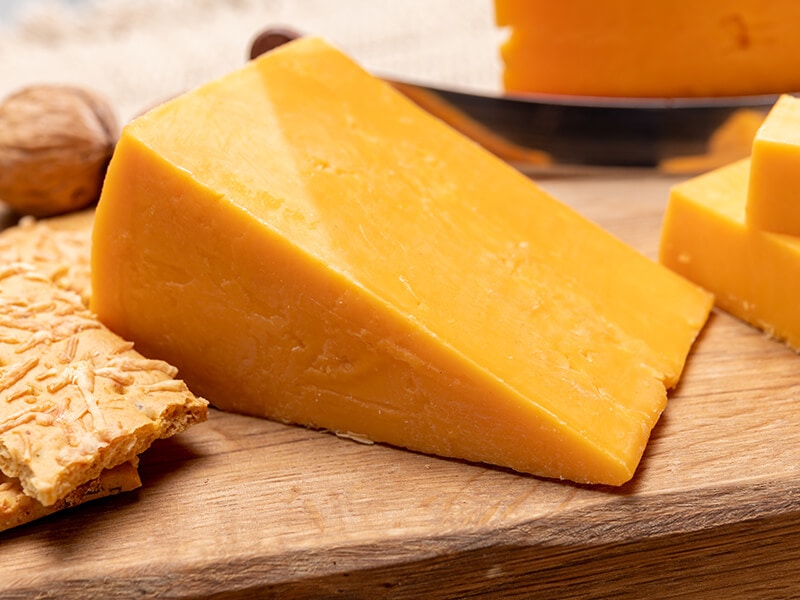 While mozzarella is the most widely used cheese in America, it is only the first runner-up in England, cheddar dominates this territory. The birth of this cheese in the 12th century has greatly enriched the country's cuisine ever since.
Cheddar cheese was named after the village of Cheddar in Somerset, England. It was once matured in local caves and sold to tourists as a memorable delicacy.
As a relatively hard cheese with a nutty, sharp flavor, cheddar does not melt as well as mozzarella, but its sharp and rich flavor can outweigh this drawback. In case you want a cheddar topping that melts beautifully, go for young varieties.
You can try this best-selling cheese of Kerrygold – Dubliner Aged Cheddar. With complex flavor and smooth texture, this aged Irish cheese is ideal for gourmets. Or if you like a bolder flavor, this Tillamook Medium Cheddar is worth considering.
3. Ricotta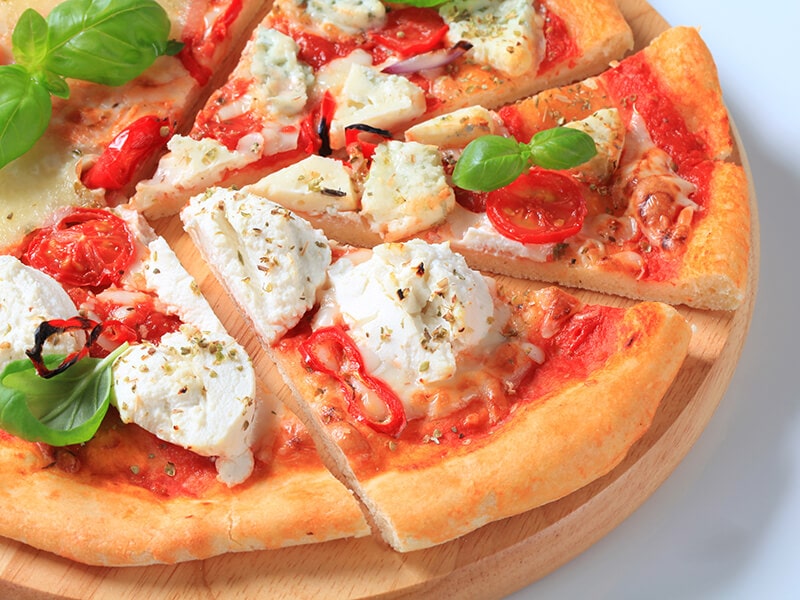 Ricotta originates from Italy. It is the healthiest compared to other cheeses in this list as it has low fat and sodium content. While the cheese goes best with lasagna, you must try it on your pizza at least once.
This kind of cheese is white, grainy, and very soft. It tastes like milk, very fresh and mild. These flavors, as well as the low salt content, enable the creation of delicious savory dishes. If you do not believe me, look for this Galbani Ricotta Cheese to see for yourself.
4. Parmesan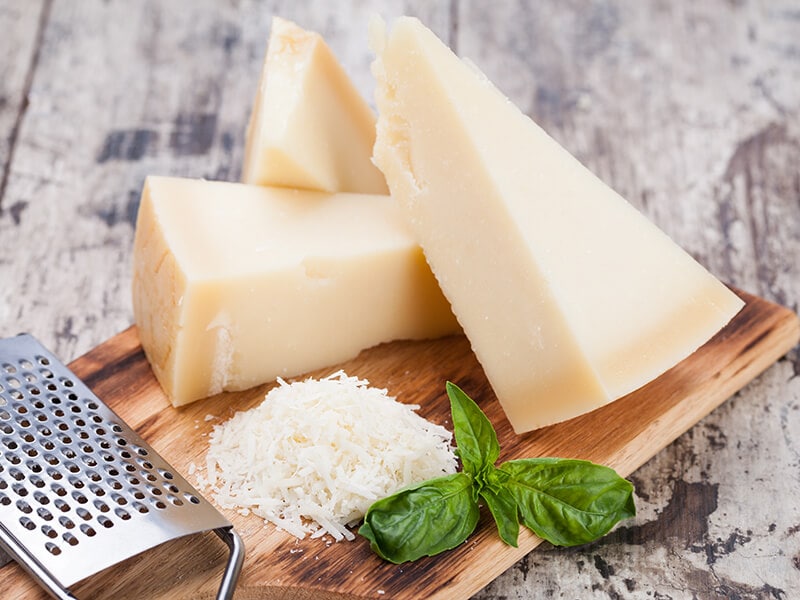 Parmesan is very low in moisture and, consequently, hard to melt. Despite that, your efforts will become worthwhile when you take a bite of nutty, savory cheese on top of your pizza slice.
Parmigiano Reggiano PDO Red Cow, produced by Consorzio Vacche Rosse, is a reliable representative of Parmesan products. It possesses a high digestibility and is rich in calcium and crucial amino acids.
A small tip for you is that you can use a small grater to slide your Parmesan cheese. That way, it can be thinner and shorter, making it easier to melt.
5. Provolone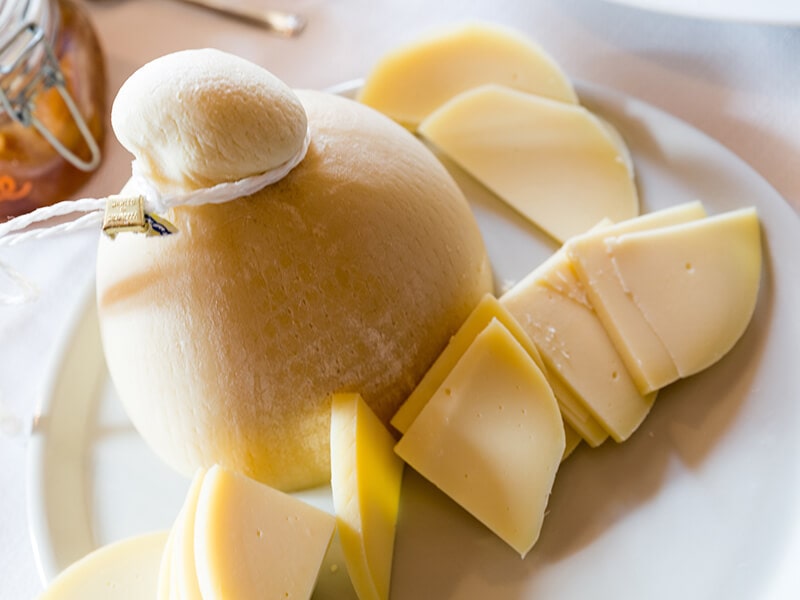 Provolone is a semi-hard cheese from south Italy. Its flavors vary significantly according to its age. This cheese follows the same formula as mozzarella, but it is drier and older. When you need to create melting toppings for pizzas, keep provolone in mind.
If you want your pizza to be a bit sweeter and creamier, make sure to choose "young" provolone cheeses. When these cheeses get older, their flavors become stronger. In case you are looking for a drier texture or a sharper taste, this Sharp Provolone Cheese is worth buying.
What is inside this provolone factory in Italy? Let's find out!
6. Gouda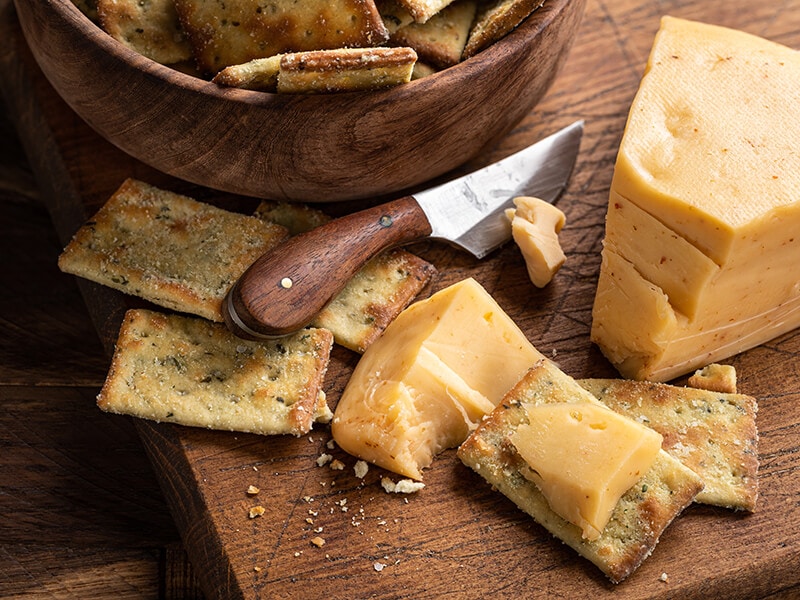 The Netherlands is home to this semi-firm, dense-textured cheese. Gouda has an aromatic taste of light sweetness. Moreover, with its buttery flavors, this cheese works best when paired with flatbread or thin-crust pizzas.
You may want to take a look at these Sargento Gouda Cheese Slices. This package includes 10 slices of Gouda cheese and is best for use within 5 days. Other than for pizzas, you can use them with apple butter or sandwiches.
7. Goat Cheese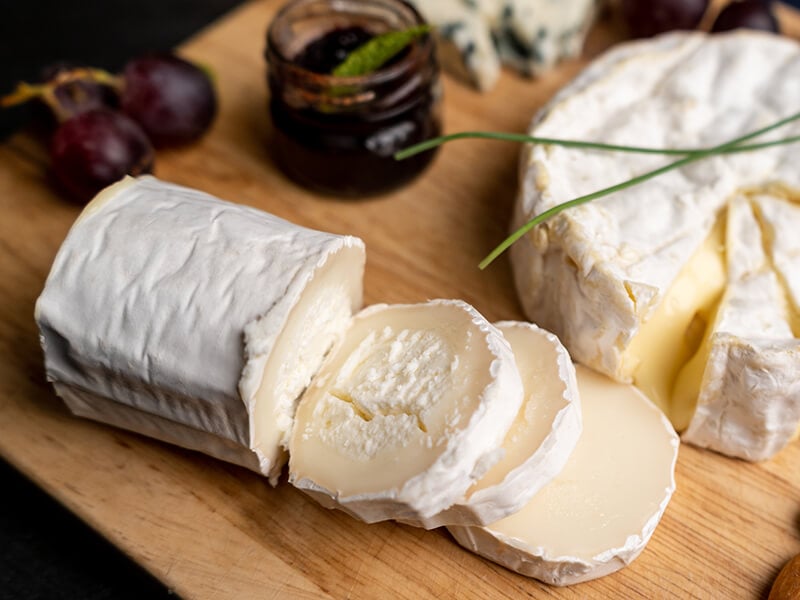 Just like its name, goat cheese is made from goat's milk. It appears in many forms throughout the world. Goat cheese is superior to cow cheese in helping people feel less hungry.
The reason behind this is the fatty acids in goat cheese. Since they are metabolized more rapidly than cow's cheese, you may feel full faster and, eventually, eat less.
Goat cheese is generally softer and has more fat than cow's milk cheese. It is also high in moisture and becomes harder the more it is aged.
This cheese gets along well with pizzas, sandwiches, soups, and even pasta dishes. Come to Whole Foods Market to find the best goat cheese with smooth and creamy flavor, just like this Crumbled Goat Cheese.
Learn how to make goat cheese at home without a starter culture now!
8. Swiss Cheese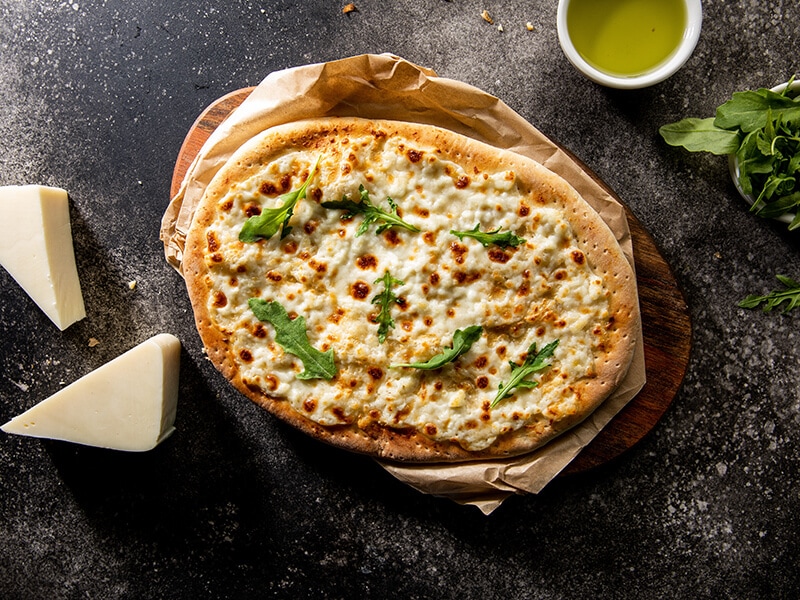 Yes, you are not mistaken! Swiss cheeses are not only for Swiss fondue dishes, but they can also be your pizza toppings. Swiss cheese is a common name for various kinds of cheese made by the Swiss.
This hard cheese boasts a mild, sweet and nutty flavor in your mouth. If you like something with a cheesy texture and a great content of protein, it will be your thing.
With this Organic Valley Baby Swiss Cheese Slices – a softer and more delicate version of the typical Swiss cheese, you can get creative with different recipes.
9. Jack Monterey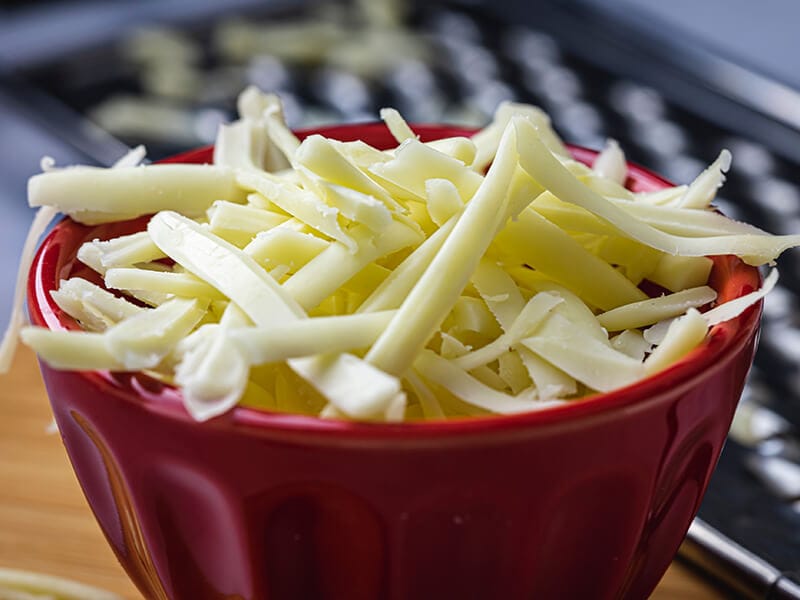 Also called Jack, this cheese is a semi-hard cheese that originates from California. The best thing about it is that it can melt beautifully and add a buttery, a bit sweet yet acidic flavor to your pizzas.
Jack Monterey appears in pale yellow color with a thin rind. It is usually available in blocks, slices, and shredded forms. Believe it or not, it can take over the place of mozzarella in pizzas.
Do you want to try it? Don't forget to check this Happy Belly Monterey Jack Cheese Block next time you go to the supermarket.
10. Asiago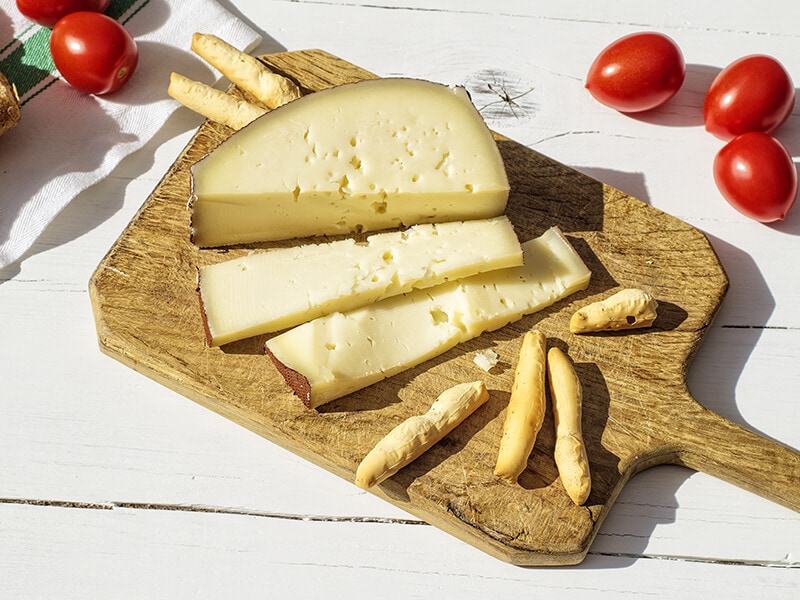 Fresh Asiago is pale and has a thin rind with small holes all over it. The taste of it is nutty but slightly less sweet than Parmesan cheese. You can serve this cow milk cheese of Italian origin with bread, spread it on top of your pizza, or add it to a pasta dish. All are fine!
If you want me to suggest an item, I will immediately tell you about Milano's Asiago Cheese Deli Cup. This is one of the highest-quality Italian cheese products. Furthermore, Milano can guarantee the quality and consistency of cheese in every cup.
11. Grana Padano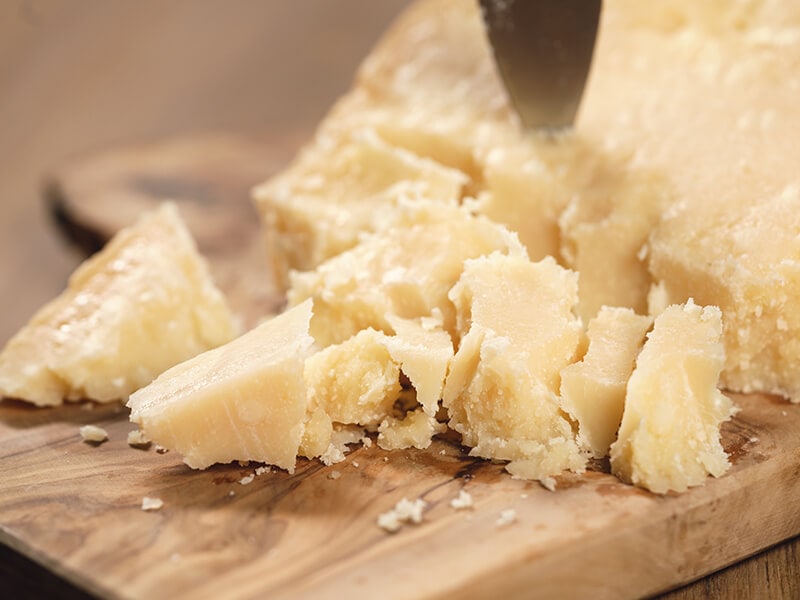 Grana Padano has been produced for centuries. It uses milk from free-range cows that are fed with fresh fodder. It is lactose-free and has a crumbly texture. As for the taste, Grana Padano is nutty and savory.
An unexpecting ingredient that can pair with this cheese is tuna. It adds an amazing depth to tuna's richness and offers textural contrast between the two.
You can call Italian Grana Padano Cheese another version of Parmigiano with a similar flavor but more affordable. Grating this cheese is also easy.
12. Pepper Jack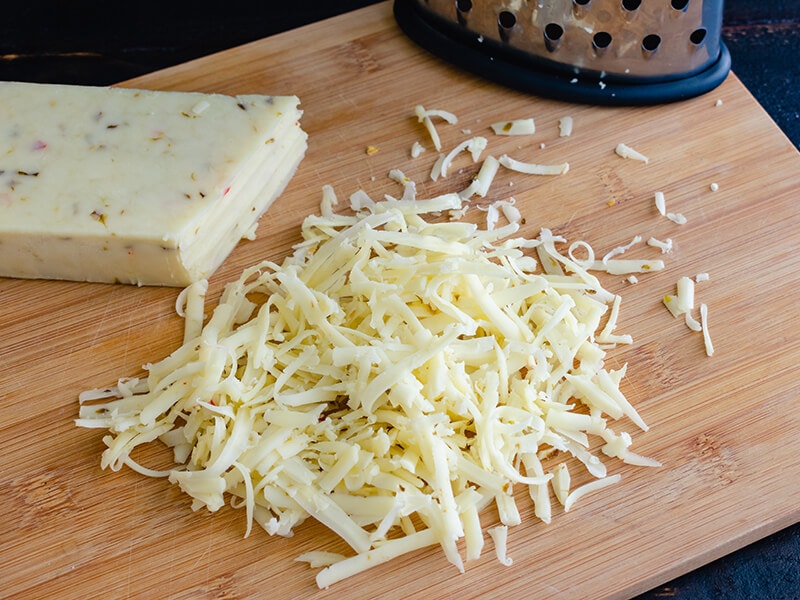 This cheese type is actually a derivative of Jack Monterey cheese with peppers and herbs. It is a semi-soft cheese that contains high protein and low-carb content.
Even better, you can eat it raw! Pepper jack cheese leaves a spicy, tangy, yet buttery and delicate taste as soon as it touches your tongue. Like Jack Monterey cheese, pepper jack can melt easily.
So do not hesitate to buy this Sargento Sliced Pepper Jack Cheese as it can be your next favorite pizza topping.
How To Purchase Good Cheeses And How To Store Them Properly
If you are a cheese lover, do not miss this useful section because I will provide you with some small tips for your next better choices.
Tips For Choosing The Best Cheeses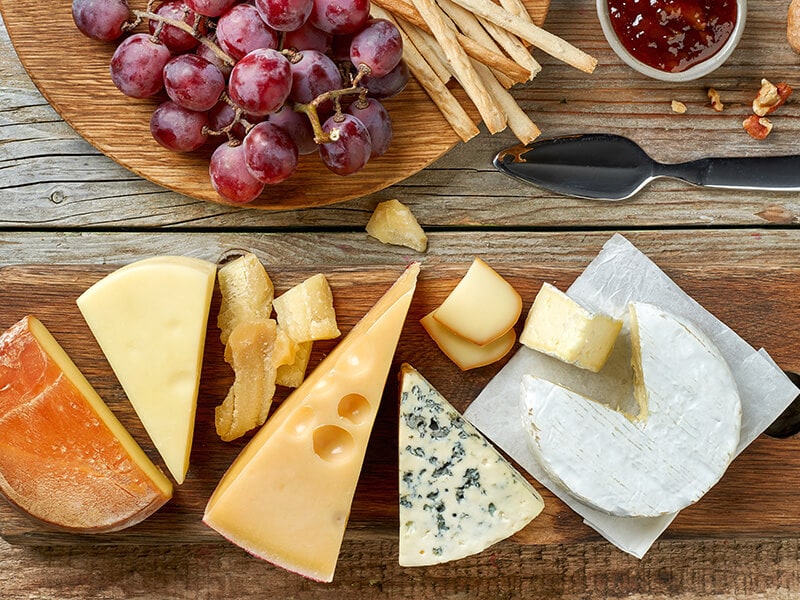 You may want to check for the aroma and texture of the cheese first. Good cheese often has a distinct scent of milk. If it gives off a rancid smell instead, you know that it has gone bad.
With the cheese texture, go for the elastic one when pressed. Also, when your soft cheeses, such as cottage cheese or cream cheese, have mold on their sides, you should not buy them at all.
Finally, you must check for the expiry date before buying and only buy as much as you need since improper storing will ruin your cheeses.
Here are step-by-step instructions on how to choose a cheese.
Useful Advice For Storing Cheeses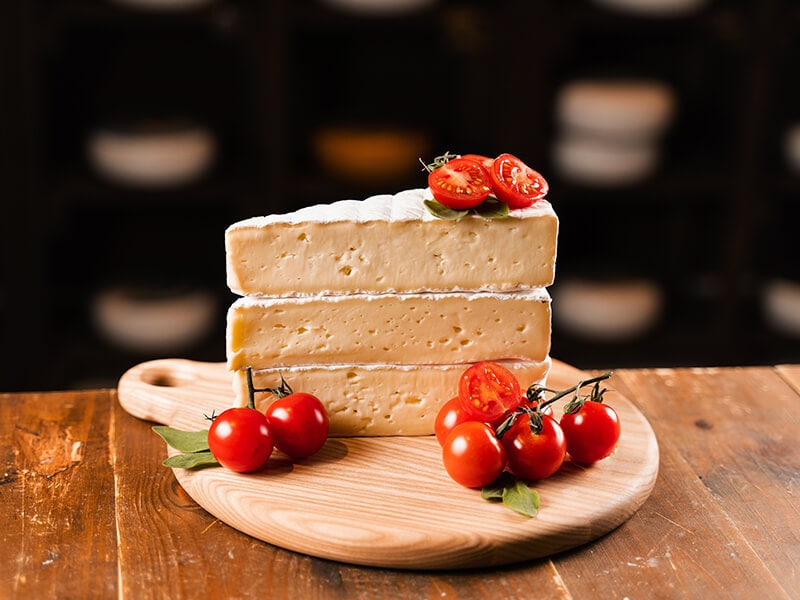 In short, use your fridge! The optimal temperature for storing cheese is 35 – 45°F with a high humidity level. Therefore, let's store them in the vegetable crisper of your fridge.
For the soft and semi-soft cheeses, place them in closed containers. Meanwhile, you should wrap semi-firm cheeses or hard ones in plastic wrap or cheese maker paper. Parchment paper or wax paper is also a wise choice.
Different cheeses need different methods of storing, so check out this complete guide now!
Making Pizzas With Extra Cheese At Home? Why Not?
Are you tired of those mundane pizzas in the stores? Do you wish to make your own extraordinary ones at home? Good news: these pizza recipes are not only easy but also very adaptable.
This pizza does not need any fancy equipment. With a few ingredients, you can make a tasty homemade pizza, even if you are an amateur. Boasting a bubbly crust covered with San Marzano tomato sauce, fresh mozzarella, and basil, your Margherita pizza is surely irresistible.
Watch this tutorial, and easy homemade Margherita pizza will be within your reach!
That sounds promising! A great thing about making pizzas at home is that you can add whatever toppings and add as much as you want. Now, let's grab some apples in your fridge and start making some pizzas!
Sauce, tomatoes, chicken, cheese, etc., everything blends so well in this recipe. This chicken Parmesan pizza is a crowd-pleaser. I am sure after you taste it, you will want to include this in your next party menu.
Do not limit yourself to a certain type of cheese! Try this insanely tasty recipe with 4 different cheese types. Within 20 minutes, you can have a perfectly cooked and fragrant pizza with mozzarella, ricotta, Parmesan, and provolone cheese on top.
FAQs
You cannot get enough of those cheeses and want to know more about them? Don't worry: I've got your back! Here are the most frequently asked questions about cheeses.
So, Do You Know Which Cheese Type Goes Best With Your Pizza Now?
Did you have a hard time deciding what cheese to buy? Well, it will never bother you again as now, you know exactly what you need. Next time when you make a pizza, try another interesting option before getting your hands on mozzarella. Let your creativity soar!
What cheese do you love the most? Comment in the section below to see if there is anyone who has the same favorite as you. Last but not least, share this post with your family and friends to make sure next time when they choose the cheese, they are able to get the right one.
References
ncbi.nlm.nih.gov (2014) FAQ: Microbes Make the Cheese – NCBI Bookshelf
dairysafe.vic.gov.au, Cheese