Pizza pan with holes vs. no holes – these two kitchen tools can put you in a dilemma if you don't know their characteristics. No need to feel shy because it's common for novice bakers, and this article will help you get through this step easily.
For baking pizzas, there is more than one option available on the market. However, today's main topic will be pizza pans with holes and no-hole ones. Both can bake the pizza up to the optimum quality, but you should be aware of some differences before making any purchase.
Join this journey and read through a detailed comparison between these two pans. You'll also learn about great alternatives and the best pizza pans to commit to financial investment.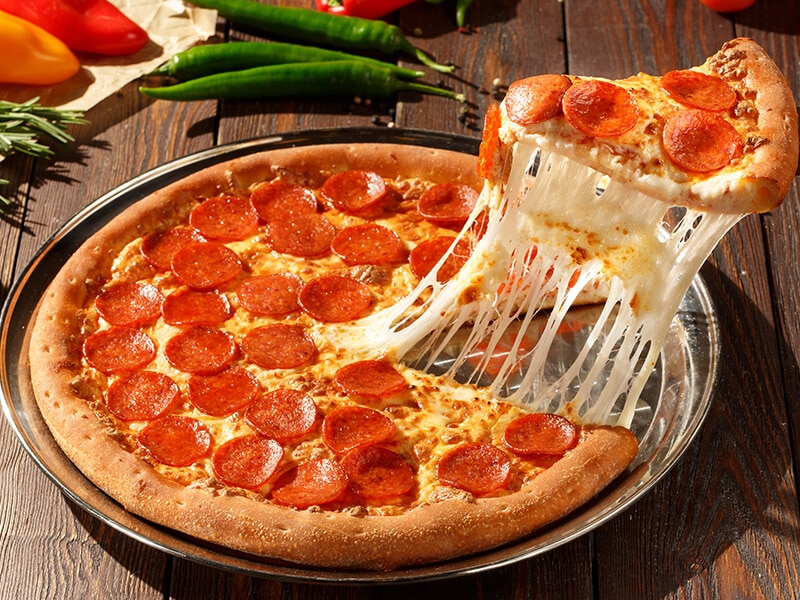 Pizza Pan With Holes – Pros And Cons
Known variously as a perforated or crisper pan, a pizza pan with holes is often made from stainless steel or aluminum, a very light and durable substance in silver-white color (1). As its name implies, the unique feature of this tool is that it has gaps and holes at the bottom.
Direct heat will crisp up the pizza base surface through the holes faster. Besides that, as the pan can warm up quickly, it doesn't need oil. Consequently, its pizza will have fewer overall calories than a deep-dish version.
Moreover, thanks to this unique design, more air is allowed to enter and reach the bottom of the crust. In the meantime, perforated pans also help the moisture escape to prevent condensation from softening the pizza crust.
At best, perforated pans work excellently with pizza containing toppings like veggies and non-processed meat. It shows impressive results with thin-crust-style pizza as well since this pan helps the dough to be less chewy without any change to the flavor.
On the downside, this kitchen tool won't work great with gourmet pizza and too many layers of toppings. Otherwise, the thick dough will sink into the holes and get stuck due to its weight.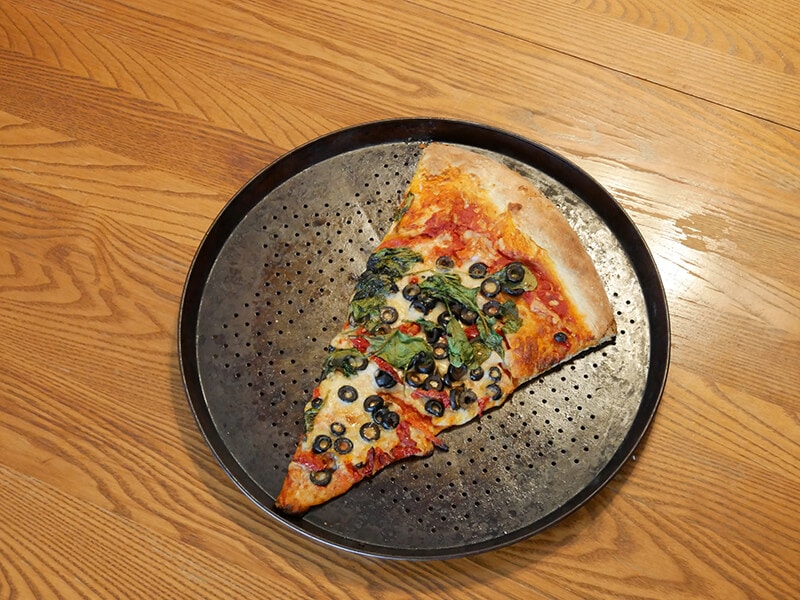 No-Hole Pizza Pan – Good Or Bad?
Pans with no holes are smooth or solid pizza pans. With a continuous flat structure, they are versatile for different cooking purposes. But this base design prevents direct heat from getting to the crust, and the final result will be slightly different from perforated pans.
Furthermore, these pans won't provide air circulation, thereby trapping moisture. The condensation leads to soggier centers of your delicious pie. Besides, this type of equipment takes a long time to heat up, slowing the cooking process.
To be more precise, due to its thick base, it takes a longer time to warm up and for the dough to absorb the heat. On the bright side, the low heating speed allows you to fully control the cooking pace.
On the same topic, no-hole pans might not give your pie enough time to distribute heat to the top, leading to a high potential of undercooked dough which can cause food poisoning (2). To solve the problem, let the pizza stay longer in the oven until the toppings are well-cooked.
The disadvantage of long cooking time is it can lead to possible burnt results due to the oven's variable temperature. Like perforated pans, you'd better keep an eye on the heat to make in-time adjustments.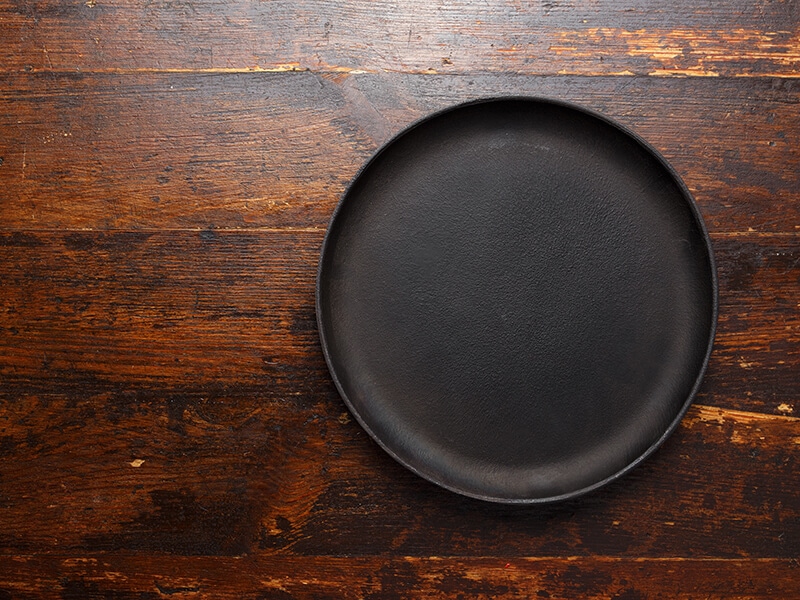 Pizza Pan With Holes Vs. No Holes – Head-To-Head Comparison
To select the right option, you should be well aware of what you intend to purchase in detail. Below are some differences that you need to know about these two cookwares.
Factors
Pizza pans with holes
Pizza pans with no holes
Other names
Perforated pans
Solid pans or smooth pans
Surface
Flat surface with multiple holes
Continuous flat surface
Material
Mainly aluminum
Mainly alloy
Pizza Styles
Crispy crusts and brown-color pizzas
Sweeter pizzas
Chewy crusts with soggy centers
Less sweet pizzas
Ease Of Use
More convenient
Less convenient
Cleaning and maintenance
More challenging
Easier
Flexibility
Only suitable for thin-crust-style pizza and steamed vegetable
Multifunctional
Cooking Time
Faster
Slower
Unexpected Result Tendency
High potential for burnt pizzas
Can lead to burnt pizzas and undercooked parts
Cost Effectiveness
More cost saving
Less cost saving
Pizza Pans Surface
As a rule of thumb, the tool's surface plays a crucial role in what the pizza crust will turn out to be. It has a significant influence on the level of airflow and heat dispersion.
Regarding appearance, both have a flat surface design. However, perforated pans have multiple holes at the bottom, whereas its counterpart doesn't. These tiny gaps allow heat to circulate and more air movement.
Another thing worth considering is that the pizza pan with holes has a thinner base. On the other hand, a no–hole pan's bottom is thicker.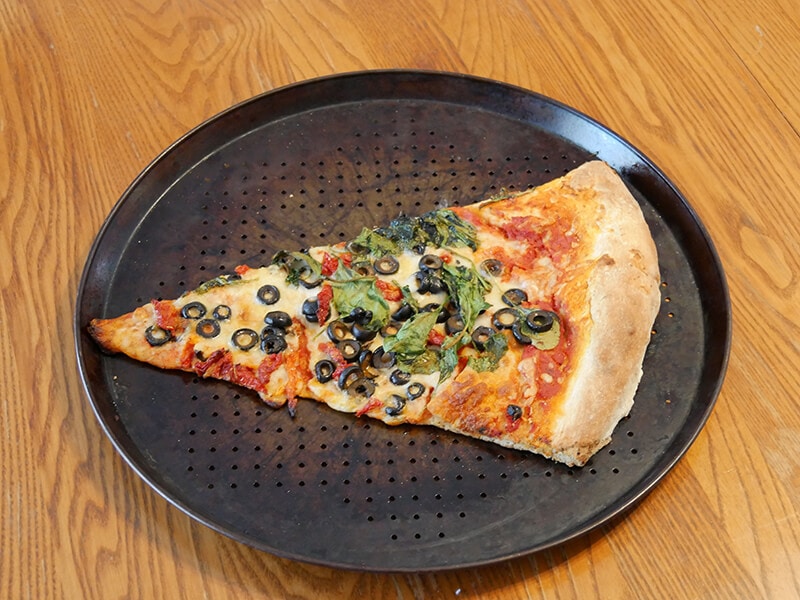 Material
Aluminum is the primary material of most perforated pizza pans. The good things about this substance are that it is more corrosion-resistant, light to handle, and offers instant heat.
Meanwhile, smooth pan makers prefer using thick alloy materials. In most cases, manufacturers don't mention in detail about this substance, so it's difficult to figure out the heat transferring rate.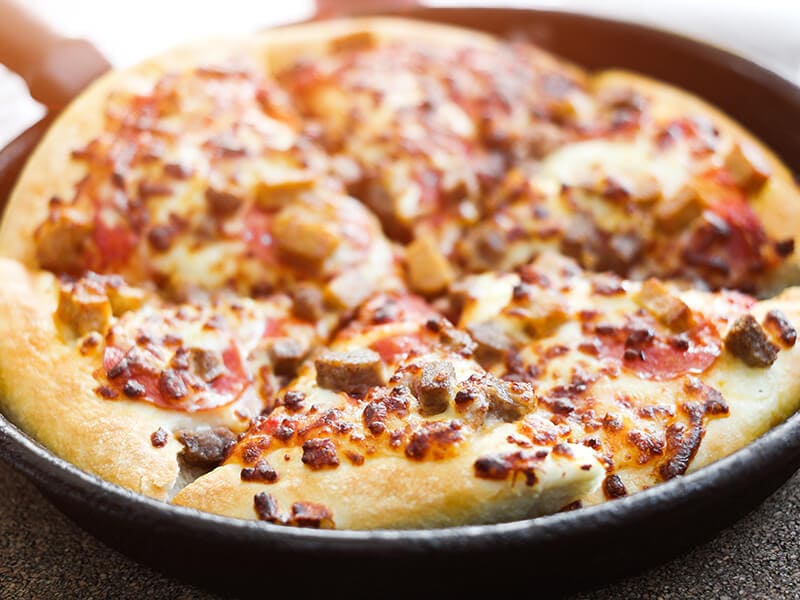 Pizza Styles
Probably the most significant difference between these two pans is the pizza crust. Smooth pans will cook your pizza like a cake, leading to a chewy crust and cake-like outcome. Meanwhile, if extra crispy crust and brown-color pizza are your things, go for perforated pans.
Another note worth mentioning is that moisture can evaporate through holes at the bottom. The moisture loss will help make pizzas of perforated pans sweeter than their counterpart's results.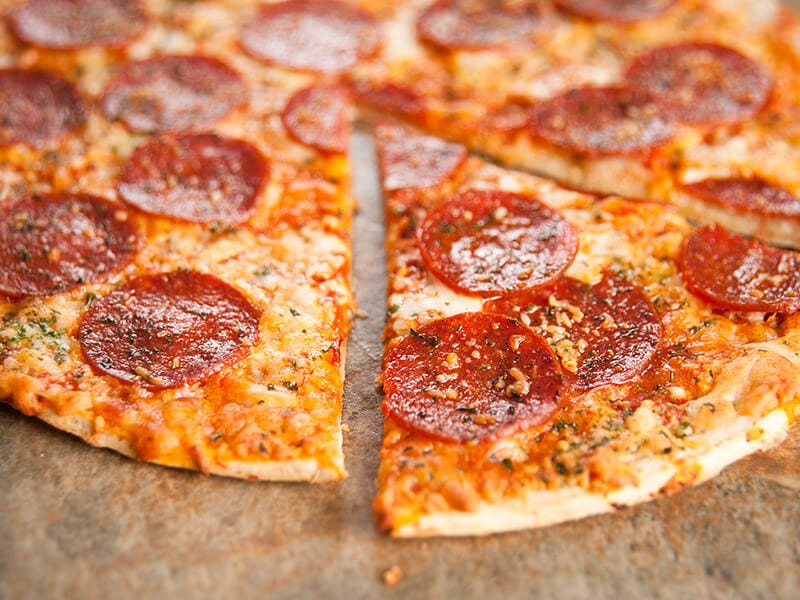 Ease Of Use
As I mentioned before, perforated pans' aluminum brings great benefits due to its convenience. These cookwares will save energy thanks to their lightweight, whereas pizza pans with no holes are often heavier and may cause inconvenience while cooking.
Also, the inadequate heat transfer of smooth pans is challenging to control the doneness of the pizza and the cooking time. One mistake can go a long way, so you need to be extra cautious with this tool.
On the positive side, the smooth design is excellent for oven-to-table pizza service. The slightly lifted edges also make grabbing a slice easier. Best of all, you can cut and serve the entire pizza on the pan without transferring the pie to another plate.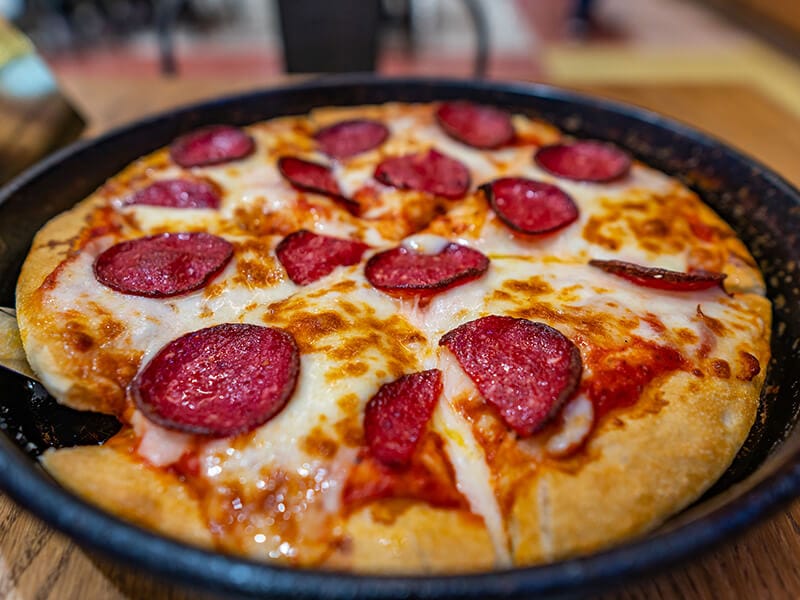 Cleaning And Maintenance
While pans with no holes are a breeze to use, cleaning them would be a nightmare. Sticking crumbs and residues in the gaps is no joke and require serious cleaning dedication. Going for the non-stick perforated cookware would be a smart move for less stressful work.
Conversely, smooth pans are the better option in this field. They are easier to clean than their counterparts since messes have no holes to drop through. Best of all, these cookwares are dishwasher-safe and have a non-stick coating.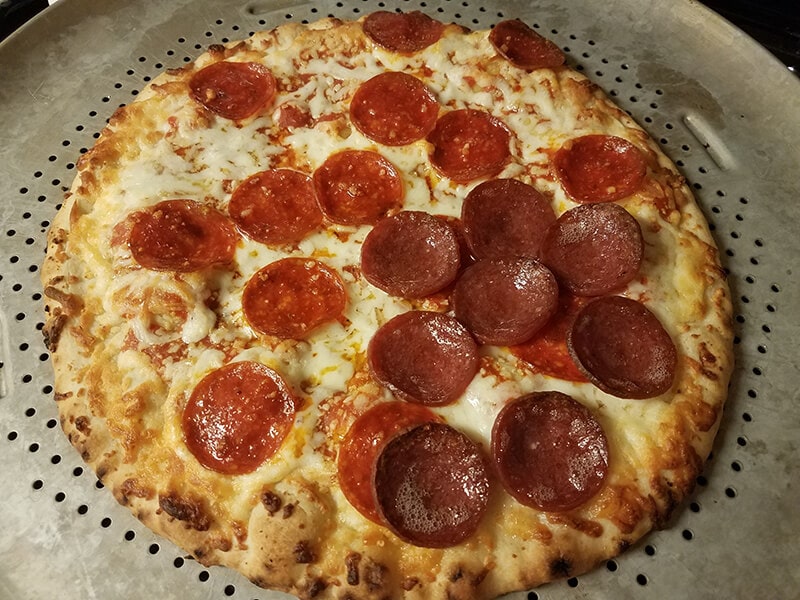 Flexibility
As one of the handiest kitchen tools, pizza pans with no holes are more adaptable and multifunctional. Thanks to the dish-like structure, this cookware meets the requirements of many cooking projects.
In contrast, the gaps of perforated pans make them only suitable for baking lightweight and thin-crust pizzas. They can't handle liquid components or small condiments from other recipes. At best, you're welcome to steam vegetables with these pans.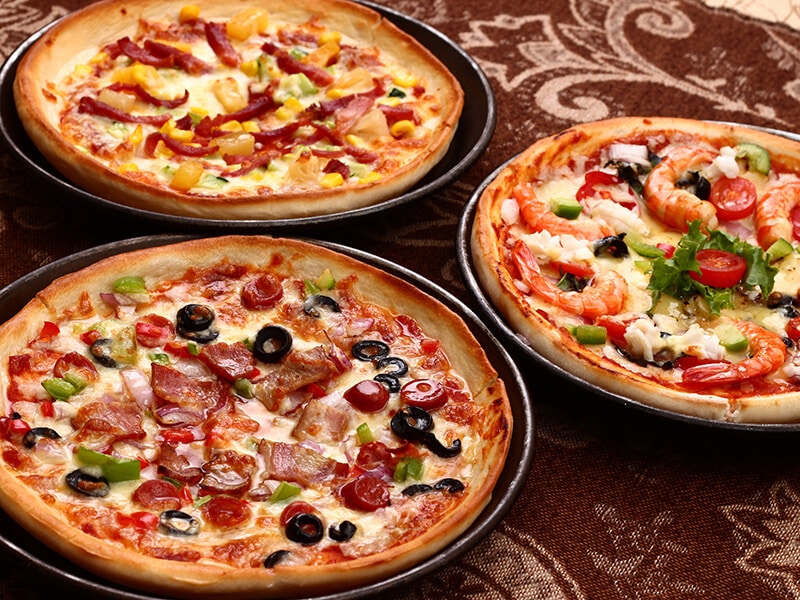 Cooking Time
As mentioned above, the holes of perforated pans allow direct heat to reach the crust, thereby speeding up your baking process. On the other hand, since the pans without holes need more time to heat up an entire pizza, the cooking process may take longer.
Unexpected Result Tendency
With these perforated kitchen tools, a burnt pizza crust is possible since the flame affects the pizza directly. Yet, unevenly cooked parts or half-cooked pizza toppings will not happen. Everything on the pie receives equally direct heat treatment, so nothing will be left uncooked.
However, that's not the same for the pizza pan without holes. Long cooking time can make your baked goods end up burning. Worse, if the cooking time is insufficient, the heat can't reach the top of the pizza, and many parts are more likely to be uncooked.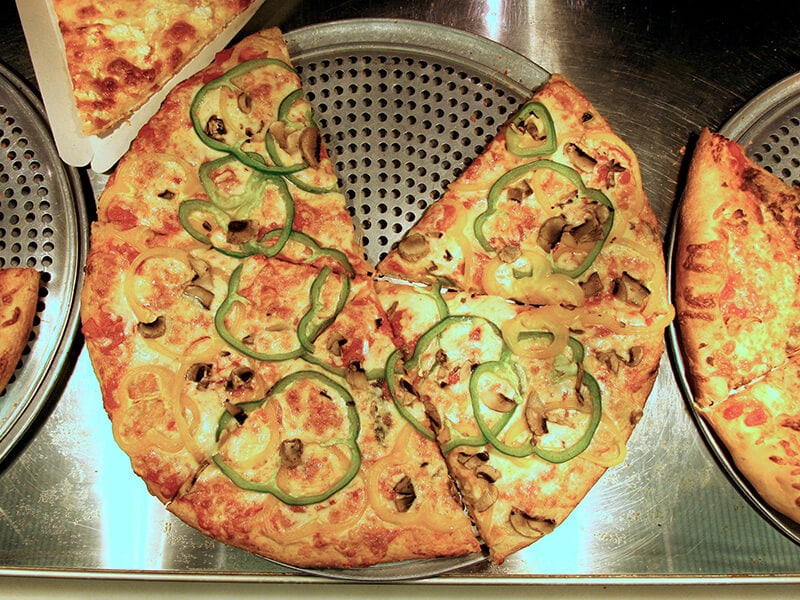 Cost Effectiveness
Set aside the price of these two since it can vary by brand. Regarding cost-effectiveness, perforated pans are a more worthy investment, as they need less cooking time, leading to lower energy expenses. They're cost-saving, especially for those using gas or electricity.
Contrarily, due to an extended preparation process, pizza pans with no holes will consume more energy, and you might have to pay higher gas or electricity bills.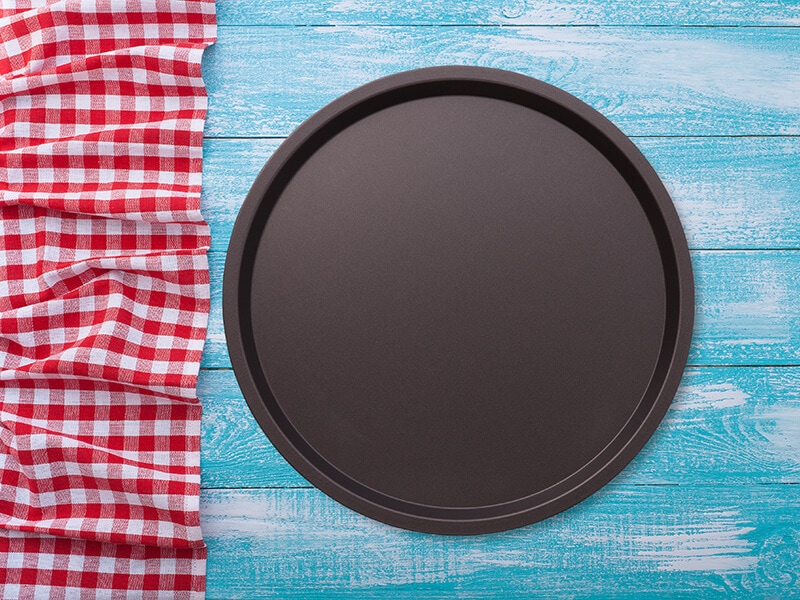 Pizza Pan With Holes Vs. No Holes – Guess The Winner
In general, the best option depends on the expectations you place on it. Your choice should be based on how you expect the pizza crust to turn out, your cooking skill, and how convenient the tool is to you.
Technically speaking, since a no-hole pan is more challenging to handle, it won't be a great start for novice bakers. If you don't have enough experience with manipulating the temperature, there is a high chance that your first batches will fail.
On the flip side, perforated pans are easier for beginner baking levels as their risks of unwanted results are fewer. Warning alert: the cleaning part can be pretty intimidating. If you want a multitasking tool, this cookware is not the one, as it's mainly effective with thin-crust pizza.
Last but not least, different pans offer dissimilar baking results. Expect sweet and crispy crusts when using the pizza pan with no holes. Conversely, if you are a fan of chewier and less sweet pizza, there's no reason you can't bring home a smooth pan.
No matter which equipment you choose, give your oven at least 10 minutes to preheat. The higher the heat is, the better, so preheating beforehand will help a lot.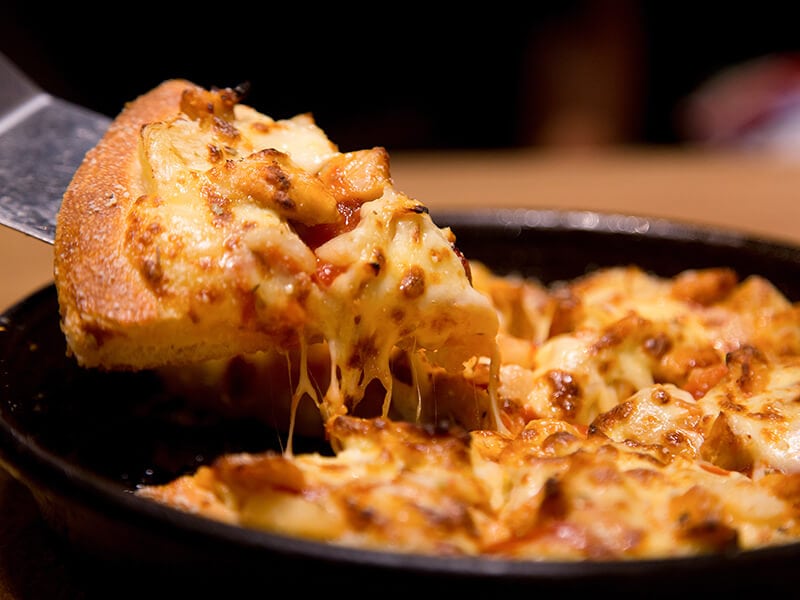 Pizza Pans Substitutes That You Should Try
If you think that you have mastered the mentioned pizza pans, why don't you challenge yourself with some upgraded substitutes? Some great pizza pan alternatives below can level up your baking skill.
Pizza Stones
Most people regard pizza stones as a more professional version of perforated pans. Therefore, it is primarily available in restaurants and pizzerias rather than in regular households. This tool is the key to creating a restaurant-quality pizza with a well-browned and crisp bottom crust.
Baking your pie with a pizza stone is more complex than using a regular pan. You have to heat the stone in the oven before adding the dough. This tool conducts exceptionally high heat and will crisp up the pizza the second it touches the surface.
Undoubtedly, these professional tools are challenging to handle in cooking and cleaning, so only high or medium-experienced experts should use them. Pizza stones can be a real task for beginners; you need at least some practice before trying them.
Once you master this kitchen tool, test your skill with a Neapolitan-style pizza. Make sure your thin-crust Italian pizza has high heat from a wood-burning oven, a suitable pizza stone, and double-zero flour; then, you will be fine.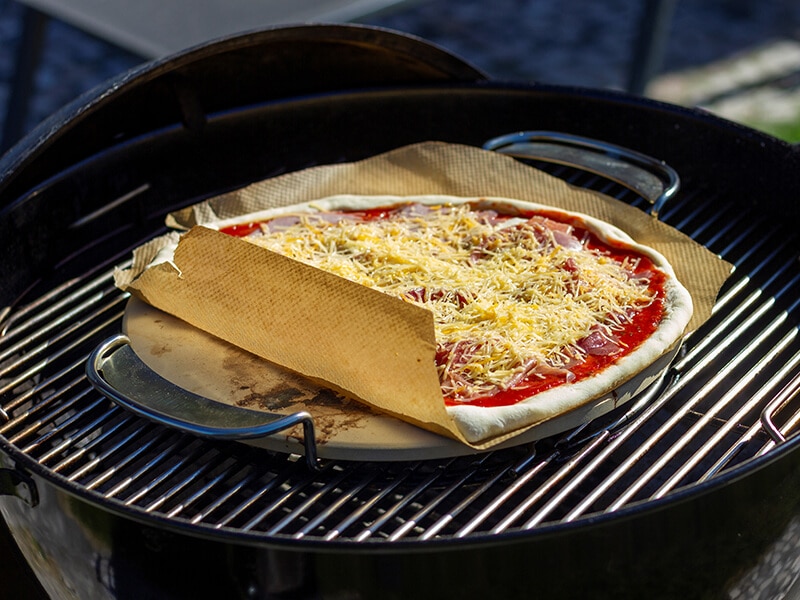 Pizza Screens
Pizza screens, or pizza disks, are mesh-lookalike disks with flat round surfaces. Consequently, they are often confused with perforated pans due to their almost-identical appearance. However, if you look closely, the screens have bigger holes.
Like perforated pans, this tool also allows much air circulation, thanks to the mesh-like construction. Due to the larger gaps, this cookware allows the quicker transfer of heat, thereby cooking pizza faster than the perforated tool.
Similarly, this tool prevents soggy crusts when the pie is resting. As the moisture has somewhere to go, you're welcome to take advantage of this equipment as a cooling rack for freshly baked pizza.
Since your dough will come into contact directly with the heat, a burnt pizza is highly possible. The aluminum metal underneath the surface will concentrate a lot of heat, so you must be careful.
Can you spot the differences between pizzas using a pizza screen and those not using a screen here?
Pick The Best Pizza Pan With Holes For Your Kitchen
Pizza pans with holes come in various sizes and prices based on the brand. If you want to bake a perfect Neapolitan pizza, below are the best cookwares to put in your cart.
When discussing the best-perforated pans, it'd be a shame without mentioning the Cuisinart Chef's Classic non-stick Bakeware 14-inch models. Silver material is an excellent conductor of heat.
Best of all, they are non-stick, so your pizza crust won't break or stick to the bottom of the pan. What surprised me the most is that its price will benefit your wallet. You just need to spend more than a few bucks to get this sturdy, heavy-duty pan.
Designed for home cooks, this GoodCook 15.75″ Pizza Pan can be one of the most easy-to-use kitchen tools, featuring cutting-edge guides and durable carbon steel construction. This unit promises a lifetime of excellent baking performance and convenient serving.
Apart from baking a new pizza batch, buyers can also heat up the frozen pie and rewarm leftover slices. Also, the set feet on the bottom will keep the hot pan off the ground. Therefore, you can use it to let the fresh-baked pizza rest before garnishing and serving.
This Perfect Results Premium Non-Stick Bakeware Pizza Pan for Oven comes from Wilton, which performs exceptionally well with its 14-inch size. The dark-colored pizza pan has a non-stick food-grade coating, so you don't have to apply oil or butter to the pan before using it.
This unit is made of durable steel, so it is rust-resistant and warping-resilient even after multiple uses. The cleaning part won't be a big deal since this tool is safe for dishwashers. Still, the company advises rinsing it in warm, soapy water for better protection.
American METALCRAFT, Inc. always gets high praise for its products, and this TP14 Wide-Rim Pan is no exception. What I love about this tool is that it's made from aluminum. As such, it's easier to use, especially for people with weak hands.
Best of all, the company offers different sizes for this product, from 6-inch to 20-inch, so feel free to choose whichever suits you best. There's just one thing to notice is this product requires hand washing.
Bake Pizza On A Pizza Pan With Holes
Though perforated pans are somewhat easier to handle than other varieties, novice bakers may struggle to start things with this multiple-hole equipment. If that is your case, follow the simple steps below, and you'll be fine.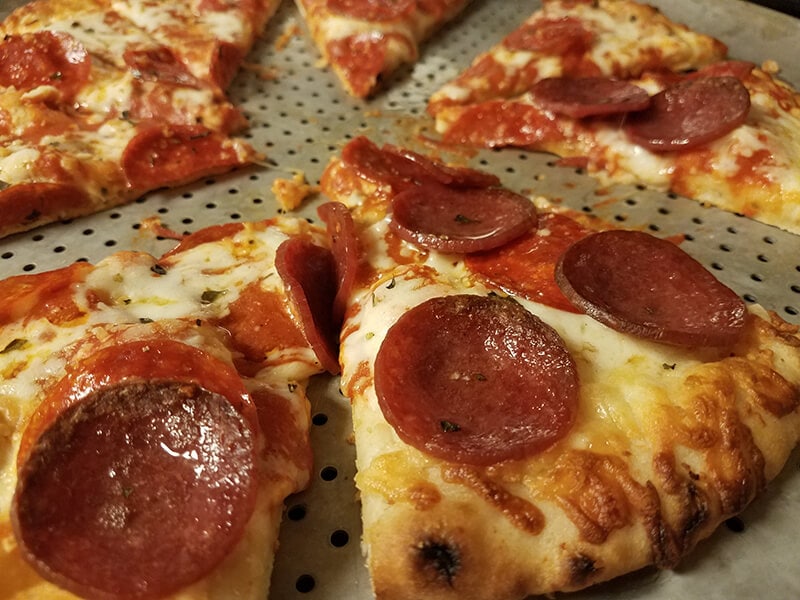 Step 1: Set Your Oven On
Preheat your oven beforehand for at least 10 minutes until it reaches at least 450ºF – 500ºF. This action is essential to getting the best possible baking results.
Step 2: Add The Oil
Though the manufacturer says that you don't need butter or oil for a non-stick pan, a little oil will ensure your baking process runs smoother and avoid sticking crumbs. Start by spraying or brushing good-quality oil on the surface. Go with olive or canola oil, according to your liking.
Step 3: Gently Roll It Out
Only the thin and light dough is suitable for perforated pans. Therefore, rolling the dough into a thin layer is a must. You may want to perform this step on a cool, large, and clean surface. Remember to sprinkle more flour under the dough to prevent sticking while you shape it.
Step 4: Place The Dough To The Pan
After a while, the fished dough should form a perfect circle. Roll the dough lightly around the rolling pin to lift it up without breaking it. Then, gently line the dough in the pan's middle, avoiding the edges.
Step 5: Let's Bake It!
Before baking, crown the pizza with your favorite topping and sauce. Then all you need to do is transfer your pizza pan into the oven and monitor it until it reaches your desired crispness.
During this process, feel free to keep adding ingredients, but remember not to make your pizza become too heavy to avoid the doubt sinking into the holes.
Here is another simple way for those struggling with spreading the dough on perforated pans.
FAQs
After reading this far, have you got a favorite pizza pan? By the way, if you're intrigued by these amazing kitchen tools, look at the related questions above for more information.
Let Your Heart Decide What Pizza Pan Is Better!
After reading the article, you can see that the differences between pizza pans with holes and without holes are apparent. Economically speaking, the solid pan is a better choice since it's multifunctional. However, a perforated pan is a worthy investment for thin-crust pizza lovers.
Did I forget to mention your favorite pizza fans? Please comment to let me know. I'll make sure to read it. Also, I'll be very grateful if you share this article on your social media. Stay tuned for more fantastic content updates.
References
Aluminum (no date) Encyclopædia Britannica. Encyclopædia Britannica, inc.
Say no to raw dough (2022) Centers for Disease Control and Prevention. Centers for Disease Control and Prevention.