How to use a pizza stone without a pizza peel? This may feel like an odd answer to you, but sometimes people find a pizza peel a redundant tool that they don't want to have in their kitchen, even when they bake pizzas at home.
And yes, they are not out of their mind at all. A pizza peel is arguably the best tool to combine with a pizza stone in making pizza, but you can still make your pizza and move it into the oven without it.
How? Without further ado, let's go into detail and equip yourself with the best knowledge to step up your pizza baking skills.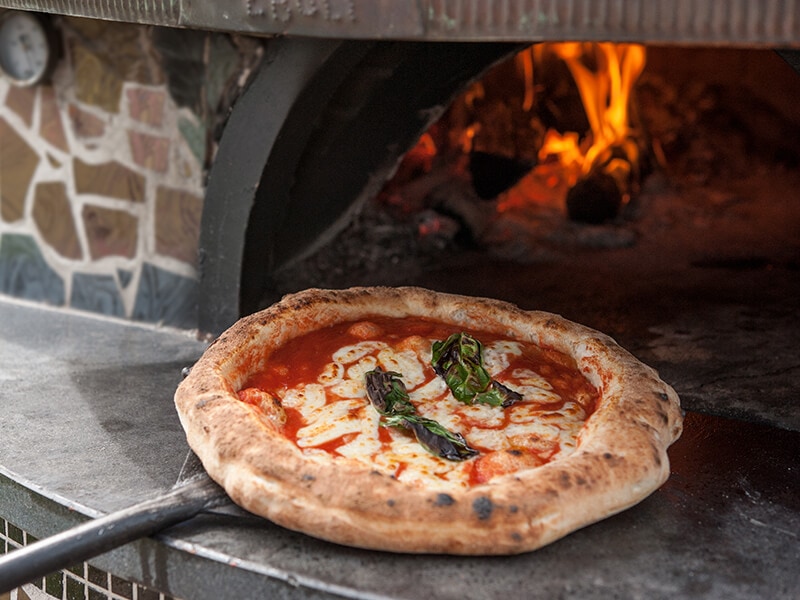 Pizza Stones – An Important Gadget For Cooking Pizza
People in the US consume a surprisingly large amount of pizza every year. On average, each American eats 46 slices of pizza per year (1). Following the huge demand for this food, tools to make pizza have become popular in many kitchens too.
Pizza stones have been the most trusted sidekicks of both professional pizza chefs and diligent housewives since the dawn of pizza. Many types of pizza-making kitchenware have been invented, but nothing could replace the role of pizza stones.
In case you are not familiar with this seemingly simple but efficient gadget, let's discuss a bit about pizza stone and its use in pizza making.
What Is A Pizza Stone?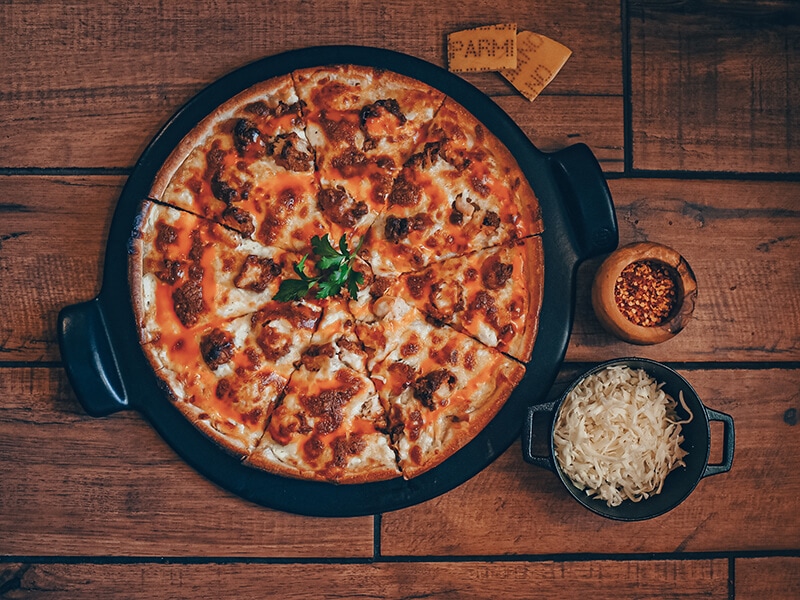 Being called a stone, but a pizza stone's material is not always stone. Pizza stone comes in various materials such as ceramic, steel, cast iron, cordierite, or clay.
People employ this tool in baking pizza because it was designed to give a woodfire oven-like effect in cooking pizzas at home. What makes this tool so special is its supreme heat retention and distribution.
In baking, cooking the food in extreme heat in a short amount of time is more favorable. The high heat can remove excess moisture in the dough in a short time. The tiny spores on the surface also allow the moisture in the dough to evaporate, contributing to its crispness.
That results in crispy and crunchy products, giving them good integrity and unmistakable charring of baking.
Although pizza stones are hard to handle and use due to their weight (10 – 17 pounds/ 4.5 – 7.7 kilograms), they surpass popular pizza pans in terms of supplying your pizza with the best texture and taste.
A pizza stone for you to make the most authentic pizza close to traditional wood-fired pizzas. However, it requires preheating for 45 minutes to 1 hour before baking (2), not to mention special care in cleaning and storing it.
Let's explore some tips to bake pizzas on a pizza stone!
What Is A Pizza Peel And Its Use?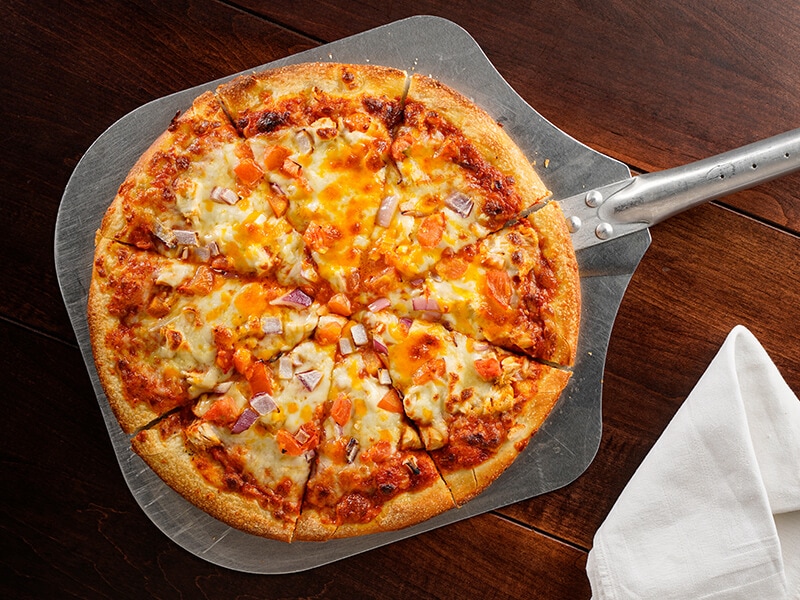 This huge spatula-like tool is handy for moving your pizza or any bakery products you like in and out of the oven without spilling their toppings or any risk of burning your hands.
Made from wood or metals, this nifty tool can also serve as a great surface for you to work on your dough and ingredients.
In case you're a chef working in a pizza restaurant or a household cook with a woodfire oven, a pizza peel is very useful because its long handle will keep you distant from the scorching oven. Never try to accomplish that task without a pizza peel if you are a novice baker.
Pizza peel also helps you move your pizza around, if needed, without messing up your well-prepared pizza. To prevent pizzas from sticking to the peel, simply dust your pizza with some cornstarch or flour.
It's also a tool to take your pizza out when it's done baking. But that demands some practice, or you may tear or make some unmendable holes in your pizza.
Moreover, you can't look cooler when handling your pizza with a pizza peel. Guests who witness you in action will liken you to an Italian chef showing off his unmatched pizza-baking skills!
Are you sure you have deployed your pizza correctly on the peel? Check out this instruction now!
Best Pizza Peel Substitutes For Your Cooking
Inseparable as the pizza peel and pizza stone are, sometimes you have no choice but to employ another tool to transfer your pizza in and out of the oven. There are familiar tools and not-so-familiar tools that can fill that void.
Any flat, movable, and hard-enough surface will do. You can follow my advice or be creative with the tools you have at hand.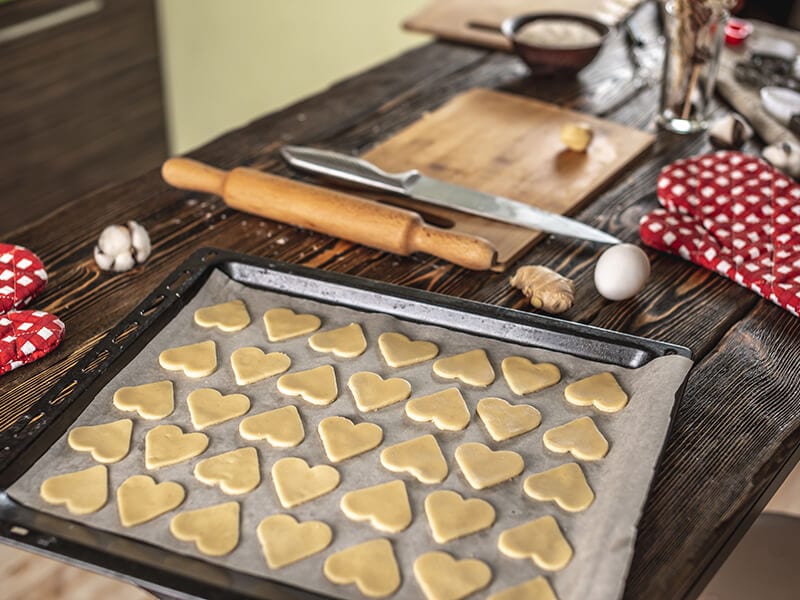 This is arguably the best pizza peel substitute to transfer your pizza to the oven. It's a pizza peel without a long handle. You may have already used this tool to make pizza before reading this article.
Unlike baking sheets, a cookie sheet has only one or two edges on two sides. That allows you to slide the pizza dough into the pizza stone and take it out with ease.
You should also be mindful of the non-stick property of the sheet. In case it does not have that feature, apply a non-stick spray.
2. Back Surface Of Baking Sheet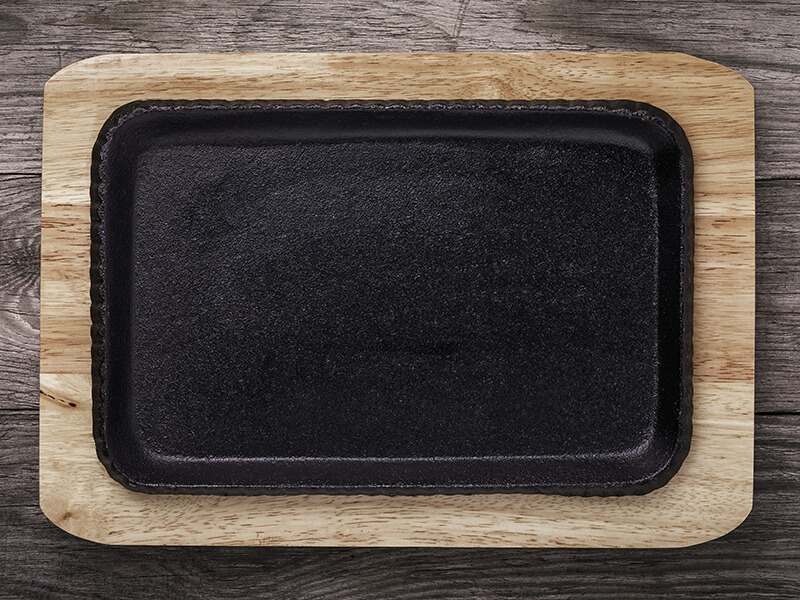 This may sound a bit ridiculous, but as long as there is a movable and flat surface, right? You may ask why using it upside-down. The answer is the raised edges of the sheet prevent you from sliding your pizza out, so the surface in the back without edges is on-point.
Keep in mind that it will be harder to use an upturned baking sheet than a cookie sheet, so you want to practice a bit before getting into the real work.
On a side note, the upside-down baking sheet can be higher than the stone. Also, dropping your pizza to the pizza stone from a too-high position will mess it and your oven up big time.
3. Cutting Board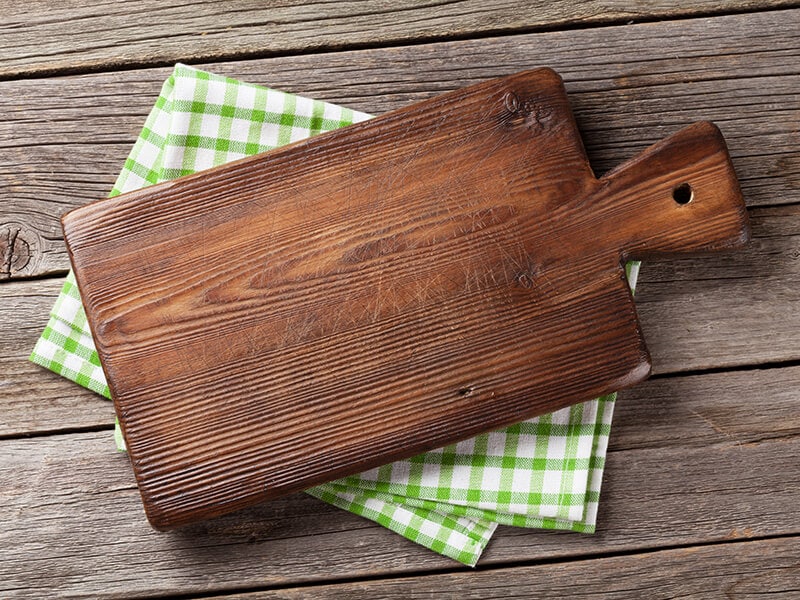 This suggestion may appear irregular to you, but most people without kitchen tools dedicated to baking use a cutting board as a surface to make their dough. Some kinds are small and heavy, but most modern designs are thinner and have larger surfaces.
The cutting board's surface resembles the surface of the pizza peel where you make pizza on it, so it can be a perfect replacement for your pizza peel. If you have a rectangular kind of cutting board, you can adjust your dough a bit into an oval shape to fit the board.
You can put parchment paper or baking paper on the cutting board before making pizza to prevent it from sticking to the surface.
Also, be careful if you are using a plastic cutting board. While it can accommodate fairly hot food, the heat of a pizza stone can be a different story. A preheated pizza stone can reach 500°F (260°C) and melt the plastic.
Learn how to turn your cutting board into a pizza peel will save you time and money.
4. Parchment Paper/ Baking Paper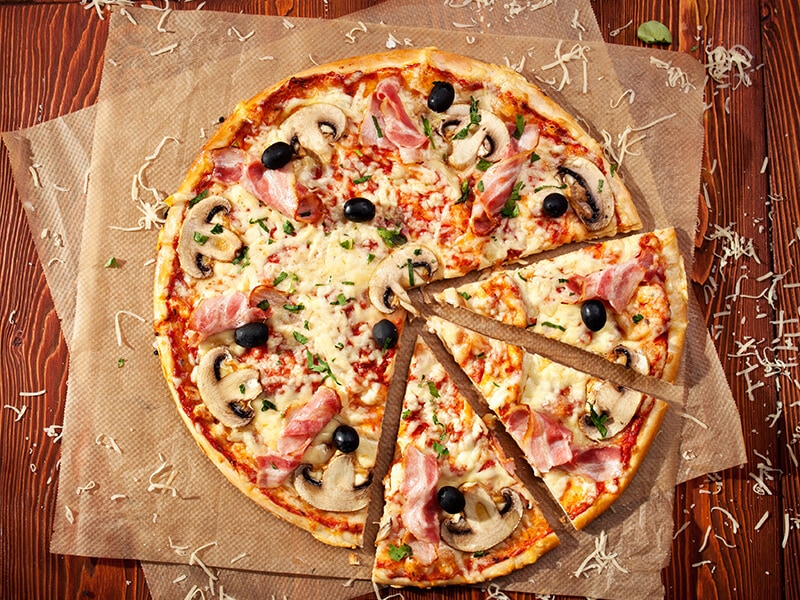 Parchment paper is in no way a new method, but some people may be reluctant to use it in the oven due to the fear of fire hazards. Contrary to some warnings on the internet, parchment paper is oven-safe since it's designed for baking.
Most parchment papers are toxic-free and safe to use at 420-450°F (215-232°C), with no sign of burning or melting whatsoever.
However, rather than using parchment paper to transfer your pizza, you should work the dough and assemble the pizza on it to take advantage of its non-stick surface.
After that, use oven mitts to take out your preheated pizza stone and put the parchment paper with the pizza on top of the stone.
After finishing baking and the pizza is hardened, use your oven mitts or a pair of tongs to take out the pizza. Be careful not to touch the paper since it will turn brittle after baking and may break apart on touching.
You can also use parchment paper on a pizza peel to transfer the pizza more easily. Prepare your dough on parchment paper, then transfer the pizza to the peel to move it into the oven. Pull out the parchment paper after 5-10 minutes into the baking.
One last thing: never mistake parchment paper for wax paper. The former is made for baking, while the latter will burn in high heat.
5. Cardboard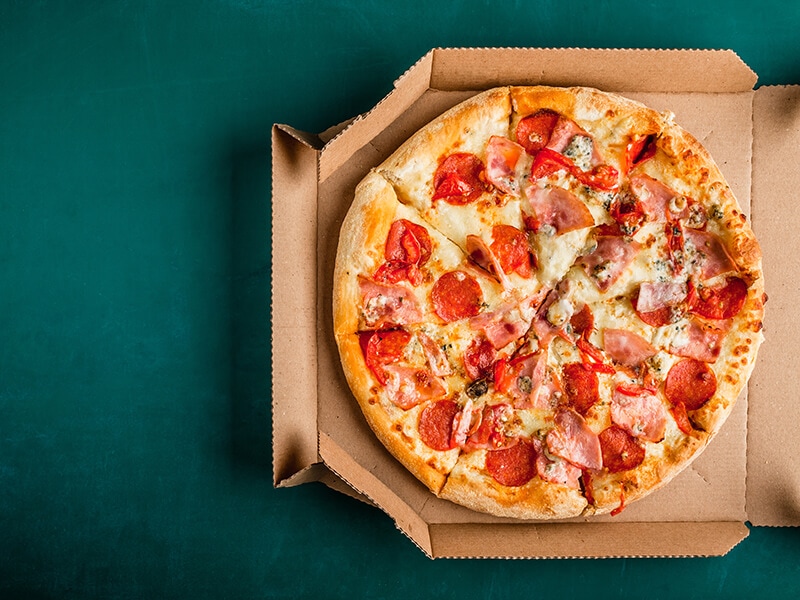 As I said, anything with a flat, hard, and movable surface will do. The cardboard seems a bit far-fetched, but it works like a charm. Find a clean piece of cardboard that is stiff and large enough to accommodate your pizza. Old pizza boxes are good for this job.
Don't be worried about cardboard getting burned because its sole job is to slip in between your pizza and the stone to move the former. You can even fold a cardboard up to make it harder.
6. Indian Tawa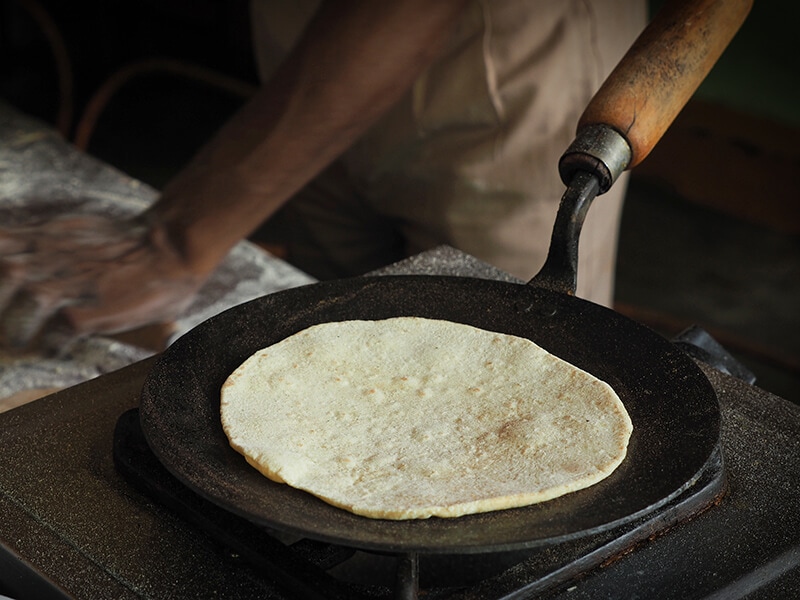 Tawa or Tava is a type of Indian frying pan. It's a round pan without edges that is used for preparing traditional Indian flatbreads, such as chapati or paratha. The flat surface with a handle is a perfect substitute for pizza people.
This tool is not commonly seen in household kitchens, but it's getting more and more popular in American kitchens. Having a tawa is convenient in pizza bake baking. A tawa can easily transfer your pizza into the pizza stone and remove it without risking burning your hands.
7. Serving Platter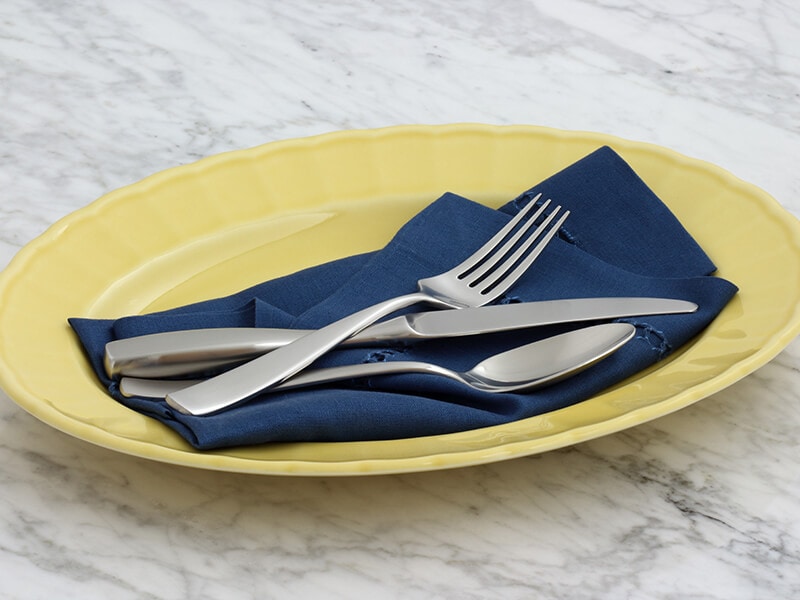 Serving platters come in different sizes and thicknesses. If you have one with a proper thickness, sufficient size, and without high edges, it can be used in lieu of a pizza peel. You can build your pizza on it and transfer it onto the pizza stone with no trouble.
Don't use the one made of plastic because it can't stand high heat. A wooden serving platter will get the job done.
A serving platter can have many shapes, ranging from round, oval, square, or rectangular. It is also very flexible in terms of materials: plastic, ceramic, metal, wood, or even glass.
How To Use A Pizza Peel?
If you plan to try out as many pizza recipes as possible, you should get yourself a decent pizza peel since no substitute can match it in making pizzas. It's not the easiest tool to master, but the reward surely pays off. Follow this instruction and have some practice!
Step 1: Deploying The Pizza
Use the pizza peel as a deployment space for your pizza. Sprinkle some wheat flour or cornmeal on the pizza peel to prevent sticking, then stretch your dough on top of it. You can use semolina flour for an extra nutty flavor.
If you're confident enough, you can do some hand tossings. Complete your pizza with sauce, cheese, and toppings.
Be extra careful since you don't want any sauce or cheese to spill to the bottom of the dough or the pizza peel. That moisture will make your dough stick to the pizza stone.
Step 2: Put The Pizza On The Stone
You may want to give it a small shake to see if the pizza is sticking to the peel or not. Next is the hard part. Let pizza slide down the pizza stone with a swift back-and-forth movement.
The pizza peel and the pizza stone should form a small angle, but not too small. Otherwise, the edge of the pizza will get caught in the stone, and everything will fall off.
The dough may be out of shape a bit when it's on the stone, so give it some stretches to get back its round shape if needed. Be careful with your hands since the stone is extremely hot there.
The material of your pizza peel matters! Learn to distinguish between wood and metal pizza peels.
Step 3: Removing The Pizza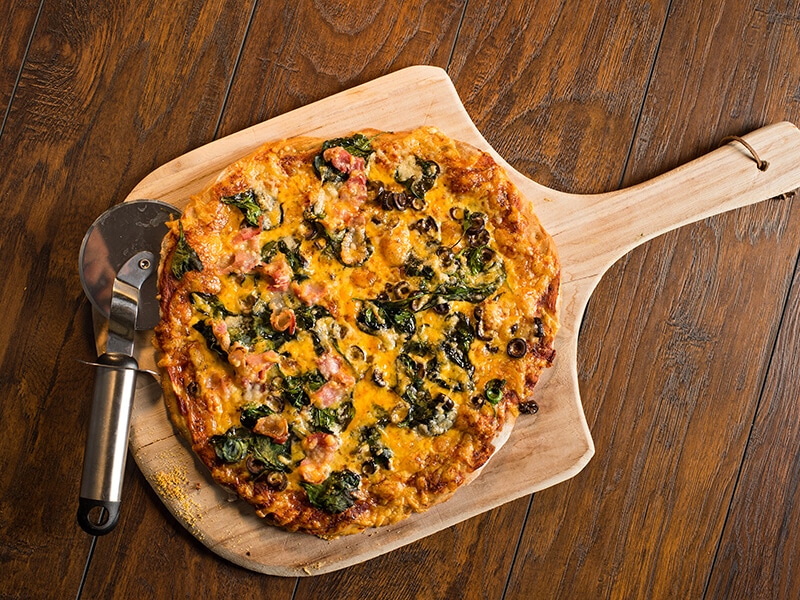 This is just a piece of cake. The dough has become a hard crust, and it won't be easy to go out of shape anymore. Use the pizza peel to slip under the pizza until it lies firmly in the middle of the peel. Pull it out and serve it on a pizza platter or a dish.
Keep in mind that pizza dough is more prone to sticking to metal, so a wooden pizza peel might be a better idea. Furthermore, you should keep your dough at room temperature to minimize condensation and moisture in it.
Some Products To Add To Your Pizza-Making Collection
In case you're a true pizza enthusiast, you should equip your kitchen with a set of pizza-making tools to work with. Here are some indispensable tools that help you make delectable pizzas for your family:
This New Star Foodservice Restaurant-Grade Wooden Pizza Peel is among the best pizza peels out there for its durability and lightweight. It is coated in oils that make it less prone to sticking. The half-inch blade design enables you to slide under the pizza with ease.
If you're looking to buy a whole set of a pizza peel, pizza stone, and pizza wheel, this Cuisinart 3-Piece Pizza Grilling Set is definitely for you. Cuisinart is famous for its good-quality kitchen gadgets at affordable prices.
This set is extremely convenient when it comes to making pizzas. In particular, the pizza peel and pizza wheel are made of stainless steel, which is durable and resistant to corrosion.
Are you looking for a durable metal pizza peel? This Checkered Chef Pizza Paddle – Extra Large Stainless Steel Peel is for you. This utensil isn't just for pizza: use this peel for indoor ovens or outdoor drills, and even a great turner for your barbeque!
If you are a big fan of homemade pizzas, you should equip your kitchen with this Nordic Ware Tan Pizza Stone Set. This pizza stone with a delicate design will be a great helper for you in baking. The handles on both sides make it easy to transfer your pizzas.
FAQs
Those are some useful tips to aid your pizza-making when you don't have a pizza peel. These FAQs will step up your knowledge about making pizza:
Be Creative With Your Cooking Solution!
A pizza peel is the best way to handle your pizza. However, don't worry too much if you don't have a pizza peel ready when you want to make a pizza. Sometimes, you have to be flexible with the tools you have at hand.
Cooking will be more creative and fun once you learn to put your gadgets to the best use. Before leaving, please leave me a comment for others to know about your solution. Also, don't forget to like and share these articles! Good luck with your pizza!
References
Bernstein, L. (2021) We eat 100 acres of pizza a day in the U.S., The Washington Post. WP Company.
Baking stone (2022) Wikipedia. Wikimedia Foundation.