There is a debate on the internet about a huge gap in flavor between New York vs. Chicago pizza. People who tried both kinds claimed the differences are real. But are they? The revelation will come shortly!
Both New York and Chicago are famous for their diverse cuisine culture. Their multiculturalism is evident in the flavors of their foods as well. Unsurprisingly, that distinction reveals itself in the pizza sold in each metropolis.
Whether it is large pizza restaurants or a humble food stall on the street, their products are packed with unique cultural patterns. Let's explore this interesting fact in the article.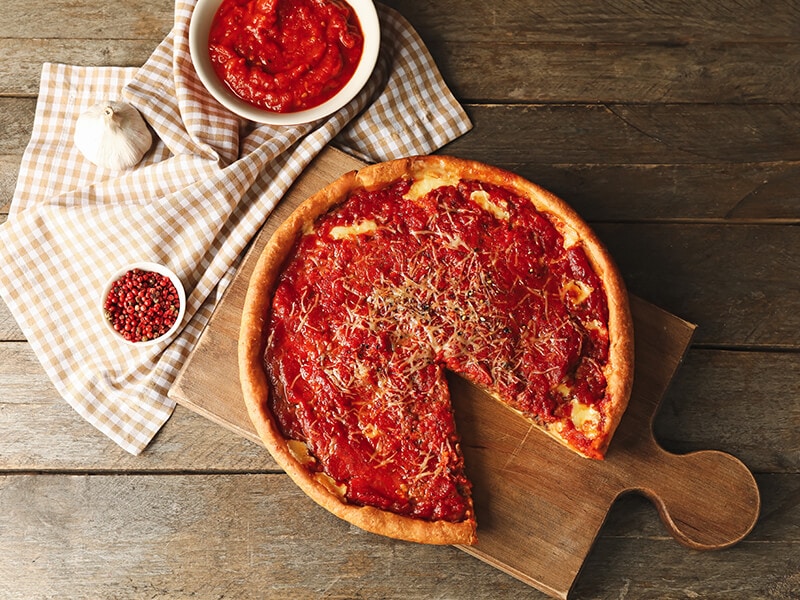 The Adventure Of Pizza In The Land Of The Free: A Delicious History
Pizza is in no way a newcomer to American rich and diverse cuisine. The long history of modern pizza unfolded in Naples, Italy, in the 18th or early 19th century.
It first started with the idea of flatbread with toppings and accumulated many ingredients, such as tomatoes and mozzarella. As time went by, it became the completed version it is today.
Originally, pizza was made for the working class to meet their basic nutritional needs. But after it came to the Northeast coast of America along with Italian immigrants in the 20th century, pizza has gradually become one of the most beloved goodies of all time. (1)
And the return of American soldiers who fought in World War II in Italy made it much more popular among the American population.
The Journey Of Pizza In Chicago
The booming immigration in the early 20th century led Italian immigrants to flock to Windy City to find their opportunity for a new life. They brought their culture and their cuisine with them.
In 1943, two Italians named Ike Sewell and Riccardo decided to press their luck and open the Pizzeria Uno pizza store in the Northside of Chicago.
They came up with the idea of "Americanizing" the traditional Italian recipe to produce a delectable product called deep-dish pizza. It's an upside-down pizza with the crust on top and toppings at the bottom. There first store was Pizzeria Uno.
This unorthodox idea gained huge success and made Pizzeria Uno a reputable world-class franchise with branches all over the world. The recipe for deep-dish pizza has been considered a staple of Chicago cuisine ever since.
Let's wind back the clock and discover the colorful history of Chicago pizzas.
The Story Of Pizza In New York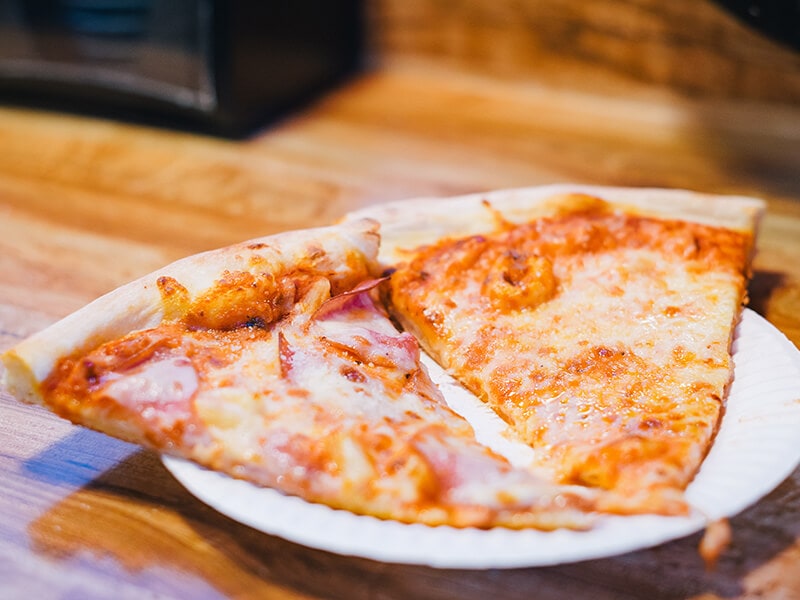 New York is the first city where pizza started its journey in the land of the free. Some Italian with great ambition to introduce their specialty to America set up their first stores in this busy city.
One of the first and arguably the most iconic pizzeria stores in the US was founded in New York in 1905 with the name Lombardi's. (2) Starting as an inside food for Italian immigrants, it became a phenomenal destination for fast food with the spike in the popularity of pizza.
In addition, Lombardi's is also America's first pizzeria, and it is still open to this day. However, it once closed down for a few years in the 1980s and 1990s.
Discover the history of New York pizzas in 8 minutes here.
Differences Between New York And Chicago Pizza
These two styles of pizza have many key differences that set them very far apart. If you're a New Yorker and come to Chicago, and vice versa, to try out pizza, you will be awed big time by the gap between them.
Experiencing both unique styles of pizza should be a list in your travel plan. You may have seen countless Chicago vs. New York pizza memes before, but the table below is better at highlighting the most striking deviant points between them.
| Properties | New York Pizza | Chicago Pizza |
| --- | --- | --- |
| Crust | Thin, crispy, foldable | Thick and doughy |
| Cheese | Usually grated mozzarella | Multiple layers and kinds of cheese |
| Sauce | Sweet and hot, thinly spread | Chunky, thick, and available in larger amount |
| Toppings | A single layer of each topping | Layers on toppings stacked up |
| Oil | Oilier | Less oily |
| Cooking Time | 15 minutes | 30 minutes |
| Order of layers | Crust-sauces-cheese-toppings | Crust-cheese-toppings-sauces |
| Style of cooking | Hand-tossed and cooked on pizza stones | Cooked in pans |
| Serving and presentation | Served in triangle-shaped slices and eaten with hands like a snack | Served in square-shaped slices or unsliced and eaten with utensils like a meal |
The Crust
Pizza experts say that just by looking at the crust only, you can tell where it is from. The crust varies vastly between New York pizza and Chicago pizza. It's also the crust that separates 2 types of pizza enjoyers – thin crust lovers and thick crust lovers.
The crust of a New York pizza is thin and super crispy. It's more flexible but also sturdier. With a restless and fast-paced lifestyle like in New York, fast food that you can fold and eat with some bite while you're on the go is truly a lifesaver.
This thin-crusted pizza variety closely resembles traditional Italian pizza. Just a single roll of pizza, and you can have maximum experience of the New York maneuvering lifestyle.
If you're new to Chicago pizza, you will be startled at your first experience with it. Some people say it's the crust that marks a clear contrast between the two types of pizza.
The deep-dish style with an inch-thick or more crust is one of many factors that sets Chicago apart. It is shaped like a bowl to pack more ingredients.
It may be a challenge to conquer that mountain of crust in Chicago pizza if you're not a fan of crust. However, it is such a blessing for crust enjoyers. With this pizza, it's not simply just grasping and walking; one can't simply rush to enjoy a Chicago pizza.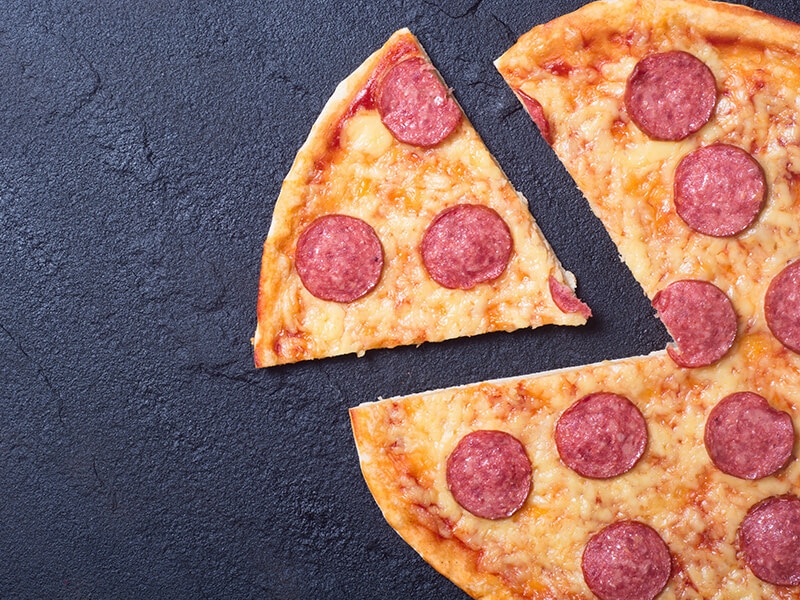 The Cheese
What about the cheese? You can't ignore this vital ingredient when comparing two kinds of pizza. In pizza, cheese matters so much that people sometimes decide whether a pizza is their type or not according to its cheese.
With New York pizzas, the choice of cheese is usually grated mozzarella. You may find it packs more cheese than standard Neapolitan pizzas, but the low-moisture cheese is not as fresh.
A finely spread layer of cheese in a New York pizza also makes it easier to let the combination melt in your mouth.
On the flip side, the Chicago lifestyle of "go big or go home" is embodied in their pizzas. Layers and layers of different cheese will fill cheese lovers with ecstasy.
The thick bowl-shaped crust of Chicago is made to accommodate a huge amount of cheese. But it's also a reason many anti-fans of Chicago pizza use to dethrone this pizza. They say the overly thick layers of cheese are redundant and make the pizza feely greasy.
See how a chef makes a deep-dish Chicago pizza.
The Sauce
Many people find that New York pizza is close to traditional Italian pizza's taste thanks to its sauce. New York pizzas feature a heavily seasoned tomato sauce with sweet and heat being its prominent taste.
The thin crust of New York pizza makes thinly spread sauce go better on the pizza. It also has a smooth consistency allowing it to spread evenly on the pizza without sacrificing the crust's crispiness.
Another thing that will surprise you with the Chicago variant is the amount of tantalizing sauce on the pizza. The sauce in a deep-dish pizza is chunkier and used in a larger amount than any other pizza.
Sometimes I will even find pieces of tomato in their sauce. After all, what is the point of that extra thick crust without a lot of savory sauce? However, the sauce of the Chicago-style pizza tastes less strong than its New York counterpart.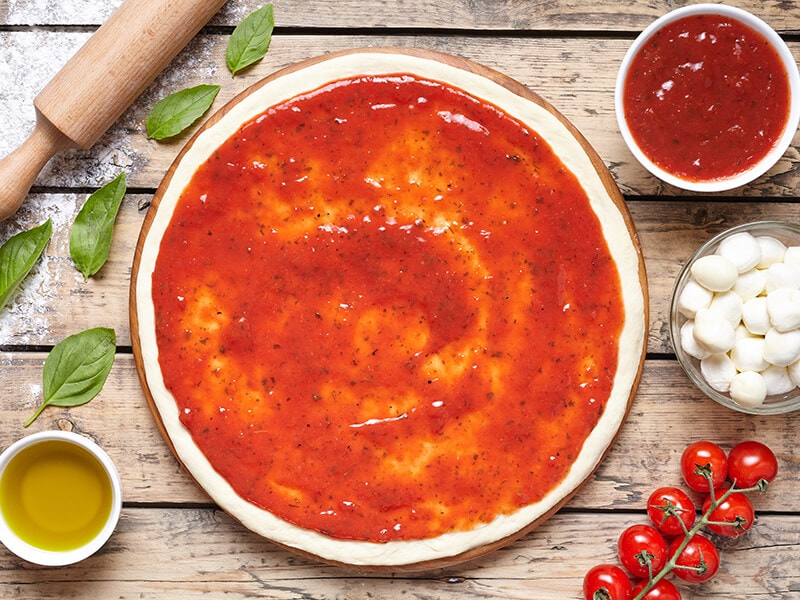 The Toppings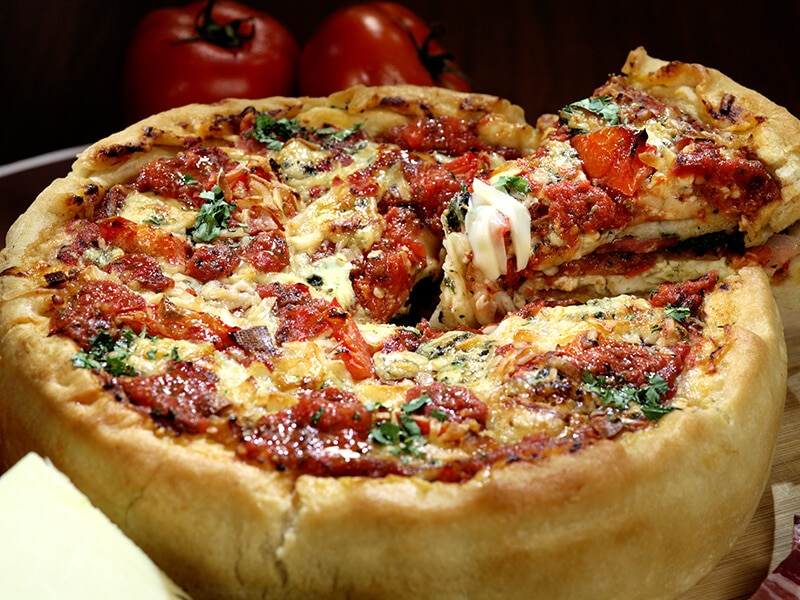 The toppings of New York pizza are ingredients delicately laying on top of one another. The standard triangle thin slides of a New York pizza limit the use of more ingredients, and New Yorkers need no more ingredients anyway.
At this point, I bet you will no longer be surprised to know that Chicago pizzas are stuffed with multiple layers of toppings. On top of the cheese, you can count at least two or three layers of toppings with tons of ingredients.
Chicago sausage is the most common topping for this type of pizza, making every bite a guaranteed flavorful bite. At the same time, New York sausage is generally remembered as little spicy meatballs or chunks.
Take a peek at how to make New York pizza at home.
The Oil
Another notable distinction between these two pizzas is their oiliness. With New York pizza, so much oil leaks out that you might have an urge to give your pizza a grease pat with a napkin.
Chicago is more delicate and neater in this aspect. There will be no sighting of leaked oil as any extra oil falls off during the baking process. Sometimes, no dripping oil can save you money for laundry.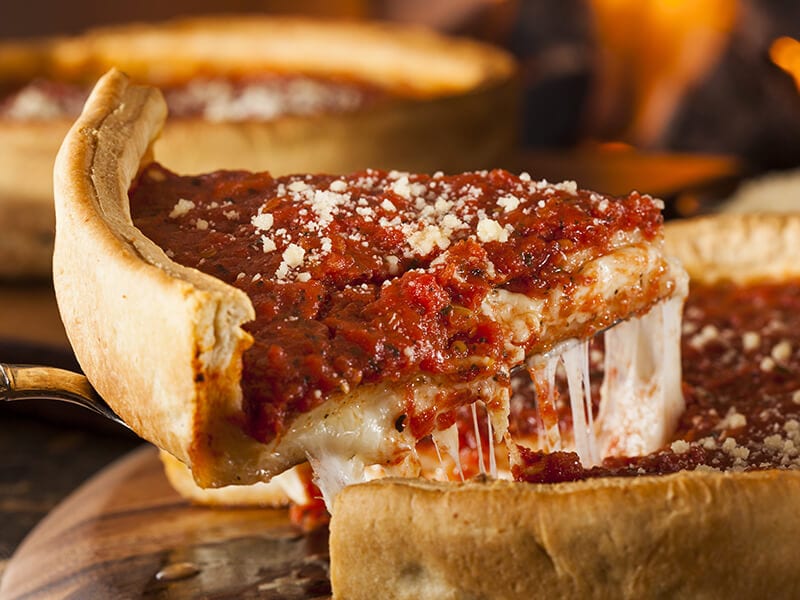 Time Of Cooking And Order Of Layers
When you come to a busy Chicago pizza store, you may have to wait much longer than its counterpart in New York because of the cooking time difference.
It's due to the thickness of the crust and the prep of toppings between two kinds of pizza. The Chicago variant has more ingredients to cook, resulting in more prep time. By contrast, a New York pizza only demands as much time as a normal pizza.
Furthermore, the order of layers varies greatly between New York and Chicago pizza. New York style follows a traditional arranging rule: dough, sauces, cheese, and toppings (from the bottom to the top).
On the other hand, to avoid the burning of ingredients, the founders of Chicago pizza came up with a new order. The dough is still the base, but next comes the cheese, followed by toppings and uncooked sauces.
Why is this order? Because the layer of cheese and tomato sauce on top will keep other ingredients from burning.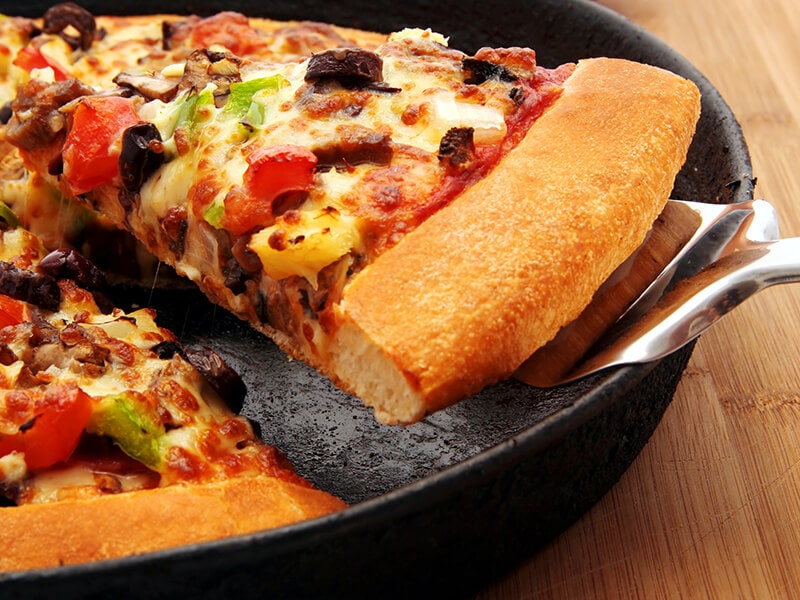 Style Of Cooking
The unique styles of cooking create a gap between these two pizzas. Many people describe the making of New York as an art. If you ever have a chance to see an experienced pizza chef display his dough tossing and stretching skill, you will know why it's artistic.
The special thing about Chicago pizza is that it is cooked in a pan or skillet. The chef stretches the dough in a pan and along its walls, hence the thick crust and the name deep-dish pizza.
Some kinds of Chicago pizza have a layer of dough on top, giving them the name stuffed pizzas.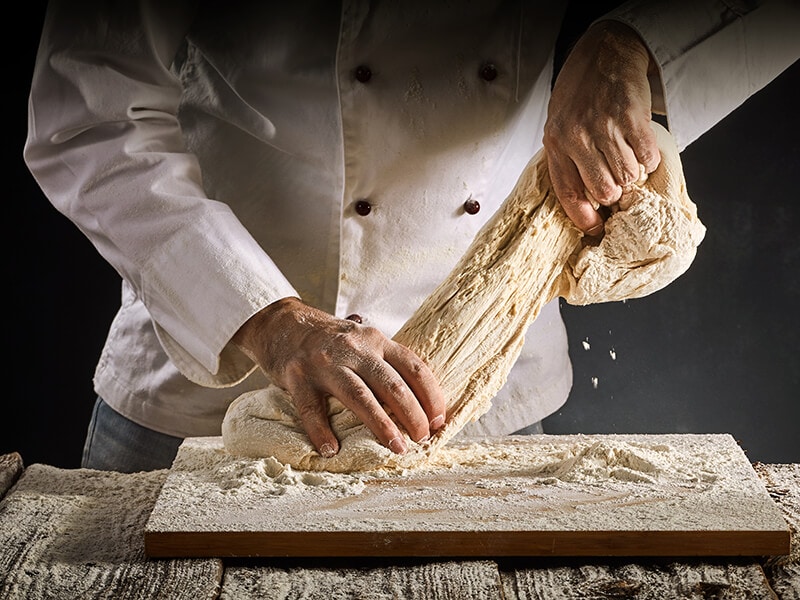 Serving And Presentation
New York pizza slices are cut in large triangles, so it is easy to pick them with your bare hand and chow down on them while running to your office. You can quickly grasp a slice of pizza and hop in your car without any problem. This pizza feels like a convenient snack.
On the other side of the plate, you can't pretty much get away with your slice in the case of Chicago pizza. It takes elegance and patience to fully enjoy a serving of Chicago pizza. It is served with a knife, fork, and napkins.
Eating a Chicago pizza feels more like eating a whole pie. That extra thickness and toppings are going to keep your stomach occupied for a long time.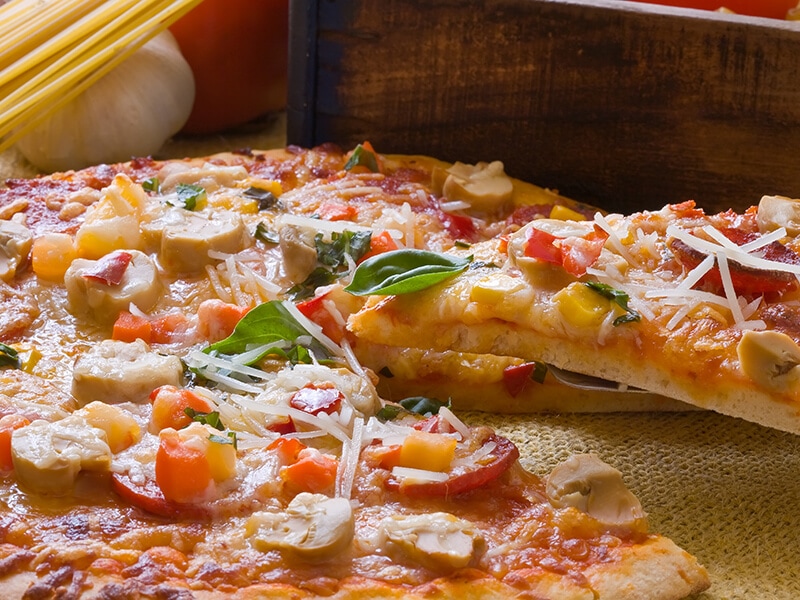 New York Pizza Vs. Chicago Pizza: Which Is Better?
The battle will never be settled between these two pizzas. It's easy to point out the strong and weak points of both pizzas. The choice still depends on personal preference and is tough to make since both are delectable dishes.
So let's put it this way if you're craving a delicious and delicate quick snack, New York pizza is the top-notch candidate. But in case you have plenty of time and are looking for a full-blown meal to fill your stomach, Chicago pizza is a no-brainer.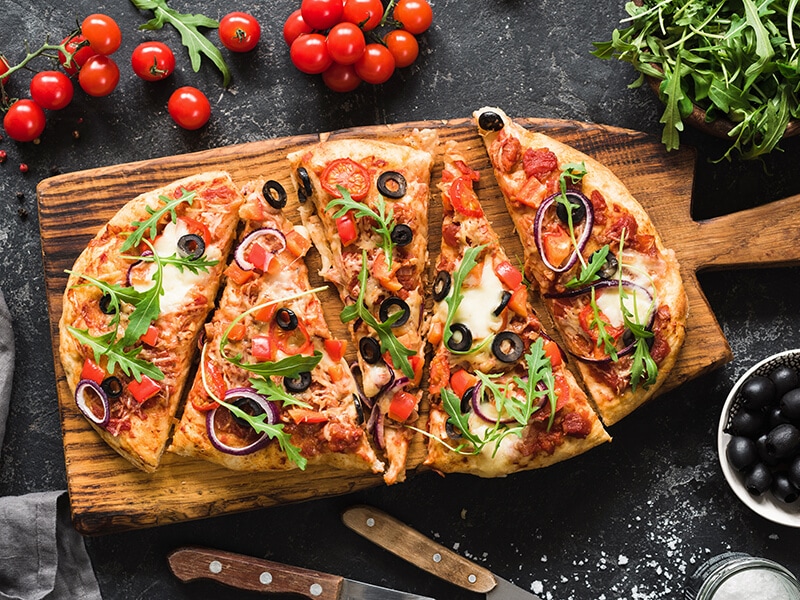 FAQs
Did you find the distinctions between New York and Chicago pizza fascinating? But hang on to your seat: there is more about pizzas for you in this FAQs section.
Both New York And Chicago Pizzas Are Slices Of Happiness For Your Taste
There is no way to settle the debate with these two delicious and iconic pizzas. My best suggestion is to go and try both to find out which is your personal favorite. Chances are you find both pizzas equally excellent with their own merits.
If you find the article useful, don't forget to share it with pizza lovers and ask for their judgment about which pizza is better. Leave a comment for me to know which pizza reigns supreme to your taste!
References
Pizza in the United States (2022) Wikipedia. Wikimedia Foundation.
What's cookin' in NYC (no date) What's Cookin in NYC.