Spinach, mushroom, and egg breakfast skillet is a perfect idea for a healthy and filling breakfast for the whole family. It features all the qualities of a low-carb, gluten-free, and keto-friendly meal. Besides, you only need to use a skillet on the stovetop and there is no need to turn it on the oven.
This egg recipe also allows great room for creativity and diversity. You can add your favorite vegetables, like red pepper, cherry tomatoes, green onions, or parsley, to increase the nutrients in the breakfast. Does that sound tempting enough for you, health-conscious readers?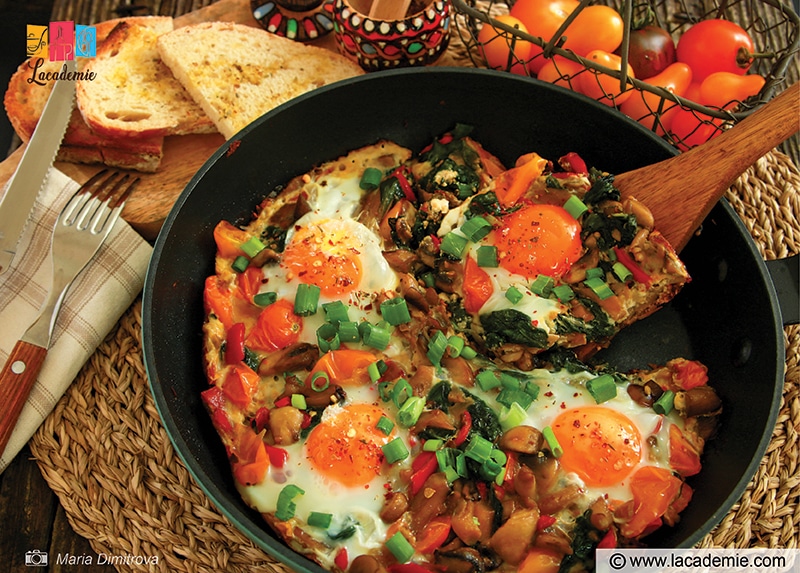 Tools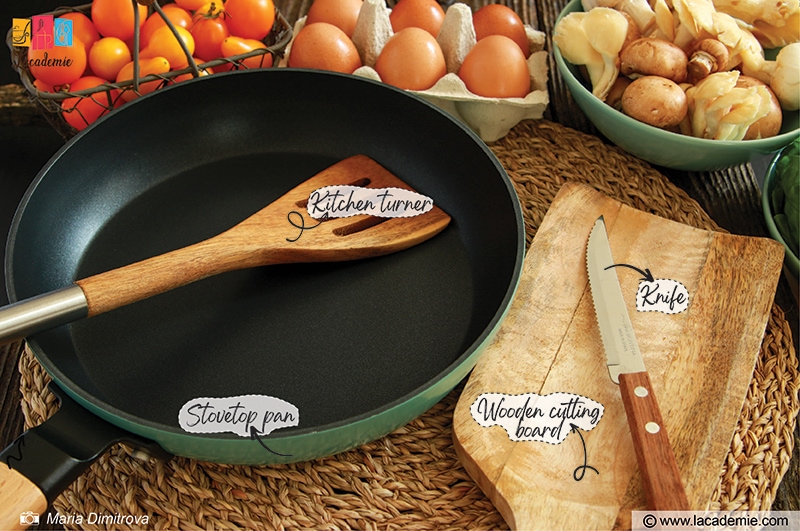 Here is a complete list of the kitchen gadgets you should prepare to make this spinach, mushroom, and egg breakfast skillet recipe.
Stovetop pan: A medium-sized pan should meet your needs nicely since this recipe is for 4 servings. You can choose a bigger one if you plan to cook a heartier portion and vice versa.
Kitchen turner: to stir the vegetables while they are cooking in the stovetop pan.
Wooden cutting board: to cut the vegetables.
Knife: to cut the vegetables.
Ingredients
You can guess the main ingredients for this dish from the name, but how about the garnishes? To prepare the best spinach, mushroom, and egg breakfast skillet, you will need:
Eggs: Use as many as you need. This recipe is made with 4 eggs for 4 servings.
Spinach: This nutritious veggie is one of the main ingredients in the recipe. It wilts down a lot during cooking, so prepare plenty of it.
Mushrooms: You can use any kind of mushrooms based on your preferences. They are a low-calorie source of fiber as well as umami flavor, so it is natural to add them to this healthy breakfast dish. I use oyster mushrooms for this recipe.
Garlic and onion: I prefer fresh garlic cloves and fresh yellow onion for this egg recipe.
Oil: Olive oil is a popular choice, but you can use any variety with a mild flavor and, more importantly, a high smoking point.
Vegetables: Feel free to be creative with the vegetables in this recipe to add more nutrients and colors. My favorite ones are red pepper, cherry tomatoes, and green onions. You can also add parsley, kale, green peppers, asparagus, broccoli, or even Brussel sprouts to this dish.
Spices: Sprinkle the dish with spices of your choice; I use salt, chili, and black pepper.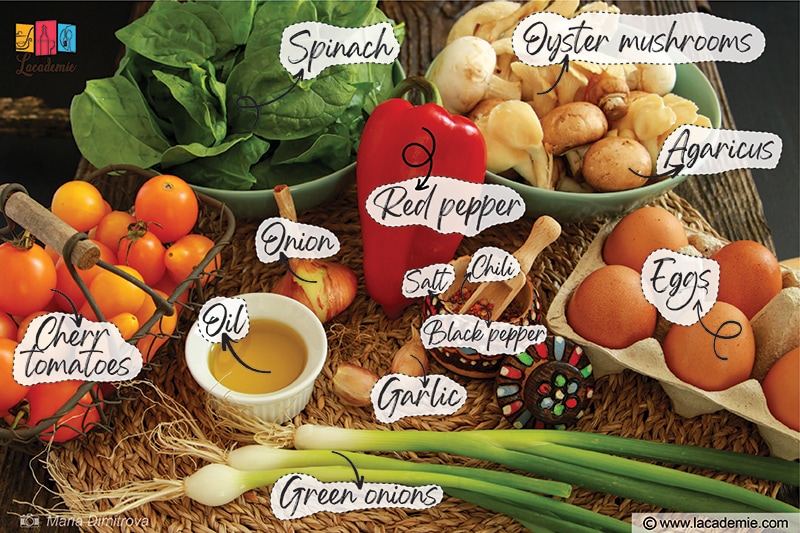 Instructions
You may feel a little too disoriented to cook something fancy right after getting up. Fortunately, this spinach, mushroom, and egg breakfast skillet recipe is so straightforward that you can cook it with your eyes shut. Let's dive into how!
Step 1: Saute The Vegetables
Heat up your stovetop pan with olive oil over medium heat. Sauté the onion and garlic in hot oil for about 3-4 minutes until aromatic.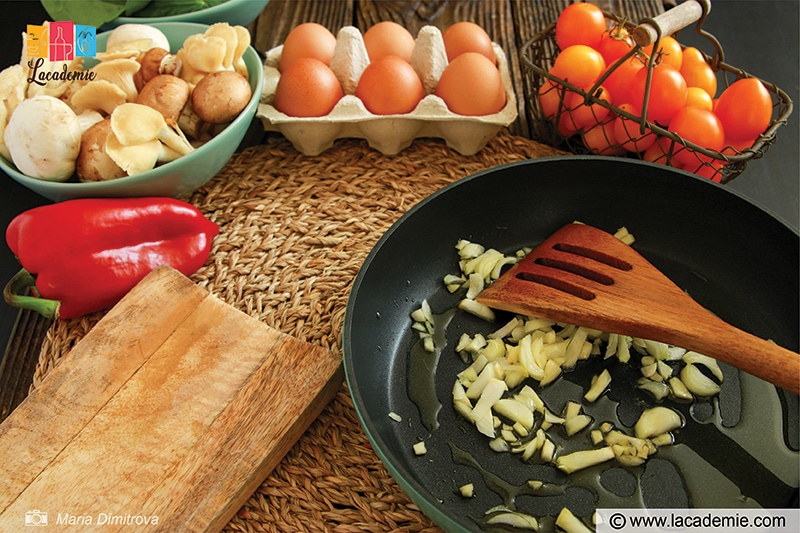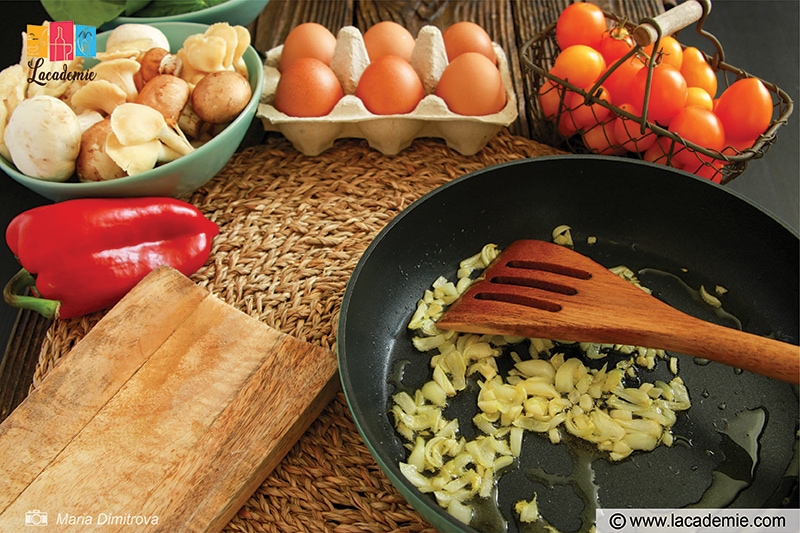 Add chopped red pepper and chopped mushrooms. Sauté on high heat for a few minutes to soften the vegetables slightly.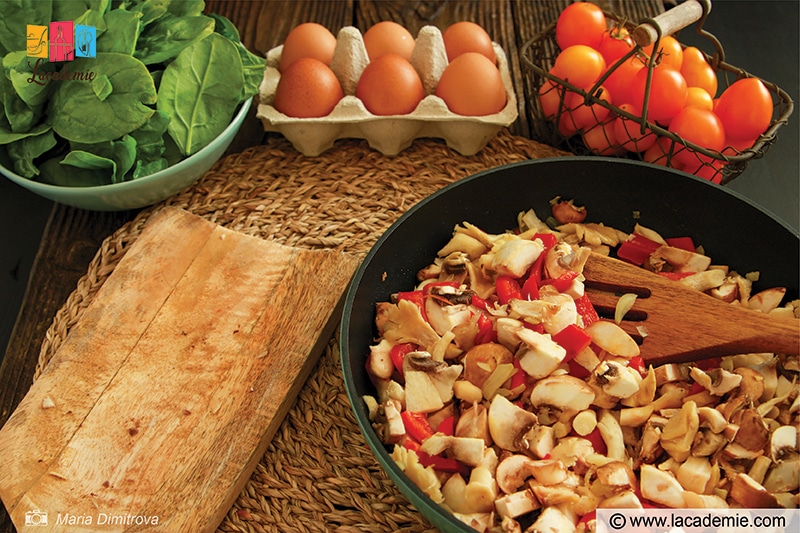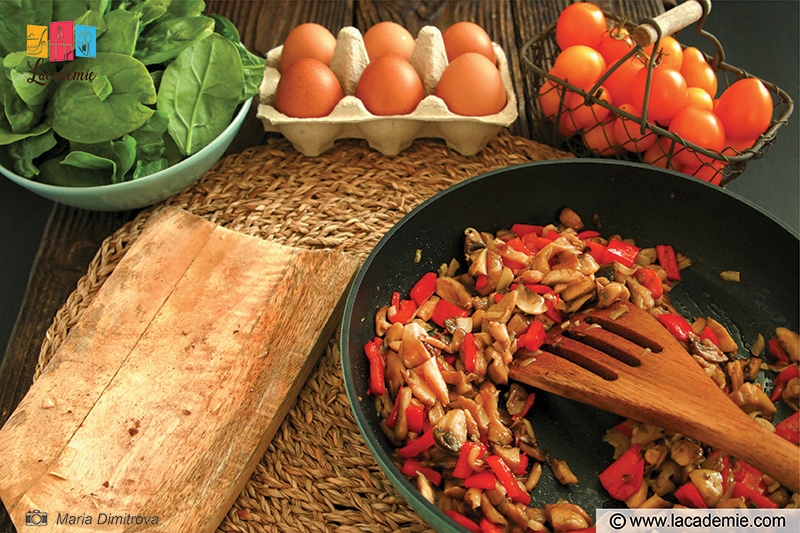 Next, add in spinach and cherry tomatoes and sauté for about 2-3 minutes or until just wilted. You may season the vegetables lightly with salt and pepper at this point.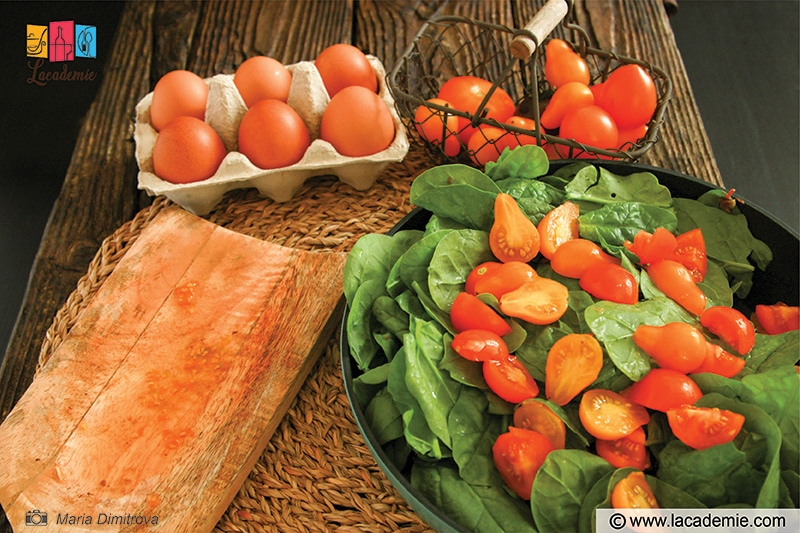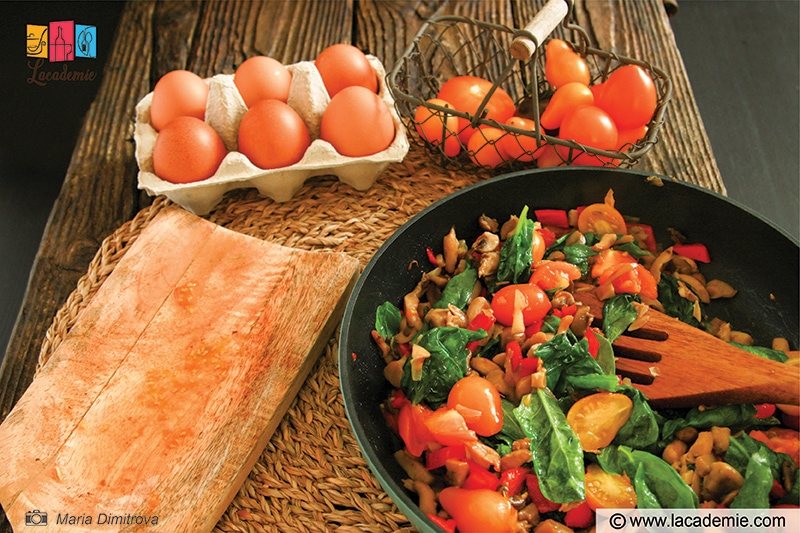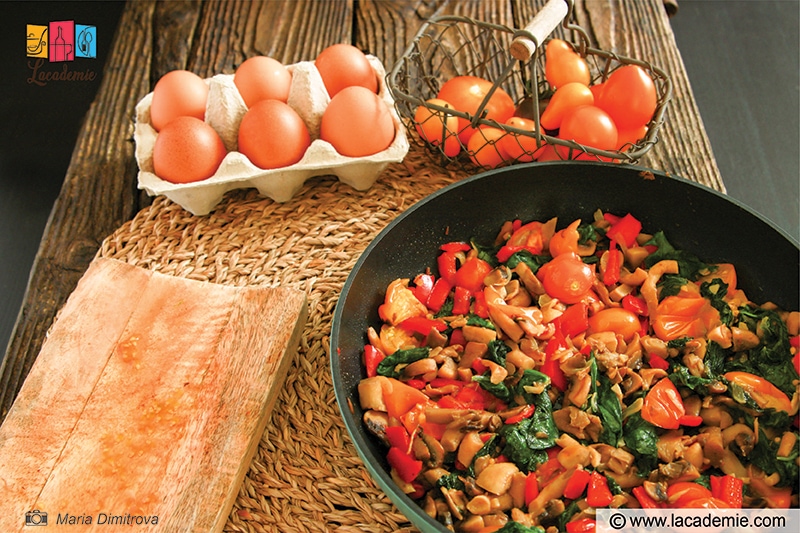 Step 2: Add The Eggs
Depending on the number of eggs you are using, create holes in the veggie mixture in the middle by pushing the veggies to the side. Crack one egg into each hole and turn the heat down to medium low.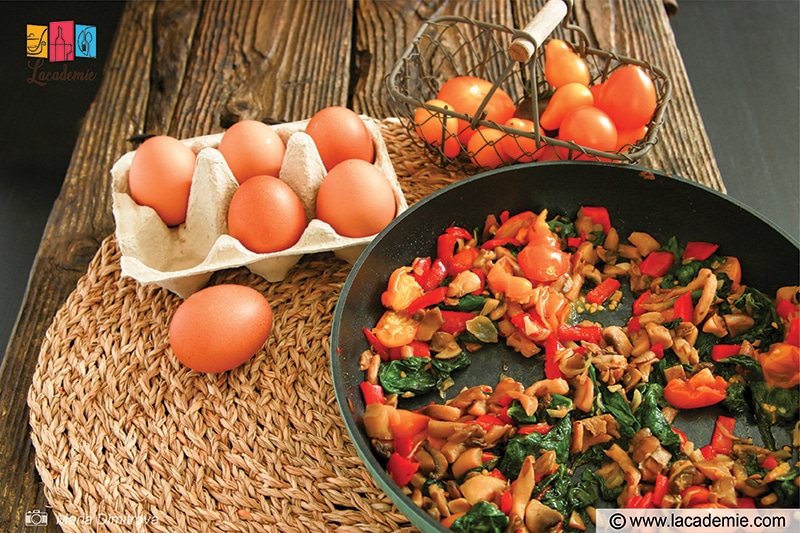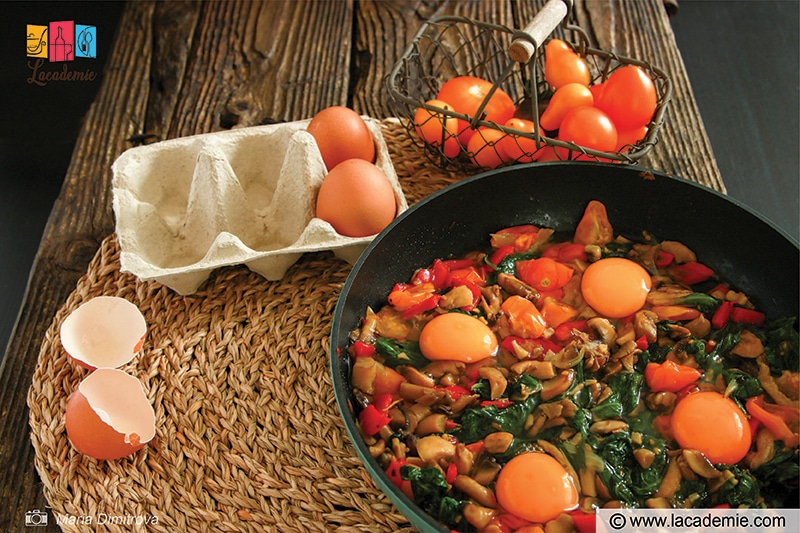 Cook eggs for 2-3 minutes because I prefer the egg whites to be cooked while the yolks are still runny. Cook longer if you'd like a more well-done egg. To save time, you can cover the pan and cook the eggs faster.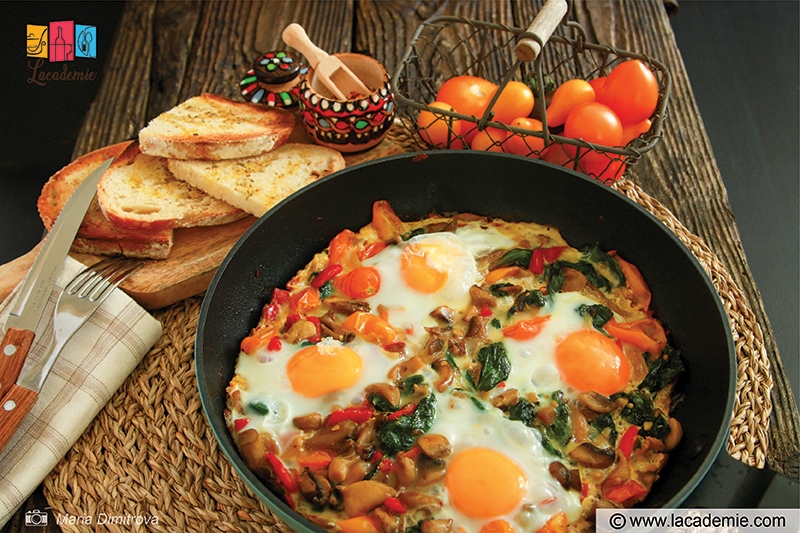 Step 3: Season And Serve Your Egg Skillet
Sprinkle some salt, chili, and freshly cracked black pepper over the eggs. Some finely chopped green onions on top will be awesome, too. Enjoy your egg skillet with toast, potato mash, or extra vegetables while it is still hot.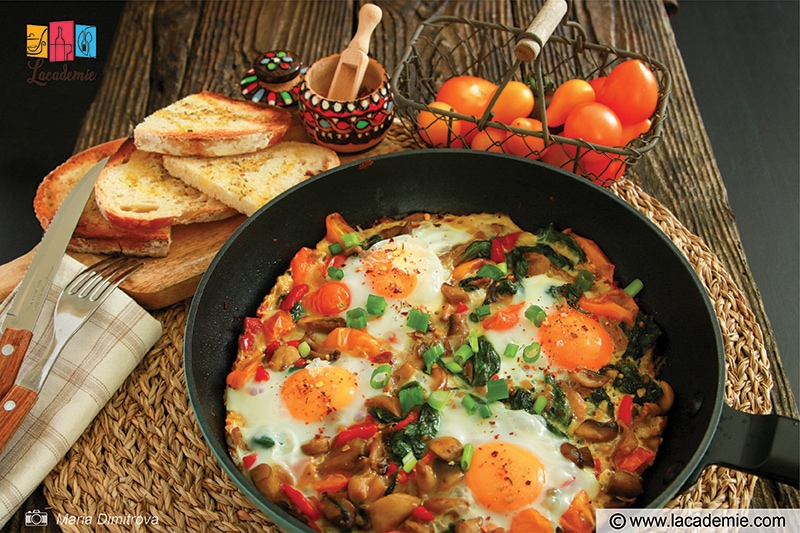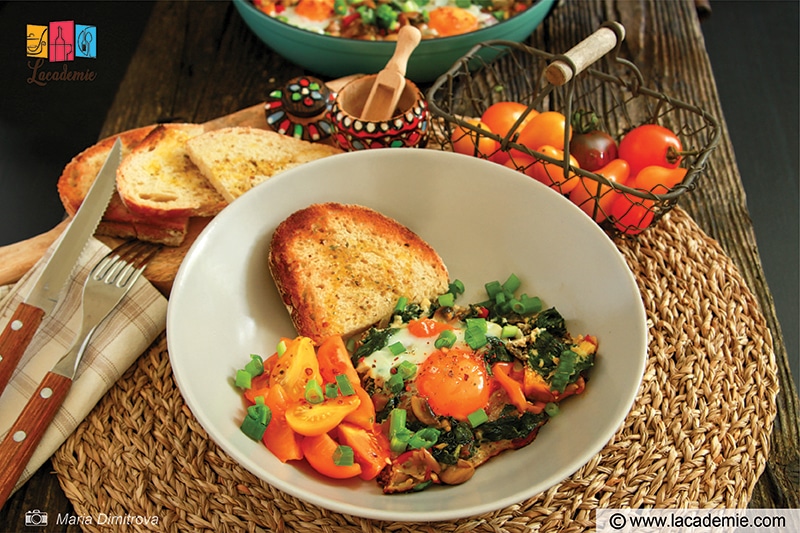 A Few Tips To Make Your Spinach, Mushroom, And Egg Breakfast Skillet Tastier
That this egg recipe is effortless to make doesn't mean you shouldn't have a few tricks up your sleeves to make it even better. Here are a few things that I have learned from my previous attempts:
You can make the egg skillet even richer and creamer by adding some cheese toppings. My picks are Parmesan, Cheddar, and mozzarella.
Fresh spinach is quite large and can take so much space that it may not fit in a pan. You can either cook it anyway or add the veggie to the pan in batches.
I recommend using fresh spinach, but you can also cook with frozen one as long as you drain the excess water after thawing it.
If you have more spices and herbs lying around in the pantry (like thyme, cumin, or basil), feel free to add them to your eggs. There is nothing wrong with having a highly flavorful meal to stimulate your taste buds in the early morning.
Creamy fruits, such as bananas and avocados, can make excellent garnishes for this recipe.
Like most foods, this dish can be stored in an airtight container in the fridge for 3 – 4 days, though you should consume it as soon as possible for the best enjoyment.
Your Breakfast Will Never Be The Same
This recipe only takes about half an hour (or maybe less), but it can give you a whole happy morning. Vegetables aren't always easy to enjoy, something that many young children probably agree with. But I'm sure everybody will happily wolf down your egg breakfast skillet in minutes.
So let's not keep them waiting any longer. Save this recipe to your phone or laptop and gather the ingredients to cook it the next morning. It will be great if you choose to share your thoughts and opinions in the comment section. And one more thing: please share this post with your friends!
Nutrition Facts
4 servings per container
---
Amount Per ServingCalories217
% Daily Value *
Total Fat 12.4g

19

%
Cholesterol 164mg

55

%
Sodium 141mg

6

%
Potassium 1222mg

35

%
Total Carbohydrate 19.9g

7

%

Dietary Fiber 5.8g

20

%
Sugars 11.9g

Protein 11.6g

22

%
---
* The % Daily Value tells you how much a nutrient in a serving of food contributes to a daily diet. 2,000 calories a day is used for general nutrition advice.