How to make pizza dough stretchy? This question may pop up in your mind when you look to succeed in your next pizza attempt. Making pizzas is easy, but the dough-handling process may be challenging for newcomers.
Various reasons are responsible for a non-stretchy pizza. Therefore, this article is perfect for bringing you the answer to stretchy pizza dough. Stick around, and you will know everything about pizza dough.
I will explain everything you need to know about pizza in this post, including the best way of making stretchy pizza and necessary tips related.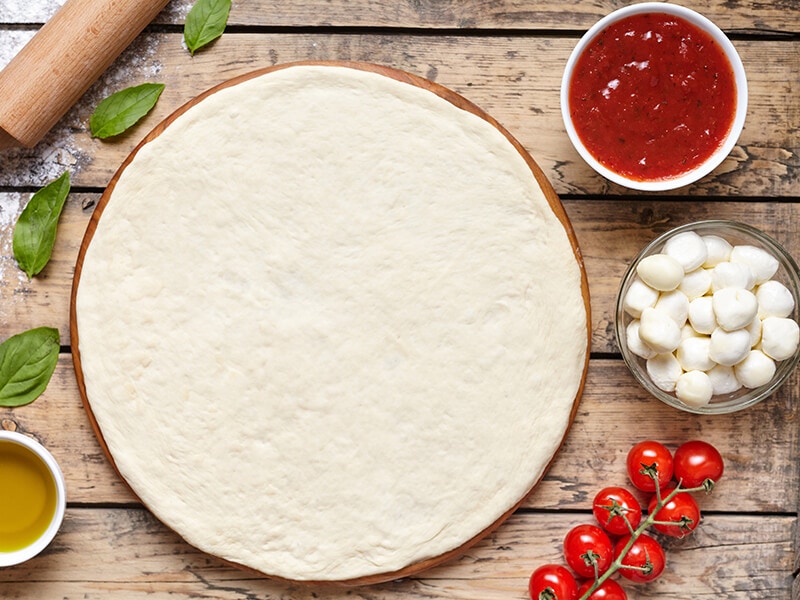 Why Is Your Dough Not Stretchy?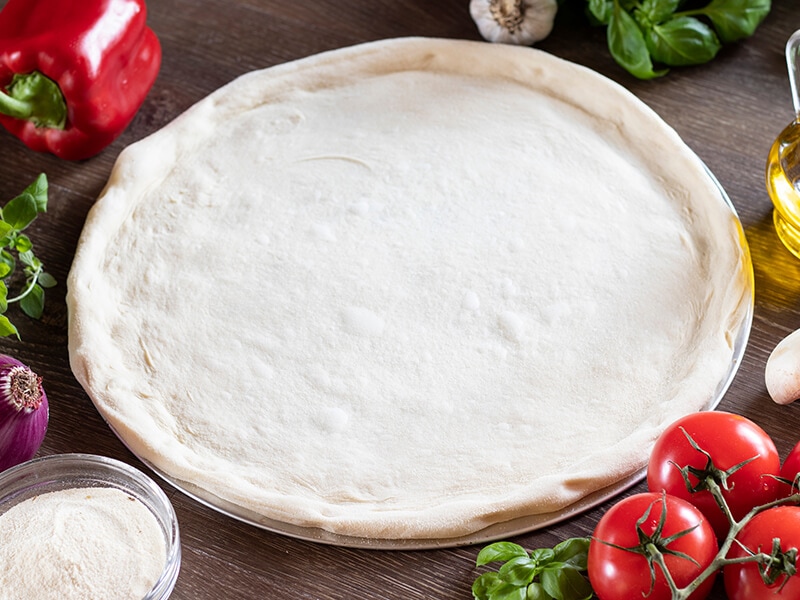 If your pizza dough is not elastic, many reasons can contribute to it. That might be due to insufficient gluten production, poor dough rest time, using the wrong flour, dry dough, or low temperatures.
Wheat flour includes gluten, a protein that helps the dough bind together (1). When you add water to the dough and knead it, the gluten develops a network structure that strengthens over time.
As you knead the dough more, it builds up more gluten connections. If you provide enough moisture, gluten may form over time without kneading.
During fermentation, the yeast generates a lot of CO2 (2). If the gluten network in the dough is not sufficiently established, it can't trap enough CO2 to rise. It will also be tough to stretch without air holes in it.
Overdeveloped gluten networks can result in an over-elastic dough. To guarantee the dough's quality, you will need the proper quantity of gluten. To establish a robust gluten network, use the appropriate flour and knead it for a long time.
Kneading dough helps to build a solid gluten network. However, letting the dough rest allows the gluten strands to relax, making the dough softer, more flexible, and stretch easily.
If you want to make a perfect pizza, keep this advice in mind.
The Factors Affect The Elasticity Of Pizza Dough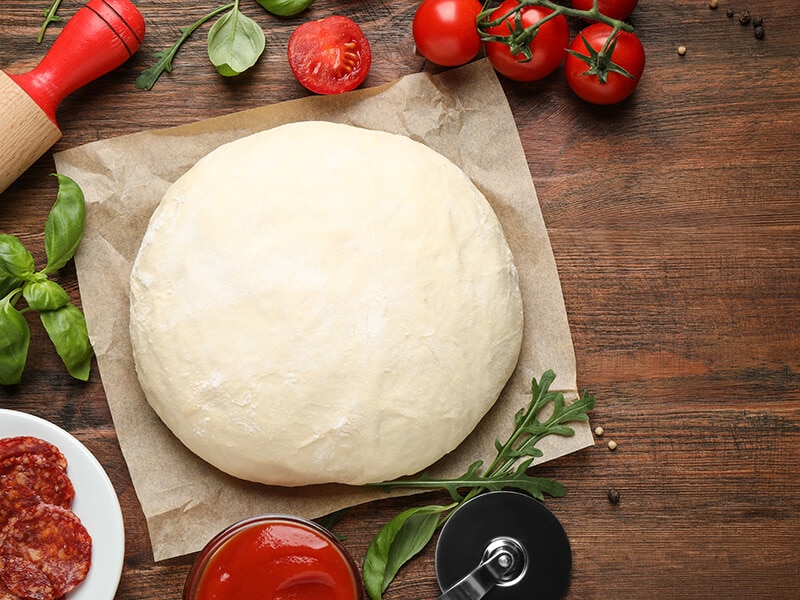 Nailing a tasty pizza on the first try may be difficult, but it is possible. Forming the dough's stretchy texture is a crucial step in succeeding in this dish.
The Flour
Using flour with the appropriate gluten content is essential to formulate the dough. The ideal quantity of gluten should be between 10 to 13%. You may avoid using cake flour since it has a low gluten percentage, about 7 to 9%. As for bread flour, it is from 12 to 14%.
You can choose something between these two options, such as pizza flour. The gluten content of pizza flour varies between 9 to 15% since the high gluten content will result in a firmer dough and vice versa.
Therefore, the dough will lose strength throughout the proving process if the flour has low gluten content. As your dough has too much gluten, it will become overly elastic.
Relax Your Dough
Many people usually divide pizza dough into balls after fermenting it and immediately stretch the dough. However, it is not a wise move for the gluten to become overly tight. Allowing the dough balls to relax before kneading them will facilitate shaping the dough more simpler.
Rest your pizza dough for at least 30 minutes to an hour before stretching it to ensure its softness and elasticity. However, some specific pizza styles will need different amounts of time. For example, Neapolitan pizza needs 8 to 10 hours of rest.
It enhances the texture of the dough and makes it simpler to form into thin discs. Allowing the dough to rest for longer will soften it. But you may also overstretch the dough too thinly if you overpower it.
Kneading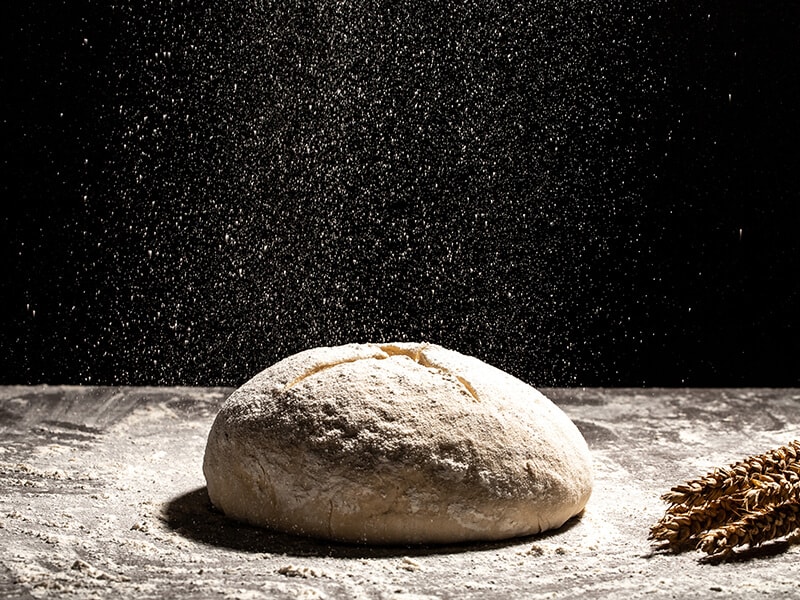 Kneading is an essential factor that you need to control when making pizzas. It requires some skills to achieve the desired texture perfectly.
If you do not thoroughly knead the dough, the gluten will not develop correctly, and the dough will not rise correctly. It will deflate when rising and rip if you try to stretch it. On average, kneading the dough by hand should take 15 to 20 minutes.
The gluten structure gets overstretched as you knead your dough too much. Over-kneading will cause the pizza dough to have a crumbly, solid texture instead of an airy crust. It also makes stretching and shaping the dough harder later on.
However, if you knead the dough by hand, you are unlikely to overdo the gluten structure. If you're using a stand mixer, set it to five-minute intervals.
Perform the poke or windowpane test at each interval to ensure that the gluten has formed properly. You can also rest the dough between these intervals to keep it from becoming too heated from the stand mixer.
Hydration
Another factor that makes the dough difficult to stretch is the dough's moisture content. The dough's hydration is the ratio of water to flour in the pizza dough.
A better moisture level produces a softer and more elastic pizza. Alternatively, a lower water level yields a firmer and less malleable mixture. To adjust this, add a little more liquid, such as water, butter, or oil, to the dough and stir until it meets the required consistency.
An ideal moisture ratio for pizza dough is 60 to 65%. Excessive water will make the dough too sticky and difficult to work, so this is a decent starting point.
If the hydration of the pizza dough confuses you, then you need to look at this explanation.
Temperature
When the dough is maintained at room temperature, it is simpler to stretch and handle since the gluten is not excessively tight or loose.
The cold dough with tightened gluten strands is more challenging to deal with than warm ones. Therefore, you may keep the dough around 70 to 75°F (21 to 24°C) for the best results.
Assuming you use store-bought pizza dough, you may take it out from the fridge before stretching. Let your pizza dough sit for 2 to 3 hours to come to room temperature.
You shouldn't keep it in a warm place since the gluten may become overly relaxed. If the dough is too soft, place it in the refrigerator for 15 to 20 minutes to chill down before shaping.
The Best Ways To Stretch Pizza Dough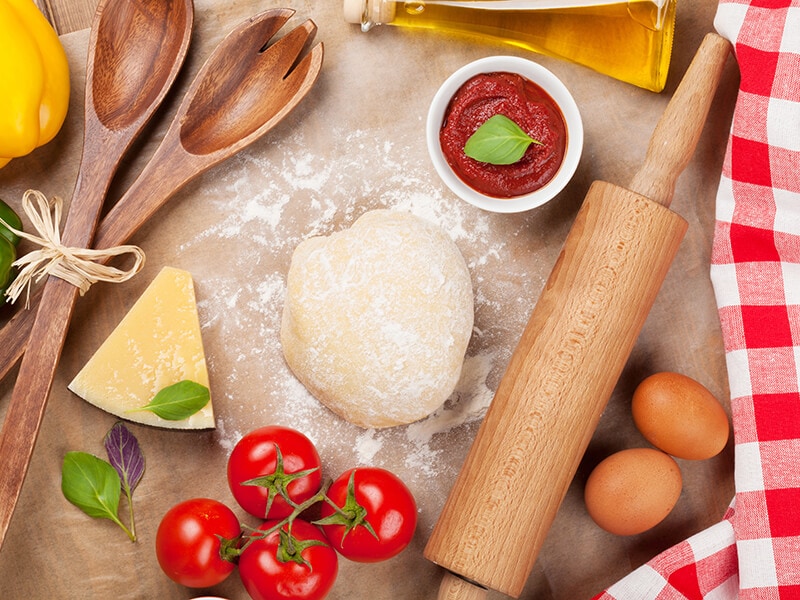 Making a homemade pizza may appear hard, but with some experience and effort, you can produce an outstanding pizza. Stretching the dough is the first step you need to overcome. How you work with your pizza dough will impart the quality of your pizza crust later.
Step 1: Prepare Your Dough
If you want to work with your pizza dough, remove it from the freezer or fridge about 30 minutes ahead. If the dough was frozen, it might take up to an hour to defrost. Another option is to chill the dough overnight and take it out before stretching.
Stretching cold dough right away may be extremely difficult because of the tense gluten strands. If you haven't frozen the pizza dough, you may start kneading it after letting it rise for a few hours.
Step 2: Prepare Your Workplace
Don't forget to grease your workstation and hands before handling the dough. It will keep your pizza dough from sticking while infusing extra flavor into the dough, depending on the oil you use.
If desired, you can use flour as a substitute for oil. However, you must be careful to avoid using too much flour, resulting in an excessively thick dough. You may use just an appropriate amount of flour.
Step 3: Method of Handling The Pizza Dough
Begin by flattening the dough into a circular shape. Then, knead the dough from the center outward with your fingertips. You may form a disc shape (a standard pizza shape) with defined edges.
Afterward, you can stretch the dough as it becomes an appropriate bulk. Make a 6-inch circle with a thickness of ½ inch. Hold the center of the pizza dough with one hand.
You may gently shape the edge of the dough with your other hand as you flip it over. Don't let your pizza dough shrink back during this process.
Step 4: Repeat The Process
You may either transfer the dough onto the work area and stretch it out again or rapidly press to shape it between your hands.
Otherwise, you can use gravity as a helpful assistant for this task. You may hold one side of the dough with your hands and hang it down. Let the dough steadily lower until it reaches a diameter of around 12 inches, as you want to stretch it rapidly.
Then, lay it on a pan or pizza peel and top with your desired toppings. However, this procedure may cause the dough to rip, so proceed with extra care.
Save this instruction to learn the best way of stretching your dough!
Tips To Make Your Dough Stretchy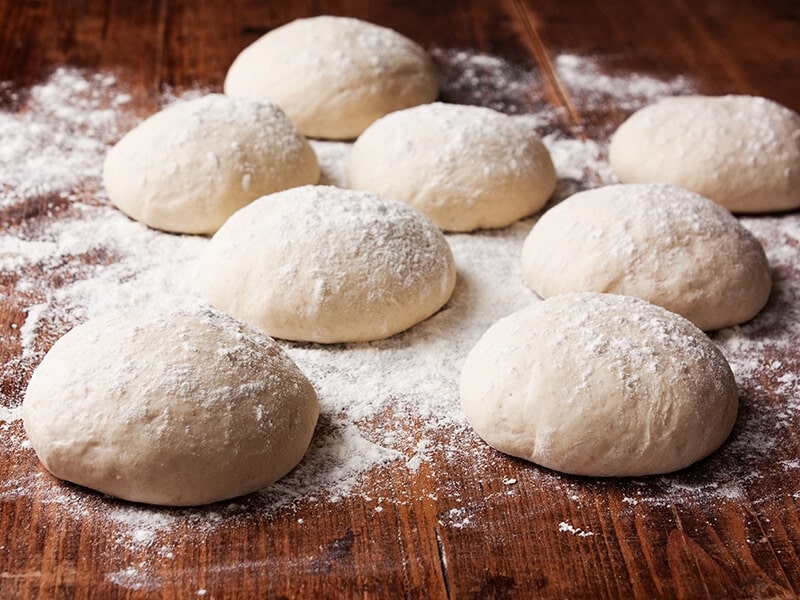 Many people think homemade baking pizzas is too hard for them, so they just quit and order outside pizzas. But making pizza will be easier if you know these tips below!
Before you begin, ensure all ingredients, such as milk, water, and yeast, are at room temperature.
You may use your hand to mix the pizza dough without using a stand mixer for 10 minutes or longer to ensure a nice stretch.
In some circumstances, when your dough is too sticky, you may add a tablespoon of flour until it is no longer sticky.
If your dough is too dry, pour a tablespoon of water in.
After mixing the dough, set it in a greased basin and use a food plastic wrap or towel. The trapped humidity helps accelerate the dough-rising process.
Allow the pizza dough to rise for at least 30 minutes at a warm temperature.
Avoid using a rolling pin because it may pop all the air bubbles in the dough.
How To Tell Whether Your Pizza Dough Is Elastic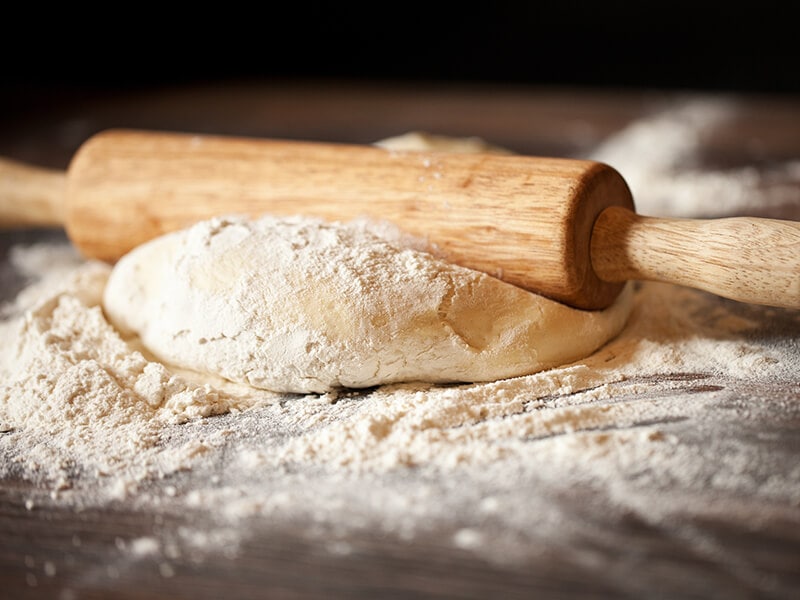 It might be difficult to tell whether your pizza dough is adequate since you are just starting. Fortunately, I have several basic tests you can do to examine whether the gluten in your dough has formed properly.
The Poke Test
The poke test is a quick technique to see whether the gluten in your dough has grown correctly. Simply press your finger into the dough to perform a poke test.
Examine if the indentation left by your finger instantly bounces back. If it does, the gluten in the dough is sufficient to go on to the next stage.
The Window Pane Test
You can use the windowpane test to assess if gluten has grown properly in your dough. Take a piece of dough and stretch it as thin as possible without breaking it.
If you knead the dough correctly, you should be able to pull it thin enough to see the light shine through your pizza dough like a window pane.
How To Fix The Common Pizza Dough Issues?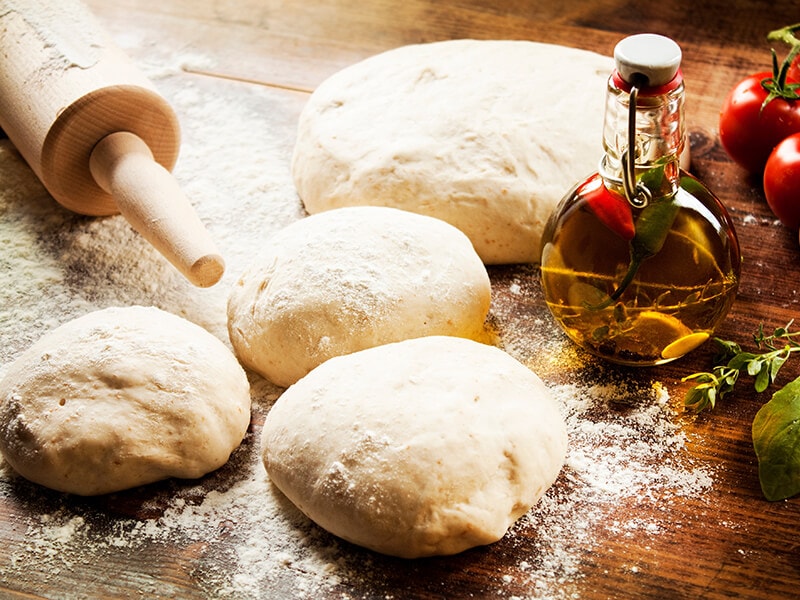 You can make stretchy pizza dough as long as you can bring out the best conditions for your dough. However, the dough may not always go according to your wish. Although you put much effort into your dough, it can still have problems. Check these popular issues below!
Non-Stretch Dough
You will face many difficulties using improperly fermented dough. If a pizza dough does not stretch properly, it might not finish fermenting yet or ferment for too long.
If your pizza dough isn't expanding and there aren't any bubbles, it might be over-proved or under-proved.
Overproved occurs when the dough has grown to its maximum and begins to shrink back. Overproved dough is worse since it leads to a doughy crust.
However, if you are ready to put in the time and effort, it is possible to save your dough. You can reshape your pizza dough and wait for it to be proven again.
If your dough has yet to rise fully or under-prove, the best thing to do is wait. So what can you do when you are in a hurry? Set your dough in a warm spot, ensuring you cover it all the time. But if the dough becomes too warm, it might eliminate yeast or dry out.
Over Sticky Dough
Sticky pizza dough may annoy you. It is often caused by adding too much water to the dough, which results in overhydration. Some people believe it makes a lighter dough, but it can lead to a sticky dough.
If you want to produce thin, crispy pizza dough, ensure the hydration is between 56-58% for 00 flour and 58-60% for bread flour. If you have experience making pizza, you can go higher than this limit.
The most straightforward resolution for a sticky pizza dough is to introduce extra flour to the dough. You may begin with a sprinkle of flour and repeat the process until it is smooth and firm.
Rest the pizza dough for about 30 minutes after reaching the correct consistency. Finally, let it be proven before proceeding to construct the desired pizza! Add enough flour to facilitate your work as shaping the sticky dough, but not so much that the crust becomes scorched.
Learn about mistakes you should avoid while making pizza dough.
Tearing Pizza Dough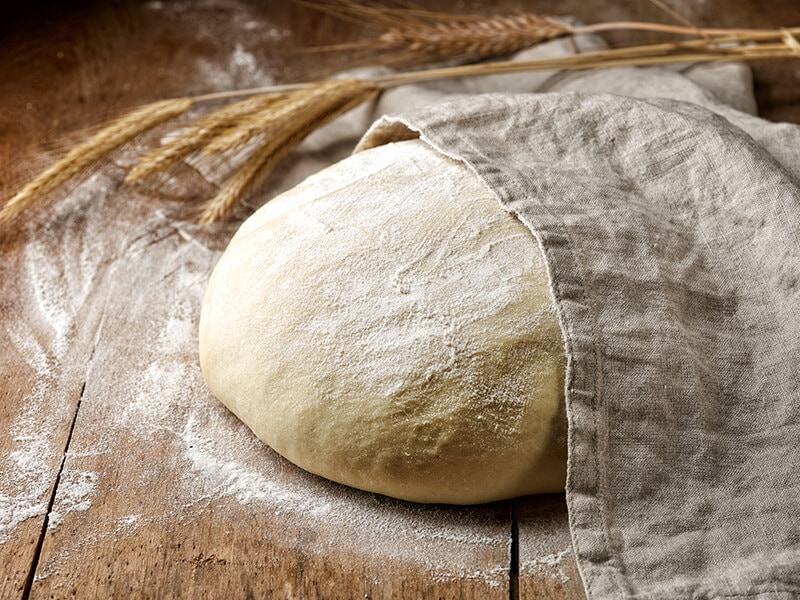 When you accidentally tear the dough, it may be frustrating to make a pizza. Improper kneading results in inadequate gluten formation and leads to an easily tearing dough. Overproofing may also make the dough more fragile and prone to ripping.
Perform the windowpane test to determine the strength of your dough. If it passes, your dough is strong enough. If it fails, you need to knead more to boost its texture before allowing your dough to rise again, which might take a few hours.
You may fix the dough by removing it elsewhere and patching it over the rip. Use the heel of your hand to press the patch down. Ensure the dough doesn't adhere to the surface, and slowly rotate it to check your work.
Dried Out Dough
If your pizza dough is drying out and becoming difficult to stretch, you can quickly fix the problem.
To prevent the dough from drying, store it in an airtight container and cover it with plastic wrap. It will guarantee that your pizza has a tasty crust rather than an unappealing one.
To re-soften the dough, gently wet it and shape it into a ball again. Allow 30 minutes or longer for it to rest and rise. A pizza-proofing box may help by creating a barrier that keeps the dough from drying.
FAQs
The elasticity of the dough determines how good the crust will be. You must pay attention to various aspects to bake pizzas successfully. You can look at the subtle details below to know more about it.
Want To Bake A Pizza Now?
Pizza is one of the most favorite foods in the world. You can easily catch a pizza business almost anywhere. Nothing can beat the joy of baking your pizzas. Making stretchy pizza dough is the perfect way to start the pizza-making section.
What do you think about this article? I hope you like it. Why don't you share this article, so the post will reach more people who also need to know these things? Anyways, you can leave your comments so I can explain further anything you want.
References
Gluten (2022) Wikipedia. Wikimedia Foundation.
Admin (2021) Does fermentation in yeast produce CO2?, TeachersCollegesj.