How to use a pizza stone in the oven is not as difficult as you may think. If this is the first time you have bought a pizza stone, there is no doubt that it will take time to find out how a pizza stone works. Therefore, you need to check this helpful guidance in advance.
So let this article help you. And after reading, I am sure that all of you can master a pizza-making game and are able to make the crispiest and tastiest pizzas ever.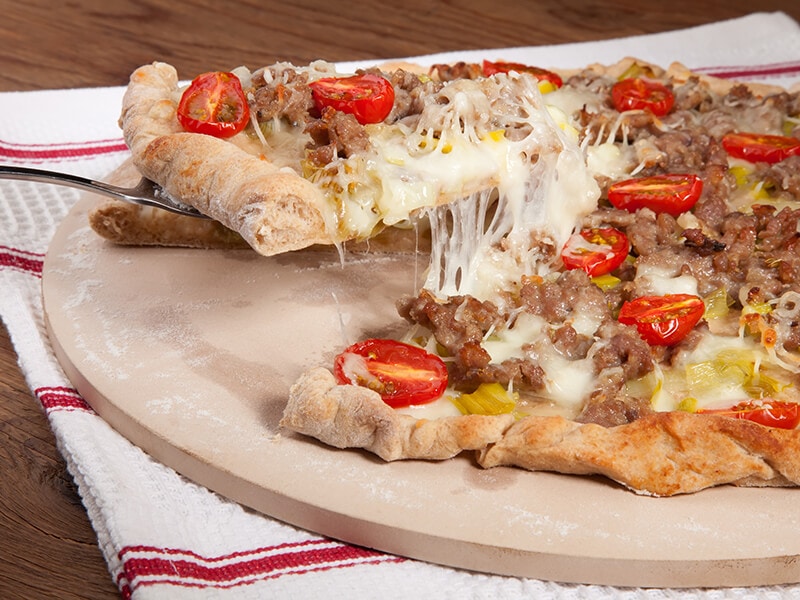 Must-Know Insights About A Pizza Stone
Here is some preliminary information you need to know before learning how to use pizza stones.
The Overview Of Pizza Stones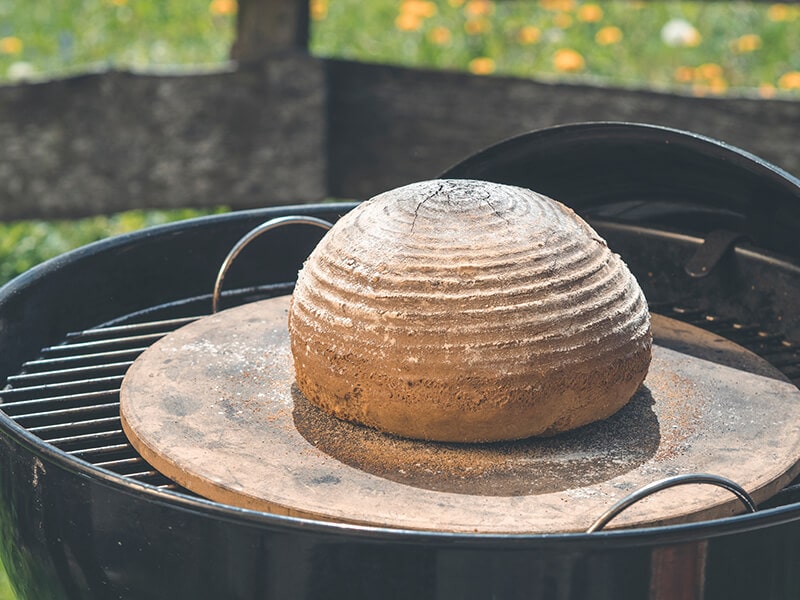 Amazingly, some studies have proved that pizza stones have appeared for thousands of years and the first point of pizza stones is for making flatbread rather than pizzas.
So why do people need a pizza stone? Overall, the temperatures of a home oven are not hot enough to make the bottoms of pizza crispy and crunchy. Hence, people decide to invent pizza stones to tackle this worrying issue.
This helpful tool is a flat, sturdy board that sits under the pizza while cooking. Though people call it a pizza stone, it is not a real stone. Instead, this pseudo-stone is made of various materials such as ceramic, cordierite, or steel.
Moreover, pizza stones come in different thicknesses and sizes. Thicker pizza stones usually work better than thinner ones, but are also more expensive. The cost of pizza stones also depends on their materials.
However, this kitchen tool is easily broken due to a thermal shock or hard impact.
How Does A Pizza Stone Work?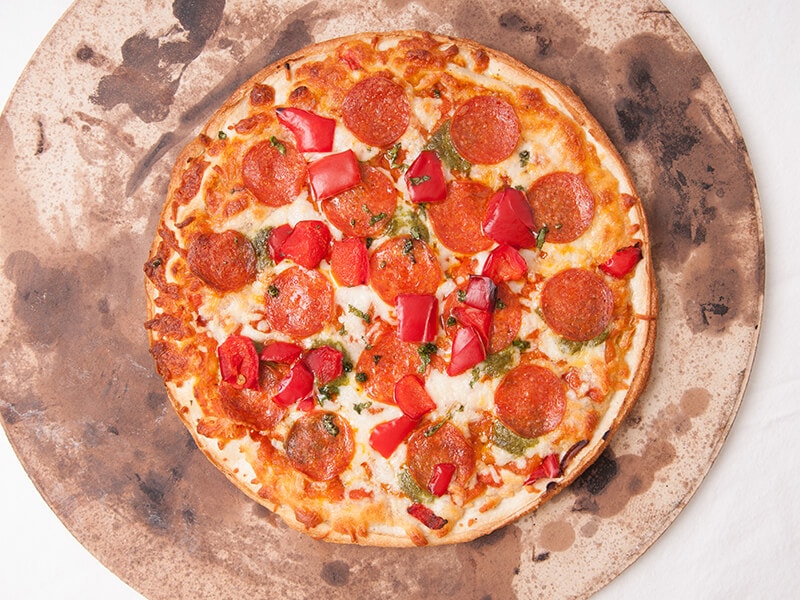 A pizza stone can absorb and push the heat to another level that an oven cannot reach. Moreover, it can also retain the heat for ages. It is quite familiar with the effect of a masonry oven that many pizza restaurants use to bake this tasty food (1).
Ceramics possess a porous surface which is more functional than the smooth surface of other metal pans. When you heat the pizza dough to 500℉ (260℃), the evaporation will occur.
Thanks to the surface's grooves and tiny cracks, the steam will escape better and the pizza bottom will be crispier. As for the surface of metal pans, they will retain moisture, resulting in the pizza base becoming mushy instead of dry and crisp.
Consequently, you will have a perfectly cooked pizza with marvelous crispy dough, just like the one you order from the pizza restaurant. Moreover, pizza stones also help you save cooking time.
How To Use A Pizza Stone In An Oven?
The way to use a pizza stone in an oven is simple and easy. You should follow the steps below.
Step One: Put The Stone In Your Cold Oven
When putting the pizza stone in the oven, note that depending on the food you are about to cook on this stone, you should put each kind of food on an appropriate rack.
For instance, the center of the top rack is suitable for cooking pies and casseroles. A middle rack is ideal for cooking biscuits, cakes, and so on because this rack allows the air to circulate and distribute the heat more evenly.
As a result, both the top and bottom of the resulting dish aren't burnt or brownie rapidly. Furthermore, the bottom oven rack works well in making crust pizzas or bread.
More importantly, to avoid breaking your cold pizza stone due to a thermal shock, you should never put it right in a hot oven. When the pizza stone is exposed to rapid temperature changes, it tends to shatter immediately.
Step Two: Preheat The Oven
Preheating the oven is essential to creating high heat conditions in your home oven, resembling wood-fired stone.
You should put your pizza stone into a cold oven and increase the temperature as high as possible (typical highest temperature of conventional ovens are at 500℉/ 260℃).
To ensure your pizza stone is as hot as possible before placing a pizza, you need to preheat it for about 45 minutes to an hour in an oven.
Step Three: Put The Pizza On The Preheated Pizza Stone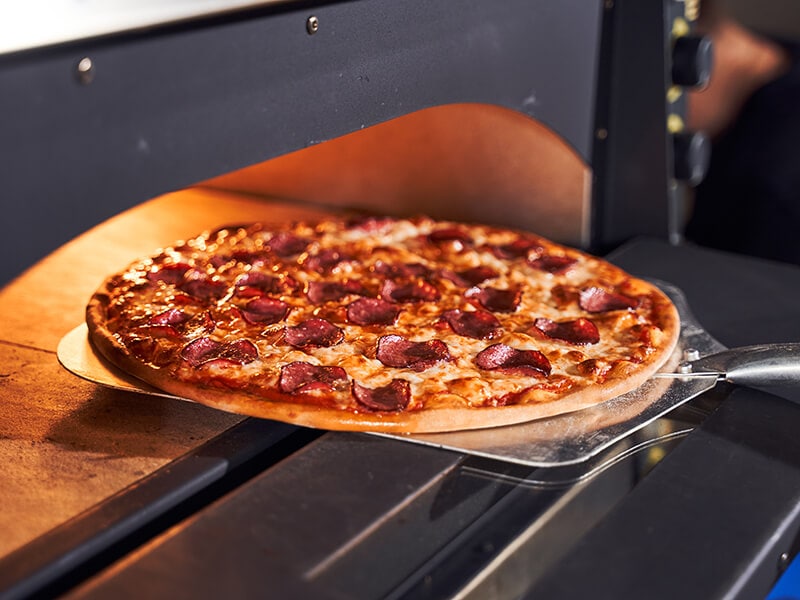 Before starting to cook the pizza, you should learn how to transfer the raw pizza onto the pizza stone correctly to prevent you from getting burned. You can use a pizza paddle or peels to transfer plain pizza dough to the stone's surface.
There are two main kinds of peel: wooden and metal. More importantly, remember to spay a little flour or cornmeal to ensure that the pizza dough won't stick to the peels and help remove it quickly.
If you don't have any pizza peels at home, you can use a wooden cutting board with a handle, a parchment paper, or a rimless baking sheet to substitute.
NOTE: People design a pizza stone as a ready-to-cook gadget, so you should refrain from seasoning the oil on its surface in advance.
Transferring the pizza dough onto the stone without peels is no longer a tricky business.
Step Four: Cook Your Pizza
The time you bake pizzas depends on the thickness and size of your pizza. If you have a cheese layer on the top, your pizza is ready to go once the cheese is melted with light brown color.
Step Five: Remove The Pizza Out Of The Oven
When your pizza is cooked properly, you should turn off the oven and remove it from the pizza stone. Because the oven temperature at this time will be too hot, remember to use other kitchenware or pizza peels to take it out.
Learning how to use a pizza stone properly is pretty simple within a few minutes.
How To Clean The Pizza Stone Properly
Learning the best way to clean your pizza stone plays a pivotal role in keeping the stone for a long time and saving your budget. Here are some helpful steps to clean the pizza stone properly that you should bear in mind.
Before starting to clean your pizza stones, remember to let them cool at room temperature to ensure you are not burnt when cleaning and prevent them from thermal shock.
A pizza stone has the ability to absorb water or other liquids which are in contact with it. Therefore, do not use dish soap to clean it if you want to guarantee food safety. Make your cool pizza stone wet by spraying a little hot water.
Use a pizza stone brush to scrub the stone surface. Then, you should use a clean cloth to dry your pizza stone or let it air dry.
Remember to leave your pizza stone dry entirely before using it to make the next mouthwatering homemade pizza.
You can also use baking soda to clean burnt or stuck-on pieces on your pizza stone. Follow some tips below.
After letting your pizza stone cool, apply a mixture of two tablespoons of baking soda with one tablespoon of warm water to the stone.
Use a dry or damp cloth to wipe up any remains.
Put the stone in the oven for at least one to two hours to dry it completely before using it for the next time.
You can practice cleaning your pizza stone with a few straight forward steps.
Best Brands For Pizza Stones
Buying a high-quality pizza stone can help you make an incredible pizza with a crunchy texture. Here are the top four brands in the pizza stones market.
Henry David founded this brilliant brand in 1946. During the development period, manufacturing has changed to create the best quality products for customers.
Most people consider Nordic Ware's pizza stones the winner in the comparative pizza stone market. One of the best seller pizza stones of this brand you should try is Nordic Ware, Tan Pizza Stone Set. At an affordable price, it does the job of heating evenly.
Carl Sontheimer established Cuisinart in 1971 and created well-known food processors. From then on, this company introduced a wide range of convenient products, which helped improve customers' cooking experiences.
If you are a beginner at baking pizzas, you should try Cuisinart CPS-445 Pizza Grilling Set, Stainless Steel. This perfect stone is heat-resistant up to 800℉/ 427℃ and can distribute heat evenly, which helps you to make your pizza crispier and tastier.
Unicook is a brand with various super-quality cookware. During the period of over 20 years of establishment. Unicook stands out from the other brands because it brings a satisfying experience to customers.
Unicook Heavy Duty Cordierite Pizza Stone can be your go-to pizza stone. It is heat-resistant to 1450℉/ 787℃ and distributes heat evenly, making it an ideal choice for baking pizzas.
What Are The Other Uses Of A Pizza Stone?
Besides making incredible pizzas, pizza stones do their jobs so well for various cooking purposes. Here are some different functions of a pizza stone.
Reheating Leftovers
You can use a pizza stone to make leftovers taste as delicious as they did. Thanks to its even heat distribution, your leftovers turn out to be crispy and tasty.
Roasting
A pizza stone is also perfect for roasting food in the oven. You can use your pizza stone to make roasted veggies and other delicious seafood, such as tuna, salmon, etc., or shellfish like lobster, oyster, etc..
Grilling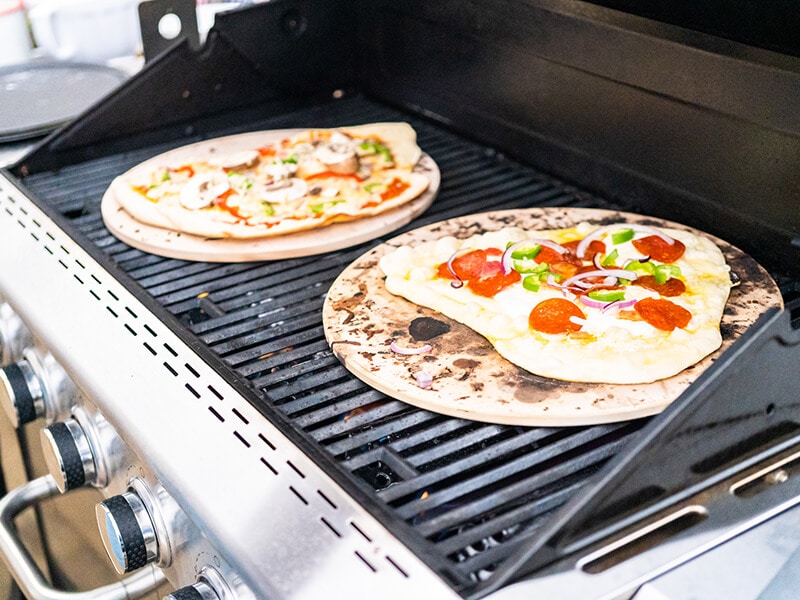 Apart from baking pizzas in the oven, you can also grill these tasty pies on the pizza stones. Moreover, you can also use them for various barbecued foods.
Baking
Pizza stones are perfect for baking flatbreads like griddle bread, banana nut bread, or biscuits. Remember to keep an eye on your baked bread unless you want to overbake it.
NOTE: You should not use a pizza stone for these uses frequently. The porous surface of pizza stones can absorb excess oil or sauce from these foods. Hence, when used for cooking the next time, your pizza stone will give an unpleasant flavor to other dishes.
FAQs
The world of pizza stones is so big that it's a pity if I cannot cover all the information about this. Therefore, here are the answers to some questions people usually ask.
It's Time To Practice Making A Tasty Pizza
Are you ready to make your own homemade pizza? I hope that all of you can practice using pizza stones at home by following the instructions above. It's high time you made wonderful pizzas to serve your family and friends.
I am looking forward to seeing your view in the comment section below. How about giving this article a like and sharing this article for many people out there to help them practice making wonderful pizzas with pizza stones?
References
Baking stone (2022) Wikipedia. Wikimedia Foundation.