Are you running out of oyster sauce? You just need oyster sauce substitutes! These are the alternatives you must know to cope with when your kitchen runs out of oyster sauce, and you need to cook a hearty meal urgently.
Would you be worried that their taste would differ from the characteristic umami of oyster sauce and change the whole flavor of your dish? It's okay! The best 10 oyster sauce substitutes that I will introduce to you in this article will not disappoint you.
Not only that, but I will also give you useful information about each type, its characteristics similar to and different from the oyster sauce, as well as the proportions I recommend for you to get the best alternative recipe for your food. Let's explore!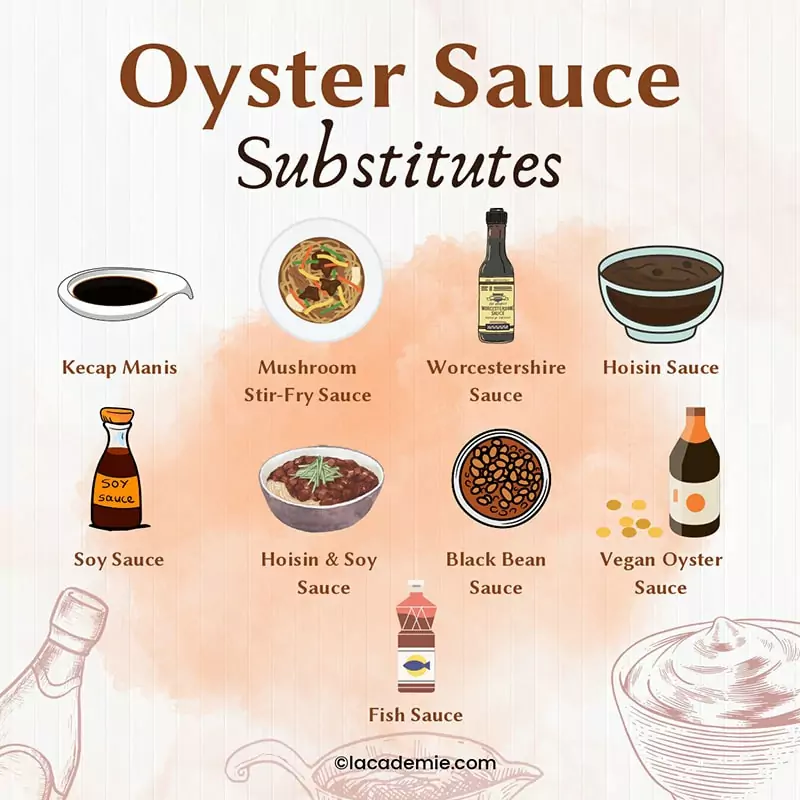 What Is Oyster Sauce?
Talking about the oyster sauce, you will remember the thick sauce, brown color, and characteristic taste that we often call umami. But actually, what is oyster sauce? What is an oyster sauce made from?
Oyster sauce – a famous spice that creates an attractive flavor, taste, and appearance for a myriad of delicacies in Chinese cuisine. Up to now, this spice has spread very quickly to become a familiar part of the dishes of people around the world.
Oyster sauce is a darker brown sauce than the color of the cockroach, and the flavor is a balance between sweetness and mild salty taste. The proportion of oysters in the oyster sauce will greatly affect the taste. It is often used to prepare stir-fry dishes or to coat foods.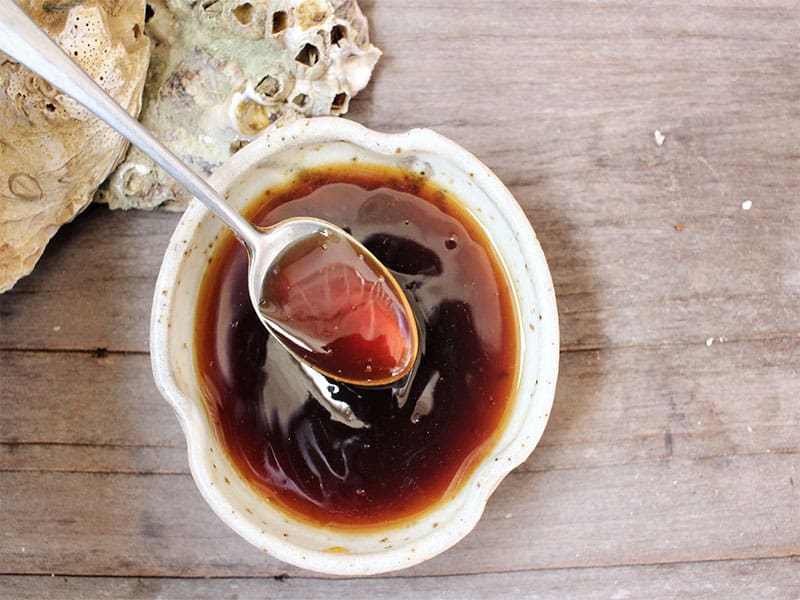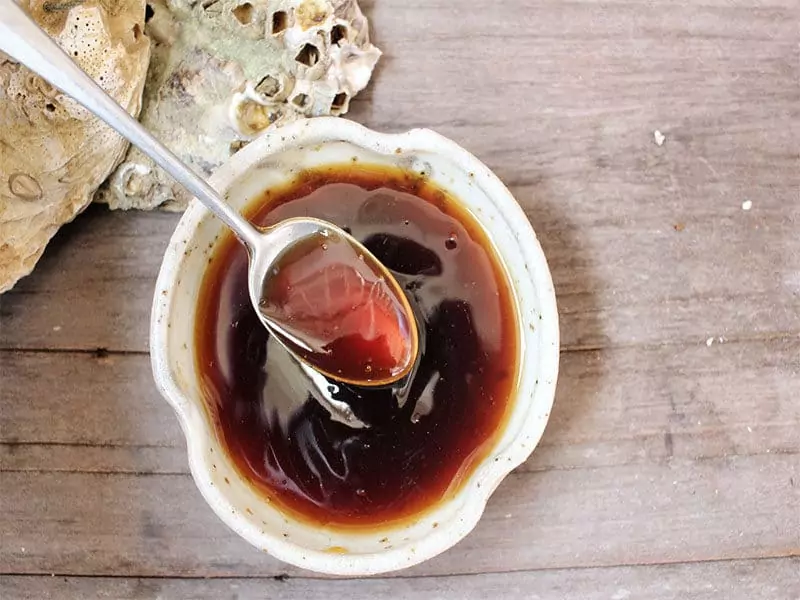 How Does Oyster Sauce Taste?
Quality oyster sauce is when there is a balance between the sweetness of the oyster and the salty taste of salt, it is a characteristic taste that we often call umami. It has a natural brown color and has a slight odor. The proportion of oysters in the oyster sauce will greatly affect the taste.
Poor quality oyster sauces mostly use artificial oyster flavors, while the top oyster sauces keep most of the proportion of oysters in their produce.
How Is Oyster Sauce Processed?
Traditionally, oyster sauce is prepared by thoroughly heating raw oysters with water until it melts and forms a viscous liquid. This sauce has a brown, earthy smell, a bit burnt, but it has a very characteristic taste.
Today, food processing technology is thriving. Creating a similar flavor with oyster sauce is much faster and at a much cheaper cost.
Industrial oyster sauce with the main ingredient is still oyster extract but with other ingredients such as sugar, salt, and cornstarch. Some brands also reduce or add soy sauce and spices to create their uniqueness.
Original oyster sauce is, of course, not for vegetarians. But gourmets can completely replace it with the vegetarian version of oyster sauce – the oyster sauce with the main ingredient from oyster mushroom, which tastes almost exactly like a real oyster.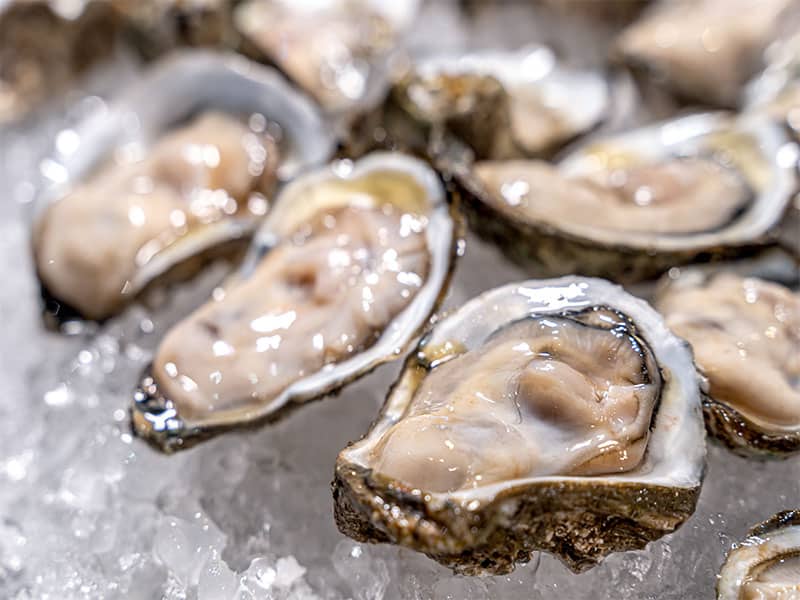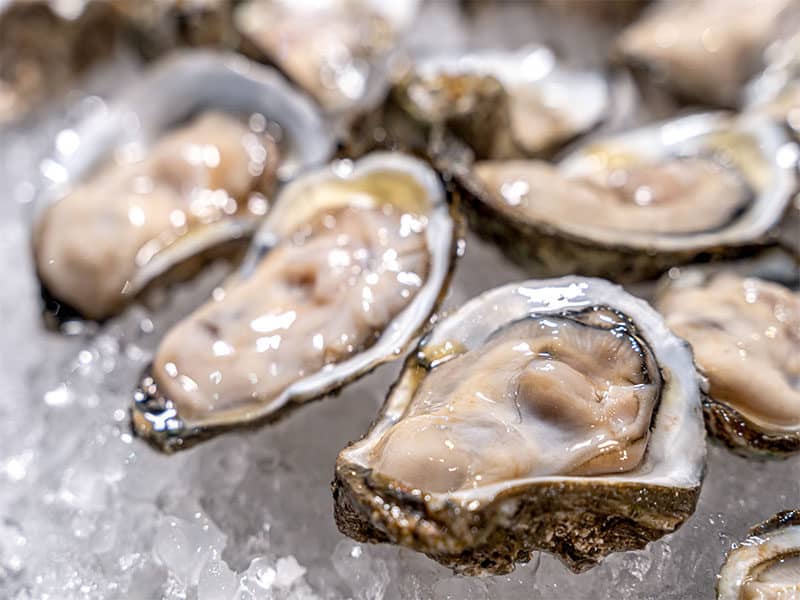 The Nutritional Value Of Oyster Sauce
The nutritional value of oyster sauce is very rich. Mainly it has a variety of trace elements, especially zinc. For some people with zinc deficiency, the oyster sauce can be very helpful.
Besides, oyster sauce is also rich in amino acids, which are important components, making up various proteins responsible for many roles and functions in the body.
Although there are 22 amino acids in oyster sauce, their content is very balanced. In particular, eating oyster sauce properly supports the development of the body.
Besides, in oyster sauce, there is also taurine. Taurine is very helpful in improving the body's resistance and immunity.
Is Oyster Sauce Good For Health?
Many people have a cooking habit of regularly using the oyster sauce to freshen food, so there is a problem whether eating oyster sauce for a long time is harmful to your health?
Oyster sauce is actually the same but other processing. If you don't use oyster sauce as the main dish, there's absolutely no need to worry about your health.
Not only that, but we also need to pay attention to the amount of oyster sauce used every day. Because oyster sauce also has a salty taste. When tasting oyster sauce, we need to reduce the amount of salt or broth.
If you use too much oyster sauce, the food will also become salty and lose its taste. Furthermore, the amount of salt in the body will exceed the standard. This increases the risk of high blood pressure.
Uses Of Oyster Sauce
oyster sauce is used as a spice to enhance the flavor of dishes. oyster sauce is used in stir-fry, cooked, and marinated dishes. Oyster sauce is also used as a dipping sauce for boiled dishes.
Use Oyster Sauce For Marinades
You can use oyster oil for dishes that need to be relished before processing. When marinated, you just need to add one tablespoon of oyster oil and mix well. Oyster oil brings a rich taste, beautiful brown color, and brings up the dish's delicious flavor.
Use Oyster Sauce For Stir-Fries
When stir-frying vegetables with noodles, brown rice, etc., you wait until the stir-fry dish is nearly cooked, then add a spoonful of oyster sauce to mix well. After that, stirring for a few minutes, then turn off the heat, enjoy immediately.
Just that simple, but the oyster sauce will help make the dish taste delicious and much more attractive when not in use. You will feel the delicious taste that this dish brings.
Use The Oyster Sauce As A Dipping Sauce For Boiled Dishes
Oyster sauce is especially suitable as a dipping sauce for boiled vegetables. Boil oyster sauce, add a little water, sugar, minced garlic, minced chili, stir well. Taste it.
Used As A Dipping Sauce
Put oyster sauce in the pan, boil, and add a little water, sugar, minced garlic, minced chili, and stir. You will get the perfect sauce suitable to use with the boiled dishes.
Notes When Using Oyster Sauce
Oyster sauce is a spice that can be tasted as you like, for both hot and cold dishes. However, do not taste the oyster sauce with spicy sauces, vinegar, and sugar because they will lose the special flavor of the oyster sauce.
Besides, it should be noted that the dish should not be cooked with oyster sauce for a long time because a long time will lose the flavor of oysters. Also, it will lose nutritional value. Moreover, oyster sauce helps remove the fishy smell of meat or seafood, making them taste better.
Oyster sauce has a salty taste, so when relishing food, you should be careful to reduce the amount of salt or fish sauce to avoid overly salty food.
The original oyster sauce is not suitable for vegetarians. However, a vegetarian oyster sauce is made from an oyster mushroom with almost exactly the same taste as real oysters today.
To ensure health safety, you should not choose oyster sauce with too many preservatives, additives, etc. You should choose oyster sauce with a clear origin, reputable brands to use.
Oyster Sauce Substitutes
Sometimes, you'll find yourself in need of an oyster sauce substitute. It might be because you forget the standard shelf-life of oyster sauce, it might be because you run out of this ingredient. Either way, there are up to 10 substitutes to help you out of your dilemma.
1. Kecap Manis Or Sweet Soy Sauce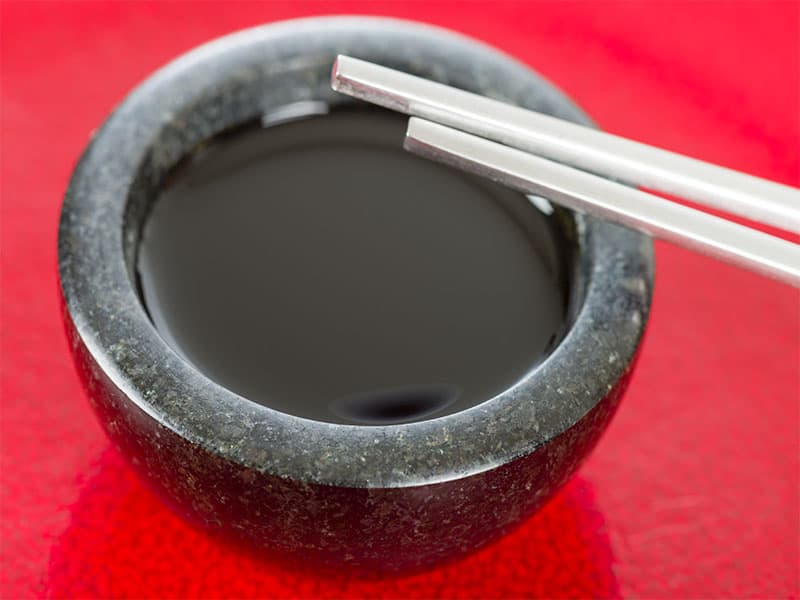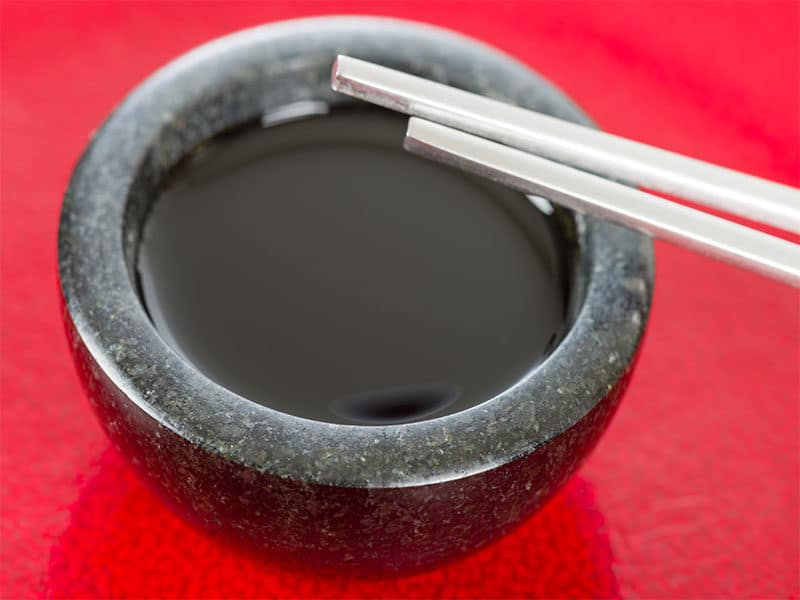 Kecap Manis or Sweet soy sauce is made from soybeans, sugar, salt, and some spices. Because of that, the soy sauce is rich in sweetness and rich color. When making a vegetarian dish, you can use sweet soy sauce for cooking instead of oyster sauce as it does not contain animal ingredients.
This sweet soy sauce solves two problems that conventional soy sauce cannot. You will benefit from up to two parts when you use it because you will get both the soy sauce's salty taste and the sugar's sweetness.
Besides, Kecap Manis is black in color, making the food look more attractive with soy sauce's aroma. And the most important part is that soybean sauce will provide us with essential substances for the body in daily meals along with vegan cereals.
You can use sweet soy sauce to make dishes like basting or marinades and vegetarian dishes. It would be great to replace oyster sauce in these recipes.
Recommended ratio: 1 oyster sauce = ½ Kecap Manis
2. Mushroom Stir-Fry Sauce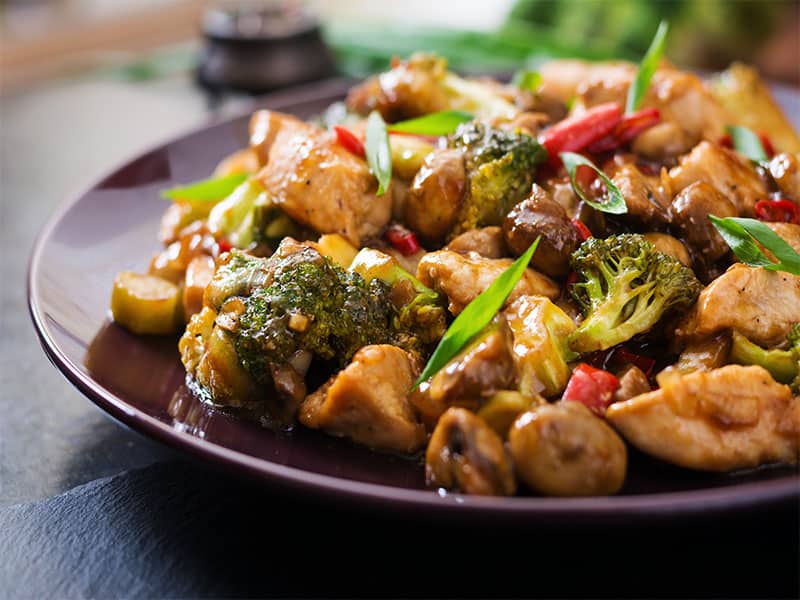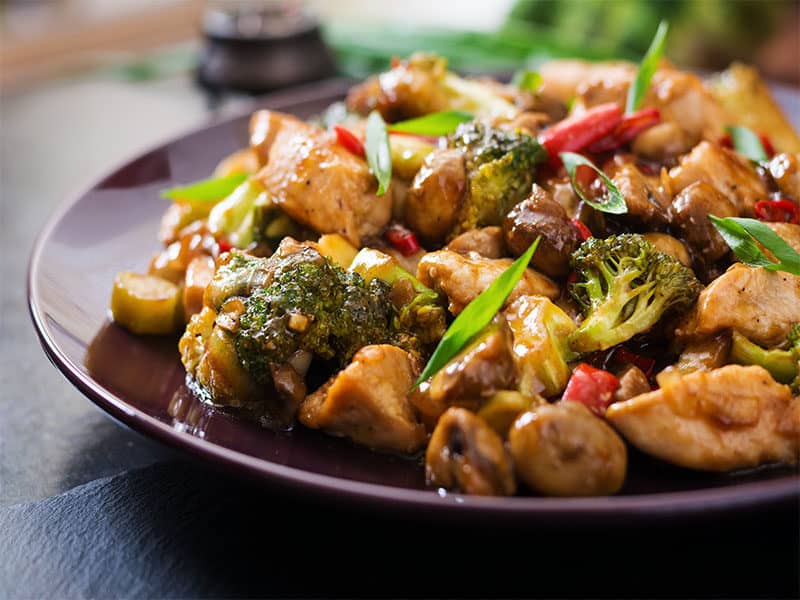 If you're a vegetarian, this is a good substitute for oyster sauce. Mushroom Stir-Fry Sauce is also made with soybeans as the main ingredient. But not to stop there, it is mixed with many other spices such as salt, sugar, flour, cornstarch, mushroom flavor, and caramel color.
For vegetarians or shellfish allergic, this is a great option. Mushroom Stir-Fry Sauce typically consists of soybeans with sugar, salt, cornstarch, flour, mushroom flavor, caramel coloring, and preservatives.
However, you should note that Mushroom Stir-Fry Sauce may contain wheat. That means it's not suitable if you or a family member has celiac disease or is gluten intolerant.
Recommended rate: 1 oyster sauce = 1 Mushroom Stir-Fry Sauce
3. Worcestershire Sauce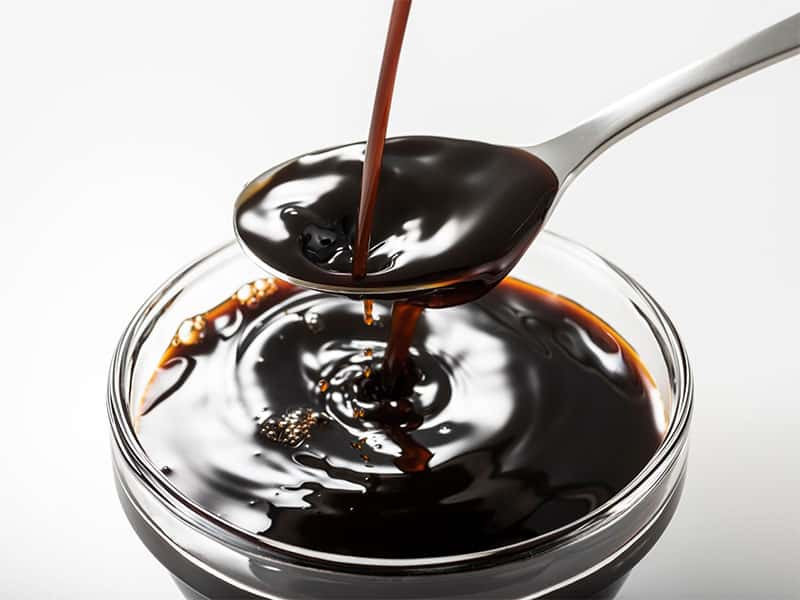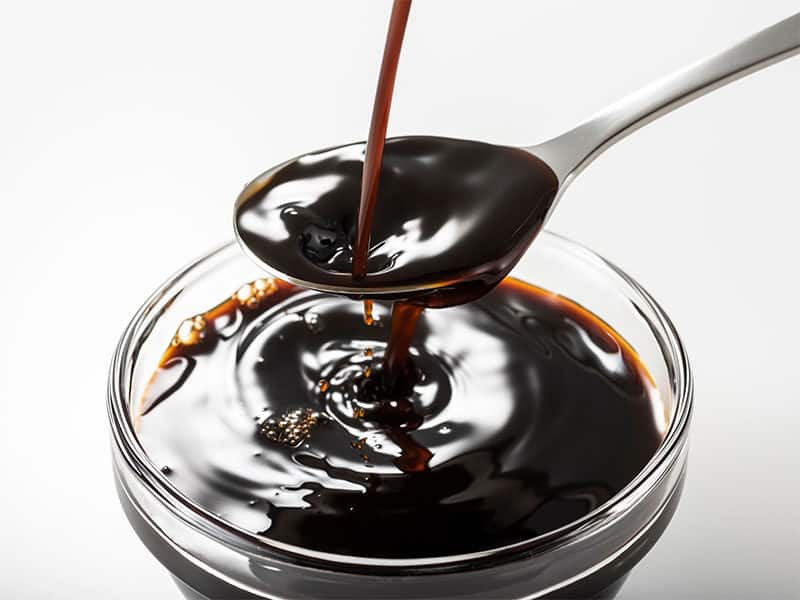 Worcestershire sauce is sour, sweet, slightly pungent, and dark brown, used in Western dishes and drinks. Its shelf life is usually long enough that you won't have to worry about the possibility of Worcestershire sauce going bad. So feel free to store some in your pantry!
This sauce's main ingredients are malt, also known as barley germ, wine vinegar, molasses, onion powder, garlic powder, etc. Ingredients are made within 18 months of preparation and bottling.
This sauce has a relatively similar consistency to the oyster sauce, so you can use it instead, although there is a big difference in taste, especially lack of salinity. So it can be mixed with a little soy sauce to create a taste more like an oyster.
Worcestershire sauce has a very complex and unique formula in its flavor and is often used as a booster in recipes and drinks. It is used in various dishes such as salads, sautéed meats, burgers, and other recipes.
In addition to marinating, Worcestershire sauce is also used for dipping, adding spices to dishes, tasting, sometimes as a direct sauce for dishes. A dozen hot steamed dumplings in bamboo steamer eaten with Worcestershire are just too great!
Recommended rate: 1 oyster sauce = 1 Worcestershire sauce
4. Hoisin Sauce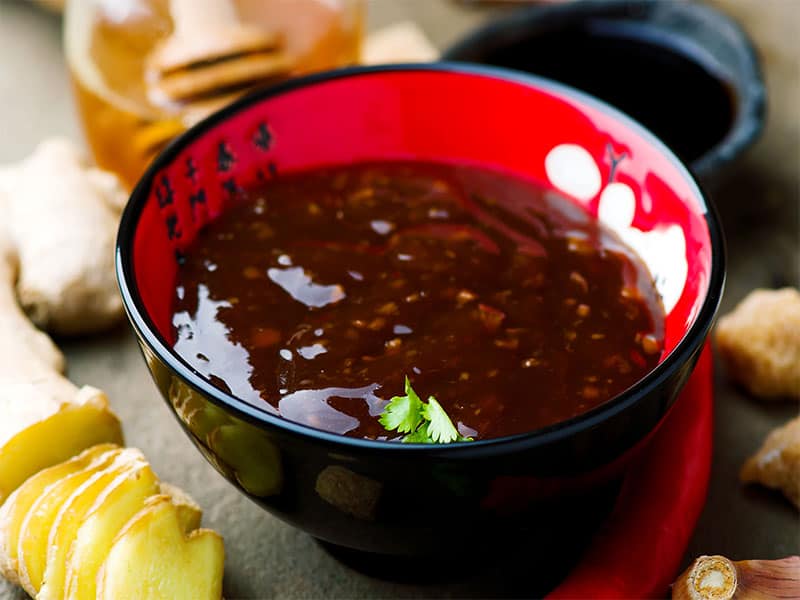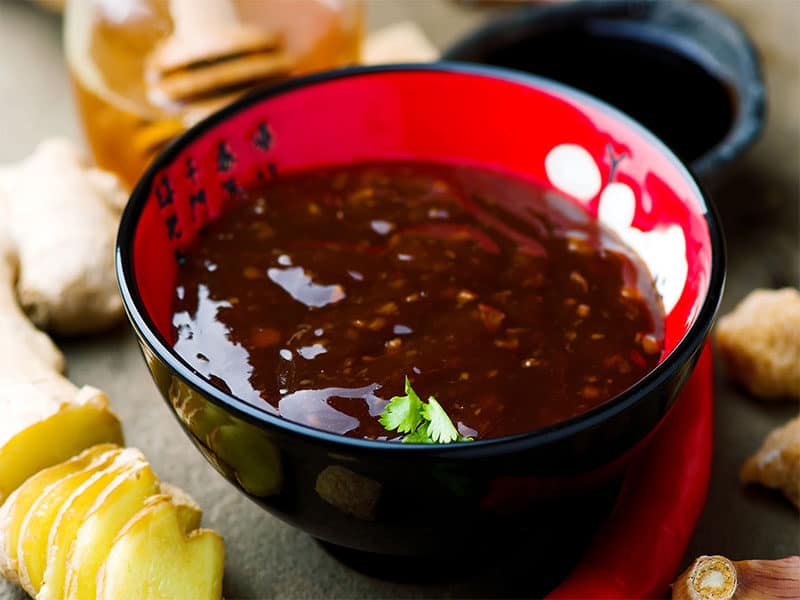 Hoisin Sauce is one of the spices that make our dishes more delicious and attractive. This is a sauce used quite commonly in cooking. It has a deep black color. Hoisin sauce's texture is a little thicker than oyster sauce. The flavor of this sauce is a combination of salty, sweet, and spicy flavors.
One advantage of using soy sauce is that you don't have to worry whether soy sauce will go bad. A cooking condiment with impressive shelf life, soy sauce will ensure that you can use every last drop of it.
The dishes typical of Chinese cuisine are often associated with Hoisin Sauce. They are considered as a trash scoop, a tasting spice for the dish to have the perfect and rich flavor, suitable for human taste.
This sauce is entirely plant-based, made with soybeans, garlic, and chili as the main ingredients. However, depending on regional tastes, Hoisin Sauce will be processed with different recipes by adding some other ingredients.
Hoisin Sauce can be used as an additional spice. It can also be used to marinate ingredients before cooking or be used directly as a sauce.
Many people also use Hoisin Sauce to make a sauce to make the dish more delicious and attractive in stir-fried and mixed dishes. This can be an excellent substitute for the oyster sauce in stir-fries, thanks to its consistency and taste.
Especially with meat dishes, such as roast meat and roast meat, adding Hoisin Sauce to the marinating process will help us achieve a very delicious finished product.
The dishes using Hoisin Sauce always have a delicious and interesting taste due to the combination of this sauce with the main ingredients as well as other spices.
Recommended ratio: 1 oyster sauce = 1 Hoisin sauce
5. Soy Sauce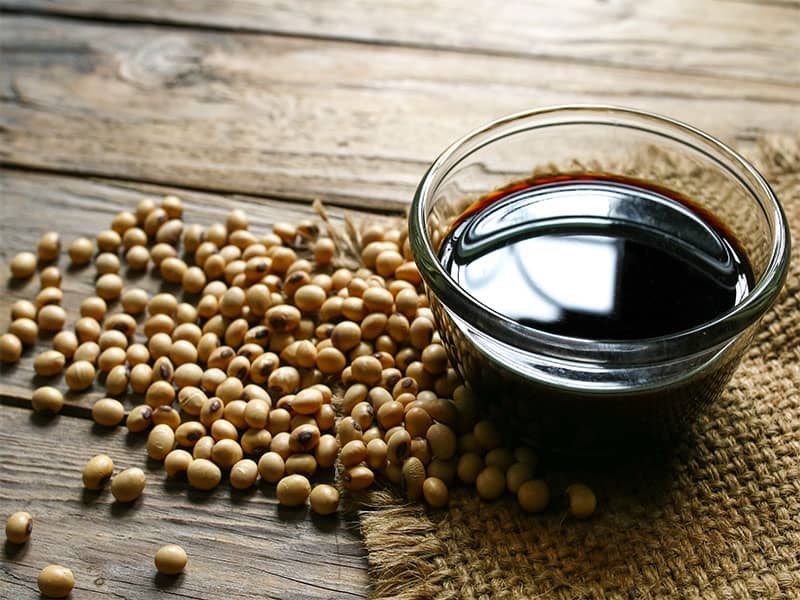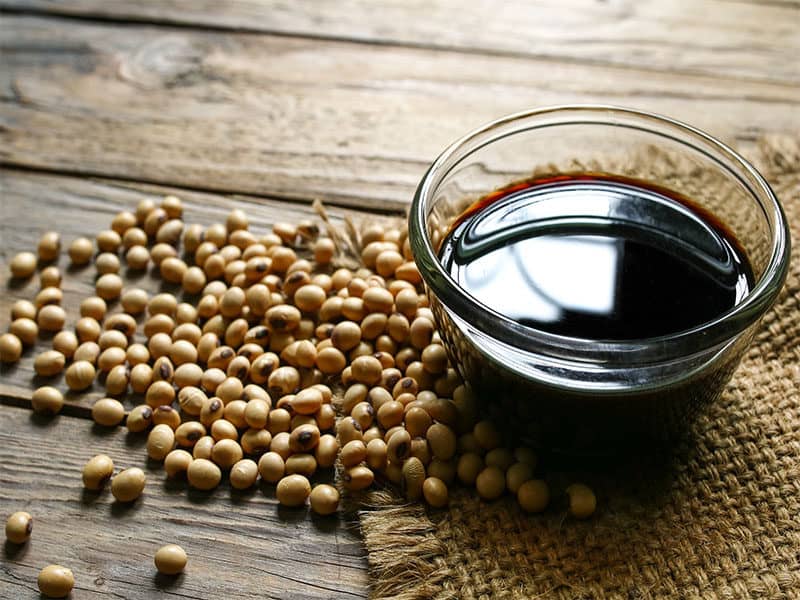 Made with fermented soybeans, the soy sauce base is salty, and it can add flavor to your dishes or serve as a dipping sauce in place of oyster sauce. Soy sauce is made by mixing soybeans or roasted cereals and fermented in brine.
After a certain time, it becomes soy sauce. To use as a substitute for oyster sauce, soy sauce can be eaten directly as a dipping sauce or seasoning for dishes.
People often use soy sauce to enhance the flavor of food and also used to dipping. This is a great-tasting sauce, especially the vegetarian dishes. Thanks to soy sauce, the vegetarian dishes will be much more delicious and full of flavor.
Soy sauce is made by adding a mixture of soybeans, roasted grains and then fermented with water and salt. Soy sauce is rich in Vitamin B12 and protein. Besides, it contains ten times more antioxidants than red wine.
However, the soy sauce has no sweetness and has a watery texture that does not match the oyster sauce's dense texture. You can't expect soy sauce to cover the stir-fry ingredients like oyster sauce.
One tip for making the soy sauce even better is to add a few drops of Worcestershire sauce and one to two teaspoons of sugar. It will feel more like oyster sauce.
Recommended ratio: 1 oyster sauce = 1/2 soy sauce
6. Hoisin & Soy Sauce
If you already have both hoisin and soy sauce, why not try combining them? The ratio is very simple 1 hoisin and 1 soy sauce. This combination will most likely produce a flavor that most closely resembles an oyster sauce. You can use it as a substitute for the oyster sauce in just about anything!
I've tried and found that even if you don't need to cook any oysters, you can still create a solution that tastes almost like oyster sauce with this mixture.
The soy sauce will partially thin the hoisin's excess consistency, and the sweetness of the hoisin helps reduce the salinity of the soy sauce. This is a great complement to each other!
Recommended ratio: 1 oyster sauce = 1 hoisin + soy sauce
7. Black Bean Sauce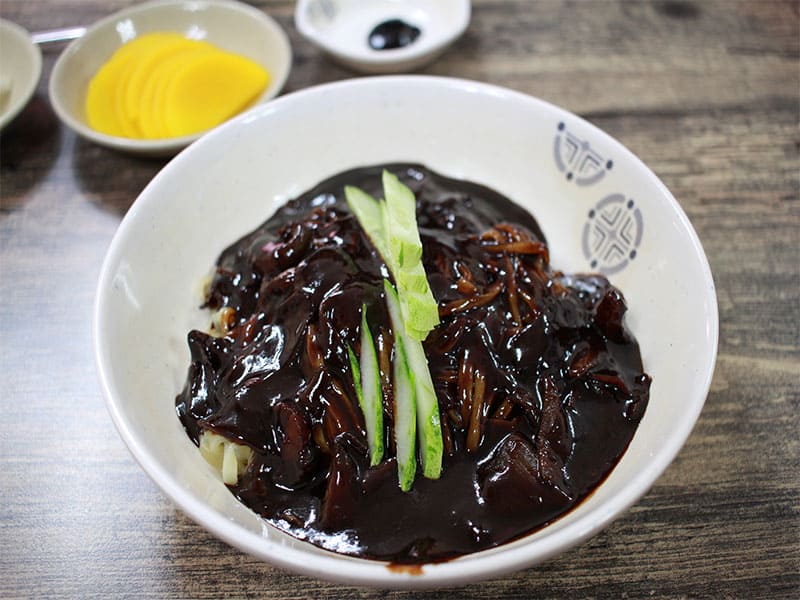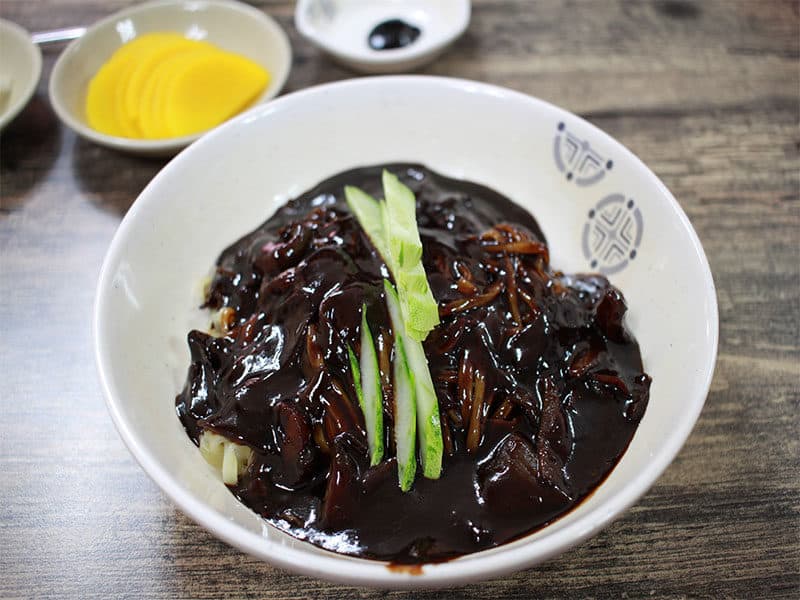 Black Bean Sauce is made from evenly ripe, organically grown black beans, added with a pinch of salt, sugar, and heirloom herbs, and has been traditionally fermented for up to 180 days.
Therefore, this product has a rich, salty taste like oyster sauce, thick texture, and natural aroma. You can use black bean sauce instead of oyster sauce to make sauces or marinate food in stewed dishes and stews. It is also great for topping noodles, vegetables, and meat.
In terms of evenly covering the food and the feeling when you taste it, black bean sauce will be a great substitute for oyster sauce. Your food may be different but equally delicious.
However, because of the black bean sauce's characteristic lack of sweetness, to make it most similar to the oyster sauce, you can add a little mushroom stir-fry sauce diluted with sugar. It will add the required sweetness to your oyster sauce instead.
Recommended ratio: 1 oyster sauce = 1 black bean sauce
8. Vegan Oyster Sauce
If you don't want to use the regular oyster sauce, you can completely replace it with vegetarian oyster sauce. Concentrated from natural plant ingredients, the vegetarian oyster sauce is also dark brown in color, thick in texture, and has a characteristic flavor.
Vegetarian oyster sauce is especially suitable for stir-fries, making the dish more attractive. You can also use the vegetarian oyster sauce to increase the taste for many other dishes, just like regular oyster sauce.
The vegetarian oyster products on the market today are usually vegan, free from milk, with no dairy ingredients such as butter, cheese, yogurt, eggs, honey, and animal-derived ingredients. So, if you are lactose intolerant or vegetarian, this is a great, round-the-clock option.
Recommended ratio: 1 oyster sauce = 1 vegan oyster sauce
9. Fish Sauce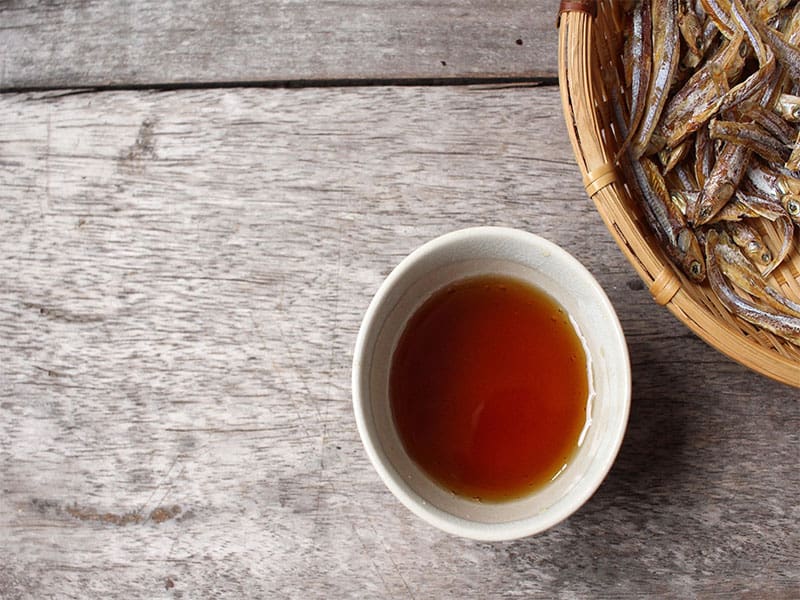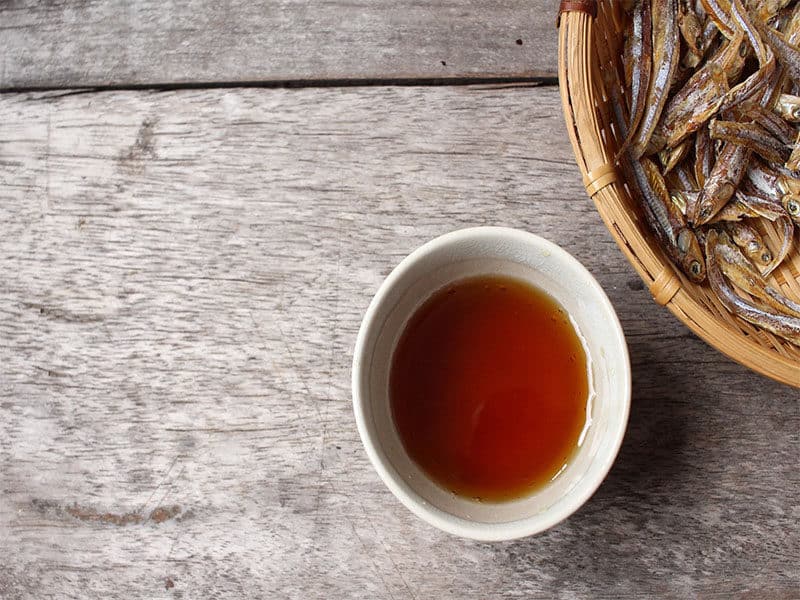 Fish sauce is a product made entirely by hand brewing method. Fish sauce can be made from raw fish, dried fish, or from all kinds of shellfish, shrimp, crab, or fruit like cashew when making a vegetarian fish sauce.
Fish sauces usually contain fish and salt. Others may have added herbs and spices. The rich and aromatic fish sauce flavor comes from long-term fermentation, which can also reduce the pungent fish smell.
Fish sauce has a harmonious and natural salty taste without any intervention of flavors or additives. However, the fish sauce needs to be consumed in moderation because it has a very strong taste.
Therefore, with the clear distinctions between fish sauce and oyster sauce in mind, it can be said that this is not a good substitute for oyster sauce. However, in case you have no other choice, some fish sauce can still be used.
You should only use it in deep-fries or stir-fries. Be prepared, however, that it will slightly alter the taste of the dish you are already familiar with when using the oyster sauce.
Recommended ratio: 1 oyster sauce = a few drop of fish sauce
10. Homemade Oyster Sauce
If you are short on oyster sauce, why not make it yourself? Making your own oyster sauce at home is a great way to optimize your meals. No need to go to cooking classes. Give it a try:
Prepare ingredients to make 300ml of oyster sauce:
Main ingredients: 200g Dry oysters, White wine 2 tbsp, Fresh ginger 1 bulb, Sugar 150 gr, Soya sauce 150 ml, Honey 1 tbsp, Cornstarch 1/2 tbsp
Other tools: Knife, cutting board, pot, stove, glass box
Let's start doing it!
Step 1: Preliminary processing of oysters
The dried oysters you buy are washed and shredded and then put in a box soaked in cold water overnight for the oysters to soften.
In case you buy oysters with the shell intact, you'll need to pry open the oyster's shell with a firm oyster knife and use the knife's sharp edge to separate the flesh. After that, proceed as usual.
Step 2: Soak the oysters
Once the oysters have hatched, add a bowl of white wine and sliced fresh ginger.
Turn on the stove, let the trench box soak in the pot, and simmer for about 1 hour on low heat until the water recedes for about 1 hour (about 300 ml remaining water is fine).
Turn off the heat and wait until it cools down, then filter the oyster juice and squeeze the oyster meat well to get the oyster juice (you can use a clean thin cloth like a cheesecloth and its substitutes, or a filter basket). This will ensure the juice is as pure as possible.
Step 3: Melt the sugar
Put another pot on the stove with 150 grams of sugar and simmer over low heat to melt the sugar. When the sugar turns brown, turn off the heat and lift the pot. Once the sugar is melted, you can add a few drops of lemon juice or a few thin slices of lemon.
Step 4: Complete
Add cornstarch, soy sauce, honey, and oyster juice to the melted sugar water, stir well. Then boil the mixture for about 10 minutes when it feels a bit thick.
Step 5: Finished products
Wait for the oyster sauce mixture to cool, then put it in a food container, cover with a lid to keep the delicious taste.
FAQs
Bonus Tips
Now that you know the same flavoring alternatives to make your food right even without the oyster sauce? While nothing can replace the unique umami of oyster sauce, you can create something quite similar!
A good tip is that you can start with these substitutes drop by drop and gradually add them to your taste if it feels like it's not enough to avoid being too salty or too sweet. Once you have that experience, a replacement should be completely free!
Furthermore, you can experiment with all the alternatives I recommend to see which one you are most satisfied with. I would be glad to help you. If you feel helped, please help others as well by sharing this article. And don't forget to leave a comment!
Nutrition Facts
4 servings per container
---
Amount Per ServingCalories45
% Daily Value *
Total Fat 0.4g

0

%
Cholesterol 7mg

3

%
Sodium 489mg

21

%
Potassium 35mg

1

%
Total Carbohydrate 7.3g

3

%

Dietary Fiber 0.1g

0

%
Sugars 5.1g

Protein 2.1g

4

%
---
* The % Daily Value tells you how much a nutrient in a serving of food contributes to a daily diet. 2,000 calories a day is used for general nutrition advice.